Sooner or later, site owners are faced with the fact that having a site is no longer enough. So why not reboot your site into a way to make money with just the right plugin? If you want to turn your regular site into something like eBay or even want to increase sales on this site, then the WP auction plugins from this article are what you need. Below you will learn about the top 7 plugins that are ideal for auctions.
1.  WooCommerce Simple Auctions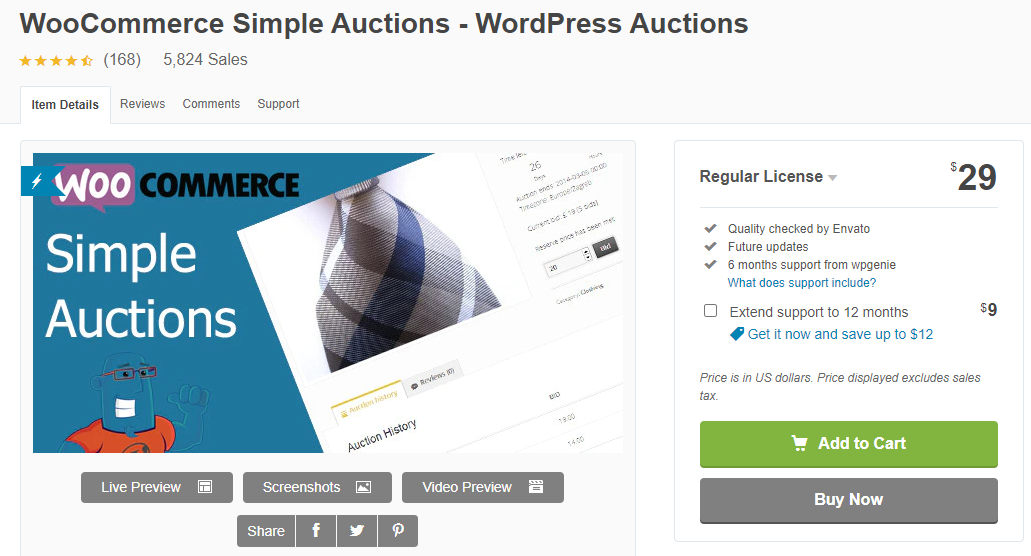 This tool allows everybody to create a clone of eBay. Or just an auction site. Using this plugin, it's very simple to launch an auction-based platform on WordPress, but it can also be used for WooCommerce, as the name implies.
This tool allows you to bid absolutely any product, regardless of its specificity. It will take no more than half an hour to configure this plugin and fully understand how it works. The developers boldly declare that their plugin is a good competitor for eBay. Customers of your site can go through the registration process and enter their payment details. If the transaction is completed, you will receive a payment, and the buyer will receive his goods. What could be easier?
Ability to check payments and credit card details before the transaction ends.
This tool works both on the basis of WordPress and WooCommerce.
Intercepting bids function adjustment. For example, you can set up 30 seconds after the last bid to increase the price.
Auction customization. For example, it may be displayed separately or along with all products.
The user will receive email notifications regarding each auction.
2.  YITH WooCommerce Auction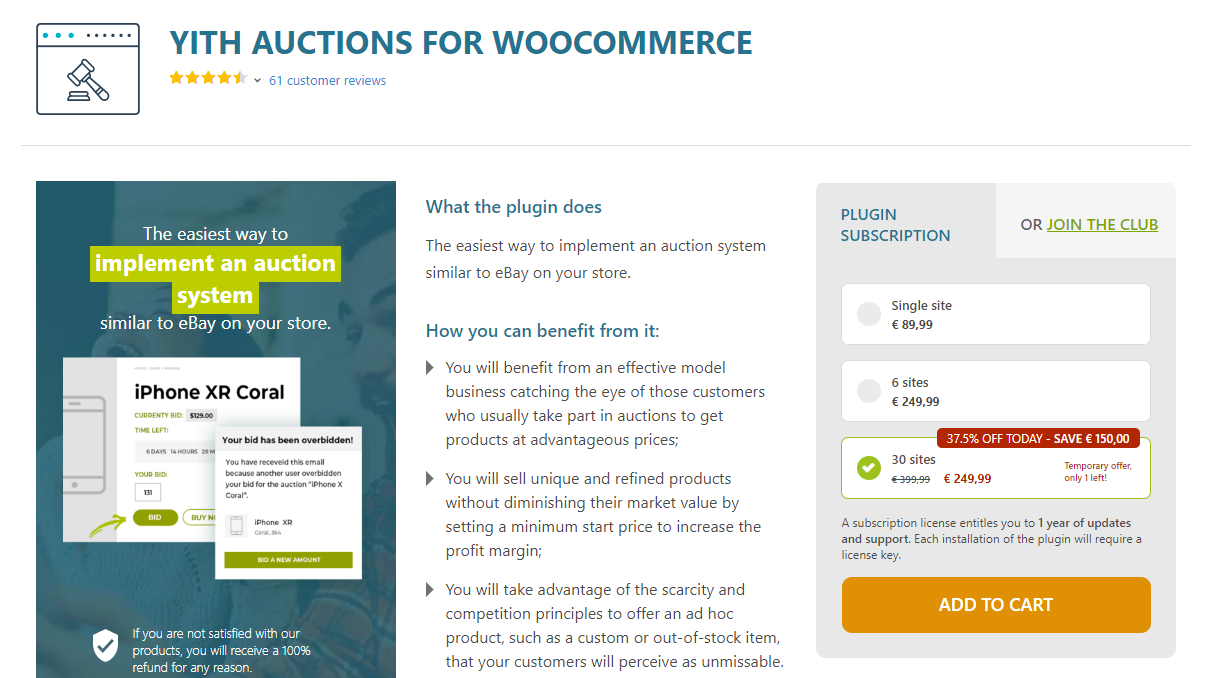 This plugin will allow you not only to create an auction but also to profit from the fact that the partners of your site will sell products. That is, every time your sellers sell the goods, you can make a profit. You can create an auction using the catalog of your products. Such a modern tool allows you to notify users of the date and time of the expiration of the auction. The only thing you have to do is set the price and make the auction take place.
The plugin integrates with WooCommerce which means that there will be no need to figure out how everything works. Who is this plugin for? It can be considered a sales-boosting tool for those who have a store based on WooCommerce and want to go beyond regular sales. As a disadvantage, this plugin has three tariff plans. Nevertheless, prices are at an affordable level.
The ability to instantly configure the "buy now" button.
Transparency, as buyers can watch the entire list of bids for each auction.
Ability to create multilingual versions of your venture using additional plugins.
After the end of each auction, an email will be sent to you.
Administrator's control for each transaction.
3.  WordPress WooCommerce Marketplace Auction Plugin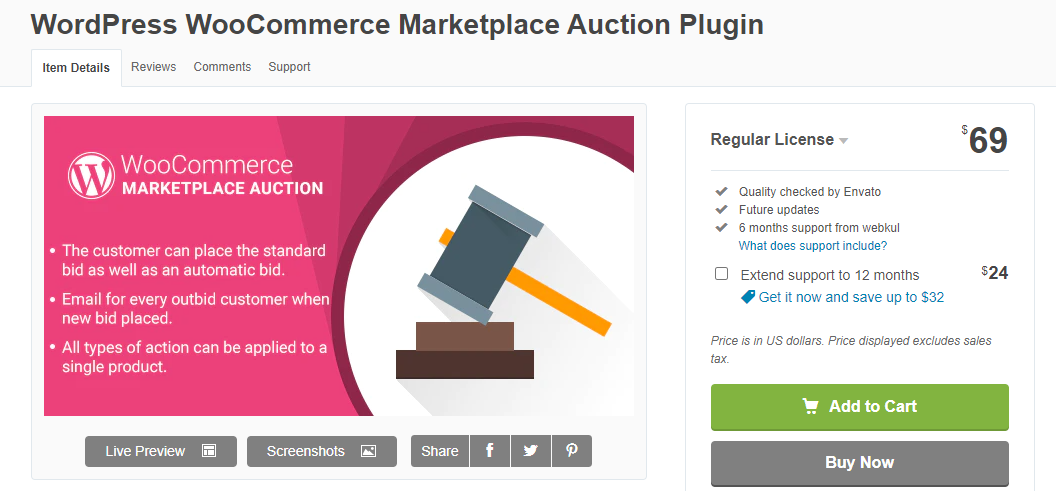 A distinctive feature of this plugin is its extensive functions not only for the administrator but also for users. Both the admin and the seller can automate the auction process by setting a date and time for the auction to expire. But what is even more interesting regarding this tool is that its functionality can be used by customers.
Unlike many similar tools, buyers are not provided with so many possibilities regarding control. For example, it's possible to set up an automatic bid if it rises. Also, the buyer can set alerts on the mailbox regarding each auction. The ability to receive notifications and keep abreast of what is happening always attracts people. Therefore, such a plugin will allow your audience to be active.
Ability to create four different types of auctions.
Users, that is, buyers can also customize the auction for themselves. For example, to automatically place a bet or receive an email notification.
Any type of auction can be applied to a single item. This means that the same product can participate in different types of auctions.
The administrator has access to information regarding each auction and bid.
4.  WP Auctions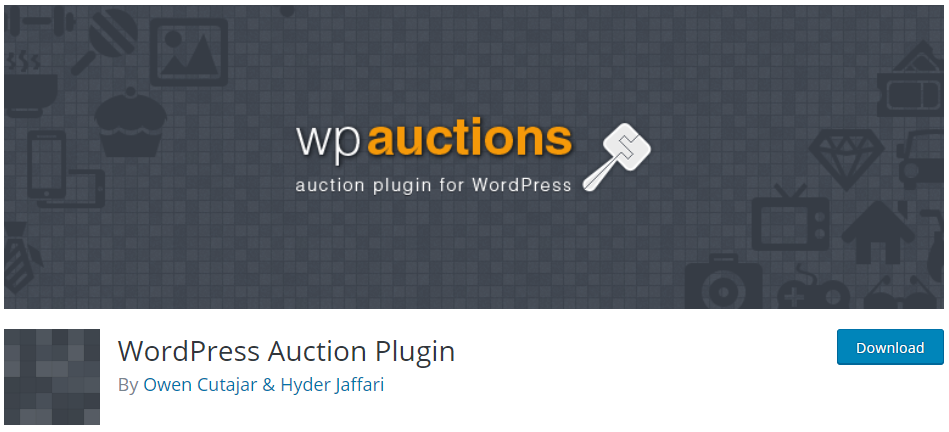 This tool is another good plugin that is worthy of your attention if you are looking for a simple and high-quality solution. You will also need no more than a few minutes to install the plugin and start working with it. This is a good tool for those who do not want to contact third parties and give them part of their money from sales. This plugin will allow you to enjoy the full-size profit.
This tool can be considered as a good option for those who are just starting to understand the specifics of trading. Well, it is suitable for those who are not friends with coding and want to get everything at once. What can you sell with this tool? Everything you want, regardless of category. Most often, this tool is used for sites that sell real estate and vehicles. Also, this plugin is quite suitable for the sale of antiques, hence, there are no limits!
Quick tool loading via zip file.
The number of product categories has very few restrictions.
Such a tool is compatible with any WP-based site.
The tool is easy to use, it takes only a few minutes to understand how to do everything.
A good option for both beginners and advanced users.
5.  Ultimate WordPress Auction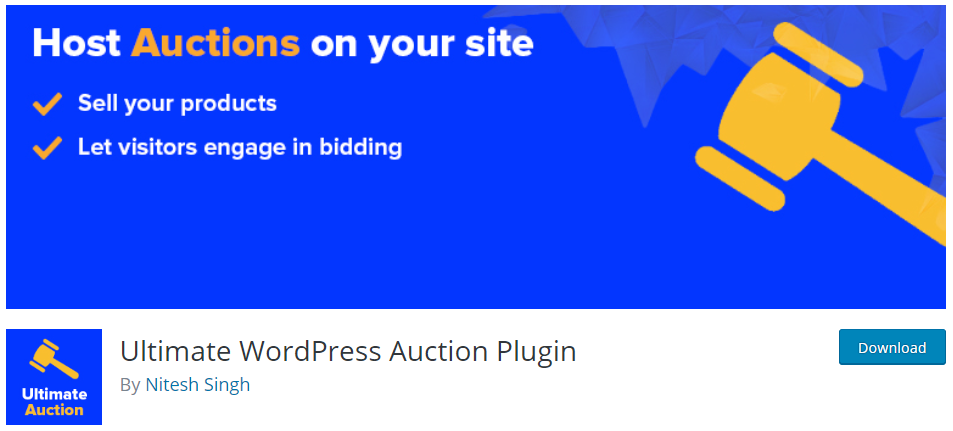 Want a simple and convenient plugin? With this tool, you will not need to bother for a long time since it is ideal for beginners in the auction process. All you need is to download the plugin and activate it. After that, you can immediately proceed to add products. Each product can have up to 4 photos and a full description. Please note all this is in the free version! If you are just starting in this area of ​​trade, you can safely start with the free version as it may be enough.
By the way, this tool provides convenient functions not only for the seller but also for the buyer. This is ideal for those who are complete newbies in coding but want to do auctions. Both sellers and buyers can receive notifications regarding deals. Users can pay for the transaction with a credit or debit card or with the Pay Pal payment system.
Possibility of notifications regarding bids and auction items for all bidders.
Possibility of placing various goods.
The free version has good features and may be sufficient for the first time.
The most common transaction payment methods are available.
The tool does not require coding skills.
6. Auction Nudge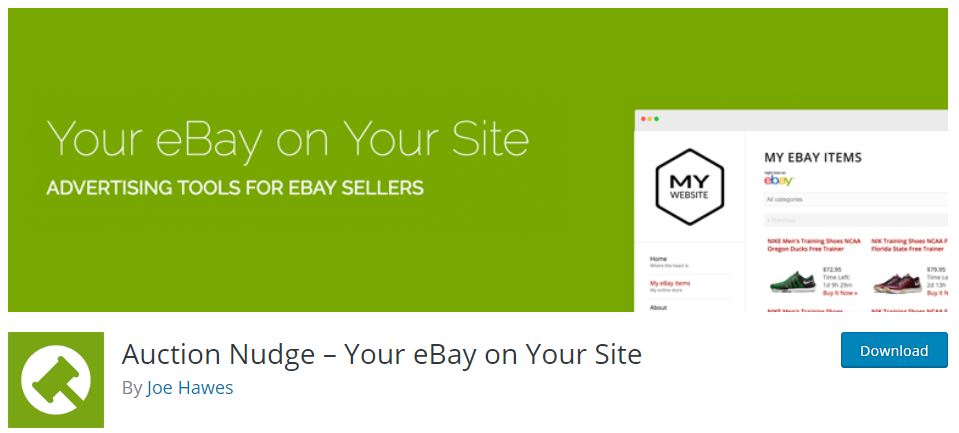 This tool allows users to quickly transfer the profile from the famous eBay to their own site. This tool is ideal for those who are active on eBay and have a good reputation. We can assume that this plugin acts as a mirror with eBay. The tool allows users to filter products that are sold by category. Also, users can find the necessary product through the search bar. The seller can configure how goods will be displayed and how the eBay page will open. This plugin is compatible with 13 international eBay sites.
It is crucial to know that this plugin will earn on the fact that you will complete deals. But for the user of the plugin, this will not bring any financial costs. Should you use this tool without sales on eBay? Most likely this will not bring any result, therefore this tool can be considered as a specific one.
The plugin is suitable for those who have already established themselves on eBay as a seller.
Constant updating of information and its immediate automatic placement.
The tool creates a trusting impression on users even if you conduct an auction on your own site.
Ability to view seller reviews.
A chance to increase sales on the eBay site.
8.  WordPress Automatic Plugin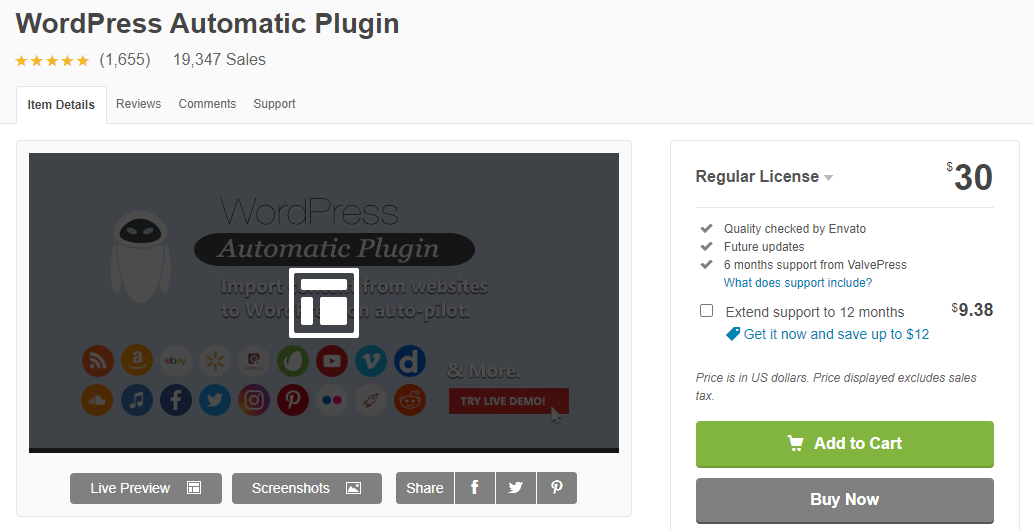 Like the above-described plugin, this tool allows you not to create an auction from scratch but to duplicate existing ones. The tool allows you to import information not only from eBay as the previous tool. It is real to import information from social networks and even YouTube. Hence this is not the whole list.
In order to transfer auctions from eBay, you need to enter your profile only through the plugin. Then it will be possible to link the auctions to your site and everything is ready. For instance, if you add a new deal on eBay, it will appear on your site in auto mode. Agree, everything is very simple. To see how everything works in practice, you can use the live demo. Is this tool suitable only for those who have eBay, as as the previous one? No, this plugin is universal and it has compatibility with all leading social networks.
Compatibility with social networks, eBay and Amazon.
Automatic duplication of records from a compatible site.
The ability to duplicate publications while maintaining the category that was used on the source site.
Quick to download and install tool.
Suitable not only for creating auctions but also for creating targeted content.
Conclusion
Still in doubt that you need an auction? Most likely there are no more doubts! Now you know that converting your site into an auction platfrom is possible in just a few clicks. If you are new to trading, then pay attention to free plugins. So, choose the tool that best suits your requirements and upgrade your site to the fullest.

*Author Bio:
Gregory is passionate about researching new technologies in mobile, web and WordPress. Also, he works on writing service review websites Online Writers Rating. Gregory in love with stories and facts, so he's always trying to get the best of both worlds.
https://ninjateam.org/wp-content/uploads/2020/07/Best-WordPress-Auction-Plugins.png
426
1210
Ninja Team
https://ninjateam.org/wp-content/uploads/2020/10/ninjateam-logo.png
Ninja Team
2020-07-10 16:13:43
2020-10-06 15:46:31
8 Best WordPress Auction Plugins to Reboot Your Site In a Few Clicks