9 Best Notification Bar WordPress Plugins
Notification bar can be a powerful way of capturing user attention on your site. They can be used for a number of purposes such as recruiting new subscribers via newsletters, call to action button, social media buttons, providing important announcements or messages, etc. In this way, you can increase the traffic to the website and thus, enhance the conversion rate.
There is a wide diversity of notification bar plugins out there that you can use to display header notifications to your users and visitors. Notification bars, in general, tend to be more user-friendly than popups or slideouts.
Today's article lists some of the best notification bar plugins for WordPress and all of the plugins in the collection are free, though some might have paid add-ons.
Notibar is a super clean and light-weight plugin to help you display an elegant notification bar on WordPress website.
This plugin comes with an instant live preview editor showing settings and results side by side. This visual editor is a big time saver for any WordPress admin to make a quick tweak for their floating header or fixed top bar.
Notibar is perfect for seasonal marketing campaigns, terms or operational changes, important announcements, and driving traffic to another website, etc.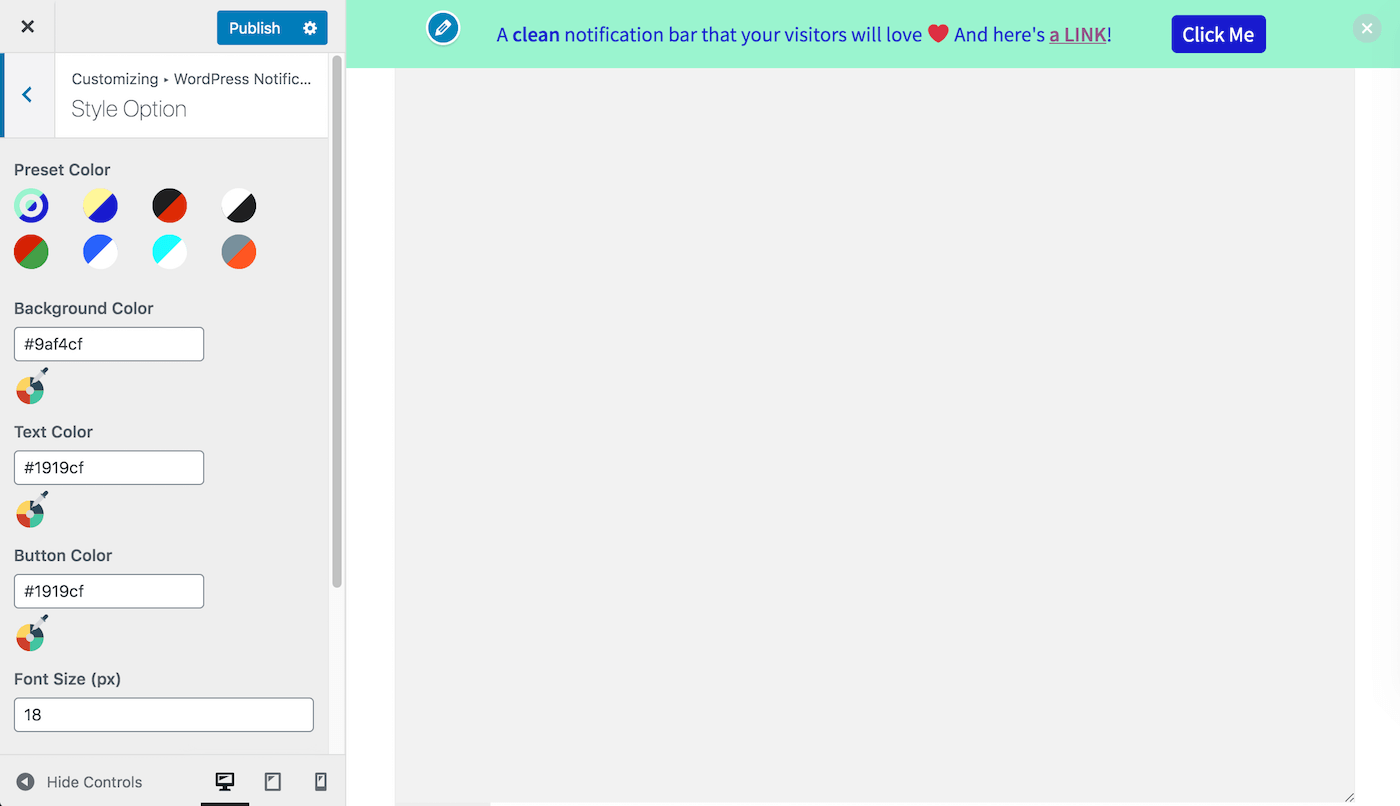 This notification bar plugin also offers to display notices on all pages/posts or chosen page/post ID.
Top features:
Super clean design & modern style
Bar positioning: absolute or fixed
Custom color, text, click-to-action
Various notification bar presets
Set text container width and alignment
Various options for Dismiss button: disable, toggle, close for good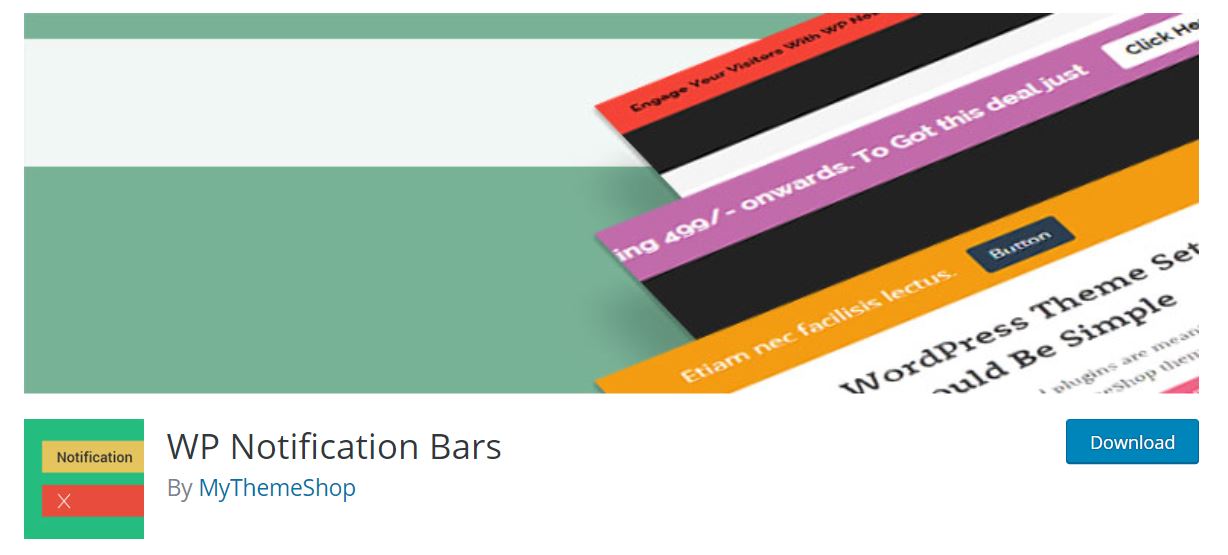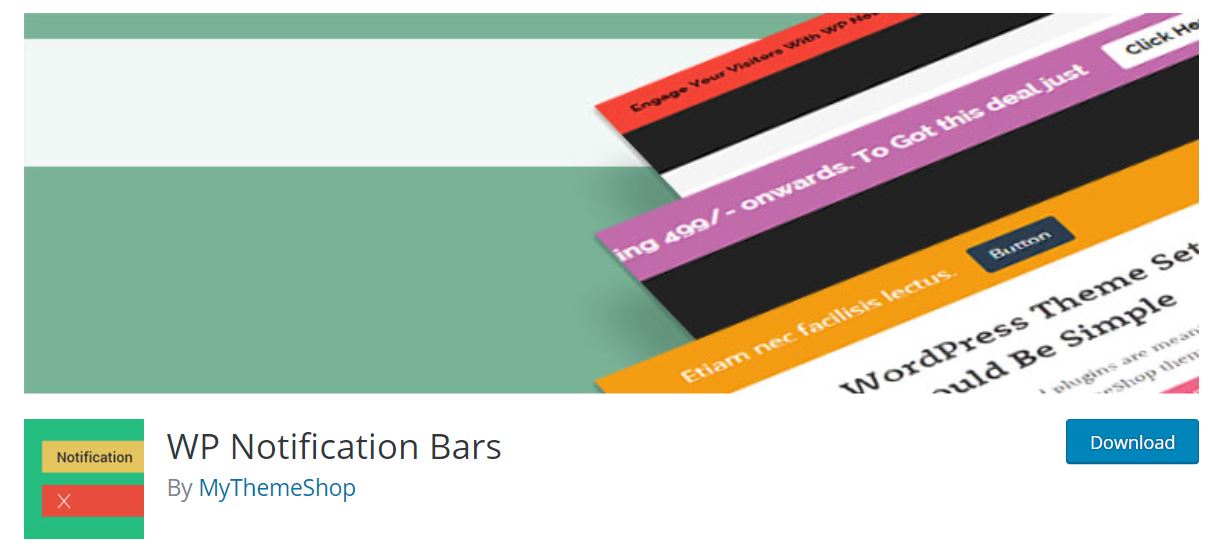 WP Notification Bars is an alert bar plugin for WordPress that is super useful for marketing promotions, alerts.
The plugin is kinda different from other plugins in this list. Instead of sending push notifications like others, it displays them in a notification bar on your site. It's really great when you want to notify your users about something important like a promotion or a new product.
WP Notification Bars is not similar to other bar plugins so far – it doesn't send push or email notifications. Instead, it displays them in a notification bar on your site. It's such a fantastic way when you want to notify your users about something important, such as promotions, alerts, or a new product, increasing click-throughs to other pages and so much more.
The plugin is responsive, and you can choose an absolute or fixed position for it, as well as on which pages to display it.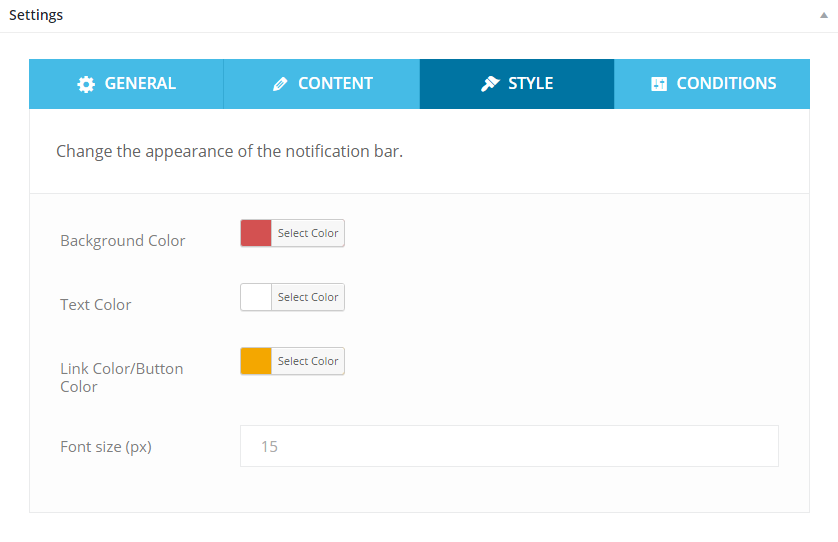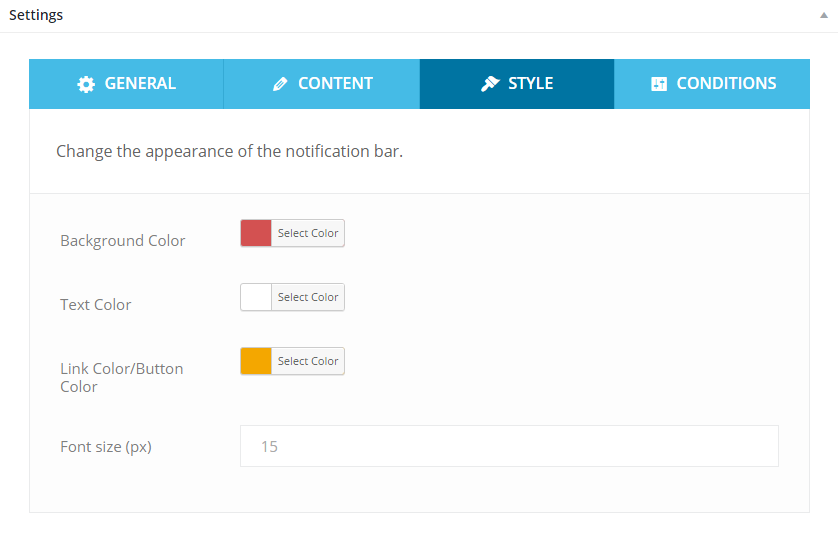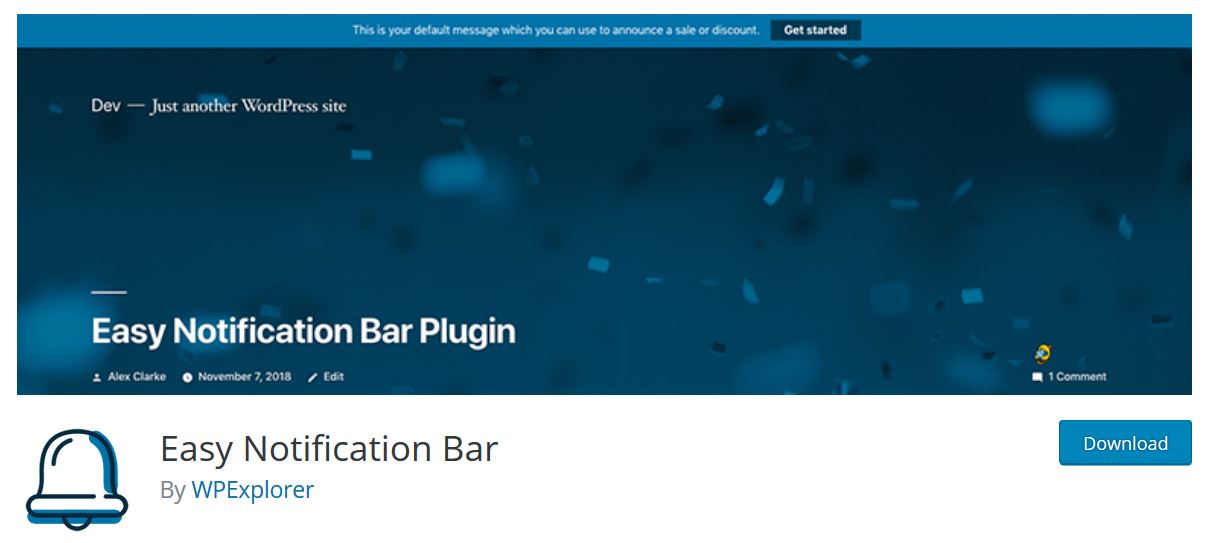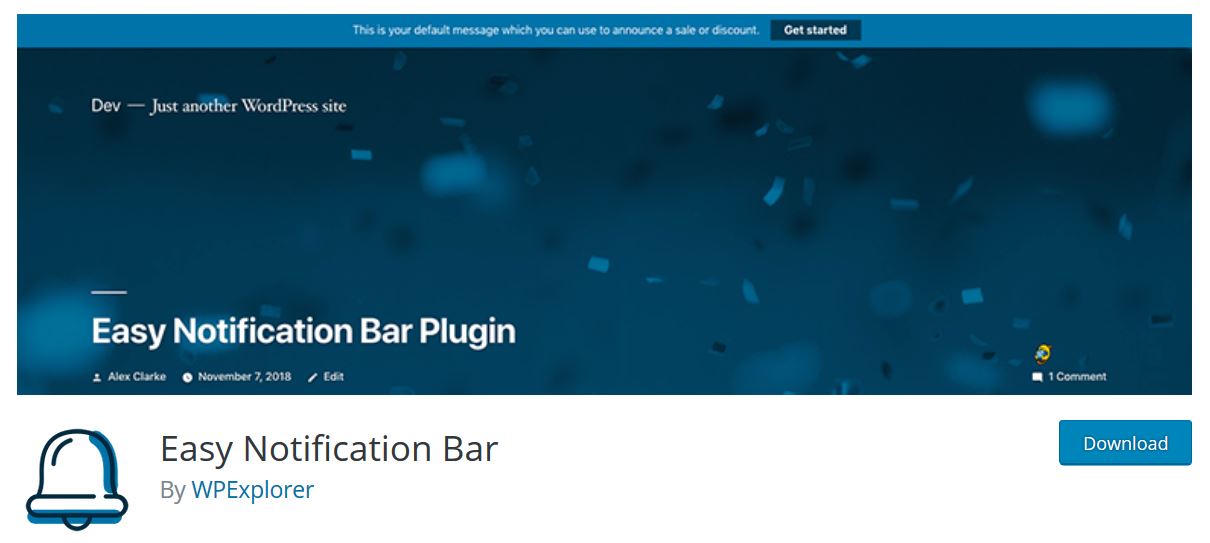 The next plugin, Easy Notification Bar, is simple to use and customizable. It allows you to enter your custom notification bar text as well as an optional button to display next to your text. Such a perfect solution for notifying visitors of a current sale or hot product
Plus, this plugin includes quick and easy options to add a tagline, compose a text alignment, adjust a font size or button text, insert a link and personalize background or text color. That's it! You can insert a notification bar to your WordPress site in a matter of clicks. On top of that, this easy-to-use plugin works with most themes.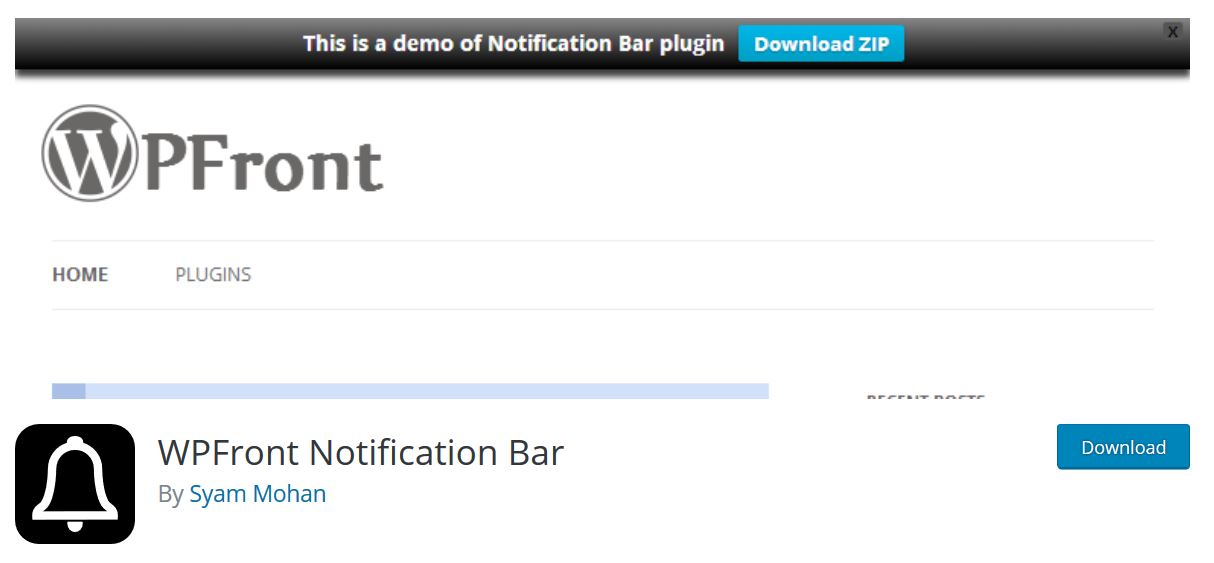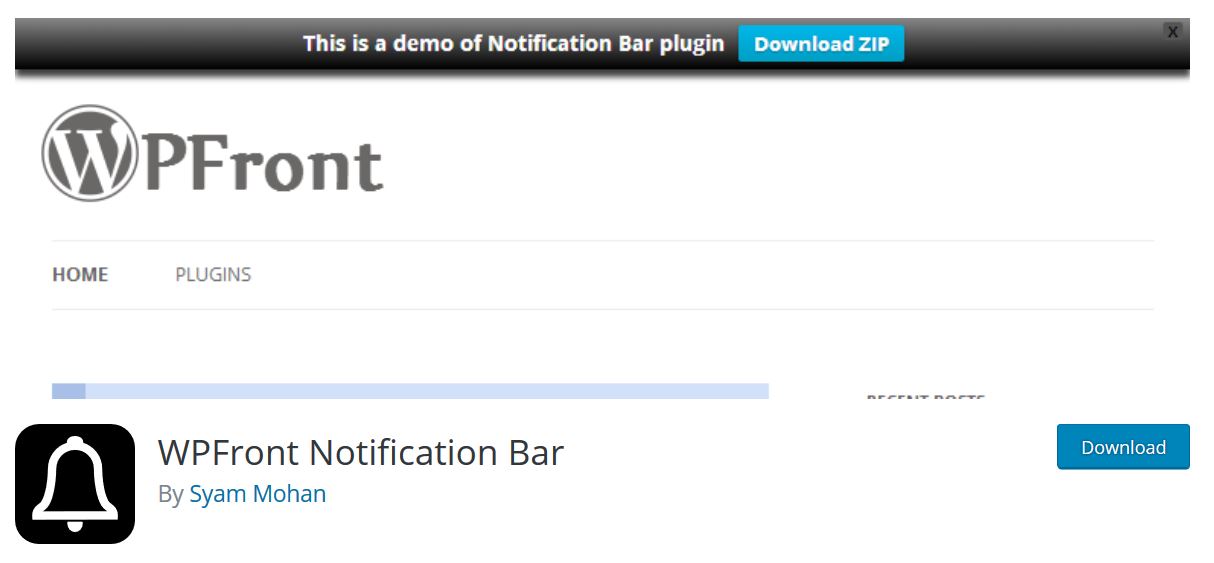 Are you seeking to a solution to display notifications in terms of product promotion or a piece of news about something?
WPFront Notification Bar plugin is definitely your next secret weapon.
WPFront is a bit less intuitive but nonetheless is a good option if you're looking for a free notification bar plugin. The plugin features its own panel with options for sticky, scroll offset, bar height, auto-close, message, button action, and more.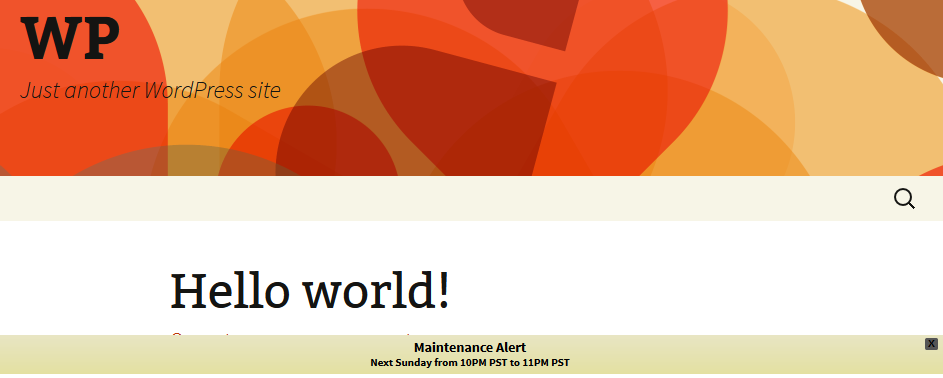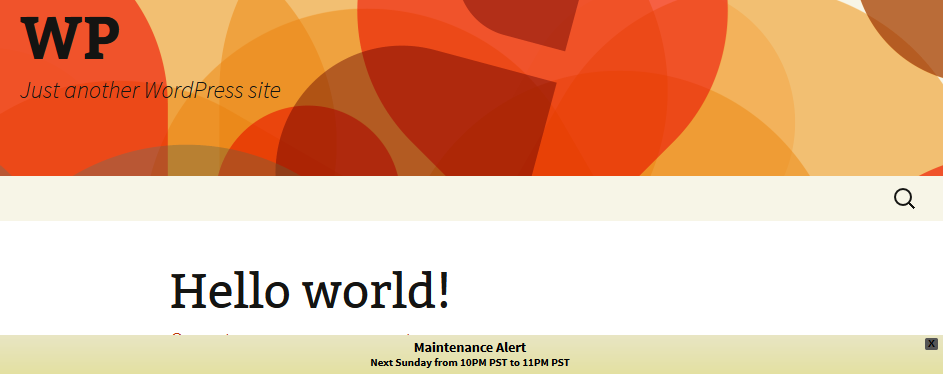 But a special feature is the ability to definite set dates and user roles to display your notification bars for. This makes WPFront a great choice if you want to promote limited-time promos or special announcements for logged in subscribers.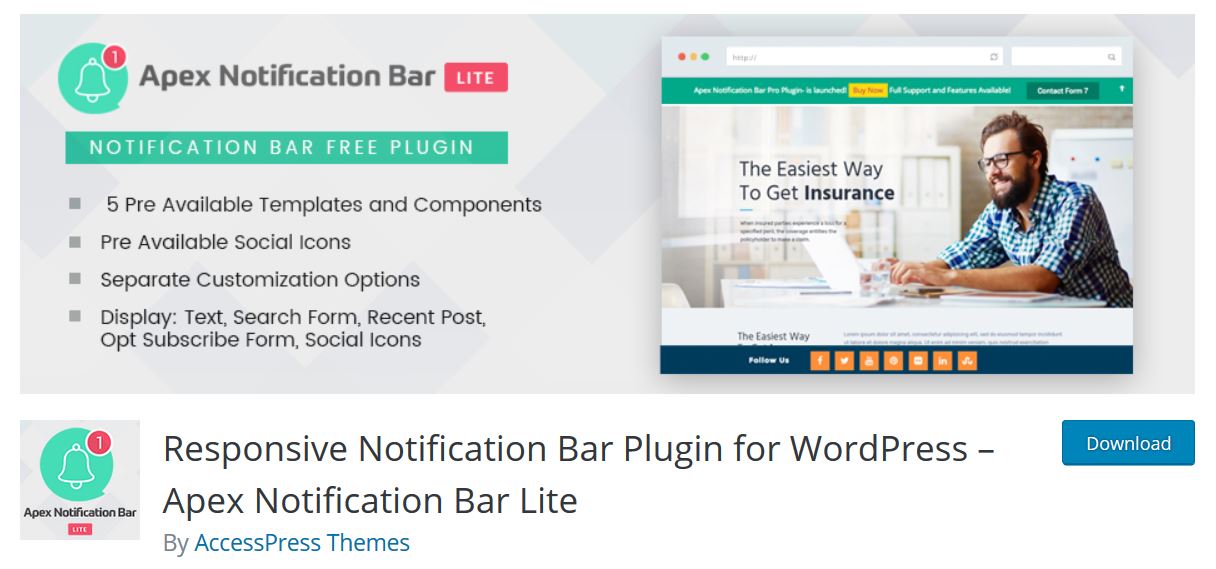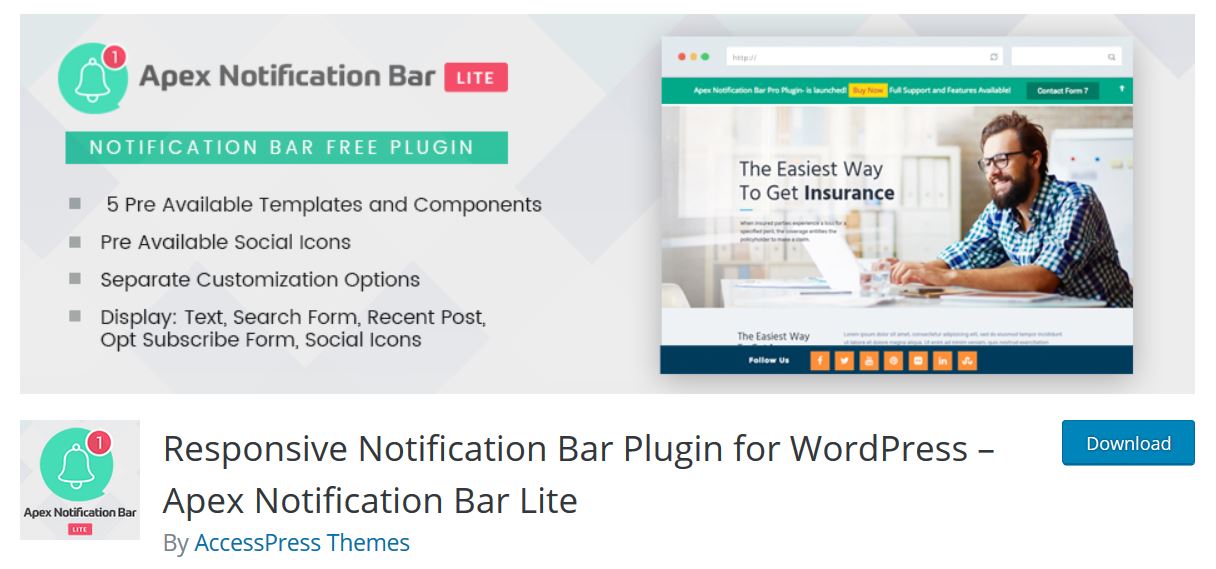 Apex Notification Bar Lite is a FREE WordPress plugin to enable you display an attractive and effective notification bar in different position in your website. Your visitors can receive your new releases, offers, messages, news etc through notifications in your website. The plugin is fully responsive and easy to use which is built up to simplify the user needs.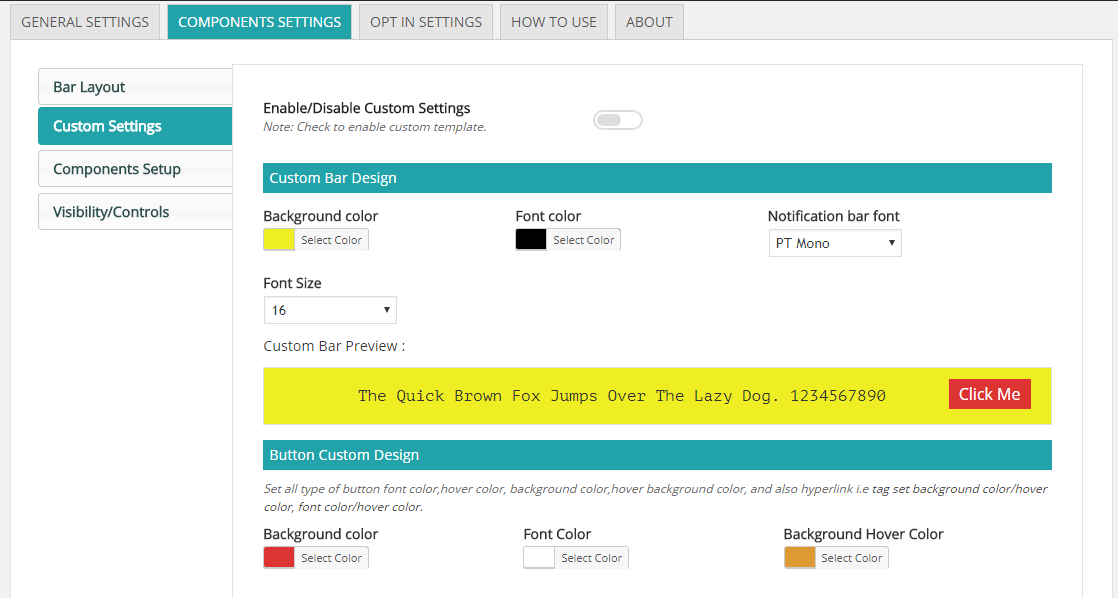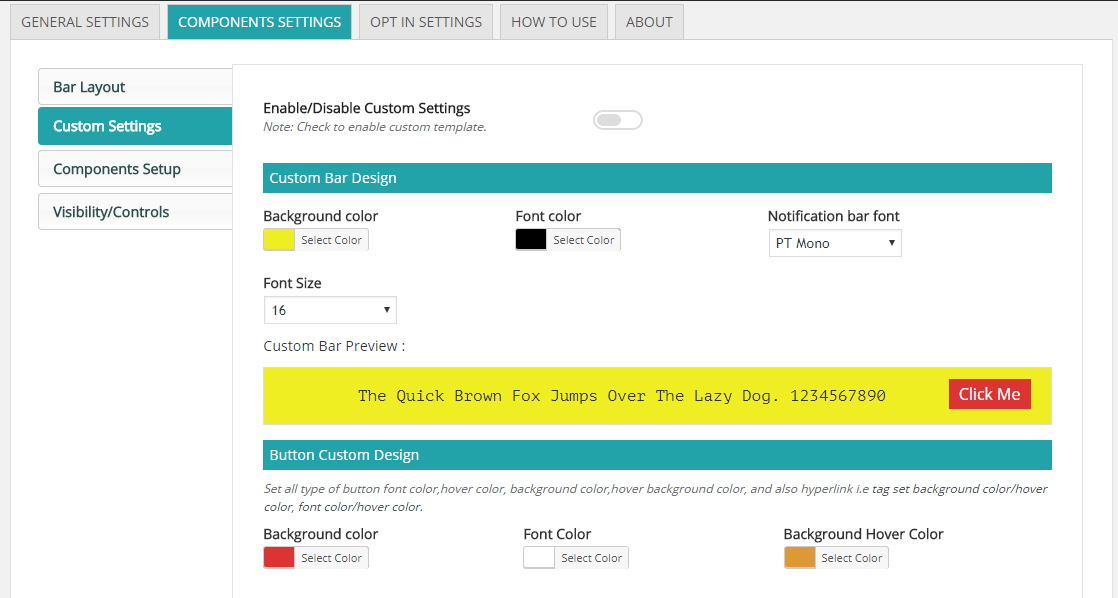 Also, the plugin includes a handful of options to create your own alert or notification bar. Choose from 5 beautiful templates, or personalize them using 5 notice bar components and social icons.
The Apex Notification Bar Lite does offer options for a sticky bar – so the notice stays on the screen even when visitors to your site scroll down. Or you can enable the show/hide option to give readers the ability to close the notification.
Its other features list is well checking out:
5 Pre Designed Templates
3 Different Positions
Notification Bar with Different Components
Unlimited Customization Options
Various Notification Bar Effects
You want to experience more features? There is a premium version available for advanced positioning, scheduled bars, countdown timer, custom fonts and tons more customization options that are absolutely on fire and waiting for you to explore.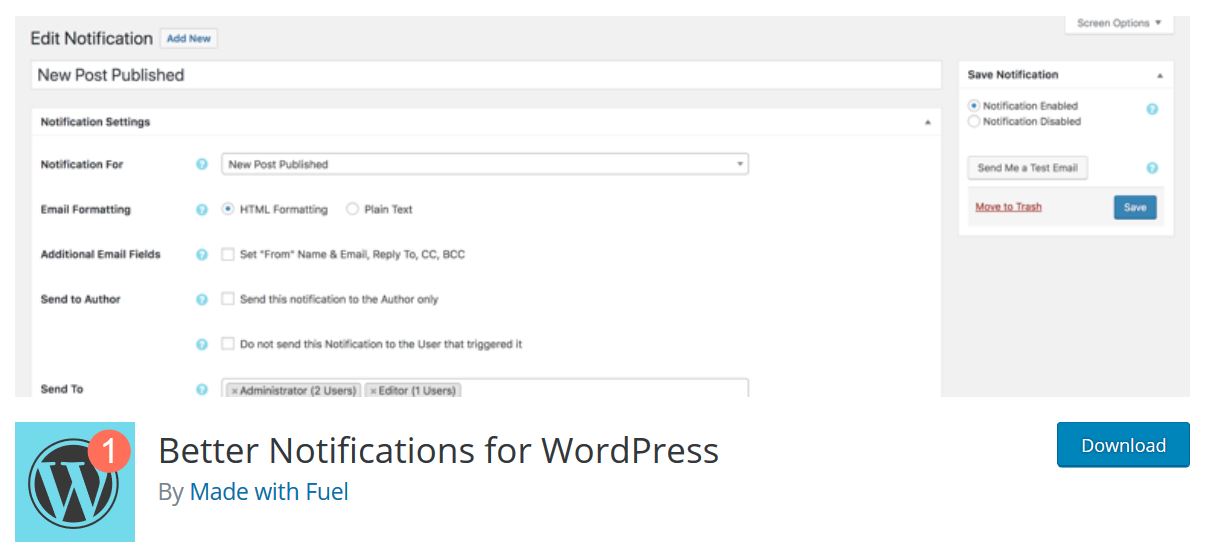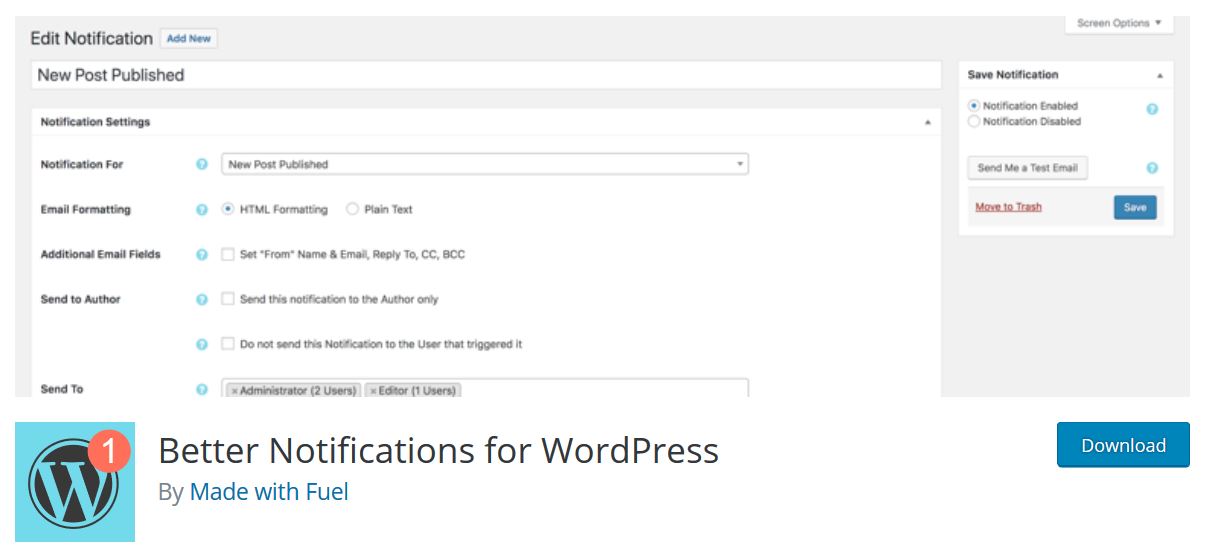 Better Notifications for WordPress is a simple but powerful plugin for beginners to advanced users that allows you to personalize the email notifications that WordPress sends using the WYSIWYG editor and shortcodes.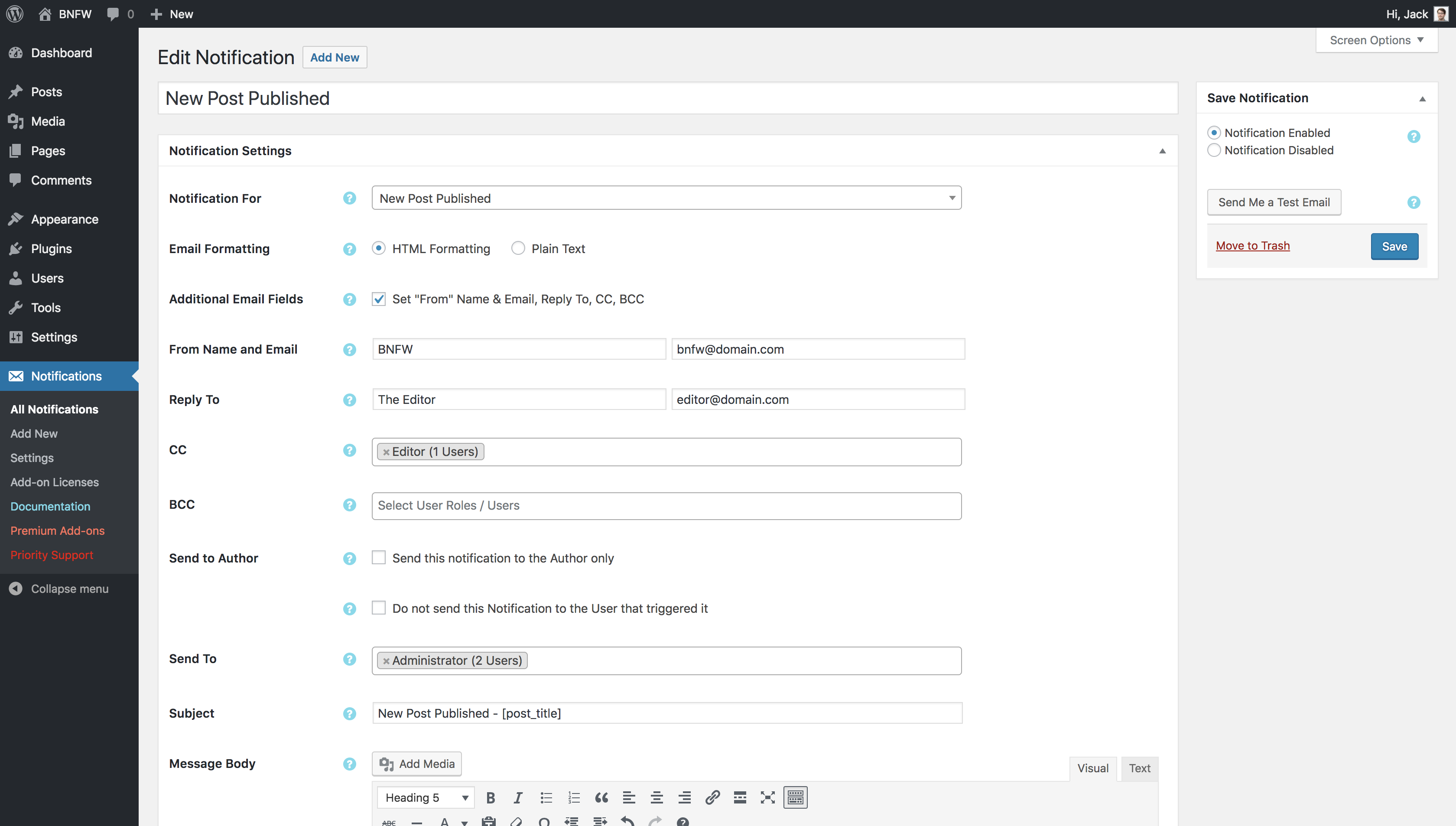 By default, WordPress sends out emails in plain text. You can set the plugin to send out mails only to individual users, multiple users, all users in a specific user role or multiple roles.
The premium version of this plugin adds a bunch of capabilities when it comes to notifications – reminders, sending to non WordPress users, conditional notifications, custom fields and site wide settings override options.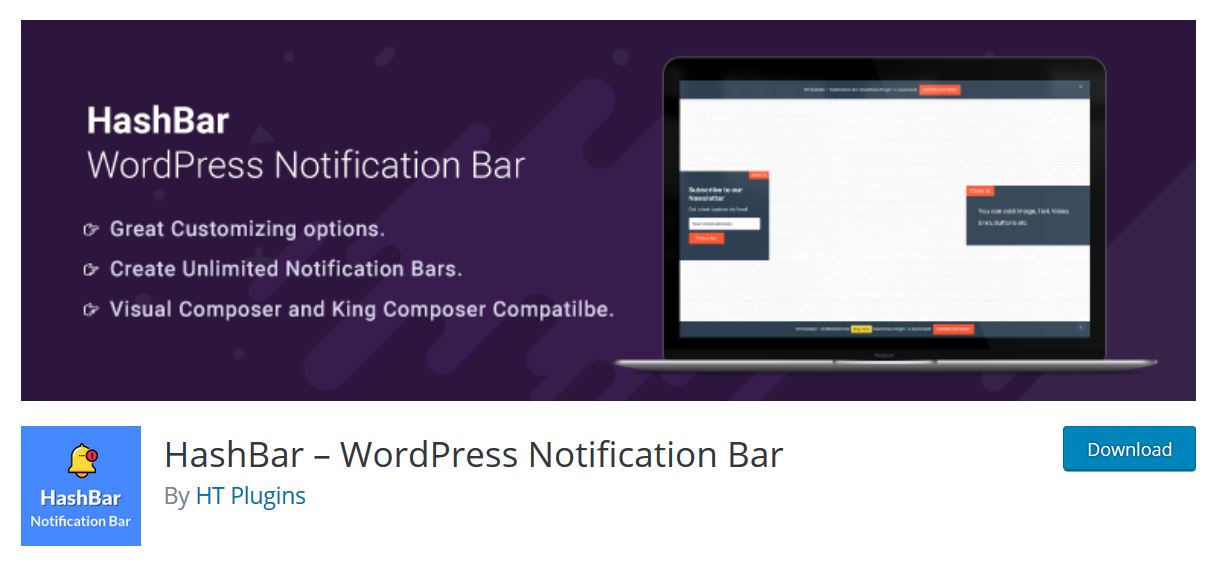 HashBar is one of WordPress Notification Bar plugins which allows you to generate unlimited notification bars to send notifications to your customers.
This plugin has various options to show email subscription form, offer text and buttons about your promotions. This plugin offers a number of background colors and images to make your notification bar look more elegant.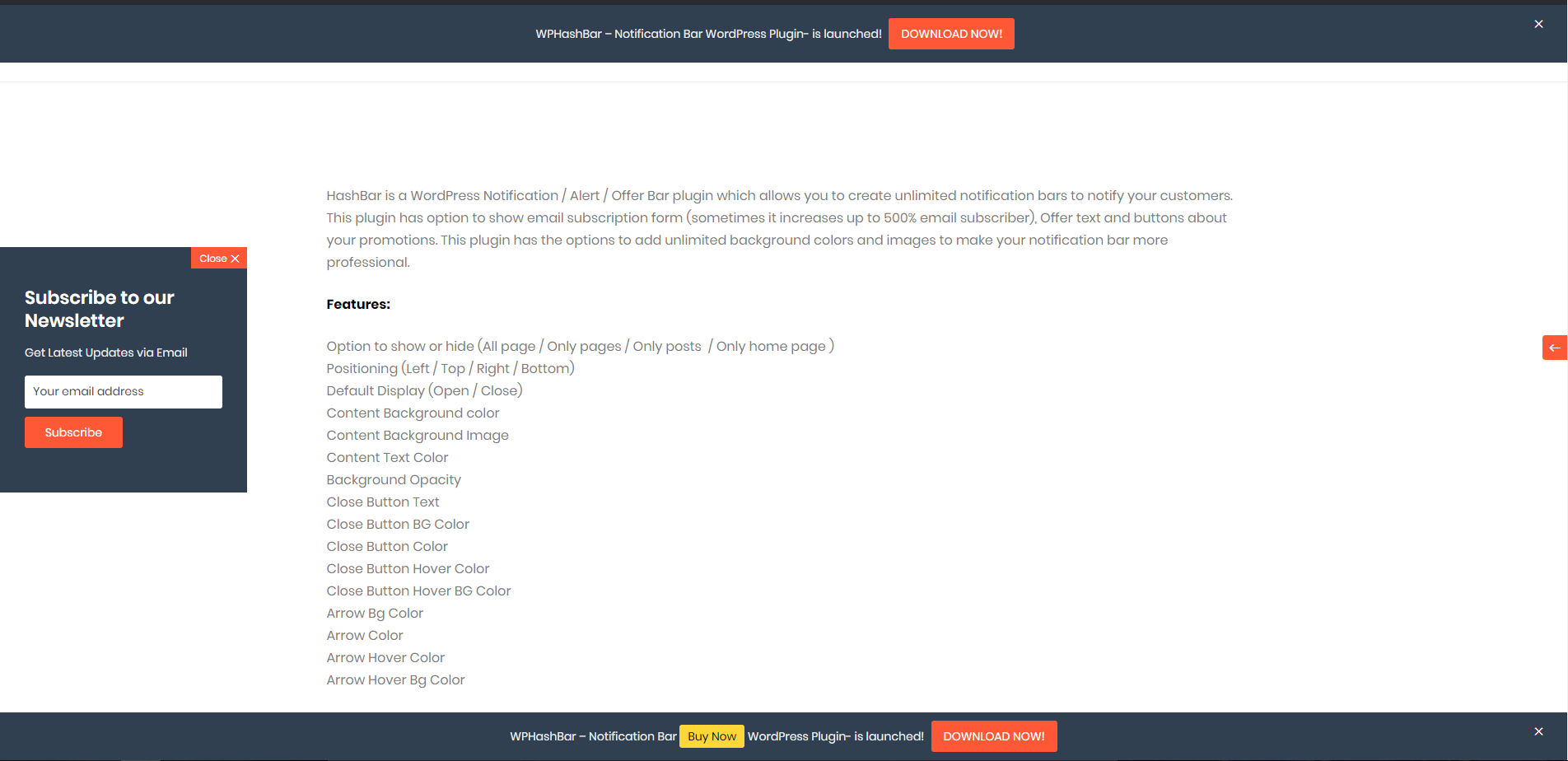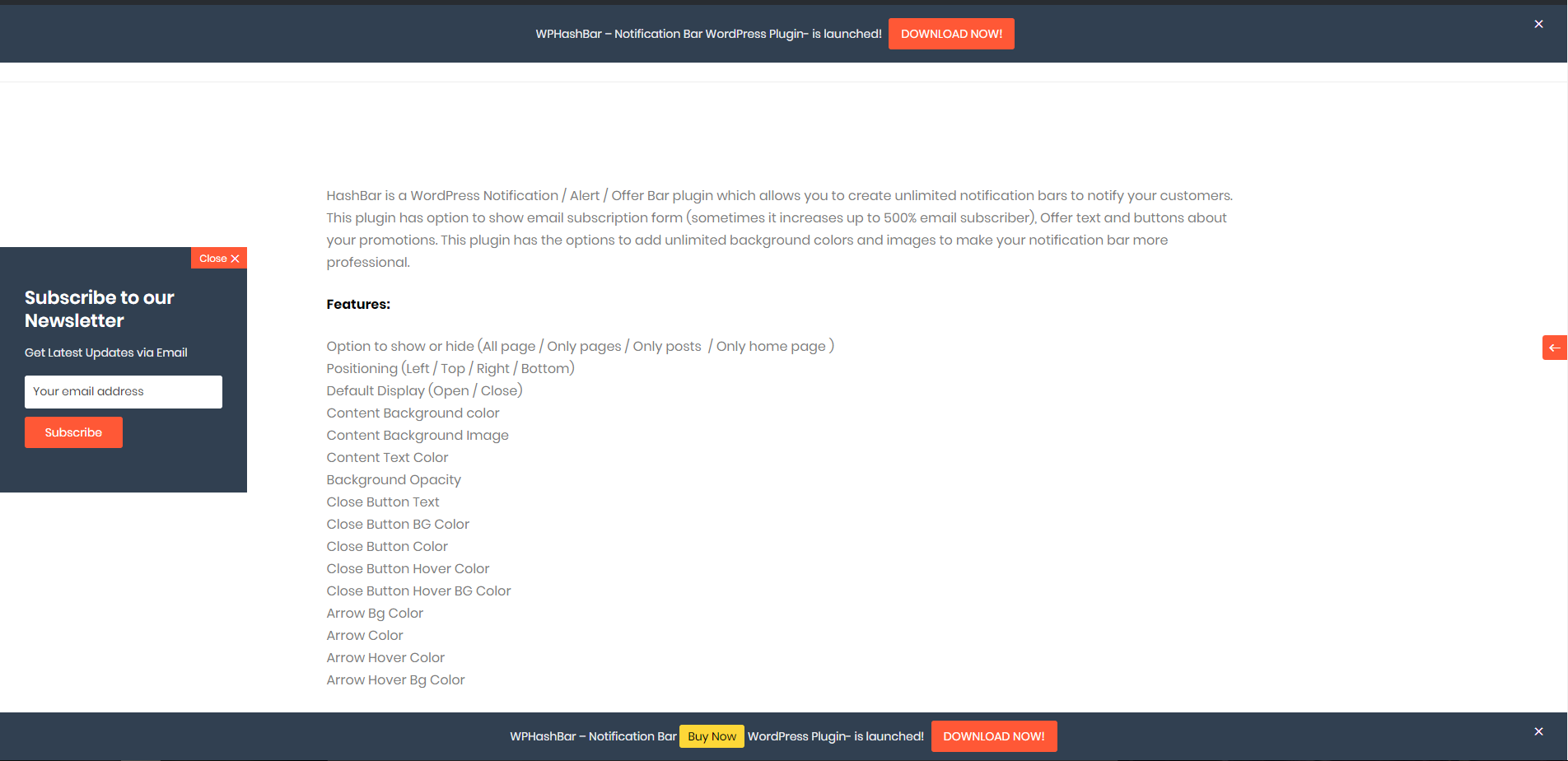 There are many features to focus on, with some of my favorites including:
Option to show or hide (All page / Only pages / Only posts / Only home page )
Positioning (Left / Top / Right / Bottom)
Default Display (Open / Close)
Enable / Disable On Mobile Device
Content Background Image
Content Text Color
Background Opacity
Enable / Disable Close Button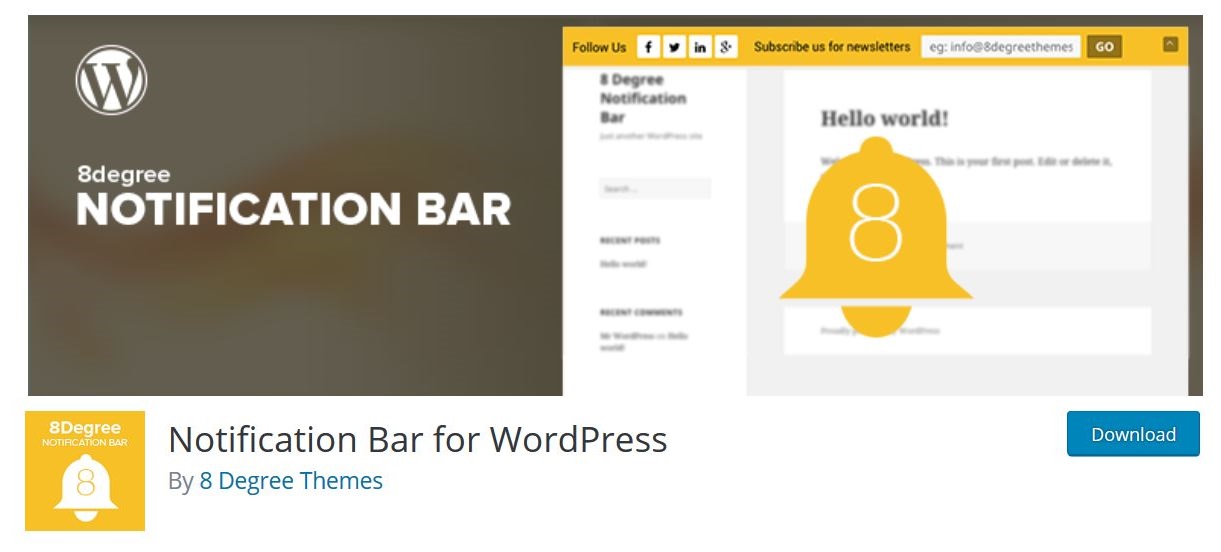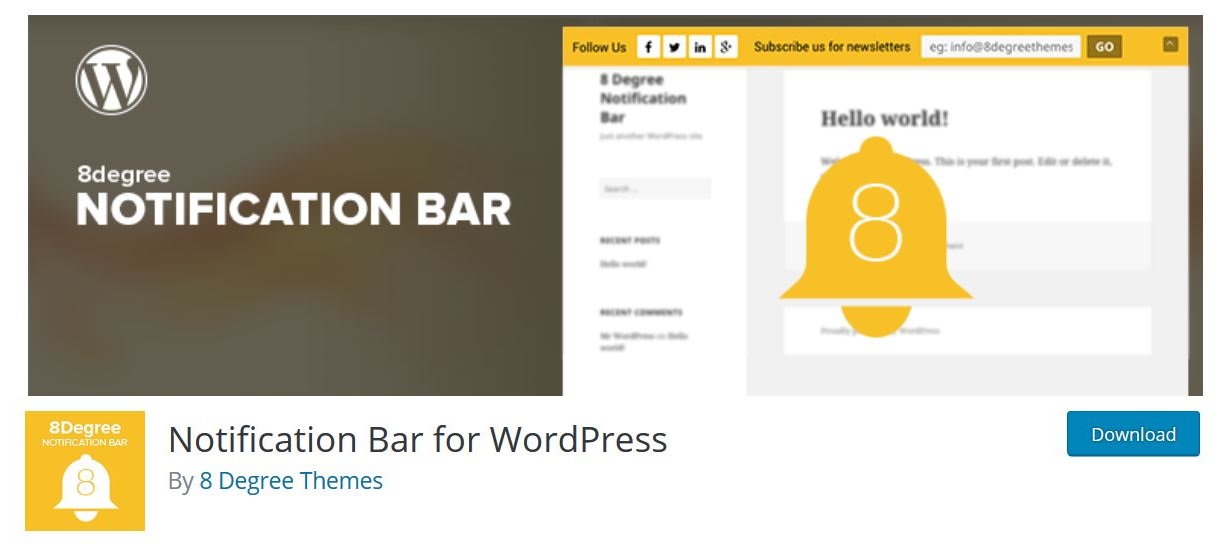 8 Degree Notification is a FREE WordPress plugin to enable you display an attractive notification in your website. Your site visitors can get notifications about your new releases, offers, messages, etc. through notifications on your website. The plugin is easy to use and responsive that suits your needs.
You can put the notification bar at the header and footer side of your site wherever you like. It has greatly customizable color settings (background and font), font settings, animation effects, etc. The plugin is easy to use and especially free, but its splendid features and configurations make it worth a value.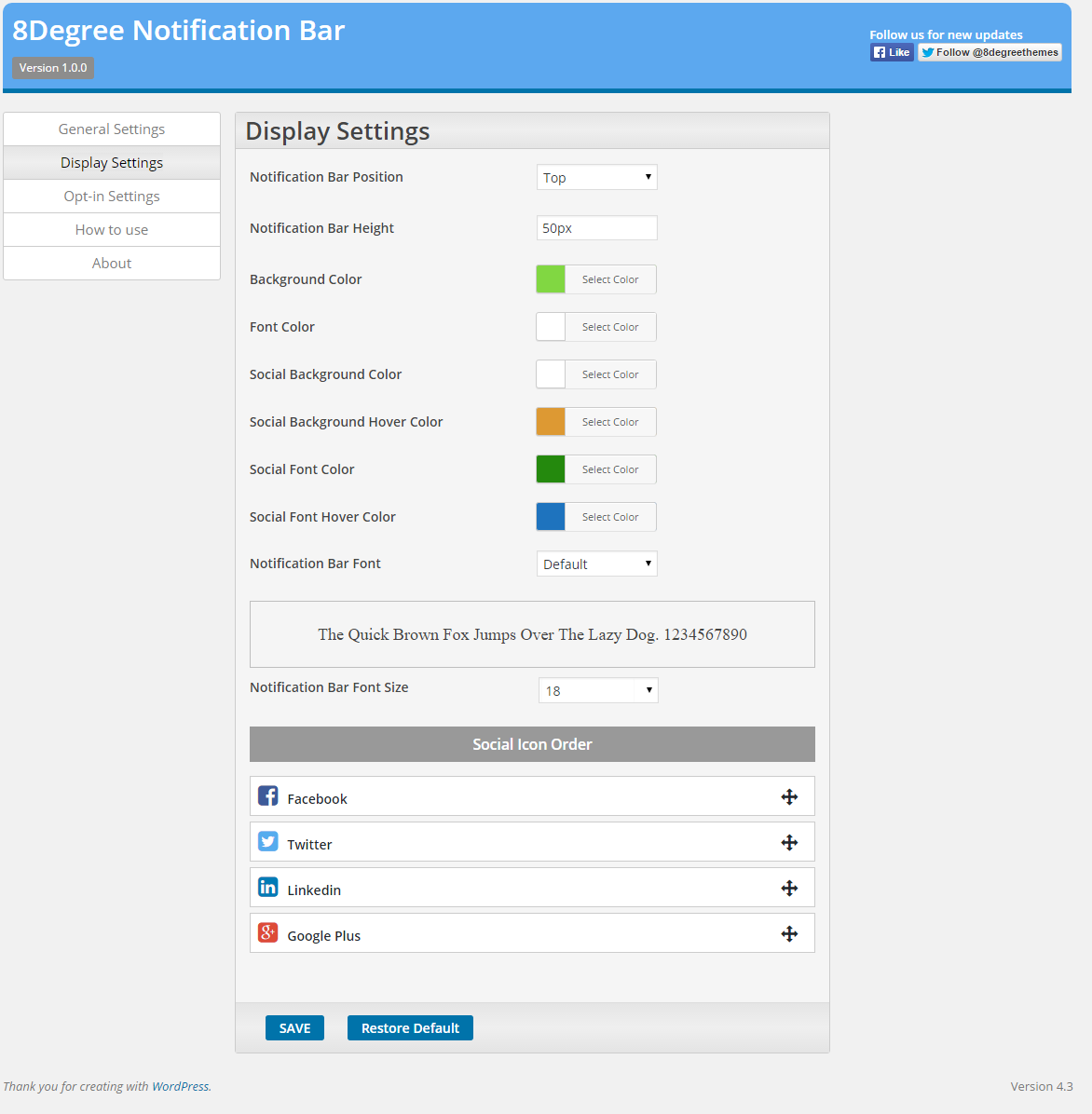 Other features of 8Degree notification bar:
4 Different Placement Options
Color Settings
4 Notification Types
Social Icon Supported
Animation Options
Also, the plugin allows you to place the notification bar in 4 different locations, i.e. header, footer, left side or right side. It is a highly customizable plugin that allows you to customize the background color, font color, animation effects etc. The plugin also enables you to display social icons on the notification bar.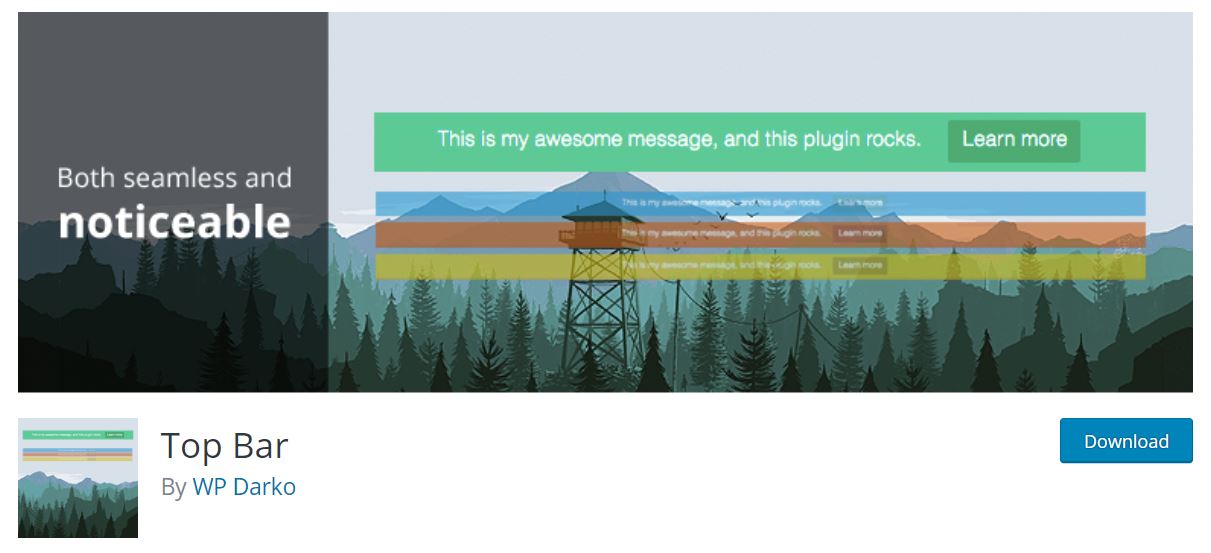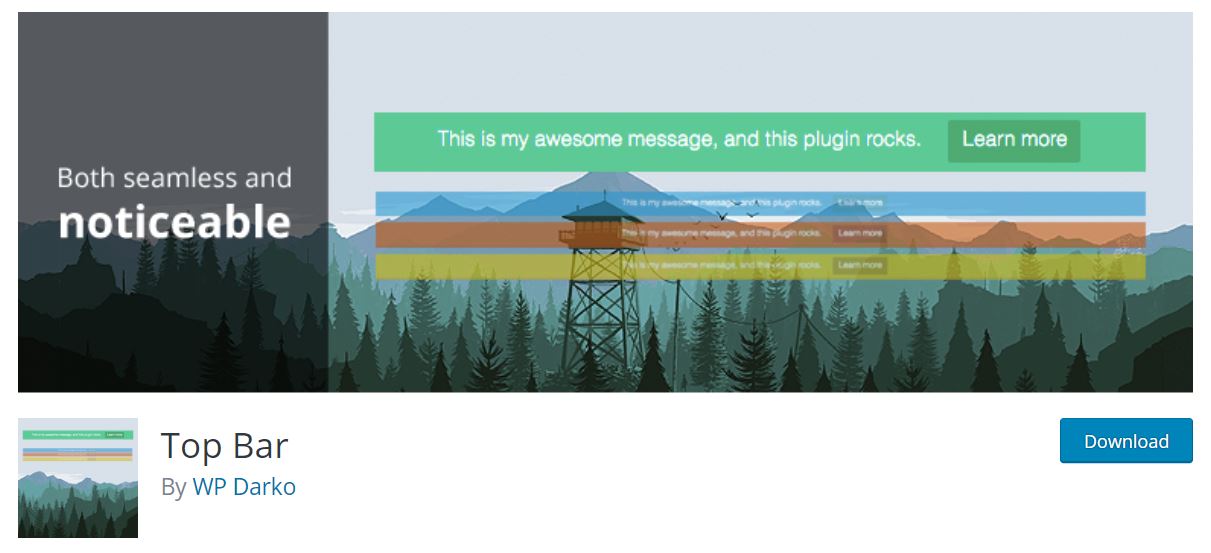 With the Top Bar plugin from WP Darko, you can design your own topbar to display messages and links to your site visitors. Pick your favourite color, message and button text.
The plugin can be seen as the easiest way to add a top bar to your website. The notification bar looks clean at the top of your site, allowing you to show a nice welcoming message to your visitors and a custom link. What you see is what you get, and it's totally free.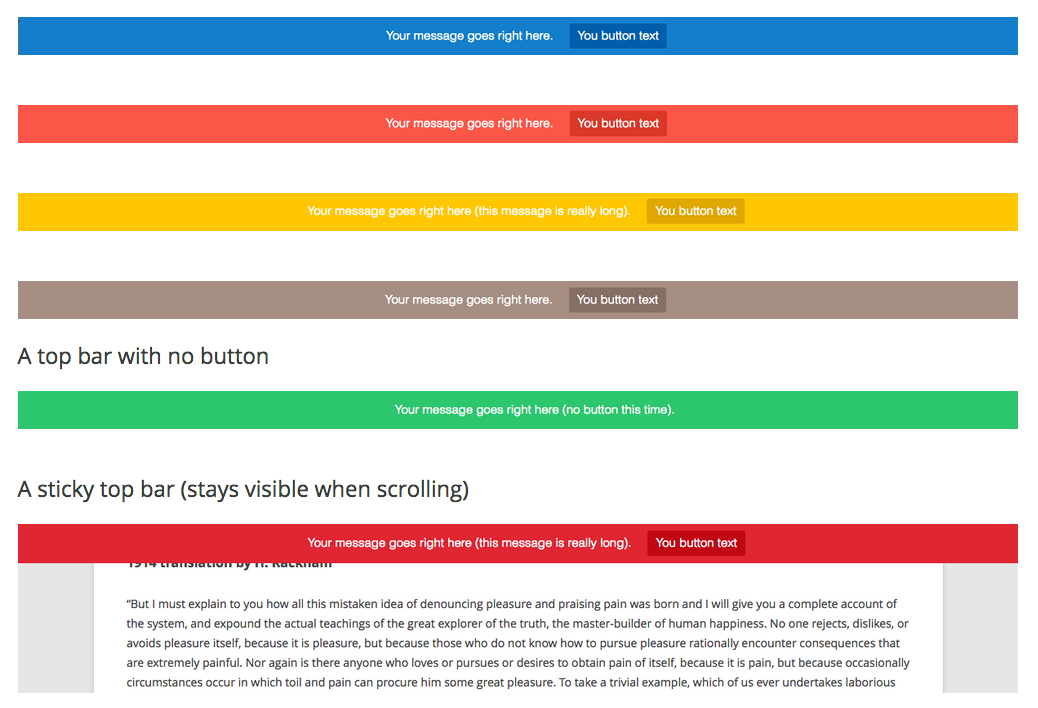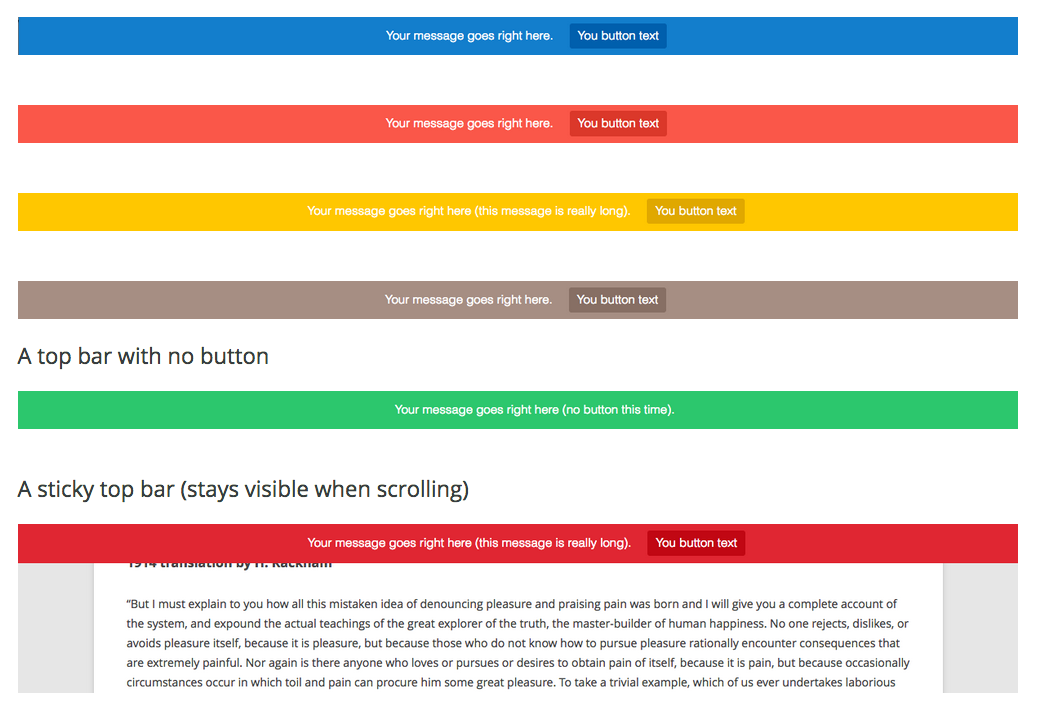 Top Bar is a very straightforward plugin that adds a clean notification bar to your website. All you need to do is simply install this plugin and choose the colors and visibility options. Then, just add the message that goes into the button. Now, save all your settings and you will have a notification at the top of your own website.
If you want to experience more advanced features, just make a purchase the premium version of this plugin and access to a lot of new features including close the Top Bar, adding a bottom border, set a time before the Top Bar appears, bottom positioning, user visibility settings, change the font-size, etc.
Final thoughts
Alert and notification bars are such an awesome way to capture attention to vital notifications and information. You can direct your readers to an exclusive sale, new content, newsletter signup, or other featured content. Hopefully, this list can be your substantial support to help you find the appropriate notification bar plugin for your WordPress site. You can find more ideas to exploit WordPress notification bar here.
Have you already tried one of the notification plugins for WordPress in the list? Feel free to let us know in the chatbox below. We're looking forward to your feedback!
https://ninjateam.org/wp-content/uploads/2020/07/Best-WordPress-Notification-Bar-Plugins.png
426
1210
Benjamin
https://ninjateam.org/wp-content/uploads/2020/10/ninjateam-logo.png
Benjamin
2020-07-14 07:43:31
2021-07-14 16:55:13
9 Best Notification Bar WordPress Plugins