9 Best WordPress Portfolio Plugins
For a creator, finding the right way to share their work is a daunting task. Most viewers, including your prospective clients, mostly skim through the works, with no time to regard the process behind it. It might seem unfair; however, it reflects how the current system works. 
A PDF portfolio is deemed a traditional method by today's standards. They lack the modern edge that an online portfolio can bring to your works. A personal website, on the other hand, is an excellent way to show your creativity. And undoubtedly, WordPress is one of the best platforms to exhibit your work. 
Many WordPress themes have built-in portfolio elements. As good as these are for the visual mode, you need plugins that can bring functionality specific to maintaining a portfolio. Below you will find the top-performing WP plugins to create a stunning collection.
1. Essential Grid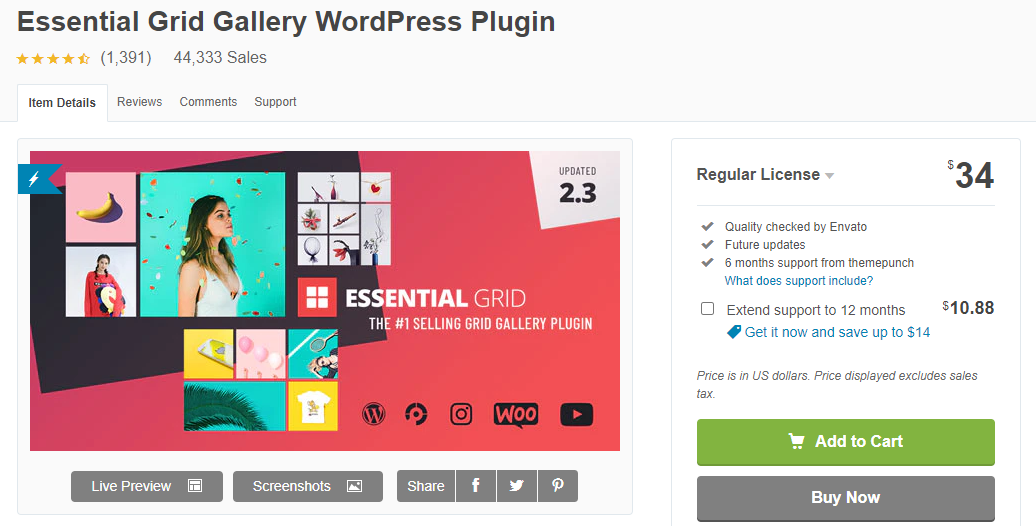 If you want to make a gallery of single or multiple content types, then Essential Grid comes with just the right amount of flexibility. 
Essential Grid is a powerful plugin that lets you create galleries of images, audio, or video. This particular plugin is, in fact, a crucial component of many premium WordPress themes that are integrated with a portfolio option. It has numerous themes within the plugin, dedicated for various purposes such as a blog, eCommerce, image gallery, events, playlists, and more. 
The portfolio theme can accommodate projects, media files, and products, along with a pricing section. You can also pull out your works from social media sources, or custom post types from Behance or Flickr. 
The plugin is also designed to be responsive, so you need not worry about your content losing its vibe on a smaller screen. With a smooth interface and navigation, Essential Grid offers a seamless experience not only for the creators but also for the users. 
Key Features
Assortment of templates for a variety of themes;

Pick layouts from boxed, full-width or full-layout models;

Content and social media sources; 

Visual skin editor to customize the themes;

Easily import and export skins.
2. Go Portfolio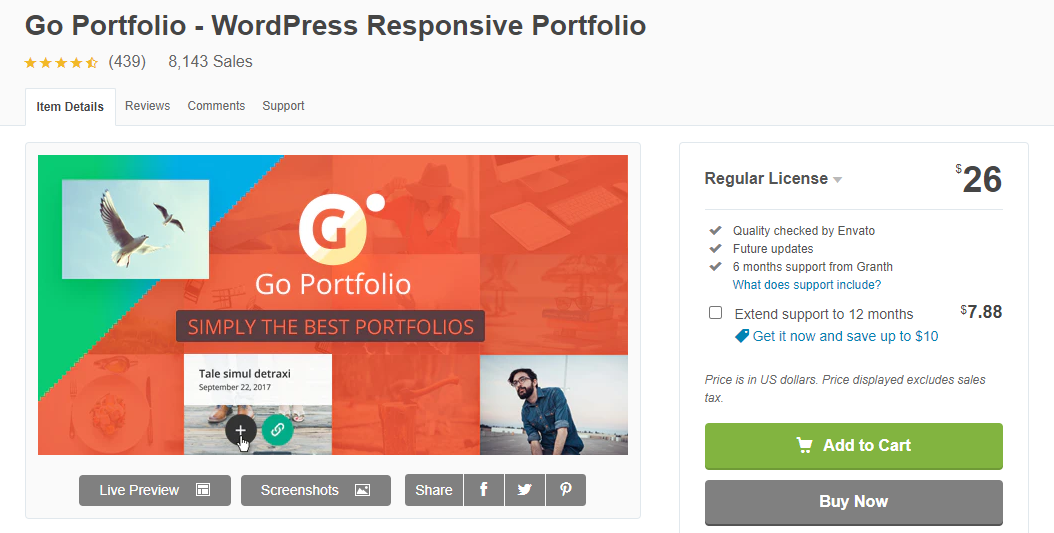 Go Portfolio is advertised as a comprehensive solution for those building and managing digital galleries. It encourages users to create portfolios by adding custom post types. Users can include thumbnails or lightboxes of audio, videos, and images. Apart from these features, the plugin is also highly suitable for displaying your blog posts. 
Another interesting feature of the Go Portfolio is that it can generate a post teaser for your recent or upcoming works. There is also support for WooCommerce and other eCommerce platforms. The flexible and customizable grid system lets you play around the layout to help create a unique style that will surely reflect your creativity. 
There is also customizable responsivity, which could also be extended to touch devices. The best part is that you can modify the templates or create new ones that work globally for each portfolio or make changes within each one. 
Key Features
38 integrated template designs;

 

Compatible with visual composer;

Google font support with over 650 choices;

Customizable design features;

WooCommerce integration;

Translation-ready.
3. The Grid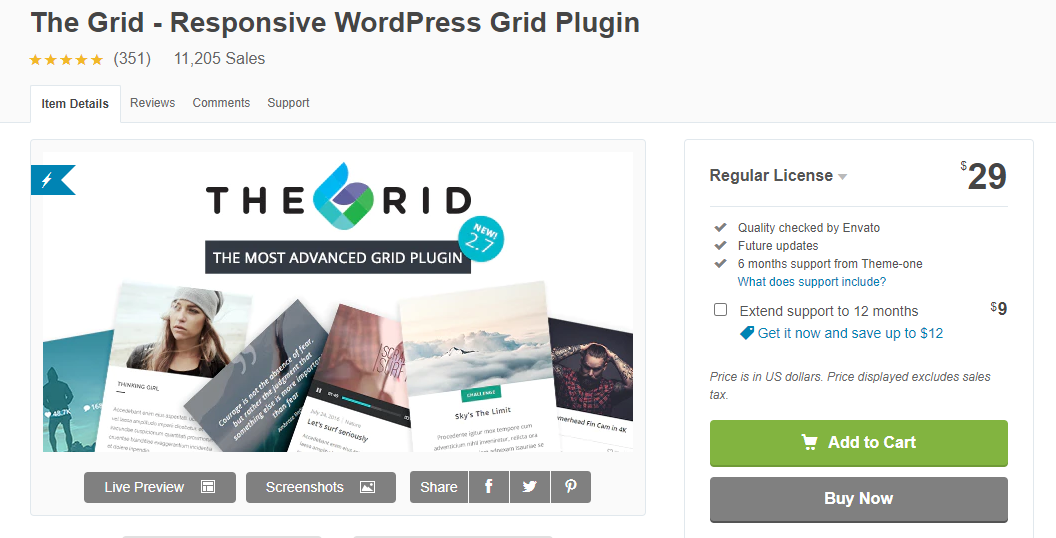 The concept of minimalistic grids seems to be trending in the portfolio market. The Grid is another popular portfolio plugin that boasts stellar features together with flexibility. It has, perhaps, the most extensive collection of grid themes that can be applied across a number of content types. 
Its new powerful skin builder lets you create any pattern with a simple drag-and-drop. The plugin also claims to be the only option on the market that allows for the sorting of a grid on a horizontal layout. The Grid also comes with a built-in lightbox that features videos. 
With an inclusion of a variety of post types, along with social media streaming, The Grid can also enable multiple posts' support in a single portfolio. The plugin is completely translation ready, with over 30 different grid styles to choose from. 
Key Features
Integration with Visual Composer and Cornerstone;

Social media stream;

Customizable skin designs;

SEO optimized;

Tons of animation styles.
4. Ultra Portfolio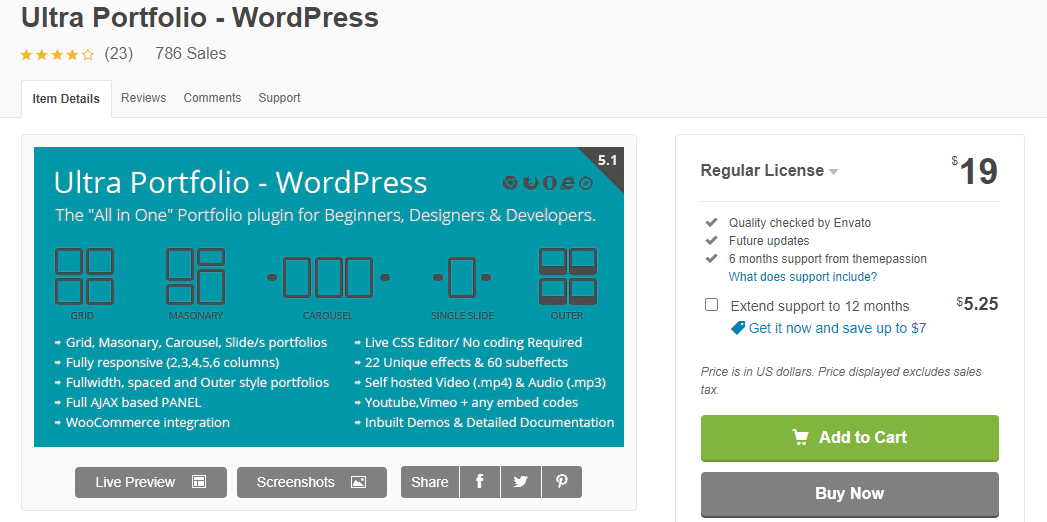 For those who want to step out of the "the Grid zone" and be more creative with their layout, Ultra Portfolio has no shortage of themes. They come in masonry, carousel, sliders, and other layouts that focus on different ways of portraying your projects. 
The inbuilt Live CSS style editor further makes it easier to customize your design choices. As the themes are purely CSS based, you can apply any unique effect that could be tailored to your page. The user interface is fully responsive, mobile adaptive, and auto-image resizing.
Ultra Portfolio can be installed in your WordPress with its one-click set up feature, making the entire process more efficient. 
Key Features
Live CSS style editor;

Fully AJAX-based user interface;

Advanced typography options with Google font;

Auto-image resizing;

Integrated with daily-use demos.
5. Media Grid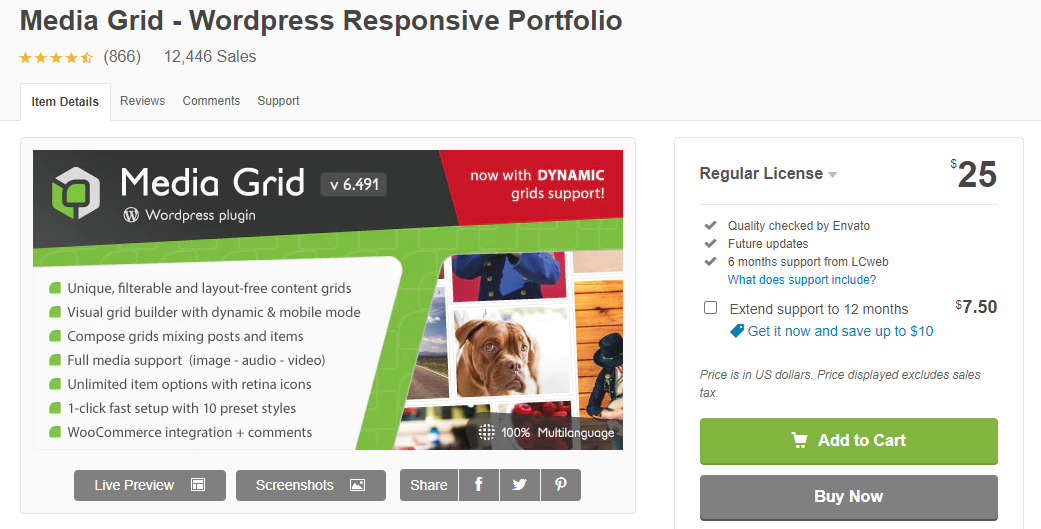 Yes, here goes yet another grid portfolio. But this one comes with a new feature. Media Grid claims that you can create unlimited layouts using advanced and JS techniques. Users are allowed to develop their grids that can be adapted to the preferred mode. 
Furthermore, according to Media Grid, this brings a uniqueness to your portfolios that cannot be repeated by any other portfolio plugins. So what does it mean?
Media Grid has a Visual Grid Builder at its core. With it, you can choose the variables such as the number of columns and rows, while seeing the preview as you progress. These real-time changes can be applied in both manual and dynamic modes. 
To make things even better, Media Grid offers support for over 14 different media types. You can import your existing posts and revamp them using a lightbox. If things couldn't get any better, there is also an SEO-friendly pagination system with six different solutions. 
Media Grid also integrates well with the social media networks, with all-new layouts automatically optimized for mobile devices. The plugin can also be installed with a one-click setup. 
Key Features
Visual grid builder;

Integration with existing posts;

five different lightbox layouts;

Add unlimited attributes;

SEO pagination;

Woocommerce and comments integration.
6. FAT Portfolio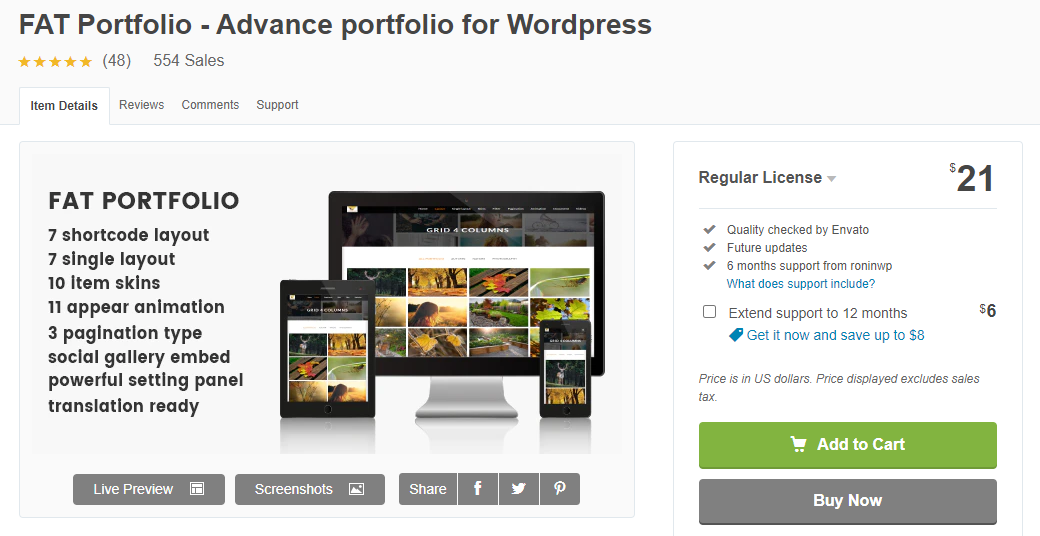 This portfolio plugin version might be more suitable for those who have some knowledge of coding. The FAT portfolio comes with many features that work best with shortcode settings.  The plugin provides a shortcode that is compatible with Visual Composer. The high functionality is extended to a wide array of screen-sized and mobile devices, providing the best viewing scenario in each. 
In terms of layout, the FAT portfolio also offers carousels and sliders along with the standard grids. Each layout is further customizable. Alongside these, there are seven other single layouts that you can embed with social media platforms. 
The FAT portfolio also has other similar features of the previous plugins here, such as pagination controls, infinite scrolling, and filterable tags.
Key Features
14 shortcode and single layouts;

11 choices of animation styles;

Social media gallery embed;

Fully responsive clean design;

Translation ready.
7. GridKit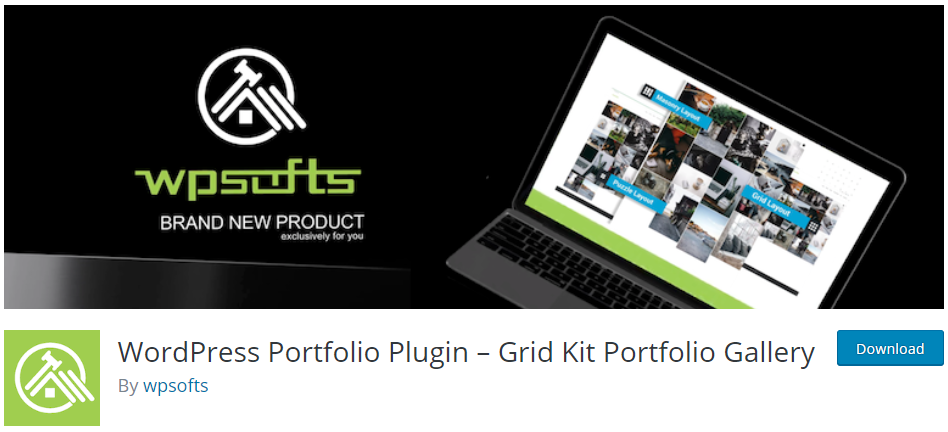 Created by WPSoft, GridKit is one of the leading WordPress portfolio plugins packed with exciting features. The product can be used with its embedded layout builder, which comes free with the package. GridKit has many applications, apart from being a portfolio plugin. It can also feature products, images, gallery sliders, a gallery of team members, and build several other layouts that could meet your business needs. 
Most importantly, it has a pop-up add-on feature that makes the showcases stand out from the rest. There are additional choices on how you want the pop-ups to appear, depending on whether you need detailed insights or not for your portfolio projects. 
For those who prefer a bit of a personal touch, there is always the shortcode add-on. Moreover, there are features for the category filtration, along with pagination as well as social sharing. 
GridKit offers over a hundred predefined templates and portfolio styles to choose from. Add customization to that, and you have a plethora of design possibilities for your portfolio look. 
Key Features
Variety of predefined layout options; 

6 popup styles;

100+ Hover animation styles;

Embedded extensions of category filtration and pagination;

Direct social sharing.
8. WP Portfolio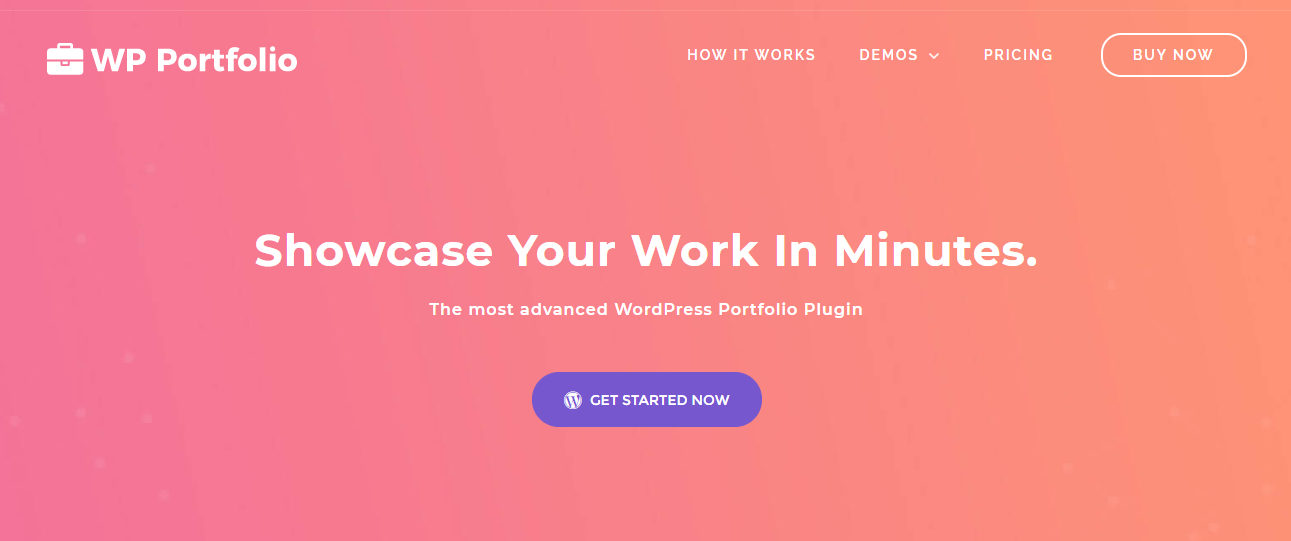 WP Portfolio is a plugin to be used exclusively for portfolio creation. Though its functionalities are applicable to other themes, the elements are the best fit for designers to showcase their projects. For instance, a web designer or a UX designer can allow the viewers to preview their live projects as a pop-up. 
The different items or categories can be displayed in a grid pattern from which the viewer can choose a particular project to view. 
From there, they will be redirected to a fully interactive view of the design, where one can browse or navigate on the site. Combining a traditional lightbox approach with interactive features, WP has managed to create a masterpiece of a web design gallery. 
You can also redirect the viewers from one link to separate pages with other individual projects. There are also a few customizing options available, such as a filter tag and a shortcode builder. 
Key Features
Unlimited layouts and infinite scrolls;

Real-time previews;

Compatibility with major page builders;

Easy and customizable shortcodes;

Responsive and flexible design.
9. Envira Gallery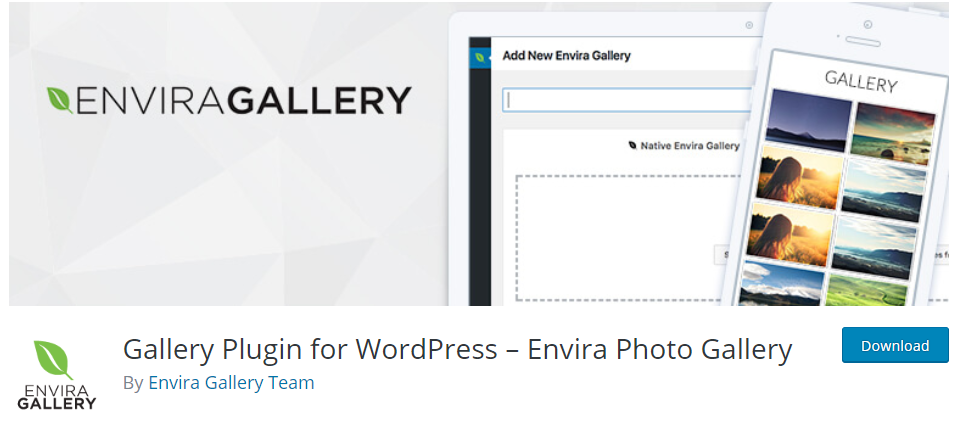 If your portfolio only comprises images, then Envira Gallery will undeniably fall into the best category. The plugin will work especially well for illustrators, photographers, artists, and graphic designers who are looking for a neat and sleek way to showcase their works. 
Envira possesses powerful features such as watermarking, Lightroom, and proofing add-on that give an edge to the creators. Besides, it also entertains zoom, lightbox as well as standalone galleries. 
The plugin doesn't shy away from social media integration, either. It comes with social sharing, along with Pinterest, WooCommerce, and more. Apart from that, Envira also has other general features, including pagination, CSS customization, and a responsive interface. 
Key Features
Easy drag-and-drop builder;

Pre-built and customizable gallery templates;

Categorize albums with tags;

Social media integration;

Watermark protection;

ECommerce integration.
Which WordPress Portfolio Plugin Should You Use?
The answer to this question depends on what kind of portfolio you want to create. If you work with multiple media, your best bet is to choose a plugin that excels across all domains. 
You might also need to consider how much customization is required. Moreover, weigh in how much coding you are comfortable with. As only a few of these plugins only offer customization through shortcodes, you should know to use them in order to take advantage of all the features. 
Additionally, if you want to use this page as a business site as well, consider how good these templates are for you to optimize the content for SEO. You, then need to design the site with not only potential clients, but also with your general audience in mind. 

Remember that how you display your work could impact how the viewers perceive it as well. With such an extensive set of resources available, nothing is stopping you from creating a killer portfolio right away. 
===
Beverly Davis is a content specialist currently working at EssayPro, an established academic writing service. She frequently writes about digital marketing and the latest technological trends. She uses her subject-matter expertise to craft articles with in-depth, and user-focused content. 
https://ninjateam.org/wp-content/uploads/2020/07/9-Best-WordPress-Portfolio-Plugins.png
426
1210
Ninja Team
https://ninjateam.org/wp-content/uploads/2020/10/ninjateam-logo.png
Ninja Team
2020-07-23 15:03:58
2021-03-24 15:22:20
9 Best WordPress Portfolio Plugins