9 Best Chatbots for WordPress
You definitely do not have enough time to answer the same constant queries raised by customers, right? To free up your time, while still giving customers support and adequate information in an organized way, you might consider using an automated solution.
Say hello to chatbots. And don't be surprised when they talk back.
A chatbot is, as the name suggests, an automated chat system that sends responses to people's greetings and inquiries. They can converse with web visitors through a chat window placed on a website.
Chatbots are becoming hugely popular and appearing on a great number of business websites as well as e-commerce sites for the purpose of providing instant customer support any time of the day through automatic response towards visitors' inquiries.
With the great help of the Chatbot, it has now become possible for a company to provide full customer support 24/7.
Consequently, Chatbots plays a critical role in a variety of daily tasks such as collecting email address, phone numbers or any other important details.
In this article, we'll take a look at the 9 best WordPress chatbot tools to explore how they can enhance your store engagement.
Let's get started!
1. DoopChat – Facebook Auto Reply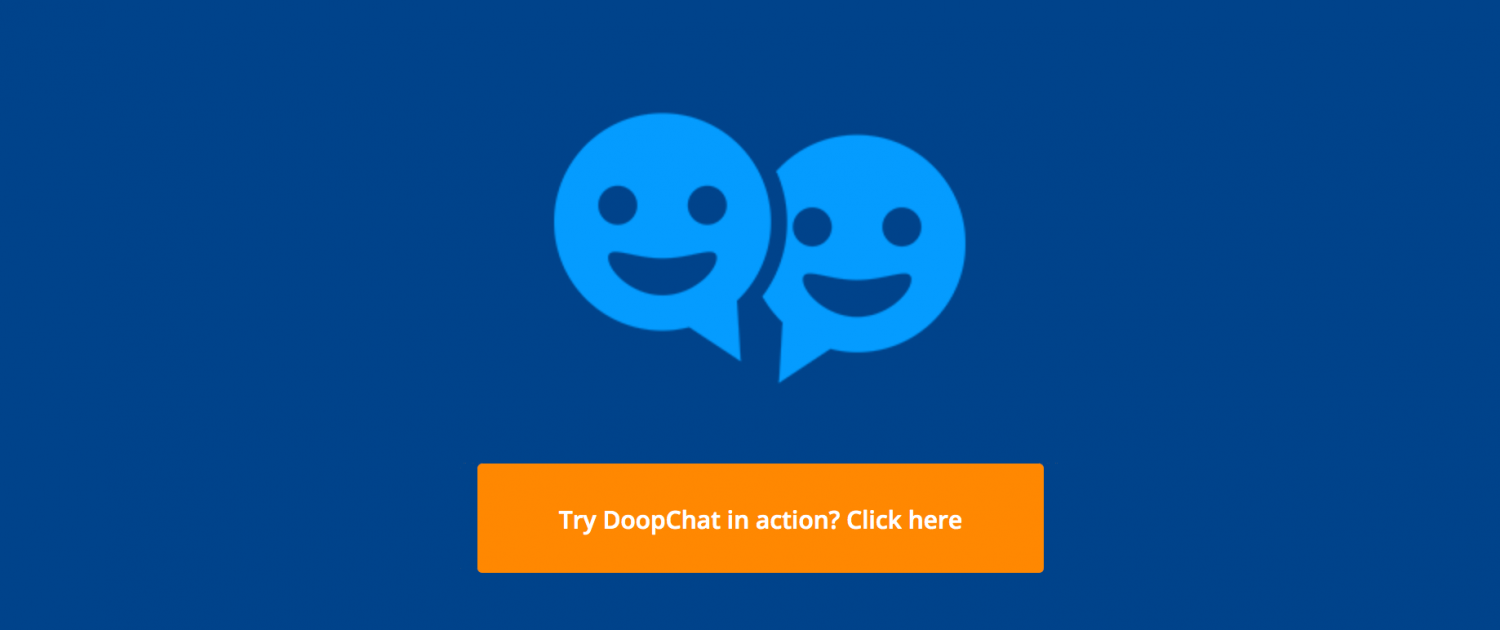 DoopChat is an automated marketing tool for all Facebook fan pages. It works magic no matter which platform or framework your website is built on.
This service allows you to intrigue Facebook audience to start the conversation by leaving a comment first.
Once successfully integrate DoopChat into your Facebook fan page, you only have to think of posting engaging content to collect as many comments as possible. Then this extension can send automatic replies to those who have posted comments. You are able to spin text and send personalized responses based on the keywords recorded in the comments.
Then your fan page account gets the audience contacts and you can get back to them whenever you want. Sounds sweet? What's even better is they're offering a special discount to support businesses during COVID-19. Just add the coupon code below!
2. Facebook Messenger Chat with Bot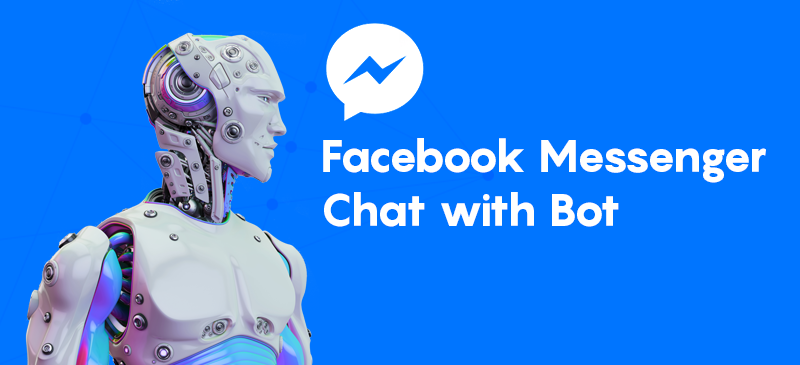 Do you want to grow your business with a technology bot?
Facebook Messenger Chat with Bot for WordPress uses Facebook Messenger Bot API to help you make a bot which can automatically answer questions from your customers/ visitors.
This is the best way to help you save time and grow your business – Your customers can receive answers instantly when you are not online. The bot does that.
Excited yet?
You can set up answers when your customers have questions.
For example:
– When client types: "Hi there!"
– Bot says: "Hello! What can I do for you?"
– Client: "I wanna buy a shirt for my son's upcoming birthday."
– Bot: "Sure. You can have a look at our products here [product link]"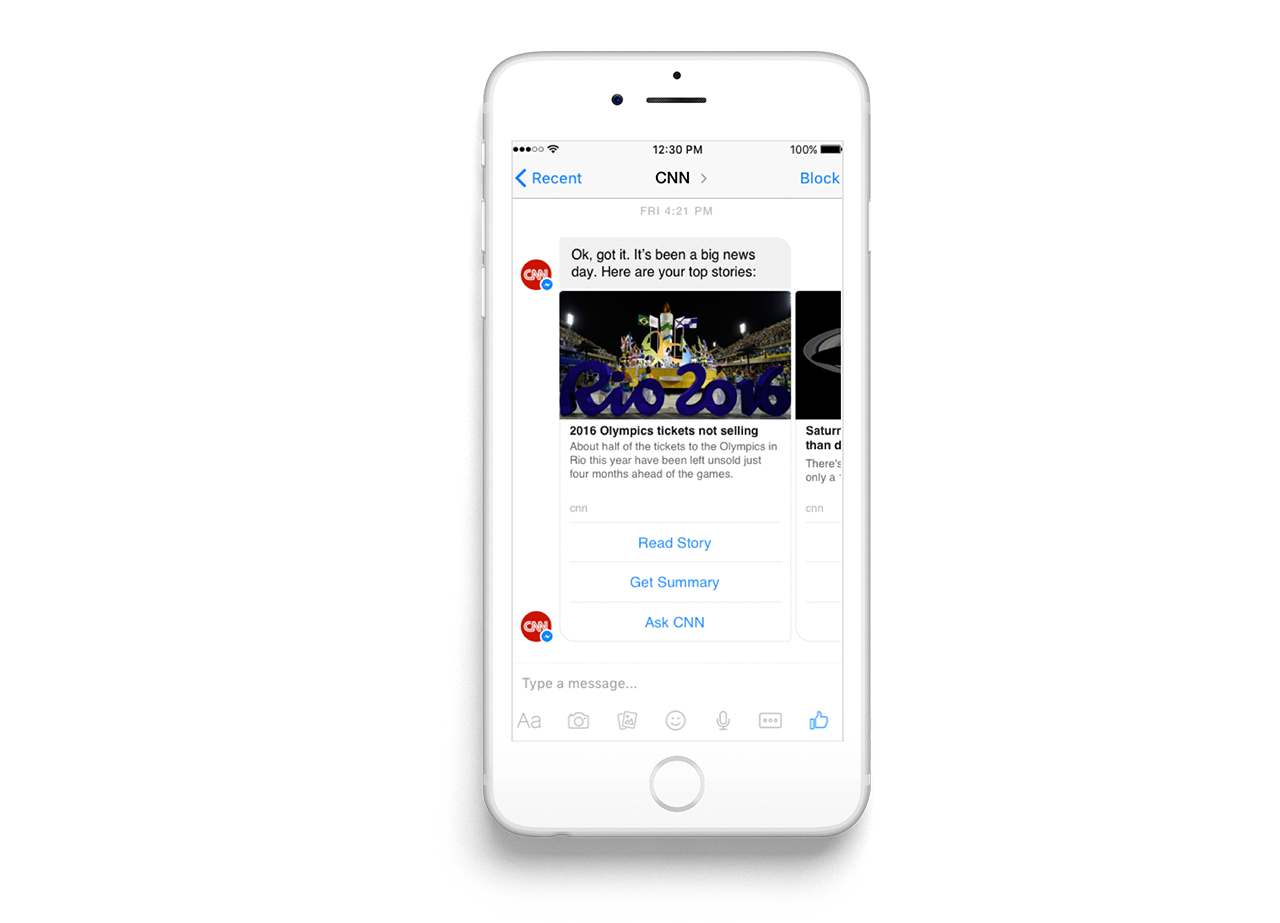 Next comes a much easier solution and also a fun way to get connected with your Facebook audience.
3. WP-Chatbot for Messenger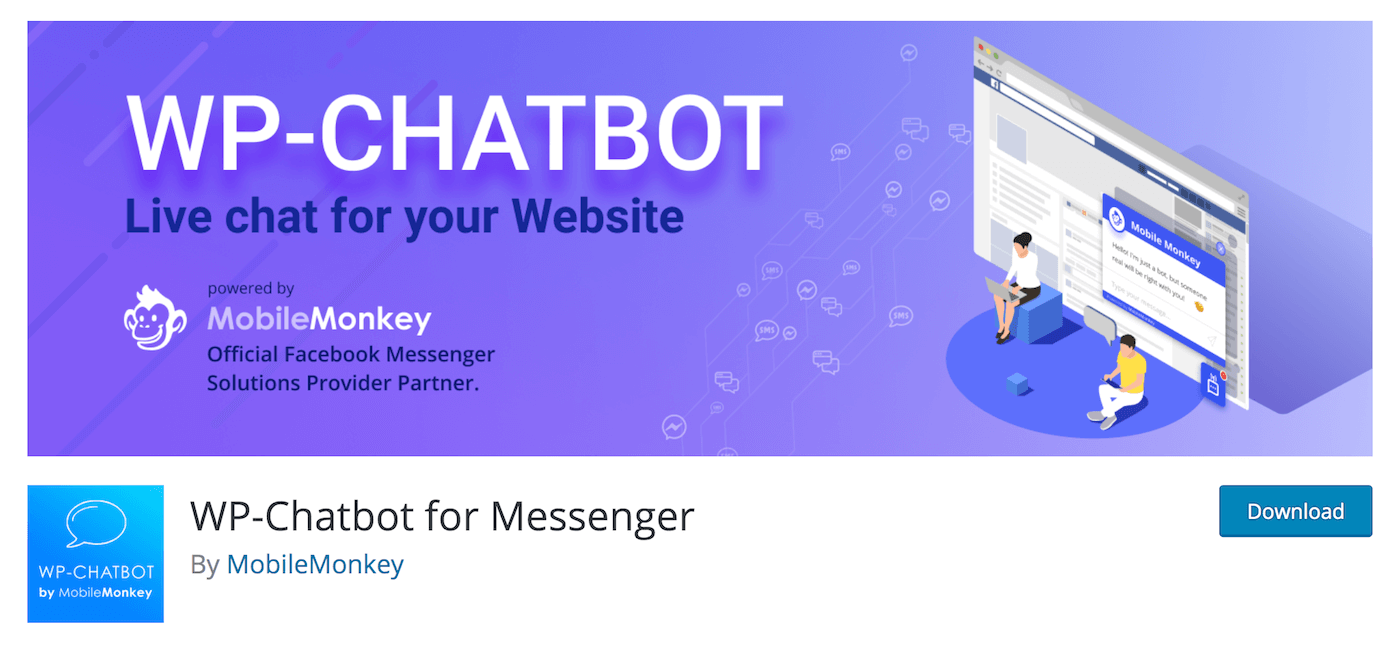 Are you trying to find the effective solution to automatically send news and updates to all subscribers with the help of Facebook Messenger?
Then WP Chatbot for Facebook Messenger is definitely the exact WordPress chatbot tool you are looking for. This useful chatbot plugin is appropriate for bloggers who want to keep their subscribers updated with recent posts.
Here's the plugin's tagline:
"Add Facebook Messenger on your Website. Chatbot or live chat to your Customers from your website using Messenger. build for Facebook Messenger Customer Chat plugin."
There are many features to focus on, with some of my favourite include:
Implement Facebook Messenger into a WordPress site for both live and automated chatting.
Easy installation process.
Compatible with all Facebook chatbots.
This WP chatbot plugin allows you to use Facebook Messenger through your website to chat directly with users.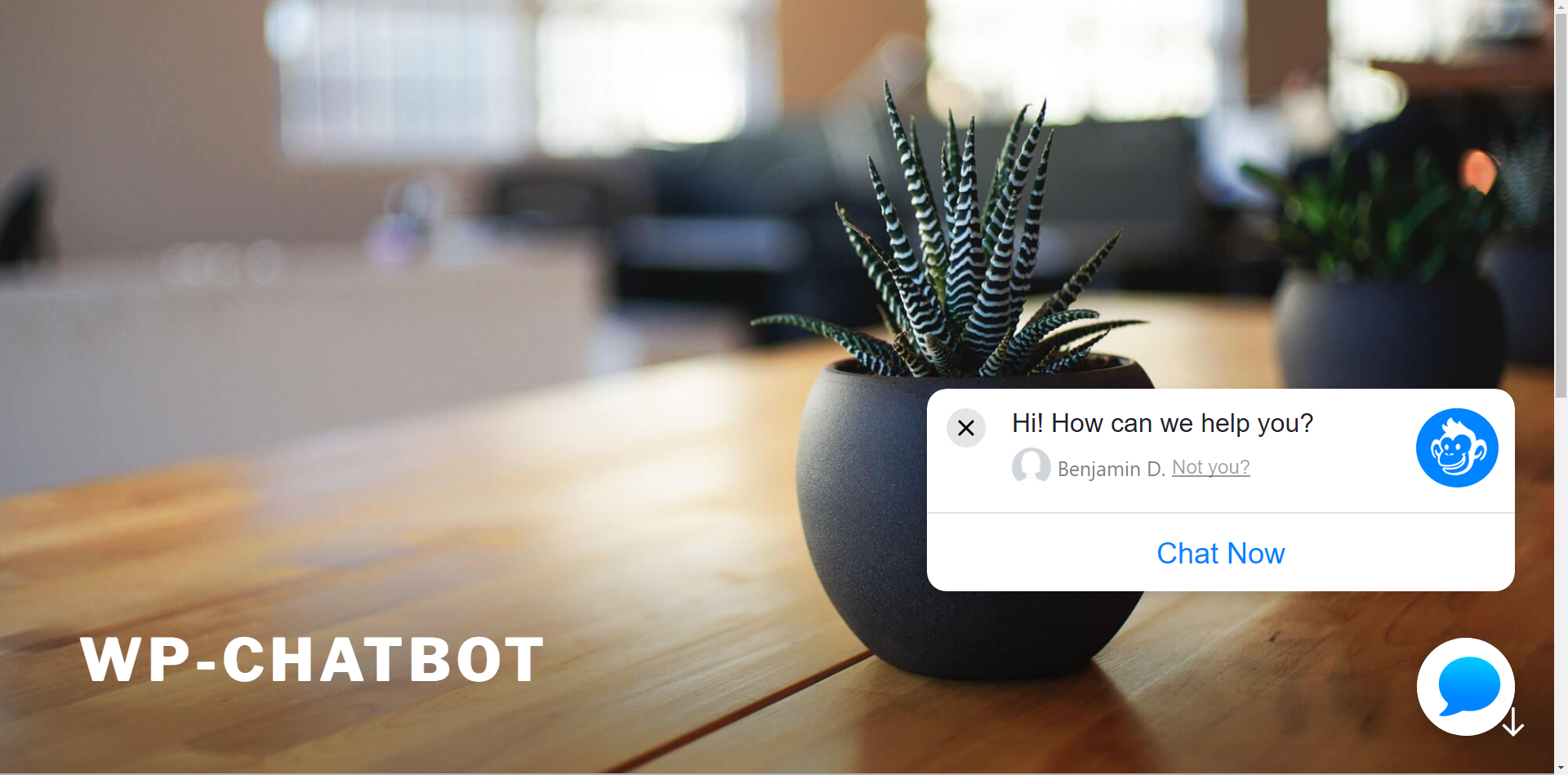 To install this plug-in, you must get a free API key from the NewsBooster website and enter it in the settings.
Then, you will also have to configure where to put the subscribe widget on your website, so visitors can sign up to receive your automatic messages.
4. Collect.chat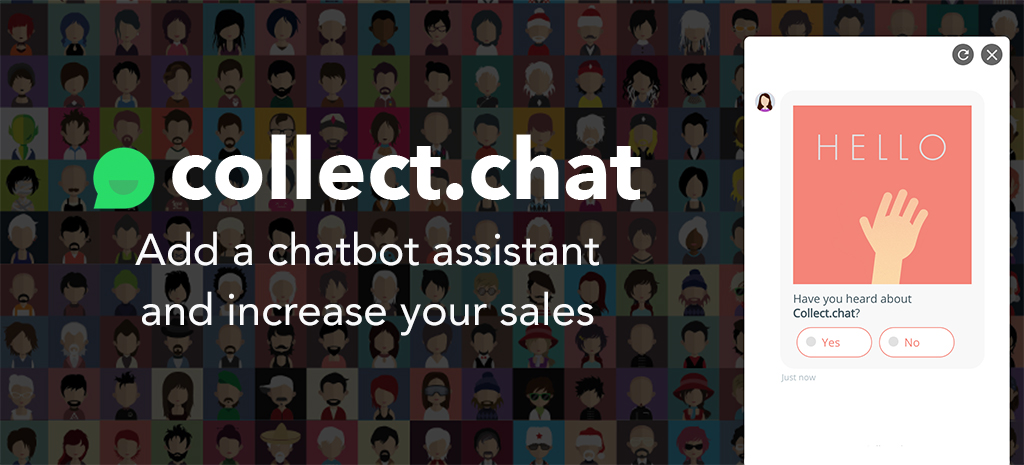 Collect.chat is considered one of the top-rated chatbot plugins for WordPress and is widely used for collecting data from visitors by a great number of WordPress users. With the help of Collect.chat, you will be able to accumulate customer feedback in a systematic fashion.
Installing Collect.chat is super duper easy. All you have to do is copy and paste a snippet of code into your website and it's done.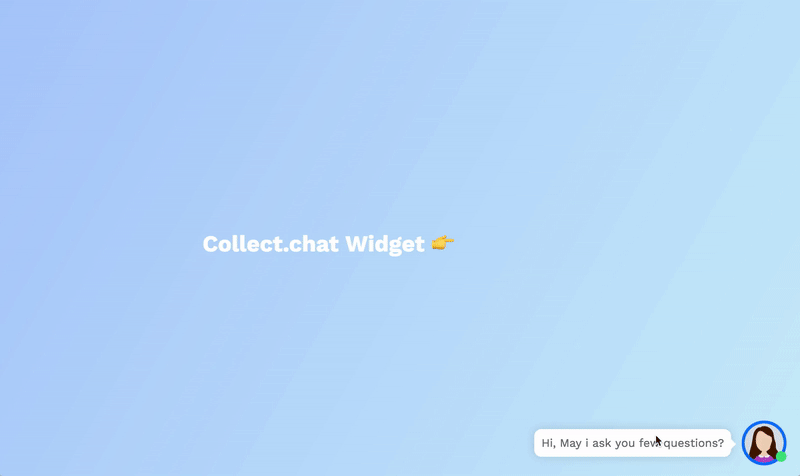 This WP chatbot plugin is designed specifically for gathering data from your website visitors. This chatbot plugin enables you to collect customer feedback and opinions which is useful to provide them what they need.
The UI of this chatbot plugin is pretty self-explanatory with drag-and-drop feature that is so handy for you to make it look as you want.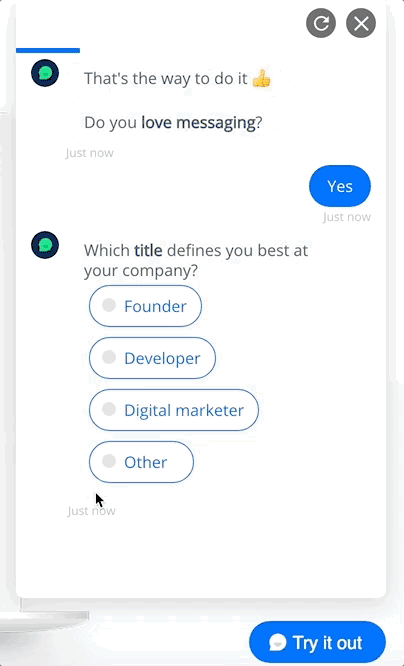 Overall, Collect.chat is the perfect automated WordPress chatbot plugin for websites to collect leads, data and feedback from customers.
5. IBM Watson Assistant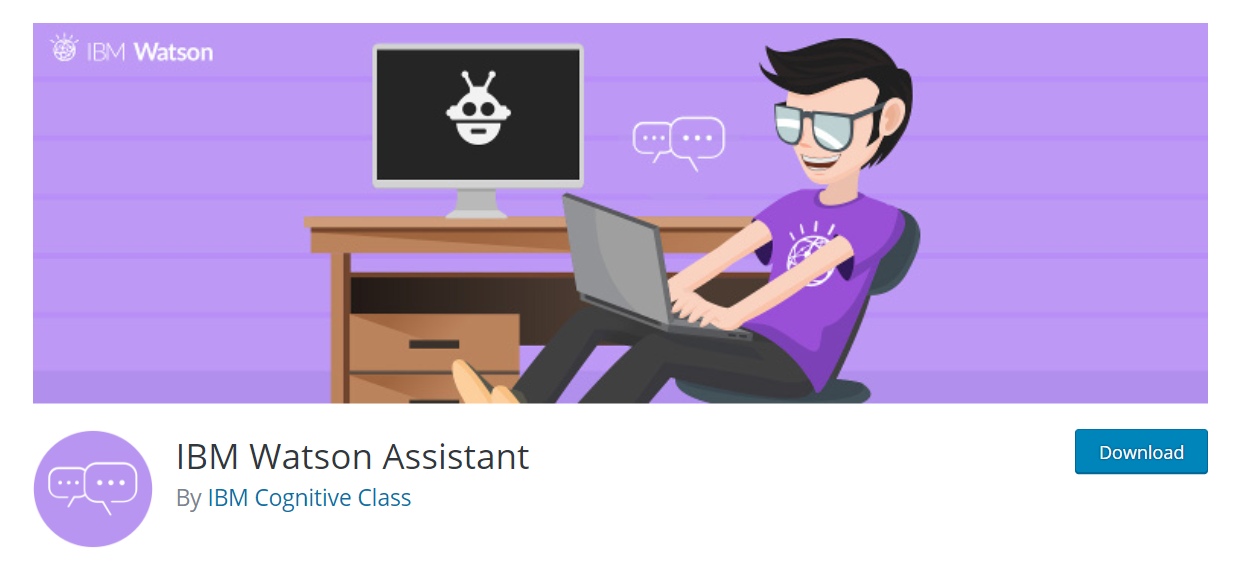 Let's say hello to one of the most wonderful artificial intelligence (AI) services developed by IBM.
IBM Watson Assistant is a powerful chatbot plugin based on IBM's AI assistant Watson. With this plugin, you can add a chatbot to your site and train it to help your visitors in various ways, namely answering questions, providing information, and offering help, etc.
Here's the plugin's tagline on its official download page:
"Add this plugin to your site and let IBM Watson help you better support your customers. In a few minutes, you can train Watson to answer frequently asked questions, provide useful information and help them navigate your website."
Some of the striking features that I like about this plugin include:
Powerful chatbot with machine learning and advanced configuration options.
Ability to customize the appearance and location of your chat box.
Enables you to view past conversations between users and Watson.
In order to add Watson to your site, all you need to do is to install and activate the plugin. You then need to sign up for a free IBM Cloud Lite account for the purpose of building your assistant.
From your plug-in settings panel, you can choose which pages and posts you want the chatbot to appear on. Also, you can have the options to personalize the appearance of the chatbot.
This WordPress chatbot is designed to converse with site visitors about anything you want including:
greeting customers
helping them navigate your website
assisting them in finding products
answering them simple questions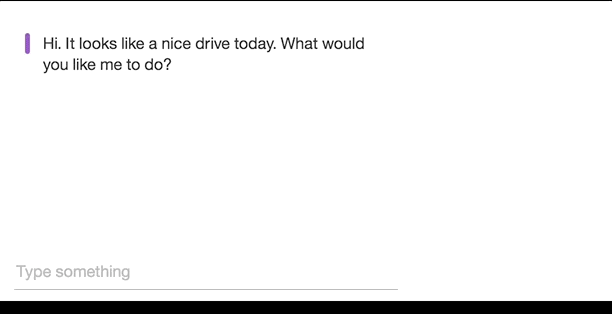 IBM Watson Assistant effectively deals with every single simple task such as giving customers greetings or help them to navigate the website and thus help them to find out the product they are looking for.
Overall, this WordPress chatbot plugin with the immense help of AI is an amazing tool from IBM to help your business provide instant responses to customers' inquiries without taking much time and effort.
6. WoowBot WooCommerce Bot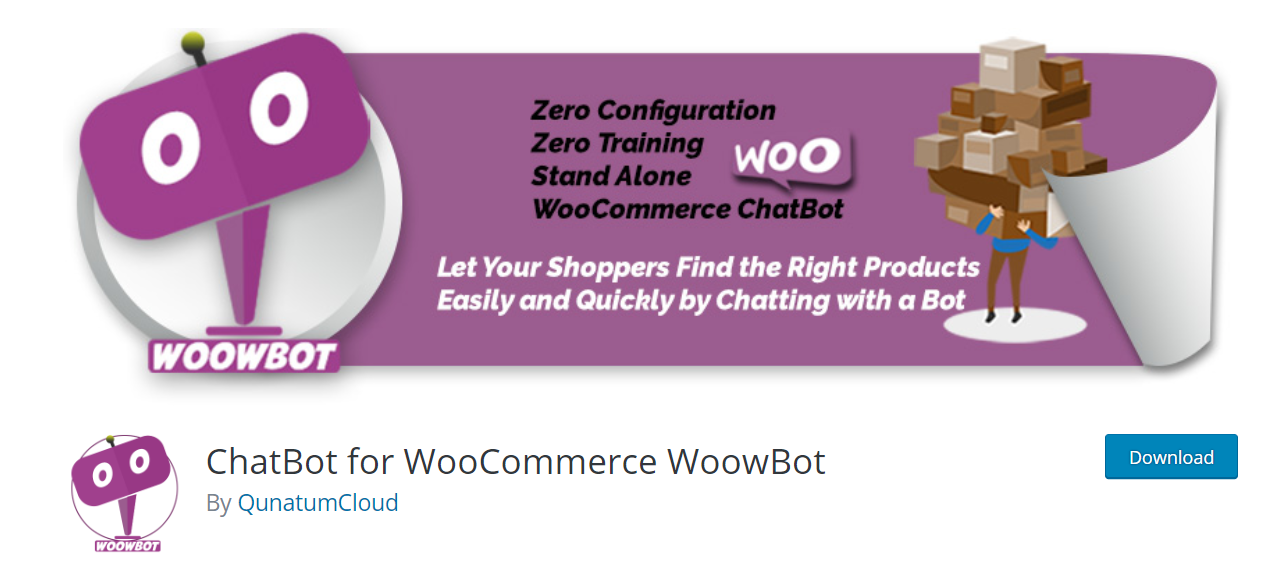 You're running a WooCommerce store and looking for an automatic chatbot?
WoowBot is another powerful WP chatbot plugin in today's collection to works as an automatic assistant to your WooCommerce website visitors and help them to find the products they are seeking.
There are many features to focus on, with some of my favourites including:
Easy plug-and-play installation with no configuration required.
Provides helpful search functionality to your WooCommerce site.
The premium version contains additional advanced functionality.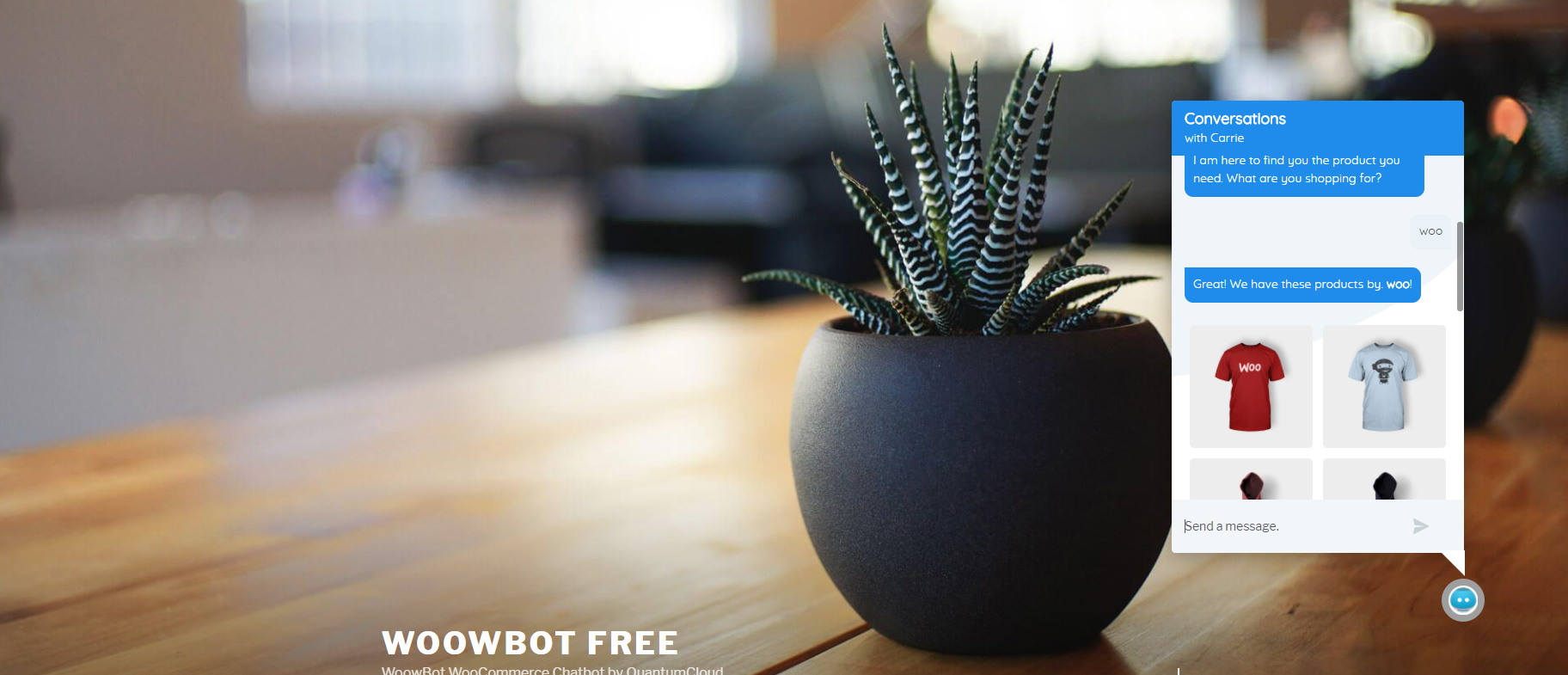 The free version of the plugin can help customers find products they want, like an advanced search function. Plus, it also offers additional functionality such as enabling users to add items to their carts directly through the chat box or allowing you to personalize WoowBot's responses to inquiries.
For example, you're running an e-commerce store selling mobile gadgets. Customers could ask the WooWBot if you sell Galaxy S10 Plus. If you do, the bot will show the customer your requested product.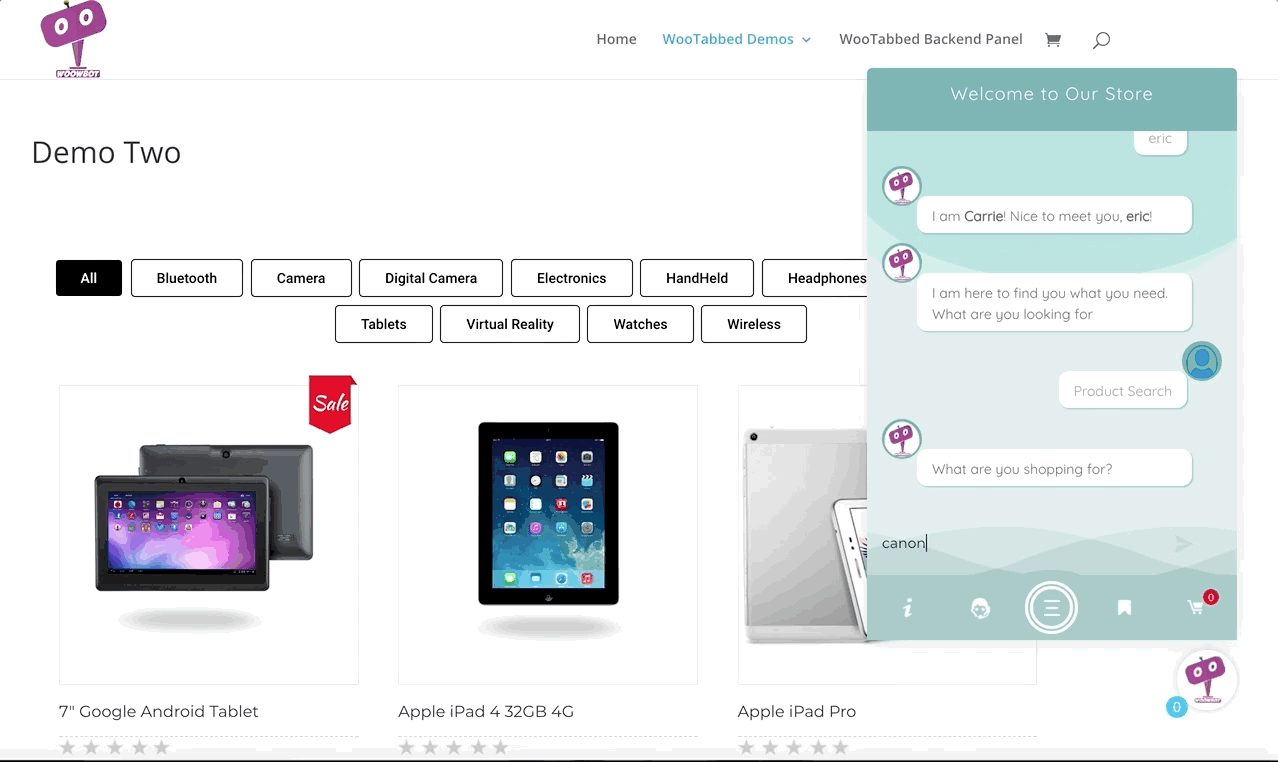 7. Virtual Spirits Chatbots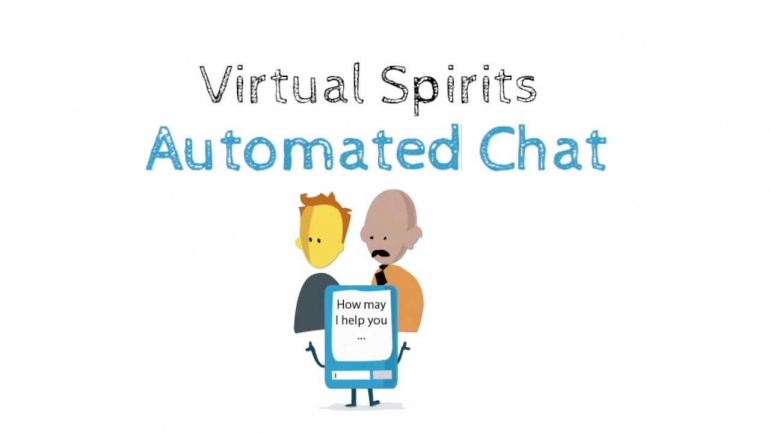 Virtual Spirits Chatbot is another excellent WP chatbot plugin that offers automatic support to customers in multiple languages such as English, French, Arabic, Spanish, Dutch, Russian, Hebrew, German, Italian, and Portuguese.
This is also the predominant feature that helps Virtual Spirits Chatbox stand out of the crowd because the chatbot plugins in other languages other than English are uncommon.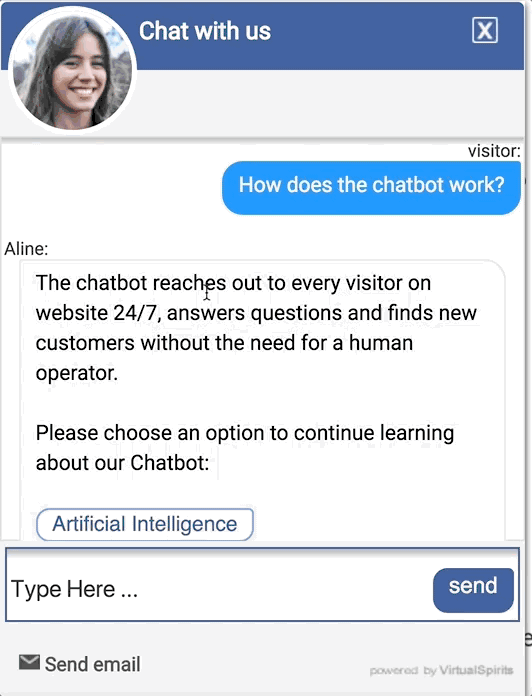 Plus, Virtual Spirits provides a wide selection of templates that is highly beneficial for you to find the appropriate model for your business. For instance, they have templates for:
lead generation
customer service
conversion optimization
e-commerce assistance
You can personalize your chatbot with your choice of colors, images, and logo.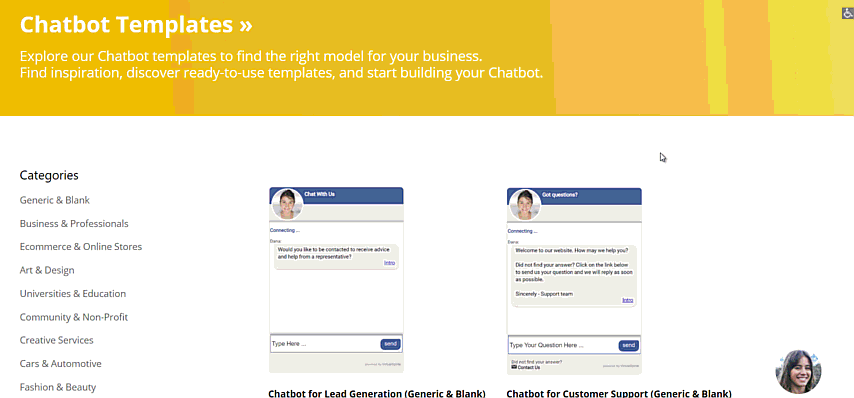 Overall, VirtualSpirits gives you many options to fit their chatbot to your brand and targets.
8. Gobot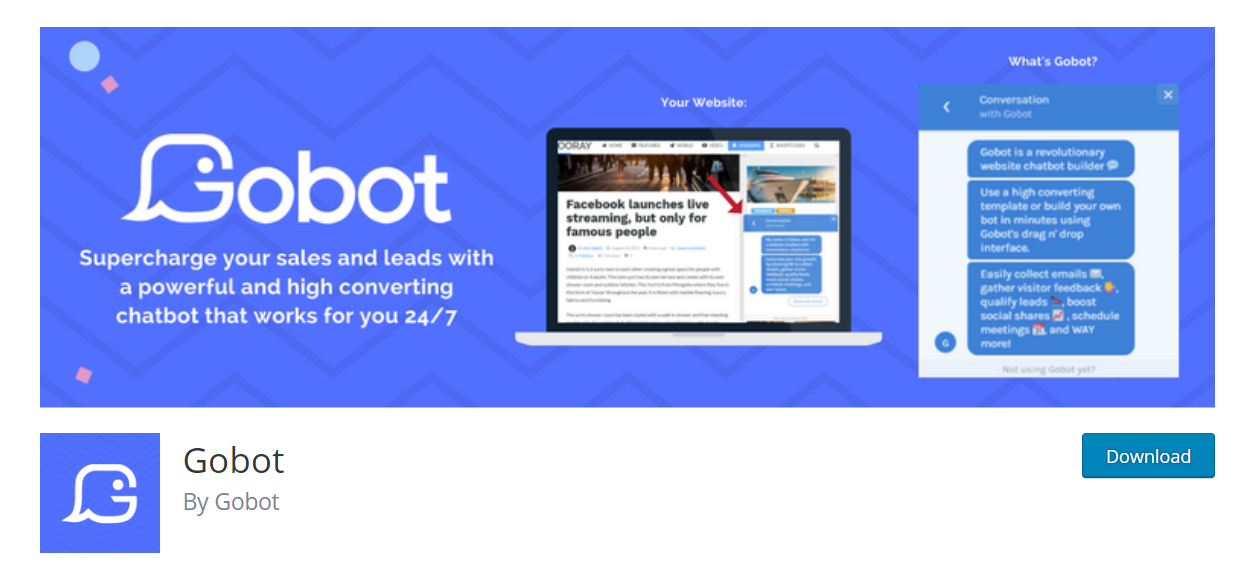 Gobot is a chatbot used to automatically archive email addresses from your website visitors.
Then what?
With this plugin, you can collect customers' valuable information through forms, surveys, or polls for collecting helpful information. The chatbot plug-in also acts as an automated customer service and a meeting scheduler.
Here's the plugin's tagline:
"Gobot helps you grow your sales, automatically answer customer questions, get more email subscribers, book meetings, and more by engaging your website visitors at just the right time and place!"
As we've mentioned earlier, this WordPress chatbot primarily presents forms, surveys, polls, etc. for gathering numerous types of valuable information, so it allows you to write your own script with the flexible and powerful drag-and-drop bot builder which is fairly convenient to build intelligent script to respond to customers.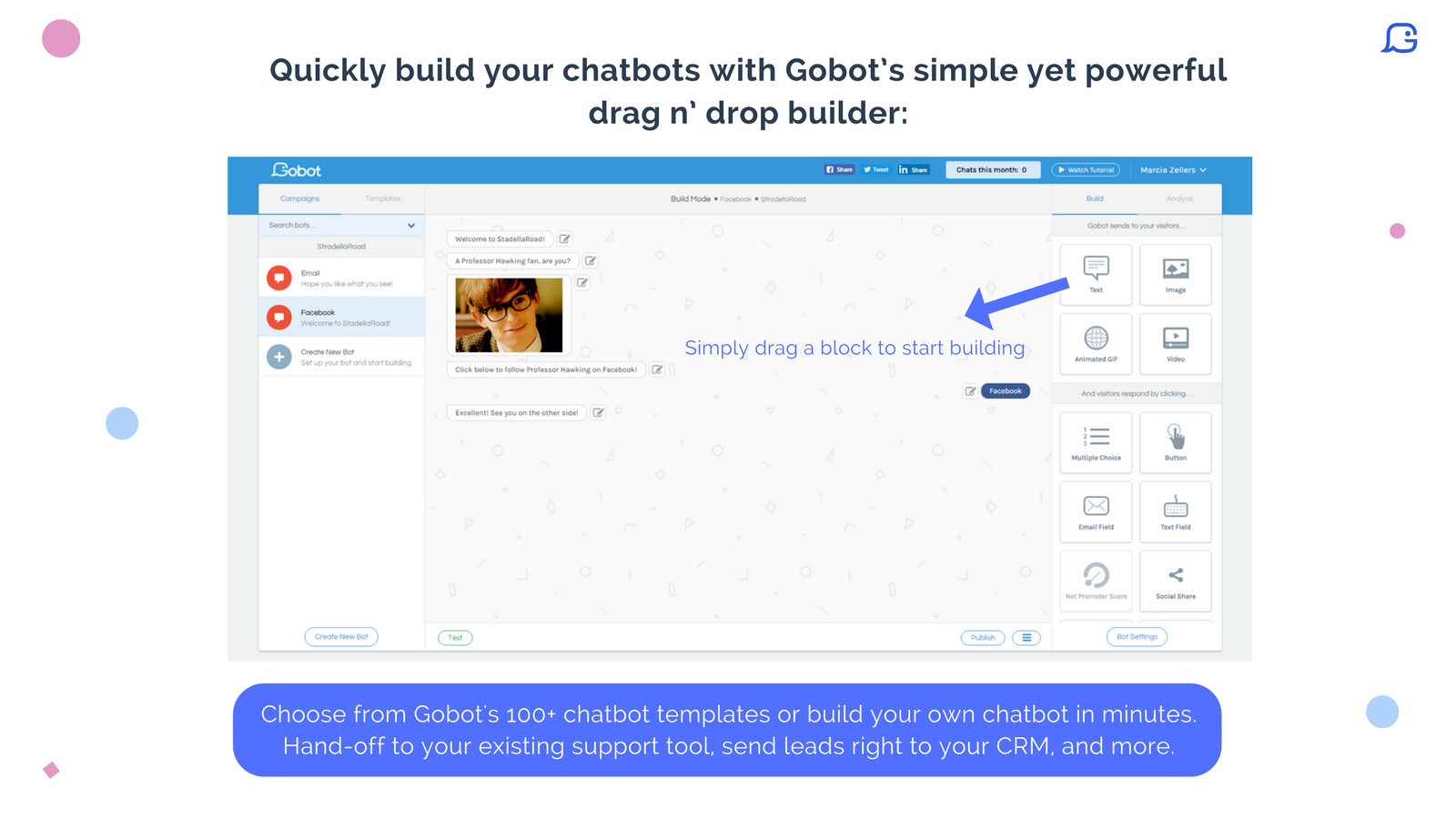 You can even compose specific messages to appear in your chatbot based on the pages your visitors are viewing. Enable your Gobot to start a dialogue with a customer after they've been on your site for a specific amount of time.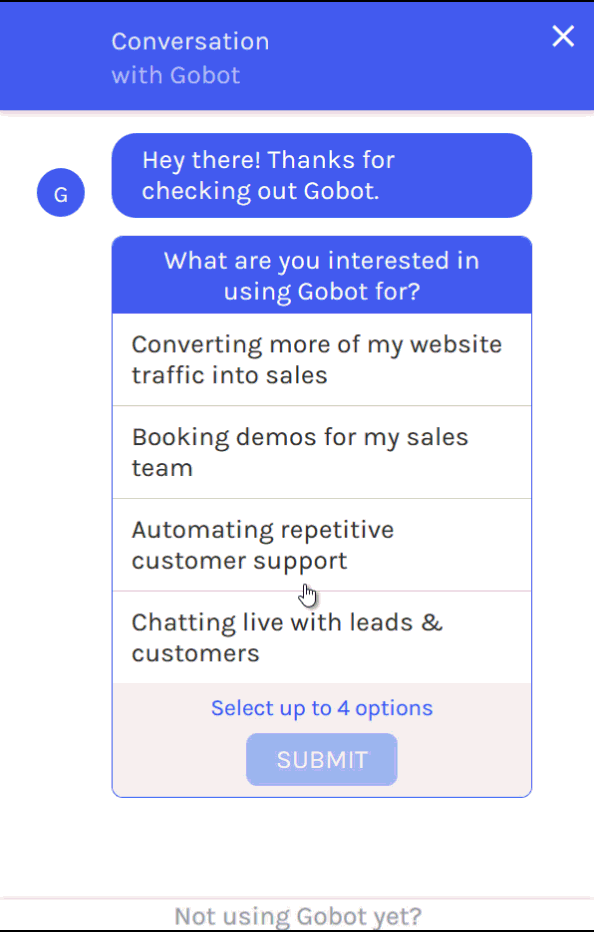 9. My Chatbot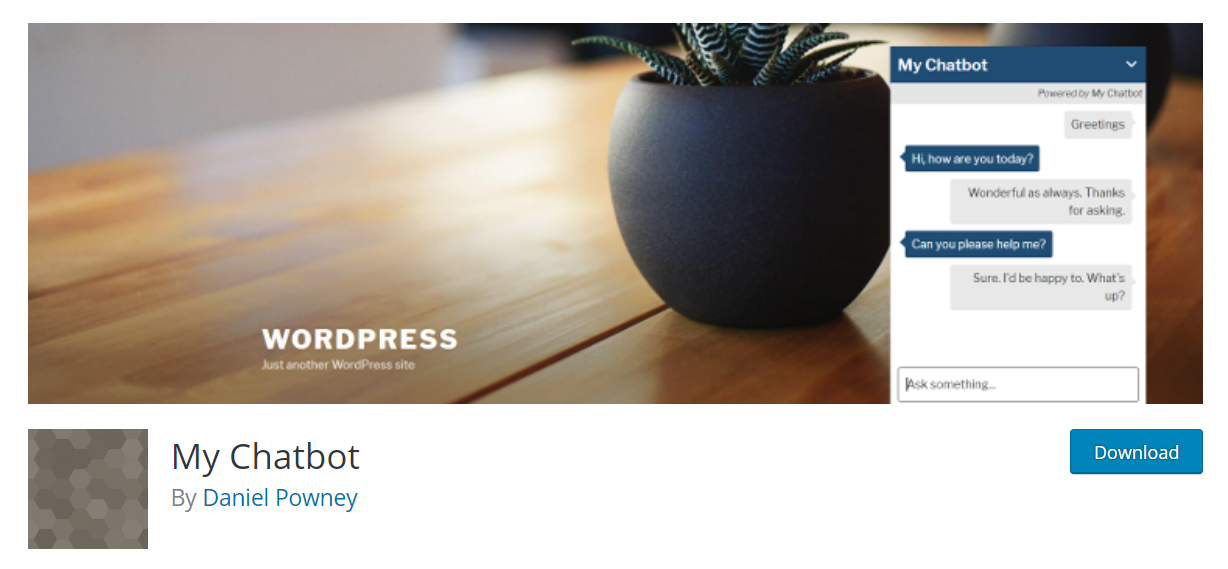 The ultimate great chatbot tool in today's collection is My Chatbot powered by Dialogflow, aka an artificial intelligence chatbot for WordPress.
Its features list is well worth checking out:
Enable a personally branded chatbot, complete with rich content messaging and quick replies.
Insert hyperlinks in responses and messages
Enable the chatbot using both widgets and shortcodes for individual posts and pages.
Extremely lightweight
Provide an inbuilt template system
This highly responsive chatbot operates based on Google's machine learning algorithms. Thus, it tries to imitate Google assistant that makes it probably become one of the most powerful chatbots in the world.
Also, the chatbot plugin allows you to enable rich message content as well as instant replies and image replies.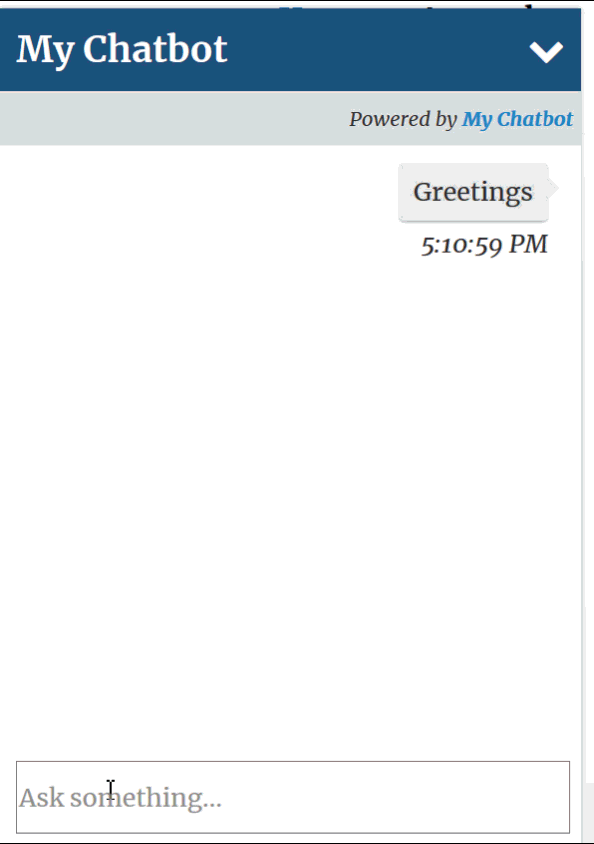 The UI of this plugin is easily adaptable and you can choose what pages and posts the bot is enabled on.
You'll have the options to alter from text fonts and background colors to chat opacity in the plugin's settings.
Final thoughts
Chatbots are becoming immensely popular and can make your website achieve the next level. Whether you're running an online store, a brick-and-mortar store or a simple blog, chatbots can become your powerful weapon to deal with customers' inquiries, so you don't need to spend much time answering simple questions. It's obvious to say that chatbots can't be a complete replacement for human interaction, they can be a reliable customer assistant to provide support and information instantly to customers.
Try out some of the above mentioned WordPress chatbot plugins and see how they can improve your WordPress website or e-commerce store.
Recommendations
Caution: Shameless plug ahead!😜
If you're planning to go beyond Facebook Messenger, other great support plugins such as WhatsApp for WordPress and WordPress Support All-In-One are recommended. All those plugins are perfectly compatible with FileBird—The best WordPress media library folders plugin.
You can check them out here:
Do you have any experience with the plugins we have written about? What is your favorite? Any say about these? Please leave your comments in the chatbox below.
https://ninjateam.org/wp-content/uploads/2019/03/Best-Chatbots-for-WordPress-1.png
426
1210
Benjamin
https://ninjateam.org/wp-content/uploads/2020/10/ninjateam-logo.png
Benjamin
2020-10-05 02:35:55
2021-06-02 11:20:21
9 Best Chatbots for WordPress