8 Best WordPress Calendar Plugins You Should Use
Event calendar plugins are a must if you're running a website, let alone the fact that WordPress calendar plugins always manage to grab their place in the essential list of WordPress plugins.
Whether it's about letting your customers know about your upcoming sales deals/webinars or knowing your scheduled conferences/meetings, a WordPress calendar never lets you down, not to mention the seamlessly handling factor!
And like always, there are a few factors that you should keep in mind when you're installing a new WordPress event calendar plugin like, 
Will it be affecting your site's loading speed

Will there be any new security/vulnerable issues created because of this installation

Is it mobile-responsive and has a good user-interface

Whether it supports the most common WordPress versions 

And most importantly, how flexible the plugin is and how good the customization options are. 
So, in order to make the hard job easy for you, we've come up with some of the best WordPress calendar plugins in this read! 
So, why wait? Let's get to the first best event calendar plugin for WordPress! 
Best Event Calendar Plugins for WordPress
1. The Events Calendar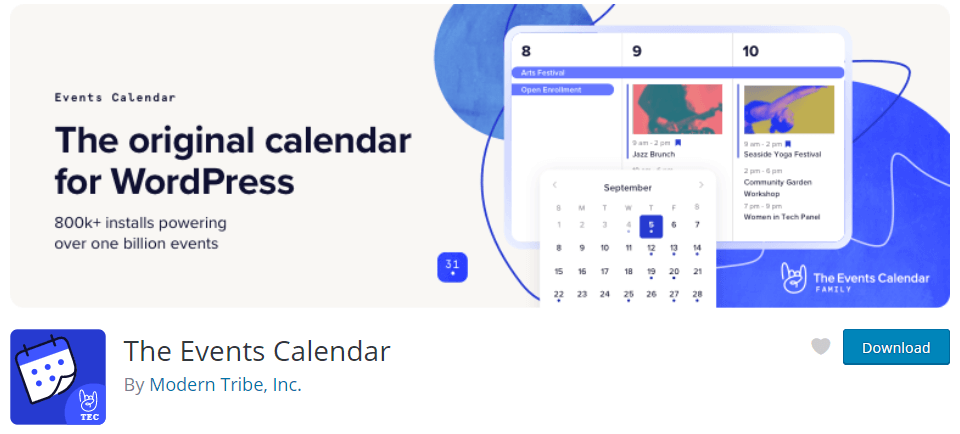 As the name says, this plugin allows you to create & manage events on your website with ease. With 800,000+ active installations, The Events Calendar plugin has undoubtedly gained a good place on our read!
The plugin comes power-packed with features and the team says you can simply install the plugin, go through a few settings and create your first calendar event within minutes. The plugin seems to be an ideal WordPress event calendar plugin for all sizes of business, irrespective of the industry they are in! 
Below mentioned are a few features of this plugin you should be knowing, 
Key Features
Options to highlight events in multiple views – list/day/week/photo views. 

Supports multiple time zones to make sure you don't skip your events. 

Options to create recurring events or featured events (

by shining a spotlight

) to highlight important events. 

Import events via CSV files and export them to calendars like Google Calendar and iCal. 

Highly customizable (

thanks to its developer-friendly code

), shortcodes to change calendar display locations, countdown timers and more. 
Pricing
Events Calendar is a free WordPress event calendar plugin. And the paid plans start from $89. 
2. Events Schedule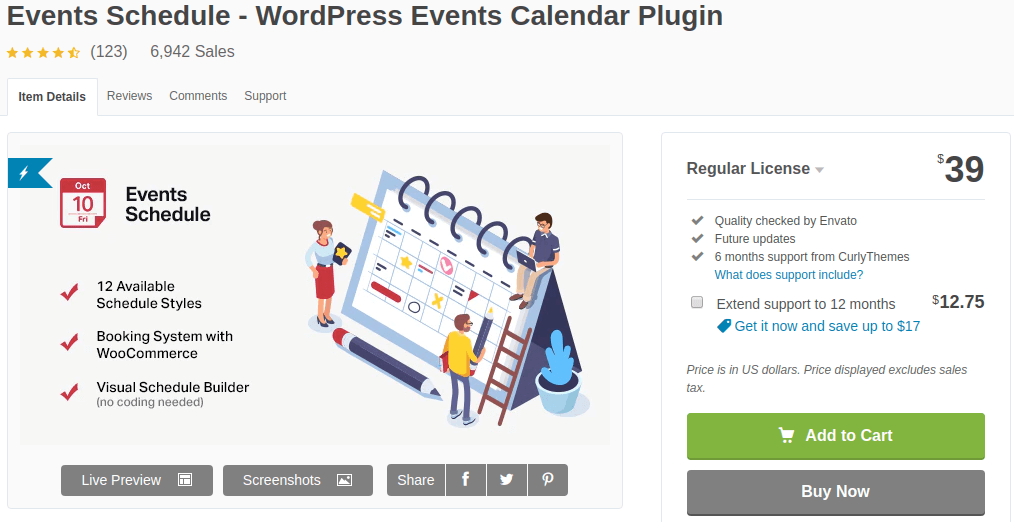 Events Schedule is another WordPress calendar plugin that's best suited if your opening bookings for your weekly classes/sessions. This GDPR Compliant plugin allows you to display calendars in 12 different styles. For example, you can use the calendar view for weekly classes and the blog post kind of view for special events. 
The fact that Events Schedule is compatible with 99% of themes from Themeforest makes it an interesting option to consider going with. Also, the plugin is WooCommerce ready and supports Visual Composer which allows you to build schedule types the way you want to. 
If there's one thing in which Events Schedule really stands out, it's their impeccable customer support team. Their quick reply times, pre-sale live chat and extensive documentation helps you know more about the product and make informed decisions! 
Here are a few features of Events Schedule WordPress booking calendar plugin, 
Key Features
Easy color customization options – no expert knowledge needed. 

Online documentation, FAQ and knowledge base to provide more information and clarity. 

The plugin is visual composer ready and the in-built schedule builder allows great creative options. 

Shortcode options to save your custom-built schedules and save it in the Visual composer for future use. 

Create unlimited classes, display CTA buttons and display extensive information about your class, location and instructor.
Pricing
You can get this plugin at $39. As for the extended support, it costs you $12.75. 
3. EventON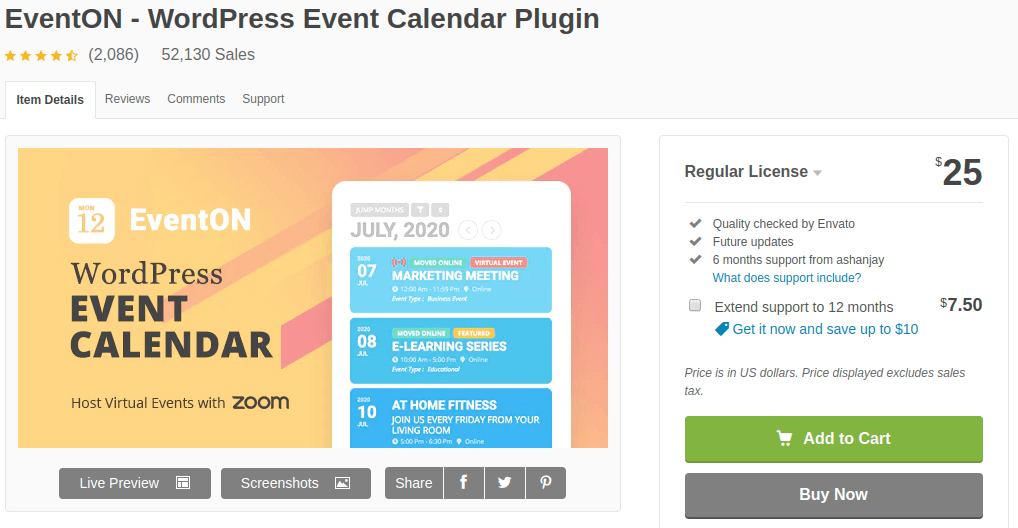 If you'd ask us to answer in a single phrase as to why this plugin was chosen, we'd say the reason is because of its brilliant & visually appealing design features. Yes, you heard that right. EventON is an event calendar plugin for WordPress that comes with minimal clutter-free design! 
What's great about EventON is, the team has understood the happenings of the world and has made it possible to integrate with video chatting/live streaming options like ZOOM, Youtube, Facebook Live and Periscope. 
The plugin is power-packed and has over 200+ hard to ignore features and is probably the reason why this particular plugin has had over 50,000+ sales to date. 
Here are a few features you should definitely consider taking a look at, 
Key Features
Options to create unlimited events and display them in a reveal more information style. 

You can create events that last for more than one day – consecutive days like 4th March – 8th March. 

Users can add events to their calendars to make sure that they don't miss attending your events. 

Options to create and display events using tiles or bubbles – the more minimalist and appealing it is, the better for your business. 

The plugin supports RTL (

right to left

) text, social share icons and you can search/hide/delete any event from your calendar with ease. 
Pricing
EventON costs you $25. The extended support costs as little as $7.50. 
P.S. It's great that you're making efforts to grow your business. But have you thought about scaling your revenue 3x times? Here, these effective small business sales promotion ideas can help you get it done! 
4. Modern Events Calendar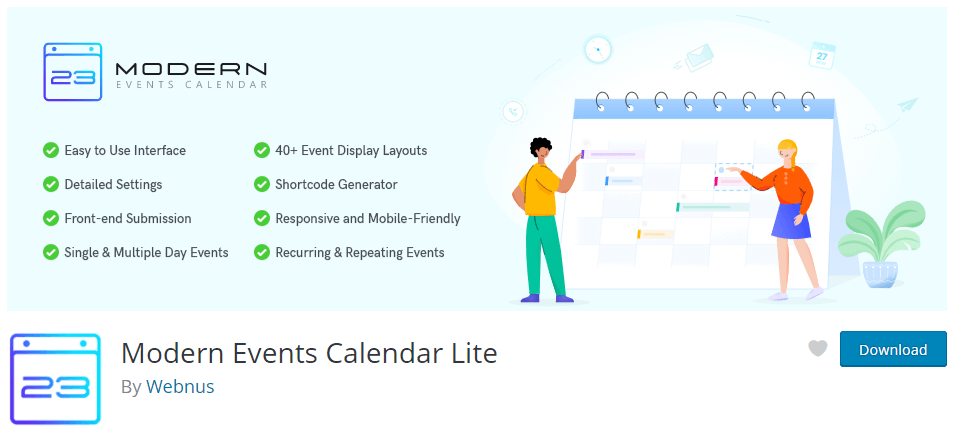 The perfect WordPress event calendar plugin when you're running on a low budget. Like all the above mentioned best WordPress calendar plugins, Modern Events Calendar comes power-packed with features. You can create all kinds of events, right from recurring events and multiple day events with ease. 
Another significant feature that makes this event calendar plugin an ideal choice is its great designs and the advanced features you get in the basic version. But if you're looking for more advanced features like weather modules, ticketing system and reminders, you've got to opt for the pro versions. 
Also, you can create free & unlimited tickets for your events using the inbuilt ticket booking system. 
Below mentioned are the features of Modern Events Calendar, 
Key Features 
Options to create & display "n" number of events on your calendar. 

Multiple types of views – list view, yearly view, daily view, monthly view, timetable view, map view, etc. 

RTL support, multiple filtering options like search/label filter/category filter/location filter and more.

Options to integrate with top email marketing platforms like Campaign Monitor, Constant Contact, Active Campaign and MailerLite. 

Ticket Booking system with multiple payment gateway integrations like Stripe, PayPal and WooCommerce payment systems. 
Pricing
While there's a free version, the paid version costs $75 for one license. 
5. Events Manager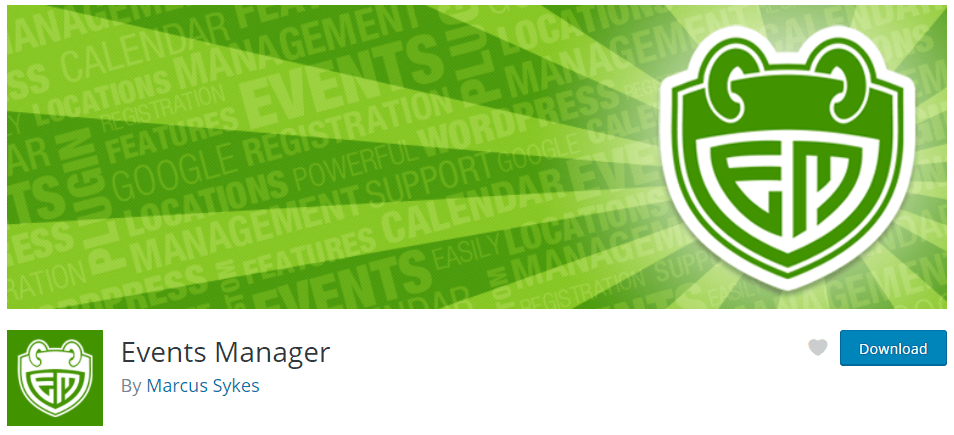 Another free WordPress event calendar plugin on our list. What makes Events Manager special is the fact that it is available for free and is highly reliable, flexible and power-packed. If you're looking for one reason as to why you should use this plugin, it's its option to integrate with Google Maps. 
The team provides quality support since 2008 and there are regular updates and features. There's also the tutorial section with which you can understand how to use the plugin, not to mention the community forums where you can get to know more about this plugin. 
Below mentioned are some of the features of this WordPress event calendar plugin. 
Key Features
Options to display event start and end times with ease. 

You can create multiple tickets with pricing, enable booking without having to create an account and other advanced features.

Create locations and display custom thumbnails for the same and integrate locations with Google Maps.

Protect spam bookings and entries from happening using the CAPTCHA option.

Multiple payment options for ticket bookings like Paypal, Stripe, offline payment, etc.
Pricing
The free version, like we said is available and the Pro version costs $75 for 1 site. 
6. Simple Calendar – Google Calendar Plugin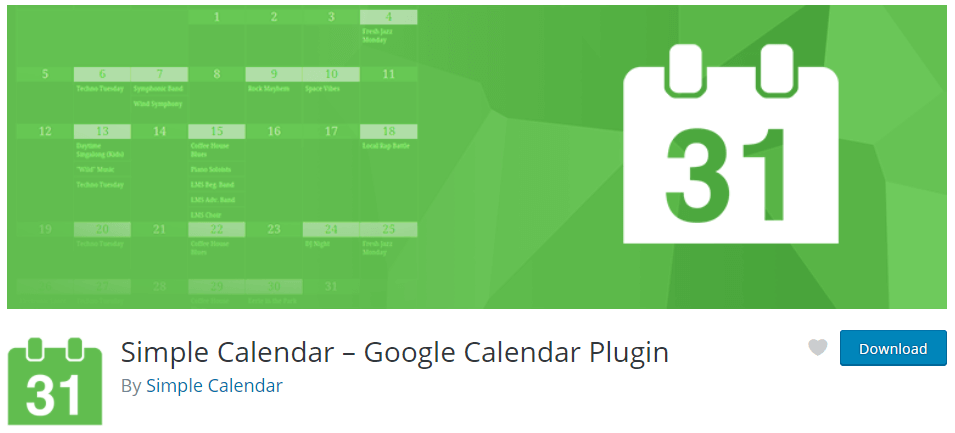 This plugin should be an ideal choice if you're looking to take things a bit light. Though the plugin comes with limited features, that's the aim here – to keep things simple and completely hassle-free. 
Simple Calendar is an open-source free Google Calendar WordPress plugin with the code hosted on GitHub which means contributions are welcome and you can even make changes if necessary. As for the plugin's working, you can display and manage events in any public Google calendar. This eliminates the need for you to create events in WordPress. 
While the free version sticks to the basic features, the pro version gives you even more advanced options which we'll get to see below!
Key Features
Options to display/manage events from any public Google calendar – no coding knowledge required. 

Fully responsive views – mobile-friendly monthly grid & list views. Also, you can display names, avatars and RSVP status for both private & public events.  

Multiple designs to choose from to make your website appearance and calendar look alike.

Loading times are impeccably quick when you navigate though months, weeks or days.

Excellent customer support where you get email replies within 24 hours on weekdays (

available only in the pro version

).
Pricing
You can get started with the free version from the WordPress repository while the add-ons (pro features) cost you $49 for a single site. 
7. WP Simple Booking Calendar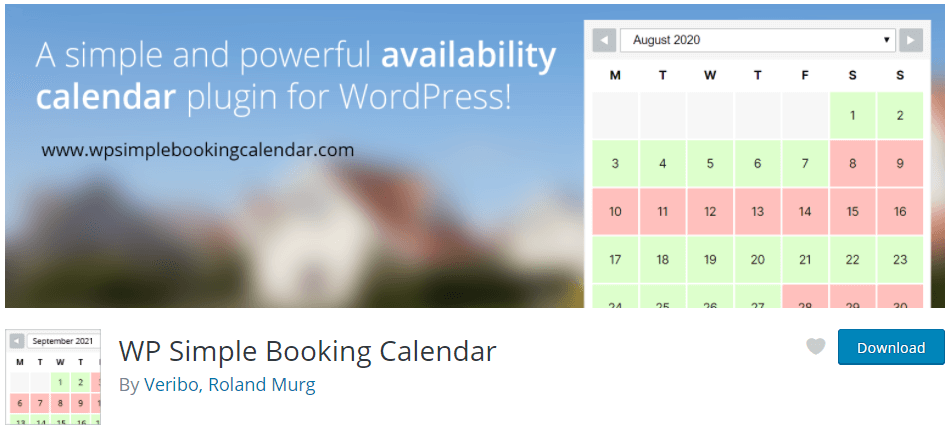 A simple calendar WordPress plugin that can be used with extreme ease. This plugin proves to be of great use when you run resorts/restaurants where the primary purpose would be to check for availability and book the same. 
You can display the available dates of your property, let people know when your property is available for booking and a wide range of customization options to keep your business top-notch. 
Though the free version has limited features, the pro version makes this plugin one of the best, unparalleled simple booking plugin for WordPress.
Key Features
Responsive calendar layout and a user-friendly interface.

Options to display all weeks in a year – right from 1 to 52.

Options to hide booking history from visitors, generate shortcodes to display booking on a specific page or post and more. 

You can highlight the current day on which your visitor is to increase engagement and booking chances. 

Export dates as CSV, translate to other languages, backup/restore calendars, data and other advanced features. 
Pricing
Like we discussed already, there's a free version available. And the paid version starts from $39 for 1 website. 
8. Booking Calendar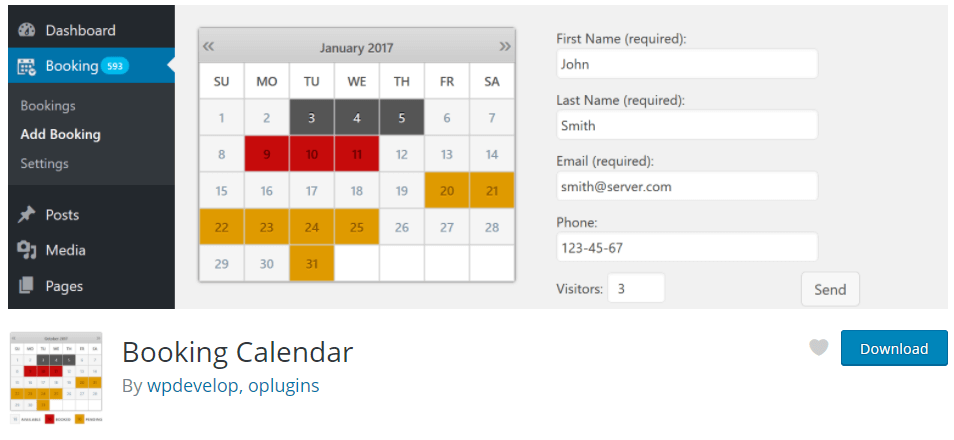 Speaking of simple booking plugin for WordPress, we got a bit nostalgic and felt the urge to bring this plugin to you! Booking Calendar is much like the WP Simple Booking calendar and was introduced in the year 2009. What's special here is, this is the first plugin in its kind to have over a million downloads, not to mention the promising custom reviews.
You can let your customers know about the available dates of your property. Customers have got to fill out a booking form and submit it to you for approval, And only when you approve, the booking gets proceeded and your customer is notified, This feature helps you prevent multiple bookings on the same date. Also, you can scrutinize information and decide whether or not to rent your property to the customer. 
Below mentioned features can help you understand why this plugin was one of the best plugins during its time. 
Key Features
Options to customize calendar skin and include shortcodes to display a calendar on specific pages of your website.

Supports multiple languages and helps to a great extent if you're looking forward to taking your business internationally. 

Both you and your customer can get email notifications once when a booking has happened. 

Options to import your Google calendar directly into the admin panel/dashboard. 

Fully responsive design, supports CAPTCHA to prevent spamming, options to assign roles to users and more. 
Pricing
You can use the free version as long as you want while the paid version starts from $59.25. 
Which WordPress Calendar Plugin Should You Be Using?
And the answer to this particular question remains in you. If you're looking for the answer from our side, it basically depends on the nature of your business and your needs. 
For example, if you're running a property renting business, we'd suggest you to go with WP Simple Booking Calendar whereas if you're running classes/sessions, it'd be the Events Calendar or Events Schedule. 
Take a few minutes to analyze what features each plugin has, what makes it stand out from out other plugin and finally, how much does it cost you! Though we've done most of the job for you, it's you who has to decide what's best for your business! 
With that said, we're coming to an end! 
But before you go, we thought you might find this useful – the best WordPress email marketing plugins. Because when you run a business, sending emails and capturing new leads are two important things you should do to grow your revenue and remain consistent. 
Let us know in the comments as to which plugin you're going to start off with! 
Cheers!

https://ninjateam.org/wp-content/uploads/2020/09/Best-WordPress-Calendar-Plugins.png
426
1210
Kelly
https://ninjateam.org/wp-content/uploads/2020/10/ninjateam-logo.png
Kelly
2020-09-30 16:57:31
2021-01-28 14:31:31
8 Best WordPress Calendar Plugins You Should Use