10 Best WordPress Security Plugins For Complete Peace Of Mind
When it comes to WordPress security, it can be overwhelming looking at all the available options. In contemporary cybersecurity, it can seem like there are so many options for attackers that as soon as you close one door another opens.
A WordPress security plugin will go a long way to locking out the bad guys with malicious attempts. If you opt for an insubstantial choice there'll be holes in your site for hackers to exploit, but picking the beefiest tool out there can often cause your site to lag.
To pick a plugin that's right for your WordPress site you need to know what's out there, and what your specific needs are. In this article, we'll help you assess both sides of this coin.
First, we offer a guide for figuring out How to pick the right WordPress security plugin. Then we take a look at the best ones out there. Your site security is just around the corner.
What to look out for
When you're exploring security plugins for your WordPress site it's important to have a good understanding of which features and tools you need before you dive in. The best security plugins are sizable additions to your site's back end, and the bigger they are the more impact you're going to see on loading speed. In order not to cripple your site's speeds, it's important to choose a WordPress security plugin that does what you need it to do, and not more.
Some hosting providers will be bundling security features in with your hosting. Find out what you are getting from your host so that you don't double up on your WordPress plugin, costing you money and speed in the long run. Updates, firewalls, malware scans and automatic backups are all often included in a host's package. If you have a thorough security foundation from your web host then you don't need the beefiest security plugin, you can choose something a little more streamlined and ensure your site stays nippy and agile.
Some more tips
Considering your budget is also an important driver of which plugin you'll ultimately opt for. The most comprehensive security plugins are also the most expensive. If you only need a few features here and there, it might not make economic sense to splash out on a plugin that isn't optimized for the features you need.
Remember, you can even combine plugins to find the right balance – sometimes two or three lightweight plugins that fit your precise needs can be cheaper and more efficient to run than the heavyweight security plugin that features loads of excess options.
Armed with an understanding of which features you need, which are optional extras and which are already provided by your web host will allow you to make the best choice for your WordPress site. We'll start out looking at the big hitters that will cover all your bases, and narrow it down from there. Here are the 10 best WordPress security plugins to keep your site secure.
1. Sucuri Security
Sucuri Security is one of the best-respected WordPress security plugins out there, and there are many good reasons why you may opt for this big hitter. If even after assessing the protection provided by your web host, you're still unsure about where there may be gaps in your security, Sucuri offers one the most comprehensive security plugin tools so you'll be able to rest easy, knowing your site is in good hands.
Sucuri's free version offers a ton of tools to protect your site: front-end malware scanning, file monitoring, and security notifications to name a few. For malware scanning of your server and firewalls, however, you'll need an upgrade. Firewall access is available for $9.99 a month, and for complete peace of mind, you can make an annual payment of $199.99 for the full Sucuri package.
Key features
Comprehensive free features
Great established reputation
Security notifications
Server and firewall malware scanning
Front end malware scanning
File monitoring
2. WordFence Security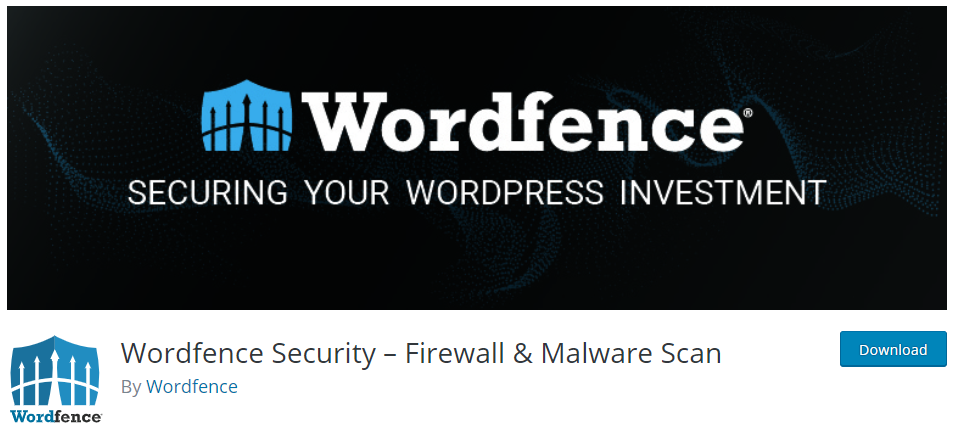 WordFence Security provides another comprehensive option for WordPress site security, and this, like Sucuri, is a beefy tool that leaves no stone unturned in cybersecurity. WordFence's free version is even more comprehensive than Sucuri, so for site operators on a budget it can provide the perfect option for cover. The free version includes a web application firewall to act as a first line of defence on your site, so malicious attacks are stopped in their tracks.
For the complete WordFence package, you'll be shelling out $99.99 a year. As well as WAF and the other free tools, this gives you access to an array of advanced features including spam protection and high-frequency malware scans so that nothing is missed. WordFence is also incredibly easy to use, making cybersecurity simple.
Key features
Firewall for web applications
Frequent malware scanning
Protection from spam
Ease of use
Free features
3. Prevent Direct Access (PDA) Gold

Prevent Direct Access (PDA) Gold takes care of WordPress media file and folder protection. It gives you a complete solution to secure any of your files, including but not limited to images, videos, GIFs, and audio.
To explain how the plugin works, PDA Gold prevents users from directly accessing your files via original URLs. They'll spot your custom No Access page when attempting to view these media without permission. As a result, you can secure your photographs, online courses, commercial music audio, and internal materials from digital piracy and content thieves.
You can download PDA Lite for free from the WordPress plugin repository. It offers you tons of useful features; certain file type protection, customized no access page, auto-generated private links, and IP address restriction, just to name a few. To encrypt protected files, protect new file uploads or restrict access to specific user roles, you need to upgrade to its Gold version which costs $14.9.
Key features:
Guard unlimited files and all file types
Block Google and other search engines from indexing your files
Allow certain user roles to access the private files
Create private download links for protected files
Expire private download links based on time or/and clicks
Customize download links to make them more meaningful
Encrypt protected files
Prevent image hotlinking
Integrate with WooCommerce to protect downloadable products
Auto-secure file uploads via forms
Restrict access based on IP addresses
4. WP Umbrella

WP Umbrella is a new monitoring plugin for WordPress. The plugin constantly checks your WordPress website uptime, performance and PHP error logs.
If something is wrong (ie: downtime), you instantly receive an email or Slack alert. The freemium version of WP Umbrella includes Monitoring WordPress error logs, will help you to keep your website secured and fast. It's also an excellent way to ease websites deployment. The plugin is thus ideal for digital agencies working with WordPress. All the data are available in the plugin and you can access them from the WordPress admin panel.
Combining a monitoring solution like WP Umbrella with another security plugin is the best pay to keep your website safe and running!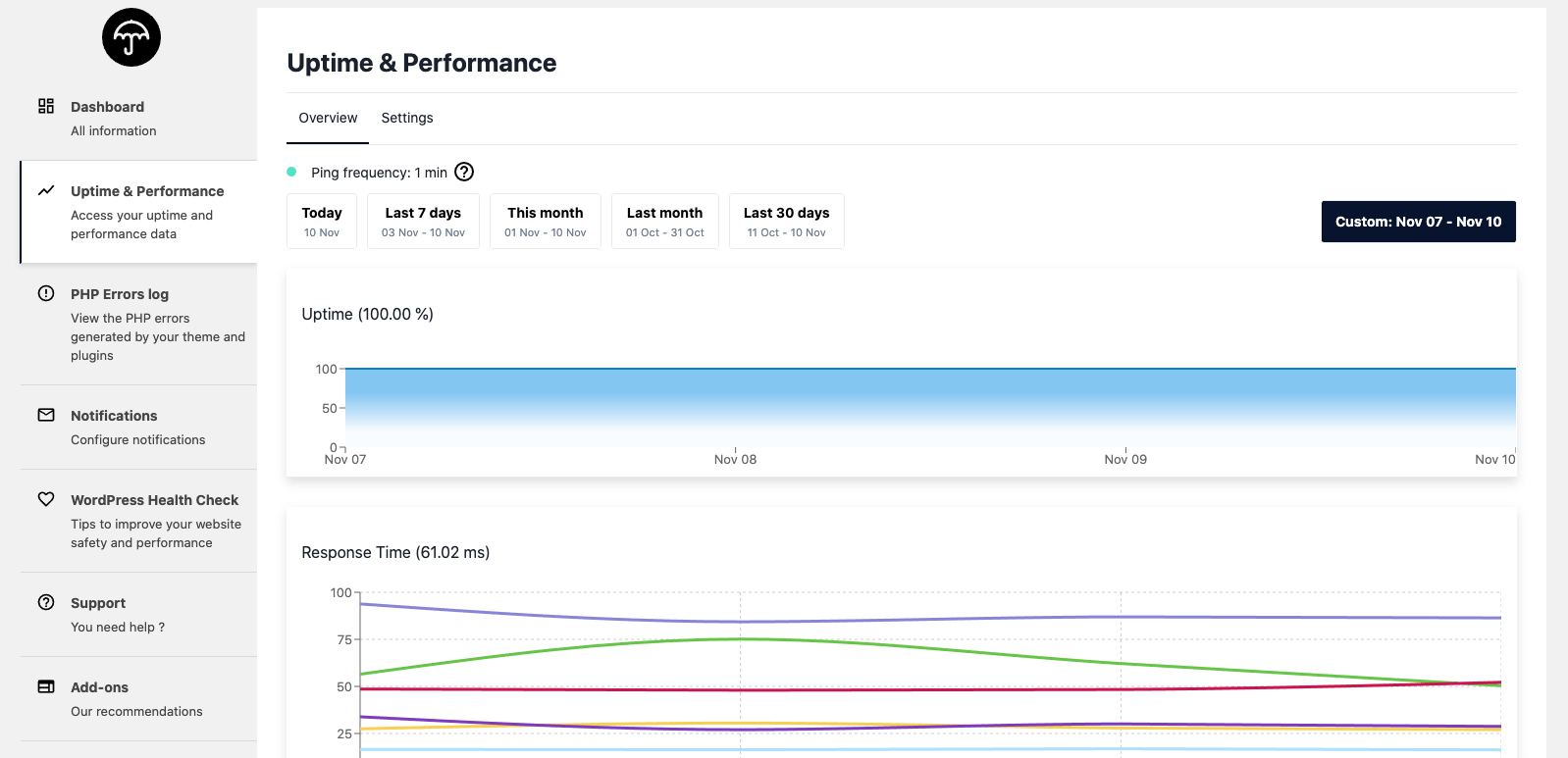 Key features of WP Umbrella:
Uptime monitoring
Performance monitoring
WordPress error logs monitoring
Weekly performance report
Reliable alerting systems
Advanced WordPress health check
5. MalCare Security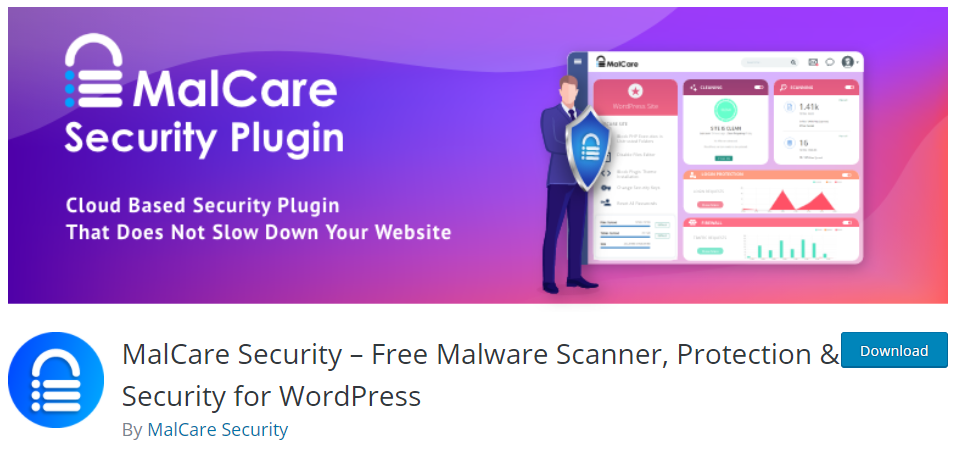 Although MalCare Security is less comprehensive than either of the above tools, this can be a fantastic option as part of a broader toolkit of WordPress security plugins because what it does, it does exceptionally well. MalCare is a dedicated malware scanner, although other features such as firewall protection are also incorporated into its plugin.
Functional malware scans are included in the free version of MalCare, but to make the most of this tool the premium version is needed, starting at $99 a year. With the premium version, you'll have access to MalCare's clean-up tools for post-scan sorting and can eradicate dangerous files with the click of a button. MalCare is a functional and easy-to-use malware scanner that gives you peace of mind in cybersecurity.
Key features
Paid post-scan cleanup tools
Free malware scanning and diagnosis
Firewall protection
Focused functionality

6. All In One WP Security & Firewall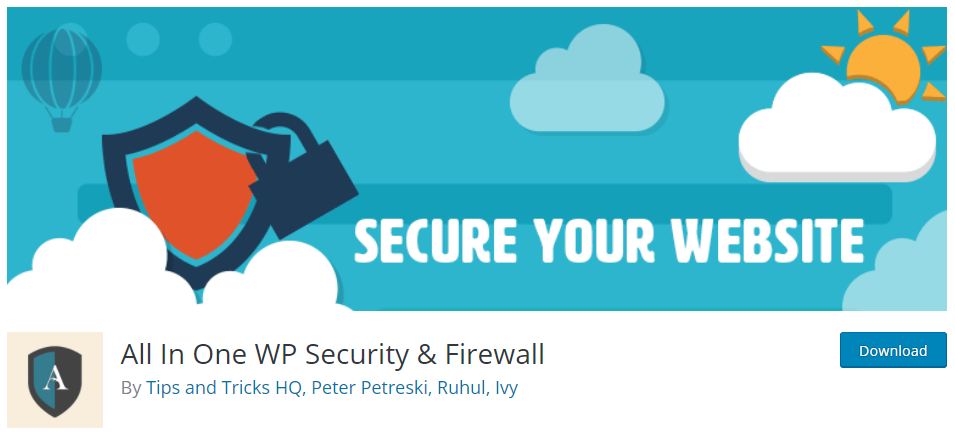 All In One WP Security & Firewall is a regularly updated WordPress security plugin that can handle most of the security features you'll need for your WordPress site. All In One stands out because it's completely free – there is no premium version, behind which certain features are locked away.
File protection, spam prevention tools and firewall protection are all included in All In One's free tool.  For site operators on a budget, especially if your web host offers strong security to begin with, it's an excellent option.
Key features
Regular functionality updates
Firewall protection
Prevention of spam
File protection
All functionality completely free
7. iThemes Security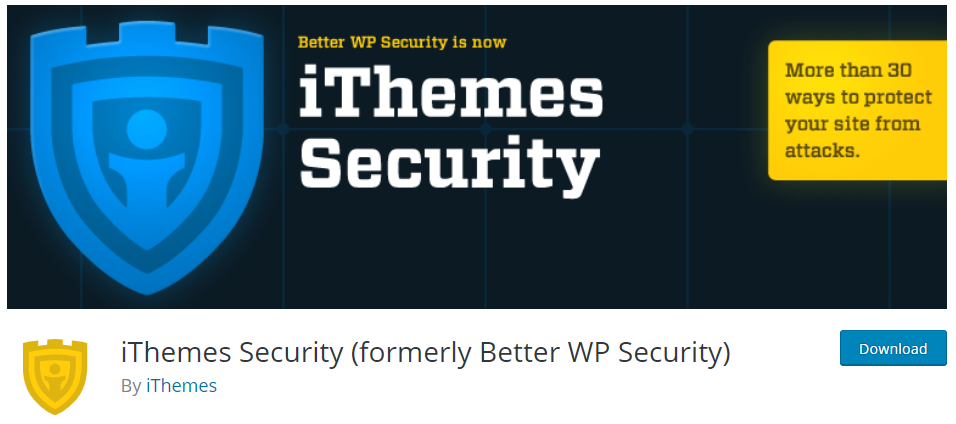 With over one million installs, iThemes is undoubtedly one of the biggest names in WordPress security plugins. It has a comprehensive selection of features and is an affordable option for those seeking premium security, coming in at $80 a year for the complete package.
As well as offering malware scanning and other background security options, iThemes also enforces good security practices by encouraging strong password usage and, with the premium version, offering two-factor authentication options. This makes it a strong option for being well protected from brute force attacks.
Key features
Optional paid two-factor authentication
Encourages usage of strong passwords
Great malware scanning
8. VaultPress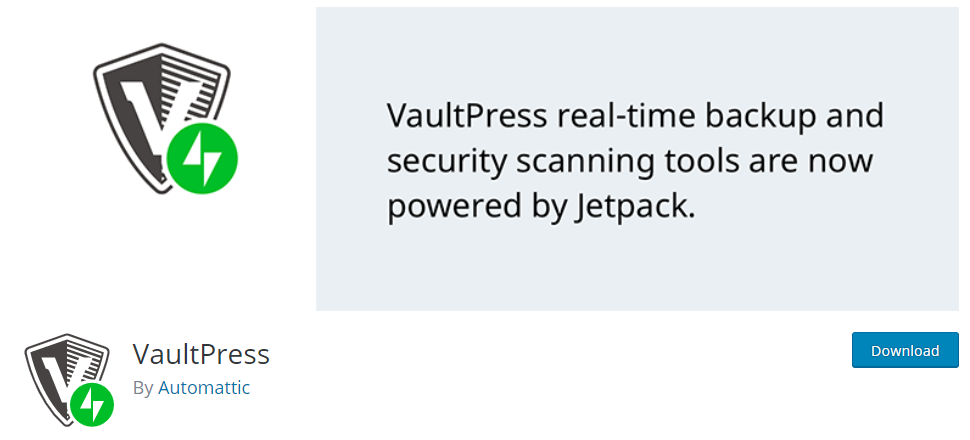 VaultPress is a fantastic option for site operators with a tight budget as licenses for Professional and Premium services start at just $40 a year. Even VaultPress's free package offers a good array of options and functionality WordPress sites.
With VaultPress you'll be protected from brute force attacks and can rest easy knowing your plugin is monitoring site activity and providing spam protection. There are a few maintenance elements with VaultPress that provide extra peace of mind: regular site backups and one-click restoration mean that in the case of an attack, your files are protected. And because VaultPress is run by Automattic, if you purchase the premium version you'll also gain access to Automattic's other plugin, Jetpack.
Key features
One-click restoration post-attack
Regular automatic backups of your site
Protection from spam
Site activity monitoring
Brute force attack protection
Affordable extras, but core functionality is free
Related: If you notice something wrong with your WordPress media library content, check out this post on how to troubleshoot WordPress media library not loading.
9. WP Security Audit Log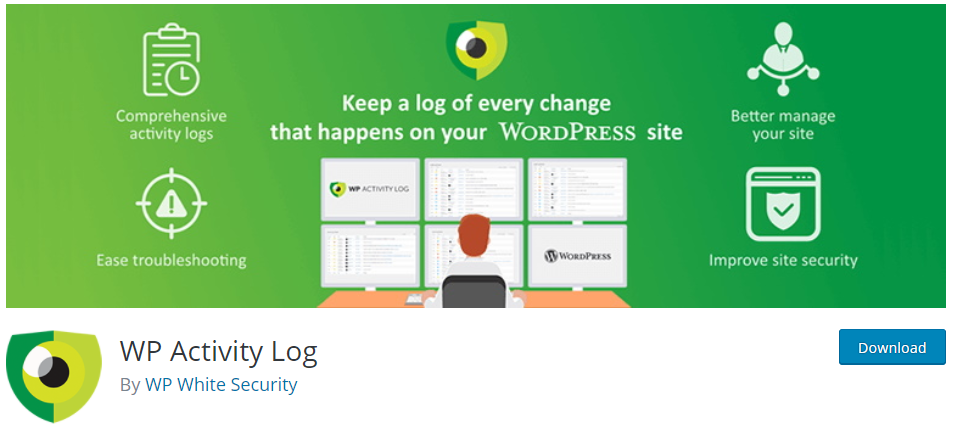 WP Security Audit Log is a specialized monitoring plugin. Although it doesn't claim to have the comprehensive features of some of the plugins explored above, it will provide top-tier monitoring for your site. The free version of WP Security will enable you to monitor your site's activity, bringing anything suspicious to your attention and allowing preventative measures to be taken so your site stays safe.
Licenses for WP Security Audit Log's premium version start at $89 a year. This will give you access to real-time information of anyone logging in and out of your site, as well as other specialized monitoring features. If site monitoring is an important element of your security program, this could be a great plugin to prioritize.
Key features
Comprehensive free features
Array of specialized site monitoring features
Real time user log in and log out information notifications for your site
Site activity monitoring
10. Defender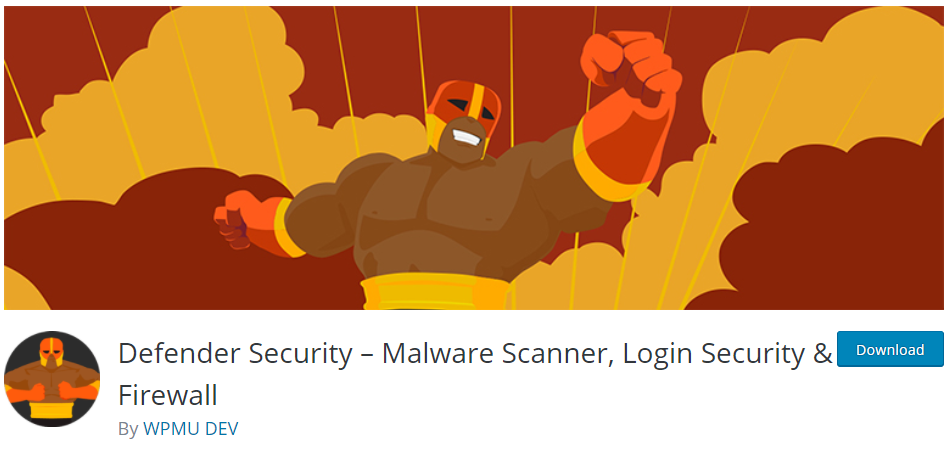 Defender offers a lightweight free version that includes some, but not all, of the features you'll want for site security. This includes core file scanning, brute force prevention, and the ability to blacklist IP addresses that are the culprits of repeated attacks.
The premium version is accessible with a $49/month membership. Although this seems pricey compared to other plugins we've explored, for this price you get access to over 100 WordPress plugins. That's a comprehensive package for your WordPress site.
Key features
Prevention of brute force attacks
Scanning of core files
Ability to blacklist IP addresses that attack repeatedly
Access to more than 100 paid WordPress plugins
Bonus: WP Site Partner
Maintaining your website can be bothersome, and it's easy to get entangled especially when you don't know what you've just made is wrong.
In order to keep your WordPress website secure and up-to-date, WPSitePartner is of great help. They can provide you with deep care for every aspect you're expecting. Daily backup, security scanning, malware removal, frequent updates, monthly reports, etc. are all included in their one and only plan. 
If you don't want to handle WordPress security plugins or find it too hard to choose the most suitable one. Feel free to contact them, too!
Conclusion
WordPress site security is too important to be overlooked as bad factors are constantly innovating new ways to attack your site.
Therefore, you need ultimate web security, and you need a reliable, regularly updated plugin to provide it. If you understand the full security offerings from your web host, you'll be better able to choose a WordPress plugin to suit your needs and budget.
Stay safe out there.
---
Katherine Rundell is a writer at UK Custom Writing Services. She is a freelance cybersecurity advisor for businesses across the UK. When she's not in front of a screen, she takes time away. Exploring nature and hiking in the hills around her home are her favorites.
https://ninjateam.org/wp-content/uploads/2020/09/Best-WordPress-Security-Plugins.png
426
1210
Kelly
https://ninjateam.org/wp-content/uploads/2020/10/ninjateam-logo.png
Kelly
2020-09-28 12:02:31
2022-06-10 15:31:41
10 Best WordPress Security Plugins For Complete Peace Of Mind