Drive sales in your eCommerce store with Abandoned cart recovery plugin
The success of an eCommerce store depends on the way you promote it and the way you achieve your sales.
Sometimes, despite your brightest effort, your store might not yield the sales you expected. So, what might be the reason for this dip?
Reports suggest that eCommerce stores lose around 75% of the sales due to abandoned carts. '75%' does look big, but do you know what this means?
It means that around 75% of potential sales are just sitting in those carts, waiting for you to recover them and convert into sales. So, come with us as we show you how to recover those carts and drive 10x sales.
What is an Abandoned Cart?
Sometimes, customers will visit your store to purchase a product, they will add the product to their cart and move to the checkout process.
But suddenly due to some reasons, the customer will quit the store without checking out their cart. Now, the cart they left behind is an Abandoned cart.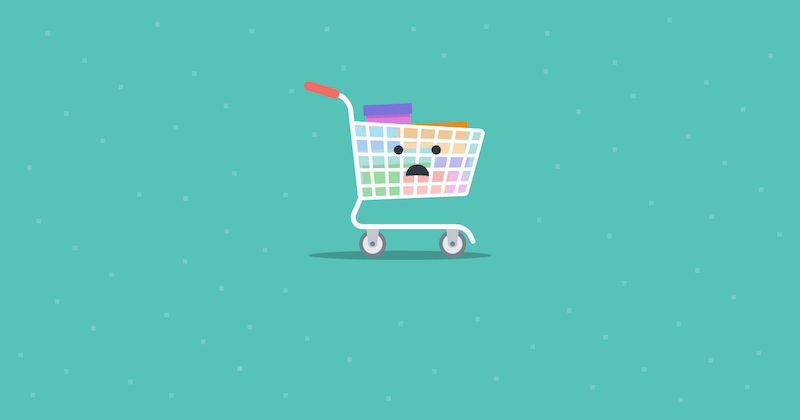 If a cart is abandoned it doesn't mean your sale is lost. You can still boost your sale 10x times. 
What? How can I do that?
Well, to do that you need an Abandoned cart recovery plugin like Retainful for WordPress. Using which you can recover your cart & boost your sales.
But, that's not it, using Retainful you can send Next order coupons and drive repeated sales too. You can even run a Referral program in your store and increase your customer retention rate.
What are the reasons for Cart Abandonment?
Like we said before, around 75% of sales are not due to Cart abandonment. So, we must know why customers abandoned them in the first place.
Predicting Cart abandonment is impossible. But experts say that the store itself is the major reason for cart abandonment.
Here are some of the reasons,
Expensive product prices

Lack of Free shipping options

High Delivery costs

Long 7 Tiring Checkout Process

Fishy payment gateway

Slow and Laggy website

Guest checkout option was not available

Payment options were limited

Unsatisfactory return policies

Lacks of gifts, discounts and coupons
These are some of the major reasons for Cart abandonment. We can only show you how to recover your abandoned carts but to avoid Cart abandonment you must enhance your store.
How to prevent Cart abandonment?
Predicting Cart abandonment is hard, but with the help of some Cart Recovery apps, you can prevent it. And if Cart abandonment occurs even after your prevention efforts then you can recover them.
But right now, let's talk about preventing Cart abandonment using three features Add to Cart Popup, Exit-Intent popup and Countdown tools.

Add to Cart Popup
Add to cart popup is a feature of Retainful. These popups get triggered when your customers click the Add-to-Cart button.
Using this popup you can grab your customer's email addresses for post-sales engagement.
But you can also use it to prevent Cart abandonment and you can also boost your sales with the Add-to-Cart popup.
How?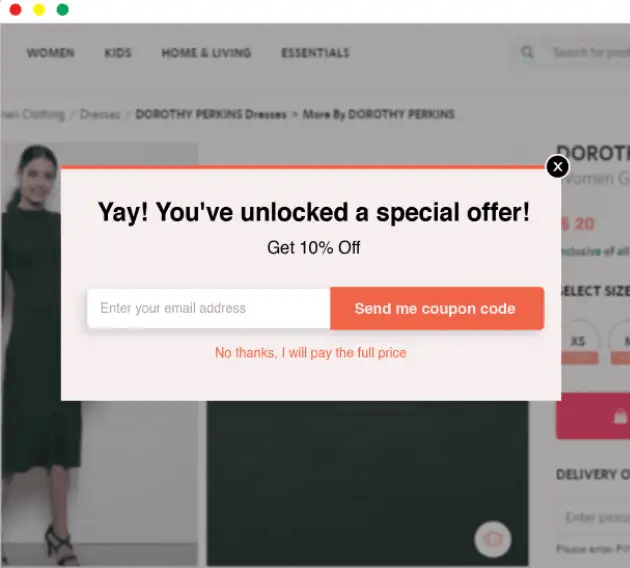 Simple, sometimes your customer might be motivated to purchase because of the high product cost.
So, displaying a discount in your Add to cart popup will motivate them to make the purchase and since they are getting a discount they might even purchase more than they expected.
This is a subtle way to increase your sales.
Exit-Intent Popup
As the name suggests, the Exit-intent popup is triggered when the customer moves his cursor to the exit button or when he clicks the exit button.
You can follow the same strategy that you used for Add to cart popup.
The customer wanted to quit the store because he didn't want to purchase the product because of any reasons mentioned above.
So, what does it take to prevent him from quitting your store?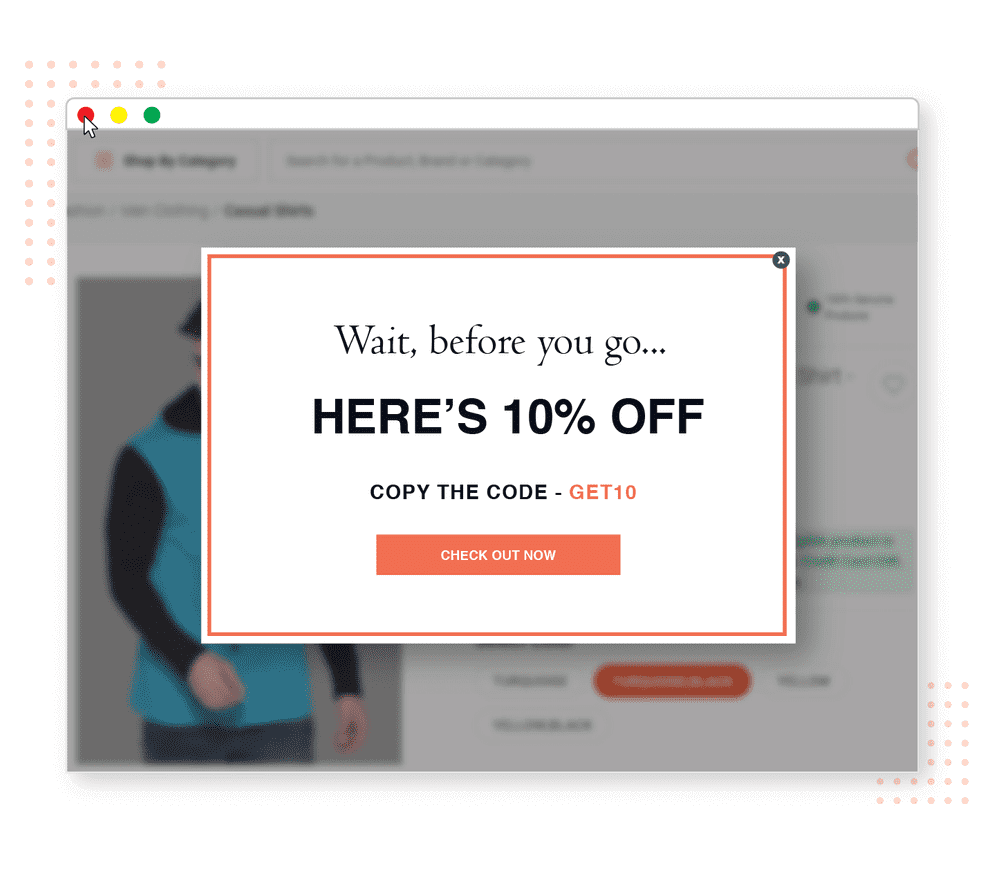 You guessed it, yes, a discount.
Display a discount in your popup and motivate the customer to purchase the product. This is also another way of boosting your sales.
Since the customer is getting a discount, he might end up purchasing more than he wanted to.
You see, if you want to boost your sales then you must try every trick from the book. And we just showed you a couple of beautiful tricks and wait there's more.
Countdown Timer
The classic countdown timer trick, yes this feature is also available here. Encourage your customers to speed up their purchase by displaying a countdown timer on the product page.
Fear of Missing Out(FOMO) is a very strong emotion. You can leverage this emotion by using this feature.
Even popular stores like Amazon, Ali Express. Etc use the countdown timer trick to skyrocket their sales.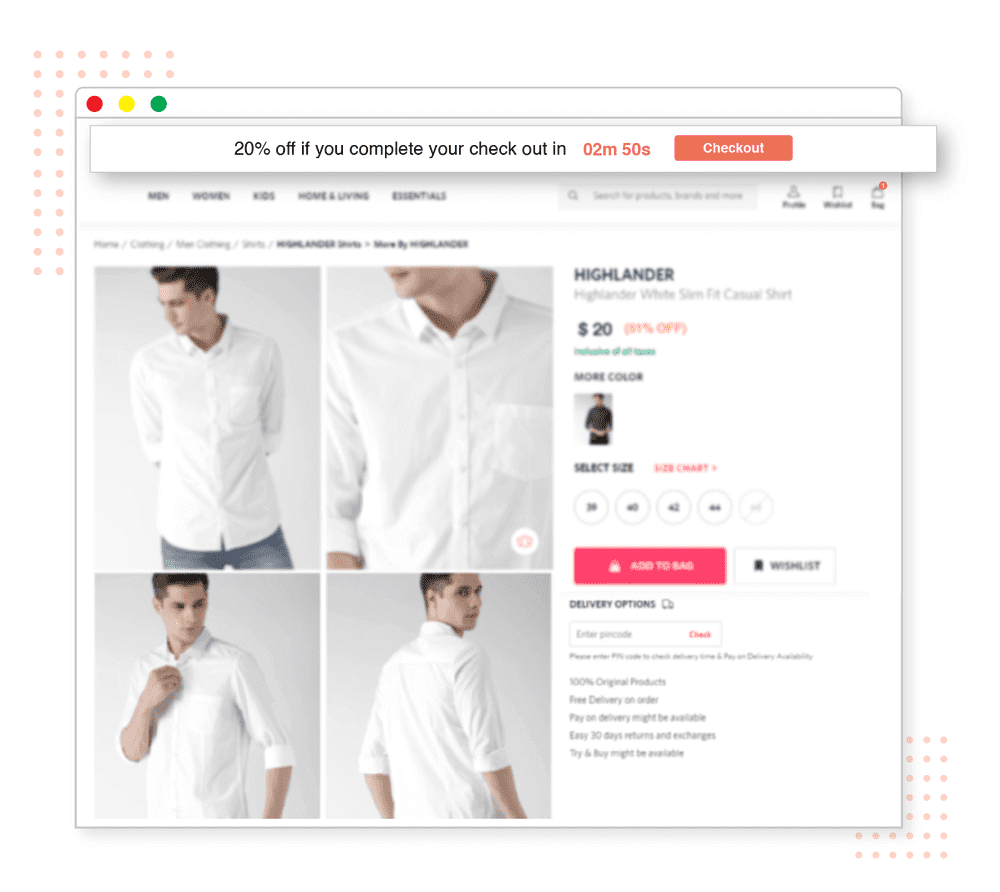 Use this Countdown timer feature and create a sense of urgency to speed up your sales and also to prevent cart abandonment.
Recover your Abandoned carts and drive 10x sales 
Alright, now you know the reasons for cart abandonment and how to prevent it. But what about the carts that were already abandoned?
Recovering your abandoned carts using Retainful is pretty easy.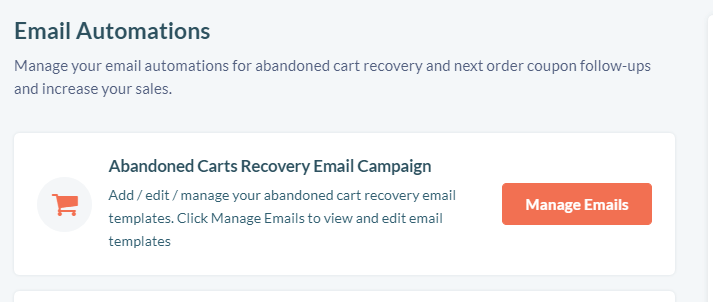 All you have to do is create your Cart Recovery emails and initiate your recovery campaign.
Let's just see a quick overview of the campaign. (You can find the detailed process right here.)
By default, there will be three cart recovery email templates. Remember one recovery email will not do the trick.
You need to send a series of emails in a specific time sequence, only then the customer will return to your store and recovery the abandoned carts.
Alright, back to the email template, you can customize those templates and personalize them to entice the customer.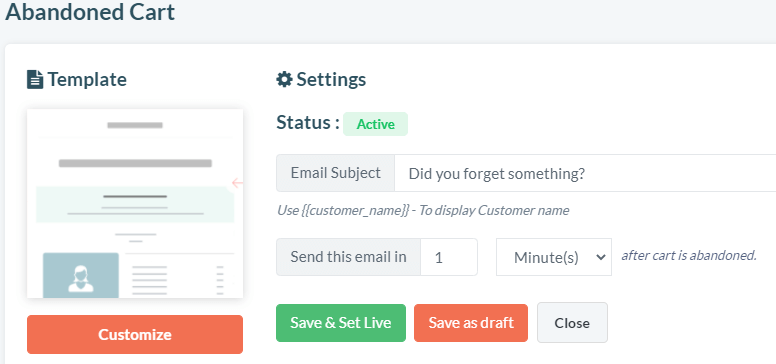 Once you are done with customization, set the time sequence and just set it live,. This will activate the Cart recovery campaign.
Now, the app will send these emails automatically to the customers who have abandoned their cart and request them to return to the store so that you convert those lost carts into sales.

You can track the metrics and see how your Cart recovery emails are performing on an insightful dashboard.
How does recovering Abandoned cart boost sales?
You see, sending these Cart recovery emails will create an impact on customers. It will make them think that you care for their presence at your store which boosts your store's credibility.
Also, we all know the universal eCommerce truth, returning customers always purchase more.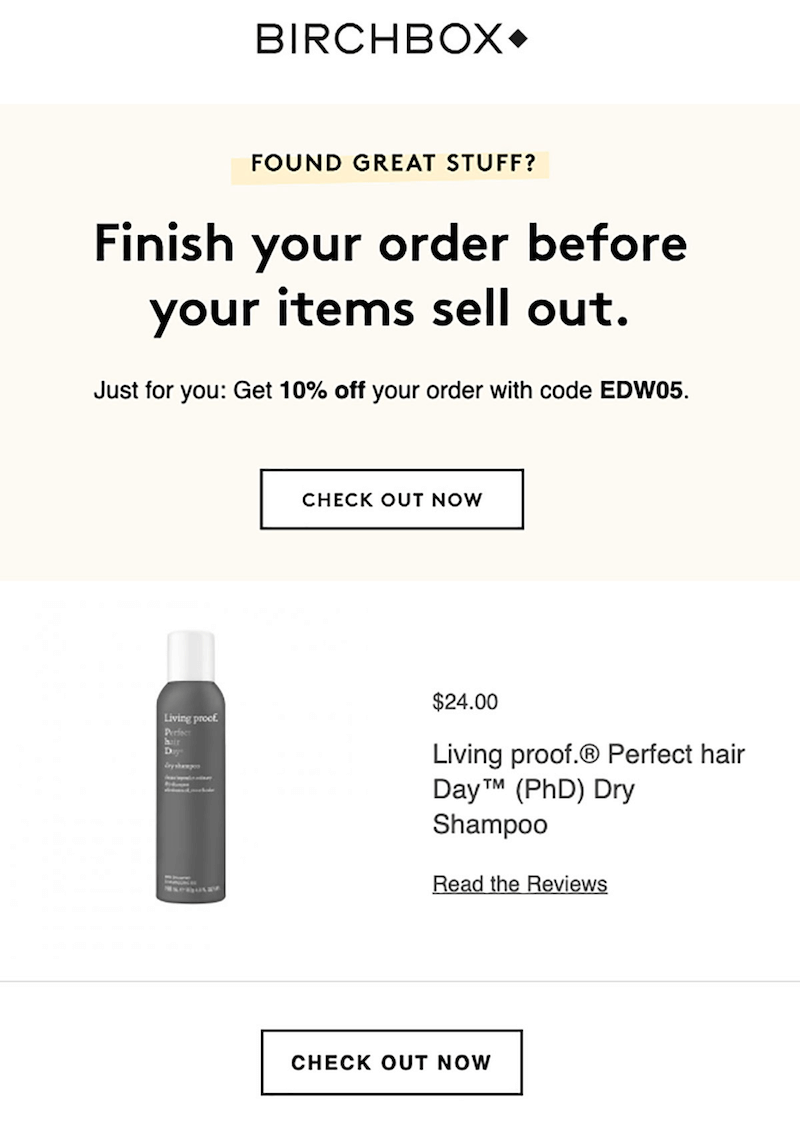 So, encourage them to return to your store by sending discounts in the Cart recovery emails and drive 10x sales exponentially.
And that's how you boost your sales using an Abandoned cart recovery plugin. Wait there are a few specials coming right away.
How to drive repeated sales in your eCommerce store?
So far, we've seen how to prevent Cart Abandonment and recover abandoned carts to boost your sales. But, is that it?
No, certainly not! Remember when we said if you want to drive repeated eCommerce sales then you must try every trick in the book.
Well, let's see one of those tricks, which is Next order coupons.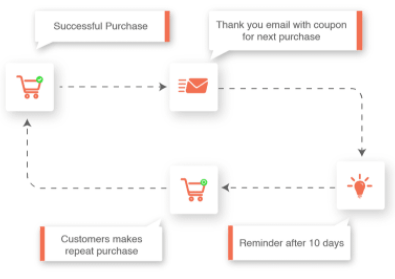 When a customer completes his purchase, he leaves, there is no reason for him to stay or return to your store unless he wants to purchase something else.
So, offering Next order coupons is a way of inviting your customer to return to your store again to make a purchase and redeem the discount.
When he returns to your store again to drive repeated sales, you can retain the customer and increase your customer retention rate.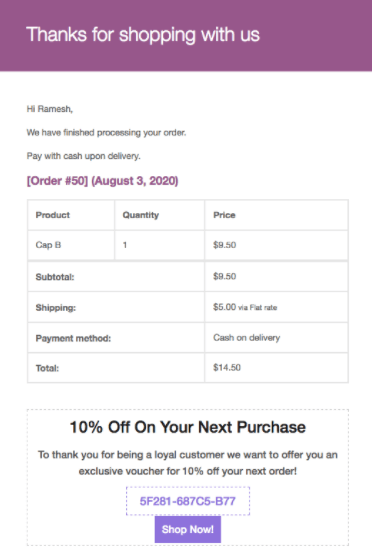 Generate Next order coupons automatically using Retainful and send them in the order confirmation emails to your customers. 
You can increase your brand awareness and foster customer loyalty by sending coupons after every purchase they make.
Even if the customers didn't have any interest to purchase again, by seeing the Next order coupon they'll be motivated to return to your store. By which you can drive 10x sales without breaking a sweat.
Conclusion
The objective of the article was to show you that you can increase or drive 10x sales using an Abandoned cart recovery plugin. And we hope this article justified the objective, the common misconception about the Cart recovery tools is that you can use it only to recover carts.
But it is so wrong, when used right these plugins can bring you more sales to your eCommerce than discount or sales tools.
Go ahead! Check it out for yourself.
Thank You!
https://ninjateam.org/wp-content/uploads/2020/11/Retainful-marketing-plugin-WordPress.png
491
1200
Bean
https://ninjateam.org/wp-content/uploads/2020/10/ninjateam-logo.png
Bean
2020-09-18 14:56:15
2021-02-17 17:15:04
Drive sales in your eCommerce store with Abandoned cart recovery plugin