If you are the owner of an online store, you must be acquainted with dynamic pricing strategies and how it works but it is worth explaining from the beginning what it actually means.
So dynamic pricing is the current pricing strategy of your online store suitable for one or several products. It is usually created based on the needs and demands of your customers, membership, and the number of products within one order.
Dynamic pricing offers different deals to different groups of customers, like if these buyer personas are your regular customers, or they are the newcomers, and so on. Customers who are the participants of your WooCommerce paid subscribers get special discounts and offers depending on the range of chosen products and the final sum of the order. And thanks to dynamic pricing plugins these pricing differentiators and criteria are possible to set.
Dynamic pricing is a required tool for stores that offer a similar variety of products or services to their competitors. In order to make the customers choose to shop on your store, dynamic pricing can provide them with automatically generated special discounts like Buy One Get One Free, Buy X Get Y, Buy bundled products get gift items, etc. It also helps learn customer behavior in order to adjust your products or services to their demands.
Hence, we collected the most popular dynamic pricing plugins with which you can integrate your WooCommerce store. All of them have different features and pricing plans, you can choose the most suitable for you.
1. YayPricing – WooCommerce Dynamic Pricing And Discounts
YayPricing is a versatile and feature-rich plugin that allows you to create various types of discounts and pricing rules for your WooCommerce store.
You can easily apply a discount on products of an entire category or based on their tags, variations, stock volume, or other criteria using the product filtering built into the plugin.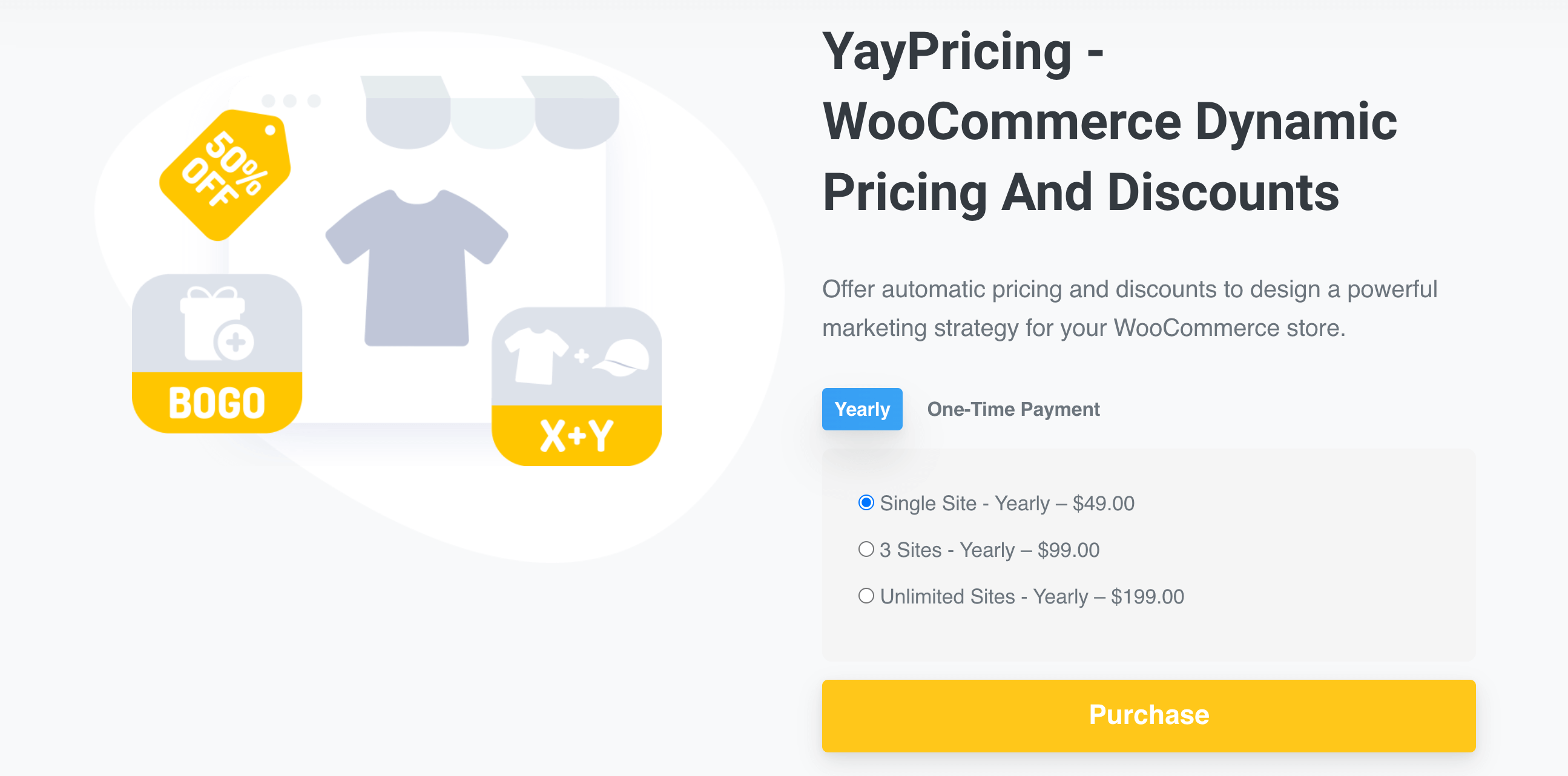 With this WooCommerce dynamic pricing plugin, you can create a free gift discount for your clients based on their order items, total spent, logged-in customer, or specific customers.
And combined with advanced dynamic pricing rules for WooCommerce, you can create rules such as automatically giving away a free gift when an order contains a t-shirt and a phone case as shown in the screenshot below.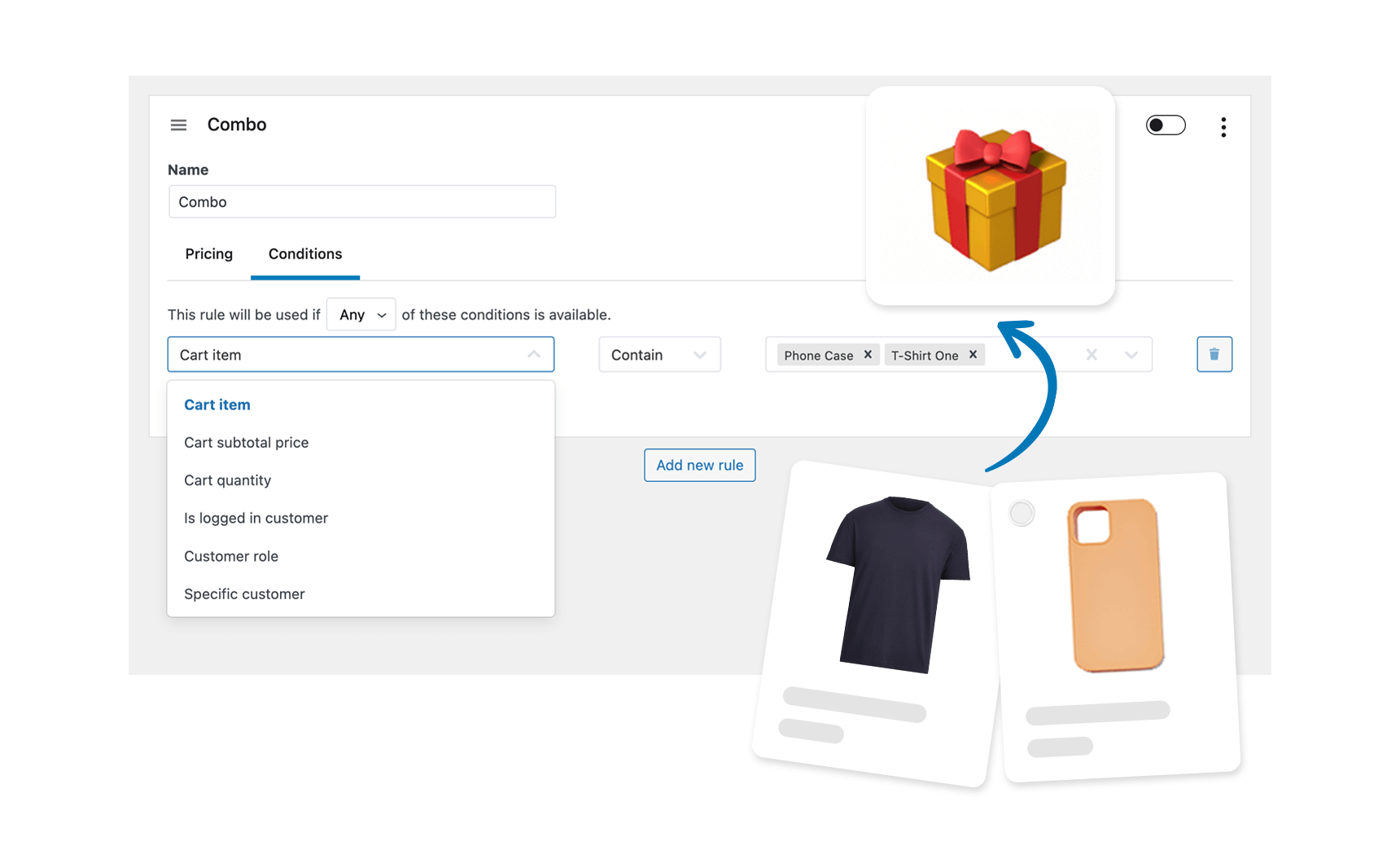 Features:
Discount types: Fixed, percentage, and fixed price methods.
Apply discount rules to the product name, variation, category, price, and in-stock product.
Buy One Get One Free deal based on fixed, percentage, and fixed rate.
Buy X Get Y Free.
Buy X Get Y with automatic discounts for Y.
Conditional cart discounts.
Dynamic display of offer descriptions on the product page.
Exclude specific rules at any time.
Run multiple rules at the same time.
Discount scheduling to enable a pricing rule during a given timeframe.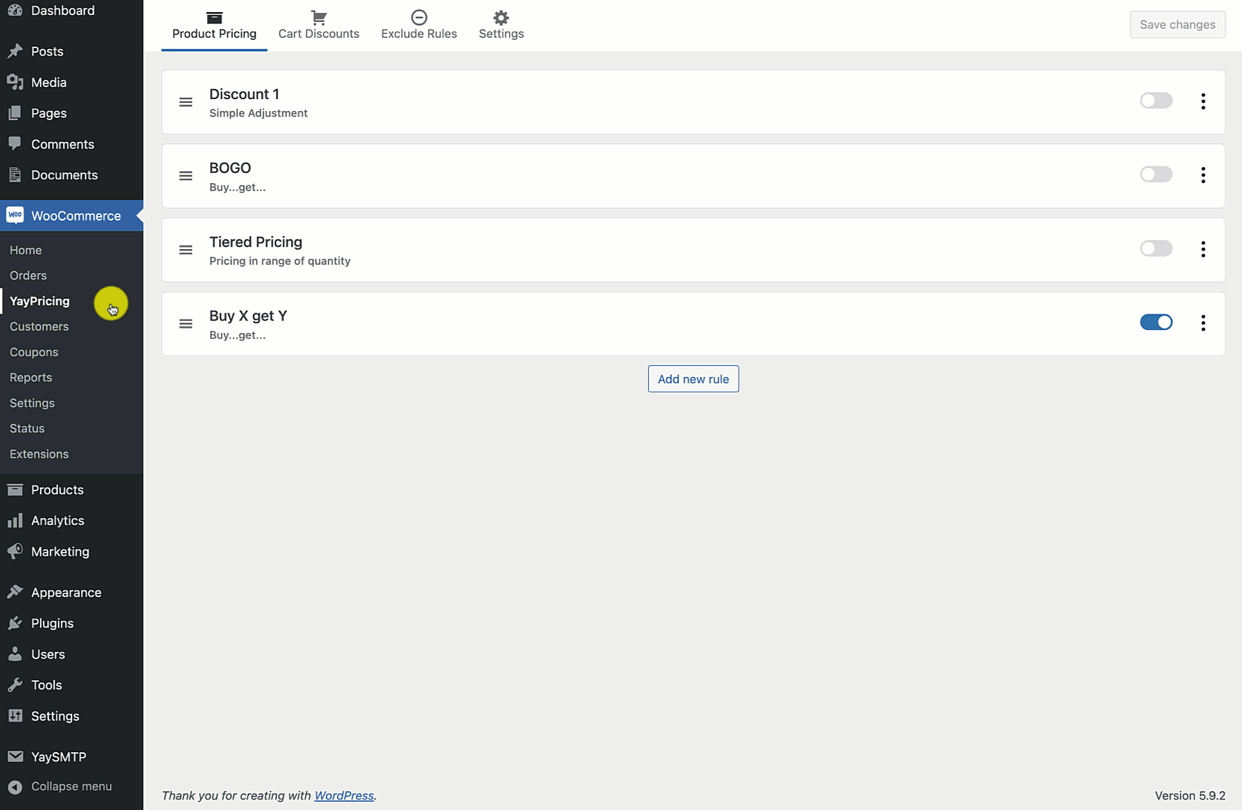 Moreover, YayPricing helps you to add quantity-based pricing & tiered pricing that allows WooCommerce update prices on quantity change. So the more your customers buy a product, the cheaper price they will get!
YayPricing – WooCommerce Dynamic Pricing And Discounts plans vary from single-site yearly licenses to one-time payment lifetime licenses, which is super agency-friendly. And all that is backed by a guaranteed no questions asked refund policy.
2. YITH Dynamic Pricing & Discounts for WooCommerce

YITH dynamic pricing plugin is considered to be one of the most frequently used plugins of this type. It implies setting specific discounts or related offers within your online store.
All your special orders available for customers can be divided into several groups like free products, promotions, special prices, and discounts for particular products for your regular clients as well as for new ones to make them stay on your site. The discounts are not created from your mind but they are mostly based on the product category, demand for this product, and the quantity of this product within one order.
Moreover, certain offers can be available only for a particular group of customers which means that it is not suitable for another one, and these settings can easily be applied through this pricing plugin.

To highlight the core features YITH dynamic pricing plugin entails, these are the following:
Capability for customers to see the discount to the number of specific products whether they need to add more to get a bigger discount;
Providing different discounts to different groups of users;
The pricing settings can be applied for a wide range of products or services due to the certain discounting strategy;
Providing customers with additional information about the available discounts;
Free products are advisable to add to engage your customer more.
Talking about the pricing plans to use these plugins, they are all affordable. It offers a free version with basic functionality for one online store, then you will have to pay from $130 to $350 depending on the number of Woostores you have.
3. Advanced Dynamic Pricing for WooCommerce

This is another popular dynamic pricing and discount plugin that is quite easy to implement and use. This dynamic pricing plugin provides simple functionality with no advanced features. It is capable of setting discounts to specific products, offering different prices to different groups of users, and discounts to certain groups of products.
Despite the functionality being limited, it is able to help you increase your sales anyway as it also generates the statistics of your sales strategy to see its efficiency. Just to not the main options Advanced dynamic pricing plugin offer, these are:
fixed prices for particular categories of products;
role-based pricing according to diverse groups of customers;
special offers for regular customers or for huge orders;
automatically generated discounts to specific products to increase sales.
To get access to the functionality of this dynamic pricing plugin, you will have to pay from $50 to $200 annually. It also offers a free version of the plugin but the functionality is going to be quite narrow.
4. Pricing Deals for WooCommerce
Pricing deals is considered to be an advanced pricing plugin for Woostores that offers an extended range of options but still is easy to use. Despite the creation of pricing plans within your online stores, it also allows creating marketing deals.
This dynamic pricing plugin is mostly used for automatic discount generation depending on the product category and user group up to your individual requirements. These personal pricing plans aim to increase your sales by improving current sales and marketing strategies thanks to the integrated function in the dynamic pricing plugins.
The discounts on your website cannot last forever so you can easily set the period of time when this discount is available.
Among the advanced functionality Pricing deals plugin provides, they are the following:
limited discounts – it means that a specific discount is available only for the set number of customers;
different discount offers to different customer groups;
promotion channels – social media, Google, and so on;
discounts are visible only for specific groups of users;
personalized discounts with additional information to them.
The most expensive pricing plan is $300 where you integrate this dynamic pricing plan within 10 online stores.
A free version is also available but it is clear that the functionality will be limited.
Bottom line
This list of dynamic pricing plugins is just a little portion of all existing dynamic pricing tools that can be easily implemented within your WooCommerce store. Each of them has a different purpose and options – discounts, temporary or stable special offers, sales statistics, and analytics, etc.
The choice entirely depends on what tasks you have and what goals you want to achieve by using a particular dynamic pricing plugin. Remember the dynamic pricing plugin is used not only for automatic generation of discounts and special offers to your customer but also to help you analyze your current sales and marketing strategies to find out what adjustments it requires to increase your revenue.

Nancy P. Howard has been working as an editor at online essay writing service review. She is also a professional writer in such topics as blogging, IT, and HR. She loves travelling, photography and is always welcome to meet new people.
https://ninjateam.org/wp-content/uploads/2021/11/WooCommerce-Dynamic-Pricing-Plugins.png
426
1210
Joey
https://ninjateam.org/wp-content/uploads/2020/10/ninjateam-logo.png
Joey
2021-11-23 10:20:18
2023-02-24 09:48:42
Best WooCommerce Dynamic Pricing Plugins for 2023