10 Very Best WordPress Directory Plugins You Need to Know About
If you're on the hunt for a WordPress directory plugin, you've come to the right place. As a website or business who want to profit online, provide your audience and traffic with the information they need, or you want to help other businesses connect with the right customers and markets, you'll want to make sure your directory plugin works for you.
In today's guide and with all this in mind, we're going to take a detailed look into the very best directory WordPress plugins available right now and ensure to lead the way throughout 2020 and beyond. Let's get straight into it.
10 Very Best WordPress Directory Plugins
1. Business Directory Plugin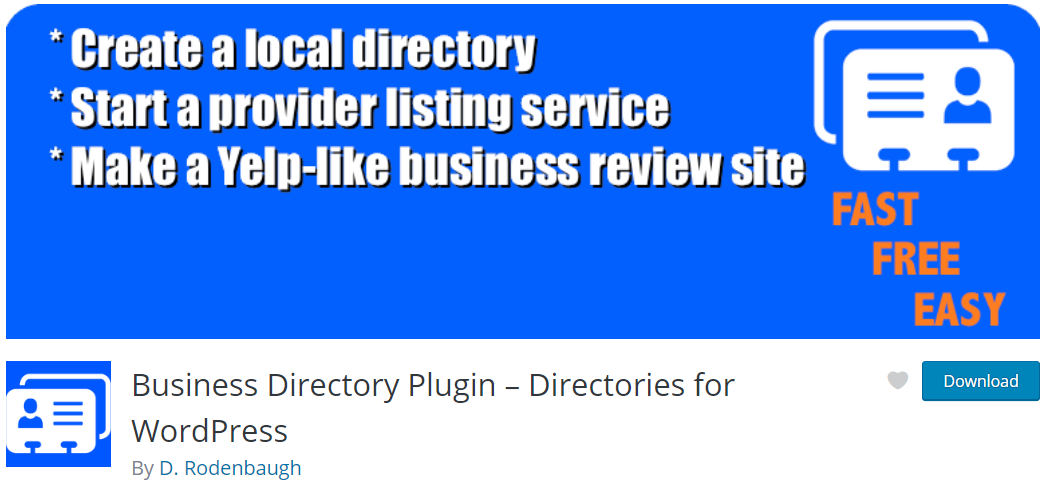 Of course, the first go-to plugin you'll want check out is the Business Directory Plugin which is designed, as the title suggests, to be a fully integrated and optimised business directory plugin. Who'd have thought it? Everything and every feature you'll need is here, including customisable fields, listing payment features, and more.
Interestingly, there are also category and tag features, options to create featured entries, so you can profit off the businesses who want to be at the top, and customisable forms for when businesses are signing up. The basis of this plugin is free, but there is a pro version available which offers many other features, such as Google Map integration, zip code search, unique file uploading, and much more.
Key Features:
Free to use, but a pro version is available

Add tags and categories to form entries for easy search and organisation

Can accept payments for listings directly through the plugin

Fully customisable forms and entry boxes

Even allows for custom file uploads
2. Name Directory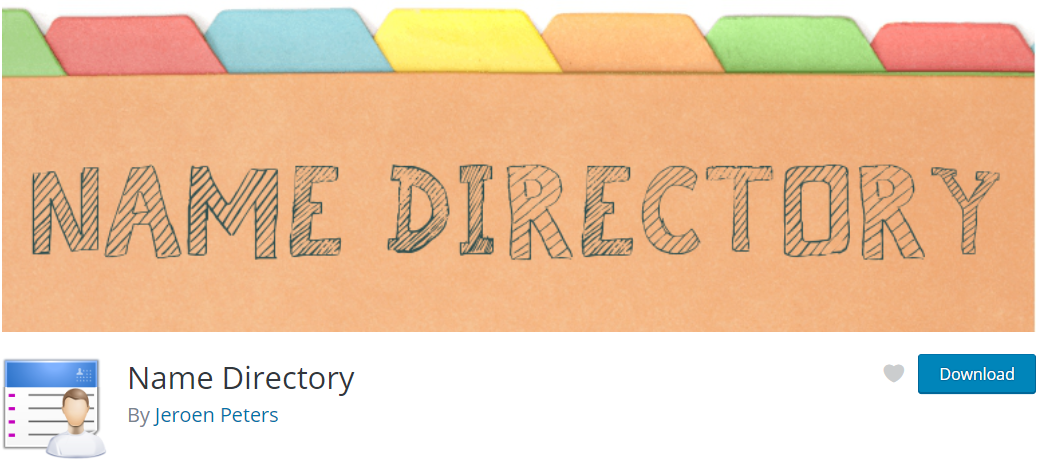 A completely free plugin now, Name Directory allows you to create business and personal directories so incredibly easier, all with customisable layouts and features so you know you can have the exact directory you want on your website.

With custom shortcode options, the ability to display on both posts and pages, and a ton of sorting options to help your users find the exact entries they're looking for, Name Directory is a simple yet powerful plugin that does it all.
Key Features:
Sort entries to easily find what you're looking for

Post directory to both pages and posts

Customise layout and features however you want

Completely free (no pro version needed)

Lightweight on your website
3. Everest Business Directory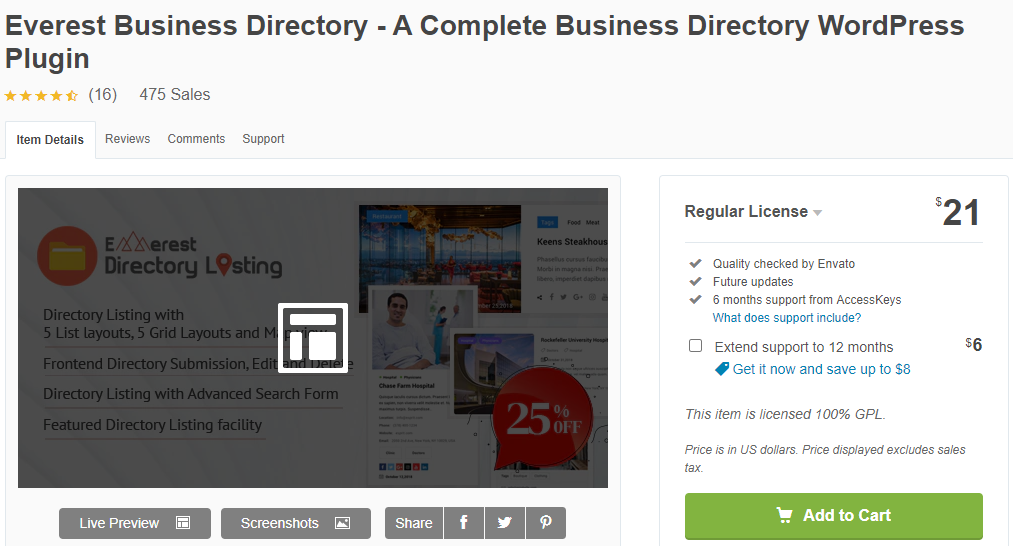 In many cases, business directory plugins don't get more perfect than the Everest Business Directory. Every feature you can imagine is included, such as directory editing, a ton of customisable and editable options, layout edits, font changes, display edits, and much more.
There are plenty of templates available here to get you started, plus advanced features, such as advanced Google Map integration, unlimited available fields, and search forms. Easy to display your directories anywhere on your website, this plugin is available for a one-off price that comes with six months of comprehensive support.
Key Features:
Available for a one-off price, no subscription necessary

Original purchase comes with six months complete support but can extend to 12

Plenty of custom design options, including font changes and layouts

Allows for unlimited custom fields

Contains advanced Google Map integration
4. Advanced Classifieds and Directory Pro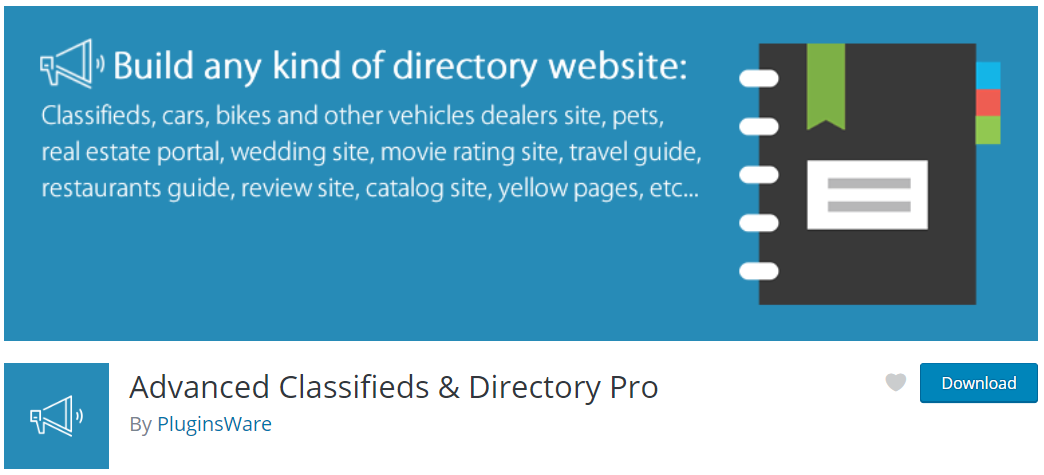 Another free business directory plugin now, it's actually surprising this plugin is free since it has so many powerful features. Whether any need for a pro account, you'll have features like a map viewer, front-end form submission, and integrated search capabilities. You can even take full advantage of the features list.
If, however, you want to offer more in the form of custom pricing plans, and add compatibility with platforms like PayPal, WooCommerce, and Stripe, you'll need to pay the pricing version which starts around $4.99 per month. Don't worry; you get five licenses with this to use on whatever website you want.
Key Features:
Many advanced features available in the free plugin

Offers map, search, and front-end submission

Comes with a pro version for managing different accounts

Compatible with Stripe, WooCommerce, and PayPal

Offers a featured listing option
5. Connections Business Directory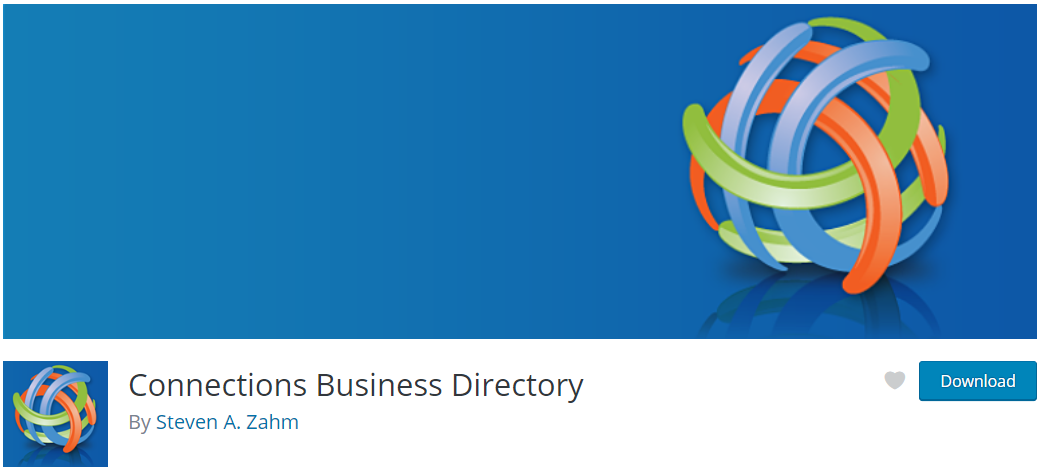 Connections are renowned for being one of the most powerful business directory plugins for WordPress. With custom fields for creating whatever directories you want, and the ability for users to individually set their own privacy levels for types of information, this is a plugin that helps you put your users first.
Displaying your forms is easy. Adding shortcodes and positioning is easy. Customising the forms to suit your website is easy. In short, this plugin makes everything easy!
Key Features:
Can add custom shortcodes

Display wherever you want on the front-end of your website

Completely customisable fields

Can set custom privacy settings
6. Formidable Forms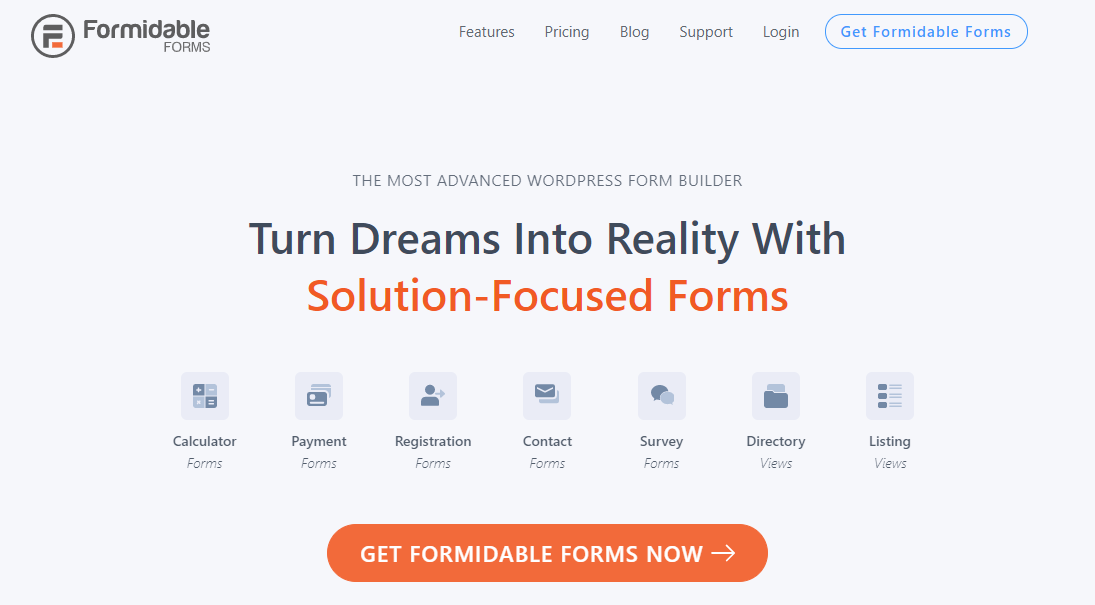 Hand's down one of the greatest and most functional WordPress form builders every made, the plugin does a straightforward job; allows you to use advanced forms of any kind so simply and then host them effortlessly on your website. When you're looking for custom directories, this plugin is perfect.
To create a leading business directory, simply load up the real estate template and then businesses can add entries themselves, listings that will then be displayed on a WordPress page of your choosing. Of course, you can also add the listings yourself, if you so please.
Compatible with plenty of add-ons, including MailChimp integration, PayPal, WooCommerce (of course) and much more, Formidable Forms is a fantastic plugin for any website that uses forms and wants the best experience.
Key Features:
Tons of templates and resources to get you started

Integrated with leading platforms including MailChimp and PayPal

A wealth of online support and tutorials

Easy to use and beginner-friendly

Can edit and adjust to suit your personal needs
7. Directory Pro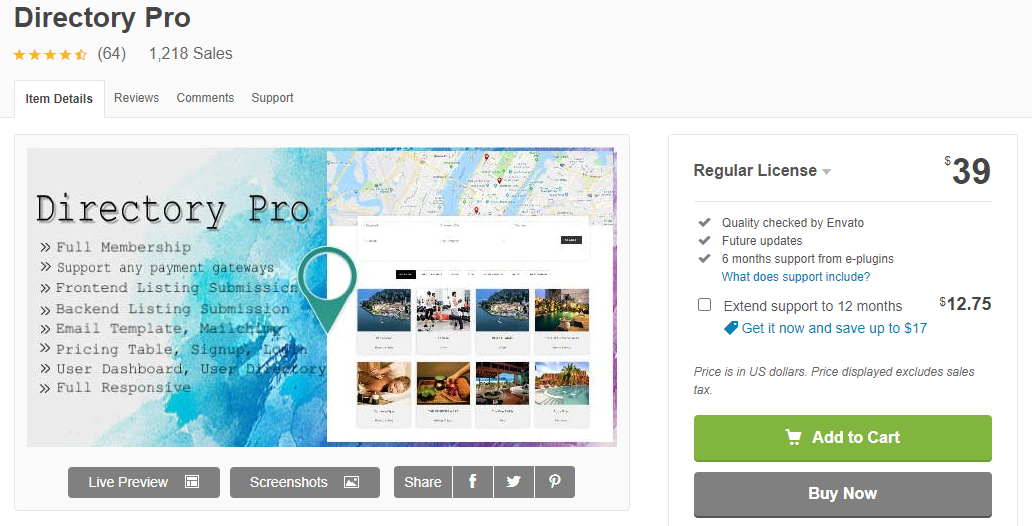 While many directory plugins are similar in terms of the basic features they have to offer, as you can see from our list, each plugin seems to have its own signature selling point that will make you want to use it or will fulfil a certain purpose. In the case of Directory Pro, this is allowing your website users to favourite and effortlessly contact the listings as they please.
Of course, this is what directories are all about, and it's surprising that not more directory plugins offer this feature. As you'd expect, you can integrate this plugin with things like MailChimp and Visual Composer for managing your marketing emails, and there are pro versions available.
Surprisingly and uniquely, you can even sell coupons to visits through the plugin via the PayPal platform.
Key Features:
Free and pro versions available with six months support

Allow for easy contact of each listing directly through the plugin

Users can favourite listings in the plugin

Compatible with MailChimp and Visual Composer

Can sell coupons for listings via PayPal
8. GeoDirectory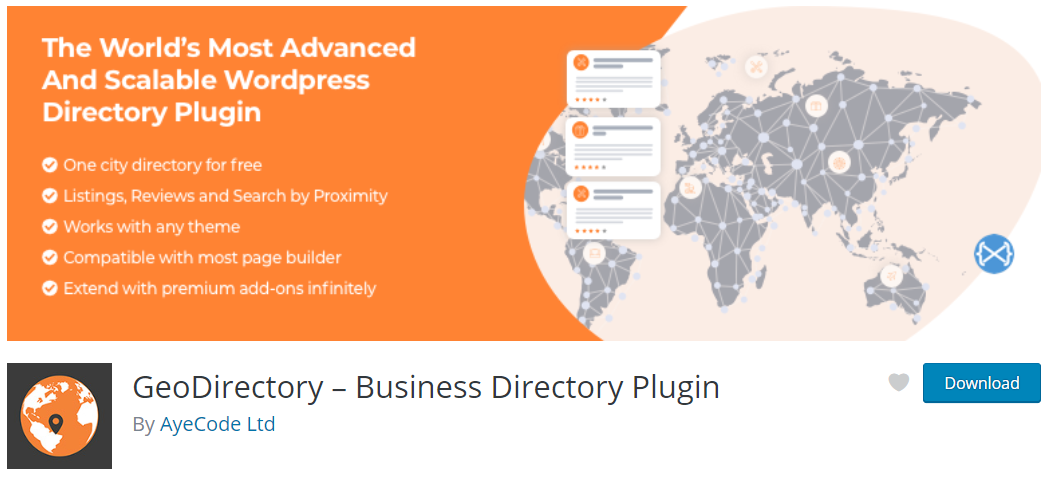 If you're looking for a directory plugin like Yelp, YellowPages, TripAdvisor, and the sorts, GeoDirectory is the plugin for you. Simple and easy to learn for any kind of technical skill level, all your users need to do is go onto your website, fill out the form, and the information will be displayed clearly!
In addition to hosting, you'll also be able to provide users with a unique experience by being able to learn via neighbourhood, cities, businesses, and different locations, all so they can find exactly what they're looking for. You can even monetise listing spaces through the plugin.
Key Features:
Create event listings and payment gateways

Sell featured listing spaces directly through the plugin

Users can submit data whenever they like

Users can search for data based on geographical locations

Comes with an integrated map feature
9. Sabai Directory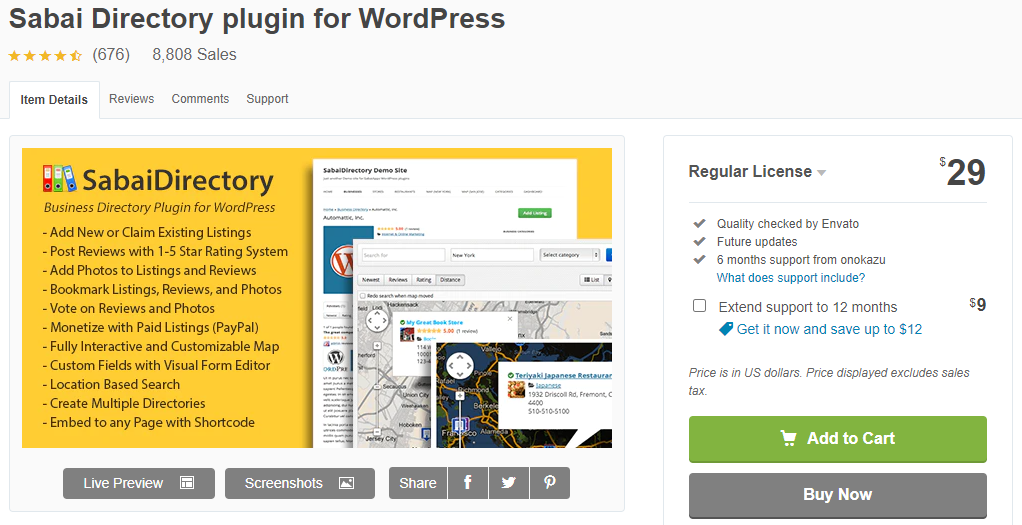 Finally, we have Sabai Directory. Perhaps not the most well-known directory plugins, this premium option that's available for an affordable one-off price of $29 allows you access to everything you need to create any kind of directory, similar to that of Google Maps or Yelp.
What we love most about this plugin, and is by far the most unique feature, is the fact you can allow for crowdsourcing integration for your connected businesses directly through the plugin. Traffic to your website can also write reviews and rate businesses and can even upload photos to help you build your directory and its helpfulness.
There are three front-end viewer options your users can choose to display the listings, an interactive map, and additional pricing plans that support all major platforms, such as PayPal and 2Checkout. As a rule, you get six months support as standard with this plugin, but for just $9 you can extend that 12, ensuring you have everything you need to this plugin up and running and working to its best possible capabilities.
Key Features:
Compatible with all major payment platforms

Users can leave reviews, rate businesses, and upload photos

Three unique listing display options available

Available for a one-off price with the option to double support duration

Allows for users to comment and rate reviews from others
10. Web 2.0 Directory plugin for WordPress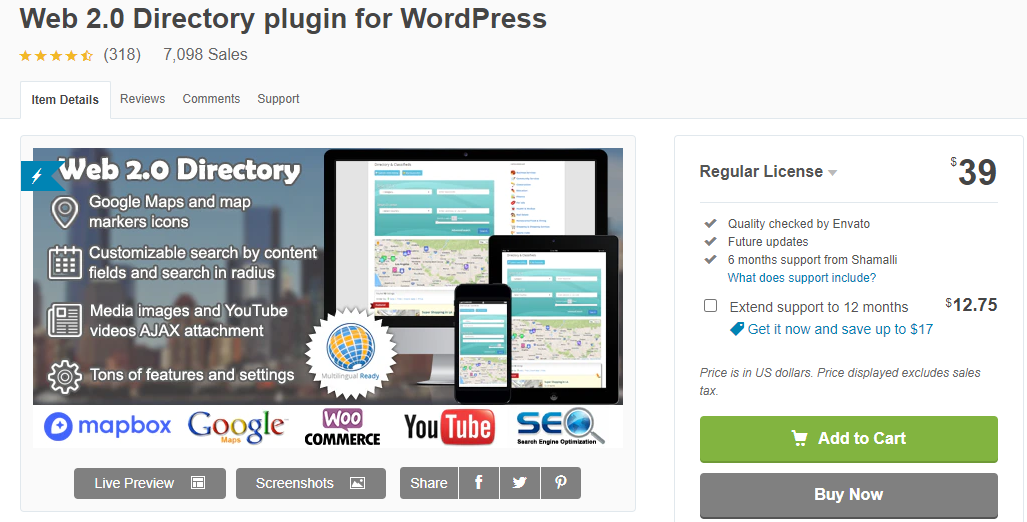 With this directory plugin, you can convert any existing site into a fully featured directory business website at ease. It works for any purposes, some example would be classifieds, events directory, estate portal, wedding site, yellow pages, cars, bikes, boats and other vehicles dealers site, restaurants, pets, real , local directories, map store locator.
There are multiple options available for you to set up revenue generating streams and control them on your personal WordPress site dashboard. Besides, both free and paid listings are supported. Visitors are able to submit new listings or even packages of listings by using the website frontend. Users can find nearby places quickly by using powerful search system of maps & map markers functionality.
Key Features:
Print listings

Save in Bookmarks

Download in PDF

SEO friendly pages

Images, YouTube and Vimeo videos attachments

Custom fields, custom icons, customize colors

And a lot more customization options
CONCLUSION
Thanks for reading. Which are your favorite plugins? Any thoughts could be shared to [email protected]. Wanna check out the best plugin of NinjaTeam? It's here.
Beatrix Potter is a writer at Write My Term Paper. Beatrix writes about WordPress plugins. 
https://ninjateam.org/wp-content/uploads/2020/06/Best-WordPress-Directory-Plugins.png
426
1210
Kelly
https://ninjateam.org/wp-content/uploads/2020/10/ninjateam-logo.png
Kelly
2020-06-10 14:24:06
2023-03-17 10:16:02
10 Very Best WordPress Directory Plugins You Need to Know About