6 Ways to Create the Best Ecommerce Emails Using AI
What is the most popular and revolutionary trend in the marketing industry today? Almost anyone involved will say it's Artificial Intelligence (AI). AI has proved it's here to stay, allowing business leaders to transform how they engage with prospective and current customers via ecommerce emails. The ecommerce industry is no different. From automating customer segmentation to generating unique product descriptions, AI has the potential to change ecommerce marketing forever.
(Source)
With the number of online shoppers increasing yearly, ecommerce business owners have a lot on their plate. But AI software takes some of the weight off their shoulders, facilitating the process of attracting customers and offering them an outstanding experience. And there's no better way to do so than dispatching high-quality and personalized ecommerce emails that meet every customer's needs. Keep reading to discover how AI technology helps you create the best ecommerce emails that recipients open and click through.
Benefits of Leveraging AI in Ecommerce Email Marketing
Despite the increasing popularity of AI tools in the ecommerce industry, many business owners are still reluctant to incorporate them into their marketing strategy. Especially in ecommerce emails, leveraging AI comes with great benefits. Let's check them out:
Building a data-driven email marketing strategy. AI solutions analyze data from customer interactions quickly while bringing more accurate results. Combined with the analytics provided by your email newsletter software, you can identify industry-specific benchmarks, understand consumer needs, and make data-driven decisions to provide targeted email content.
Freeing up time for your marketing team. By its nature, AI technology is programmed to manage different tasks simultaneously and perform faster than humans. By automating routine processes like recipient segmentation or product recommendation, marketers have more time to focus on what's essential: getting their creative juices flowing.
Decreasing marketing costs. With AI-powered tools, you create high-converting emails that subscribers open and click through. You get better results from your email campaigns without investing in a large marketing team, expensive software, or dedicated training programs since your AI system makes the hard decisions for you.
Predicting and optimizing performance. Besides creating engaging emails, AI enables you to dive into predictive analytics. By analyzing vast volumes of data, AI technology helps marketing professionals make informed forecasts. Based on the insight gathered, you can revisit your email marketing strategy and work towards optimizing your campaign performance.
How to Craft High-Performing Ecommerce Emails Using AI
Now that we got you excited with the benefits discussed, It's time to see what you can do with the power of AI to create high-performing email campaigns and maximize results.
1. Generate catchy email subject lines
Ai-powered solutions come up with more powerful and engaging words for your emails at scale. Especially when it comes to your email subject line, trust us when we say it can make or break your entire email campaign. It's the decisive factor that leads readers to open your email, mark it as spam or move it to the trash folder. That's why brands put a lot of effort and thought into creating compelling and eye-catching email subject lines. It gets tricky, though. Effective email subject lines should evoke emotions, showcase the value of your email, and align with your brand tone. That sounds like a lot to handle, right?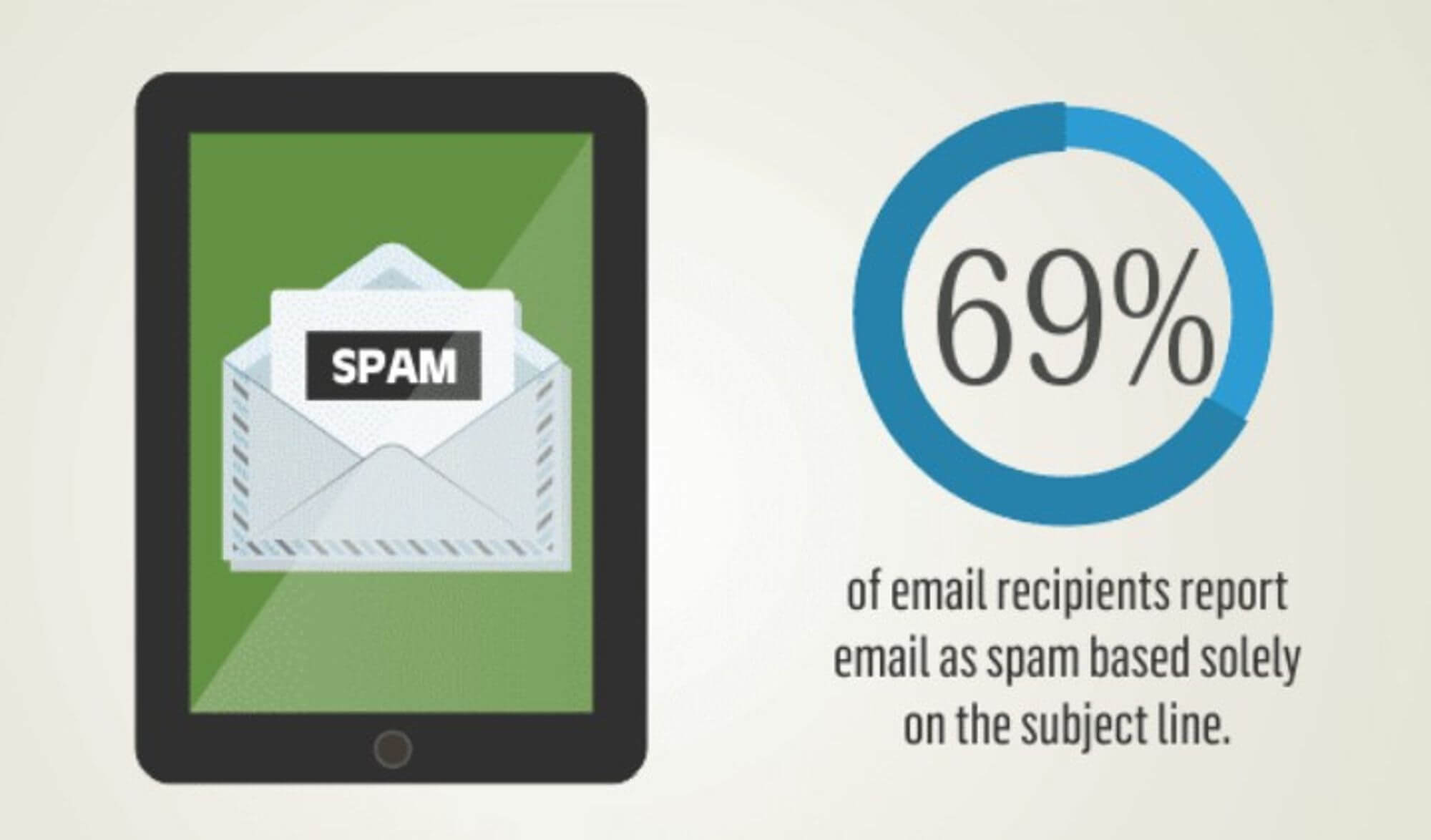 That's where AI tools come in to draft subject lines that urge recipients to open your emails. AI subject line generators leverage natural language processing (NLP) to read texts and turn them into code. Then, they use the code generated to produce their own content through their natural language generation capabilities (NLG). NLG analyzes thousands of data to craft engaging subject lines that catch the recipient's attention. What's more, you can train AI subject line generators to learn your brand voice and write subject lines that conform to it.
It sounds perfect in theory, right?
So, it's time to see it in action!
We asked AI to help us out with different e-commerce scenarios, ranging from a welcome email to an abandoned cart campaign. First, we leveraged one of the tool's ready-made prompts to generate attention-grabbing subject lines for a promotional email. Here's what we got back:
"Exclusive Limited-Time Offer: Get [Product or Service] and Save XX%!"
"Boost Your [Product or Service] Experience with Our New and Improved [Feature]!"
"Introducing [Product or Service]: The Ultimate Solution for [Customer Pain Point]!"
"Don't Miss Out on the Hottest [Product or Service] Sale of the Season!"
"Transform Your [Product or Service] Game with Our Revolutionary New[Feature]!"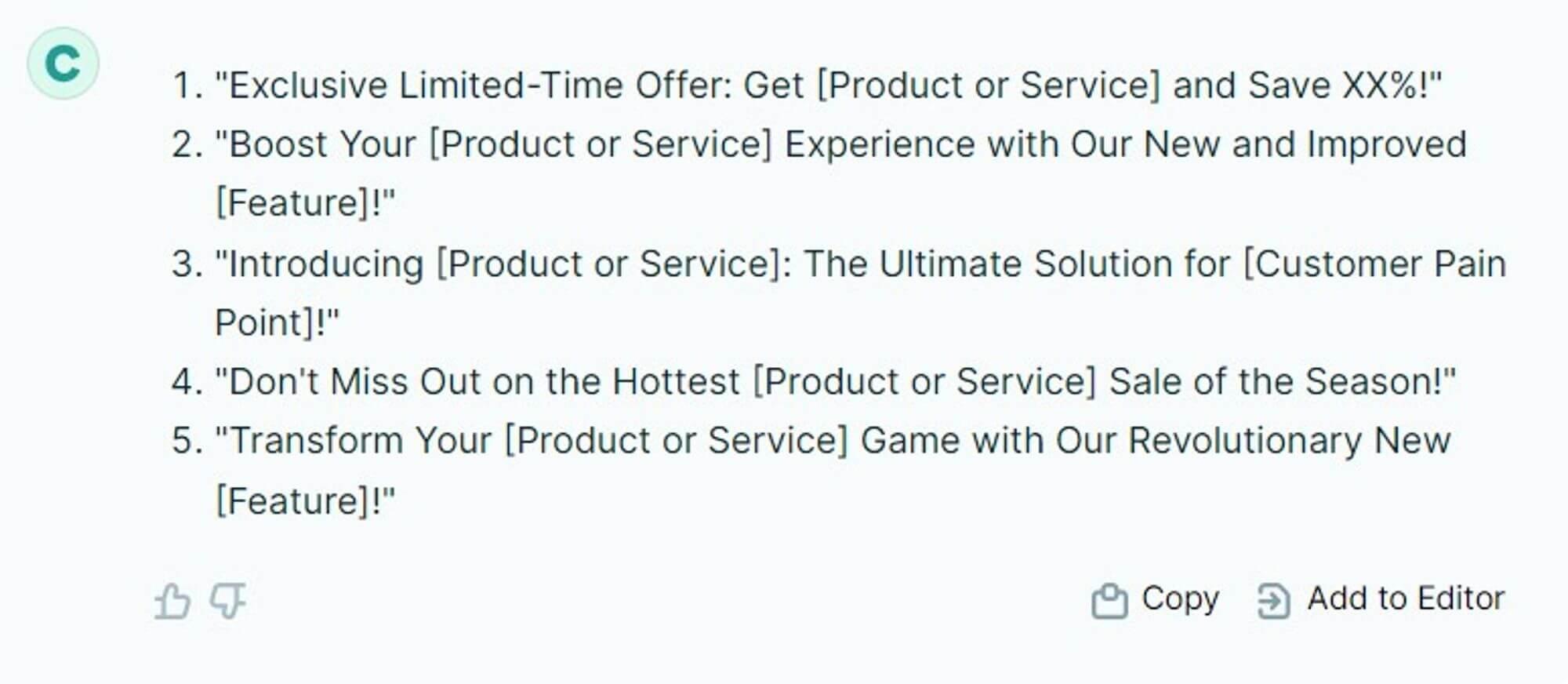 Then, we went ahead and created a simple prompt for writing a set of original greetings for a welcome email destined for an e-commerce new customer.
"Welcome to the [Company Name] family, [Customer Name]! Get ready for a shopping experience like no other."
"Hello [Customer Name], and a big warm welcome to [Company Name]! We're thrilled to have you join our community."
"Greetings [Customer Name]! Thank you for choosing [Company Name] as your go-to online store. Let's kickstart your shopping journey together!"
"Dear [Customer Name], welcome aboard! As a new member of [Company Name], expect nothing short of exceptional products and top-notch service."
"Hi there, [Customer Name]! We're delighted to welcome you to [Company Name]. Get ready to embark on a shopping adventure filled with incredible deals and exclusive offers.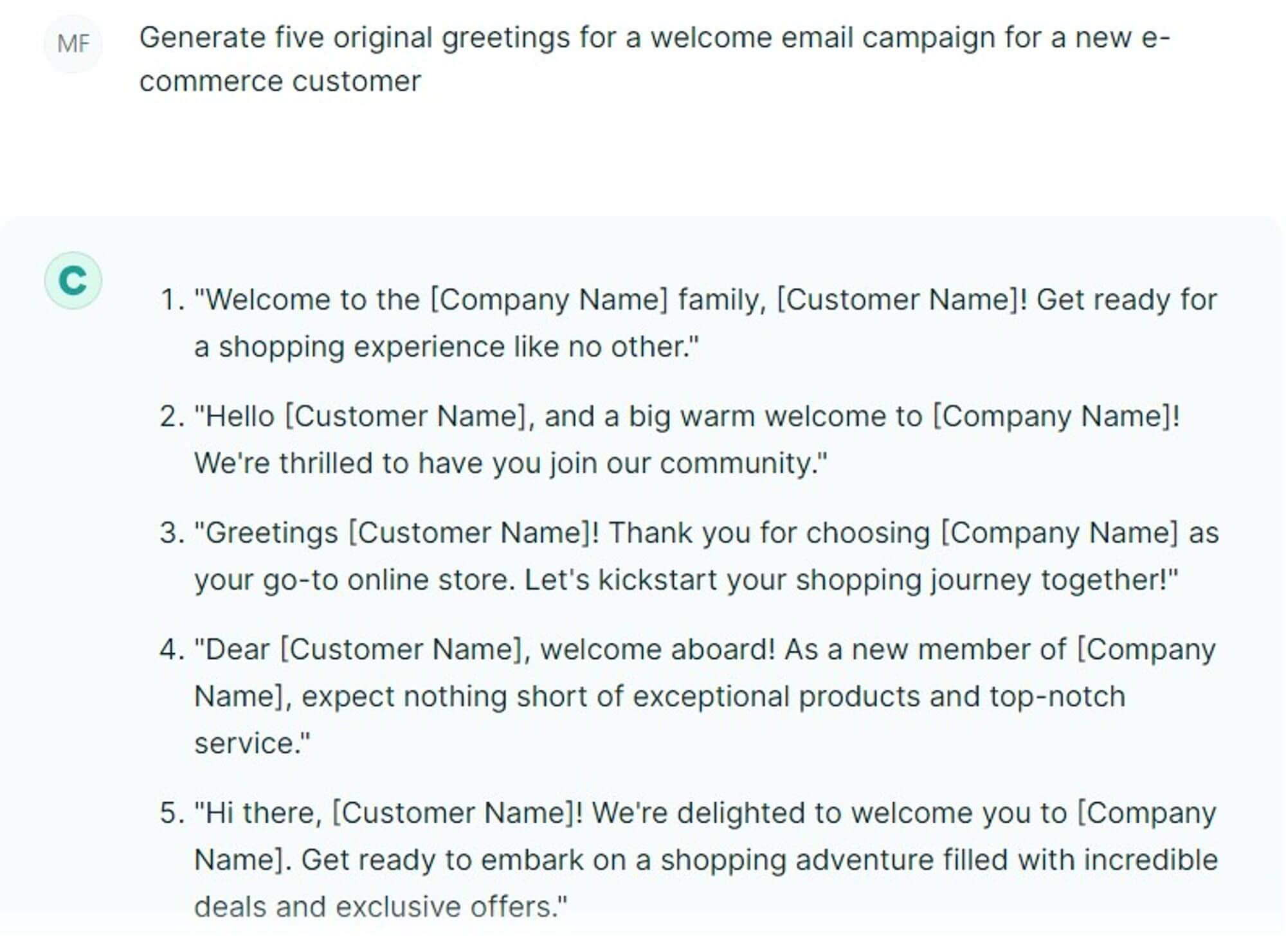 It was about time we challenged the tool with something more demanding, so we requested five email greetings for a specific industry. We also suggested we wanted the content to include scarcity and urgency elements. AI came up with the following suggestions:
"Hurry! Limited stock available for the hottest clothing items of the season. Grab yours now, [Customer Name]!"
"Don't miss out on the latest fashion trends, [Customer Name]! Get them now with free shipping before they run out!"
"Act fast, [Customer Name]! Limited time offer on our chic clothing collection. Don't let this opportunity slip away!"
"Attention [Customer Name]: Only a few sizes left in your favorite clothing item. Get it now or regret it later!"
"Last chance alert, [Customer Name]! Shop our exclusive clothing collection before it's too late. You won't regret it!"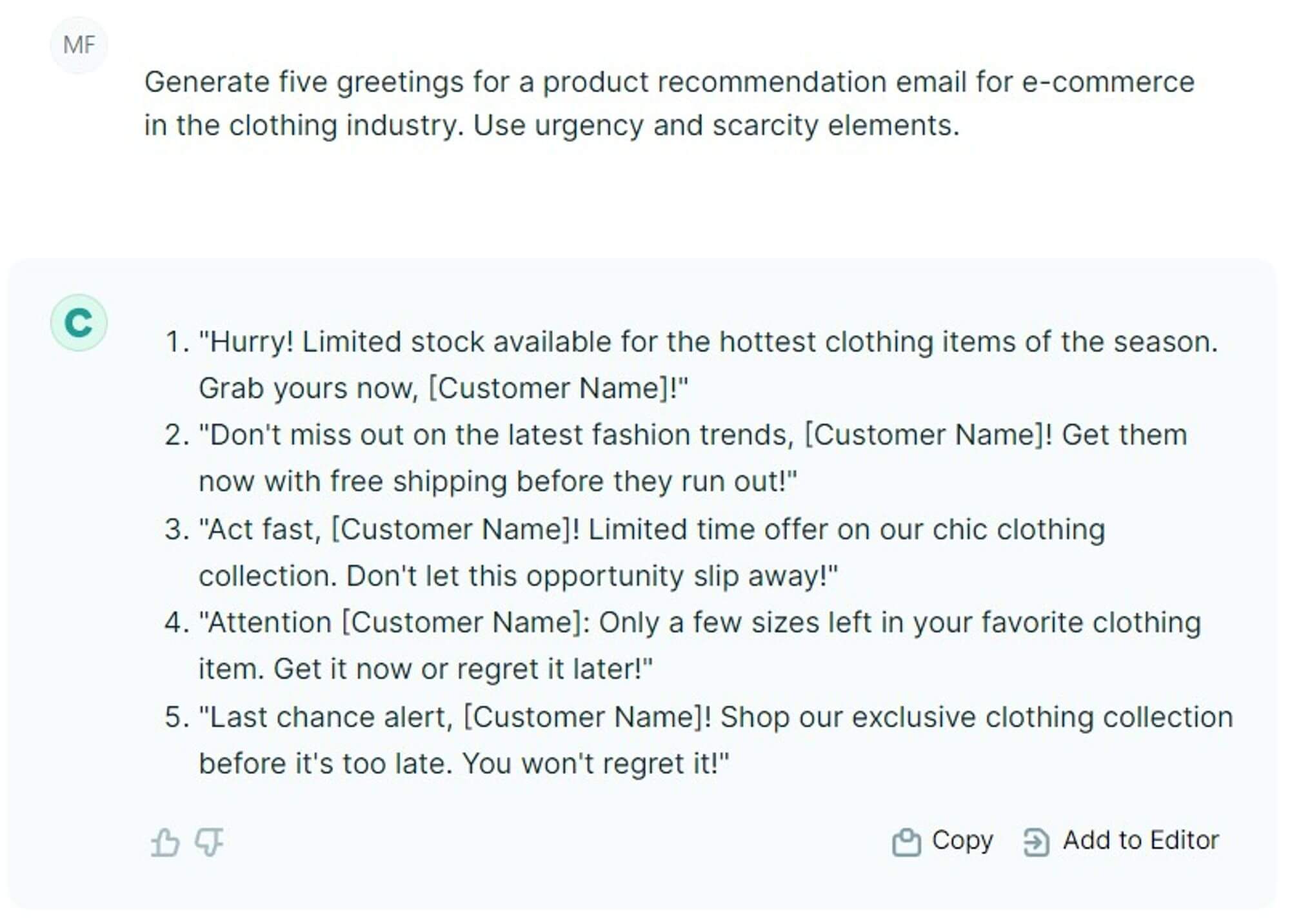 As you can see, the suggestions provided by AI systems are optimized according to your instructions. The more detailed the prompt you use, the more accurate and to-the-point the suggestions will be. In fact, you can ask the tool to improve your prompt or even include your brand voice based on the branded content you feed it with.
Let's see an example of how this feature works. We wanted AI to develop a few funny email subject lines for a cart abandonment campaign from a cosmetic company. Then, we let the assistant improve our prompt, and here's what it brought back:
"Oops! We caught you red-handed with that abandoned cart, [Customer Namel!"
"Your cart is feeling lonely… Can we help provide a makeup reunion, [Customer Name]?"
"Hey there, [Customer Name]! Your abandoned cart called, it wants you back (and it misses you!)."
"Breaking news: Your abandoned cart is plotting a getaway. Will you save it, [Customer Namel?"
"Don't leave them hanging, [Customer Name]! Your cosmetics are begging to be checked out. It's time to hit that 'Buy Now' button!"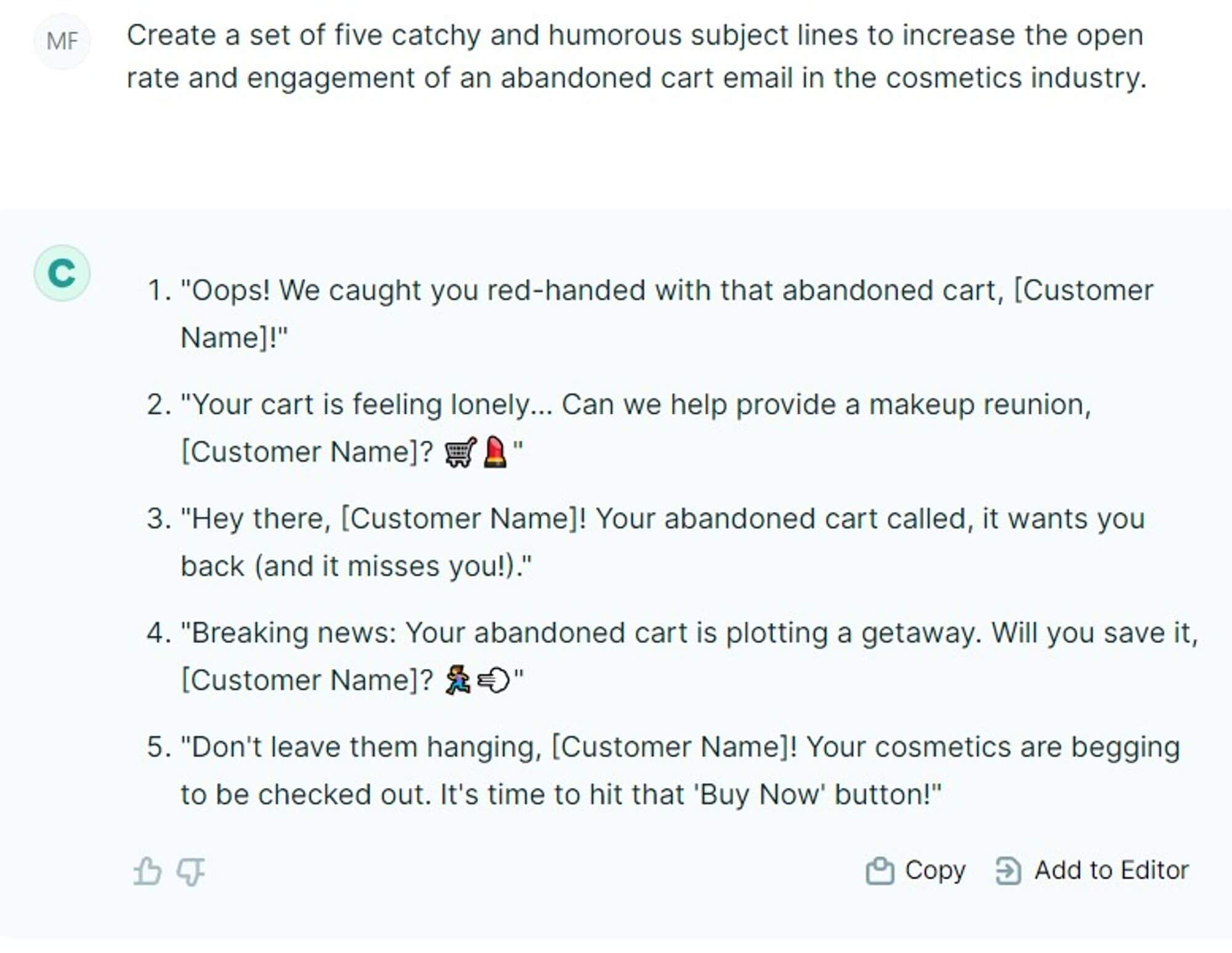 AI-powered content creators can be as powerful and trustworthy as you train them to be. As you dive deeper into generating email content with AI tools, you'll notice that they can turn into one of your most trusted allies in optimizing your email copy and reaching recipients with exciting news and promotions.
2. Perform smart list segmentation
With the immersive volume of recipient data at your disposal, manually segmenting your email list becomes time-consuming. AI tools are programmed to perform smart list segmentation. What does that mean? AI-driven systems browse a huge volume of customer data, such as demographics, browsing and purchasing history, and preferences. Then, they leverage the information collected to build as informed list segments as possible and personalize email communications based on their needs and preferences.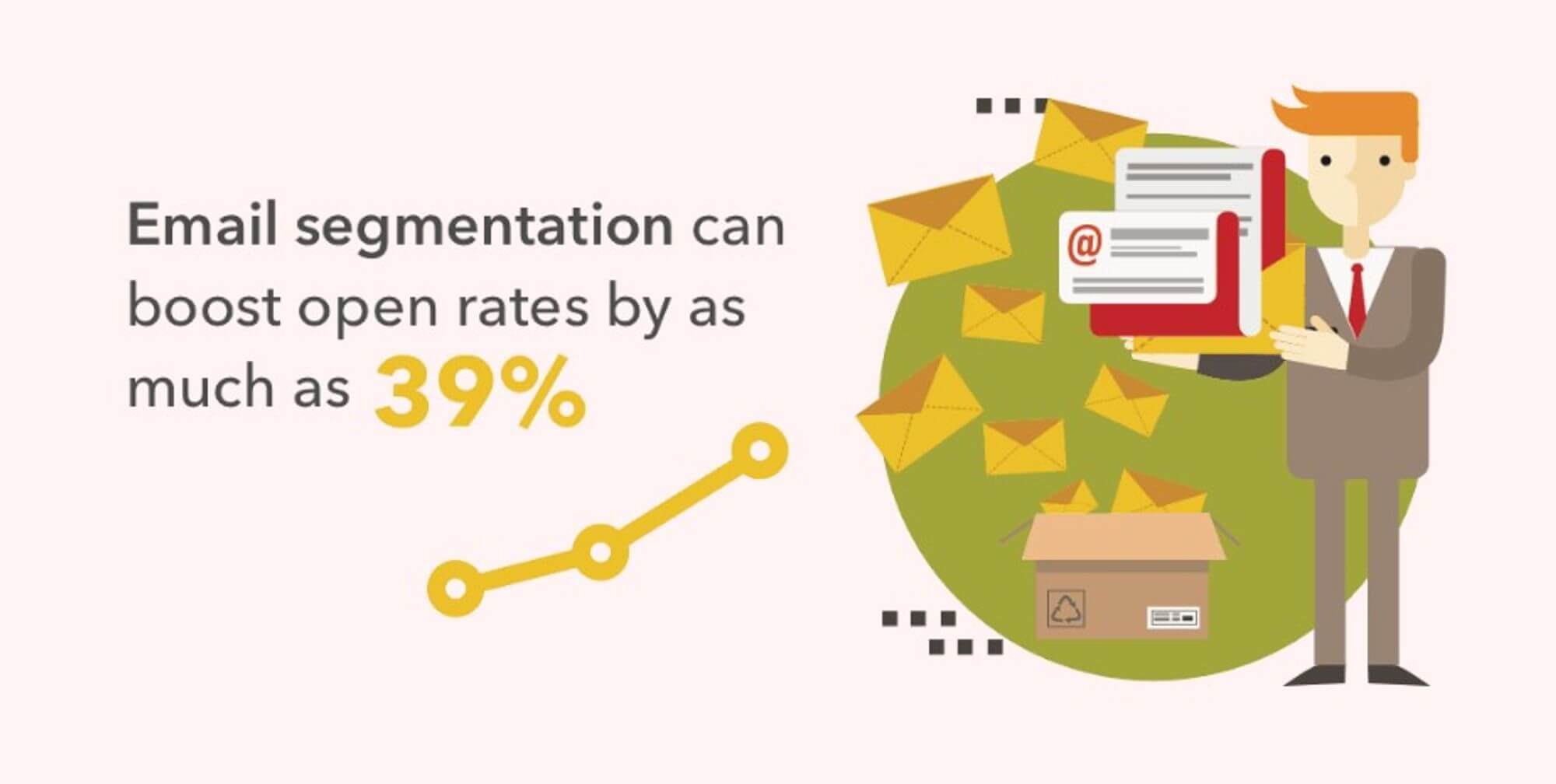 (Source)
List segmentation using AI algorithms goes beyond parameters like gender or geolocation, diving deep into psychographic data or similar buying patterns. That way, they categorize your email lists based on which recipients are more likely to engage with your content or convert into paying customers for your ecommerce business. So, AI takes the guesswork out of the type of content each recipient likes reading or the products that appeal to them. Additionally, the data gathered enable you to send more targeted emails to underperforming segments by recommending how you can optimize your communication with them.
3. Personalize your email campaigns
One of the critical ingredients of any successful marketing campaign is personalization. There's nothing prospective and existing customers appreciate more than brands showing they've done their homework on them and care to cater to their specific needs. However, creating customized email copy that converts proves to be an intimidating and laborious task. At this point, AI technology helps you deeply understand your audience and target them with personalized ecommerce emails and promotions.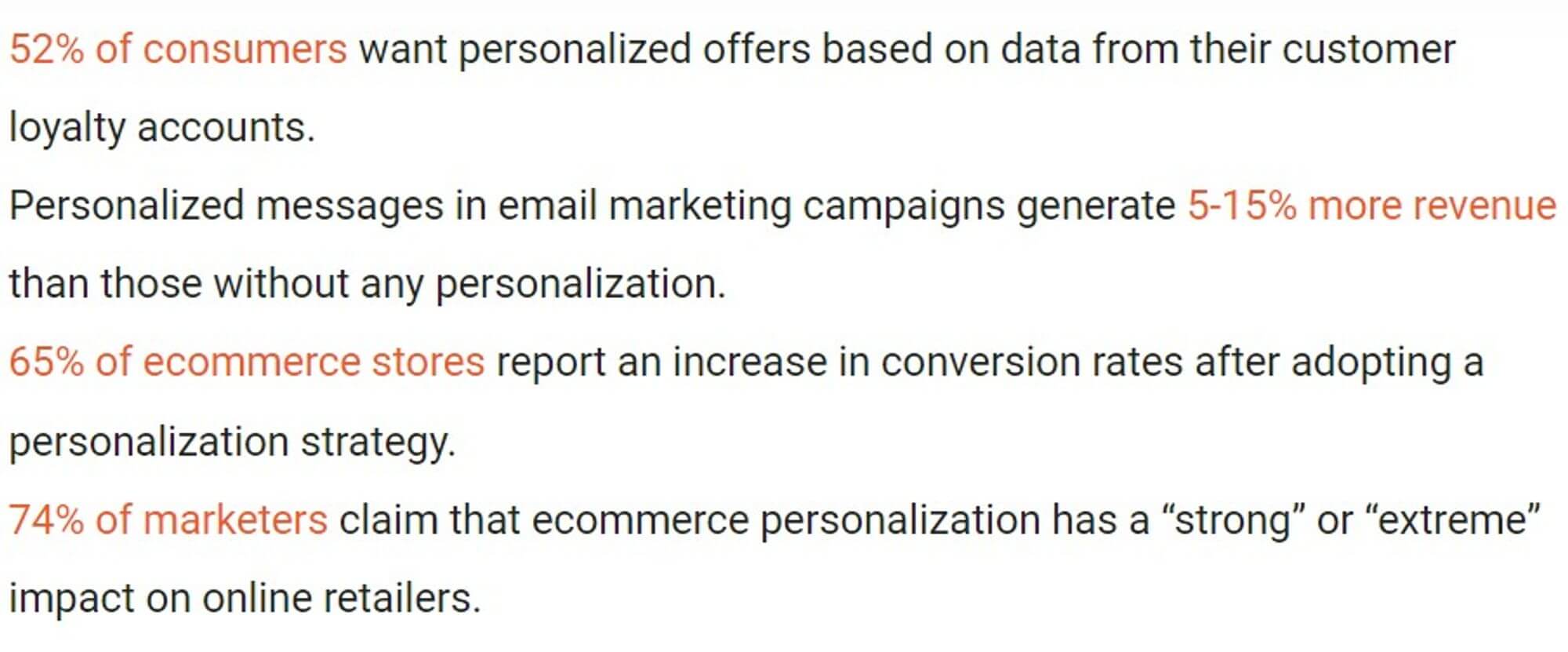 AI writing assistants are the perfect tool for ecommerce businesses with an extended database and bulk email communications to handle. Moreover, AI technology leverages automation to personalize your ecommerce emails based on customer behavior, like product browsing or past purchases on your online store. It empowers you to align every email component to your subscribers' needs and interests, whether you need to customize the email copy to members or provide personalized product or service recommendations. The result? Marketers produce more relevant content curated for every reader, which drives conversions and elongates customer lifetime value.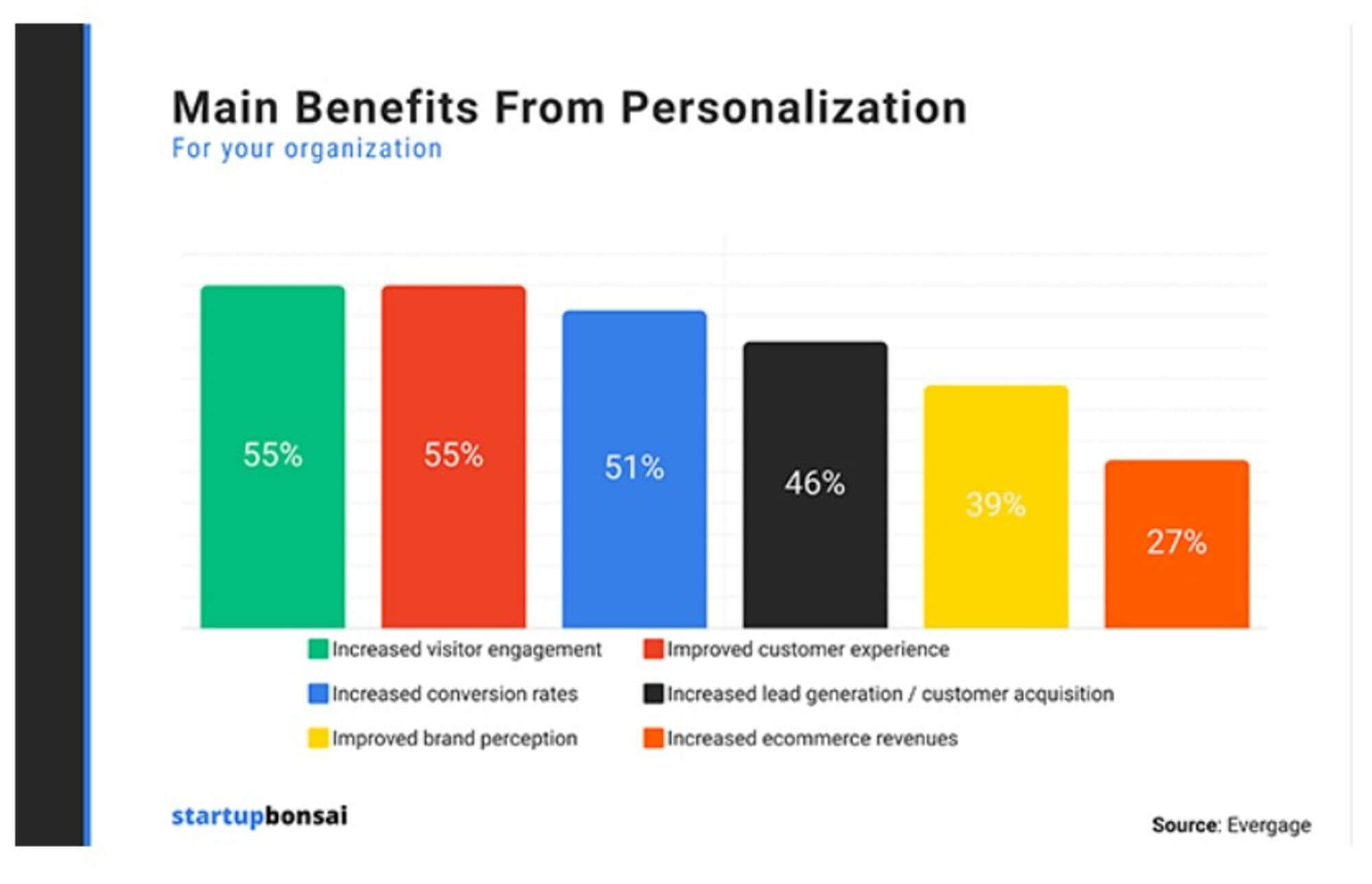 4. Maintain email list hygiene
One of the things marketers hate losing time over is going through their email lists and ensuring their contacts are up to date. But the truth is they can't do otherwise. Maintaining a healthy email list is crucial for email marketing to deliver the best results possible.
Machine learning helps you sanitize your mailing lists by removing inactive or false email addresses. With AI-based tools, you can validate your recipients' email addresses and automatically update contact details. That's how you ensure reputable email clients won't report your email marketing practices. Not only that, but you also improve your email deliverability, getting the right message in front of your most engaged recipients.
5. Optimize sending times
Optimal sending times are among the critical ingredients of email marketing success. The perfect time to reach recipients with your e-commerce emails may depend on different factors, from your specific industry to your business objective. But it's equally important to consider things like the subscriber's location, profession, habits, and preferences.
AI-powered tools enable you to optimize your email sending times for each recipient individually to increase the chances of them engaging with your content. They do so by analyzing recipient interactions and matching them to specific times throughout the day. This way, you can figure out the perfect time to contact each subscriber, resulting in increased open and click-through rates.

6. Run better tests
No matter what email marketing types you leverage, running regular and effective tests is an inseparable part of your WooCommerce email marketing. But it gets repetitive and tiresome over time. From your email subject lines to your product images or even sending times, AI technology makes the data monitoring and decision-making process a breeze.
In fact, it goes beyond A/B testing, allowing you to test more variants quickly and effortlessly. By automating multivariate testing, you can try different components and then analyze the performance of each variant to determine which one performed better. With AI solutions, you can run more tests at once and optimize different copy versions to increase your e-commerce conversions.
Final Words
As analyzed, AI technology allows you to streamline different aspects of your ecommerce email marketing, like segmenting your contacts, personalizing your outreach, sanitizing your mailing lists, and the list goes on. Don't get us wrong, though. We don't claim that AI technology can replace marketers. Quite the contrary, it enables them to do more in less time, enhancing their productivity and allowing them to focus on important tasks, such as building a laser-focused email marketing strategy and improving customer experience.
AI-driven tools help you optimize the performance of your ecommerce emails, no matter if it's a product recommendation or an abandoned cart email. All you have to do to get the most out of the power of AI is follow the practices shared in this guide to create the most targeted experience for your ecommerce customers.
https://ninjateam.org/wp-content/uploads/2023/08/Create-Ecommerce-Emails-Using-AI.png
426
1210
Bean
https://ninjateam.org/wp-content/uploads/2020/10/ninjateam-logo.png
Bean
2023-08-31 17:50:03
2023-08-30 10:45:08
6 Ways to Create the Best Ecommerce Emails Using AI