Top 9 GDPR, CCPA WordPress plugins for your website 2023
We are living in the Industry 4.0 and our private data is the thing we need to take care of, right?
So have you heard about a new privacy for the protection of personal data that came into effect in 25 May 2018? That's GDPR.
So, what is that?
GDPR (General Data Protection Regulation) is a regulation by the European Union (EU) to protect the privacy and data of the citizens under EU.
If your company is not in line with the GDPR compliances you may have to face a penalty of 4% of a company's annual global revenue or €20 million or even greater.
But don't panic, there are lots of useful GDPR plugins for WordPress users to make your site compliant with the GDPR policies.
GDPR WordPress plugins provide the features and settings that meet all the GDPR requirements and can help you and your website be compliant with the GDPR policies.
In this article, we have listed the best 8 GDPR compliance WordPress plugins for WordPress users.
Okay now let's power through!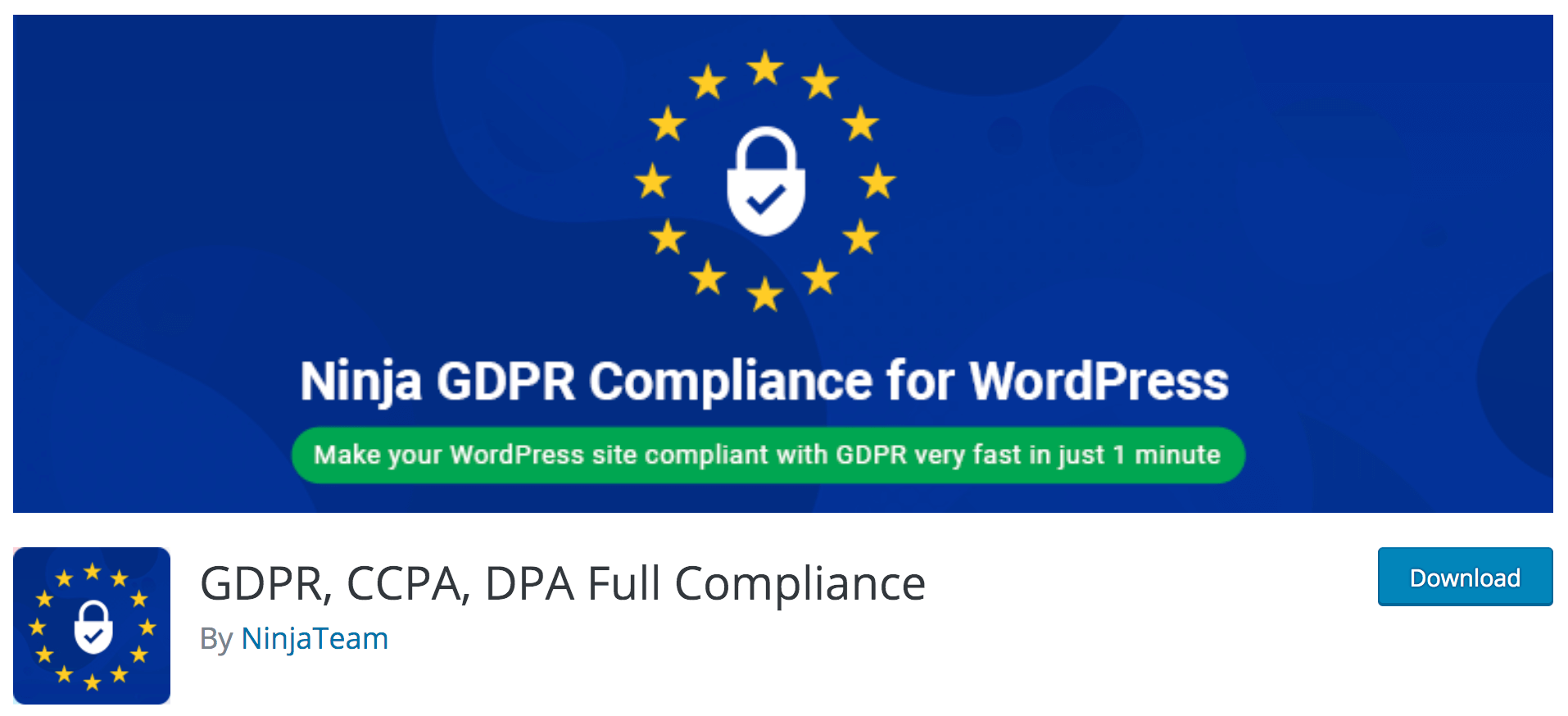 As you know, GDPR is a rule that requires businesses to protect the personal data and privacy of EU citizens, and non-compliance could cost companies up to $20 million.
That's why Ninja GDPR Compliance 2020 was born to give you a shot in the arm regarding this new law for your site.
Ninja GDPR Compliance is a premium WordPress plugin to make your WordPress website compatible with all the rules of GDPR law. This GDPR WordPress plugin is easy to use that includes numerous options to make your website follow all the GDPR regulation in just a few clicks.
Especially, the WordPress GDPR plugin follows 7 main requirements of GDPR law, CCPA and CPRA compliance regulations, namely Cookie Consent, Control EU Traffic, Term and Conditions Consent, Privacy Policy Consent, Request Data Archive, Right to be Forgotten, and Data Breach Notification.

Some of the main features that I like about this plugin:
Cookie Consents
Terms and Condition Consents
Privacy Policy Consents
Request for Data Archive
Forget Me Form
Data Rectification
Data Breach Notification
Control EU Traffic based display
This is such a super handy GDPR plugin that is integrated with all the popular WordPress plugins like WooCommerce, Contact Form 7, Gravity Form, MailChimp, Google Analytics, Facebook Pixel, BuddyPress, etc.
Moreover, this CCPA CPRA compliance plugin is already translated into a number of common languages such as English, French, Spanish, Italian, to name just a few. That is pretty useful for users around the globe and especially essential for all websites which got traffic from California.
Wait, did I tell you that you can use this GDPR plugin for free now?

This plugin WordPress Cookie Consent Plugin for GDPR & CCPA helps you comply with the EU GDPR's cookie consent and CCPA's "Do Not Sell" opt-out regulations.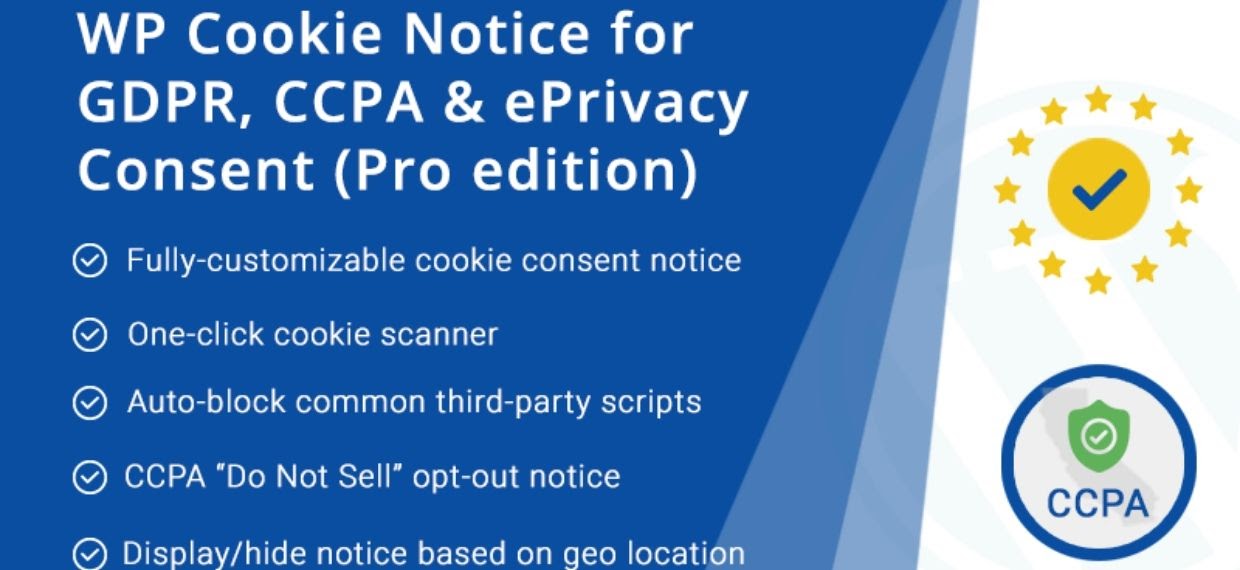 It helps you comply with GDPR in the following ways:
Granular cookie consent

: Get categorized consent from website visitors to allow the use of the website and/or third-party cookies.

Revoke/change consent

: Allow website visitors to revoke their consent or change their consent categories anytime.

Consent Log:

Stores a consent log of consents given by website visitors. Sort or search the consent log to easily look-up history.

Cookie detector (auto-scan):

  Quickly detects all your website cookies in one-click. Saves your time by populating cookie details and categorizing cookies. 

Third-party cookie details:

Automatically fetches the 3rd party cookie details, including privacy policy links of popular scripts.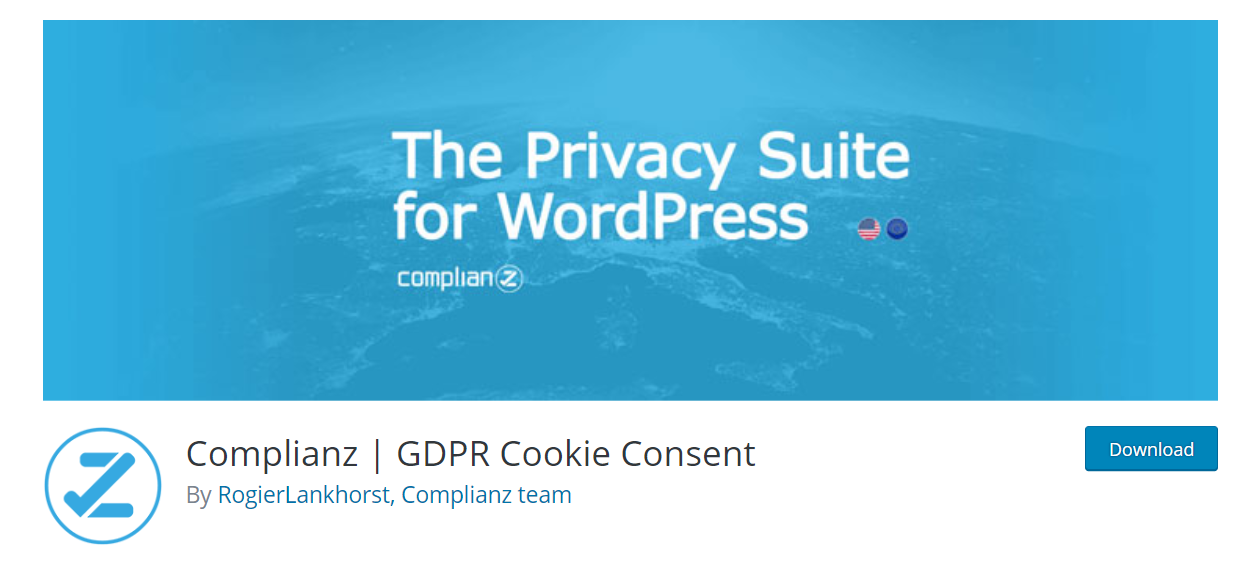 Complianz GDPR Cookie Consent for WordPress is a comprehensive management suite for customer privacy management. The free version of this GDPR plugin includes a useful cookie consent which will block cookies on your site before users' confirmation.
Additionally, the WordPress GDPR compliance plugin offers numerous helpful features like Cookie Policy configuration assistance, built-in website scanning functionality for security and regular updates for EU laws that will help you save up plenty of time and money.
You can make your website GDPR compliant and include automated detection of cookies, check if you need a cookie warning or not, integrate WP privacy features, choose to add statements of plugins to the cookie policy, and generate the privacy policy page.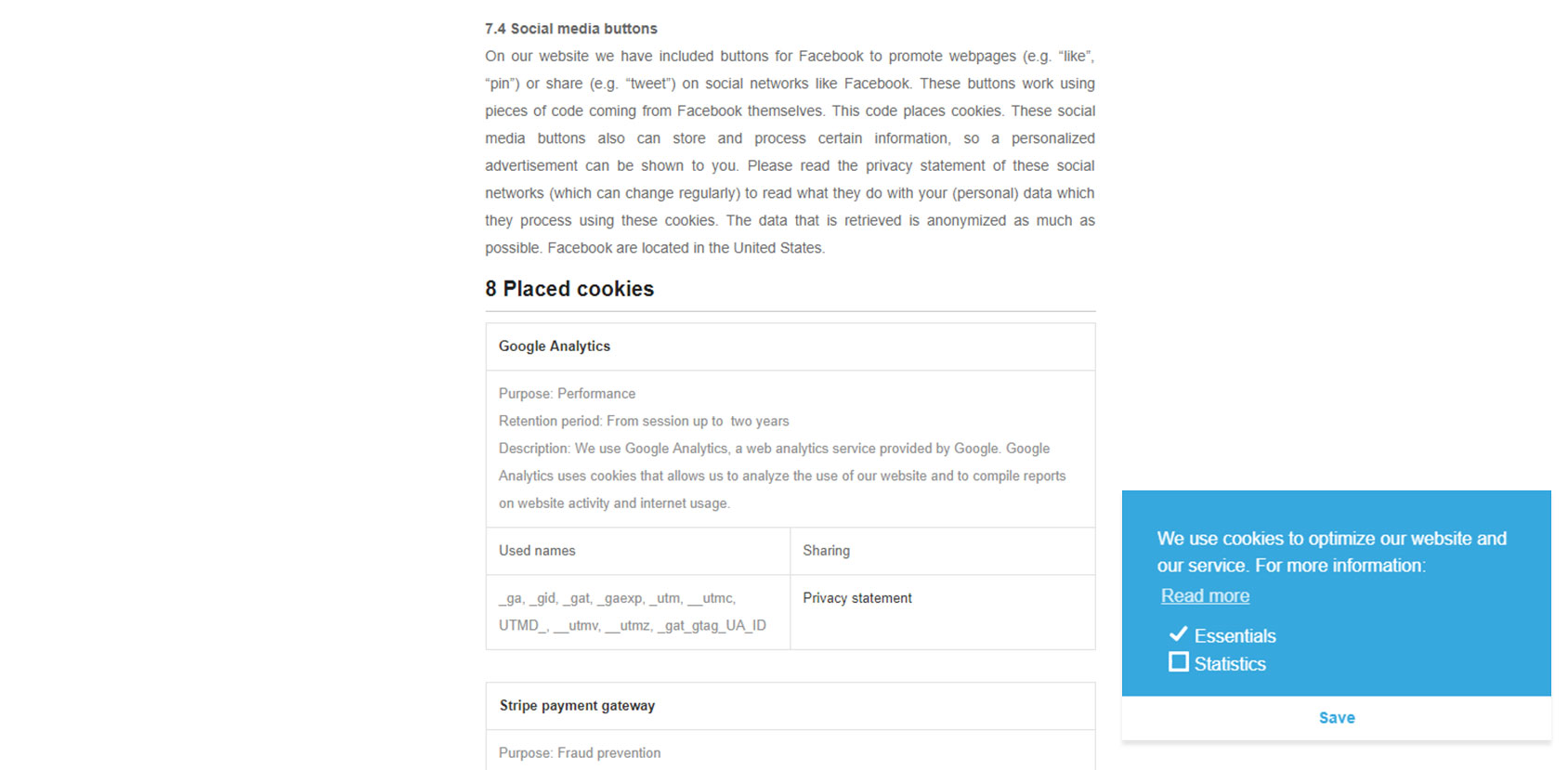 If you want to grab more advanced features of this GDPR plugin, we highly recommend upgrading to a premium version. This will add a handful of options in terms of geolocation, so your site will pop up notification when needed as well as receive premium support from their WordPress team and GDPR experts.

The Complianz GDPR plugin is the perfect solution to all your concerns about making your website GDPR compliant. Doing it manually is a slow and difficult process. So, why don't do it with the help of this GDPR plugin to make your life easier? Go for it.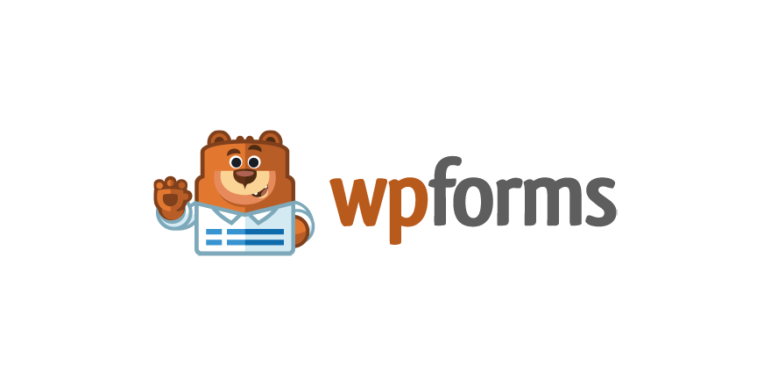 The best contact forms plugin is now one of the best WordPress GDPR plugins. With just a few clicks, you can now prevent all cookies and geo-location tracking on your forms.
Additionally, you have the option to stop storing and collecting IP addresses and User Agent info related to form entries.
Some of the essential features that I like about this tool include:
Quick and easy Google Analytics setup
Keep your tracking code even when switching WordPress themes
See real-time stats in your WordPress dashboard
View popular posts, pages, and referral sources
There's also a new form field option that allows you to add a GDPR Agreement field so you can easily add a consent checkbox to your forms. This is especially useful if you're using your form data to send information to your email marketing service.
If you want to get to know more features of this tool, please click the link below: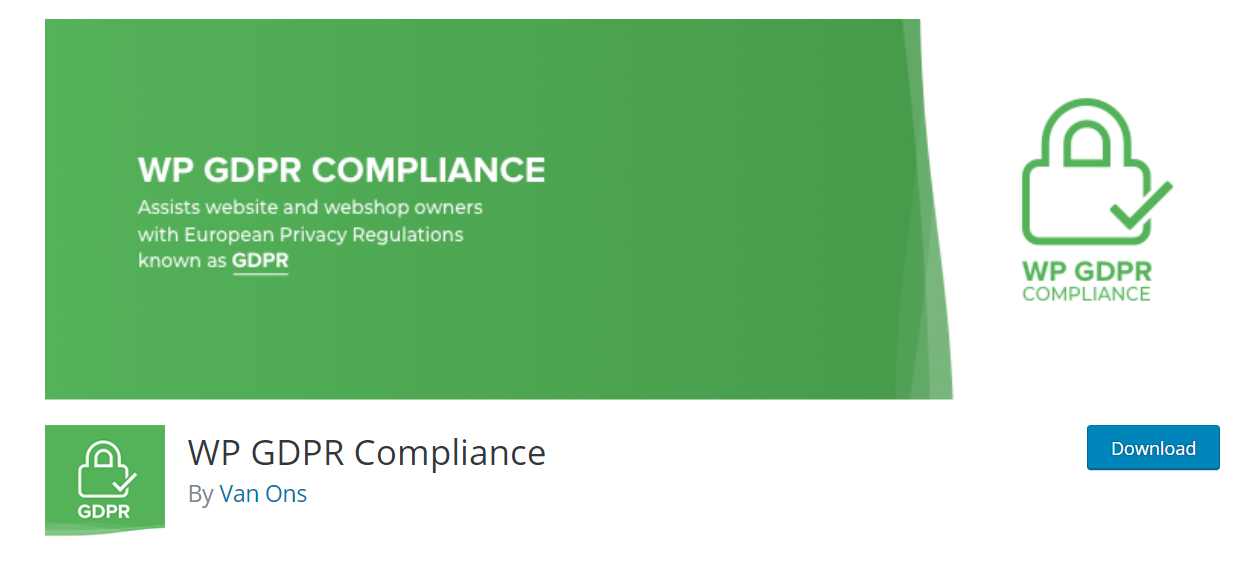 As its name suggests, you can use the GDPR Free WordPress Plugin without any fee. However, it does not make it any less useful plugin than others. This plugin offers a faster way to integrate the GDPR feature into your website.
All you need to do is install this plugin and it will automatically activate the GDPR option in your website. The main features of this plugin include privacy policy page, data storage time stamps, consent popup, user data request link.
This plugin also works with add-ons like WooCommerce, Gravity Form, Contact Form 7, and WordPress Comments.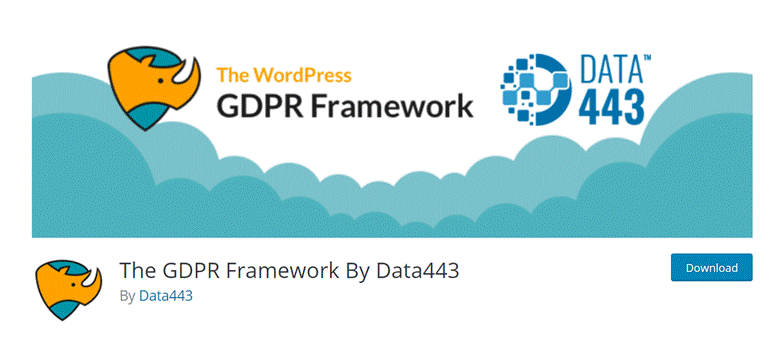 This is a powerful GDPR WordPress plugin for getting your site GDPR compliance. Created by Triniti – a top Europe IT Company. This plugin comes with detail guide which instructs you to make the site GDPR compliant easily.
One of the plugin's features is to enable your users and visitors to view, export and delete their personal data.
Another feature is that you can track and manage your collected declarations of consent.
What is more, the plugin offers you a template of a GDPR-compliant data privacy statement and useful documentation for website owners and developers.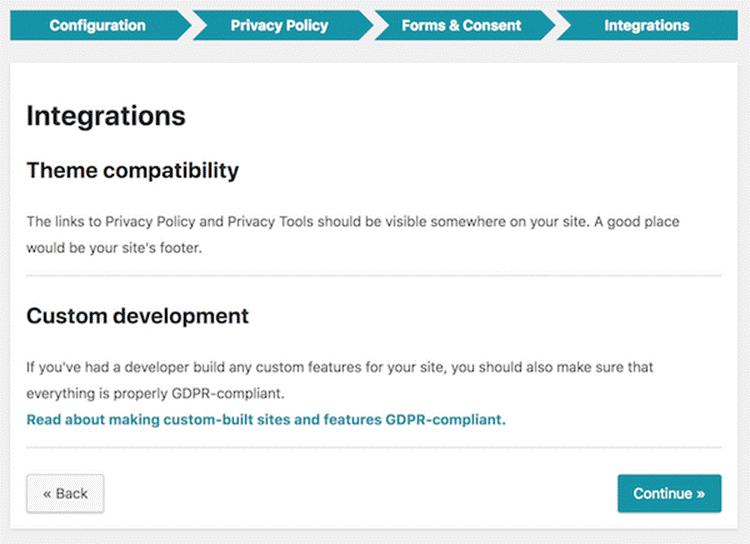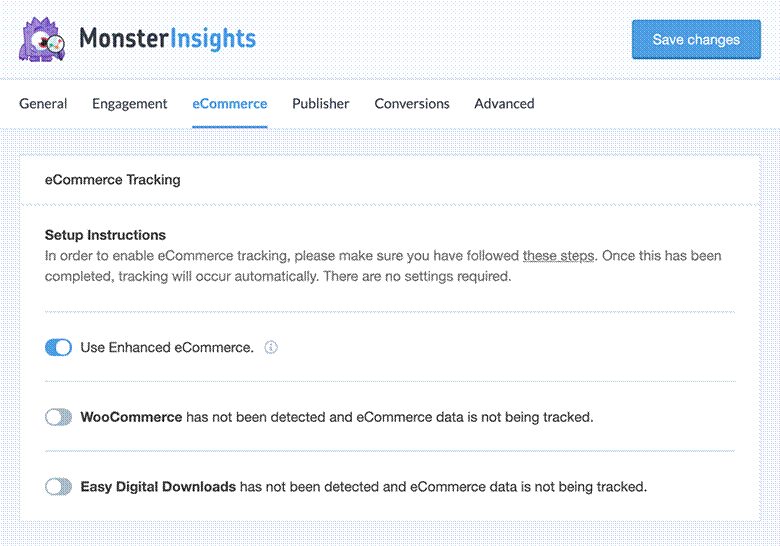 This is a great GDPR WordPress plugin to help your website stick to the rules of GDPR.
This GDPR plugin supports Contact Form 7, Gravity Forms, Formidable Forms and WPML.
With the upcoming EU GDPR compliance deadline, many WordPress site owners are looking for tools that will help them meet the requirements.
Therefore, a plugin called Delete Me developed by Clinton Caldwell might be useful for site owners who are comfortable allowing users to delete their own data without having to create a request for it.
What else can this GDPR plugin do than giving the users a right to delete their personal data?
Yeah, this wonderful GDPR WordPress plugin gives your website visitors the privilege to remove their sensitive data if they are not comfortable sharing it with you.
Cool, right?

When they remove their data, it will automatically remove all their comments, posts and links that they have shared on your website. So, this plugin is particularly beneficial for bloggers who have a big readership and can allow any subscriber to remove their personal data once they leave the website.
In general, Delete Me does satisfy full requirements of the GDPR, but it provides a decent starting point for site owners who want to make this option available to their users without having to manually fulfill their requests.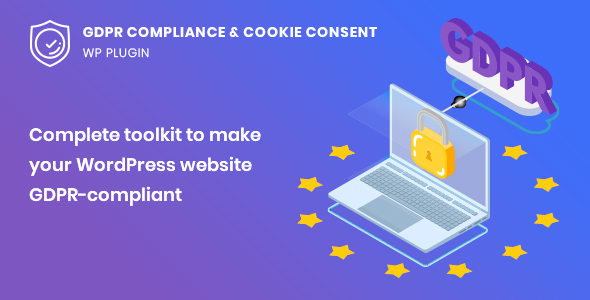 This GDPR cookie consent plugin is a great choice for preparing your site with the GDPR compliant, as it offers you numerous features to follow with the law and give your users a secure visit on your WordPress website.
It is a flexible plugin that is compatible with many popular WP plugins such as Contact Form 7, MailChimp, BuddyPress, WooCommerce, etc.
Plus, this GDPR WordPress plugin contains different options to add terms and conditions buttons on anywhere on your WordPress website.
If you're looking for a fast and free way to help get your website GDPR ready, then this WP GDPR Compliance plugin is for you.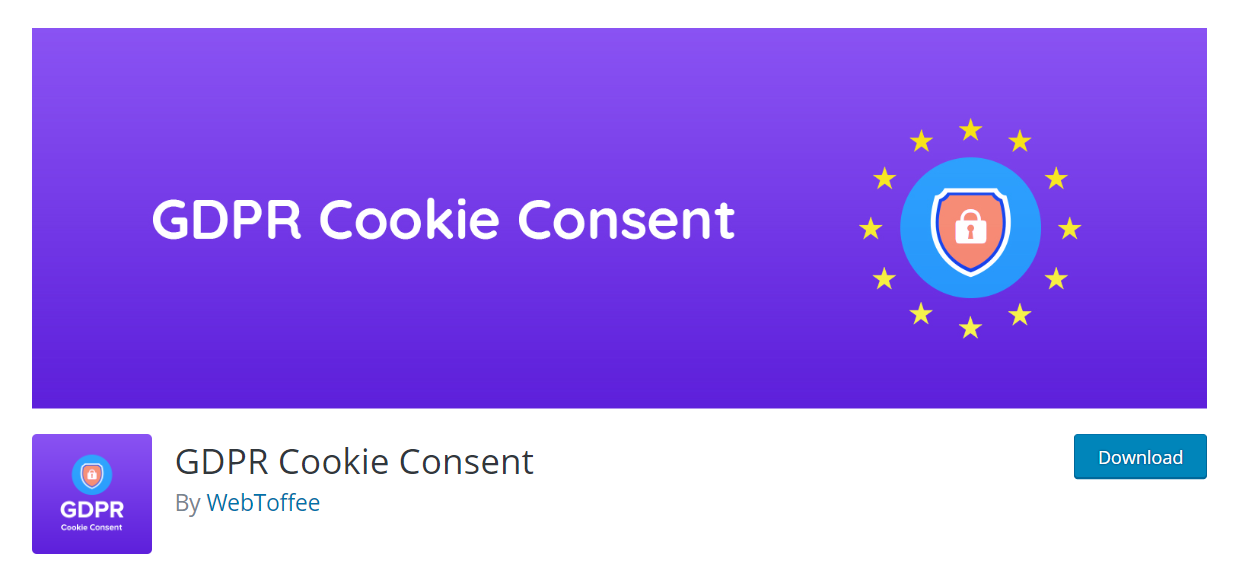 The GDPR Cookie Consent plugin helps WordPress websites comply with the GDPR law for the usage of cookies. The plugin helps add a cookie consent notification on the website that is highly customizable to look the way you want. The consent bar can be used to inform the users of the cookie usage and link to the privacy policy page of the website.
The plugin is not just about showing the cookie notice but actually blocking the cookies until the users have given their consent. So no cookies until the users say so!
The plugin is highly flexible and is compatible with other plugins including many popular multilingual and cache plugins.
Also, to help comply with the law the plugin has some really cool features that include the following:
Automatic scan of the cookies used on the website
Automatic script blocking until the user consent
Show consent bar only for the EU
Categorize cookies to give users granular control
Maintain an audit of the consent
Consent withdrawal
WP Legal Pages Pro is an elegant WordPress plugin designed to generate attorney level legal documents on your site. It is a popular privacy policy generator. Within minutes you can make your site compliant with CCPA or GDPR using this plugin. It has tons of shortcodes to display legal information on your site. It is user-friendly and well documented. It works well with all the WordPress themes. It is available in both free and premium versions. 
Here is a list of the core features – 
GDPR privacy and cookie policy 

CCPA compliant 

Website terms and conditions 

External linking policy 

Anti-spam policy 
The plugin offers you 25+ ready to use templates designed for different purposes. You just have to import the templates to your dashboard and add your details to create your privacy policy page. You can edit the default fields also. All the templates are designed after having a consultation with experienced lawyers. Here are some of the major templates – 
GDPR cookie policy 

Amazon affiliate disclosure 

Madica disclaimers 

Earning disclaimers 

External links policy
Wrapping Up
That's all of our collection of the best GDPR WordPress plugins which are really necessary for GDPR compliance. Although activating a GDPR plugin in your website is vital for gaining compliance with the law, it cannot make sure you are fully compatible with GDPR compliance!
Have you already tried one of the GDPR plugins in the list? Feel free to leave us a comment, we're looking forward to your feedback!
We really hope that you can find at least one suitable plugin and have a good preparation for the upcoming government requirements.
Thank y'all from Ninja Team! ❤
https://ninjateam.org/wp-content/uploads/2019/02/GDPR_2.png
315
1000
Benjamin
https://ninjateam.org/wp-content/uploads/2020/10/ninjateam-logo.png
Benjamin
2021-04-13 08:43:33
2023-07-26 14:39:34
Top 9 GDPR, CCPA WordPress plugins for your website 2023