The Best Places to Find WordPress Help & WooCommerce Support
The no-nonsense guide to the best places to ask for WordPress help & support.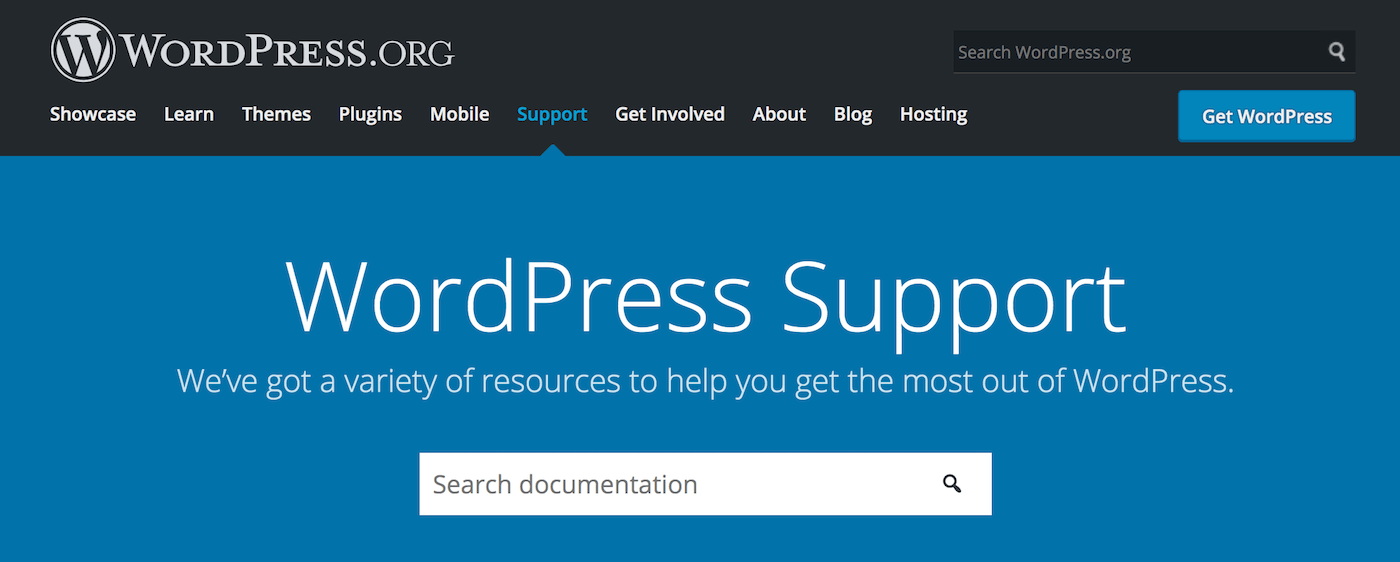 As a WordPress beginner, this is the first and foremost place to get started.
How it works
By searching the forums, you will find a plethora of WordPress topics involved with WordPress theme and plugin issues and improvements. As the saying goes, nothing's new under the sun, your problem might have been actually asked by someone else before.
For instance, when encountering the problem "Reusable blocks disappeared", you can do a quick search. From the result pages, you can find many support forum threads and developer documentation that addressed your issue. Many of them are solved, meaning you can fix it yourself by following the replies.
By exploring Trac – The Bug Tracker, you can observe and track bugs, tasks, issues, incidents or any other kind of conflicts.
Got a bug? Anyone can log in to WordPress and open a ticket.
For example, this ticket raises the problem of Reusable blocks disappeared. When following the reports top down, you will find other users' replies and how they solve their issues. In this case, the Gutenberg block issue is caused by an outdated plugin, and the guy has replaced it with a better plugin that provides equally the same features.


It's not exaggerating to say that the Kinsta blog is the most comprehensive WordPress guideline gatherings that you will find nowhere else. Each article makes a super content-rich and insightful guidebook.
How it works
A typical article in Kinsta's resources and WordPress tutorials can provide a quick fix for your current conflict, dive into a deeper root cause to prevent future wrongs from occurring, and expand the scope of the title to an advanced whole new level. They definitely make you learn a lot. The question is, are you willing to learn?
A Kinsta listicle often comes with a profound conclusion that can help you make your decision on which plugin to choose. Pick an article written by Brian Jackson and see it for yourself.
On the other hand, the Kinsta blog and articles are available in German, French, Swedish, Spanish, Japanese and more.

If you are a coder, this WordPress stack would be the most valuable treasure for WordPress learning and web development. Every issue can find a straightforward troubleshooting solution.
Compared to Kinsta articles, StackExchange's WordPress development space is a greater place to find a solution for your problem. Sometimes, however, you can catch some lines of code to easily fix the bug, yet you don't understand what lies beneath the trouble.
Since it is not a beginner-friendly place, many pre-mature and superficial questions can be easily ignored.
How it works
On this network, questions about WordPress can be freely asked, answered, and voted.
In the forum search bar, simply search for the keyword you are looking for a solution. It can be your theme name, plugin developers, or the error notice on your screen. The search results are smart enough. Moreover, you can filter the results based on relevance, newest, or highest votes.
The best part about StackExchange is its transparency and reliability. Each user has to give practical answers that work. Their reputation is earned, never to be granted.
In order to find a trusted guy or service providers, you can just check out their profile, history, social accounts, and contributions. You then can reach out to them and establish a connection.

Generally, WordPress on Slack does not provide technical support for theme and plugin related issues. Rather, it sheds light on recent news and activities of the whole WordPress open source performance in real-time.
For instance, you have just upgraded your website to the latest WordPress version and encountered a problem. Were it a newly known bug caused by the WP update itself, you would easily find reports and messages that address the problem. And most often, they already come up with a solution for you to resolve it by yourself.
How it works
You can join Making WordPress on Slack by logging in to WordPress.org here. You will be redirected to the space wordpress.slack.com – where topics are categorized into channels starting with a hashtag. These channels are good to join and catch up on what's happening at the moment: #announcements, #core, #community-events, #design,  and so on.
For any newcomers, the weekly support meeting is where support contributors from far and wide gather to look at the week that's been, and the week ahead. The hosts and participants identify recurring issues (if any), and help each other out in general.
For WordPress web developers, some Slack major channels like #marketing, #pluginreview, and #polyglots are worth following. That's where you can easily get involved and also find answers to your questions in the matter of minutes.

Although the technical methods are not always easy to explain, you still find iThemes tutorials so simplified that you can quickly do the hands-on things yourself.
The iThemes Family has been growing to become an all-in-one place for WordPress website runners. It now offers great themes, reliable WordPress hosting, security & management extensions, plugin suite, training resources and even an agency bundle.
How it works
Literally, the iThemes articles help you learn a lot, also from the implementations of their large community of WordPress plugin users and the member panel. Everyone is eager to help one another and the value of the members' area is way beyond the price.
Some notable WordPress themes and plugins from iThemes that are worth checking out:
iThemes Security: used by 1+ million WordPress websites
Kadence WP theme: a popular theme trusted by over 50,000 users
Kadence Blocks: a powerful block editor to build WordPress pages
BackupBuddy: automated WordPress backup plugin

This resource is extremely helpful for German speakers and Germany based businesses. Run by Jonas, a passionate WordPress guy, it offers plenty of blog articles, tutorial videos, podcasts, and an active community for non-techies and especially solopreneurs.
With 67 EUR per month, you will become a WP Ninjas Dojo member and get access to his exclusive WordPress help and German tailored support.
Check out feedback from his subscribers:
Jonas helps quickly, clearly and comprehensibly with a wide variety of questions. I had already tried other WordPress supports in the past, but mostly I had to wait days for help or an answer. So I can absolutely recommend Jonas. Since I've been a member, working with WP has been more fun because it calms you down a bit when you know that you can get help quickly if you have a problem.
How it works
It is one of the biggest German WordPress blogs. His goal is to help solopreneurs use, optimize and maintain their WP websites by themselves.
In addition to easy to follow tutorials on the blog, the main way to help is the membership "WP Ninjas Dojo" for solopreneurs. In the membership is the following included: Individual WordPress support to questions in an exclusive forum, monthly webinars and co-workings and much more.
Conclusion
When it comes to WordPress help and support, there is no one-size-fits-all sort of forum.
To ask for recommendations such as which plugins or themes to choose from, a Facebook group can be a great help.
To fix an existing problem, try out the WordPress Support Forums in your language or WordPress Stack Exchange (WPSE).
By going through all the spaces we introduce, may you find a place like home, where you can reach out for your WordPress related questions and get the replies as soon as possible.
https://ninjateam.org/wp-content/uploads/2021/04/where-to-find-wordpress-support.png
427
1210
Bean
https://ninjateam.org/wp-content/uploads/2020/10/ninjateam-logo.png
Bean
2021-04-19 09:01:09
2022-04-08 14:30:48
The Best Places to Find WordPress Help & WooCommerce Support