9 Best WordPress File Manager Plugins 2022
Developing a website is never a straightforward process. It can take years of experience and training to have the know-how to build from the ground up. That, or outsourcing to professionals.
Because of this, services like WordPress allow relative amateurs the capability to take a more proactive role in their web design. With WordPress, site creation can be a more pleasant task for the uninitiated. 
One aspect of web design that might maintain its complexity is file management. No matter what kind of background you have, keeping track of all your important files might get confusing when building a site. This can be further complicated by the fact that there are a host of plugins available for WordPress. There are so many on the page that going through all the choices might take some time. 
But then again, you could always opt to outsource web development altogether. Find a web design firm that can do the development on WordPress so that you can jump in when you can. Below, we've compiled 9 of the best file managing plugins to get you started on your web development.
1. Filester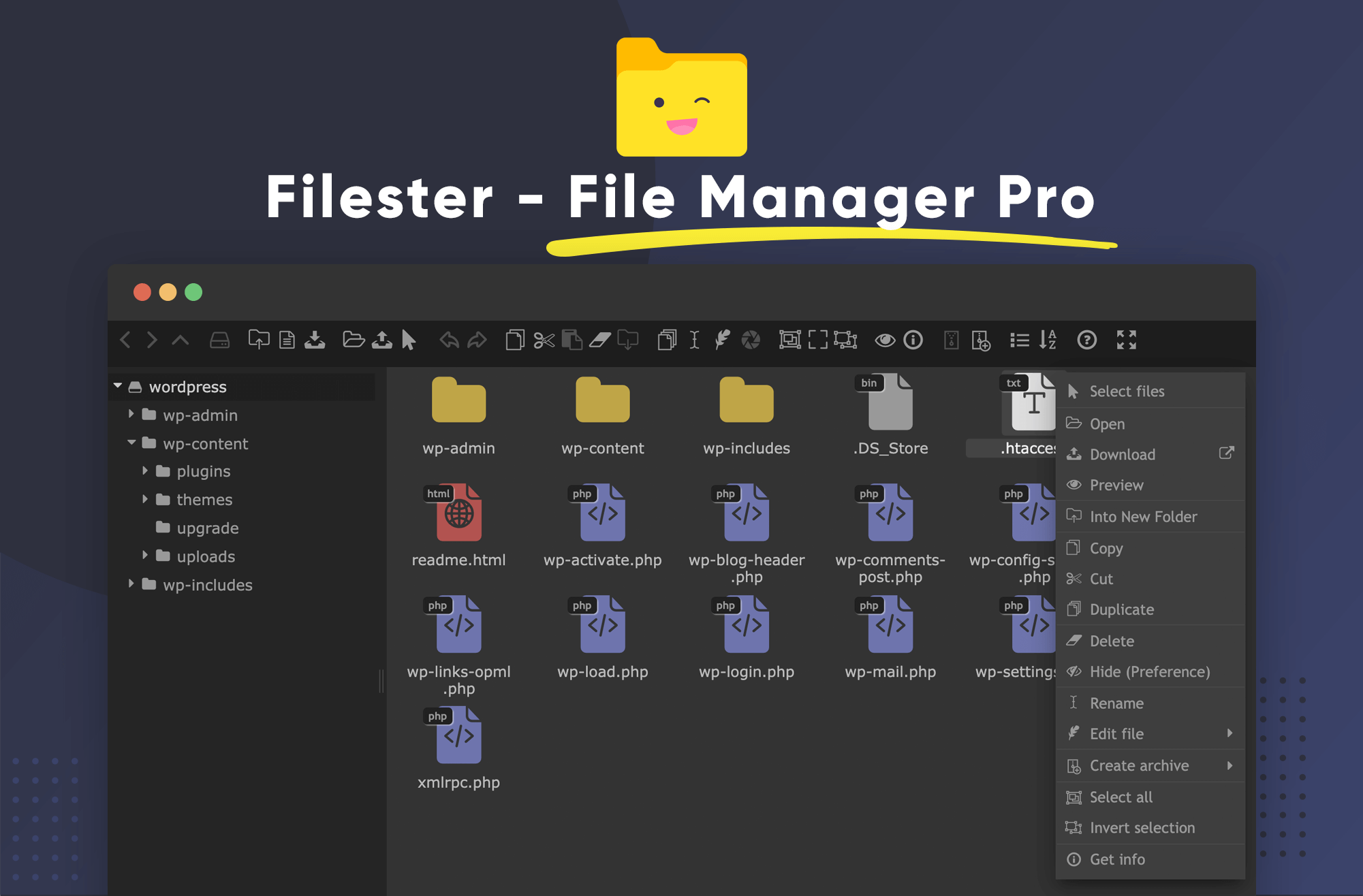 Filester is a plugin that keeps its users in mind. The plugin utilizes a modern User Interface. It also allows all the basic functions of your typical file manager. NinjaTeam, the team behind Filester, stated that the focus of the plugin is to boost productivity. This is reflected in the plugin's design interface which is compact and utilitarian. It's not set in stone though; the plugin also allows for customization of the interface. 
The plugin itself functions like your average file explorer on your desktop with all the typical drag and drop functions, and the creation and management of folders. Another point would be setting hidden files. You can do this if ever you feel like you should hide a file somewhere on the page.
Additionally, the plugin allows you to manage archives. This means you can extract and compress files straight from the plugin. You can manage page source files seamlessly without having to establish FTP or cPanel access from your website. This alone should help you speed things up a little.
The best part? It's totally free. Filester promises to give all its features to all users. They will not be asking you to upgrade or subscribe to a payment plan in the future.
Key features
Drag and drop
Context Menus: right-click to create, rename or delete files and folders
Manage files and folders on remote servers
Flexible configuration: access rights, upload file types, user interface, and others
Manage archives with support for multiple file types: .zip, .rar, .7z, .tar, .gzip, .bzip2
Clean & productivity-driven design interface.
2. FileBird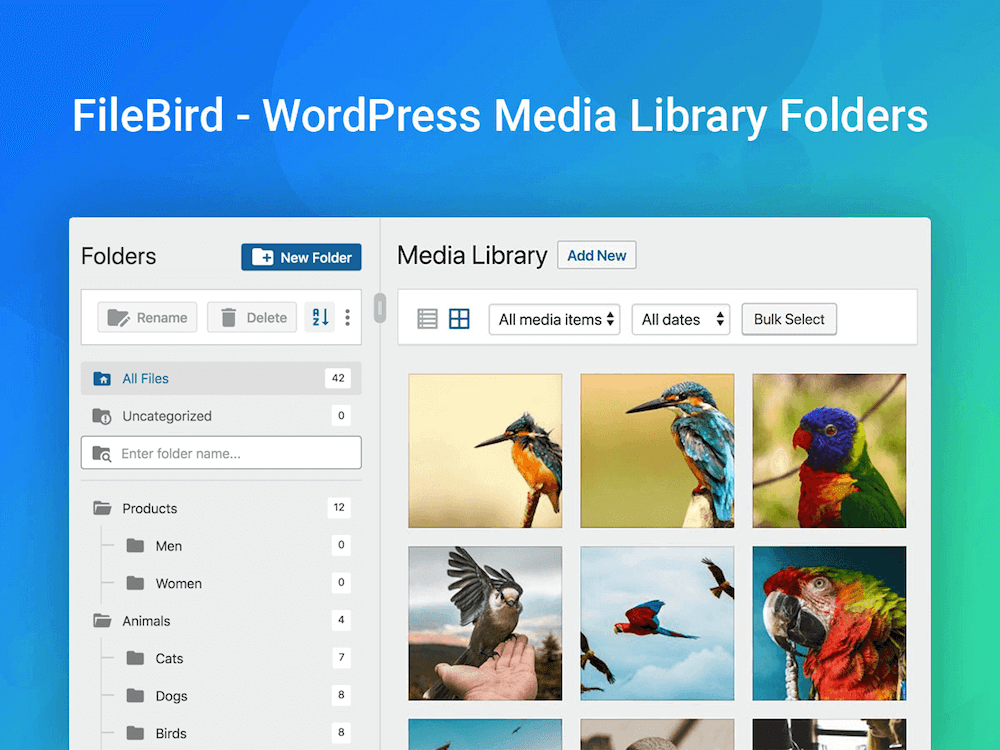 FileBird is a media organizer plugin that advertises itself as a "media library folder creator and file manager,' and honestly, it seems to do the trick.
For its users, FileBird is a great way for managing both documents and media files. The user interface is pretty simple and uncomplicated but still pleasant to look at. At its core, FileBird is a versatile file manager. It allows for multi-file type support and full control with the sidebar. The sidebar will hold all the tools for file and folder management.
It also allows users access to a smart context menu, just like your regular desktop file explorer. The organization of your files is similar to a desktop explorer. This helps users navigate more quickly and seamlessly. The plugin was developed with ultimate compatibility in mind. Currently, it boasts compatibility with lots of popular WordPress page builders, themes, and plugins. This makes it much easier for users to think of using many add-ons to plan things out.
The plugin shows no limitations with the number of folders. The basic version allows users to create unlimited folders and subfolders, which is a generous allowance compared to other WordPress media folders plugins out there.
Key features
Smart Context Menu: Right click on a folder to perform actions such as changing folder color/folder theme appearance, renaming, deleting, and more.
Unlimited Folders/Subfolders: Free version allows creating as many folders as you want.
Multi-Language: It supports many languages including RTL and works with WPML, Polylang, Weglot, etc.
Full Control from One Toolbar: From the integrated sidebar, you can search, sort files/folders, and adjust startup folder settings.
User-Friendly Interface: Drag-and-drop works smoothly and responsively on mobile, tablet, and desktop.
Supports WordPress Document Library : Publish a sleek and modern gallery of your categorized documents and other file types.
3. CatFolders – WP Media Folders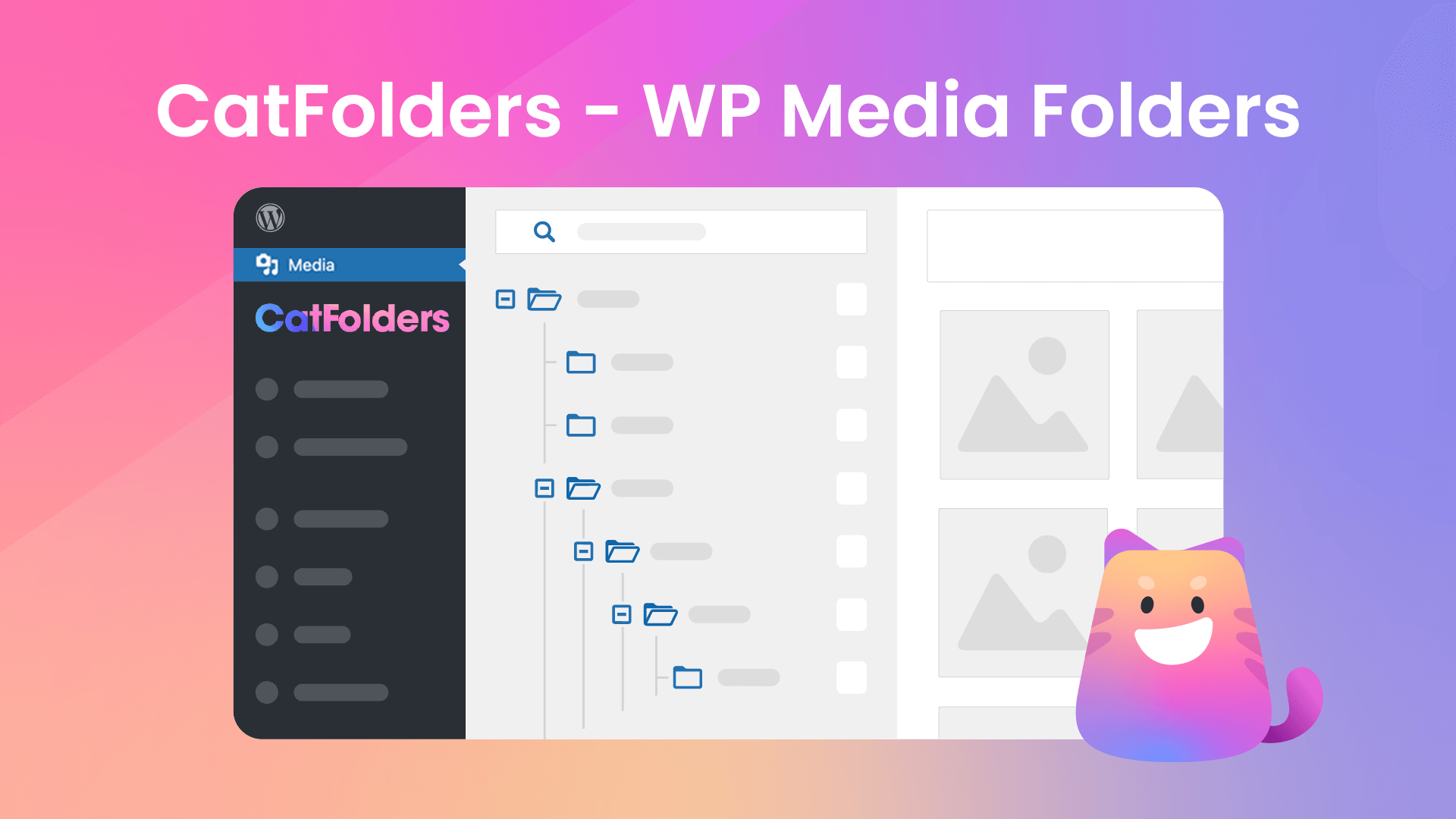 Have you ever had to deal with a client who uploaded tens of thousands of files to their WordPress site? And they're clueless about cleaning up a mess like that?
If you've ever wanted to give them a piece of advice for organizing WordPress media files, CatFolders is the ideal answer!
CatFolders – WP Media Folders is an organizer, browser, and file manager for your WordPress media and documents. It allows multiple-level folders rather than just creating separate categories/tags. The folder tree and parent folders are also collapsible to help you get full control of your folder organization. This plugin works super smoothly with a large number of folders (tested with 10,000 folders on a single WordPress install).
On top of that, it is built with performance and third-party extendability in mind. If you want to give it a test, try PluginTests for CatFolders and you will see it loads considerably much faster than HappyFiles or Real Media Library.
Key features
It uses newer and lightweight coding technologies.
Provides superb UI/UX design and responsiveness.
It leaves hooks and filters ready to be integrated with other WordPress access control or users management plugins.
Pricing plans come with licenses for multiple sites and unlimited sites to better help digital agencies, designers, and freelancers alike.
While the other media plugin development teams might fall asleep, the CatFolders team is always listening to user feedback and implementing new features upon request. You can check out the CatFolders roadmap here.
4. Wicked Folders
This plugin comes in handy if you're thinking of managing many pages. Additionally, custom post types are also given attention with the dynamic nature of the plugin.
At its most basic, the plugin allows you to organize all your files; having organized files without fear of altering your site's structure. 
This means that you won't have any problems with removing permalinks and all that. Just feel free to organize to your heart's desire. Your only limitation will be that the basic license only allows posts to be placed in folders. 
The plugin creates these virtual folders for your benefit. They have no direct effect on the files themselves. The plugin just helps you organize your files in a very convenient manner. The selling point for this plugin would be the Dynamic Folders. These are folders that can be organized based on the filters you set. The best part? You don't even have to make them yourself. Just enable the option after installing and let the plugin do the work.
Wicked Folders also has a yearly subscription for more invested individuals. They have two options for this; the pro and the agency. These licenses will allow you to include media, plugins, and even users to name a few features.
Key features
Folder pane is resizable
Drag and drop features for easy management
Organize items into multiple folders
Allows you to create an unlimited number of folders
Files pages, posts, and custom post types
5. Advanced File Manager
Advanced File Manager is an open-source software. It is a free release from modalweb and the Advanced File Manager team.
This plugin boasts of multifunctionality in a user-friendly package. It allows all the basic functions in a neat little package. Also, just like Filester, you can do all these without cPanel or FTP access. Additionally, you can even access files outside of the WordPress directory. This should come in handy if you don't have all the files you need right there. 
Its basic functions include archive management (compressing and extracting), file download, and file previews. You even have a basic image editor handy straight from the file manager. 
For those working in teams, Advanced File Manager also lets users set access or role restrictions. This method of advanced access control allows teams to function more systematically. It's also customizable and allows themes to be used through a shortcode. You can set custom keyboard shortcuts to streamline your work. For simpler changes, the plugin features a dark mode.
As a bonus, this plugin is also responsive. This means that the plugin can be viewed from your smartphone or tablet as well. This should help developers access the backend of the site any time they choose.
Key features
Access files inside and outside WordPress root directory
Feature to hide the file's real and actual path.
Drag & Drop file upload support
Image and File, Edit Support
Keyboard shortcuts available
6. SP Project and Document Manager
From the Smarty Pants team, we get this very versatile plugin. According to the team, this plugin has been used in many industries including healthcare, education, and banking. 
The SP Project and Document Manager is a handy little tool with a clean look. Interface-wise, it's nothing extraordinary but it is clear and easily navigated. The plugin lets users organize everything through the use of categories and folders. It even lets users upload an unlimited number of files.
That just goes to show how this plugin focuses on functionality. To help users, the plugin readily comes with SSL support. The plugin also allows the embedding of YouTube videos as files. For security, the plugin will let administrators set restrictions for file uploads and downloads. Additionally, the plugin lets administrators restrict users to a role. 
The best part is that it also allows for remote file sharing. You can do this with your clients and other organizations. This lends itself to the plugin's collaborative function. You can also use this function to access your files remotely. And you get all this on the community version. The plugin also has a premium version that requires add-ons but adds a host of new features. 
Key features
Create unlimited folders
Capable of securing documents 
Upload and manage files
SSL Support
Restricted download of files
Embed YouTube videos and other media as files
7. Frontend File Manager Plugin
This plugin focuses mainly on the uploading of files for admins. It does that well and hides the files from other users to keep things neat and tidy (and private!). It's not limited to just uploading though. This plugin will function more or less like your typical file manager. The great thing about this plugin is that it prioritizes utility without sacrificing on the form.
The UI is designed to be fast, foregoing the fancy layout for something more utilitarian. Clicking on files gives you the important details and you can use this information to know what goes where. The plugin also boasts of a secure uploader script. This ensures a clean and safe upload of files, helping you to minimize risks.
For those looking for more punch, the premium version lets the users do way more. With the premium version, users can create directories, set a maximum file upload limit, and group files to name a few. Based on the reviews, users who purchased the pro version have not regretted it. Amongst the premium features, the most frequently praised was the ability for guests to upload. 
You can imagine how this extends the capabilities of your site even further.
Key features
Detail file popup
Sorting through filters
Size settings and file type
Secure script for uploading
Fast and responsive UI
8. Secure File Manager
This file manager went for both form and functionality. Boasting of security and performance, Secure Manager also comes in a variety of themes for customization. The plugin comes out of the box with multi-site capabilities. This means that you won't have any problem if you wish to expand your site into a network of sites. 
The basic functions are all there too. You can cut, copy, paste, and generally manage your files through the plugin. This includes the management of archives and file previews on the explorer itself. Like Filester and the rest, you can do this without FTP access. This means you can do all that right from the dashboard. Alternatively, you can still make use of FTP and connect to a remote location. In this way, you can access the files that you've stored off-site. 
The plugin will also allow administrators to set file permissions. This will help administrators ensure file security. It even has the option to allow only one user access to the files. At least this way you guarantee no one can mess with your files.
The plugin will also be available for free, forever. On their page, the team behind Secure File Manager says that the product is yours once installed. 
Key features
Create Files/Folders
Delete Files/Folders
Multisite Compatible
Download Files/ Folders
Drag-n-Drop Files/Folders
Compress Files/Folders
9. Folders
Folders is the plugin that focuses largely on the user's organization through the use of, well, folders. Knowing how to organize your WordPress with folders will surely be an advantage here.
The plugin allows for seamless folder creation and management. This is coupled with the customization features of the plugin which allows users to customize the color, font, and size of your folders. This can help users categorize and access their files in a much more streamlined process. Add to that the sticky toolbar that lets you navigate and organize, and your workflow should see some improvements.
On a basic level, the plugin allows users to use drag and drop functionality for easy organizing. You can also upload directly to the folder and track those uploads with a progress bar. A recently added feature gives users the ability to sort folders through the name or the creation date, too. That should help users find what they need right away.
The plugin even goes further by showing you which files you haven't added to a folder yet. This helps users make sure that they've got everything covered.
The plugin also has a premium feature that allows users to create an unlimited number of folders. Premium also allows users to access the Sticky Folders feature as well as to download folders as Zip files.
Key features
Creation and management of subfolders
Drag and drop functionality
Move files to a folder using our dropdown menu
State specific folders when adding media to any post type
Ability to drag and drop folders, change the order and hierarchy
Folder name search
10. File Manager
File Manager is a straightforward file management tool. It offers all the basic functions along with a few extras to spice things up.
Among the most basic functions, File Manager will let users manage files as usual (e.g. cut, copy, paste) but will also allow for archive management and file preview. The plugin also boasts of a responsive UI, meaning you can work on your page no matter what device you are using.
One unique feature is that this plugin allows you to create shortcuts. This should come in handy if you find yourself bouncing from one directory to another. You can now also share files by email. This helps teams collaborate better and faster online. With files, the plugin is not dependent on FTP and cPanel access. Like Filester before, it allows users to access page files straight from the dashboard.
With File Manager, another feature that comes in handy is the integrated development environment (IDE). This allows users to debug and alter code straight from the file manager. It even comes with a Syntax Checker to make sure your site doesn't crash needlessly. 
The only downside here is that you'll need to shell out some cash for the premium features. This includes Private folders, hidden folders, and a couple of integration options. 
Key features
Move/Copy files with Drag & Drop
Create, archive, and extract files
Admin/User can upload any size files
Control what files can be uploaded and what files can be downloaded.
File Manager comes with a built-in integrated development environment (IDE)
Easily and quickly share files by Email
Conclusion
At the end of the day, you still have to understand what your website needs. From there you can figure out how best to solve your problems. That's way easier than trying to guess the solution to a problem you didn't know you have.
As with anything, web design is going to be a long road and anything you can do to ease that will surely help. Picking the right plugins will do just that.
Web design is a process, a process that is going to yield great results. The trick now would be to find the patience and determination for it.
https://ninjateam.org/wp-content/uploads/2020/08/Best-WordPress-File-Manager-Plugins.png
426
1210
Kelly
https://ninjateam.org/wp-content/uploads/2020/10/ninjateam-logo.png
Kelly
2021-04-28 10:56:41
2022-12-28 17:31:19
9 Best WordPress File Manager Plugins 2022