One of the many reasons why people love WordPress so much is that it's incredibly flexible. No matter what you're trying to achieve with your website, you can get it done — you need only be willing to experiment with plugins until you get the right result. This versatility readily extends to the ecommerce world, typically through the free (and widely-acclaimed) WooCommerce plugin.
In ecommerce, of course, the process of optimization is immensely valuable: even a fractional improvement in the efficacy of your website can have a major effect on your profitability. The checkout phase is particularly critical — as the last step of the sales funnel, it can take advantage of all the work put into lead generation, or it can see it completely wasted.
The smart thing for a WooCommerce seller to do, then, is polish the checkout process to a mirror shine, bringing the versatility of the platform to bear where useful. But how do you do this? Let's take a look at 7 tips for optimizing the checkout, and cover some suitable plugins:
Allow social media logins
Having to create an account when you try to buy something through an unfamiliar site tends to be extremely annoying. If the requirement is handled very poorly, it can even be enough to push someone to abandon their intended purchase and look elsewhere instead. Thankfully, you don't need to choose between getting someone's email address and having a smooth customer account process — the key is allowing social media logins.
As the name suggests, a social media login allows someone to use a social media account they're already logged into (typically Facebook or Google) to create a store account in just a few clicks. It's simply a matter of allowing the site access when prompted — after that, all the necessary fields will be automatically populated, and you'll be ready to finish your order.
Social Login will do this for you when using WordPress in general, but I suggest going with the purpose-made WooCommerce Social Login plugin — you will need to pay for it, but it'll no doubt prove worth it in the end.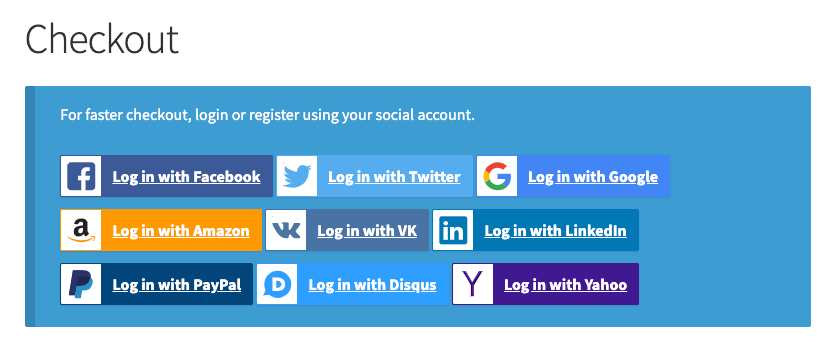 Make shipping costs clear
One of the most common frustrations with a checkout page is discovering that the price you were led to expect isn't actually what you're going to be charged. When you find out that the legitimate price is roughly 20% higher than you were told, all because of the shipping and tax charges, you're justified in feeling aggrieved.
To avoid this situation, you must ensure that the price on your checkout page is the price that gets charged and the price that was quoted when the order was first placed into the cart. The shopper should never be led to conclude that the price is confusing. If having a higher price quoted earlier in the process drives some shoppers away, that's no bad thing — those people wouldn't have gone on to convert anyway.
There's no shortage of shipping-related plugins for WooCommerce, with many targeting specific couriers, but a good place to start is Flexible Shipping for WooCommerce.

Add minor incentives
The fact that someone has added something to their cart and proceeded to the checkout stage doesn't even guarantee that they're particularly interested in ordering. They might simply be curious to see what the total is, or even bored and looking to experience some of the thrill of retail therapy without the expense.
You can't radically change the offer at this point, nor should you — serving up a major discount would largely serve to weaken the perceived value of the order, and make you look desperate. What you can do, though, is throw in some very minor incentives to give the order some extra weight and hopefully push the purchase over the line.
You can offer free samples, a mystery free gift, a 10% discount voucher for any subsequent purchase… it's up to you, but make sure that it's genuinely worth taking. Beeketing's Checkout Boost plugin should do the trick, allowing you to deploy a wide range of last-minute incentives to drive up the sales.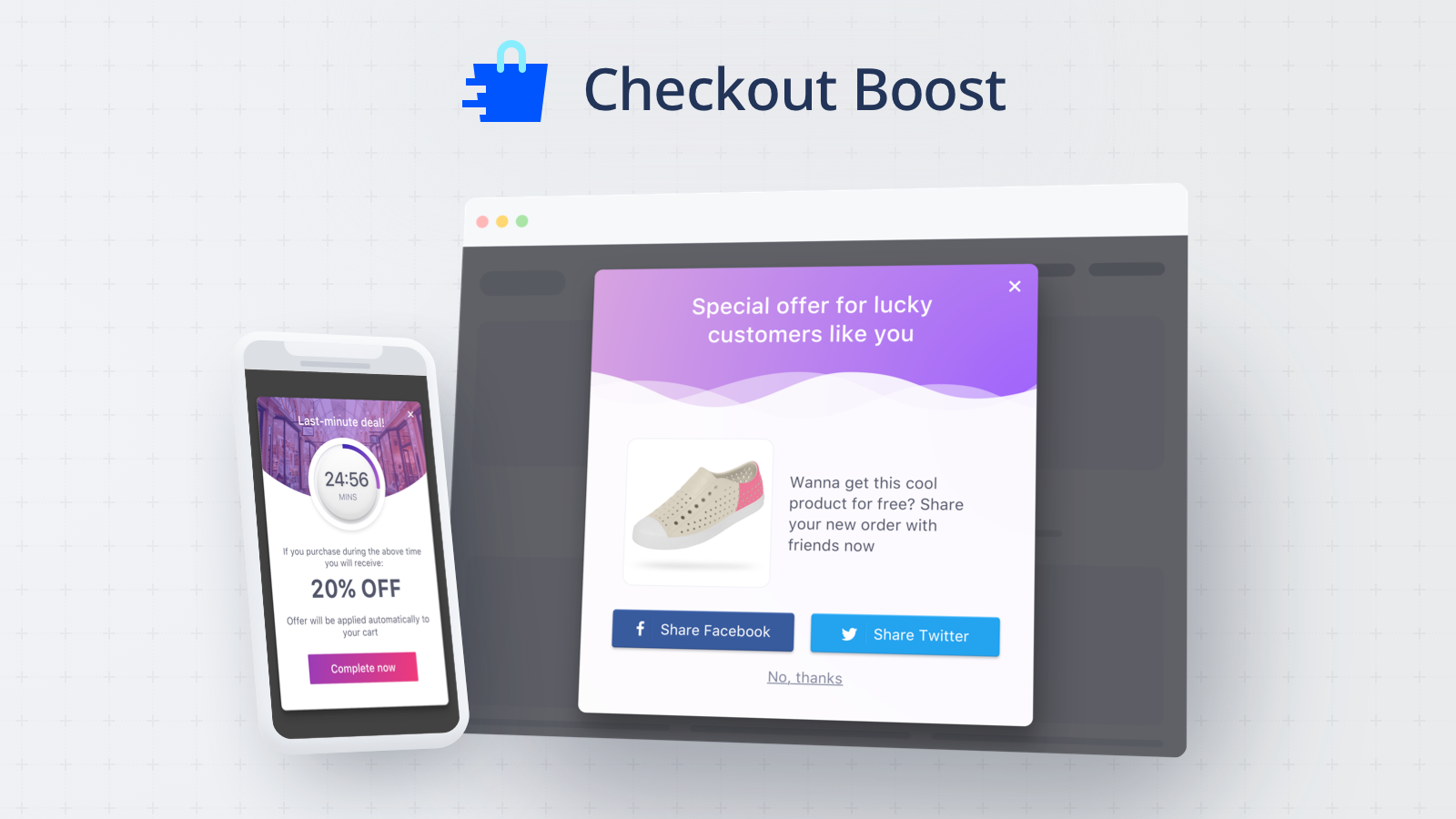 Provide customization options
It's always nice to feel like you have control over your purchasing experience — like it's unique to you. This is relatively simple when shopping a high-end brick-and-mortar store, because you can have a store assistant helping you out, making recommendations, and searching for ways to meet your specific demands. Sadly, it isn't so easy online.
That's where customization options come in. The simplest customization options involve shipping (allowing someone to choose specific delivery windows, for instance), but you can also provide more interesting packaging options (WooCommerce Gift Wrapper will do this), as well as gift card and tag choices for those buying for others. You can also offer preset configurations where suitable (electronic devices, for instance), or even suitable bundles (e.g. a laptop plus a carry bag plus an accessory kit).
This can actually extend to language, so if you're intending to sell internationally, keep that in mind. One of the reasons why Shopify can be chosen ahead of WooCommerce is that it comes with 50+ checkout languages natively supported. However, you can still get by in WooCommerce through using Loco Translate: simply install it, go to Loco Translate -> Plugins -> WooCommerce -> New language, and follow the instructions.
Recommend additional products
Optimizing your checkout page isn't solely about preventing cart abandonment. It's also about finding ways to maximize the value of the resulting orders, and one of the best ways to do this is to provide the shopper with other items they could add to their order. This is typically done through cross-selling: presenting products that fit really well with those already in the cart (such as accessory kits for laptops, or socks for shoes).
It's more of a gambit, but you can also try to use upselling at this point. Upselling is about giving the shopper the option to swap out something currently in their cart for something ostensibly better (and definitely more expensive) — for instance, if someone is looking to buy a 50-inch TV, you can point them to a 65-inch version of the same model, and/or a 50-inch version of a higher-end model. It's a slight risk because it's possible to leave someone so uncertain that they give up for the time being, but it's usually worth doing overall.
Recommendation Engine will get the job done here if you're only looking for automated recommendations based on customer purchase trends. Alternatively, you can try your luck with the Products Suggestions for WooCommerce plugins.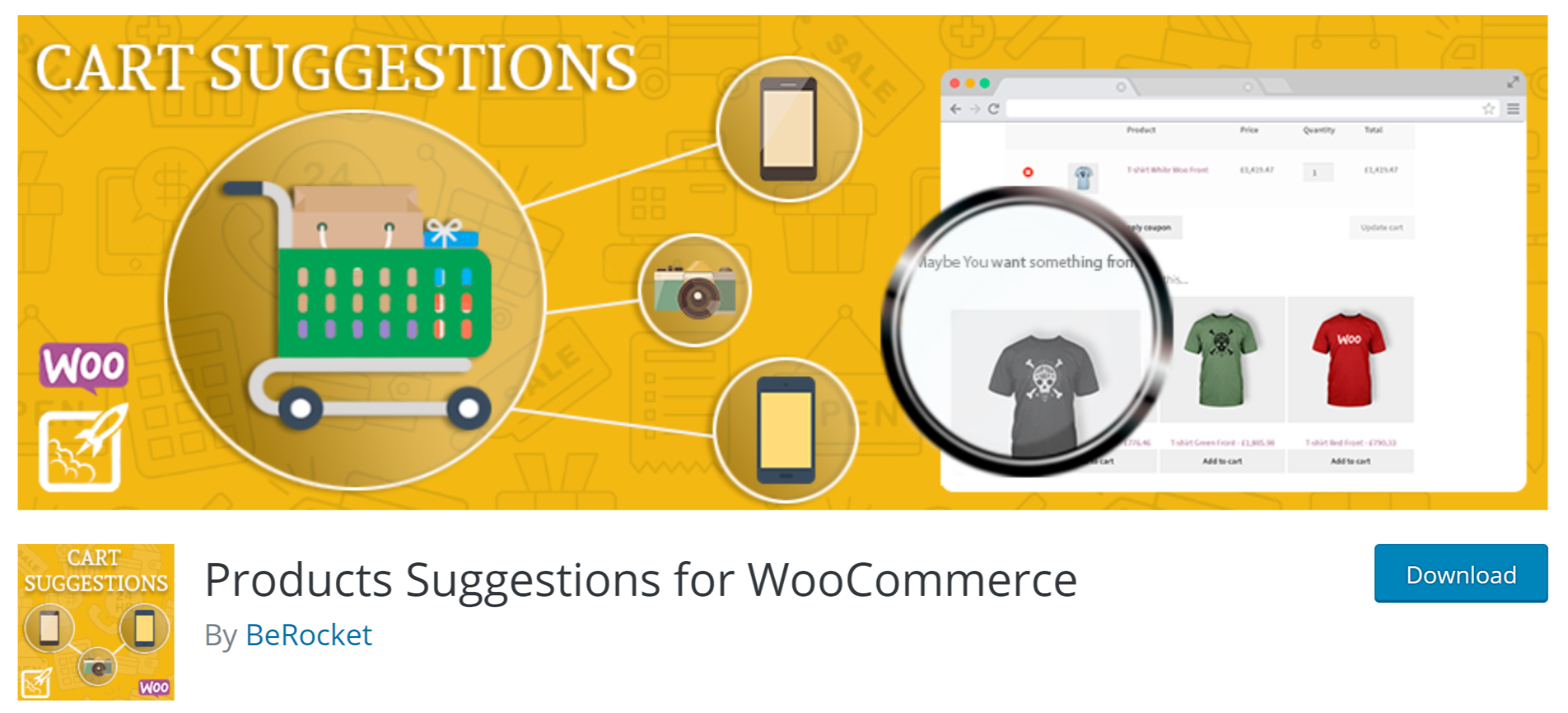 Include a clear progress marker
In ideal circumstances, a checkout process might last for just one page, but it would have to be perfectly minimal. When there are various steps to get through, you need multiple pages to break things up, but this can cause issues — particularly when shoppers have to create accounts (or choose to, despite being able to use social logins). When a checkout process lingers in this way, it's vital that the shopper be shown a clear progress marker.
When this doesn't happen, someone can get halfway through the path to conversion and lose track of where they are, what they've been through, and where they're going. Not knowing what lies ahead is the most significant — when you know there are just two pages left, you can feel more enthused about continuing that you would if you had no idea how long you had left to go).
Try WooCommerce Multi-Step Checkout for this. It's a great choice, but don't just take my word for it — you can read all about what it can do on this list of must-have WooCommerce plugins.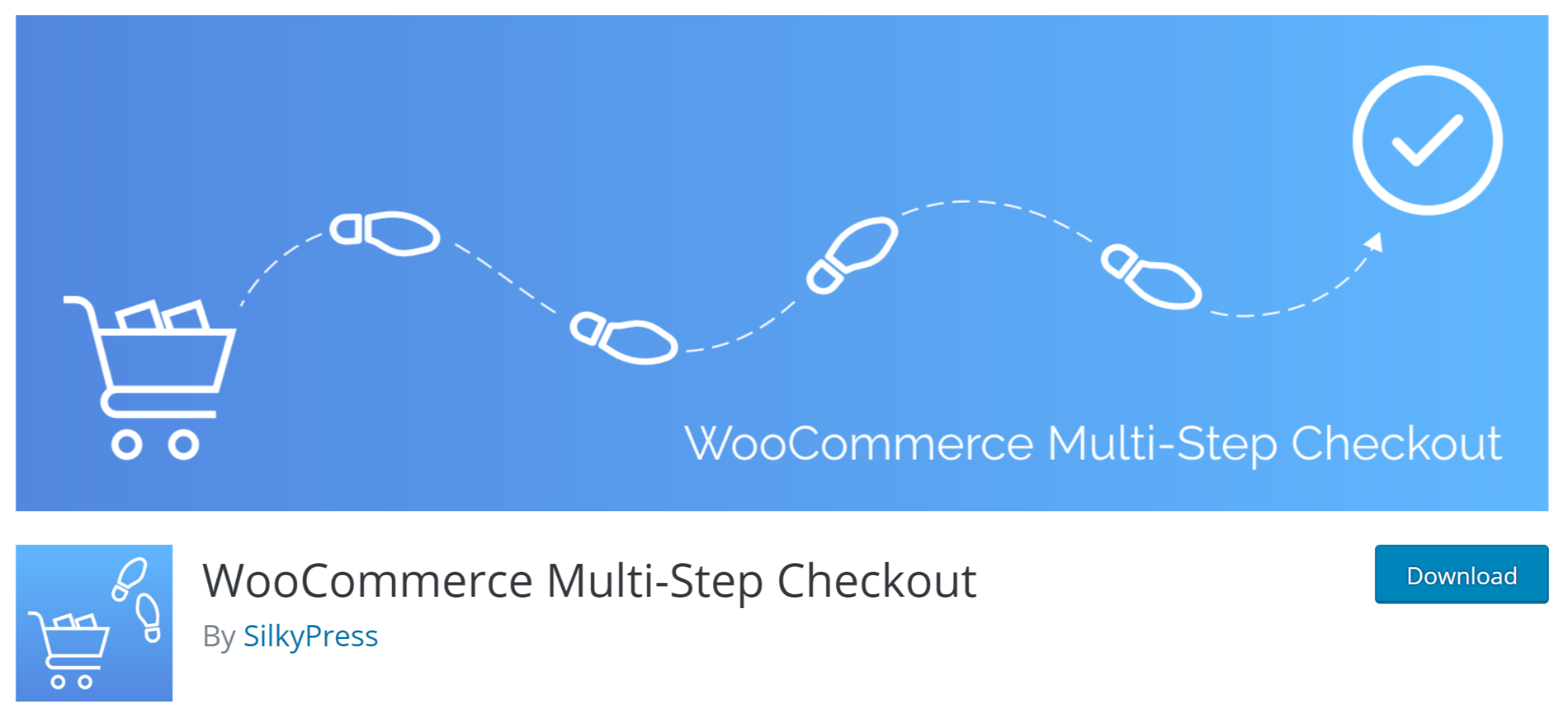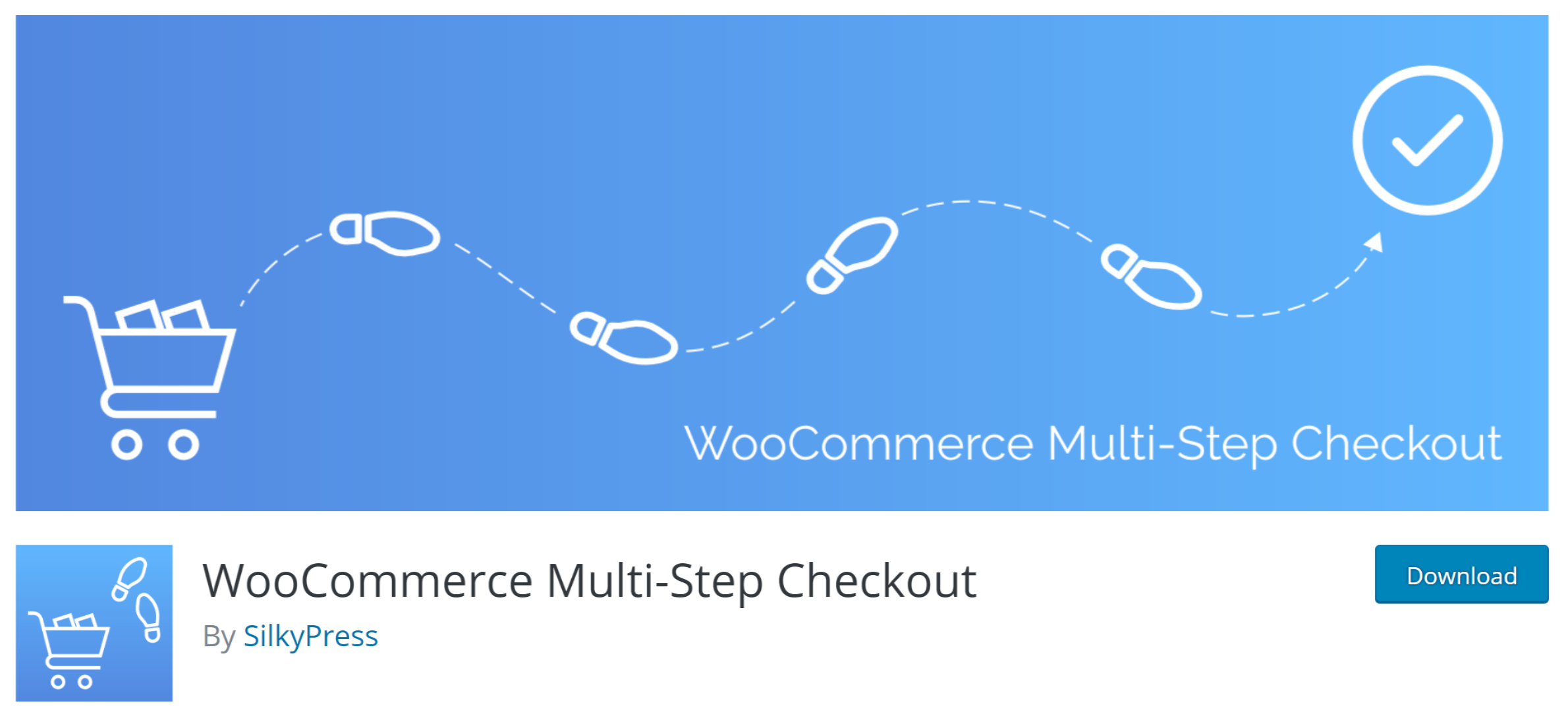 Display trust indicators
When a shopper hasn't bought from a particular online store before, they're going to have some doubts. This is because distance buying remains a risky proposition — you don't know exactly what you're going to get (the item you receive might not be exactly what you expected), you're risking your personal data, and there's a very real prospect of getting scammed.
To assuage those fears and avoid shoppers getting cold feet at the checkout stage, be sure to include trust indicators (images, stats or assurances that will make people feel more confident about trusting you). Examples of trust indicators include payment scheme badges, aggregate ratings, and specified guarantees (e.g. "if you're not fully satisfied, you can get a full refund within 30 days").
Trust indicators don't typically function through plugins — instead, you need to find the indicators you want and add them manually. Usefully, though, the biggest security services offer suitable instructions. TrustLock, for instance, has a full guide on adding trust badges to the checkout phase: you can find it here.
Conclusion
The better your checkout page gets, the more conversions you'll win, and the higher the average value will become. Implement these tactics along with the suggested plugins, and you'll surely achieve a significant boost in performance.
https://ninjateam.org/wp-content/uploads/2019/06/ead7c44a704fde1b47fbffbe55a6-1439799-1.jpg
809
1200
Ninja Team
https://ninjateam.org/wp-content/uploads/2020/10/ninjateam-logo.png
Ninja Team
2019-06-13 09:02:25
2020-08-13 14:29:03
7 Tips For Optimizing Your Checkout Page (And Which Plugins Are Best)