10+ Best Affiliate WordPress Plugins
An affiliate marketing program is a practical and powerful tactic for any online business. It's a tried and tested way of generating revenue and increasing brand awareness, and best of all it's easy to do with any WordPress website.
If you're new to the idea of affiliate programs, or you've yet to find success through them, you might feel the benefit of an affiliate plugin. Plugins are not magic wands of revenue, but they can be powerful tools that help you boost your affiliate marketing. If you're struggling to get noticed, you may find a WordPress affiliate plugin is exactly the jump start you need.
Choosing an Affiliate Plugin
When looking for affiliate plugins on WordPress, it can be easy to get carried away. There are hundreds of options available. Each option with its own shiny bells and whistles, so you're prone to be like a kid in a candy store. The difficult part is actually limiting your selection and choosing only the plugins that are most relevant to your current capabilities and future goals.
This is to say, avoid being an answer in search of a question. Don't find an affiliate plugin you like the look of and then look for a way to justify getting it. Instead, focus on what challenges your facing as a business and how to solve them more generally. Then, if you decide a plugin is going your way, you can start using it effectively.
If you've got to the point where you've nailed down a problem you're looking to solve, take a look at these top affiliate plugins to see if they might be a solution.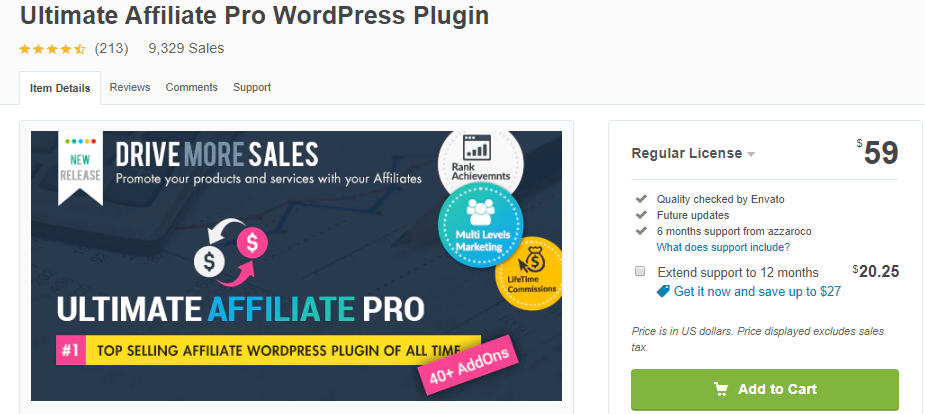 If you're not sure about committing to an affiliate plugin for the long term but are still looking for the benefits that come from a premium service, Ultimate Affiliate Pro might be for you. For a one time payment, you can get all the detailed features of a premium affiliate management system without having to pay a rolling monthly fee.
Ultimate Affiliate Pro links to all the major eCommerce services like PayPal, Stripe, WooCommerce and more, along with customizable options on currency for targeted international commerce. Plus it features an extensive support center filled with video tutorials and online documentation to help you out if you're stuck.
Key Features:
High-quality integration with WooCommerce, Stripe, PayPal and more
Unique complete metrics feature
Pay out with PayPal
Option to add your own currency
Affiliate links as QR codes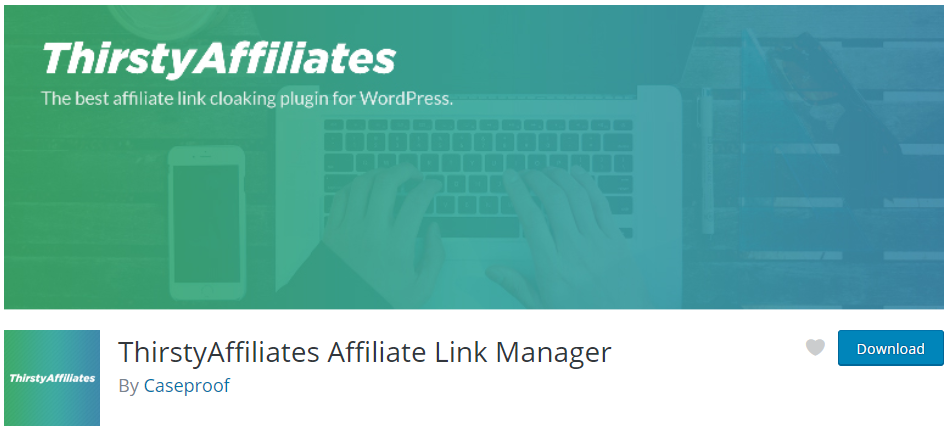 Thirsty Affiliates is another powerful affiliate plugin that offers a wide range of services. It offers everything from link cloaking to detailed reports, along with link automation for easy find-and-replace linking.
Thirsty Affiliates is also there for you when things go wrong. It has an automatic 404 checker so you can solve any avoidable error pages and a link fixer that keeps all your links up to date with little to no effort on your part.
Key Features:
Automatic affiliate linking
Country targeting, to provide alternate destinations for international clicks
Proactive link checking for 404 errors
Integration with Google Analytics
Importing and exporting of CSV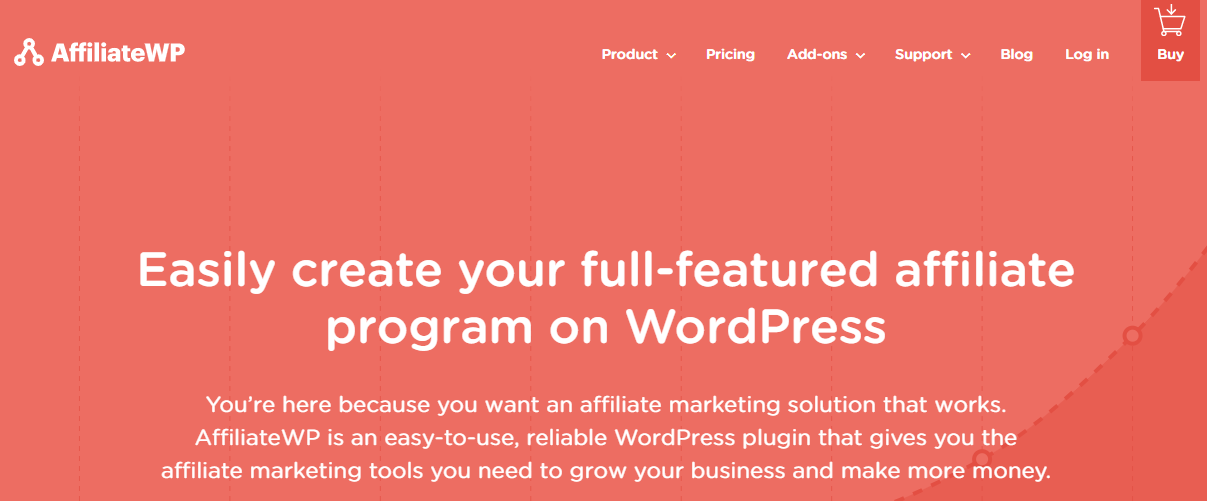 Let's start with a strong all-rounder. AffiliateWP is an all-encompassing affiliate management system that's easy to set up and use. It's packed full of reporting tools and visualization options to manage your affiliate programs at a glance and in depth. AffiliateWP also merges seamlessly with eCommerce services like WooCommerce, Easy Digital Downloads and iThemes Exchange.
It's hard to write an exhaustive list all of AffiliateWP's features, simply because there are so many. For anyone without an affiliate management system, AffiliateWP is a fantastic tool to get you started with affiliates.
Key Features:
Easy and quick to set up – speedy installation
Even on servers with aggressive caching, affiliate referrals are tracked reliably
Integrates well with most major plugins, like WordPress eCommerce
Many affiliate management tools, like affiliate reports, individual affiliate account editing and affiliate registration moderation
Referral link generation and customizable emails

You'll see this widely popular plugin in action on most WordPress sites, and for good reason. In its simplest form, it turns long and cumbersome affiliate links into shorter, easy to remember versions, then has the facility to add these links to posts. Under the hood, it boasts analytics and performance metrics that keep you up to date on how your links are doing, an automation tool that auto-links specific keywords, and a site redirect management tool.
Even with all of these features, Pretty Links is easy to use and a flexible working solution. It works well with responsive WordPress themes and is compatible with everyone from the most experienced developers to the earliest starters.
Key Features:
Complete control over the appearance of links
Tracking, grouping, sorting and searching link clicks
Traditional server-side permanent and temporary redirects
Automatic link tweeting and keyword-rich website links
Frequent updates and dedicated support team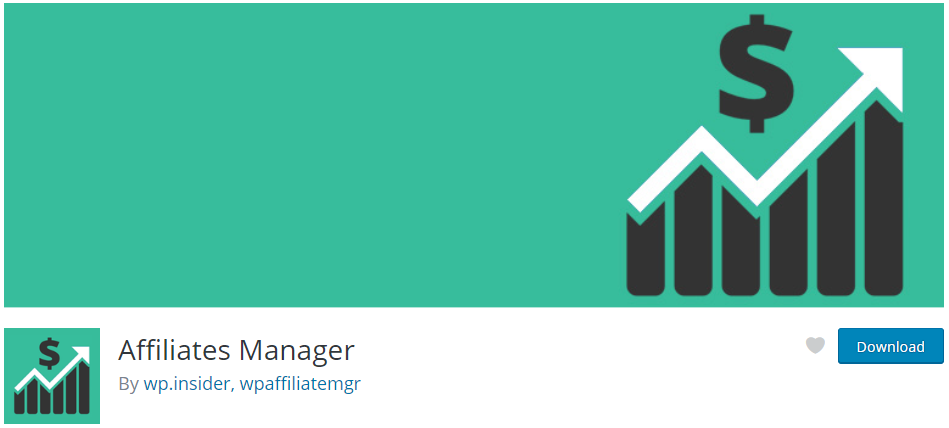 If you're shopping for an affiliate plugin but aren't ready to invest in one, Affiliates Manager might be for you. This free plugin is easy to install and use, chock full of features, and powerful enough to rival even some premium plugins.
You'd be surprised at how scalable this free service is. You can track and make banner ads for unlimited affiliates and even make them translation ready for international sales. On top of all that it works seamlessly with other WordPress plugins like iThemes Exchange, S2Member, WooCommerce, and JigoShop.

Key Features:
Integration with WooCommerce, WP eCommerce, Simple Shopping Cart, and MailChimp and Infusionsoft Autoresponder
Real-time traffic and sales reporting
Unlimited affiliate tracking
Flat rate or percentage-based payouts
Manual adjustments and payouts

"No matter what your business is and what you're selling, you can't go far without Google Analytics." Take it from Eric Andre, an affiliate marketing writer at Writinity and LastMinuteWriting. "Google Analytics is an essential part of seeing if your marketing is working. Without it, you're practically in the dark when it comes to your online presence."
With that in mind, a service like MonsterInsights is a great entry-way into Google Analytics. It's not strictly a plugin in the same way as some of the others on this list, but it's compatible with affiliate plugins and it provides you with insight into your affiliate performance, so it deserves some recognition.
Key Features:
Universal website tracking across devices
Automatically compliant with European and other privacy regulations.
User scrolling tracking
Tracking of file downloads
Tracking of Yoast SEO score stats
7. AdSanity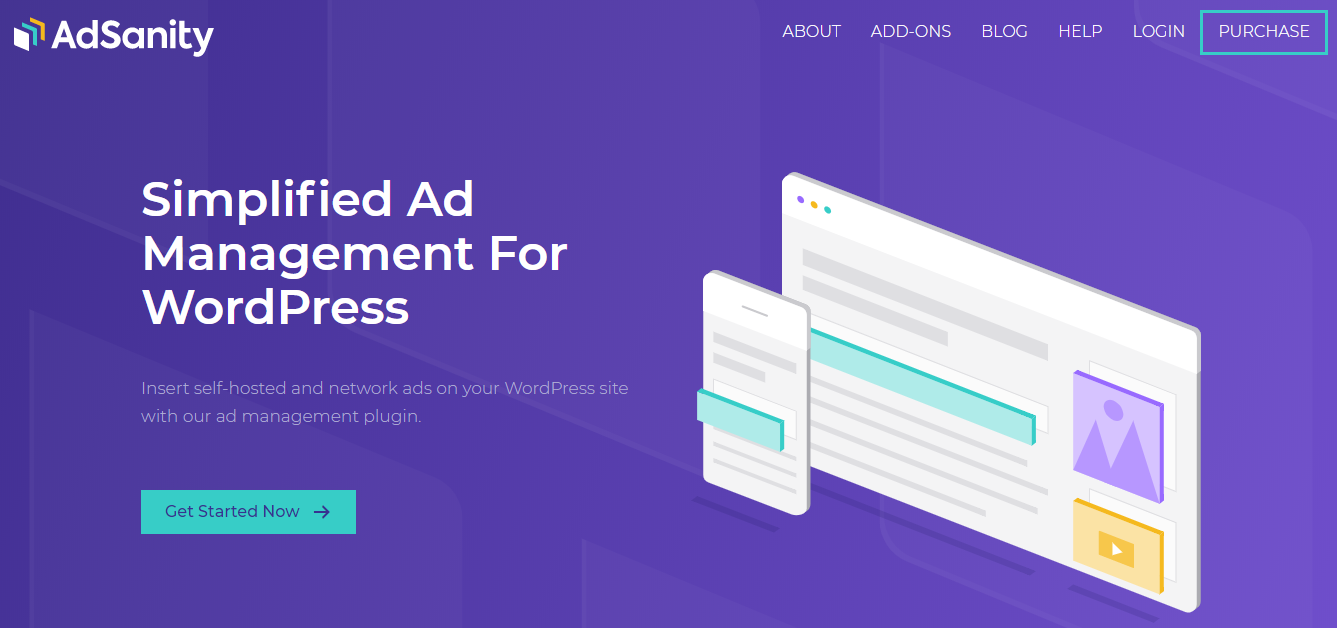 If you're looking for the features of a dedicated affiliate management system without slowing down your website, AdSanity might be for you. This affiliate ad management tool comes in a small package while still packing a punch.
Maeve Wiley, a WordPress blogger at DraftBeyond and Researchpapersuk, says that "AdSanity is lightweight, user friendly and easy to use while still offering all the tracking of heavier solutions". It also has the added bonus of in-built Ad Block detection. You can make sure your users don't block the ads you put so much time into generating.
Key Features:
Self-hosted and network ads
Great support
Licensing for 1 public and 1 local domain at least
Custom ad sizing and group ad widget
Video ads
8. EasyAzon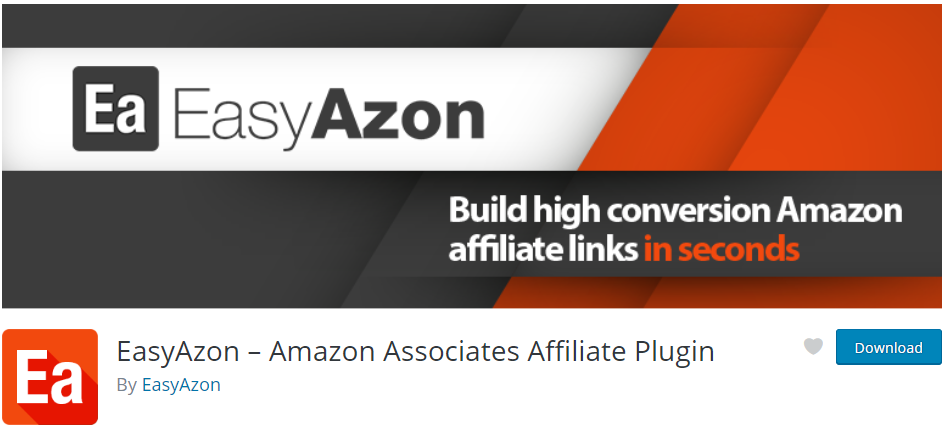 For any eCommerce brand selling through Amazon, EasyAzon is for you. This plugin is perfect for anyone running an Amazon affiliate blog, as it allows you to generate and insert affiliate links to Amazon products without needing to jump back and forth to the Amazon site itself.
Like any Amazon plugin worth its salt, it has all the features to make affiliate marketing easy and seamless. This means you can include Amazon "Buy" buttons, relevant images and cloaked links to give your users a pleasing visual experience. Under the hood, it even offers geolocation services to find out where in the world your users are coming to you from.
Key Features:
Both self-hosted and network ads on WordPress
Great support
Licensing for at least 1 public and 1 local domain
Custom ad sizing and group ad widget
Video ads
9. YITH WooCommerce Affiliates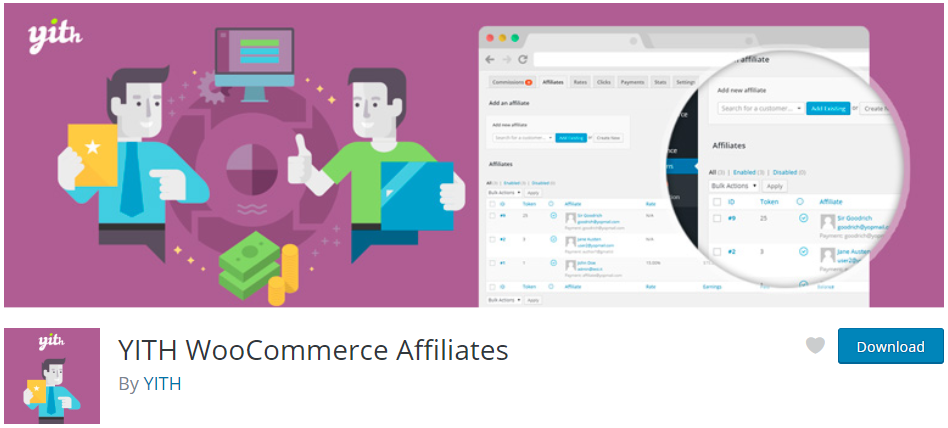 If you are working with WooCommerce, this plugin is the best place for you to start. This free plugin from YITH is the opposite of the maxim "jack of all trades, master of none"'; it does one thing, and it does it well. That one thing is allowing you to set up commissions and affiliates for WooCommerce.
WooCommerce Affiliates is a great choice for anyone just getting started with affiliate programs and trying to figure out what works best for them. It empowers you to set and manage cookies, track product referrals, and enable or disable specific affiliates whenever and wherever you'd like. All of this is managed from an intuitive dashboard. That is ready to go straight away.
Key Features:
Offer a percentage on social network sales to your influencers
Detailed user click reports
Automatic commission payments
Choose which affiliate information is stored with each visit
Set commission rates
10. Travelpayouts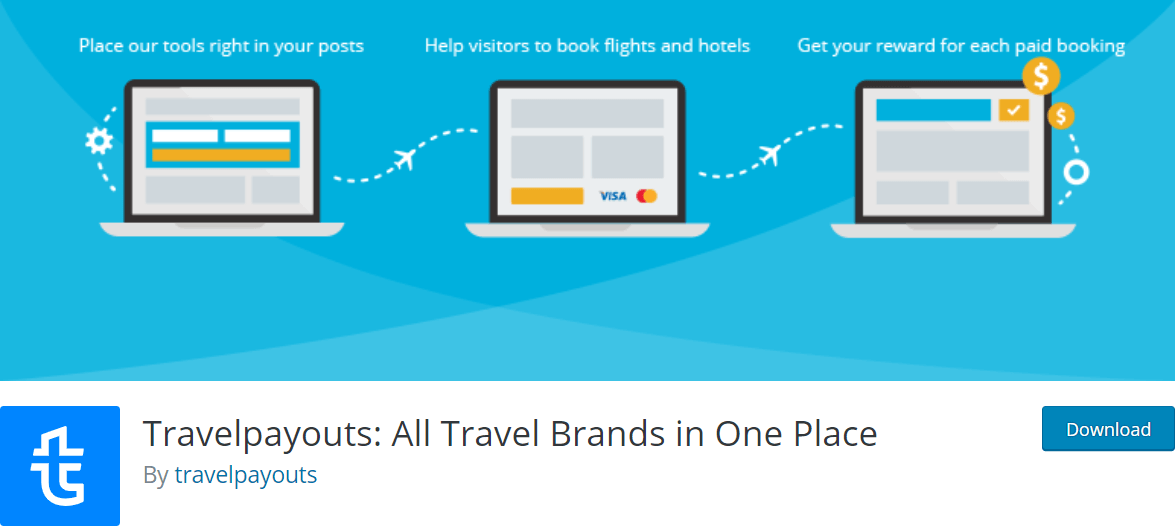 Travelpayouts is the favorite plugin of everyone who has traffic interested in travel. Whether you run a travel blog, a website of a travel agency, or just mention trips, hotels, and locations on your website, the Travelpayouts plugin will help you monetize.
The plugin allows you to install widgets from 80 affiliate programs supported by Travelpayouts network, including Booking, RentalCars, Hotels.com, GetYourGuide, TripAdvisor, and others.

Then, whenever people book flights, hotels, and other travel services using those widgets, you'll get commissions. All your money gets accumulated and then paid out in a single transfer once a month.
Key features:
unique affiliate tools — customizable tables with flight and hotel prices
reliable — over 7,000 active installs and a 4.5 stars rating
single monthly payout through PayPal or bank
80+ conversion-improving widgets
Gutenberg block
11. ReferralCandy for WooCommerce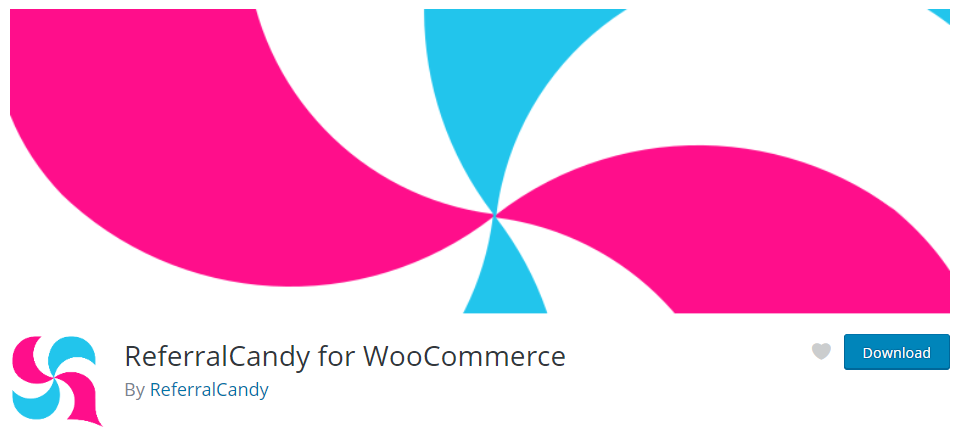 While we're on the subject of WooCommerce; I can't move on without a mention of ReferralCandy. This plugin and the associated plan is all about promotions and rewards, and it's a great supplement to any affiliate marketing strategy.
ReferralCandy is designed to spread your links far and wide. For example, a new signup might receive a discount code off their first purchase.  After making the purchase, they'll be offered a further discount to share with their friends. This in turn gives them a second discount off a future purchase. You might be giving out more rewards than you're used to. However, you'll also be bringing plenty of new customers on board.
Key Features:
Automatic reward payout
High engagement email campaigns
Traffic source tracking and insights
24/7 Live Chat Support
===
Ashley Halsey is a professional writer at Gum Essays. She has been involved in many online marketing projects throughout the country. Mother of two children, she enjoys travelling, reading, and attending business training courses.
https://ninjateam.org/wp-content/uploads/2020/05/Best-Affiliate-WordPress-Plugins.png
500
1200
Kelly
https://ninjateam.org/wp-content/uploads/2020/10/ninjateam-logo.png
Kelly
2020-05-20 16:28:45
2021-04-27 10:44:07
10+ Best Affiliate WordPress Plugins