8+ Best WordPress Folders Plugins in 2023 (Free & Native)
Remember back when you first started your WordPress site?
Everything looked pretty fresh and neat.
But when you started composing posts and pages, the clutter can start piling up. And you probably happen to realize just how quickly your WordPress media library might become disorganized.
You tend to upload multiple media files for every single post and page you create. Yet WordPress is not truly useful in dealing with all those files in its default state.
The WP media library works quite okay for the first few months. Nonetheless, if you ever have to go back and find old files in order to optimize, update attached images, or revamp posts, it would be a time-consuming process. But hey, you don't have to be in such a world of pain!
So how can you deal with this? You can simply install a WordPress folders plugin to easily organize your files exactly as you do on your computer.
In today's article, we've rounded up 8 free and handy plugins that will make your life easier when managing the WordPress media library. Let's dive in.
1. FileBird – WordPress Media Library Folders

Have you ever had trouble when it comes to managing thousands of images, videos, or documents that you have uploaded to WordPress?
Totally yes, right?
Thankfully, there's a reliable and effective WordPress folders plugin to take care of this for you. The fantastic and popular plugin called FileBird – WordPress Media Library Folders & File Manager developed by NinjaTeam will dramatically take your WordPress Media Library to the next level.
The clear user interface allows you to create a folder/category in a single click. Then you can drag and drop files into those WordPress media folders. And the smart context menu enables right-click to quickly create, rename, delete, and download entire media folders just as the same as what you do on your hard drive or cloud storage. It's as easy as falling off a log.
With this WordPress folders plugin in hand, managing files in WordPress has never been easier. You are able to just drag and drop to bulk-upload files from your computer and have them categorized in the destination folder.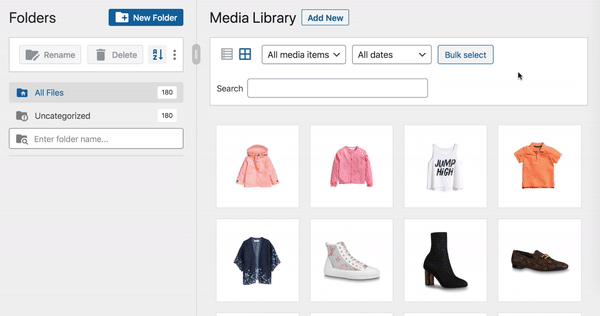 Plus, this useful plugin is compatible with all major plugins, themes, and page builders. Especially the world's most famous e-commerce plugin, WooCommerce. FileBird also supports lots of languages like English, Spanish, French, Italian, Germany, Japanese, and so on.
This is greatly beneficial for those who are running an online store thanks to its friendly UI and highly customizable features.
To add some folders and start organizing, simply click the Add New Folder button. Moreover, the user interface of FileBird folder tree with the search box will help you quickly find specific folders in just a blink of an eye.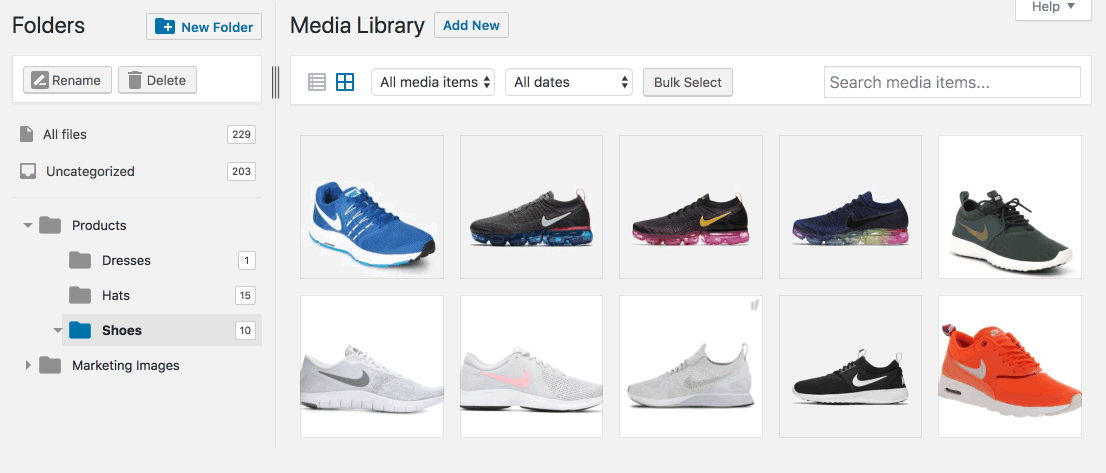 If you want to give your WordPress media folder management a shot in the arm, the FileBird plugin could be your secret weapon.
As a free 100% GPL plugin, this one is worth your consideration. It may be the secret to staying neatly organized and improving production and efficiency.
More features:
Advanced sort options for media folders and files (including default sort and instant sort).
Download entire WordPress media folders (preserving the folder structure).
Press ESC to exit bulk select mode.
Unlimited folders in the free version.
FileBird document library (Free): Display your list of documents as a table or grid on the website front-end.
Pros
Nice UI/UX design.
Drag and drop interface.
Color-coded folders with custom colors.
Multiple folder themes to match your preferred style (default, Windows, or Dropbox).
Import folders/categories from the Media Library Assistant plugin and more.
Cons
Not integrated with cloud services like Amazon S3, DigitalOcean, Linode, or One Drive.
2. CatFolders – WP Media Folders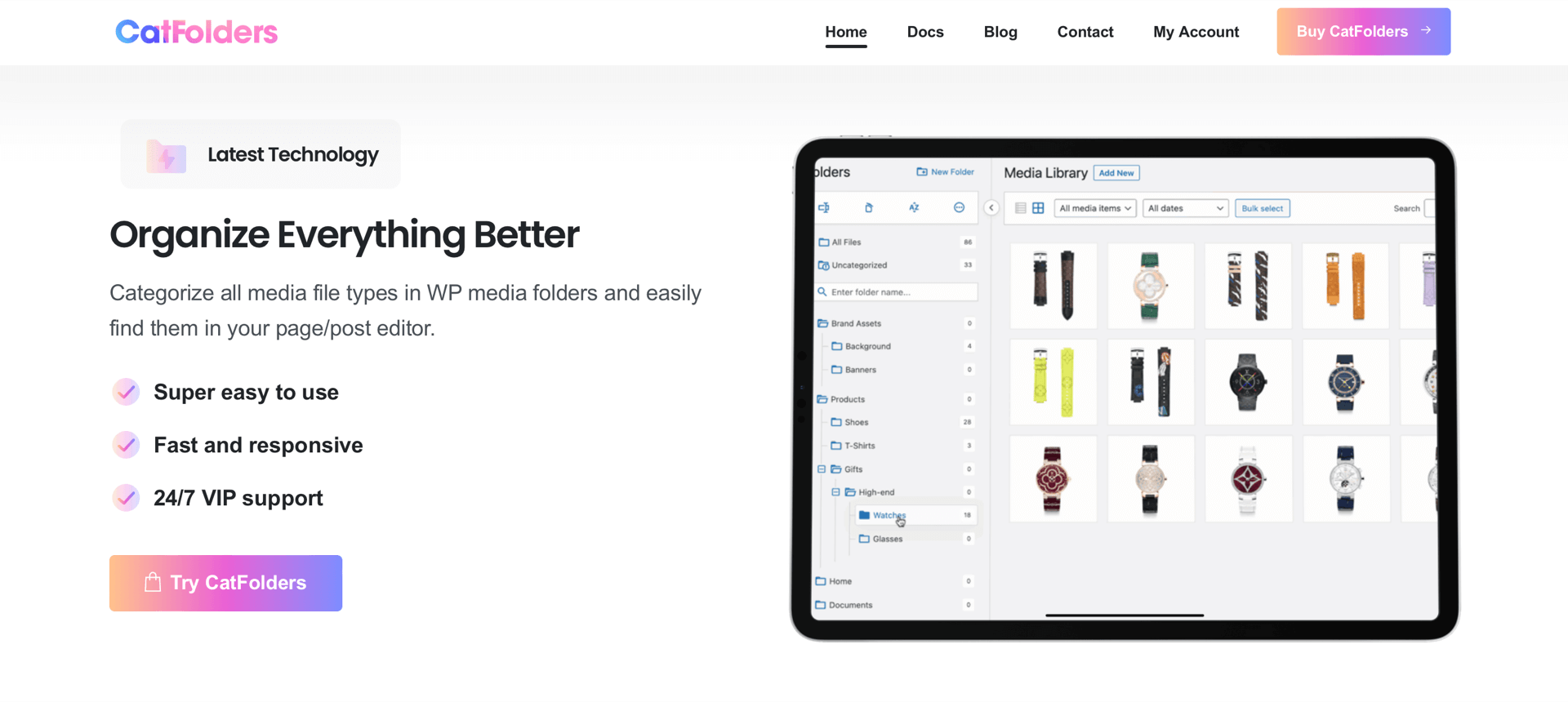 CatFolders – WP Media Folders plugin helps create an integrated folder tree for your WordPress media library. It has an elegant design and blends in perfectly with both media grid mode and list mode.
With CatFolders – WP Media Folders, you can categorize the existing media files, or upload images or any other kind of files to a specific folder. This is a big time saver since the files can be organized the same way you store them on your computer. Over time, maintaining such a neat and ordered folder structure helps you quickly update or replace the media files.
CatFolders is a WordPress media folders plugin that keeps performance as a priority at its core.
How it works:
Creates categories as folders for media attachments.
Allows drag-and-drop to assign multiple files to a folder.
Helps you sort files and folders by name, date, author, and more.
Easily find the media files you're looking for when editing page/post.
Startup folder automatically opens the most recent folder or a specific folder when you start up the WordPress media library.
Added compatibility for WPML, Polylang, EWWW Image Optimizer, Media Library Assistant, etc.
Pricing:
CatFolders offers a wide range of price options so the developers and web agencies can get multiple site licenses and unlimited website licenses at an affordable cost: $159 for unlimited sites.
Pros
Drag and drop interface.
Free version supports folder filtering from any third-party plugins and page builders.
Works fast and has no impact on your site performance.
Quick migration from other WordPress folders plugins.
Granular folder access permissions: You can control role access by allowing editors and admins to create folders, or allowing a user role to do everything in their folders but not edit other folders.
Cons
Not support folder tree for pages, posts, WooCommerce products, or plugins.
3. Media Library Assistant
The Media Library Assistant introduces an advanced gallery shortcode that allows you to add not only images but other media files to your posts.
The plugin allows you to quickly find out where a particular image has been used.
It also allows us to see where our images and downloads appear on the site as featured images or are inserted in page and post bodies. We can quickly find attachments in a particular category or tag as we add pages and posts to the site.
Media Library Assistant works well with other plugins; you can add slideshows, thumbnail strips, and special effects to your new galleries without facing any problems.
This free plugin offers much more, so make sure that you try it out.
Also, the great thing is that it is akin to your default WordPress media library, so you won't have to learn how to use it.
Pros
Developer-friendly.
Support for WPML, Polylang, and other multi-language CMS plugins.
Mapping file metadata to WordPress fields, taxonomy terms, and custom fields.
Cons
It might look overwhelming at the first glance.
Powerful but not very user-friendly for end users.
4. Imsanity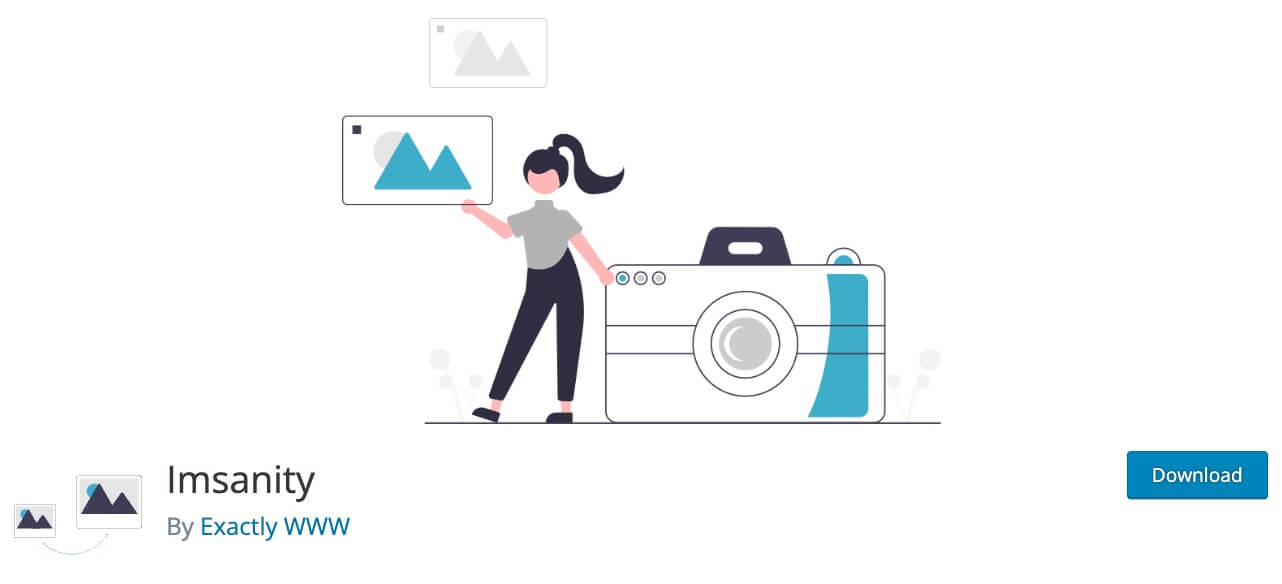 1 … 2 … 3 … – your potential client just closed your site because it is still loading. Sounds familiar?
Quality of images is as important as the performance of the website, but uploading high-resolution images can slow down your website every so often and this is such a really big deal. That is why it is essential to save all your images optimized for the web.
Don't worry. We're here to help you out.
The easiest and most effective way we've found to automatically resize and compress images in WordPress is Imsanity plugin.
Voilà! It will automatically resize the dimensions of images to something more manageable and reduce the file size.
Imsanity is configurable with a max height, width, and quality. When an uploaded image has larger size than the configured, the plugin will automatically scale it down to the configured size and replace the original image.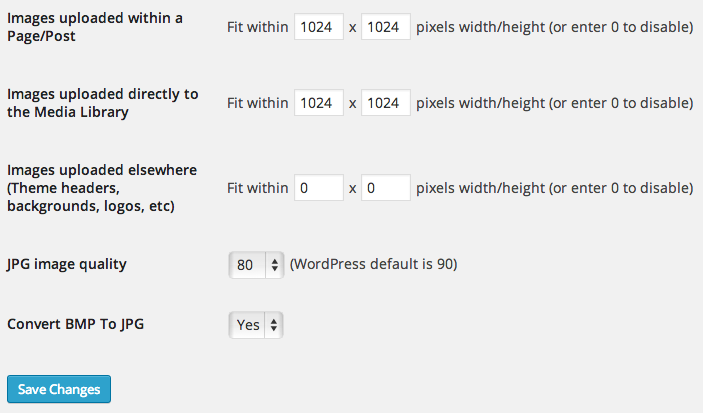 Now any images uploaded to the site will be automatically resized and compressed.
This plugin is ideal for blogs that do not require hi-res original images to be stored or the website owners don't need to scale images before uploading.
5. WordPress Media Library Folder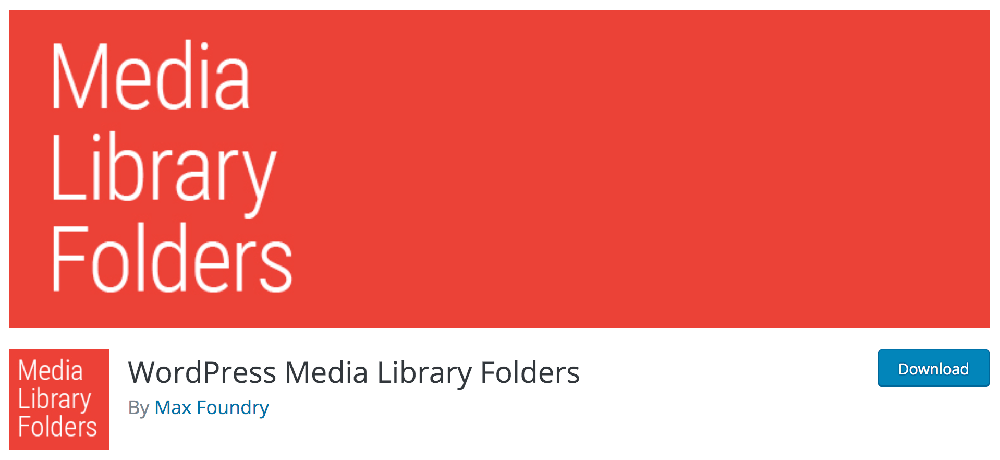 WordPress does a lot of things right, but it's not always user-friendly when it comes to arranging media types with folders.
Thankfully, there's a reliable and effective plugin to take care of this for you.
WordPress Media Library Folders plugin developed by Max Foundry is definitely a weapon you are looking for.
The name pretty much explains it all, with this plugin creating folders in the Media Library to keep your images organized.
Media Library Folders plugin for WordPress creates actual folders in your WordPress Media Library:
Actual folders make it easier to organize your WordPress media library.
Move, copy, rename and delete files and folders with a nice drag-and-drop interface.
Regenerate thumbnails.
SEO Images to specify ALT and TITLE attributes when uploading.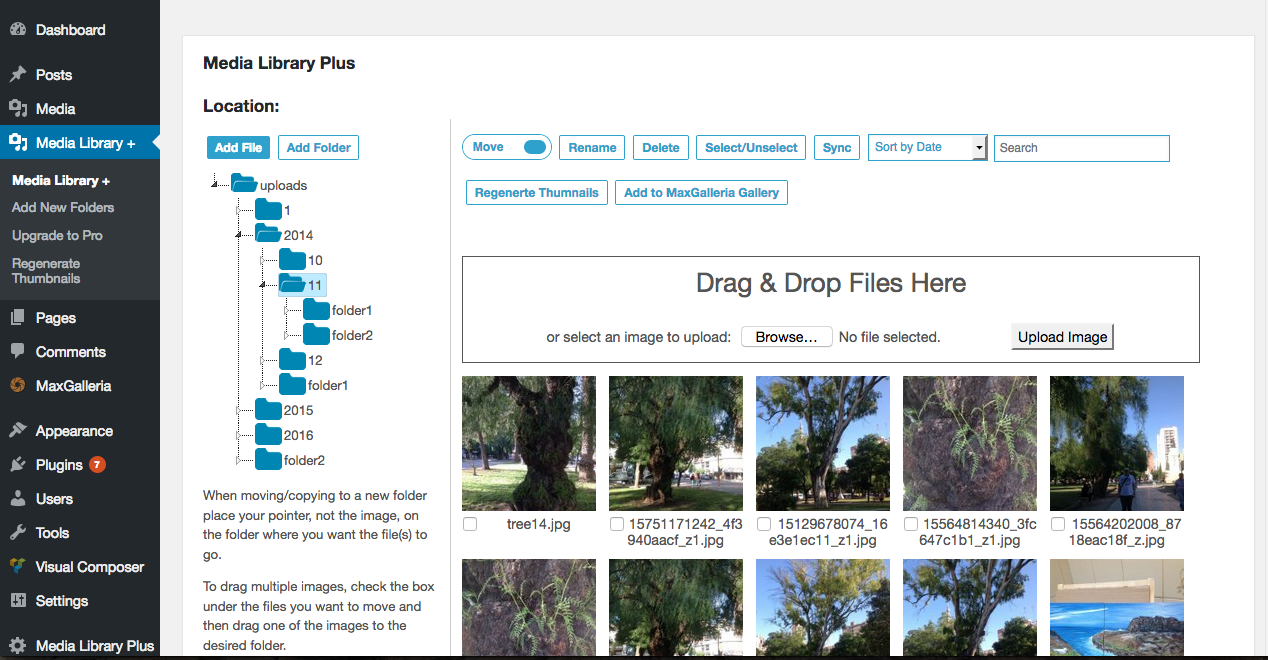 When you install it, there is already created one folder per year and one subfolder per month, where you will find all the images you had previously uploaded to the library.
Then, you may create the folders you need and copy the images you want.
Although WordPress Media Library Folders has a pro version with some extra features, they've said the free version will keep all its existing features.
The Pro version allows you to organize folders by category, support for WordPress multisite, or add images to a gallery of WooCommerce products, among others.
Pros
Drag and drop interface.
Includes regenerating thumbnails.
Cons
It creates a separate media library to your WordPress menu.
There might be a delay in moving multiple files around.
Limited third-party integrations.
6. Media File Renamer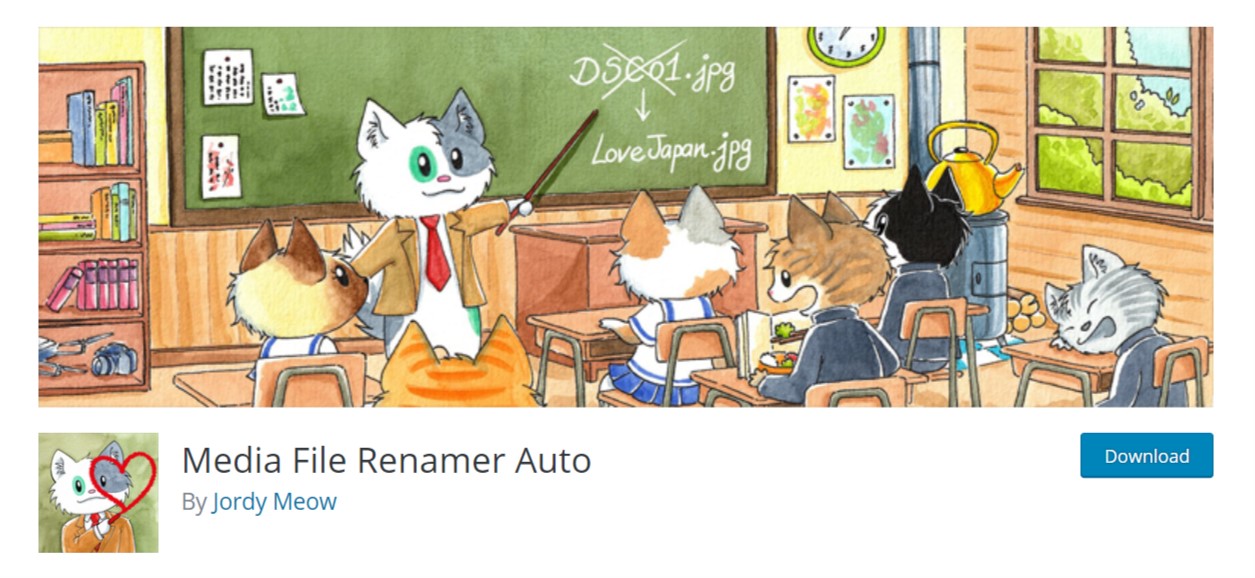 Have you ever wanted to change the names of previously uploaded images to make them easier to read, remember or be more friendly with SEO?
If so, you must have been confused when all the images in the posts were displayed incorrectly after being renamed.
You cannot simply go to the WordPress host or photo library to change the name of the image. You will have to edit many other things to make it work normally.
So what is the solution to solve this problem in the simplest way, especially when you want to rename a large number of images?
Don't worry! WordPress always has great plugins available that can help you complete all tasks quickly and easily. Yes, the plugin I want to mention here is Media File Renamer.
After successful installation and activation of the plugin, simply go to Media » Library.
If your media library is displayed in the grid view, then you will need to switch to the list view.
In the list view, you will notice a new column labeled 'Rename'. This column will show the status of your image, other media file names, and the title.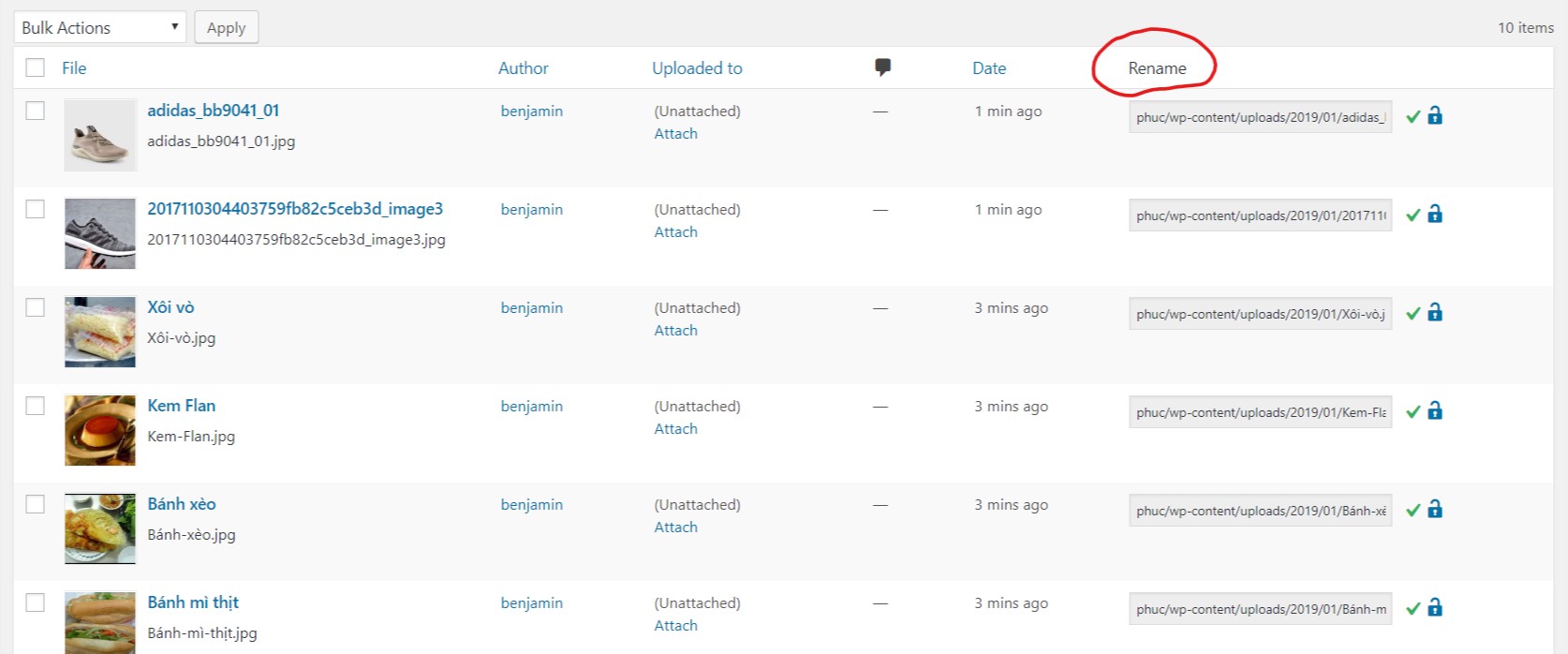 For example if your filename is DSC00132.jpg and the image title is "Nha tho nui", then the plugin will show a rename button next to the file. Clicking on rename button will change the image file name to nha-tho-nui.jpg.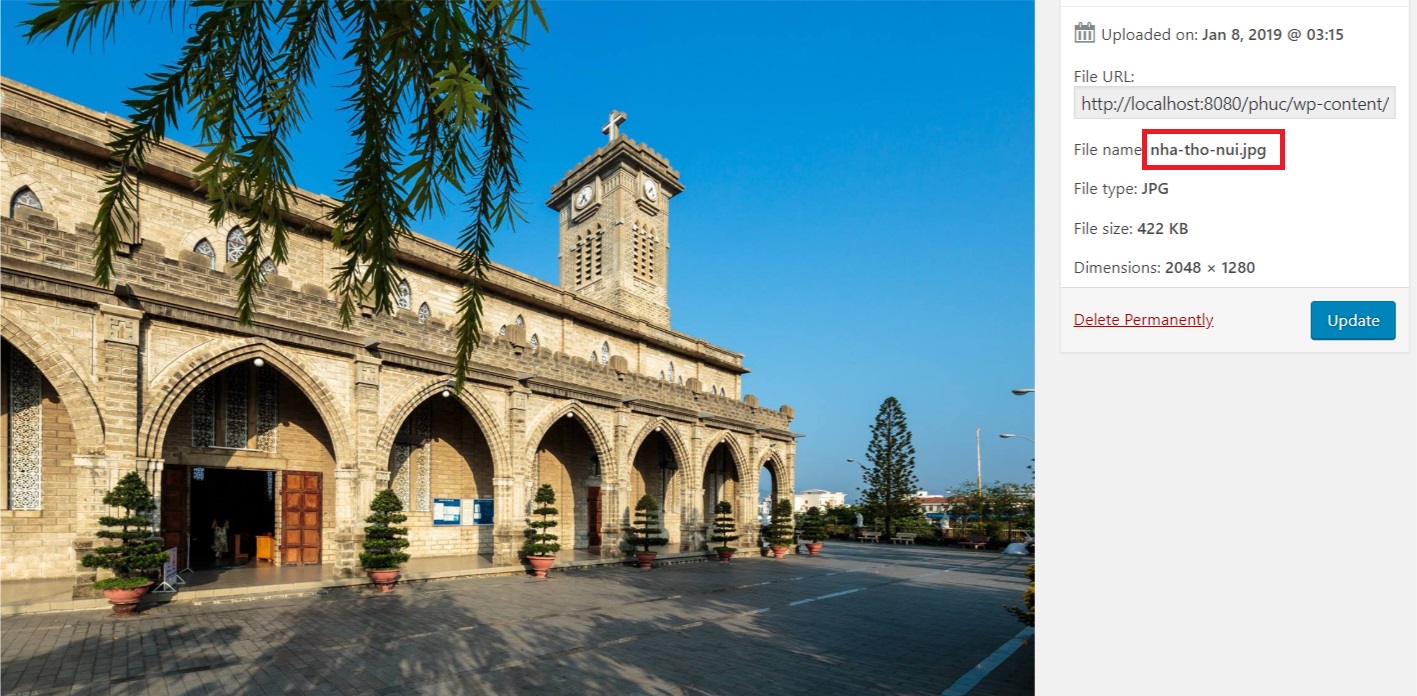 Pros
Helpful for SEO.
Easy to use interface.
Move files to different directories in bulk.
Sync media metadata like ALT texts, titles, filenames.
Cons
Requires advanced knowledge of WordPress file database.
Once renamed your files, you might need to re-link broken media entries.
7. Media Library Categories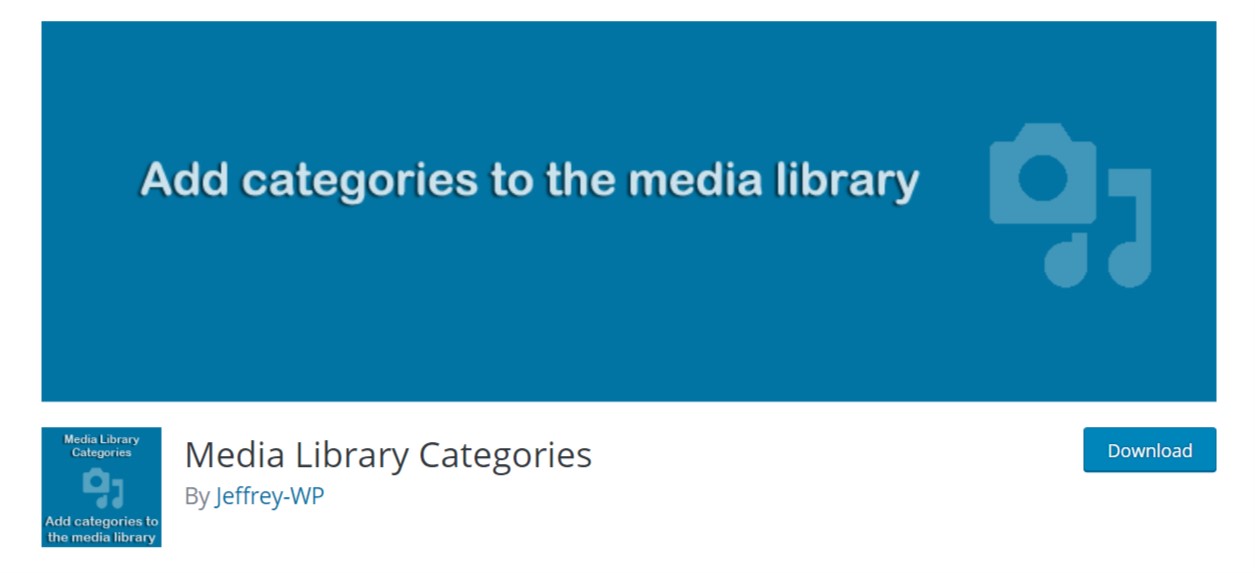 If all your need is a way to make finding images in your Media Library easier, this plugin might be the one for you. With Media Library Categories, you can assign categories and subcategories to your media files in bulk or on an individual basis.
A few features you need to know about this plugin include:
Add / edit / remove categories from media items.
Comes with gallery shortcode with a few parameters.
Category options & management in the Media Library.
Drop-down filter on categories in the media library modal.
Taxonomy filter in page/post editor.
The primary benefit of this plugin is the ability to use categories in the WordPress Media Library.
Once the plugin is activated, a dropdown of categories will show up in the media library.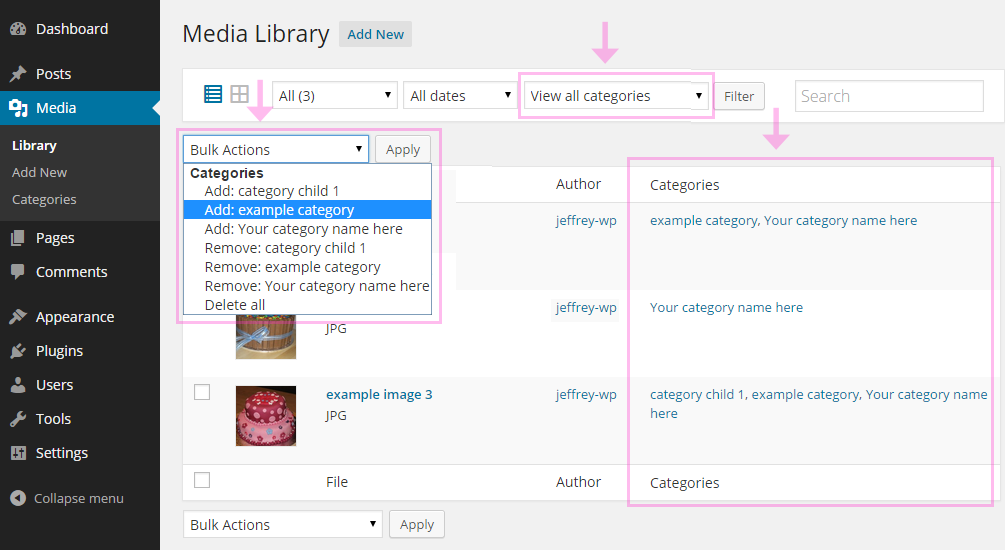 You can change, add or remove the category of multiple items at once with bulk actions.
WP Media Category Management supports categories for media files by using the existing categories.
It supports post tags and media taxonomies defined by other plugins as well.
Using this plugin, you can control media categories via admin the same way as you control post categories.
It also allows you to filter media files in your media library using custom taxonomy in both list and grid views. While uploading media files, you can choose a default category.
Pros
Updates the category of multiple items at once with bulk actions.
Integrated to the same WordPress media library menu.
Uses WordPress native category taxonomy.
Cons
No drag-and-drop interface.
No extended features.
8. Enhanced Media Library

The next WordPress media library plugin will come in handy for those who need to manage a lot of media files in a number of different ways.
However, it's not a WP media folder plugin so it doesn't come with drag and drop user interface.
Here's the plugin's tagline:
"The plugin will be handy for those who need to manage a lot of media files."
This plugin is incredibly user-friendly and yet powerful in features:
Enable you to organize media by categories, tags, or even third-party taxonomies.
Let you sort media by date, title, or manual order.
Offer the ability to use shortcodes to dynamically display media galleries based on different taxonomies.
Let you add or remove upload support for different file types.
The major benefit of this plugin is the ease of use and you don't need any technical knowledge to work on.
Interestingly, the plugin walks you through the process, from start to finish, helping you sort out cluttered media files within a matter of minutes.
Moreover, Enhanced Media Library allows you to create an unlimited number of categories in order to make your files more searchable and you can categorize the media items in the library by simply drag and drop.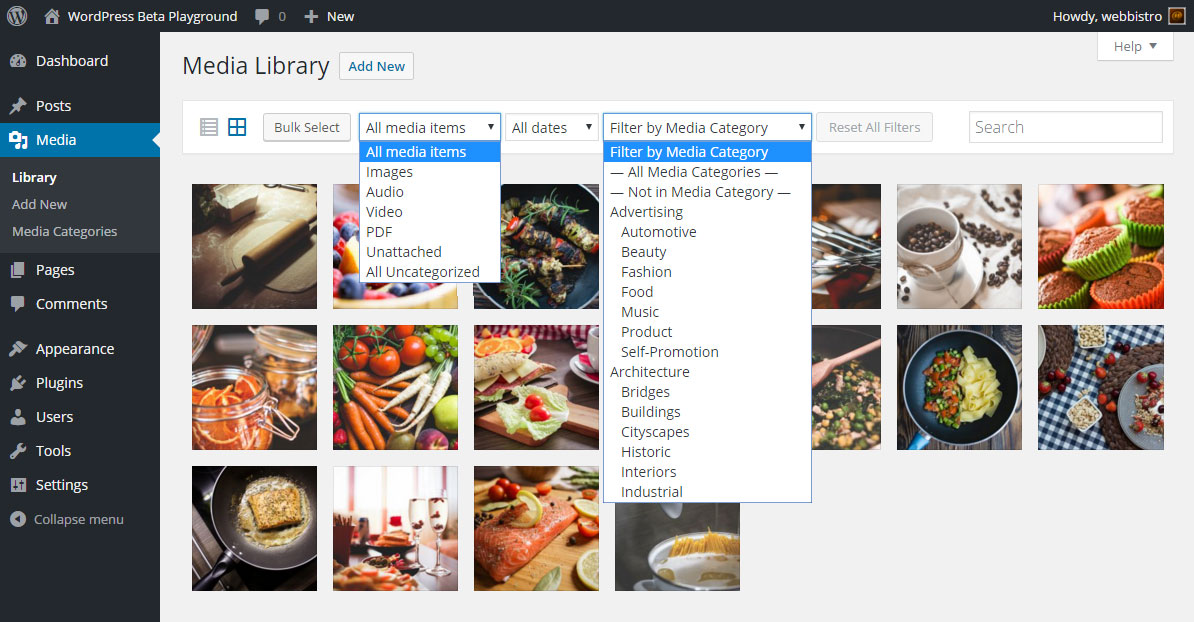 This plugin lets you arrange your library by common file types. If you merely want to search your audio or video files, you can do that, too.
Additionally, you can create additional types for PDFs, documents, and other types of file.
Note: Upgrade to the pro version with additional useful features is still available but it's not recommended. Public info shows that this plugin is no longer supported. Despite its quality, it seems the script author has been abandoning it. So use at your own risk.
Pros
Works with custom taxonomies and third-party taxonomies.
Comes with gallery and playlist shortcodes with additional parameters.
Developer-friendly.
Cons
No drag-and-drop folder tree interface.
Not frequently updated.
9. Force Regenerate Thumbnails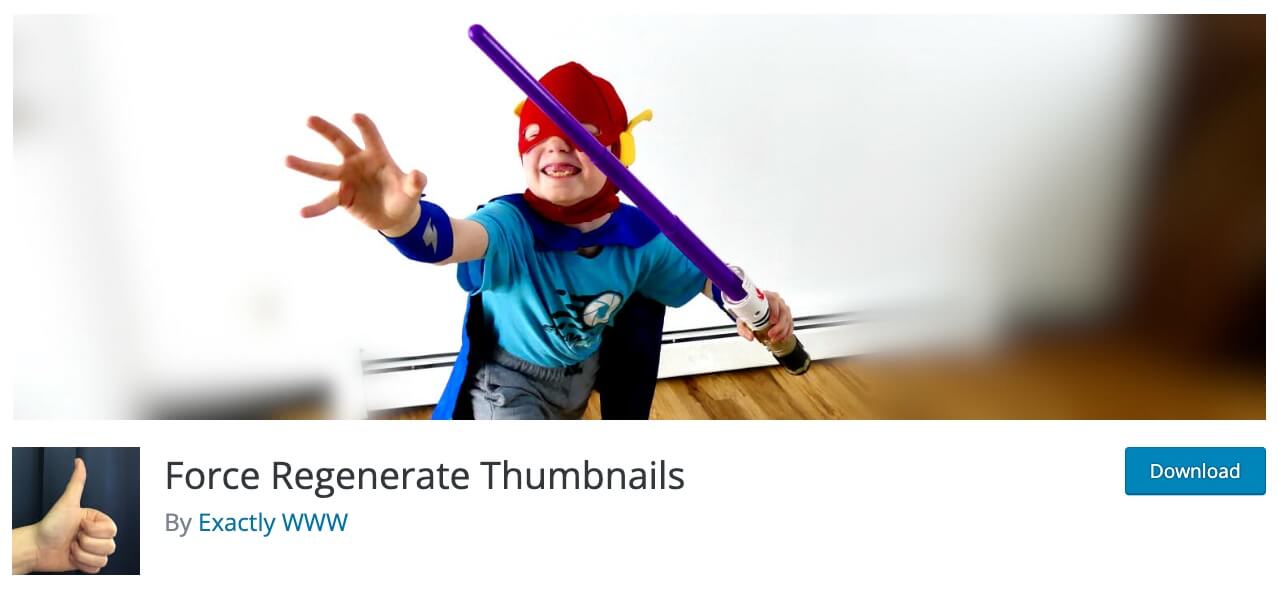 In some cases, you are required to change the dimensions of existing images in your WordPress site to make them look good on a new theme or for other reasons. But resizing manually these images is actually a painful and time-consuming process.
So if you are searching for a plugin that lets them resize images to desired dimensions, you definitely fall in love with the Force Regenerate Thumbnails plugin.
After successful installation and activation, you click Tools → Force Regenerate Thumbnails, and then click Regenerate All Thumbnails in order to use this plugin.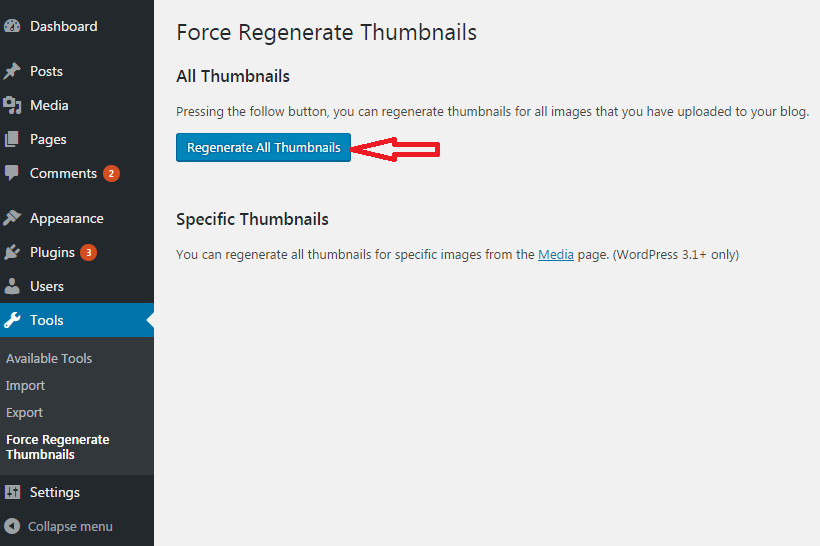 Then, it will automatically adjust your images and all you need to do is just waiting for the completion. The pace of the process depends on the number of your images in your library.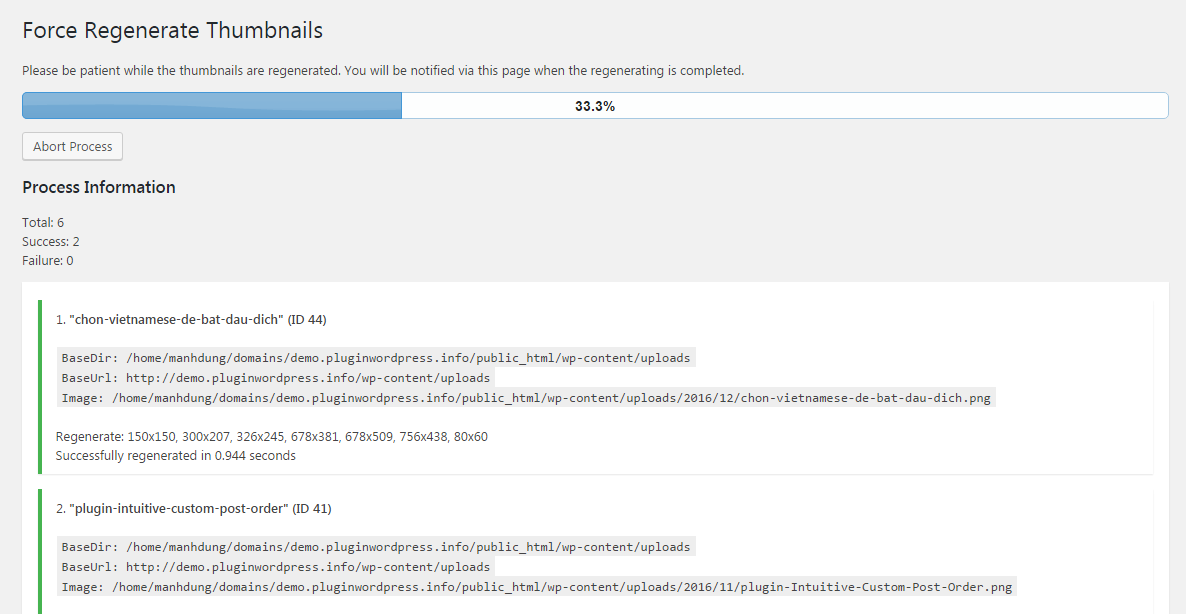 Final thoughts
As always, digital resources like images and documents can take up a mass amount of hosting space within a WordPress website. At times, it becomes cluttered and takes you lots of time to manage them. That being said, organizing the WordPress media with folders makes managing and retrieving images become easy-peasy.
Although the media library function of WordPress has significantly developed with more handy features over time, we wholeheartedly recommend you to use FileBird – WordPress Media Library Folders because it is the highest rated method to properly organize your media library. This WordPress folders plugin will dramatically take your Media Library to the next level. Organize thousands of your files in a few minutes!
Are you using any of the above-mentioned plugins or any other folders plugins to manage your media library? Please share your experience in the comment section below.
https://ninjateam.org/wp-content/uploads/2020/10/8-Best-WordPress-Media-Library-Folders-Management-Plugins.png
500
1200
Benjamin
https://ninjateam.org/wp-content/uploads/2020/10/ninjateam-logo.png
Benjamin
2021-02-06 03:13:08
2023-02-24 10:33:06
8+ Best WordPress Folders Plugins in 2023 (Free & Native)