Review DoopChat – An automated tool for your Facebook page comments
You definitely do not have enough time to answer the same constant questions raised by customers, right?
To free up your time, while still giving customers support and enough information in an organized way, you might consider using an automated solution.
Say hello to DoopChat, and don't be surprised when it automatically sends a message to those who comment on any of your Facebook page posts or ads.
Exciting yet?
Additionally, DoopChat also supports live chat feature that is useful for helping your business deal with everday queries related to services or products.
With the great help of the DoopChat, it has now become possible for your company to provide full customer support 24/7.
Thus, DoopChat plays a critical role in a variety of daily tasks such as collecting email address, phone numbers or any other important details.
DoopChat is the official tool developed by Ninja Team. It was born to help you overcome the obstacle and take your customer support service to the next level.
In today's article, I'll take you through exactly how this tool works to help customers, then I'll go further into all DoopChat's features to let you manage your Facebook page a whole lot easier and less time consuming.
Configuration
First, you need to create your own campaign by choosing one of two below packages, namely $39 per month and $295 per year.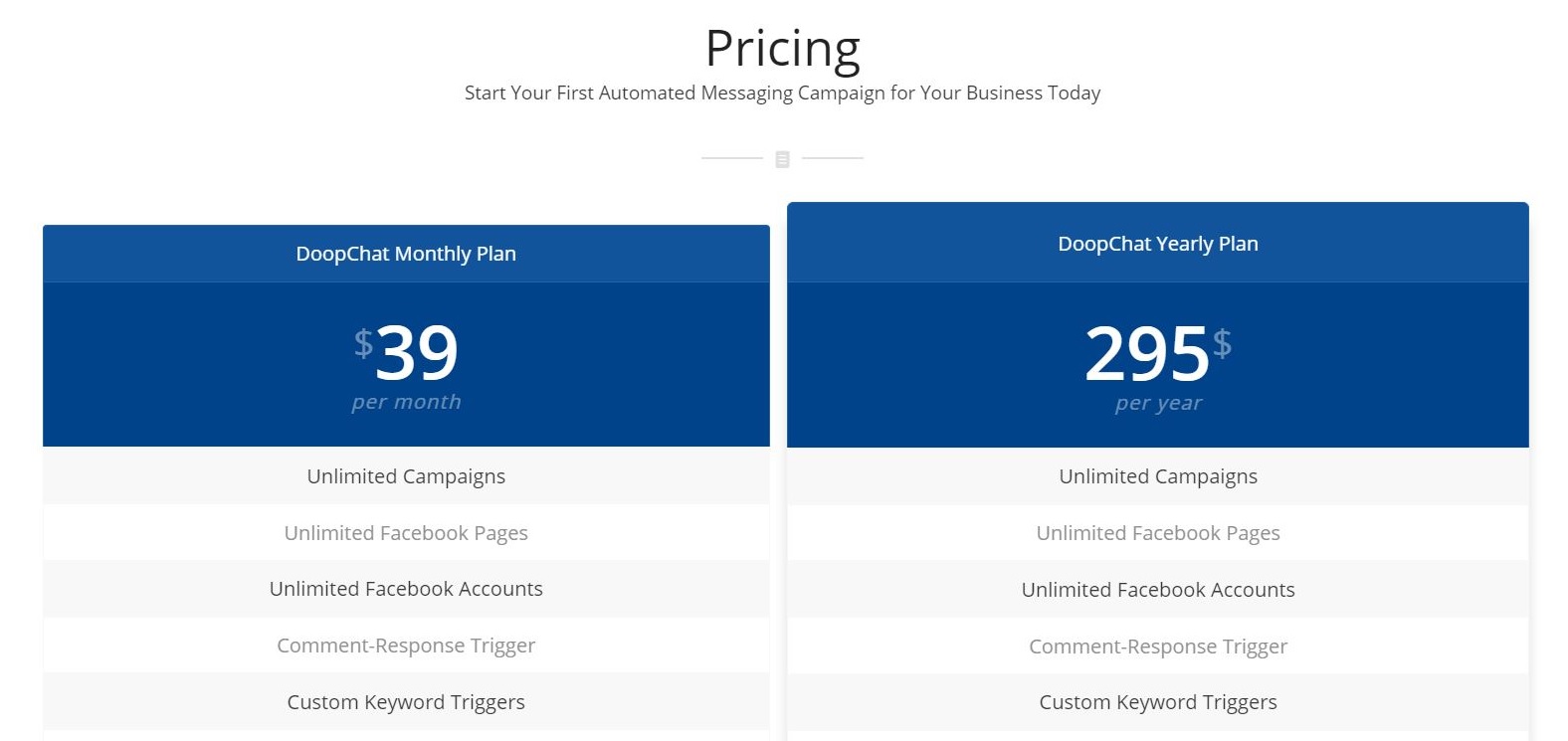 Next, you have to connect your Facebook account to DoopChat and then set up your new campaign.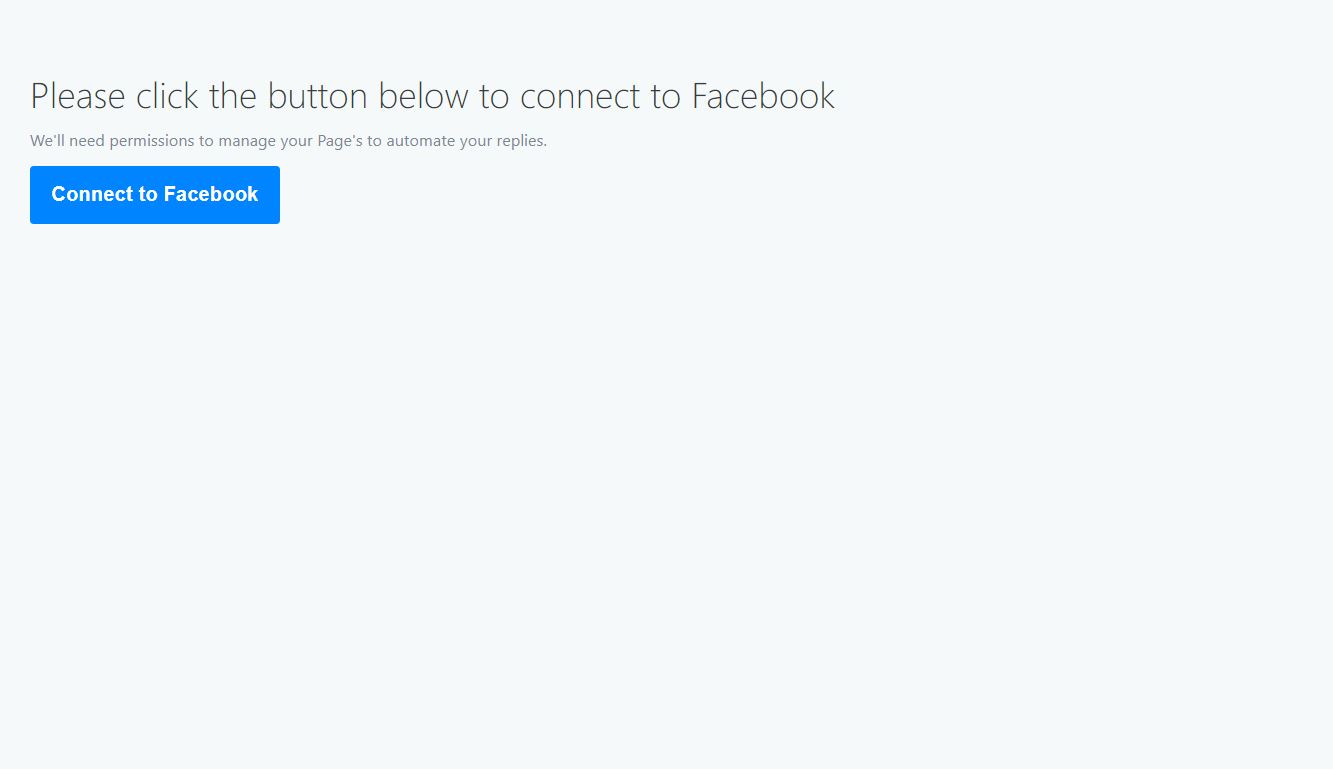 After connected, all of your Facebook pages are listed. You just choose the page you want to set up the automated reply.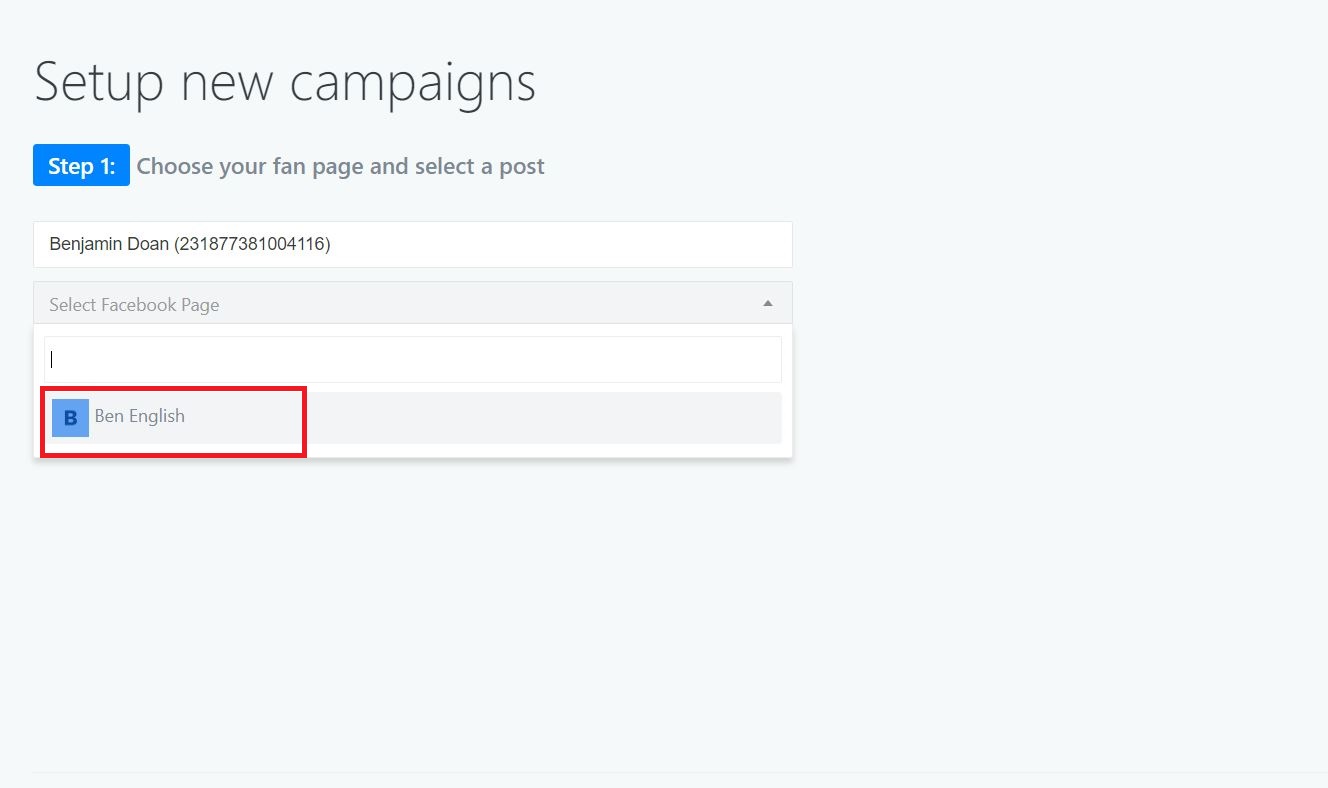 When everything is on the right track, you will see a list of your page posts displayed on the left corner. Choose one post and click Enable Private Replies button, you can set specific key words for each particular comment by choosing Reply if option. For example, when customers want to ask the price of your product, set the key word "how much" in the box.
Conversely, if you want to reply automatically no matter what the queries are, just click on Reply anytime option and type appropriate answers for their questions.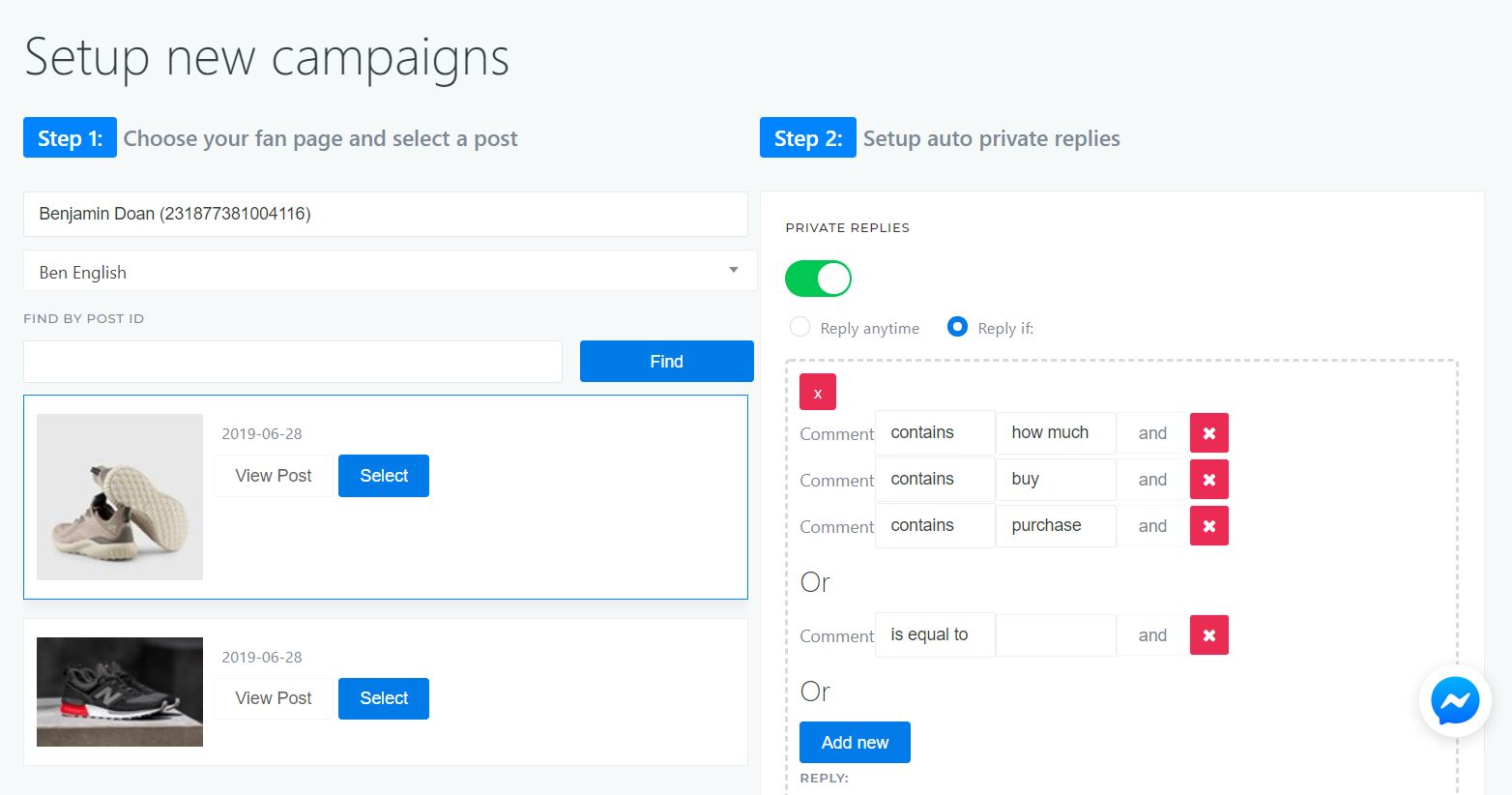 Things are the same for the remaining sections. Finally, click Save Changes.
Voilà. Done. Easy enough, right?
Live Chat Feature
A customer live chat is a small floating icon that usually appears in the bottom-right corner of a website. Like traditional live chat software, you can install a Messenger customer chat plugin on your website.
This plugin makes it easy for any website visitors with a Messenger account to have a live conversation with a human, leave a message, and interact with your Messenger bot.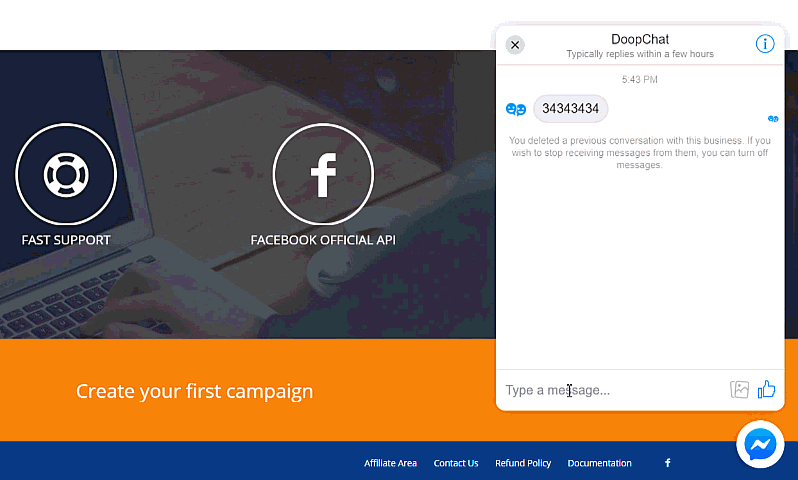 When I tested this feature, it seems to me that this is greatly useful for those who want to keep contact with customers and beneficial for dealing with all queries from clients.
Benefits for enterprises
In addition to the striking feature that replies automatically and privately customers' queries on any Facebook page posts and ads, DoopChat is also greatly beneficial for businesses to increase Facebook engagement and boost sales in a number of following areas:
This is my go-to business category in using DoopChat. I'm running an e-commerce shop selling street fashion items, specifically sneakers and T-shirts that are wildly popular in teenagers' taste today. For example, if customers comment which types of sneaker they prefer and tag their friends who also feel interested in this, they'll get a coupon for 20% off right into their inbox. Yay, super excited!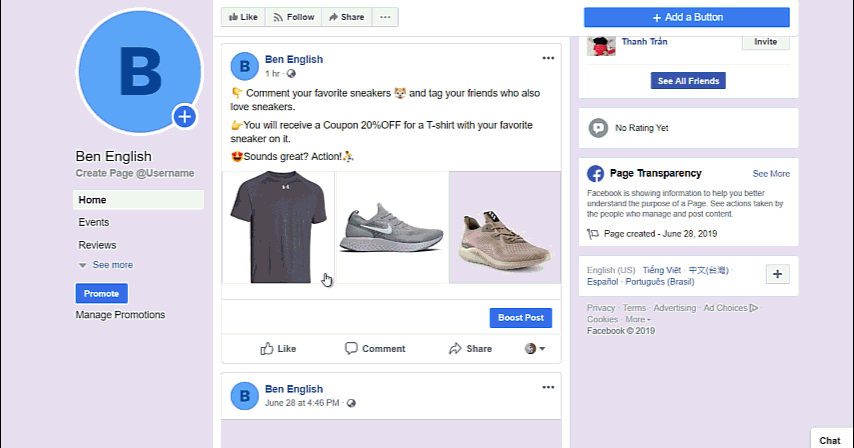 In addition to the above online boutique, the other section I'm running is the online French course for those who love learning another language besides English.
As demonstrated below, I can create a post asking people to tag someone who also has an interest in leanring French. Then, I will send the link forwarding to the sample lesson through Messenger or my website for further information about the courses as well as instructors.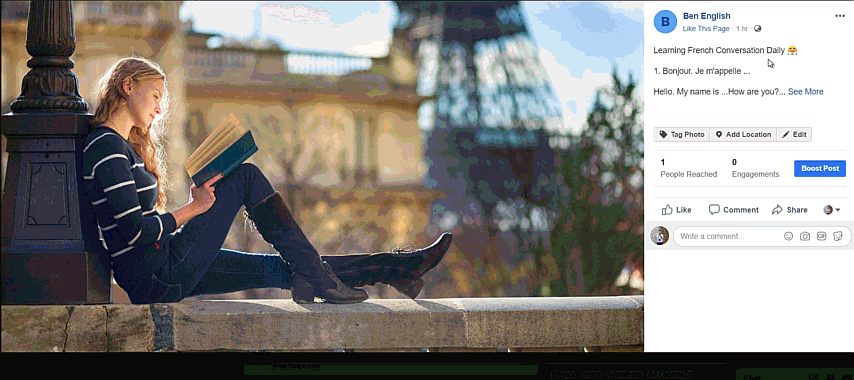 This is another interesting and fast-growing area that DoopChat aims at.
If you are a real estate agent, you can create a post containing a number of images or an album of a house or apartment and ask customers to write down their thoughts about the property as well as the price in the comment section. If possible, you can strike up a conversation and negotiate the price with them via Messenger.
You could compose a post with Yes No question to ask those who are inclined to seek or rent an apartment in a month. If possible, you can send the website for them to learn more about this. If no, you can ask them what type of real estate they wish to own?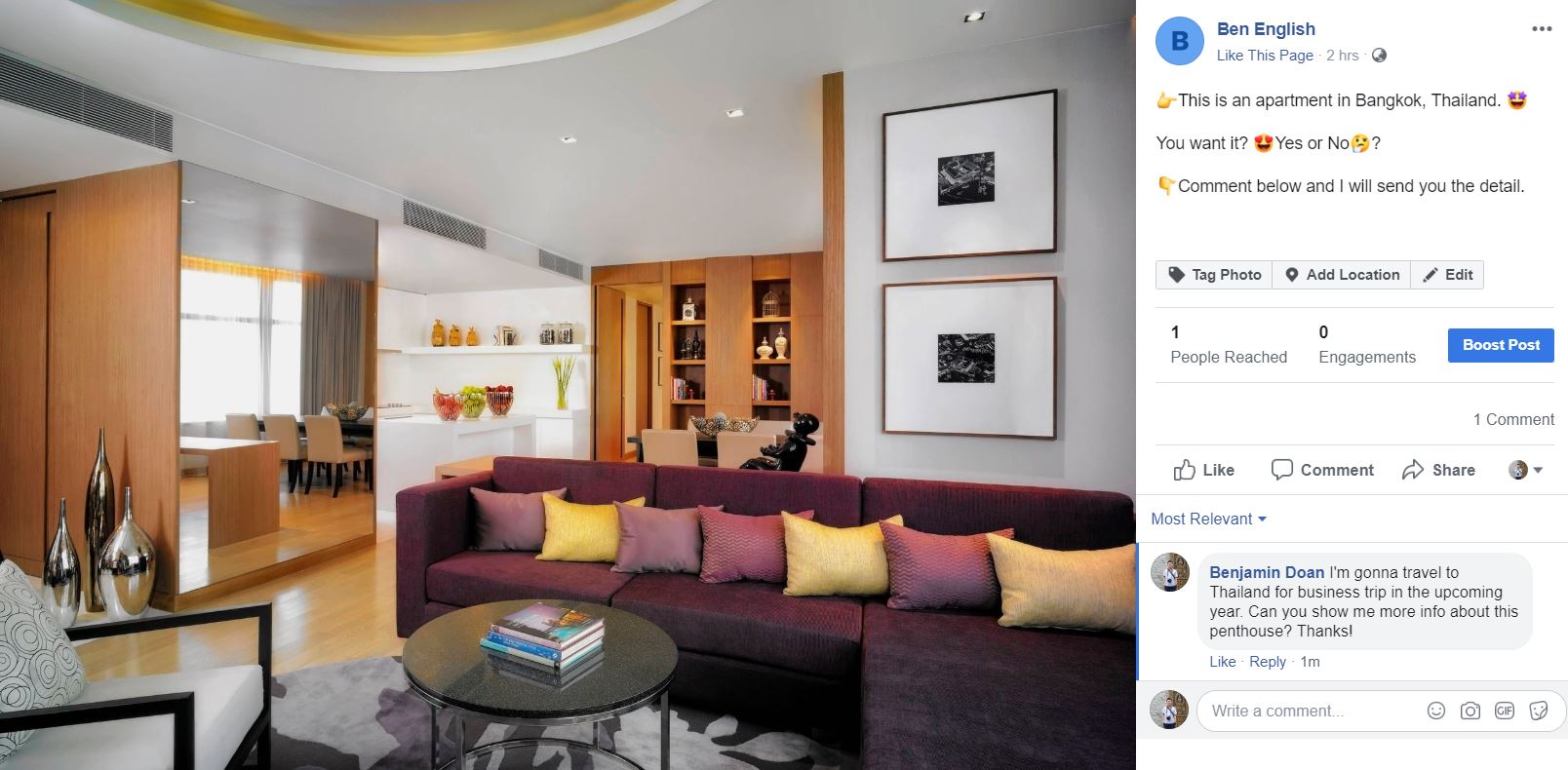 Another fascinating type of business sector you can use DoopChat to explore is restaurant. If you are using social network to operate a BBQ restaurant, just ask customers to comment or tag friends who have the same taste. You could set the private auto-reply with a coupon "Buy Two get One Free" to gift them. That way helps increase the chance of them coming to visit your store.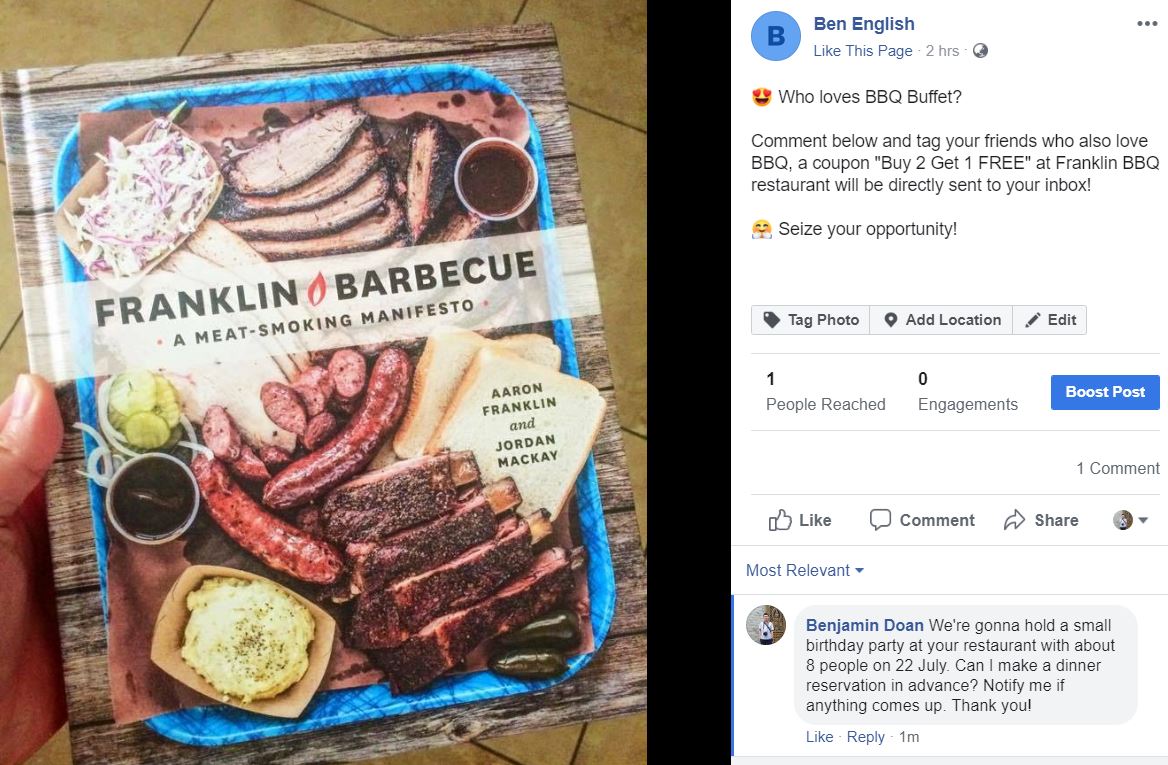 Other ways to increase Facebook page engagement
The following ideas are quite handy to help increase Facebook page engagement and boost sales for your business. As a result, you can attract and build up your potential and loyal clients.
Comment to receive a coupon or discount code.
Comment to get access to a webinar
Comment to get access to a case study or ebook, document
Comment to receive message containing secret link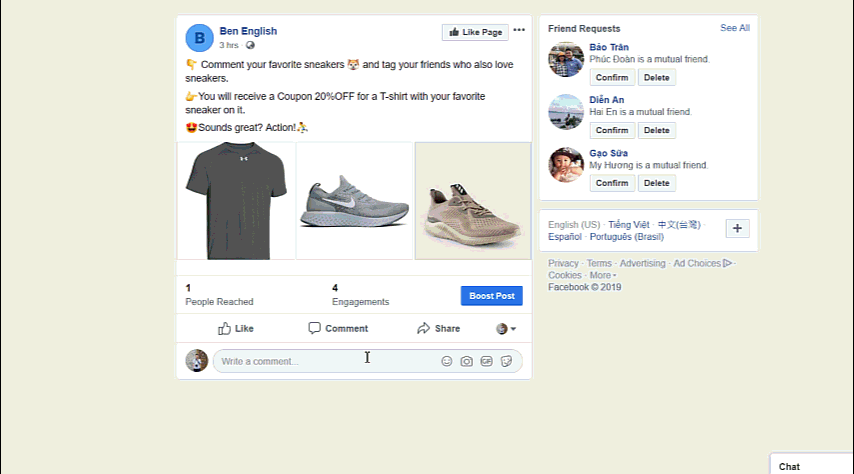 Final thoughts
DoopChat is such an amazing lifesaver with a great help of increasing Facebook page response rate and sharing custom coupons, promotions in conversations. With a massive support of live chat function, you are cultivating strong relationships with visitors and converting them into profitable clients.
It's obvious to say that DoopChat cannot be a full replacement for human interaction, they can be a reliable customer assistant to provide support and information instantly to customers.
So let's give DoopChat a shot today and see how it can help you handle your Facebook pages' comments.
Thank y'all and warm welcome from Ninja Team! 😊
https://ninjateam.org/wp-content/uploads/2019/07/doopchat.png
315
851
Benjamin
https://ninjateam.org/wp-content/uploads/2020/10/ninjateam-logo.png
Benjamin
2019-07-04 08:49:15
2019-07-05 09:31:29
Review DoopChat – An automated tool for your Facebook page comments