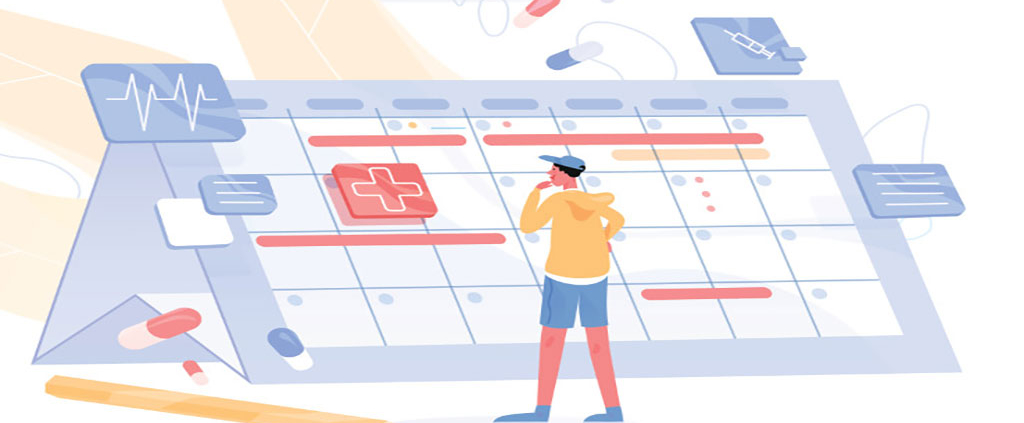 9 Essential WordPress Booking Appointment Plugins
I'll jump to the bottom line. If your company sets up reservations or appointments, you definitely need an online booking system. Period.
Operating a brick and mortar business is kinda outdated, right?
Whether you run a hairdresser or a restaurant, all you want is to make it easy for your customers to make bookings online. However, maintaining an online booking website is a complicated task.
It's vitally important to find an effective solution to serve our needs as well as grow our business to enhance the interaction with customers through booking process.
That's why today's article will be looking at 8 essential WordPress booking plugins to help you create an online appointment and booking management system and you might be amazed at how much these plugins can help.
Let's get started!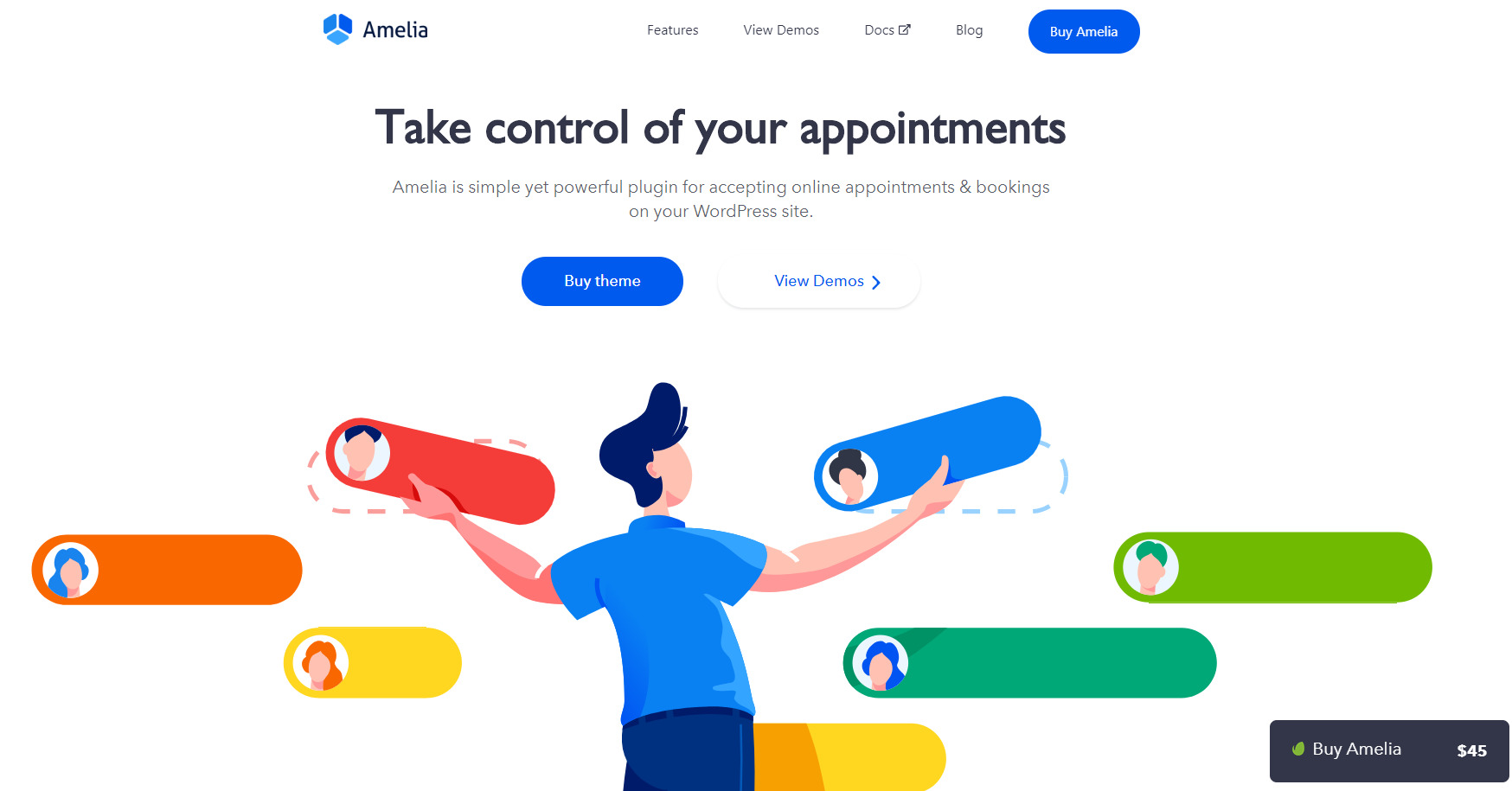 If you've been attempting to find an appointment booking plugin with a simple user interface for your service website, Amelia is an effective solution that's worth your consideration.
Amelia is an automated booking specialist which is a powerful and easy-to-use appointment booking plugin that's highly appropriate for many different types of business websites and you are able to manage your business with ease.
What makes this WordPress booking plugin stand out from its competitors is that it includes lots of features that are not commonly found in some other WordPress appointment booking plugins such as you can easily manage appointments at multiple business locations.
Here are some of the other businesses that are known to get the Amelia plugin:
Spas and salons
Gyms and personal trainers
Private clinics
Beauty salons
Psychologists
The tourism industry
Many more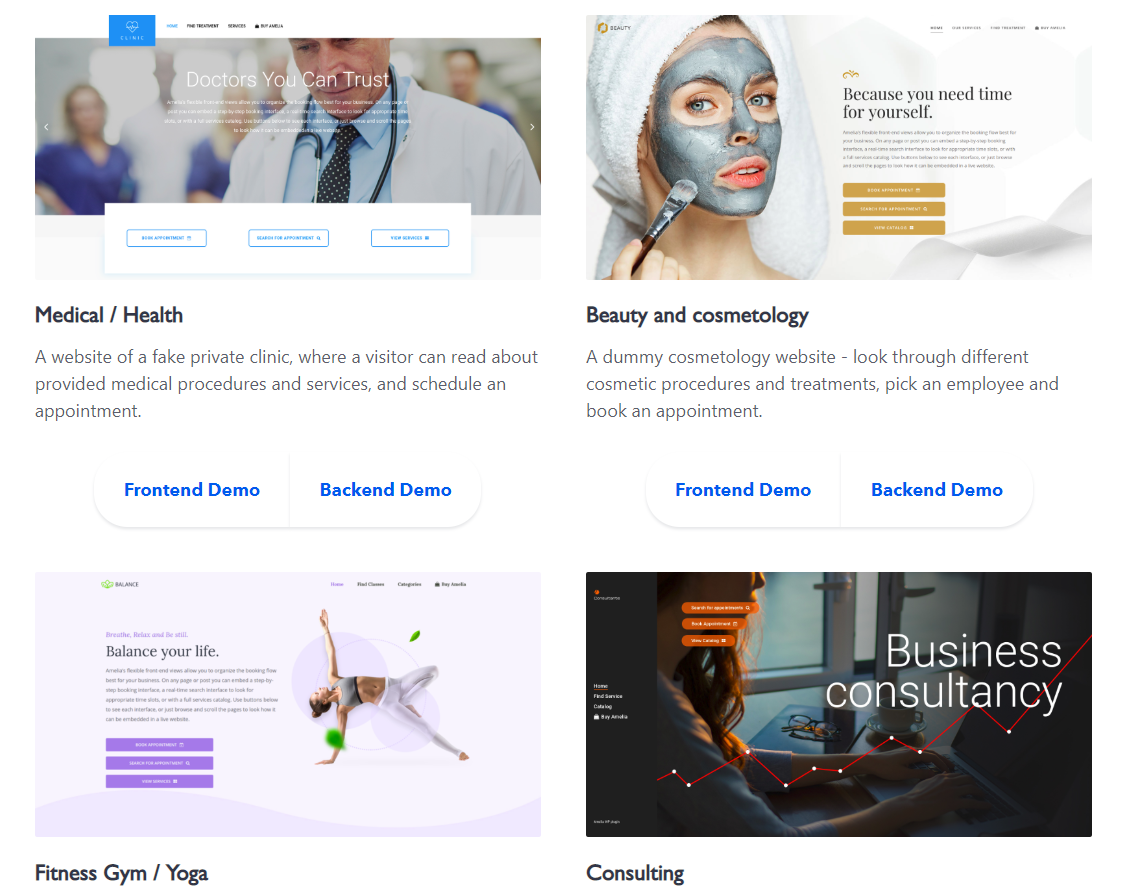 Another useful feature of this plugin allows users to add multiple services or types of appointments. This is therefore highly beneficial for you to offer a variety of services from your website, allowing your visitors to choose which ones to book.
Amelia can also manages multiple employees, who can each accept and handle their own bookings.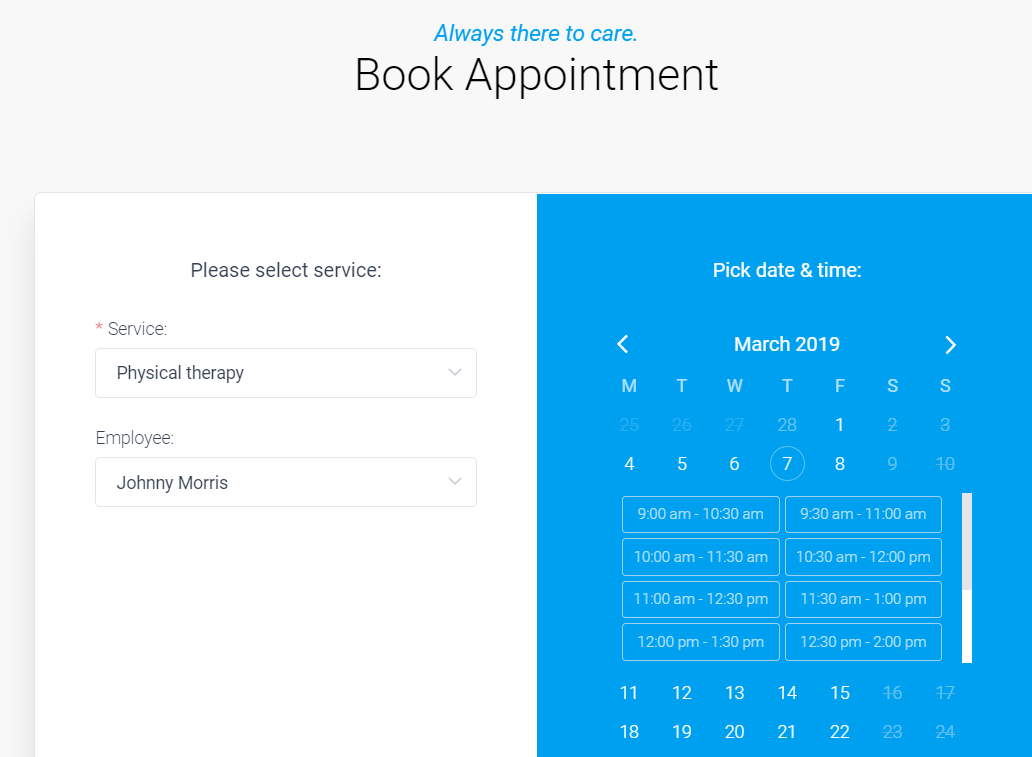 Additionally, this plugin allows you to make payment from your online appointment booking system through common payment services such as PayPal and Stripe that will make your payment process easier and effortless.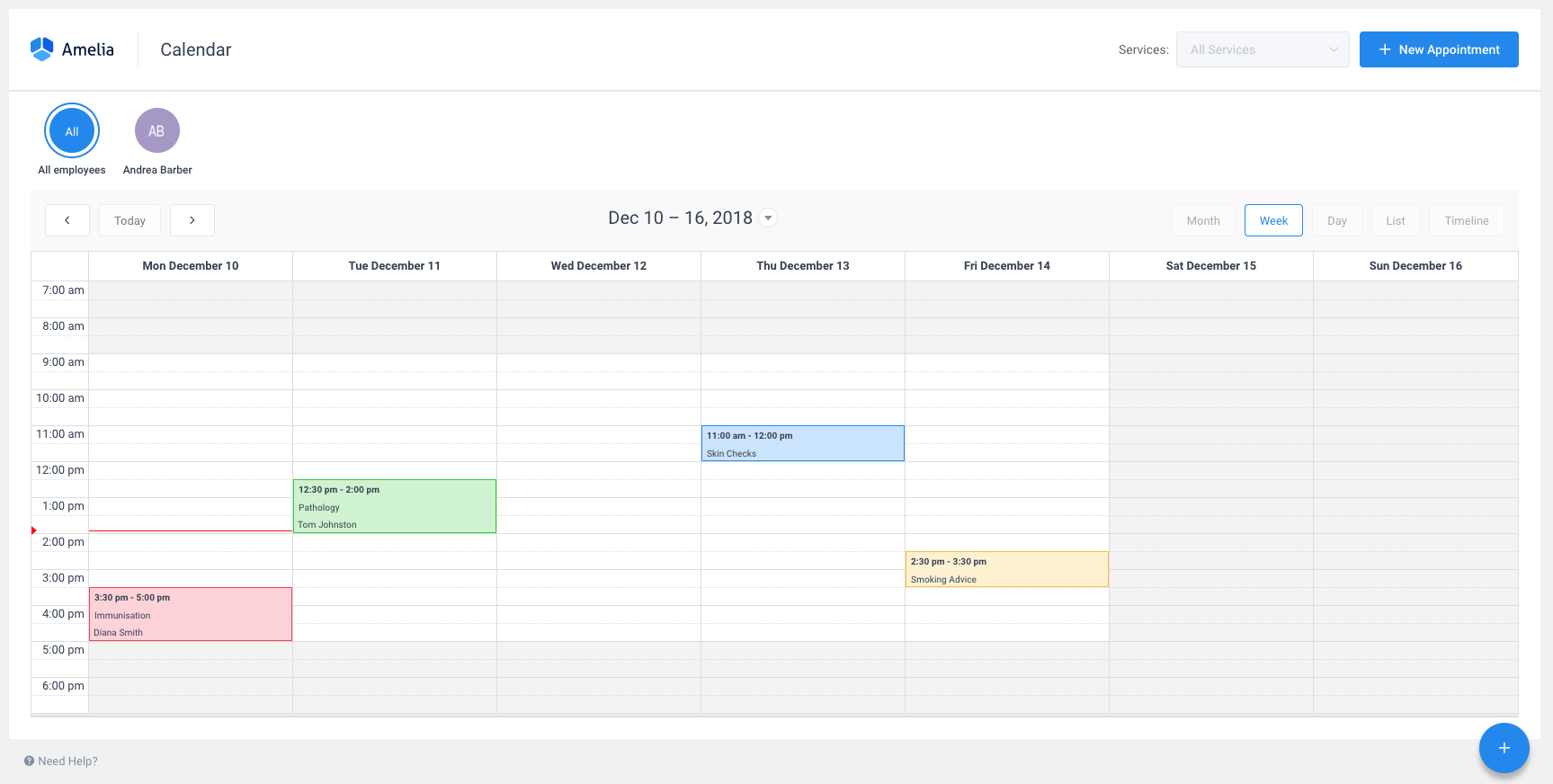 Overall, thanks to its long list of great features and support in various businesses and industries such as doctors, gyms, and salons, Amelia might be your most ideal tool in dealing with online booking system.
So, give Amelia a try and check out the demos before making your purchase.
Bookly Booking is one of the most used and popular WordPress appointment booking plugins that you can rely on. It is fully customizable and responsive with sleek design and modern and visually appealing.
One of the striking features that makes Bookly one of the prominent WordPress booking plugins is that customers have the right to pick their favorite employees with appropriate pricing.
Plus, making appointments on website with this WordPress booking is super duper simple because of its self-explanatory user interface. Especially, smartphone users will find it easy and effortless when it comes to booking appointments owning to the plugin's responsive design.
From the user end, they will slide across a quick following four-step process on your website:
Select the service with the options for categories and employees, if applicable.
Choose a date and time.
Enter personal details like name, phone, email, and additional notes.
Pay.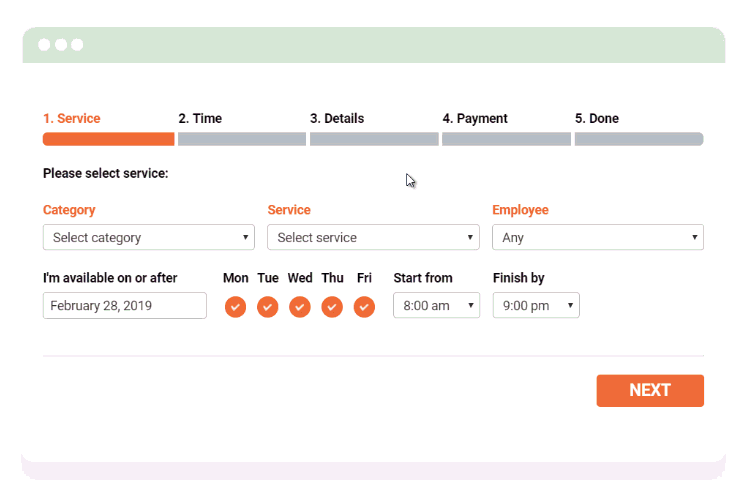 You can come up with more marvellous idea of how this powerful tool works by trying the online demo on the Bookly Booking Plugin webpage.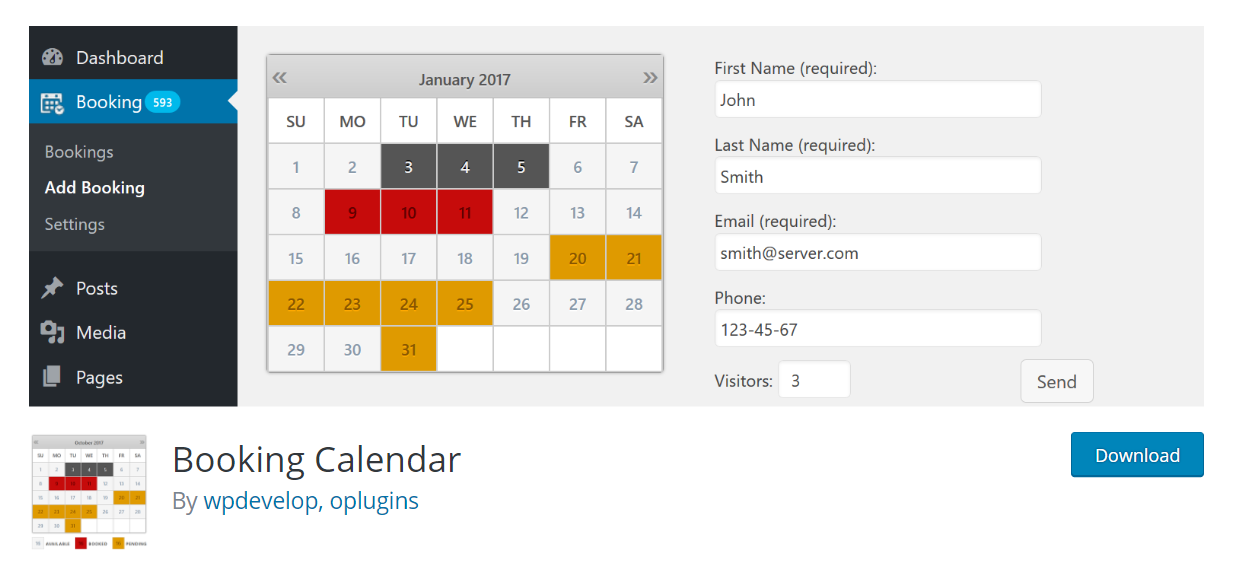 Booking Calendar is an ideal solution for those of you who are working in the hospitality industry. It is one of the most easy-to-use and free WordPress booking plugins on the market with a calendar view for both you and your website visitors. You can easily add your booking form into any WordPress post or page.
This WordPress appointment plugin is greatly powerful and provides various options that can be configured from the plugin's settings panel, namely built-in captcha to prevent spam, email notifications, jQuery effects, and more. Also, you can even customize the booking form with your own custom fields.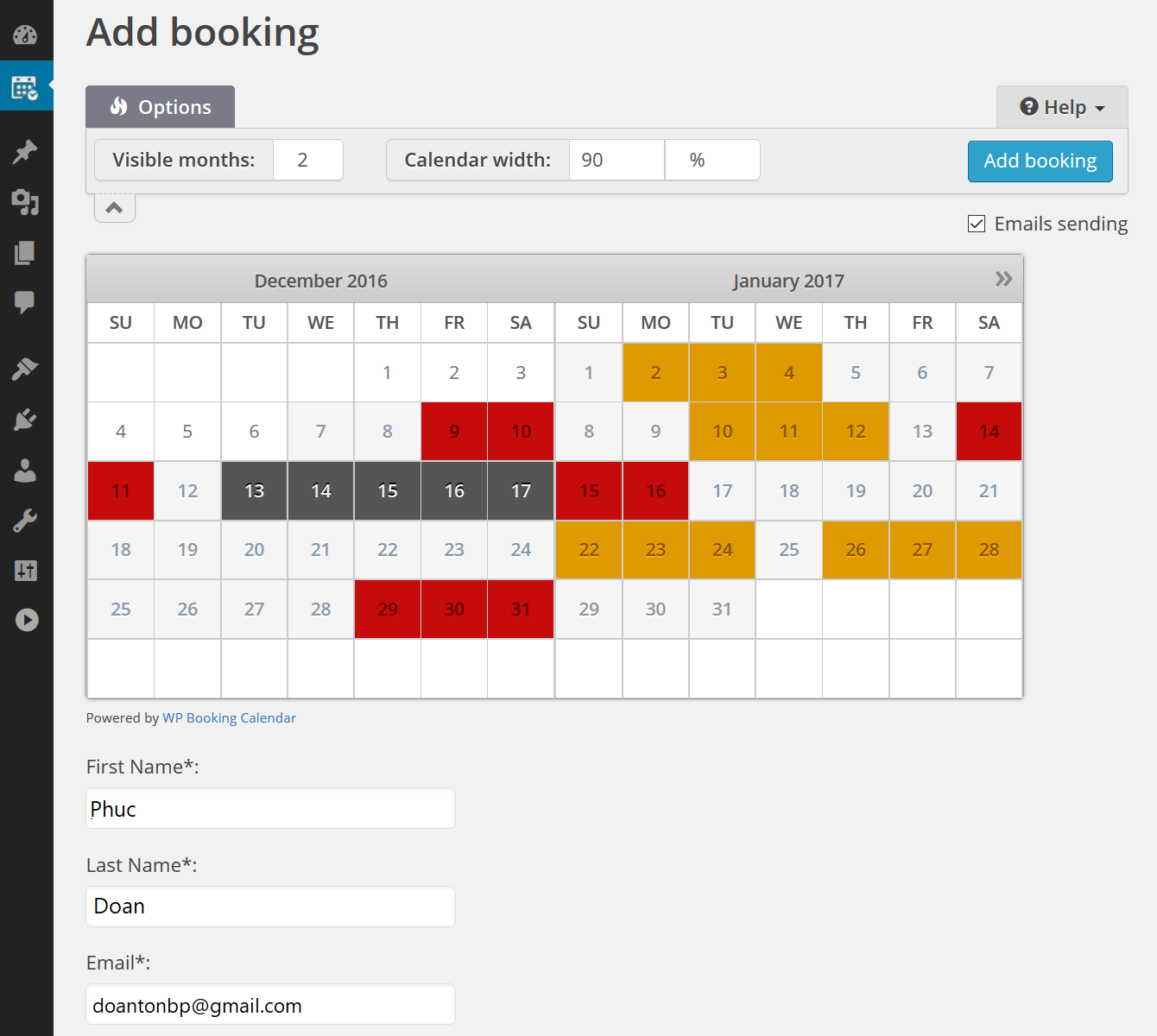 Booking Calendar works pretty well and responsive on both the front-end and back-end. For those of you who are not tech-savvy, you shouldn't worry about the plugin installation. All you need to do is insert the shortcode into a page or post on your site and voilà. It's done.
In addition to appointments, this plugin is commonly used to book stays at hotels, resorts, or a bed and breakfast and that is the predominant feature of this plugin compared to other WordPress booking plugins because of its system design for days-long booking accommodation.

Booking Calendar supports multiple languages so that you can accommodate website traffic that's coming from other countries.
The plugin is also compatible with third-party booking platforms such as Booking.com and TripAdvisor in order to make sure that your availability dates are always updated.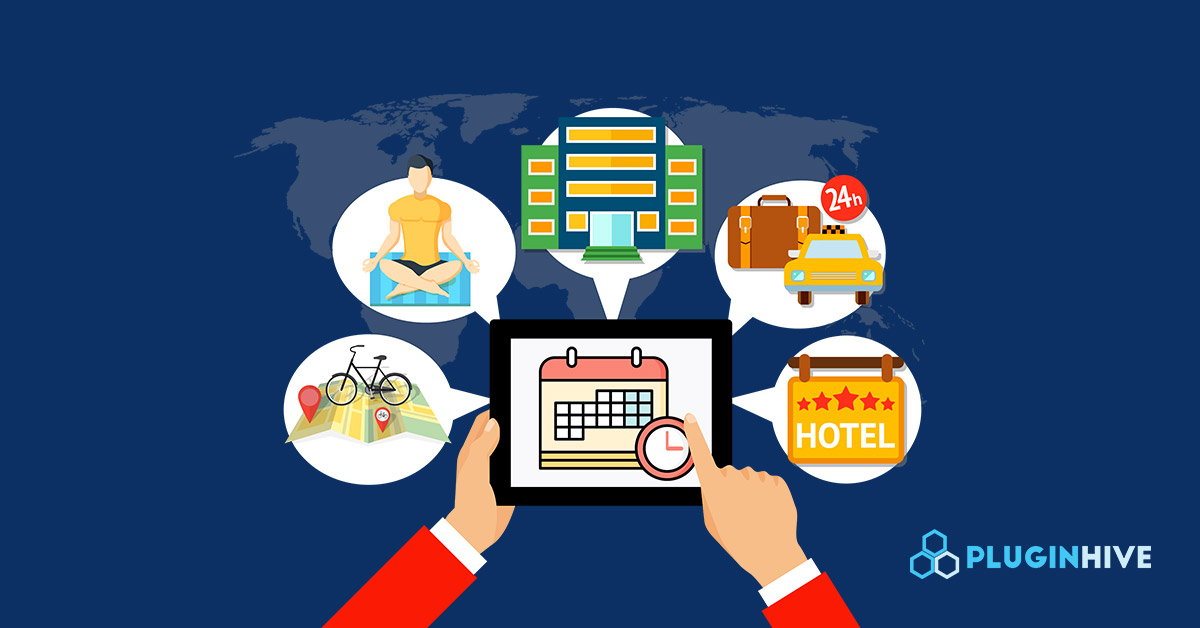 If you are struggling to find the finest bookings and appointments handling tool for your online business WooCommerce Bookings & Appointments plugin is best suitable to run your WooCommerce booking businesses without having any difficulty.

This booking solution seamlessly works with WooCommerce and offers single & multiple-day bookings, bookings with start and end dates, recurring, adjacent, and non-adjacent bookings, etc. You can even set up bookings based on time, date, days, hours as well.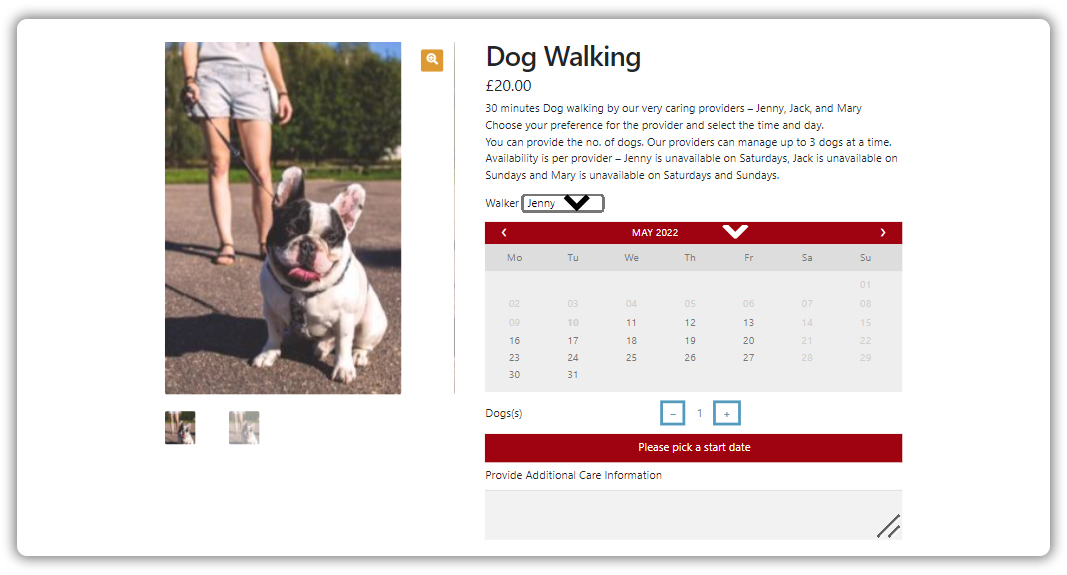 What makes this plugin stand out from others is its usable functionalities & user-friendly. Here are the some of the business cases where this plugin definitely helps:

Online Diving Adventure

Events booking

Online Bike/ Car/ Boat rental

Spa and saloon 

Wind testing session

Dog Walking & Overnight Pet Care

Indoor Arena Rental

Hotel booking 

Online Course booking


This plugin is compatible with WooCommerce Bookings Addons and easily integrates with other plugins like WooCommerce product addons and WooCommerce deposits plugin to handle partial payments and deposits

This plugin integrates with some of the most popular WooCommerce solutions like Product Addons, WooCommerce deposits, Multi-Currency Switcher, WPML, recurring bookings, etc

WooCommerce Bookings & Appointments plugins offer the following functionalities 

Emails notifications and remainders 

Set booking confirmation and cancellation

Two-way google calendar sync

Buffer time between bookings 

Booking Search widget

Calendar design customization and many more
If you are looking for a booking tool that is handy and feature-rich, try WooCommerce Bookings & Appointments plugin today.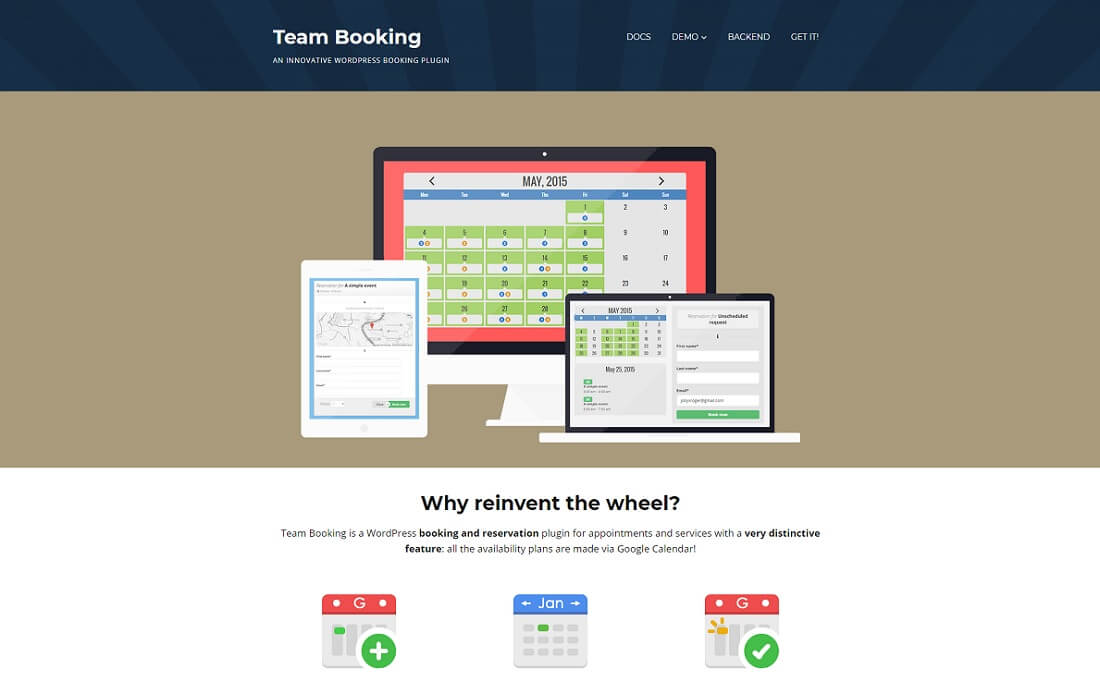 Team Booking Plugin is a newly released WordPress plugin that definitely seems to be a promising product launched by CodeCanyon. This WordPress booking plugin also comes with a user-friendly interface that allows you to manage bookings and appointments.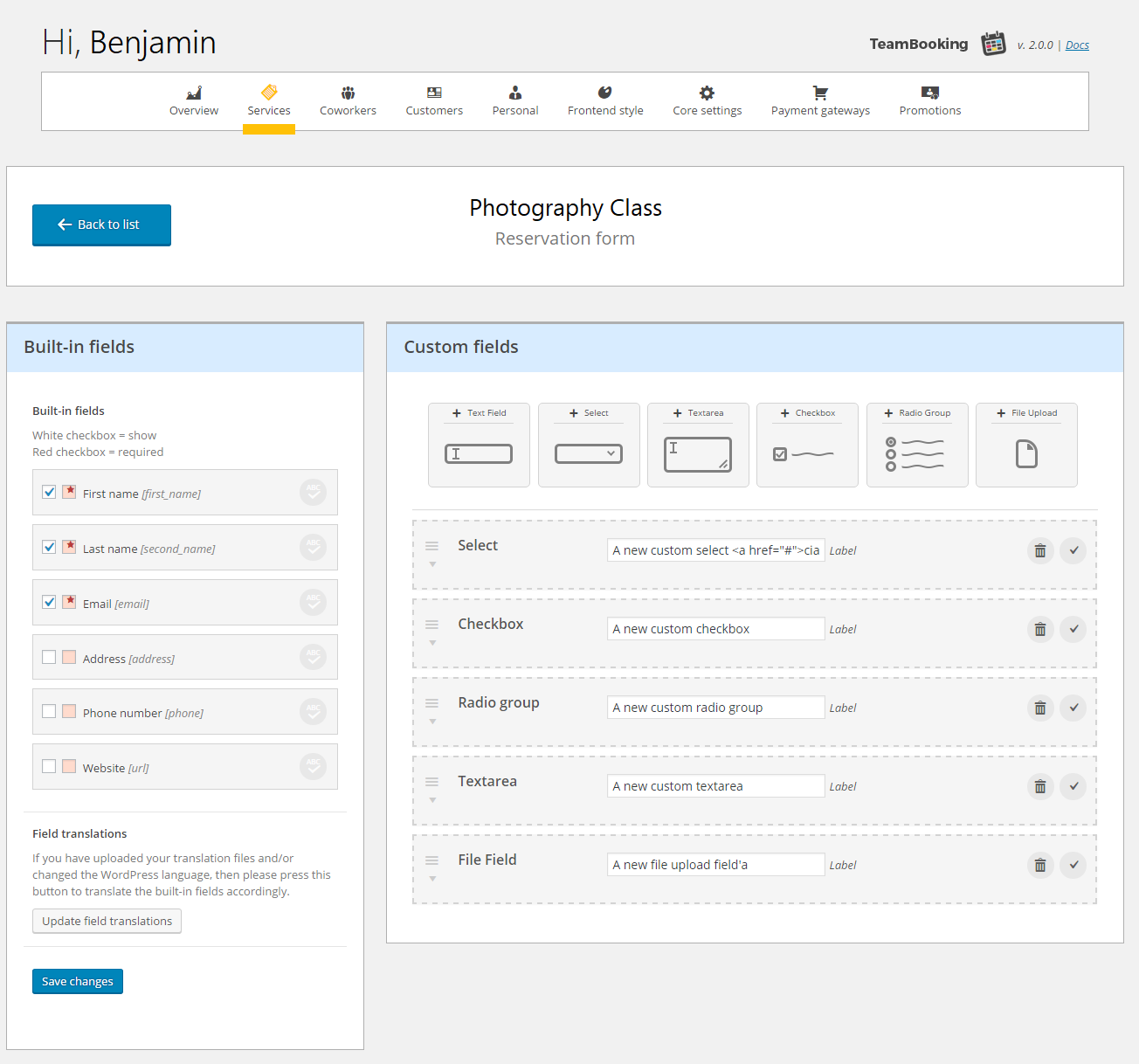 One of the striking features is that it links to Google Calendar and uses the tool to check the availability with it.
You can set up the plugin by the following three simple steps. First, you create an event in Google Calendar. Second, with the creation of an event, a free slot opens on your site's calendar. Finally, the event is updated instantly when someone makes booking.
Additionally, you can arrange for payments with this WordPress booking appointment plugin as well as it is supported by PayPal and Stripe.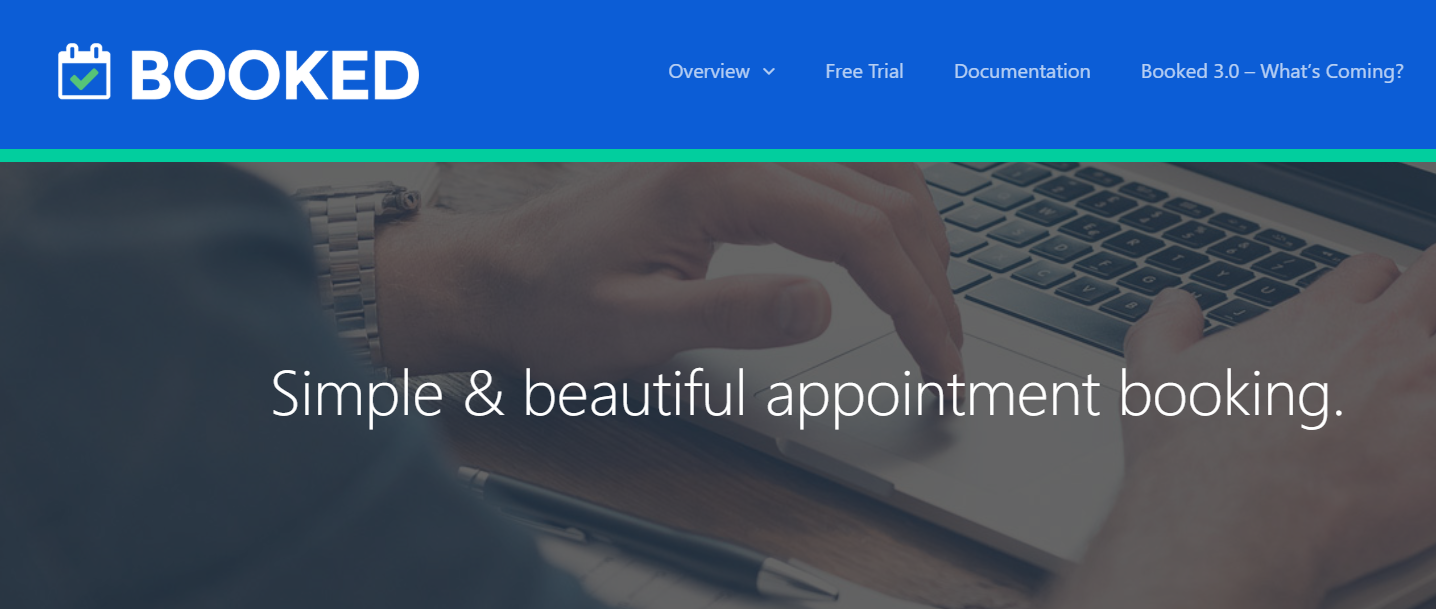 Booked is another popular WordPress appointment booking plugin that lets you create a modern looking and functional appointment booking calendars. It is simple and goes straight to the point with a stunning calendar that you can edit your website's design.
With this plugin, customers will find it easy to schedule appointments on your website with the support from a bunch of great add-ons like integrating payment options with WooCommerce, calendar integrations with Google Calendars, to name just a few.
This WordPress booking appointment plugin is such a wonderful choice for beginners because you don't need to worry about any custom coding. The interface is transparent and easy to navigate.
Plus, Booked gives you the option to manage calendars for multiple members of your staff. Let's say that you own a hardware store, so customers can book with their preferred technician online with ease.
The plugin provides a smooth UX and outstanding performance, so you definitely have no obstacles in dealing with setup and configuration.

EDD Bookings is certainly another top WordPress booking appointment option to consider. In addition to booking standard services, this plugin is also helpful for those of you who provide rentals.
If you are running a business that offers services on the beach like renting out bikes, skateboards or surfboards by the hour, this booking plugin is super useful for use to manage all of these via your website.
So customers can make appointments or rentals on your website with EDD Bookings in just a matter of seconds. All they need to do is:
Choose the appointment type or equipment type.
Pick a date.
Select a time.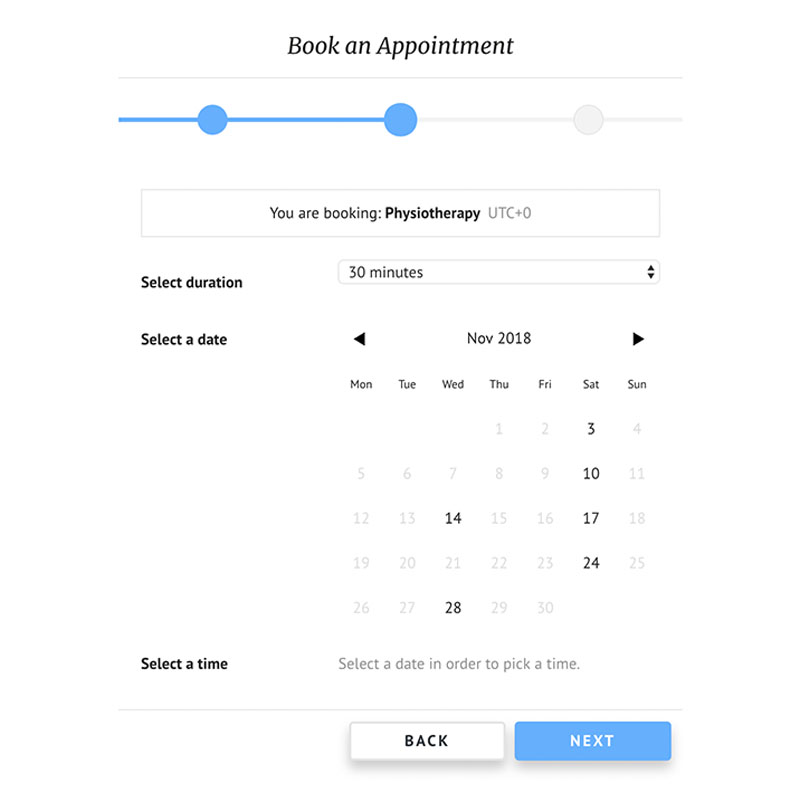 Done! Simple as that.
You can manage all of your appointments in one place effortlessly through different calendar views. Specifically, they provide you with details for your day, week, and month. You can highlight your appointments with different colors as well keep track of different types of services.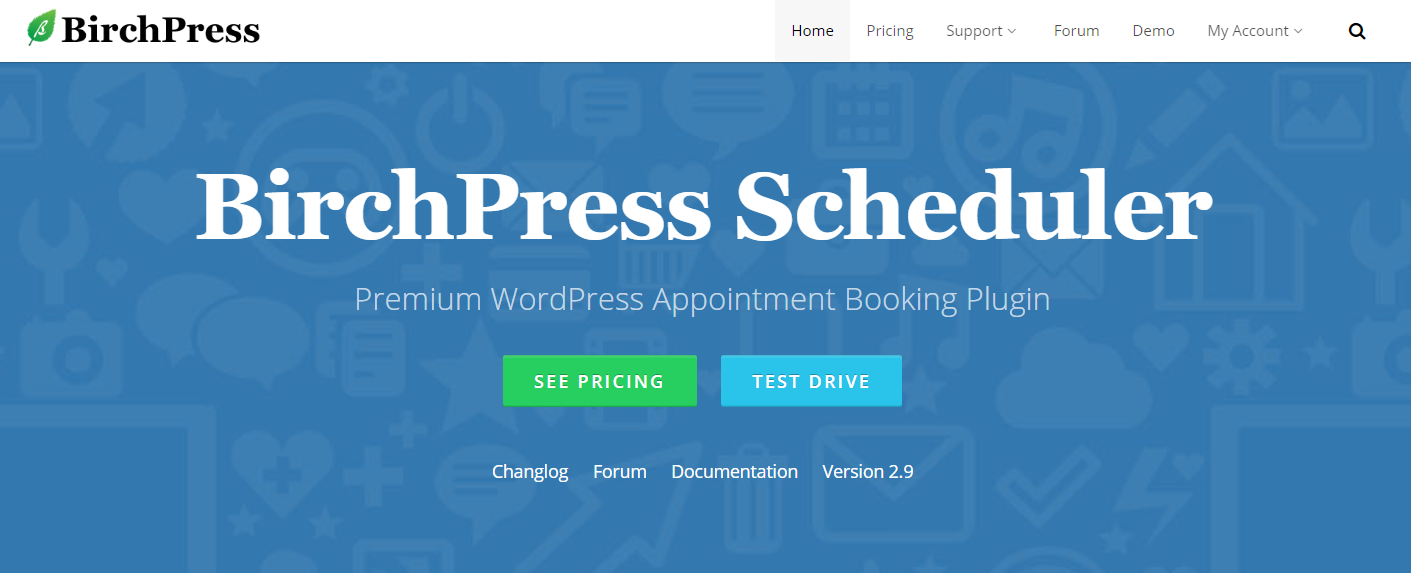 Do you want to add an online booking system on your WordPress site?
BirchPress is one of the most popular, user-friendly WordPress appointment and booking plugins available on the market.
This booking appointment plugin is another fantastic and powerful weapon for appointment bookings that allows you to create a booking calendar with different providers, services and locations.
The plugin's user interface is pretty minimalist and easy to get familiar with, making adding a service appointment booking facility to any WordPress site at ease.
BirchPress also allows you to create online appointment forms on your WordPress site easily, so your visitors can check availability, book appointments, or make reservations online. It's therefore an ideal scheduler plugin that lets your users to easily make appointments on your site without your direct engagement.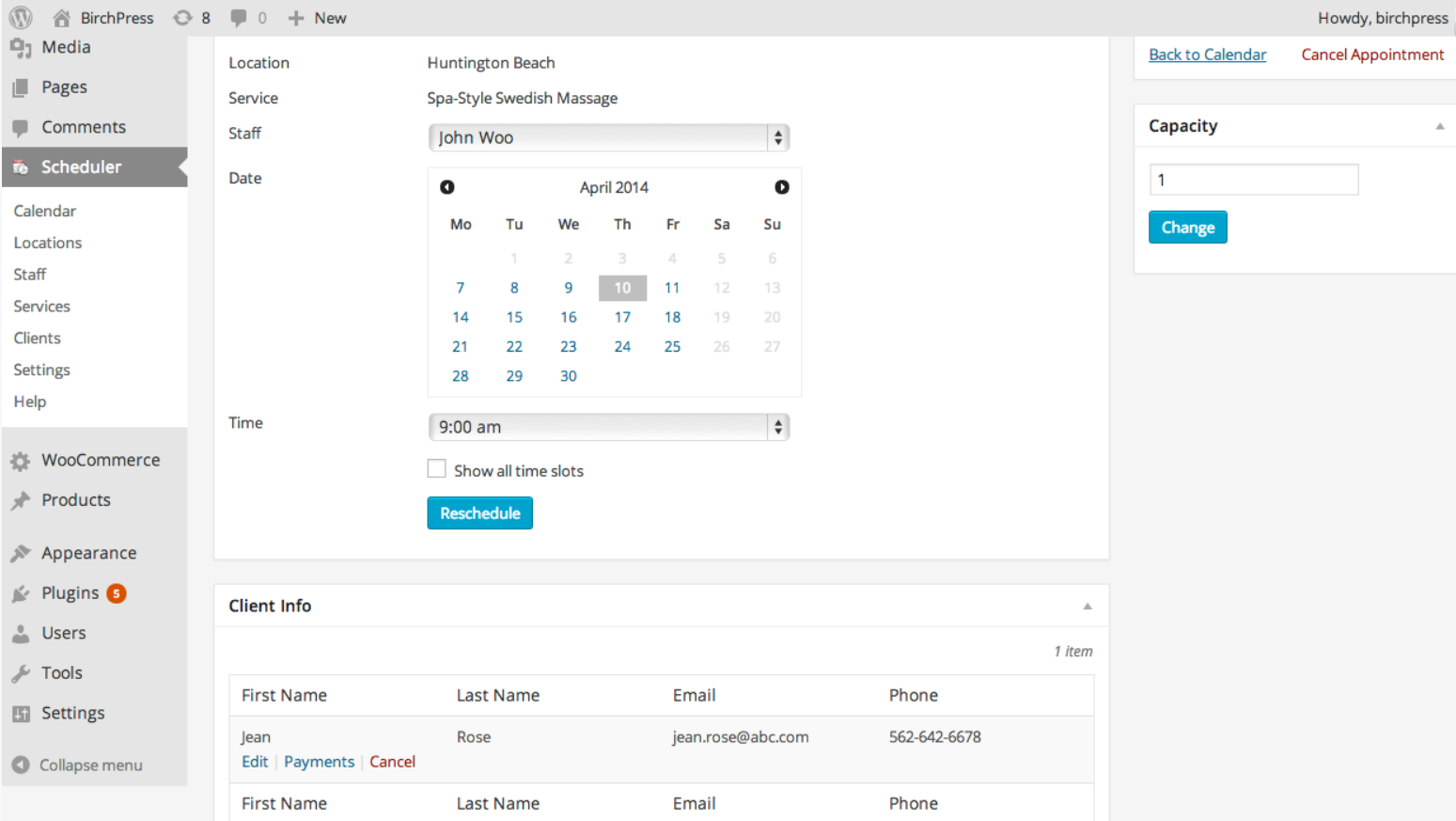 The plugin also syncs and is compatible with your booking calendar with other calendar services you are already using like Google Calendar, iCal, iPhone, Android, or Outlook. You can, therefore, send notifications and reminders via email to your customers when the appointments are booked, rescheduled, or canceled.
Overall, BirchPress Scheduler is a must-have and highly-recommended booking tool if you are looking for an effective WordPress appointment booking plugin that can deal with multiple locations, services, and members of staff.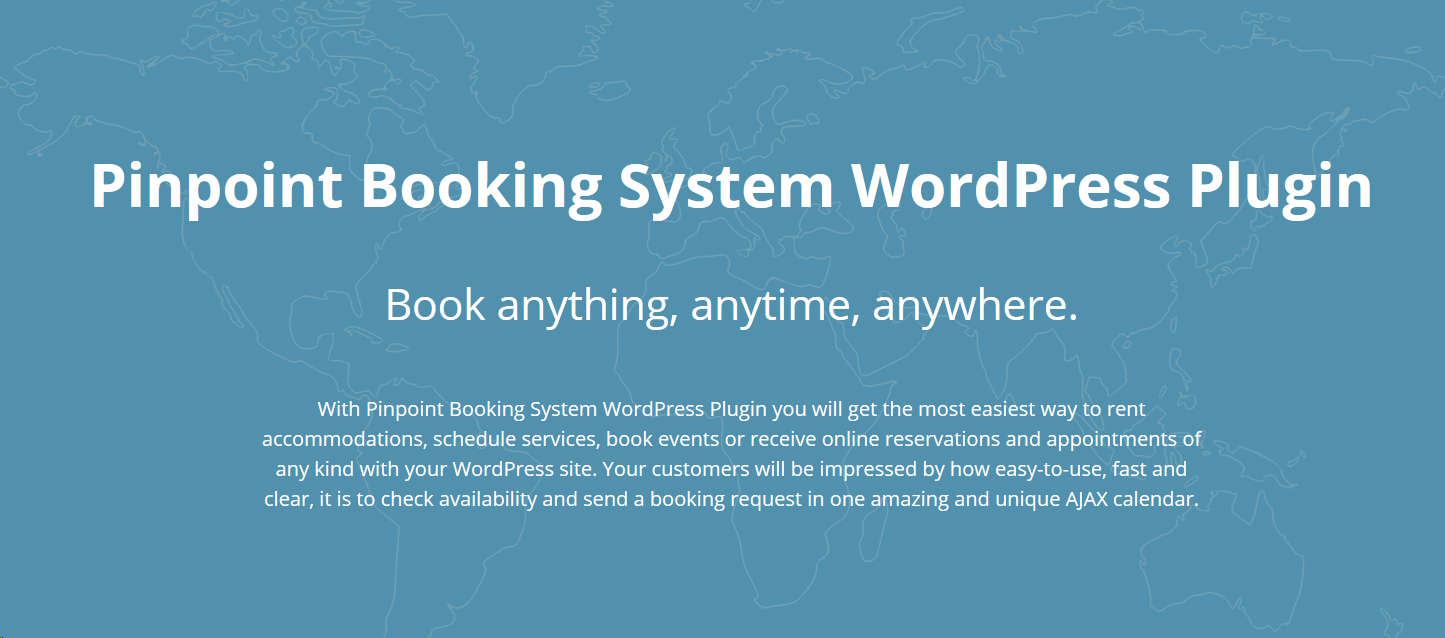 PinPoint Booking System is the last powerful WordPress booking plugin in today's collection. This WordPress booking plugin is mainly focused on renting accommodation, but it is also suitable for booking appointments, scheduling events and other similar activities.
Here's the plugin's tagline:
"Pinpoint WordPress Booking Plugin is the easiest way to rent accommodations, schedule services, book events or receive online reservations and appointments of any kind with your WordPress site."
The most noteworthy feature of this booking plugin is the ease of use, as well as the clean interface that is self-explanatory.
Plus, what makes Pinpoint Booking System stand out is obvious in its name. Specifically, it allows you to share the specific location of the business on the Pinpoint website that will be useful for customers to reach that place with ease and comfortably.
This is the reason why Pinpoint is appropriate for renting rather than for events such as renting villas, hotels, and other types of accommodation. However, this booking plugin can also be in harmony with doctors, lawyers, dentists, gyms, spas and other similar businesses.
Another essential point of this plugin is its super easy booking process that makes your customers feel at ease when scheduling their appointment or making reservations. Interestingly, the WordPress booking appointment plugin also enables you to create promotions, coupons, and discounts that will drastically help bolster your business.
If you want to know more about useful coupon plugins to boost sales of your online store, please check out our top WordPress coupon plugins.
Last but not least, this great booking plugin is wholly compatible and fully optimized for mobile devices no matter what the screen size of the devices.
WooCommerce Booking Plugins
Most of the above plugins work with the core WordPress plugin, which is excellent for most people. However, what if you already have WooCommerce installed and set up for your online shop and would like a plugin that integrates with WooCommerce directly.
Some of the above plugins, such as Bookly, Amelia and Pinpoint already integrate with WooCommerce.
But there are other plugins that can integrate and work specifically with WooCommerce, such as the official Bookings and Appointments plugin directly from the WooCommerce site.
For more information and details about such plugins, check out the following article: 9 Best WooCommerce Bookings Plugins for Appointments Scheduling by CollectiveRay.
Final thoughts
In this article, we have tried to present you 8 of outstanding WordPress booking appointment plugins. On the one hand, they are all similar in regard to easy-to-use workflow, well-designed user interface, or excellent booking appointment services, but on the other hand, some of them possess unique features that make them stand out from the rest.
Do you have any experience with the plugins we have written about? What is your favorite? Any say about these? Please leave your comments down below.
https://ninjateam.org/wp-content/uploads/2019/03/best-woocommerce-booking-plugin-free.jpg
512
1024
Benjamin
https://ninjateam.org/wp-content/uploads/2020/10/ninjateam-logo.png
Benjamin
2019-07-05 09:05:28
2023-03-14 15:50:20
9 Essential WordPress Booking Appointment Plugins