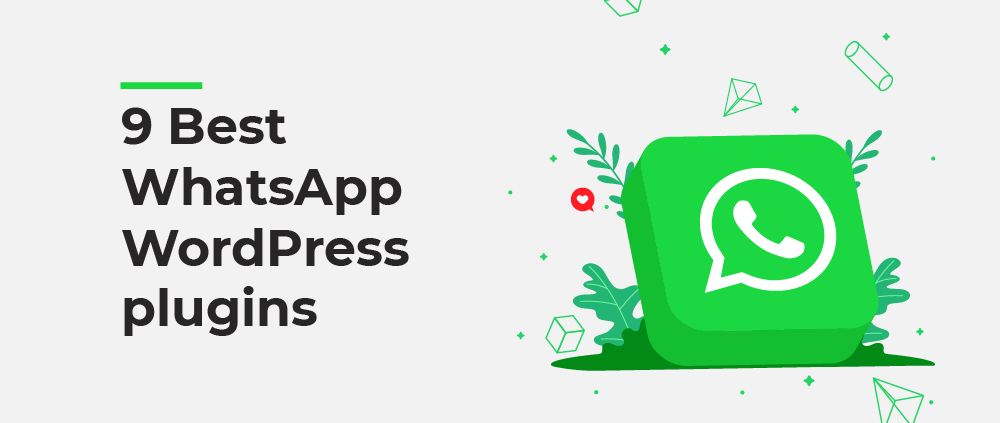 9+ Best WhatsApp WordPress plugins
Are you trying to achieve more or better exposure for your blog posts or website? If you want a proven way to attract more traffic to your site or blog, you have to connect it to various social networking sites. Doing this is easy when you use WordPress, thanks to the wide array of WhatsApp plugins that are now available.
Keep in mind, if you ever reach a point where you believe you have too many old, out-of-date apps installed, application rationalization can help by updating or eliminating unneeded or outdated apps you still have installed.
Keep reading to learn about the top WordPress WhatsApp plugins you can use today to help achieve your goals and propel you towards success.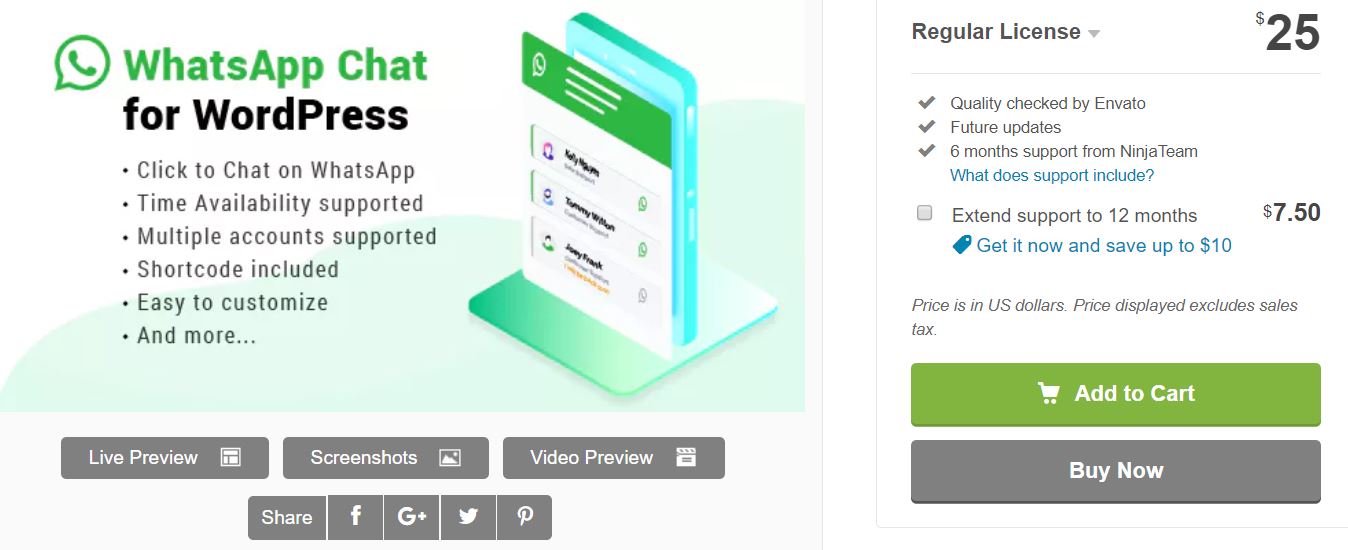 WhatsApp is a massively popular tool. Once you integrate WhatsApp into WordPress, you can allow the service's billions of users to connect with you and share your content through WhatsApp.
WhatsApp Chat WordPress is a simple and user friendly WordPress plugin that brings WhatsApp experience to your websites and allows you to come back to your customers/clients via WhatsApp on your WordPress website.
This plugin allows you to display a click to chat button, widget, web beason, WooCommerce WhatsApp button to your site. WhatsApp Chat WordPress is definitely your next secret weapon to help connect and interact with your clients anytime, anywhere by providing support promptly as well as strenghthening customer loyalty.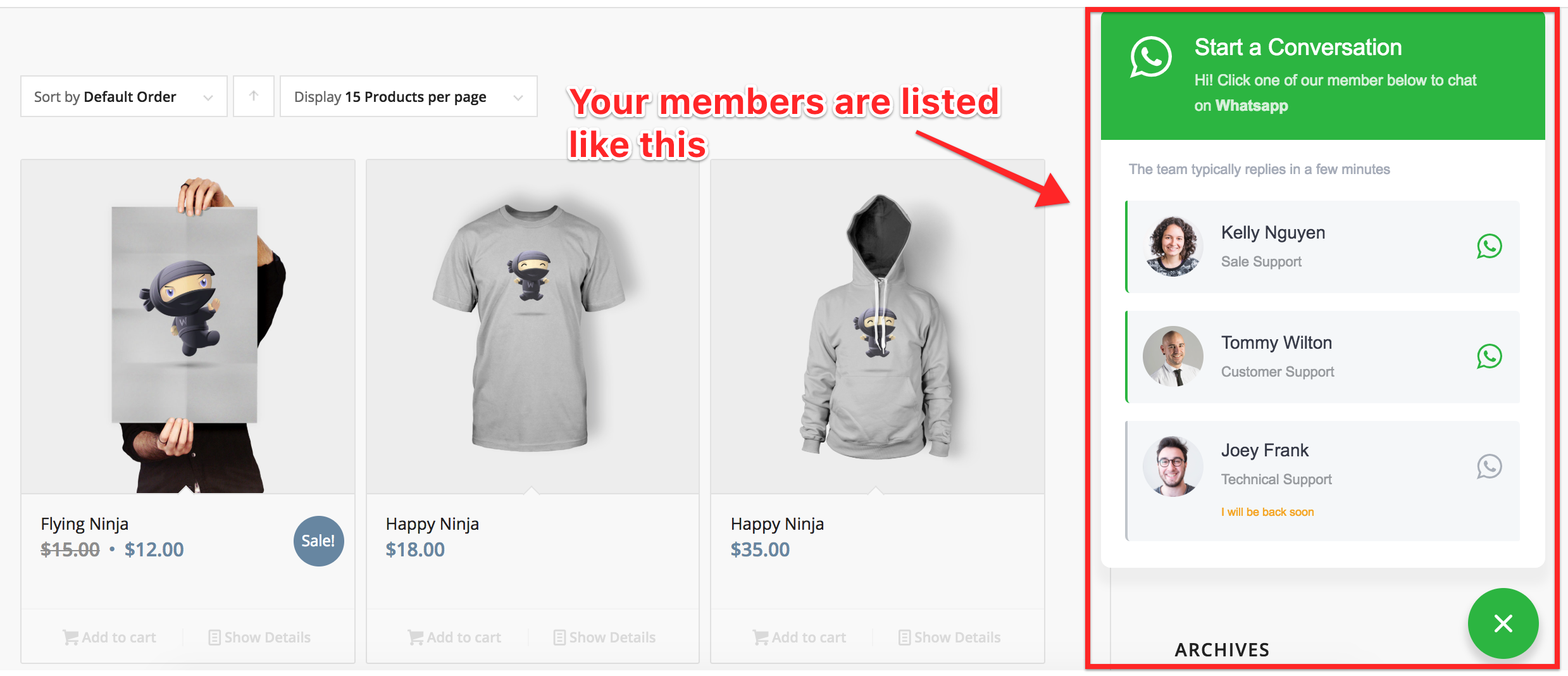 There are many features to focus on, with some of my favorites including:
Support multiple accounts
Easily personalize
Shortcode included
Works in realtime and compatible with all caching plugins
After installation, you can personalize where to put the WhatsApp widget or button on your WordPress site. It can be showed up on all pages or only desired pages you set.
After installing the plugin, you have all settings in hand to customize a WhatsApp widget or button on your WordPress site by adding member accounts or support agents with phone numbers or group chat links.
WhatsApp Chat WordPress is a lightweight yet configurable WordPress help chat plugin that makes it easier to integrate a floating WhatsApp chat button into your WordPress site. It will always stay at the bottom of the webpage no matter how you scroll down or up the website.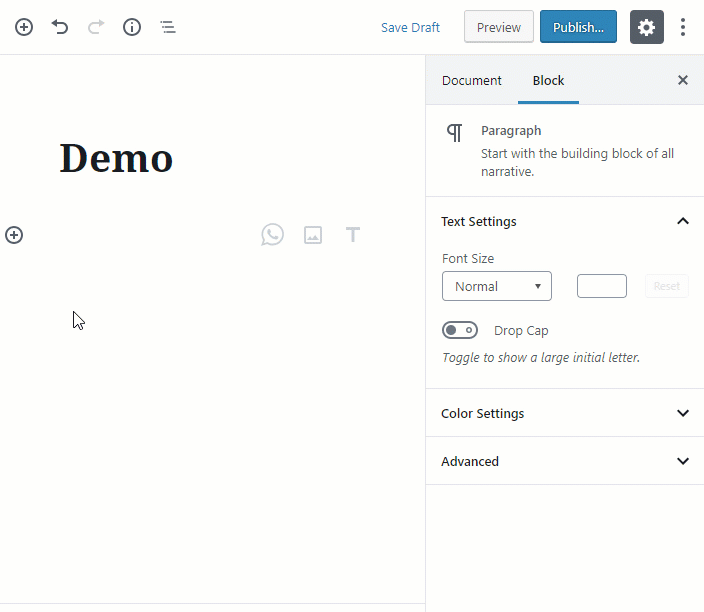 Let's join in conversations with your customers anytime anywhere and give it a try today!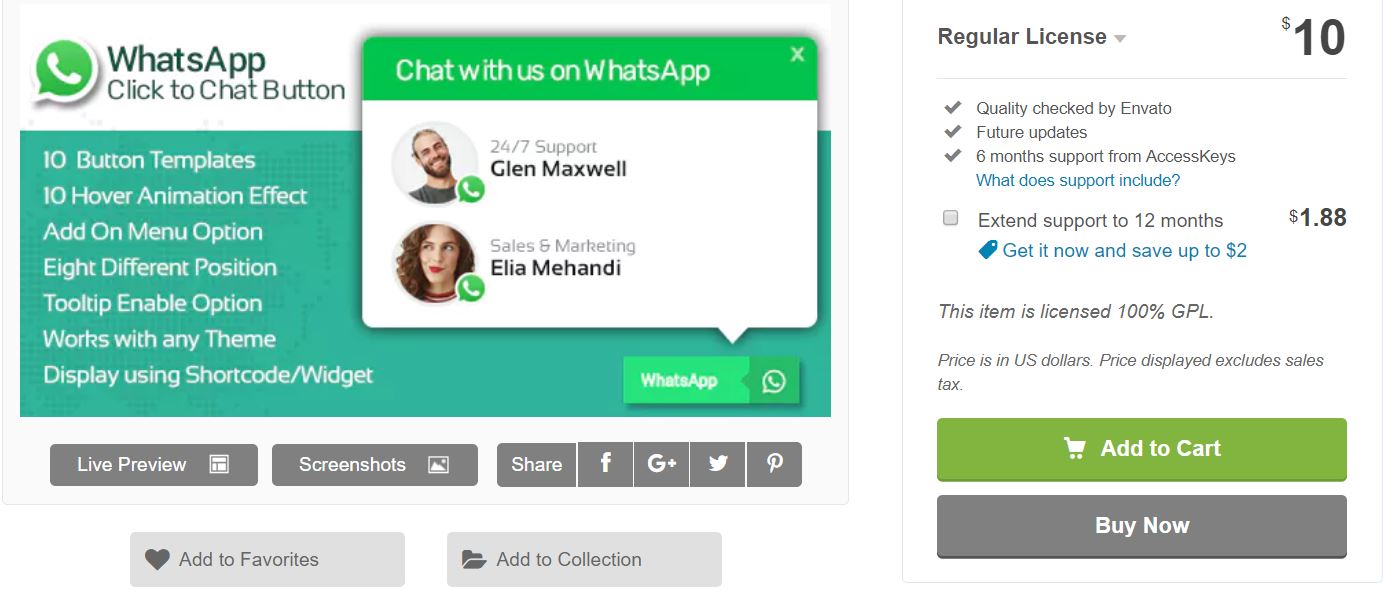 WhatsApp Contact Button is an easy-to-use WordPress plugin that can create chat with you at WhatsApp.
The WP WhatsApp button plugin is a unique option, as it provides users access to 10 templates and 10 hover animations. The tool is shortcode-ready and is compatible with users on both mobile devices and desktop computers. The main features include a choice between an eight-button position or sticky button, color customization, and a text display option.
There are many features to focus on, with some of my favorites including:
Works with any theme.
Customizable style of button and popup window.
Cross-browser support.
Mobile adaptive.
Simple and Friendly user interface.
Ease to use.

The WP WhatsApp plugin lets you integrate your experience with WhatsApp into your website. It is the ideal way to not only connect, but also interact with your customers. With the app, you can provide direct support, while building trust and increasing your customer loyalty levels.
Once the plugin is installed, the features are impressive. It provides support for multiple accounts, it's easy to customize, no coding required, provides support for WPML, and the shortcode is included.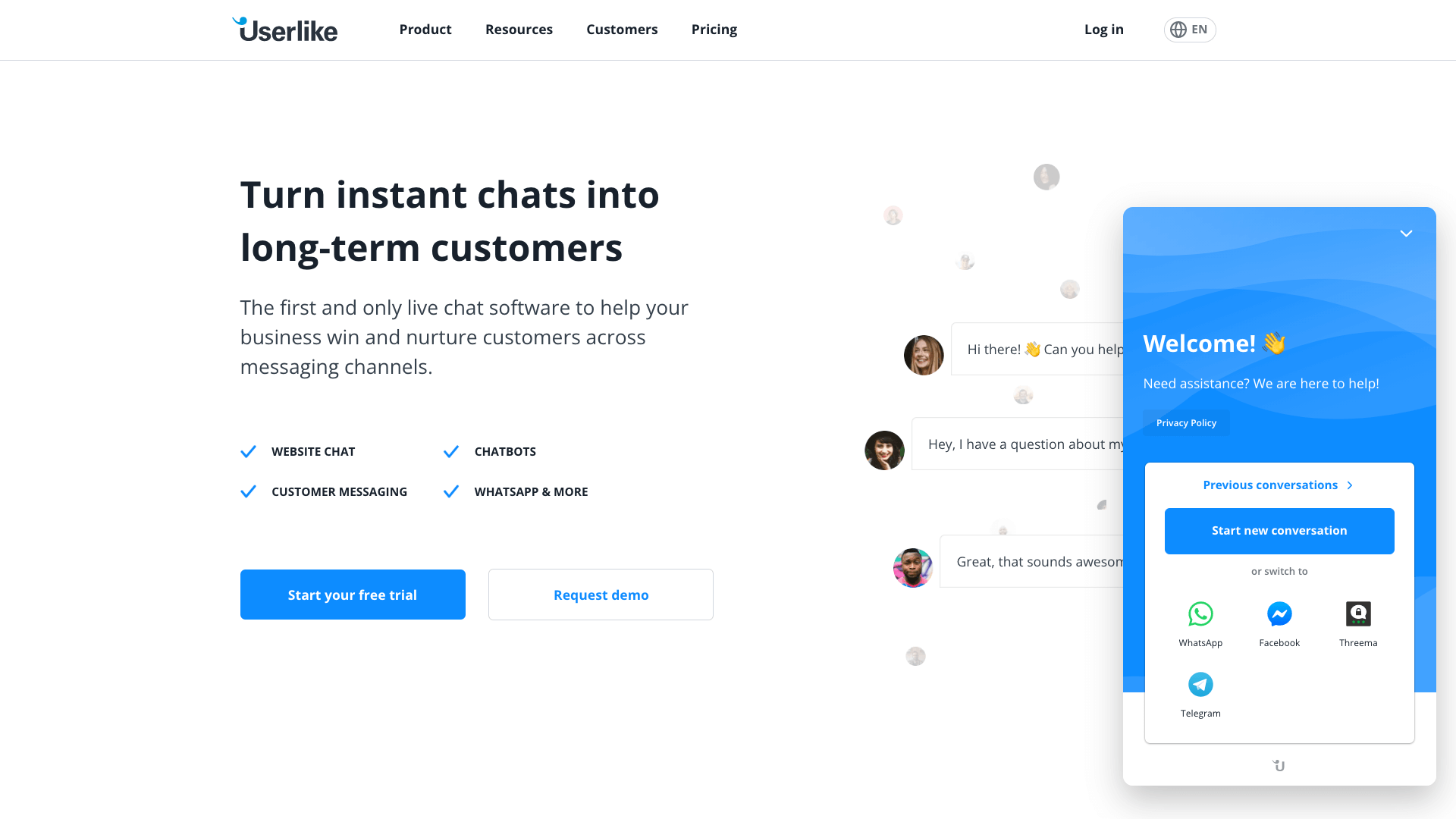 Userlike is an interesting option: It is not a standard WhatsApp plugin, but a website chat solution that also offers a WhatsApp channel.
When you activate it in the Userlike website widget, your website visitors can choose whether they want to start a conversation with you through the website, through WhatsApp, or through other messaging channels that you offer.
So indeed, Userlike offers more channels beyond web chat and WhatsApp, including Facebook Messenger, Telegram, and SMS.
Adding the Userlike plugin to your WordPress site is simple and you can connect with your visitors through WhatsApp within minutes.
Userlike also offers more "professional" features that are interesting for larger service teams focused on providing professional support, such as advanced routing, chat analytics, and chatbots.
Userlike also allows you to fully customize the website plugin. For example, you can let your web visitors decide which agents to chat with, set up customer ratings and surveys to get feedback, make use of the proactive chat mode, and more.
Plugin can be fully customized to your web design
"Multi-messaging" plugin with website chat and the connection to apps like Facebook Messenger, Telegram, Threema, or SMS.
Share various types of media files (image, video, documents)
Canned messages ("chat macros") for faster support
Proactively invite visitors to a chat
Live translations
Connect your chatbot platform or build one within Userlike
Live preview allows you to see what your customers are typing before they send it
Audio / Video calls and Screen Sharing

The name says it all. Designed specifically for WordPress, the WhatsApp Contact Button is a smart plugin that is simple to use and that helps users create an instant chat setup with WhatsApp.
The prime benefit of this plugin is to help you add WhatsApp button to your WordPress webpages with an extremely user-friendly and a easy-to-use user interface.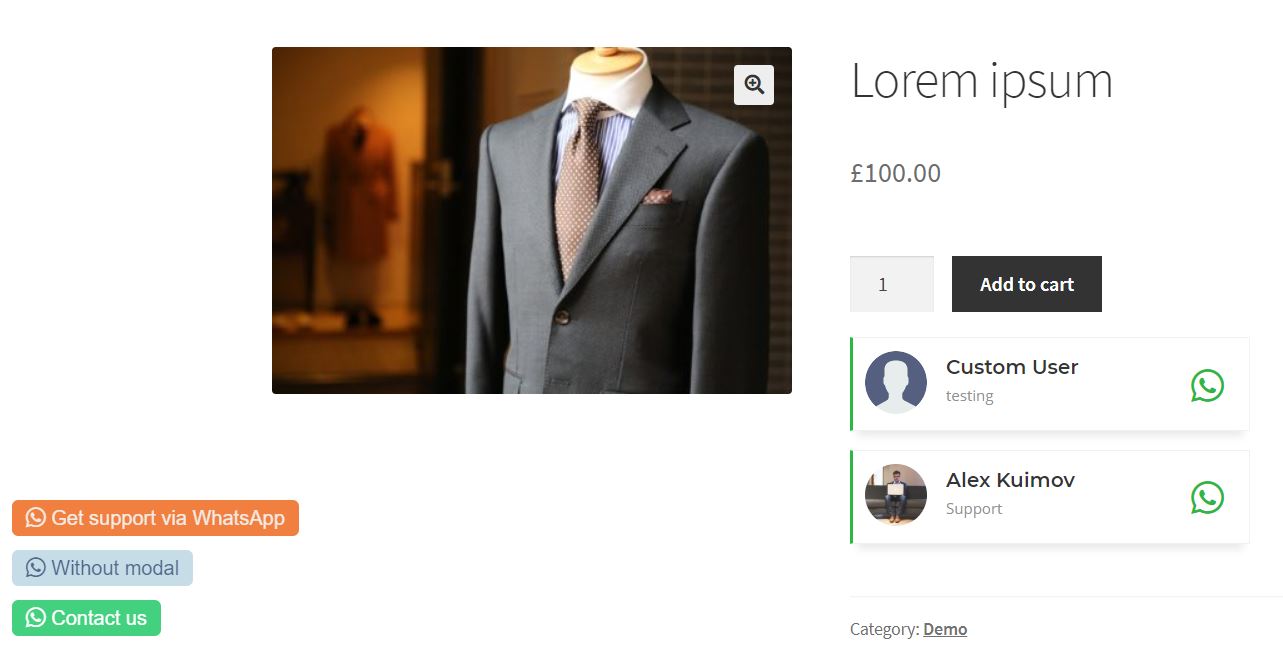 The plugin also comes with 8 different animation effects and supports much personalization like changing fonts, icons and colors. It also features mobile adaptability and works well with any WordPress theme.
Some of the things that I like about this plugin include:
Works with any theme.
Customizable style of button and popup window.
Cross browser support.
Mobile adaptive.
Simple and Friendly user interface.
Shortcode support.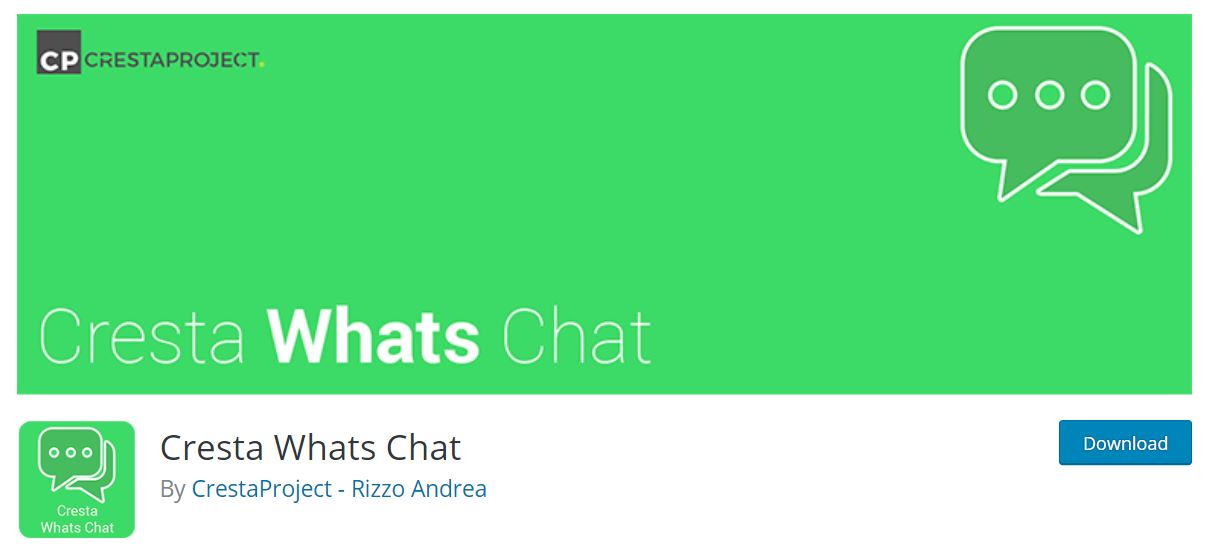 With Cresta Whats Chat, you can allow your audience easily contact you via WhatsApp by simply clicking on a button. Now, you can forget the complexity of multiple button presses.
It also comes with a mobile version, which allows you to open your WhatsApp automatically. Users may contact you directly in private messages on your WhatsApp number and continue the conversation on WhatsApp web or WhatsApp application (from mobile). One of the features of the pro version of Cresta WhatsApp Chat is to include an option to change the size or colors of the box buttons, or to include several animations.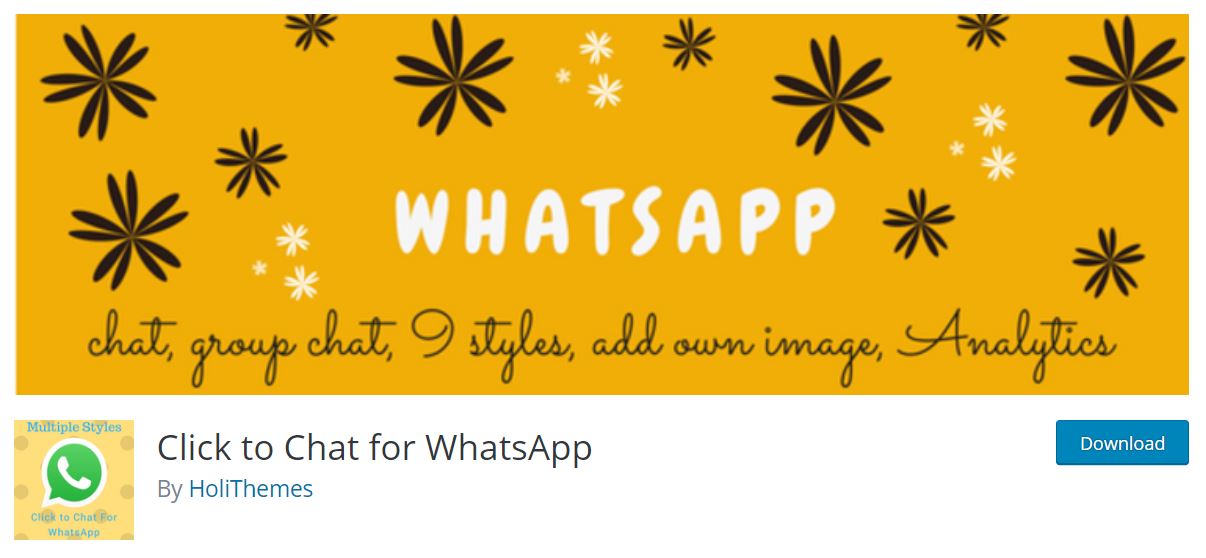 Another customizable option is the WordPress WhatsApp plugin called Click to Chat. With this, you can see the details of each team member you have. But that's not all. It also allows you to use page targeting features and have specialized buttons for any WooCommerce pages on your site. You can also find options that allow you to change the language, text, themes, and color.
My top favourite features include:
WhatsApp Chat
WhatsApp Group Chat
Nine pre-configured Styles
Add Own Image or GIF
Floating style can position at any place on the screen
(at any pixel of the screen, not limited to fixed positions)
If your goal is to increase the traffic going to your blog or website, the Social Warfare plugin is a smart option. The premium version of this plugin includes several features, such as text customizations, network integrations, short links, custom designs, and more. This particular option also provides content protection.
You can pick up from the top social networks sharing buttons including:
Facebook
Twitter
Google+
Pinterest
LinkedIn
You can also choose where you want the share buttons to show up with the following positions:
Above the post content
Below the post content
Both above and below the post content
None (or) Manual placement
Get more social shares which can lead to more website traffic with the best WordPress social sharing plugin!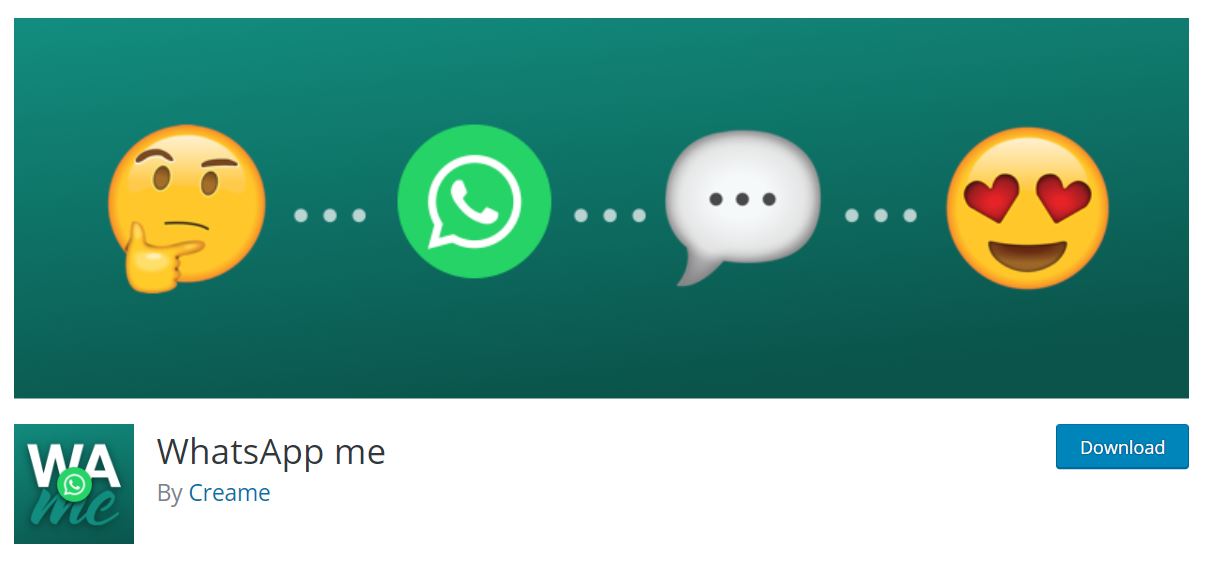 WhatsApp me is a simple-to-use plugin that adds a clean-looking WhatsApp icon to the bottom-left or bottom-right corner of your site.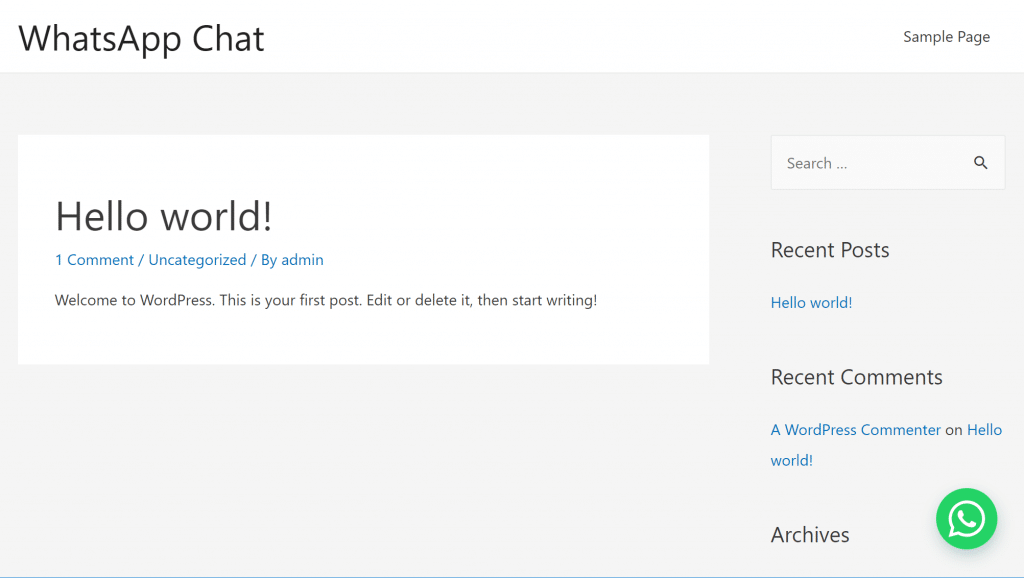 Or, you can display more of WhatsApp button with various customization options. Here's how it looks: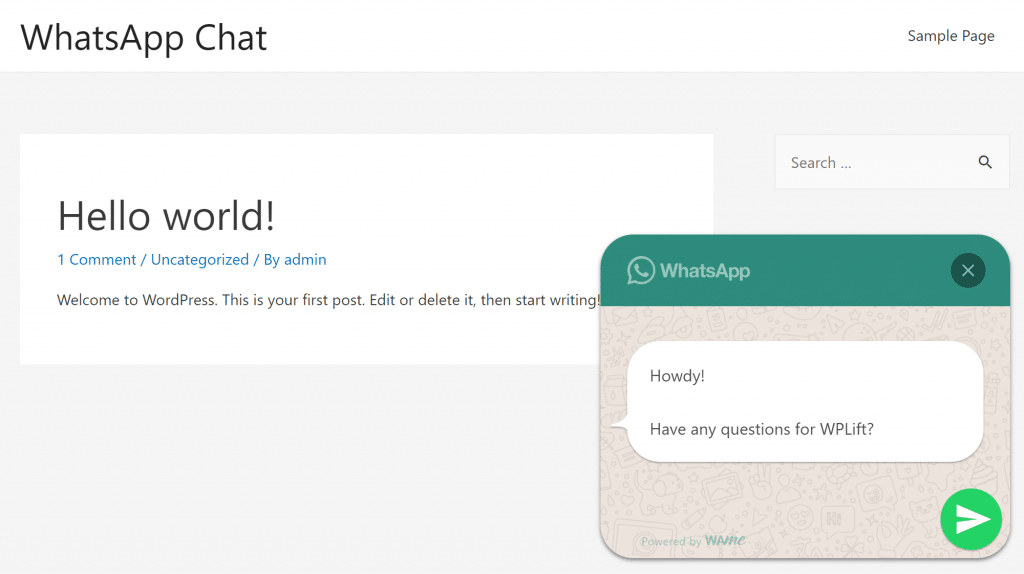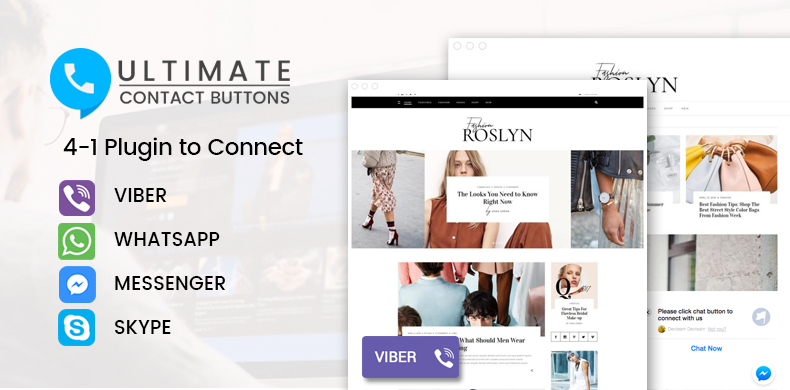 When it comes to premium plugins, this is considered one of the best. Ultimate Contact Buttons features more than 10 different designs, along with 10 different animation effects. The other options provided by this plugin include buttons, tooltips, and color customization. All these help to make this plugin especially engaging and attractive to users.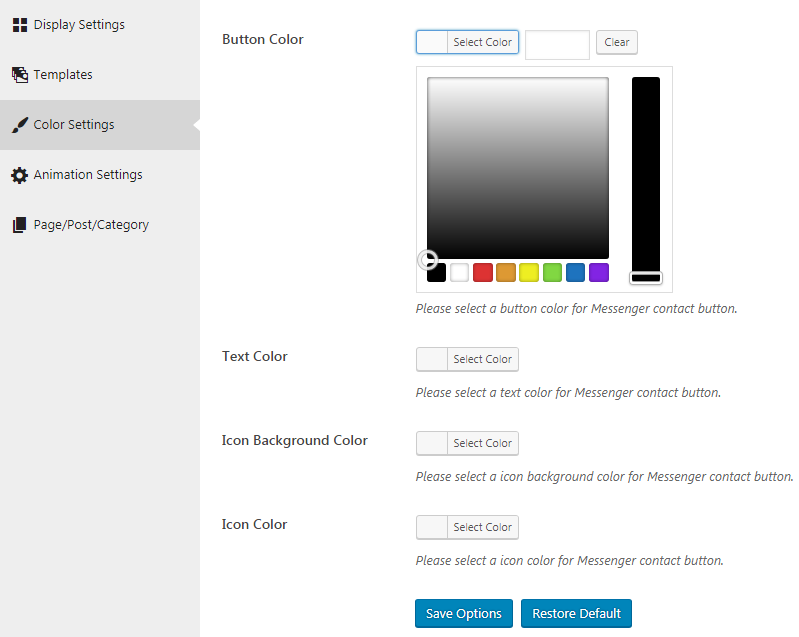 This can be seen on of the best plugins to help you connect multiple communication channels, namely Viber, WhatsApp, Messenger and Skype in your WordPress website.
The plugin also comes with 10 pre-designed button templates, 10 hover animation effect and 8 different positions for button placement – you can insert the contact buttons in anywhere you want. Also, this plugin is equipped with a great deal of interesting features such as color customization, sticky buttons, and tooltips helps make the contact buttons more fun and engaging. Plus, the chat button option for Messenger and Skype enables customers to maintain contact with you even you're offline.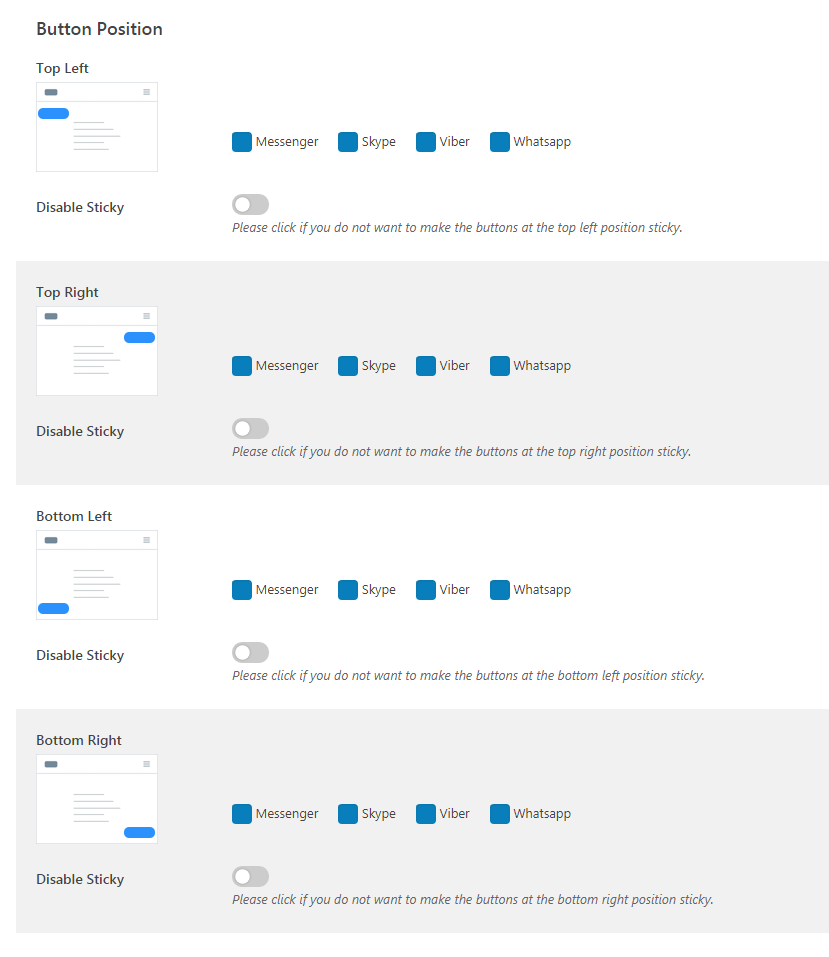 No coding needed! All you need is just 5 minutes setup and configuration! It works perfectly with all 'well coded' themes!
WordPress and WhatsApp: A Smart Combination
Using WhatsApp with your WordPress site makes sense. This helps to encourage social sharing among your audience, and the apps listed here help to encourage this further. Make sure to read each of the options carefully to determine which of these is right for your site. You won't be disappointed with the additional traffic it helps to drive to your site.
Try WP Chat App Ninja Team at:
https://ninjateam.org/wp-content/uploads/2019/07/9_Best_WhatsApp_WordPress-_Plugins-1.png
501
1000
Benjamin
https://ninjateam.org/wp-content/uploads/2020/10/ninjateam-logo.png
Benjamin
2021-12-12 10:55:14
2021-12-17 09:47:39
9+ Best WhatsApp WordPress plugins