Top 4 FREE WhatsApp plugins for WordPress (Comparison)
A free WhatsApp button can improve your customer service just by being there and listening to your visitors when they need it the most. Providing a convenient support channel like WhatsApp button for WordPress can help you collect their contacts, then you can offer them discount coupons, recommend blog posts, and so on.
If you're going to install a plugin on your WordPress site you need to be sure it's being stable and updated. You don't want to welcome bugs and errors, right? So today I've tested and reviewed 4 free WhatsApp plugins you can find on WordPress repository by running a quick search with the keyword "Whatsapp". These plugins are trusted by hundreds of thousands of websites, which authentically endorse their functionality.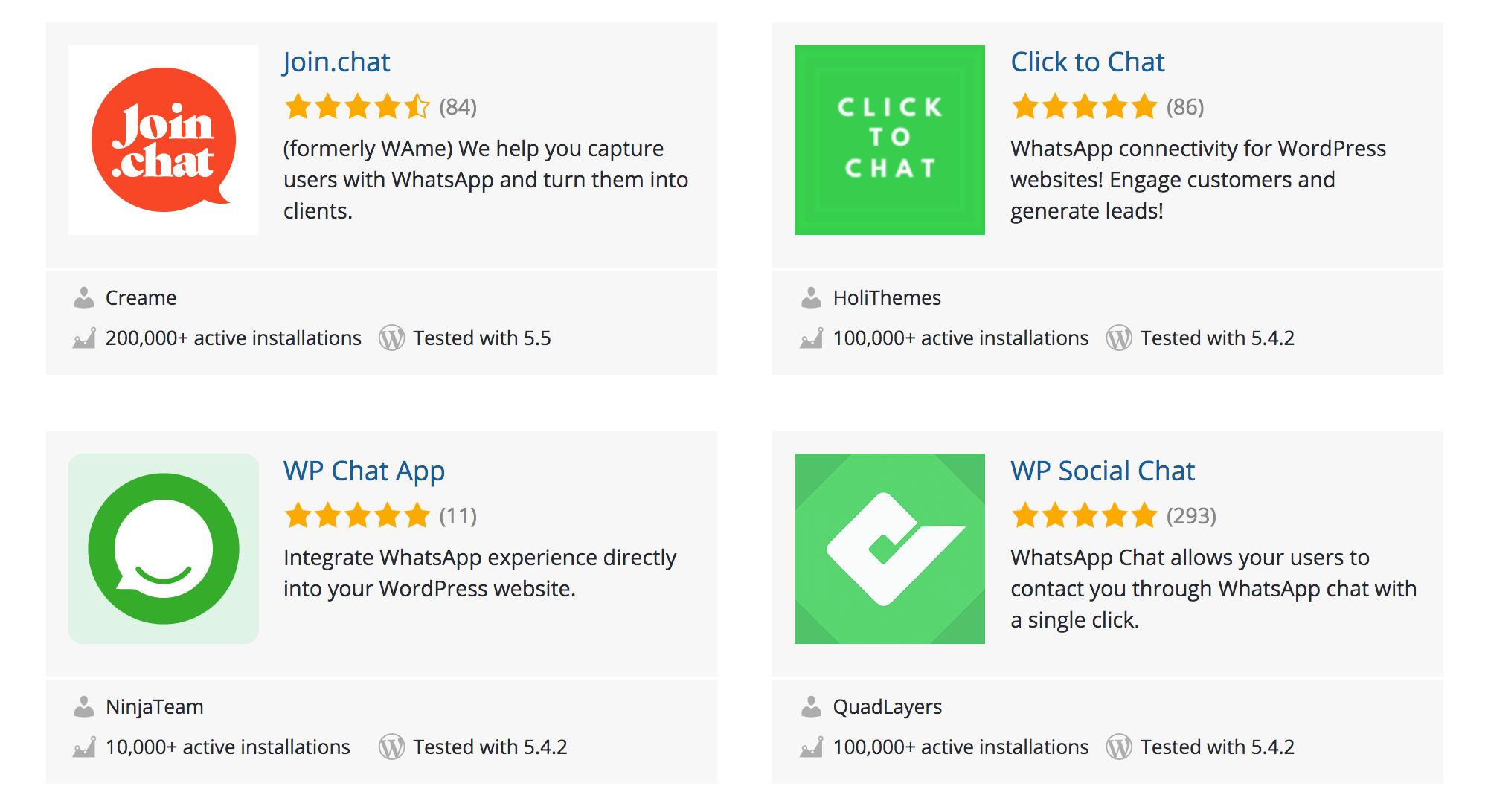 All four of them offer their own premium service, which I'm not covering in this post. This article reviews only the features that you can get completely free of charge.
So if you already got the WhatsApp button idea for your website in your mind, don't hesitate to dive in to see what they have to offer!
WP Chat App is a powerful plugin to help add WhatsApp support channel to your WordPress website. The free version is feature-rich and full-fledged, which allows you to add multiple WhatsApp numbers so that your customers can choose which one they need to connect. With WP Chat App, you're free to adjust the agent name and title, replace avatar or set their actual work hours. This helps make sure the right person will be assigned to the right work and the right customers.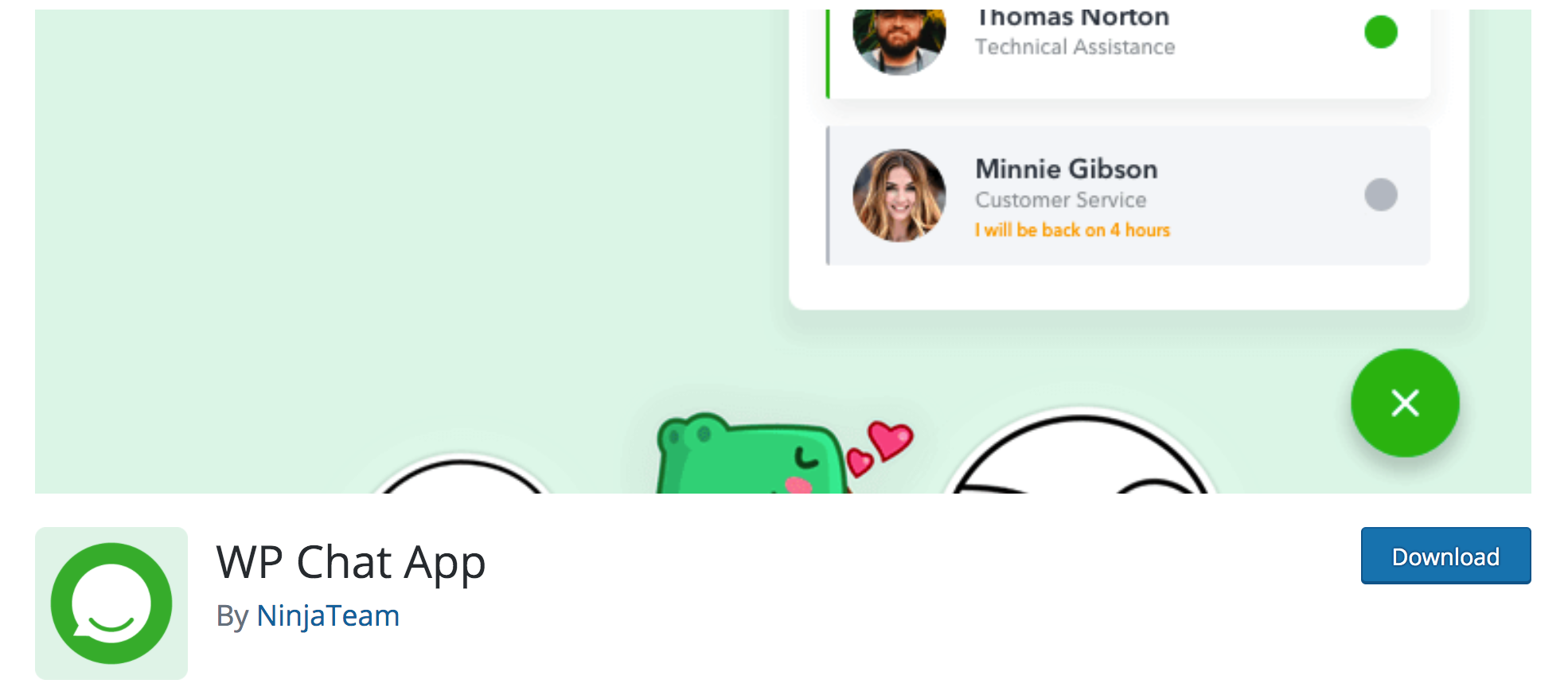 If you don't want to miss your customer's pre-sale questions, make sure the Always available status is on. Moreover, you can show the approximate response time for your visitors to expect how long you're getting back to them. You may think about this as minor features, however, it helps build trust and loyalty for your audience at their very first glance.
Since WP Chat App allows you to write an optional text for the WhatsApp widget label and description, you can give your visitors the right impression that you want them to feel about your brand and products. So if you're selling fancy stuff, just go wild and add crazily creative greetings! Your buyers will definitely love it!
Another feature that you'll appreciate is their predefined text message with shortcodes. These shortcodes help save your customers some time to paste the product name/URL. Moreover, you'll know the specific page/post they're currently on, understand their demands, and then set proper actions.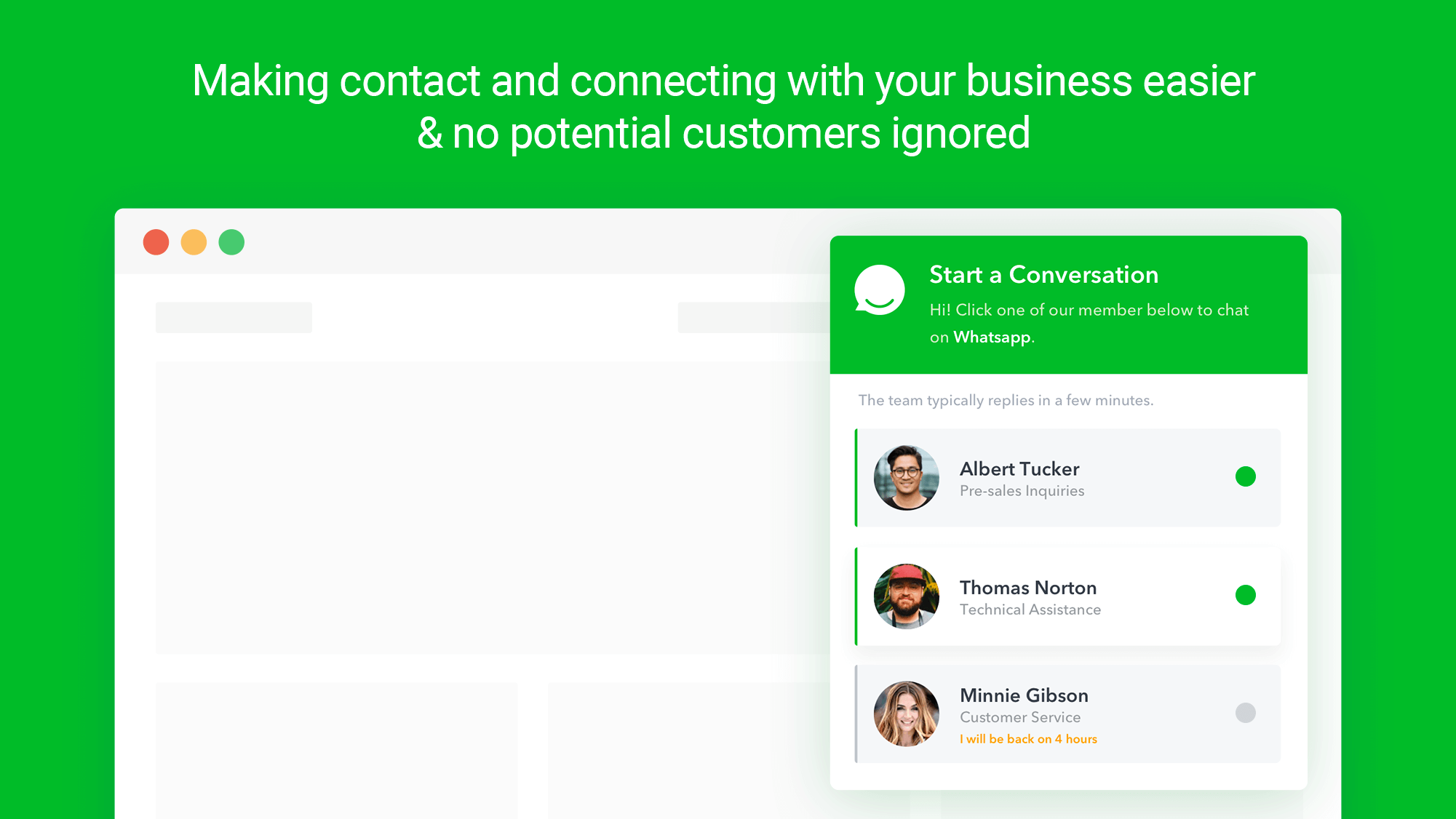 Pros:
Cons:
Documentation should be improved
2. WP Social Chat
WhatsApp Social Chat for WordPress allows your customers to open a conversation from your website directly to your WhatsApp phone number.

This plugin has a step by step setting order. You can configure the fields in each tab, including Button > Box > Contacts > Display > Colors respectively. Overall, this is an easy procedure to follow. The Quadlayers' premium features listed in each tab, of course, remain inactive.
WP Social Chat allows you to opt for an additional box with header and footer to include other contact channel links. This is also good to present a welcoming appearance for your online store. Website visitors can choose the best way at their convenience to get connected to your store.
1-site license for this social chat button costs $20 and could take you to the next level of customizing your brand/avatar and multiple support agents.
Pros:
Easy to use
Very good docs
Cons:
Button/bubble design is smaller than the original WhatsApp logo
Not so smooth workflow
Demo is for the premium version
3. Click to Chat on WhatsApp button
This WhatsApp plugin by HoliThemes is a brilliant plugin to go if you want it to be simple and fast. If you just need a tool to have a link to your WhatsApp number, pick this version!

Right after activated, you can navigate to Settings and input your number. Default button styles for mobile and desktop devices are already the best choice. But if you want to personalize your brand, you can also customize the button avatar. You'll need to pick the Style-99 to get the options of using your own image. By pasting the URL of your avatar image/GIF, you are now free to set the looks of the button on different devices.
This free WhatsApp plugin has an option of Google Analytics integration to allow you to create an event when a user clicks on the WhatsApp icon/button. The premium WooCommerce options to boost your store sales are available in the paid version ($12).
Pros:
Custom style for mobile & desktop
Shortcode available with different number attributes
Cons:
Documentation is a little bit broken
Compatible but not optimized for WooCommerce
4. Join.chat
Formerly known as Wame click-to-chat button, this plugin is now rebranded as WhatsApp's lead generation tool. Join.chat provides us with a clean and easy user interface including two tabs: General and Visibility. If your site is using WooCommerce, the 3rd will be displayed as WooCommerce so that you can optimize your product pages' call-to-actions.

Since it doesn't allow multiple support agents, this way of layouting is easy enough for every beginner user to figure it out.
It takes only a few minutes to integrate this WhatsApp experience on your website as expected. You can also give a predefined strike-up-a-conversation message in the message box.
There are, however, some functions that come in general settings yet not applicable. When I try toggling Dark mode, nothing gets changed. Same with notification balloon (Display a notification balloon instead of opening the Chat Window for a "less intrusive" mode), I don't get what will be changed if the option is ticked or not.
In general, it's relatively smooth to get this button up & running as a free WhatsApp plugin WordPress solution.
Pros:
Good documentation
Easy to customize
WooCommerce optimization
Nice button design
Cons:
Sticky "Powered by Join.chat" link
No name/title for support agents
Multiple numbers unavailable
Wrap-up
With WhatsApp having 2 billion monthly active users, you as a business owner can no way ignore using this app to your advantage.
Using the right plugin bespoke your brand is a great way to start a revenue-generating conversation. So if your buyer persona is featured with WhatsApp, why your website is not?
Considering that it's already hard work to get traffic to your website, so when you have, don't miss the chance to know what they want and eventually obtain their contact.
Feature Comparison Chart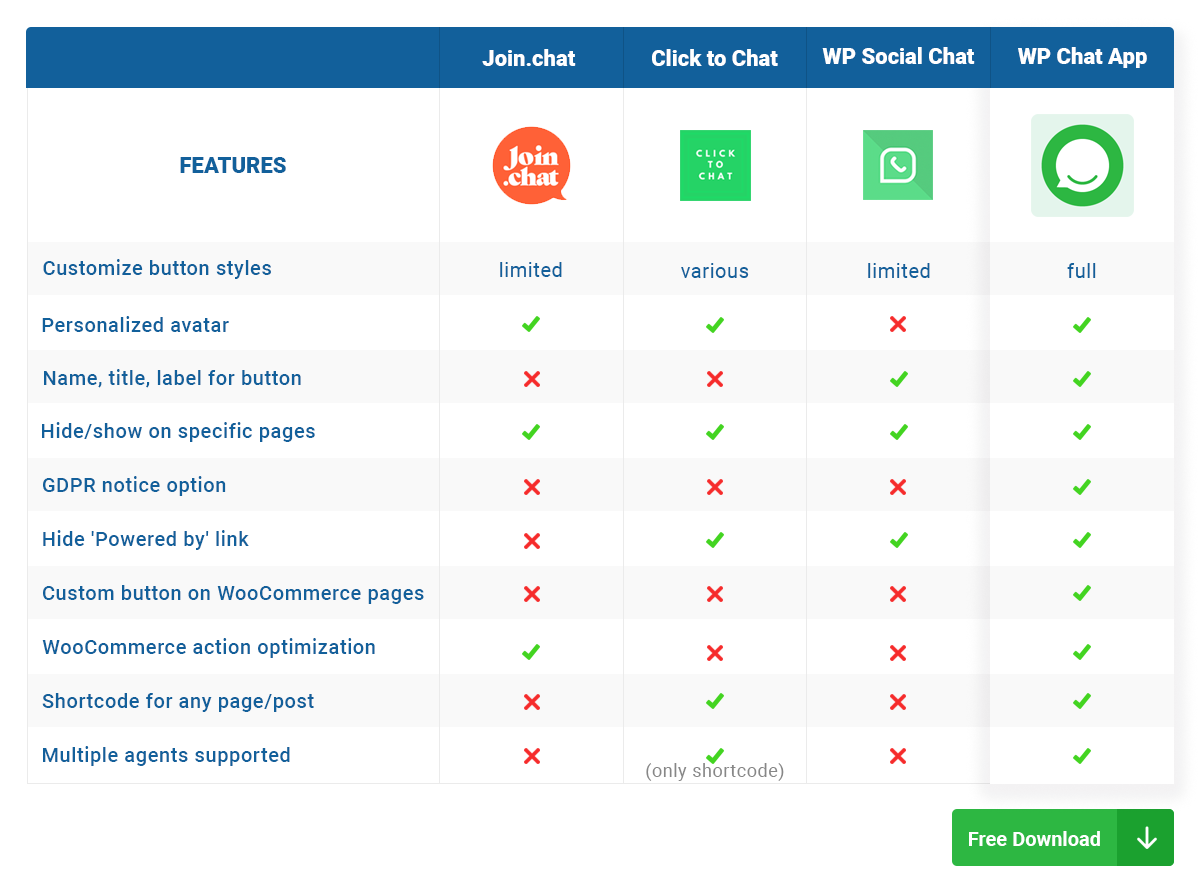 So, what is the best free WhatsApp button for your website?
Based on the review and comparison chart above, you can easily pick the best one.
But if being asked, this is my answer.
If I handle just a small business and I want just a way to put up the WhatsApp button on my site, I'm gonna pick the plugin by HoliThemes. I like their shortcodes and the fact that they solve 8/8 issues in the WordPress forum!
Otherwise, if I'm running a big store and getting a handful of questions every day, I'll go for WP Chat App by Ninja Team.
If you want to keep a consistent image and identity for your company, WP Chat App is recommended, too. Since their free features already cover your demands and they provide excellent WP forum support – 6/6 issues solved!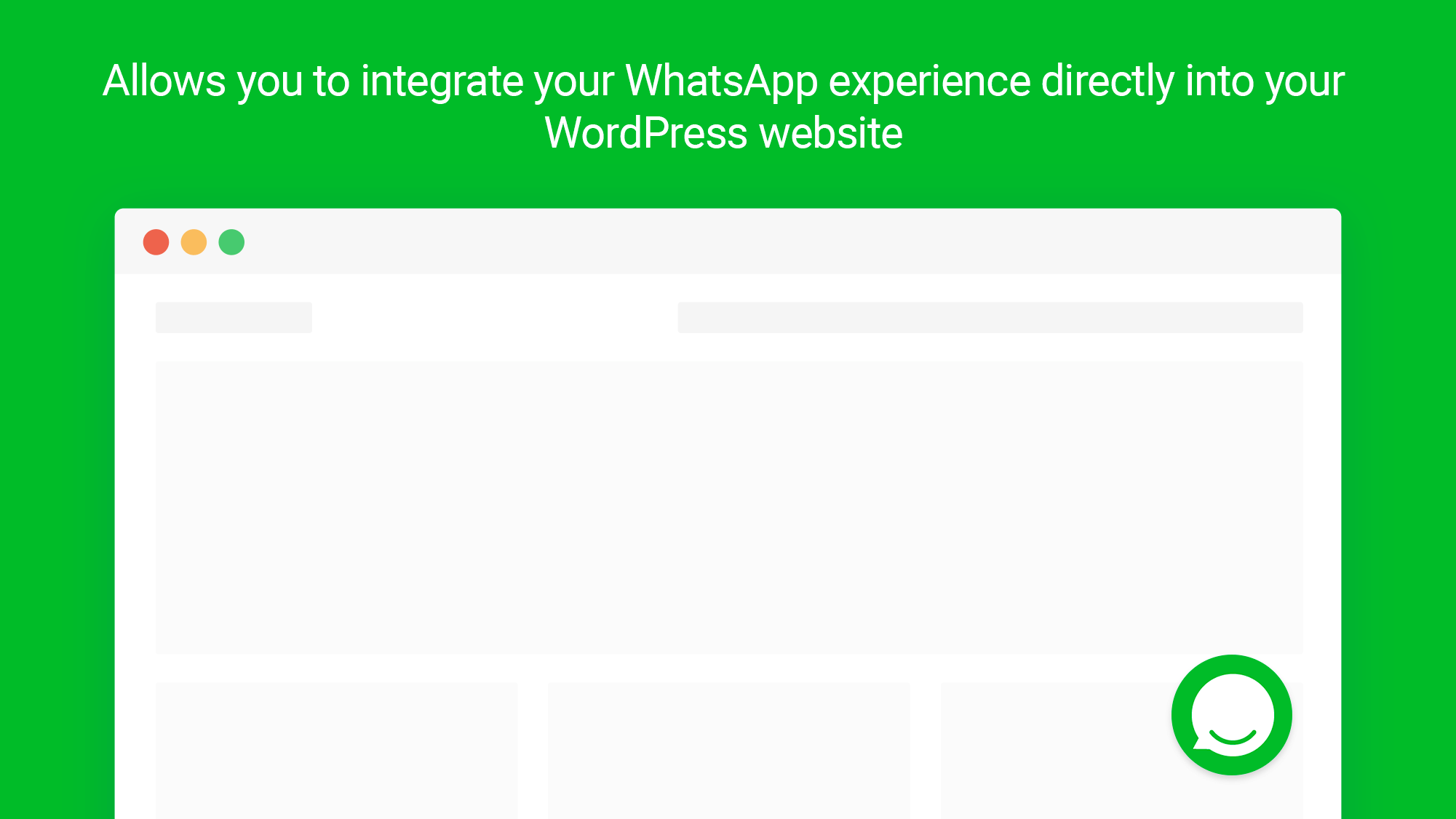 https://ninjateam.org/wp-content/uploads/2020/08/Top-4-Free-WhatsApp-plugins-.png
423
1210
Bean
https://ninjateam.org/wp-content/uploads/2020/10/ninjateam-logo.png
Bean
2020-08-14 08:51:05
2020-09-28 10:56:09
Top 4 FREE WhatsApp plugins for WordPress (Comparison)