6+ Best WooCommerce Wallet System Plugins (2023)
What are the best WooCommerce wallet system plugins?
This is the question we get from our blog readers who understand the importance of deploying a WooCommerce wallet system into their websites.
Having a WooCommerce wallet system in your online store can be beneficial in many ways.
It helps improve conversions as it provides customers with a quick and straightforward payment process. It also helps new and existing customers add funds to their account wallets with ease to enable them to make future payments effortlessly.
According to Gregory Lindsay, a professional online entrepreneur who works with UK dissertations, enabling customers to interact with your website while making purchases effortlessly can increase sales and grow your online business fast.
With the best WooCommerce wallet system plugins, you can add a convenient wallet system to your online store to enable customers to pay for products without a problem and do more.
However, there is a challenge: With thousands of wallet plugins out there, choosing the right one for your website can be challenging. In this article, we've hand-picked the top 6 best WooCommerce wallet plugins of 2023.
WooCommerce Wallet
YITH Funds Account for WooCommerce
TeraWallet
WooCommerce Wallet System Plugin for WordPress
Wallet System for WooCommerce
User Wallet Credit System plugin
Let's get in-depth with each WooCommerce wallet system plugin.
1.  WooCommerce Wallet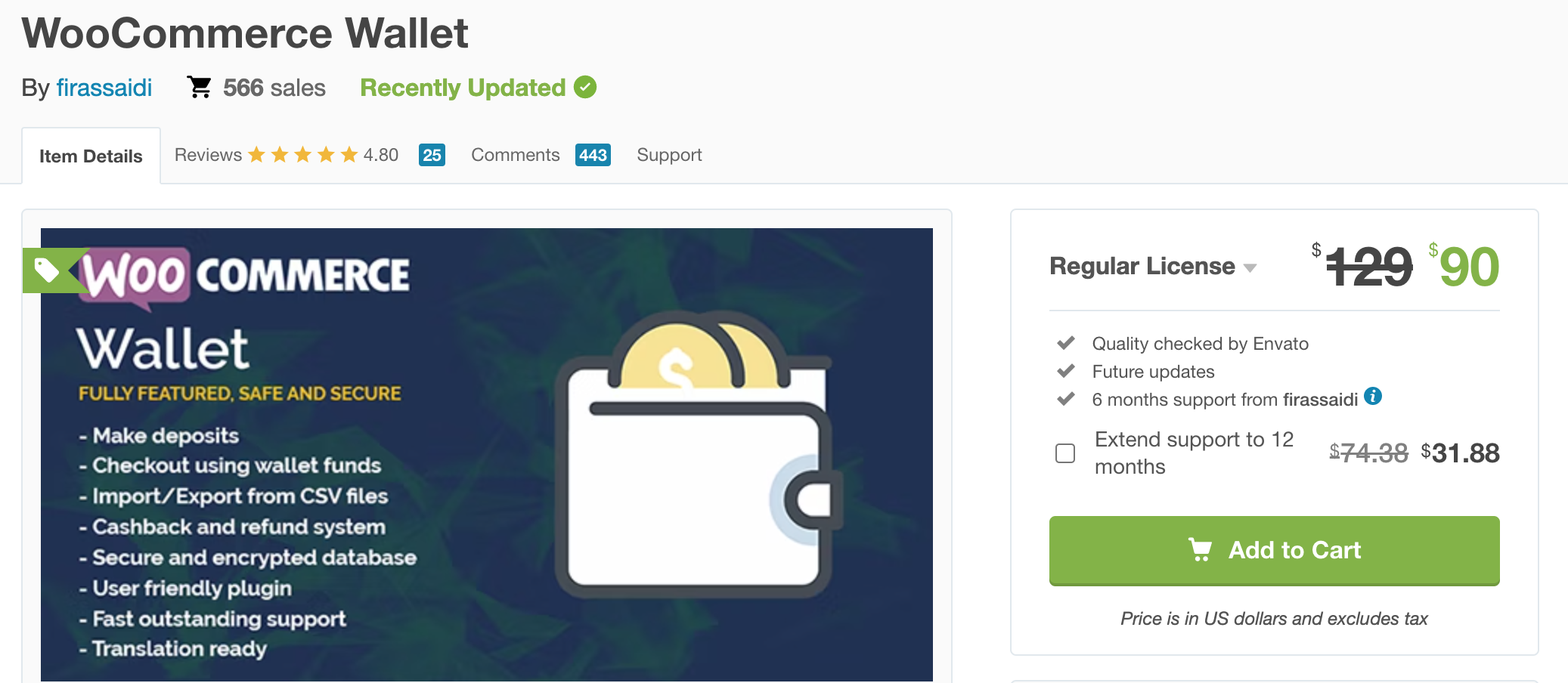 This plugin tops this list thanks to the author's update frequency. WooCommerce Wallet is also developed to be compatible with WooCommerce 7.3.0 and previous releases.
This plugin allows you to show/hide Transactions and Make a deposit page from the My Account page. Refund, withdrawal, and transfer fees can be recorded in fixed amounts or percentages.
Features:
Export transactions and withdrawal requests
A cashback amount can be set for any product or variation
Partial payments allowed: The available amount will be discounted from the cart total and the user will pay the rest using a different payment method
Translation ready: .po, .pot and .mo files included
2.  YITH WooCommerce Account Funds
YITH Funds Account for WooCommerce is a wallet system plugin meant to help you increase sales while building customer loyalty to your online business. The plugin helps you deploy a wallet system that lets your customers deposit cash to their virtual wallets so they can purchase goods or services easily.
What's more, you can give your loyal customers a discount if they deposit e-money into their virtual wallets before buying anything from your WooCommerce store. This is to help encourage users to add e-funds to their virtual wallet accounts.
Statistics by Paper Writing Pro, a company that works with expert paper writers, has more than 7,200 WooCommerce store owners who are enjoying the benefits of this wallet system plugin.
By giving your customers discounts when they add e-funds to their virtual accounts, you drive more conversion rates and increase your overall sales. It's also a great way to get repeat customers.
The YITH Funds Account system plugin doesn't only allow customers to add funds to their digital wallets. As the store owner, you can also deposit funds to users' e-accounts.
Customers can also deposit funds to their wallets vias other payment methods.
The beauty of this WooCommerce wallet plugin is that it comes with an intuitive dashboard that allows customers to check their wallet balance easily.
Noteworthy features:
The WooCommerce wallet plugin allows users to add funds to their digital wallets.
Notify customers through email when their wallet balance is at the minimum.
YITH Funds Account system plugin allows users to choose a payment method for money transfers.
The plugin comes with refund functionality. This allows customers or store owners to refund an erroneous deposit made
It comes with a handy widget that shows the account wallet balance.
It supports all the popular premium WordPress themes out there.
YITH WooCommerce Account Funds wallet plugin price starts at 79,99 euros/year.
3.  TeraWallet WooCommerce Wallet Plugin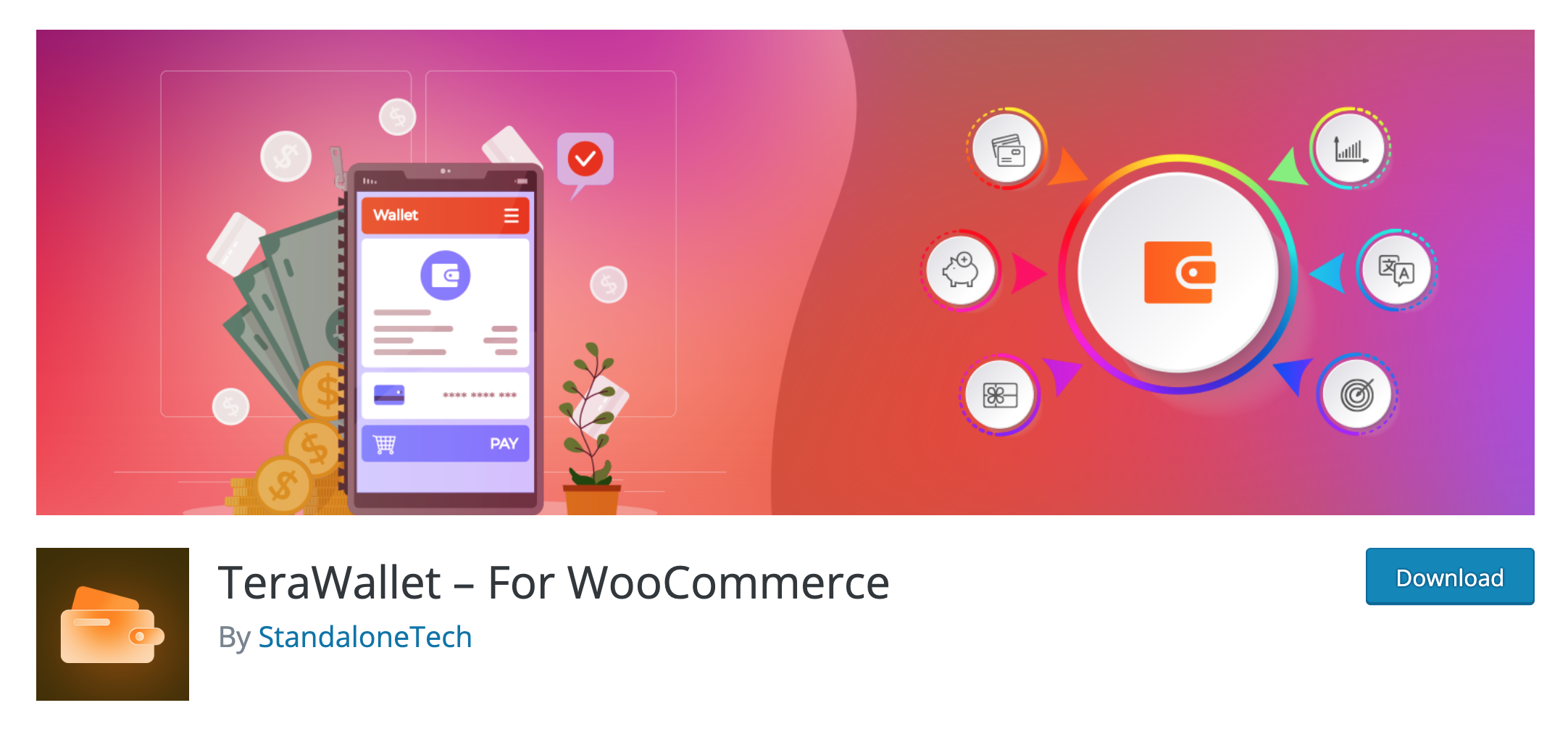 TeraWallet is one of the best free WooCommerce wallet plugins out there.
The plugin has over 30,000 users currently and hundreds of user reviews due to its effectiveness and convenience. The beauty of TeraWallet is that it's developed with users in mind. It comes with a straightforward dashboard that makes it easy to use for both professional and newbie online entrepreneurs.
Another great thing about the plugin is that it helps customers to add e-money into their virtual wallets to purchase products or services on your online store. You can choose what payment gateway your customers can deposit money with.
The plugin is also compatible with the major WordPress themes and plugins. If you're an avid WordPress user, you can use it without facing any compatibility issues.
Noteworthy features of TeraWallet WooCommerce wallet plugin:
Allow customers to choose their preferred payment method to add virtual money to their e-wallets.
Allow funds to transfer to other accounts.
Help customers and admins to generate transaction history.
Enable partial payment.
All these features are available through the free version of TeraWallet but you can check the premium features on the official website or the WordPress directory. To use premium features, you'll need to purchase its extensions. The good thing is that you don't need to buy all the premium features. You can buy the extension you want based on your needs.
Tip: If you want to offer your customers uninterrupted, secure service, email is an essential component. YayMail AddOn for TeraWallet will help you craft WooCommerce email templates to ensure your buyers experience peace of mind when using your wallet system. You can use YayMail to customize your TeraWallet WooCommerce email templates, as well as edit your email layout, content, and style in a what-you-see-is-what-you-get email builder.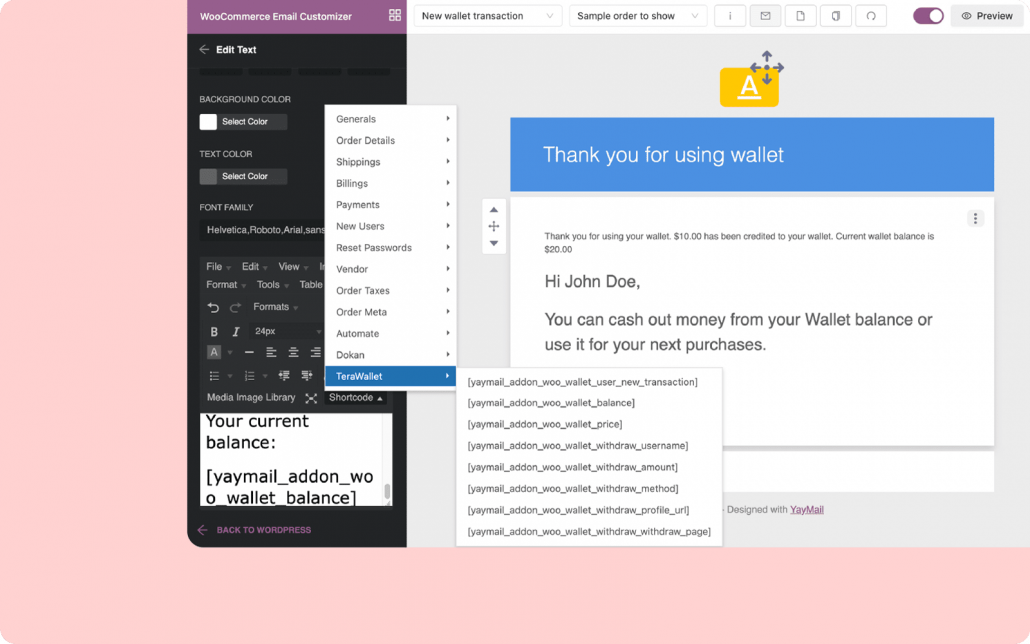 4.  WordPress Wallet System Plugin for WooCommerce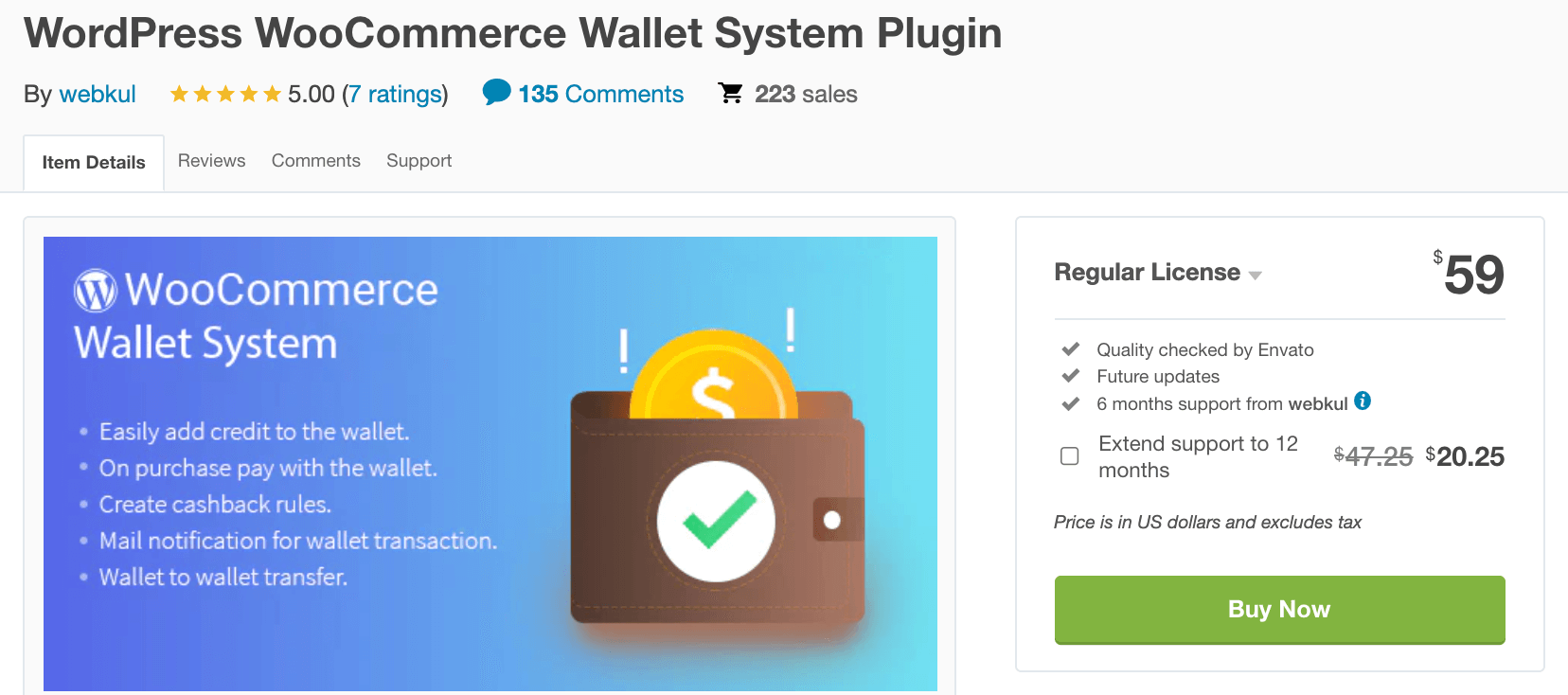 With the WordPress wallet system plugin for WooCommerce, you have an all-in-one payment gateway for WooCommerce. The plugin allows you to deploy a convenient wallet to your online store to make your customers easily make payments from anywhere at any time. This helps to boost your sales as users can deposit money into their digital wallets and make purchases for products or services on your website conveniently.
The beauty of this WooCommerce wallet plugin is that when customers use Check Payments or Direct Bank Transfer to add virtual funds to their e-wallet, the money can only reflect after the admin's approval. The plugin also sends instant notifications to customers' email addresses once they make payments using their digital wallets.
Customers can easily manage their accounts. Besides, admins can restrict the amount to be added to a customer's virtual wallet.
Website owners can also give customers that make payments via their e-wallets discounts and cashback to encourage them to continue using them.
Another beautiful thing is that customers can transfer funds across different e-wallets. That means customers can deposit money into other customers' registered virtual wallets.
Noteworthy features:
Enables transfer of funds to other registered e-wallets
Clean dashboard for ease of use
Simple account management
Customers get instant notifications via email for wallet transactions
Customers can add credit to their e-wallets
Admins can add discount rules and cashback terms
Customers can choose their preferred wallet as a payment method.
WordPress Wallet System price starts at $59.
5.  Wallet System for WooCommerce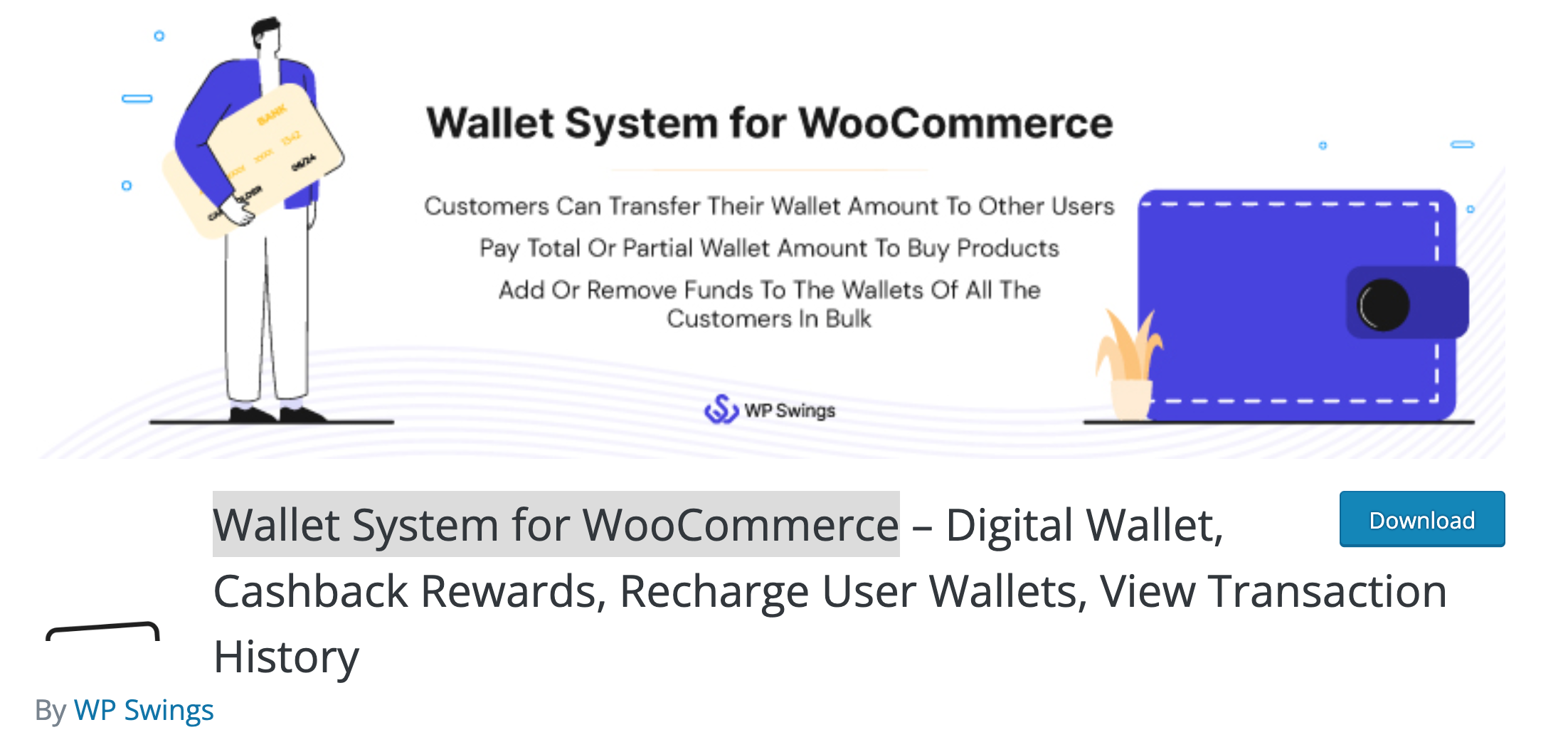 Wallet System for WooCommerce plugin is the other perfect addition to your website. Not only will it enhance the user experience, it will also expedite the checkout process. No longer will customers have to repeatedly enter their transaction information – this plugin makes it easier and more secure than ever.
With the WooCommerce Wallet System plugin, you can:
Adjust (credit or debit) the wallet balance of specific users in bulk.
Refund the full purchase value or partially into users' wallets, or manually through the payment gateways.
Allow buyers to redeem WooCommerce gift cards to top up their wallets.
Let the merchant see all users' transaction history (filtered by users) and download it in a PDF file.
Use the shortcode [wps-wallet] to display the user's wallet on any page.
Enable customers to see their wallet transactions (credit/debit) and transfer their wallet money to other users.
Add transaction details while editing the wallet balance of users in bulk or individually and underline the purpose of credit or debit.
Allow the admin can restrict any particular wallet user from using the Add Balance, Wallet Transfer, and Wallet Withdrawal
Request features at once.
Allow customers to earn wallet credit on daily login, signup, and submitting reviews on your product pages.
6.  User Wallet Credit System Plugin

User Wallet Credit plugin is yet another handy plugin for WooCommerce store owners to deploy a handy wallet system into their online stores. Customers can also deposit funds into their virtual wallets through your site to buy products or services. You just need to install and activate the plugin to allow customers on your WooCommerce store to create their e-wallets.
Once customers register their wallets, they can accept e-funds with any payment provider and pay for goods or services with the loaned funds on your WooCommerce store.
The beauty of the plugin is that it's super easy. Customers can buy products and pay on your online store using their virtual wallet without a problem thanks to the straightforward dashboard.
With the plugin, admins can regulate the users' e-wallet balance from the backend. Customers can also query their e-wallet account balance with ease thanks to the powerful widget feature.
What's more, the plugin allows store owners to modify the buttons and the message to show on your WooCommerce store.
The plugin also allows customers to pay partially via their e-wallets and other registered payment options. The plugin also supports PayPal. Customers can withdraw their funds to their PayPal accounts or transfer funds to other registered users.
Noteworthy features:
The plugin is easy to install and activate
It comes with a handy widget to display the wallet balance
It enables customers and store owners to add e-funds to other users globally
It allows the transfer of funds across different virtual wallets
Easy to use
User Wallet Credit System plugin price starts at $49 for a single website
What's the Best WooCommerce Wallet Plugin for You?
These are six powerful WooCommerce wallet plugins that can help you deploy a wallet system to your WooCommerce store to allow customers to add funds to their e-wallets and buy products or services in your WooCommerce store conveniently.
Remember that different plugins offer different features and functionalities. The best WooCommerce wallet plugin depends on your needs and the WooCommerce store you have.
John Person is a WordPress plugin developer who is currently working with ninjaessays.com alongside other expert essay writers. Apart from coding, John is also a blog content creator who writes content for the best essay-writing service blog.
https://ninjateam.org/wp-content/uploads/2021/08/Best-WooCommerce-Wallet-Plugins.png
361
1031
Joey
https://ninjateam.org/wp-content/uploads/2020/10/ninjateam-logo.png
Joey
2021-08-13 19:27:45
2023-01-31 10:10:20
6+ Best WooCommerce Wallet System Plugins (2023)