Best WooCommerce Shipment Tracking Plugins
WooCommerce is an extremely popular eCommerce platform that's used by 4.4 million websites worldwide. This is roughly a third of all online businesses, and if you're one of them, you may want to implement convenient shipment tracking so that your customers can benefit from the best service possible. After people make a purchase on your website, they should be able to monitor their orders, and you can use various shipment tracking plugins to enable such a feature for your customers.
There are many shipment tracking plugins for eCommerce, along with tons of more complex plugins that feature shipment tracking among other functions. There are solutions for different kinds of stores so everyone can choose what meets their needs. Some plugins enable you to provide customers with shipment information manually, while others are fully automated.
"Offering your customers a convenient shipment monitoring experience enables you to improve your customer service, which in turn can help you boost loyalty and attract more new customers," notes Sydney Fry from a writing services review website Writing Judge. If you want to increase your sales, you definitely should consider adding such a feature. To help you choose the best plugin for your website, we analyzed many solutions available on the market and selected those that have the best features and prices.
1. Shipstation

This solution features many tools that can help you with a whole variety of shipping tasks. You can connect your website to Shipstation, and it will help you improve your customer experience in many ways. For example, you can quickly import orders from different platforms that you use to sell your products, track the status of orders, automatically create shipping labels, and use status mapping.
You can also use a debug mode that allows you to quickly detect problems. Besides, this solution can help you save money by suggesting the lowest USPS prices, while many other solutions prefer to market more expensive USPS options instead unless you're shipping a lot.
The Starter plan will only cost you $9 a month. Moreover, if you link your Sendle account to Shipstation, you'll be able to use Shipstation for free.
2. TrackShip for WooCommerce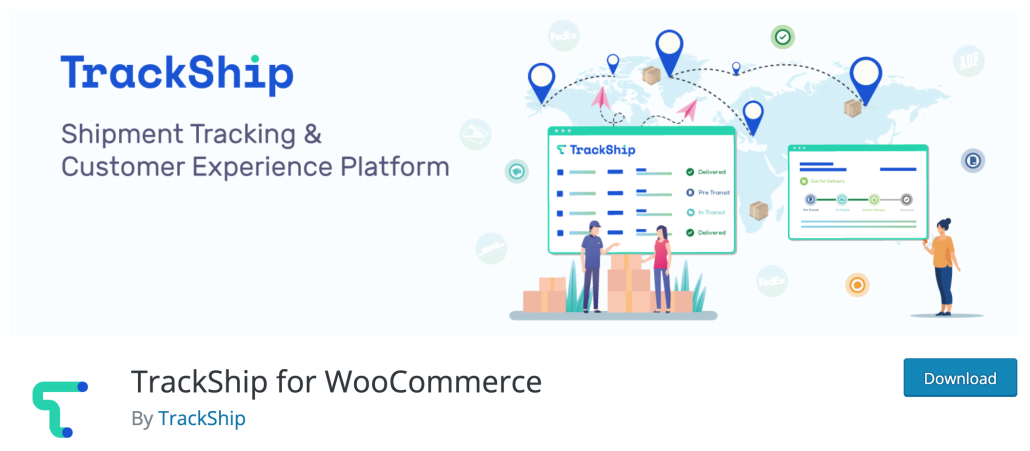 TrackShip is an all-in-one post-purchase experience and shipment tracking platform specifically designed to help eCommerce businesses manage their post-shipping processes and provide better shipping experiences to their customers.
Thanks to TrackShip's ability to auto-track shipments from over 700 shipping carriers, e-commerce merchants can reap the benefits of improving their shipping process and enhancing their customer experience. This is essential for any eCommerce business looking to grow and succeed in the long run.
TrackShip involves Free plan for up to 50 shipment per month and Mini plan starting from $9.17 per month.
By connecting your WooCommerce store to the TrackShip account, you'll be able to keep customers posted on order shipping status. The workflow now creates new shipment notifications to send to customers:
In Transit
Out for Delivery
Failed Attempt
Shipment on Hold
Exception
Returned to Sender
Delivered
Available for Pickup
That's quite a lot, right? But don't fret, YayMail Addon for TrackShip is born to help you fully customize those email templates and make them your consistent brand advocate.
3. WooCommerce Shipping

There are many third-party plugins in our list, but we must also mention the official WooCommerce Shipping plugin. Thanks to this extension, you can print your USPS labels and pay for them right from the dashboard. Given that this is a built-in solution for the dashboard, it can help you save a lot of time. For instance, when you print a label and mark the order as complete, this plugin automatically adds the tracking number to an email so you don't need to enter it manually.
This solution enables you to print your shipping labels by simply clicking the "Create shipping label" button in the "Orders" menu. However, you should keep in mind that this solution is powered by Jetpack so it will only work correctly if you use Jetpack. Besides, although the plugin itself is free, you need to use the USPS Shipping Method plugin to calculate prices, and this plugin costs $79.
4. WooCommerce Shipment Tracking Pro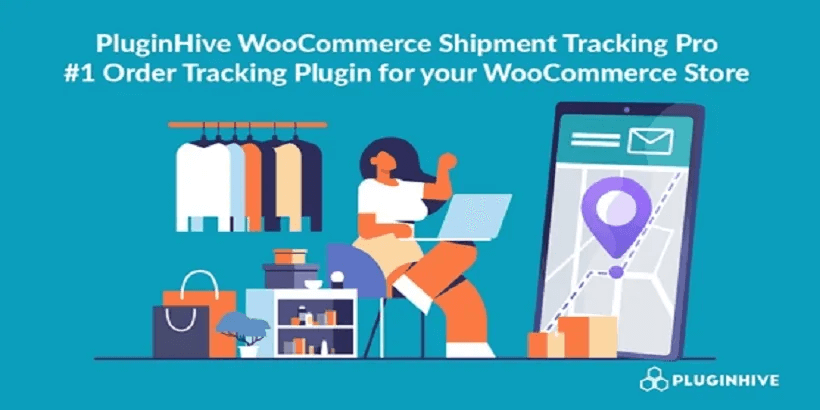 WooCommerce Shipment Tracking Pro plugin lets you integrate Order Tracking functionalities into your WooCommerce store. By using this plugin, you provide your customers with an easy way to track their order delivery from top shipping carriers like UPS, USPS, FedEx, DHL Express, and 80+ other carriers.
The plugin allows you to send shipment tracking notifications via a WooCommerce order completion email. It adds tracking information to WooCommerce orders instantly and automatically marks the order as completed. With this WooCommerce order tracking plugin merchants can customize their own order tracking messages. Import WooCommerce tracking details using CSV, FTP & SFTP upload in bulk.
This plugin is compatible with WPML, ShipStaion, Shippo, ShippingEasy, and PayPal.The plugin pricing starts at $89 for a single license and goes up to $219 for 25 sites license. If you are looking for a handy WooCommerce Order Tracking plugin just go for it.
5. Ultimate Status Tracking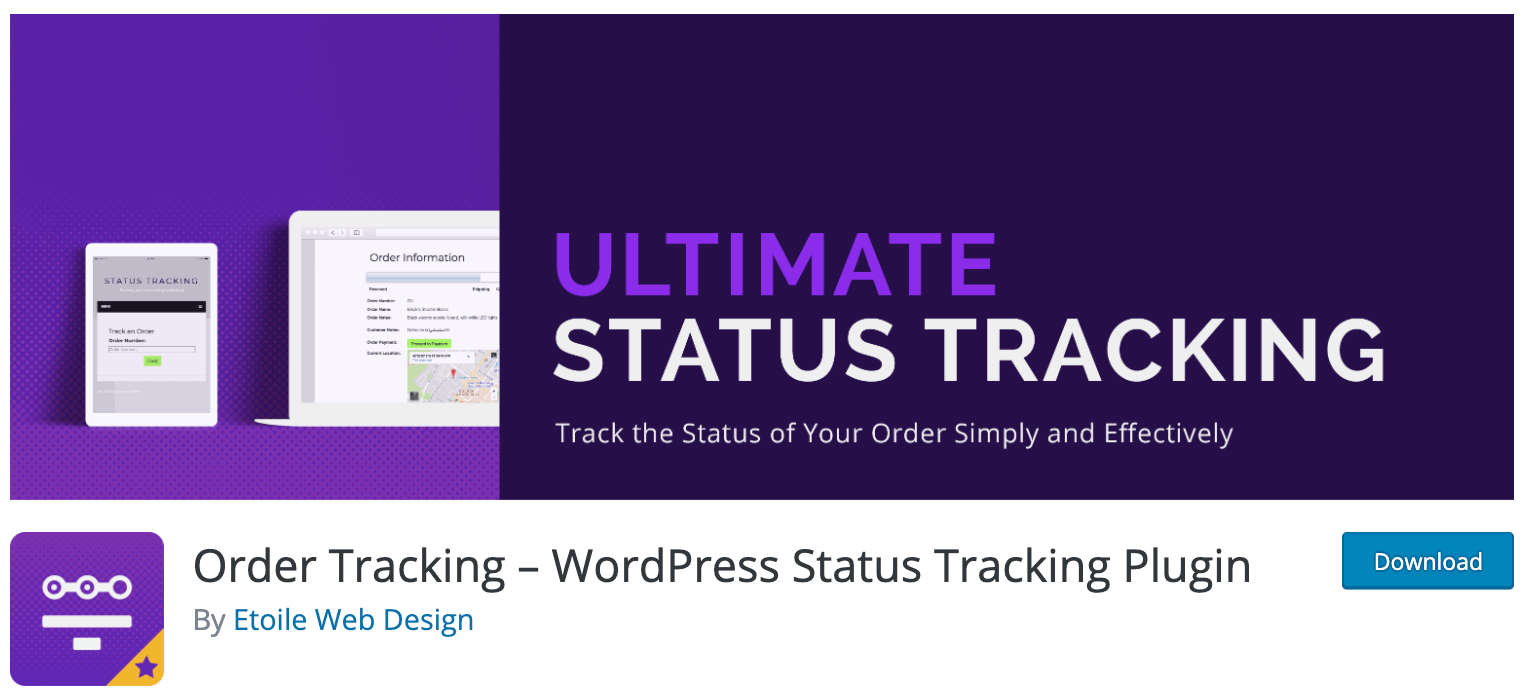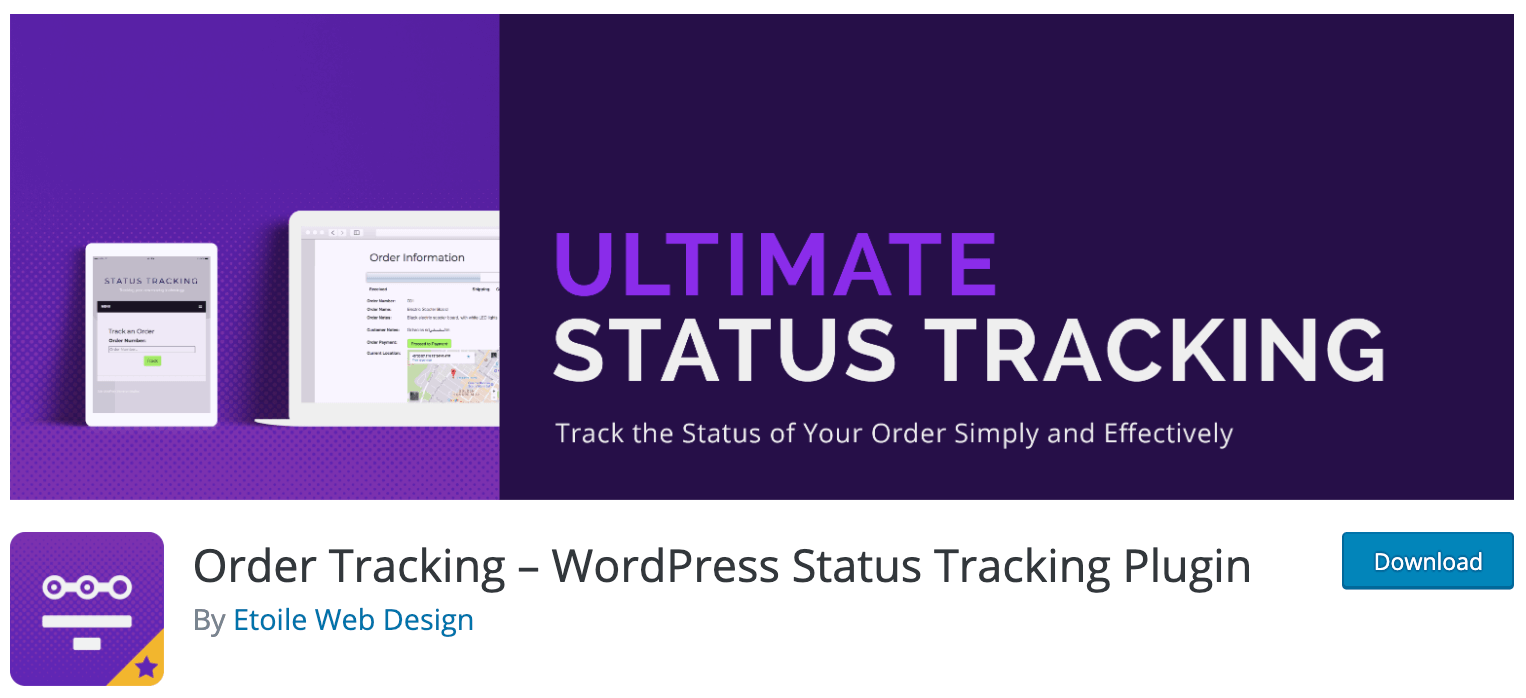 This is a great order monitoring solution that can help you track the status of all your packages by adding tickets or order tracking alerts to your WordPress website. Thanks to this plugin, you can manage your orders easily and quickly thanks to a variety of shortcodes. The best thing about this app is that it also enables you to access all the details about a package with the status monitoring feature.
You can use this plugin to provide your customers with detailed information about deliveries and add various fields with customer notes, numbers of orders, email addresses, etc. You can use Ultimate Status Tracking with WooCommerce or use it as a standalone app. Besides, customers are delegated to sales managers who can provide customers with information on the history of their orders. The prices start from $30 for one website and can reach $170 for ten sites.
6. Advanced Shipment Tracking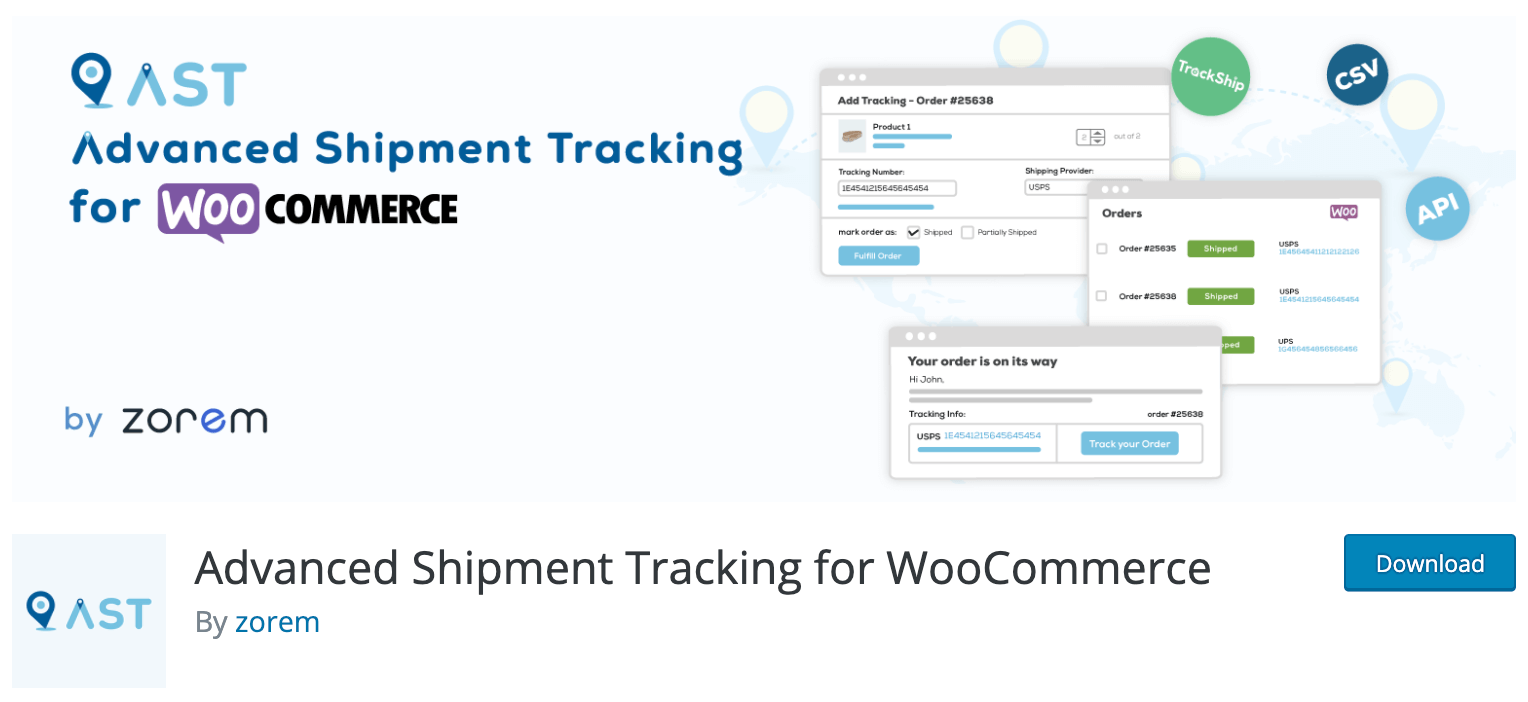 With this solution, you can manage tracking data from over 150 carriers and display it through different channels to ensure the best customer experience possible. After you add tracking information, this app will display it in customers' accounts and send notification emails.
A great thing about this plugin is that it supports custom order statuses. You can also integrate it with TrackShip to send various alerts. For example, you may inform customers when their orders are out of delivery, in transit, or delivered. Another advantage of this plugin is that it's absolutely free. However, if you want to enable status notifications in real-time, you will need to buy TrackShip, which costs $9 per month.
7. Shippo

This is a very popular solution that includes a dashboard and a multi-carrier shipping API. You can use the dashboard to manage eCommerce stores, warehouses, marketplaces, and networks. This solution can streamline all your delivery processes, no matter what's the size of your business. Shippo has more than 10,000 clients and helps them handle millions of deliveries.
You can automatically import all your orders from your store, compare different carriers' rates, schedule pick-ups, and provide your customers with all the necessary tracking information. You can also use this solution to print labels, manage returns, and automate documents. In addition, Shippo is affordable and costs $10 per month.
Wrapping Up
All the solutions from our list are different. Some of them have more features than others, and you can choose a plugin that corresponds to your specific needs. If you only need a plugin that will help you print labels, you may opt for a simpler option. You may also choose more complex solutions to automate and manage multiple delivery processes from a single dashboard.
No matter what your goals are, good shipment tracking software can help you improve your customer service and make sure that every customer receives the best experience. If you want to boost loyalty among your existing customers and attract new ones, using proper shipment tracking software is not an option but a necessity, and we hope that our list of the best WooCommerce shipment tracking plugins will help you.
Frank Hamilton has been working as an editor at essay review service Best Writers Online. He is a professional writing expert in such topics as blogging, digital marketing and self-education. He also loves traveling and speaks Spanish, French, German, and English.
https://ninjateam.org/wp-content/uploads/2021/08/Best-WooCommerce-Shipment-Tracking-Plugins.png
426
1210
Joey
https://ninjateam.org/wp-content/uploads/2020/10/ninjateam-logo.png
Joey
2021-08-25 09:09:56
2023-02-24 09:49:31
Best WooCommerce Shipment Tracking Plugins