HostArmada vs Bluehost – Which is Better?
Picking up the right hosting provider for your needs can be a crucial and challenging choice for anyone, especially if he is new and just getting started.
There are various factors to consider, and knowing what to look for is vital in figuring things out. Today, we will make a head-to-head comparison between these two companies, and hopefully, we will be able to sway you in the correct direction if you feel torn about your choice. Let's dive right into it.
Bluehost
Bluehost is arguable the most recognizable hosting provider out there. They have been around for almost 20 years now, and they host more than 2M websites. A respectable number, to say the least, and on top of that, they are recommended by wordpress.org.
Plans & Pricing
Bluehost offers a variety of plans, from Shared Hosting to Dedicated Servers. Their shared plans have only 12 and 36-month billing plans, while their VPS and Dedicated Servers have more flexibility for 1, 3, 6, and 24 months as well. Each hosting solution is designed to cater to a specific client's needs, with shared hosting being best for newcomers while VPS and Dedicated Servers being great for clients with more sites or high traffic projects.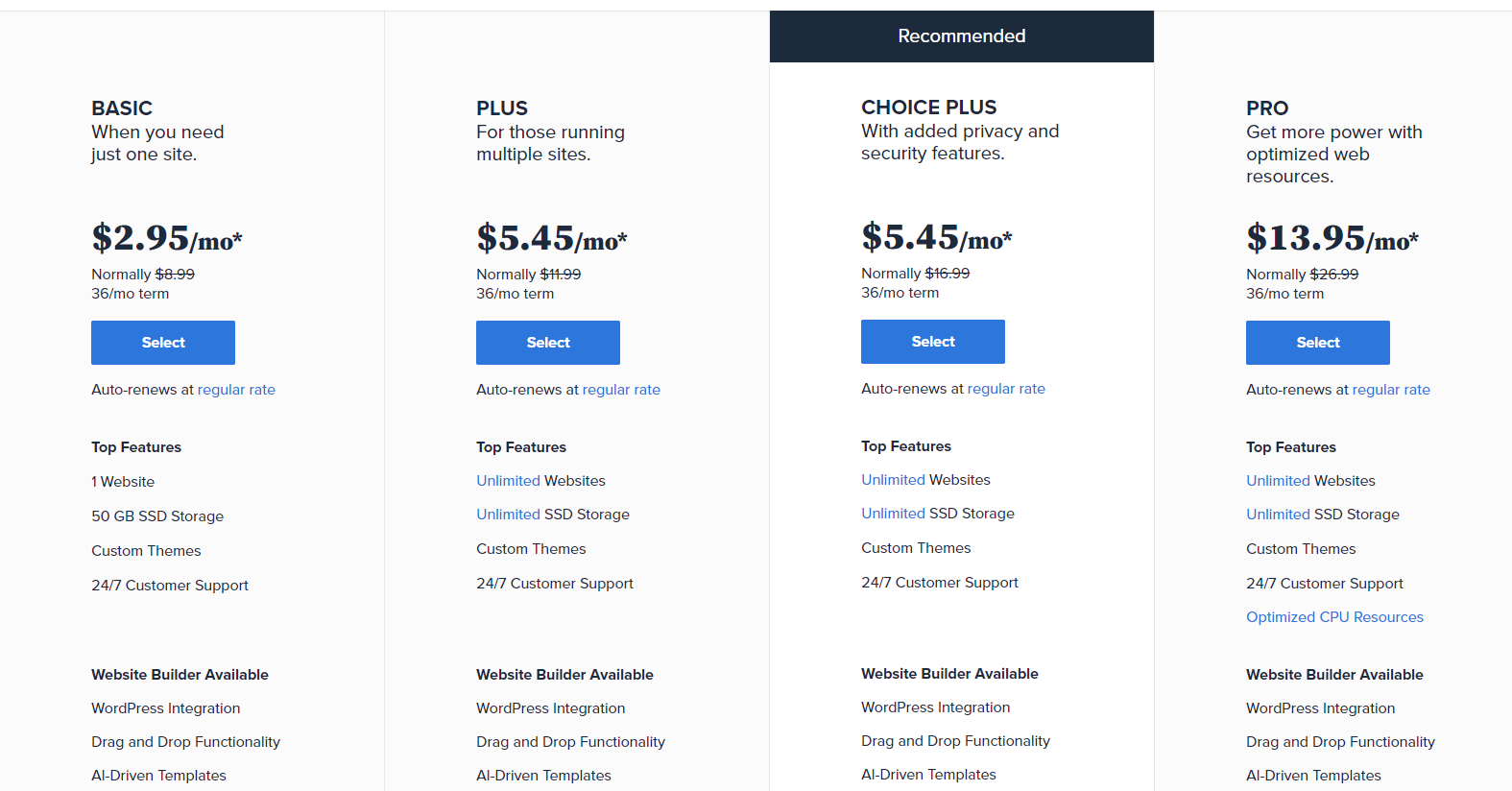 The higher the billing cycle you chose, the better price you will get, with the lowest possible option being $2.95(only for the 36-month billing cycle, otherwise it is $4.95) for their Basic hosting plan. Their plans include SSD drives, custom themes, and a 24/7 support team. Additionally, you can register a domain name for Free, use the free CDN from Cloudflare and have free SSL certificates for all your domains.
Features
All Bluehost services are armed with SSD drives, include cPanel, HTTP/2, and NGINX+ Cache. They advertise Fully customizable Websites, Easy-to-use DAshboard, a Full Suite of Tools, Built-in Security, and Fast web pages with 24/7 support.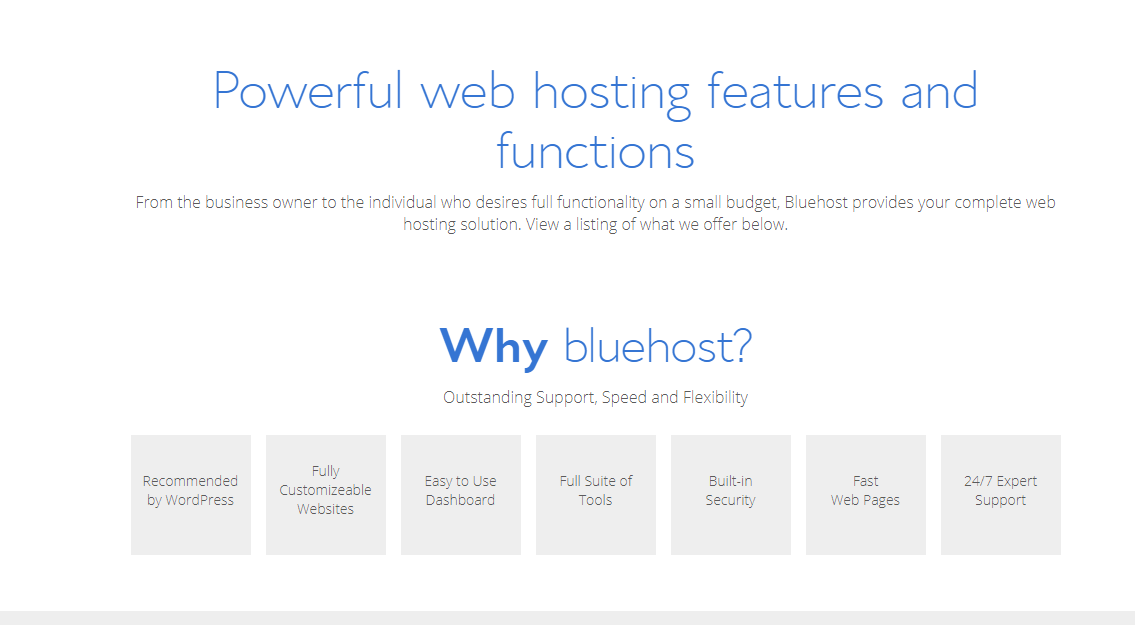 Uptime
It is an industry standard to offer at least a 99.9% uptime guarantee. According to their Network Server Uptime Agreement, Bluehost promises that they will likely fix an issue with the server in 15 minutes if it goes down.
Support Team
Bluehost offers a 24/7 support option via phone, email, and chat. The response time is usually instant unless you are at peak hours. They also have a huge array of support resources which you can always look at and attempt to solve the issue on your own before contacting their support team.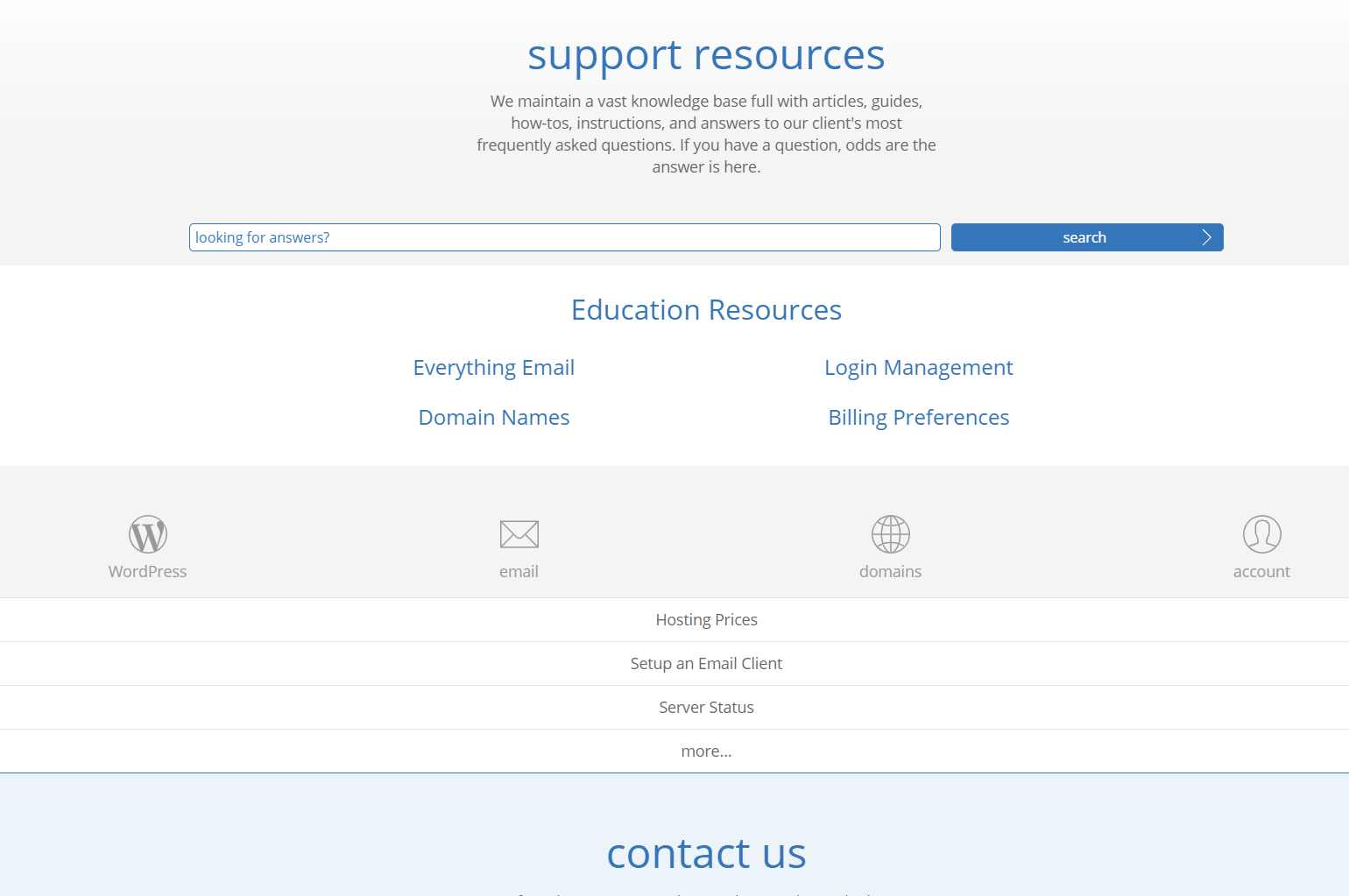 HostArmada
HostArmada was formed by a group of colleagues who worked together in big hosting companies. They did not like the direction in which these companies were headed, so they decided to start their own thing and offer customers a better alternative to what they are used to on the market.
This alternative comes in innovation, increased performance & security, an outstanding support team, and competitive pricing. Of course, this may sound like a cliche, however, in 2 years, HostArmada has built an excellent image for itself with a perfect review score on multiple respected review websites.
Plans & pricing
HostArmada offers a huge variety of services, including Shared Hosting, VPS Hosting, and Dedicated Servers Hosting plans. Their team of professional hosting experts designed their plans around flexibility and choice for their clients so that they can select the most valuable solution for their needs. Their knowledgeable 24/7/365 free support team is always willing to suggest what plan if a user cannot decide. Simply open the chat window on their site, and a support agent will immediately answer the call. Their shared hosting plans are as follows:
Start Dock – 15GB SSD, one website, 2G RAM, 2 CPU cores, Unmetered Bandwidth, Free domain registration, Free SSL, up to 10K unique visitors, 7 daily backups. Costs $4.69/month.
Web Warp – 30GB SSD, one website, 4G RAM, 4 CPU cores, Unmetered Bandwidth, Free domain registration, Free SSL, up to 60K unique visitors, 14 daily backups. Costs $3.33/month
Speed Reaper – 40GB SSD, one website, 6G RAM, 6 CPU cores, Unmetered Bandwidth, Free domain registration, Free SSL, up to 120K unique visitors, 21 daily backups. Costs $5.66/month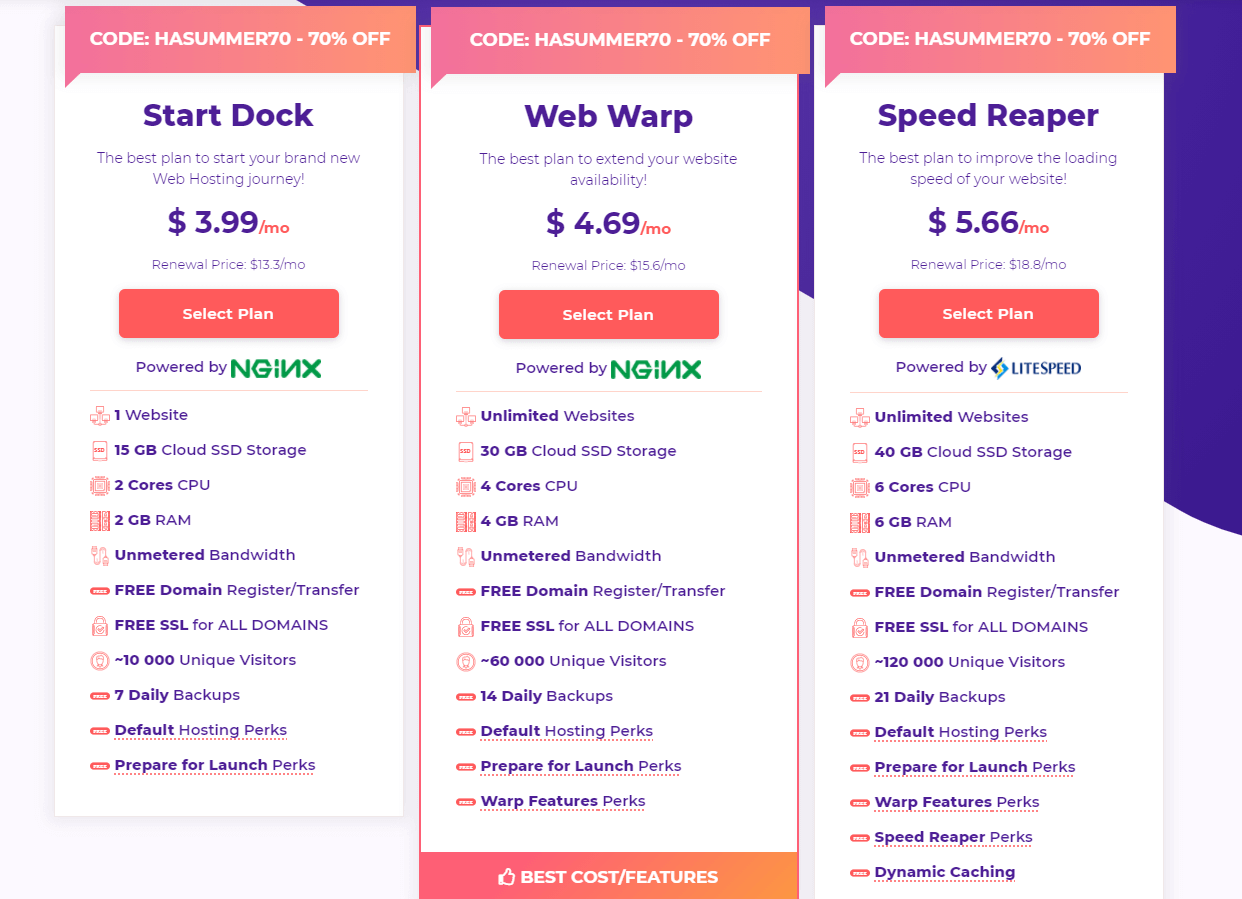 Features
All of HostArmada's servers are fully optimized for performance, speed, and security. Each plan includes either a LiteSpeed web server or NGINX to boost the website's speed to the next level. In terms of security, they use the sophisticated imunify360, which proactively tracks for malware and malicious scripts and offers daily scans and malware removal.
Uptime
To stay competitive, HostArmada offers the industry-standard of 99.9% uptime guarantee. This commitment is something they highly value and are very serious about keeping.
Support Team
HostArmada has one of the best technical support teams in the industry, with most of them being experts with over six years of experience.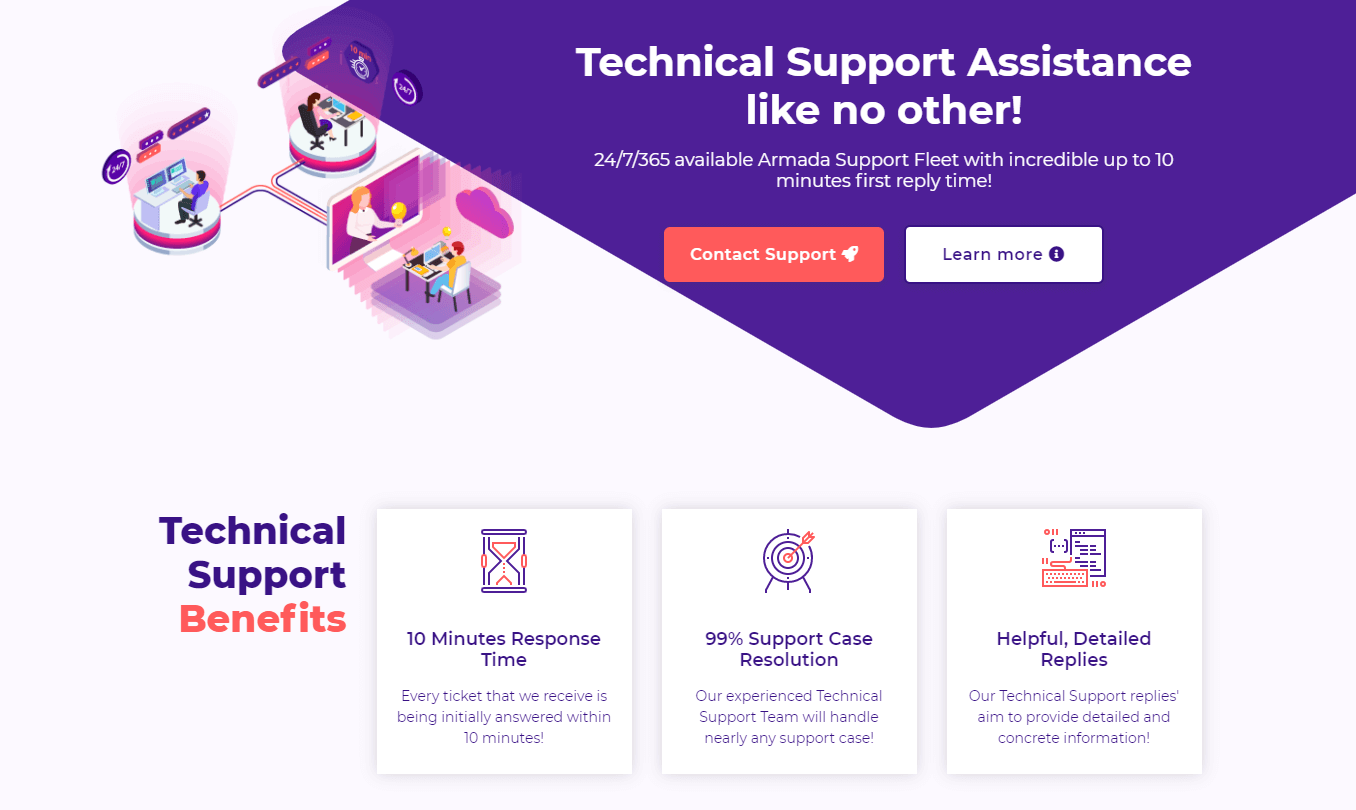 Most impressive about them is that they will always walk the extra mile for a client due to their compassion and willingness to help. You can contact them over 3 support channels – phone, ticket, and chat. The most severe technical issues will be handled via ticket, as it will take more technical time to solve, while the minor ones can be easily handled by our team over the phone or chat.
Conclusion
The comparison table below will illustrate the most significant difference between HostArmada and Bluehost. We will be comparing their most affordable plans.
| | | |
| --- | --- | --- |
| Features | Bluehost (Basic) | HostArmada (Start Dock) |
| SSD Storage | 50G | 15G |
| Bandwidth | Unspecified | Unmetered |
| Visitors | Unspecified | 10K/month |
| SSL | Free | Free for all domains/sub-domains |
| Entry price | $2.95 | $3.33 |
| Renewal price | $9.99 | $13.99 |
| Number of sites | 1 | 1 |
| Caching | No | Yes |
| Backups | No | Daily |
| RAM | Unspecified | 2G |
| CPU cores | Unspecified | 2 CPU cores |
| Free Domain | Yes | Yes |
| Free Transfer | No | Yes |
| Security Features | Paid | Free |
| Datacenter Locations | Unspecified | 9 |
As you can see from the comparison table, Bluehost does offer a bit better pricing and more SSD storage, however, a lot of their features are not transparent, such as RAM, CPU, Bandwidth, and visitors per month. HostArmada also outweighs them in feature count that comes baseline with the plan.
Final Verdict
If you have been paying attention closely you will notice that HostArmada has much more features compared to Bluehost in almost every single aspect.
If you are looking for a feature-packed hosting provider with amazing technical support, free SSL certificates, free domain registrations, free website migrations, free backups, and free security features, then HostArmada is the way to go.
If you want a very basic hosting plan and pricing is your main concern, then Bluehost is the way to go.
Even with the price into consideration, the cost difference is $0.35/mo and if you include all the features HostArmada does, then the value you get is much much higher.
https://ninjateam.org/wp-content/uploads/2021/09/HostArmada-vs-Bluehost-–-Which-is-Better.png
361
1031
Joey
https://ninjateam.org/wp-content/uploads/2020/10/ninjateam-logo.png
Joey
2021-05-07 17:29:44
2021-09-22 17:38:32
HostArmada vs Bluehost – Which is Better?