How to Set Up Google Site Kit in WordPress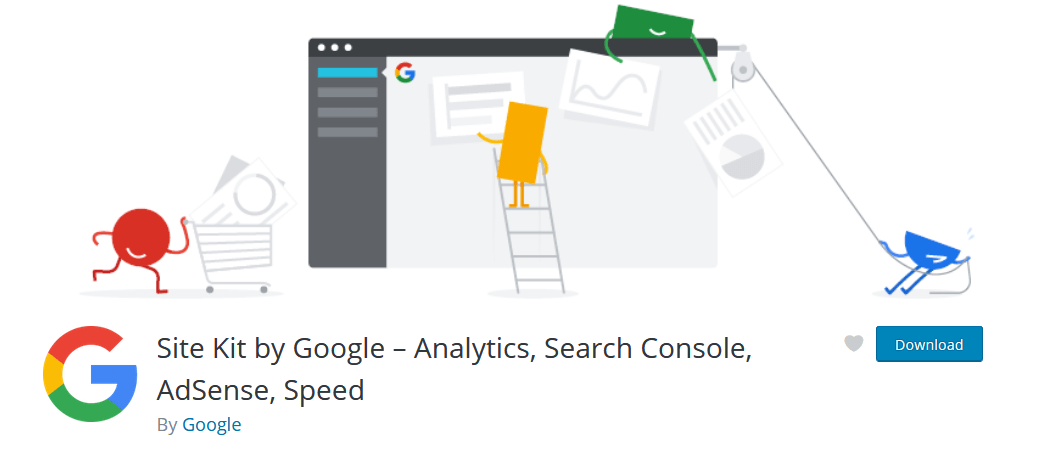 Most likely, as a site owner, you have heard a lot about how convenient and effective Google tools are. But not everyone understands how they can be used if you have a site on the WP functionality.
Such a product as Google Site Kit has become a must-have for almost all site owners. It's all about convenience, efficiency, and zero price. Just imagine, before users had to leave a request to test this product. After a while, it was necessary to download this plugin in zip format.
But today it is enough to go to the official WP website, find this plugin and install it. In this article, you will learn how to install the plugin, who is it suitable for and how to use it.
Google Site Kit Guide: Definition, Key Features, and Installation Process
Before we start looking at how to install this plugin, let's take a look at its main features and the reasons to use this plugin. It's worth starting with the fact that the plugin performs several tasks.
It is a combination of all known tools from Google plus tips for users to promote their site more successfully. Also, a significant advantage is the fact that the plugin allows you to receive not general statistics, but more specific stats for each page of your site.
The Key Product Benefits
The key feature of this plugin is that you get 4+ platforms in one tool. You get a common interface and you don't need to open each tool separately. This greatly improves the usability of each tool.
It allows you to get general statistics without the need to close your site. For instance, you will immediately see Google Analytics results.
This product is a completely free and official solution for developers.
The plugin provides ease of data collection. Now, to get this data, there is no need to edit the code.
The product allows you to get information not only on the entire site but also on individual pages and even publications. This is a great feature for complex and multi-page sites.
The site owner gets the opportunity to open or deny access to metrics. This is a very useful function for those who work on a project collectively or use outsourcing services.
The Metrics Assortment
Let's move on to talking in more detail about the functionality of this tool. This plugin combines the following tools:
Google Search Console. This tool is designed to get an analysis of how your site's pages are displayed in search results. The tool allows you to find key queries, monitor traffic, track the number of users who received your site as a result of a search, and so on.
Google Analytics. This tool is designed to analyze the behavior of your users on the site and control metrics. That is, you can get information about how your site visitors interact with page elements, how effectively they interact with core sections, and so on.
Google PageSpeed Insights: This tool allows you to analyze your site and compare it to others. At the same time, the tool will provide you with various tips with which you can improve the performance of your site.
Google Adsense. This well-known tool allows you to get a detailed analysis of your traffic monetization.
Tag Manager. This additional tool allows you to create, update and track tags for sites. The main advantage is that no code editing is required.
This is an add-on tool that provides a simple A / B testing process that eliminates the need for code editing.
Agree, it may seem that there is no need for this plugin as you can continue to use the tools separately. But why do that when you get convenience and functionality in one product? Well, perhaps the main advantage is that the plugin is an official product of the developer, which is a kind of a "trusted" tool.
How to Install the Plugin?
This plugin is the connection between the WP and the Google tools world. To successfully install this plugin, you do not need much of your time. Here are the basic steps:
Find the plugin file on the official website of the WP. Today the plugin has appeared on the platform, earlier it can be downloaded in zip format.
Start downloading the plugin.
After you complete the download, go to your site's dashboard. Open the Plugins tab and click Add.
You have to select the plugin download option.
Click on the tab to start the installation.
After completing the installation of the product, you need to click on the "Activate" button.

As for downloading the plugin, that's it. Now you need to go to the plugin settings and account sync. This will link the product to your Google account.
Setup Process and Google Account Sync.
After you have completed all the steps, you need to go to the settings of the plugin itself. There is a need to authorize your site with your Google account. After activating the plugin, you should have been prompted to configure the product.
When you click on this button, you will be taken to the official site of the plugin.
To start authorization, log in through Google.

Next, you will be faced with the usual interface that appears during the verification procedure through a Google account.
Do not forget to click on the "Allow" button.

In order to authorize the WP site and the Plugin, you need to click on the "Proceed" button.
After you complete this basic setup process, you will receive a popup to return to your site.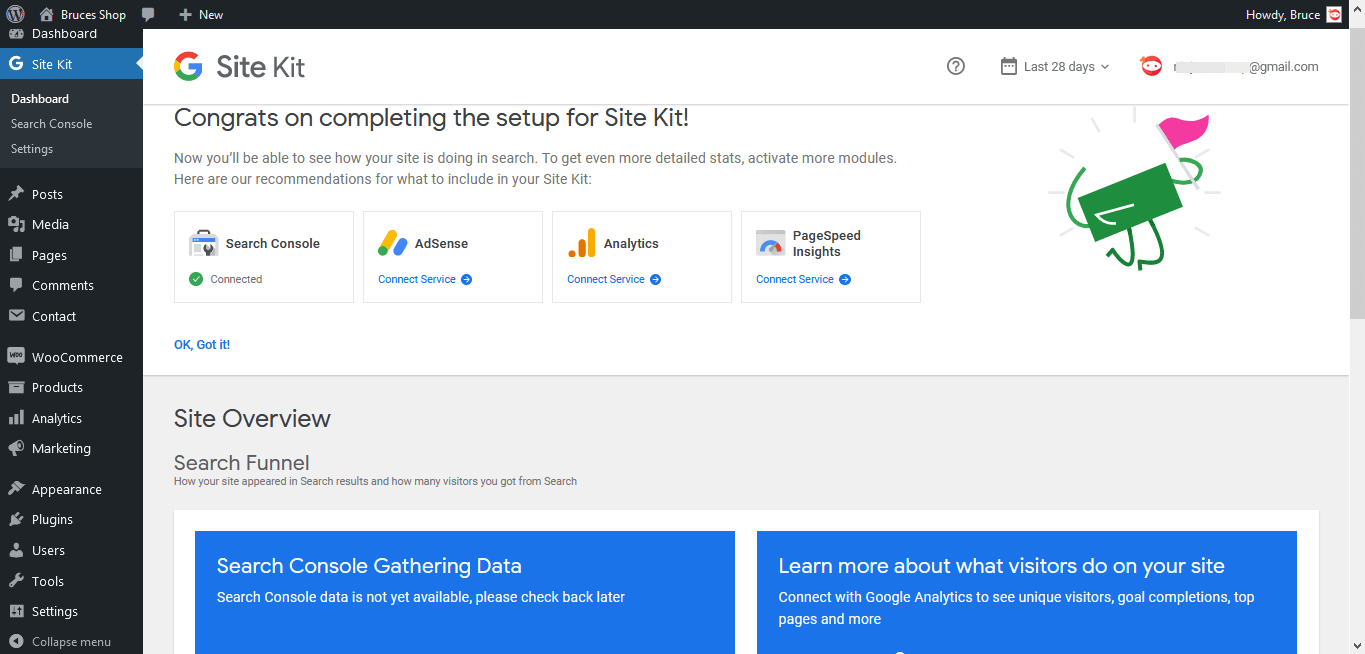 But to get access to all the products that are included in the plugin's functionality, you will not need to spend a lot of your time. At this point, you have activated access to the Google Search Console.
To add additional tools you have to open "Settings" of the plugin.
Select the "Connect More Services" option where additional tools will be displayed.
Now you need to select the "Set up … X" button and configure the tool you need for your site.
Please note that setting up some additional tools may require another authorization process. But all subsequent actions will be matched with the above instructions.
At this stage, the work on configuring the product is over. You can start getting to know the tool.
The Key Features You Need to Know
It's time to talk about the main functions of this product since after installing all the settings, you have nothing left to do but figure out what each tool is for and how to use it to get benefits for your site. In practice, it is as simple as typing "write my research paper" and getting help with academic assignments.
Dashboard
On the dashboard, you will see general data from Google Analytics and Search Console. The dashboard allows the user to quickly evaluate the work of the site. You may need to customize settings to see such things like Goals Completed.
Detailed Page Stat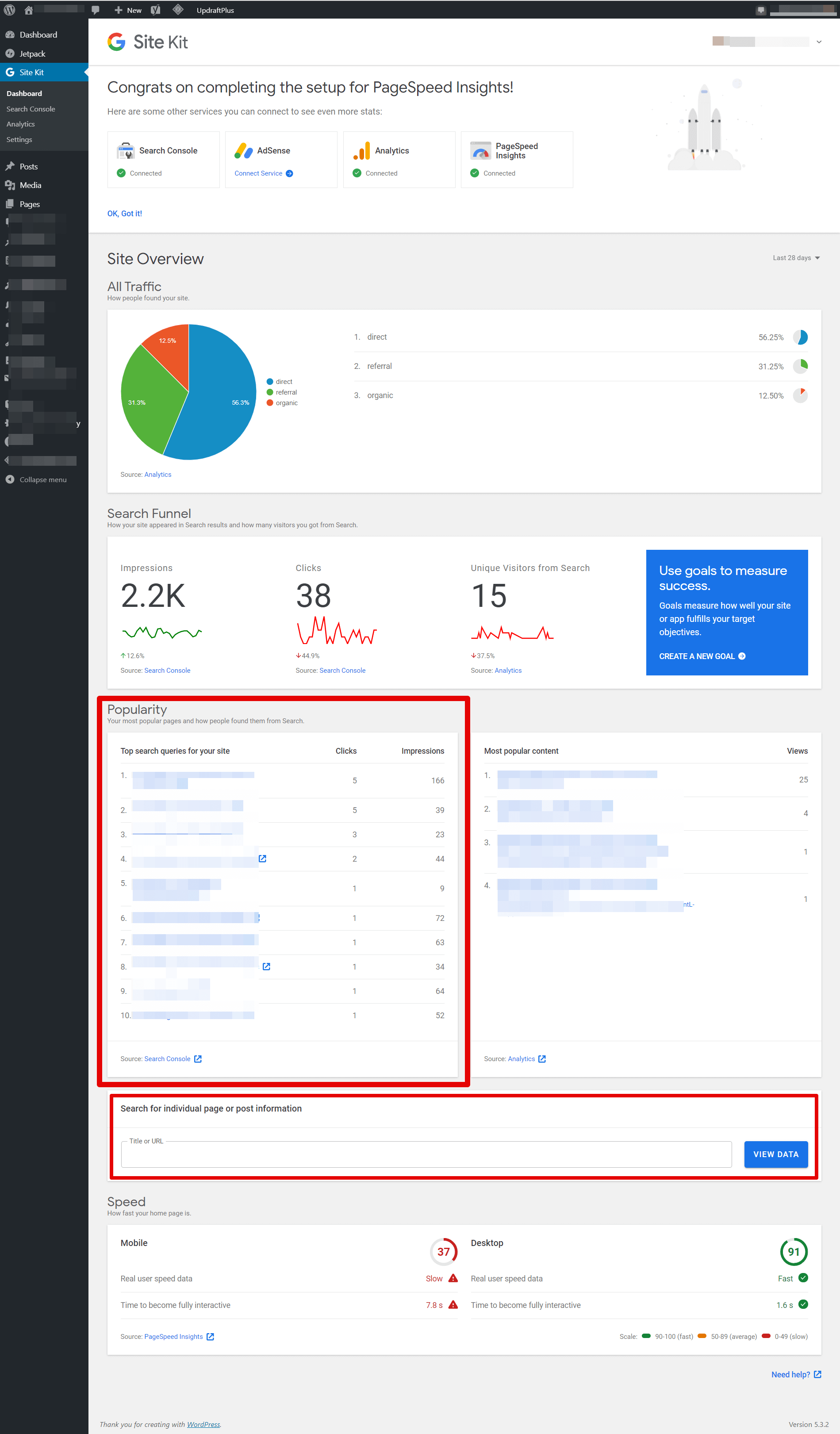 Inside the dashboard, you can get to the popularity section, which is ranked for keywords based on clicks and impressions. If you scroll down further, you get statistics for individual pages, not total. Also, you can enter the page URL and get advanced statistics. There all the popular elements based on which this particular page is ranked will be displayed.
Search Console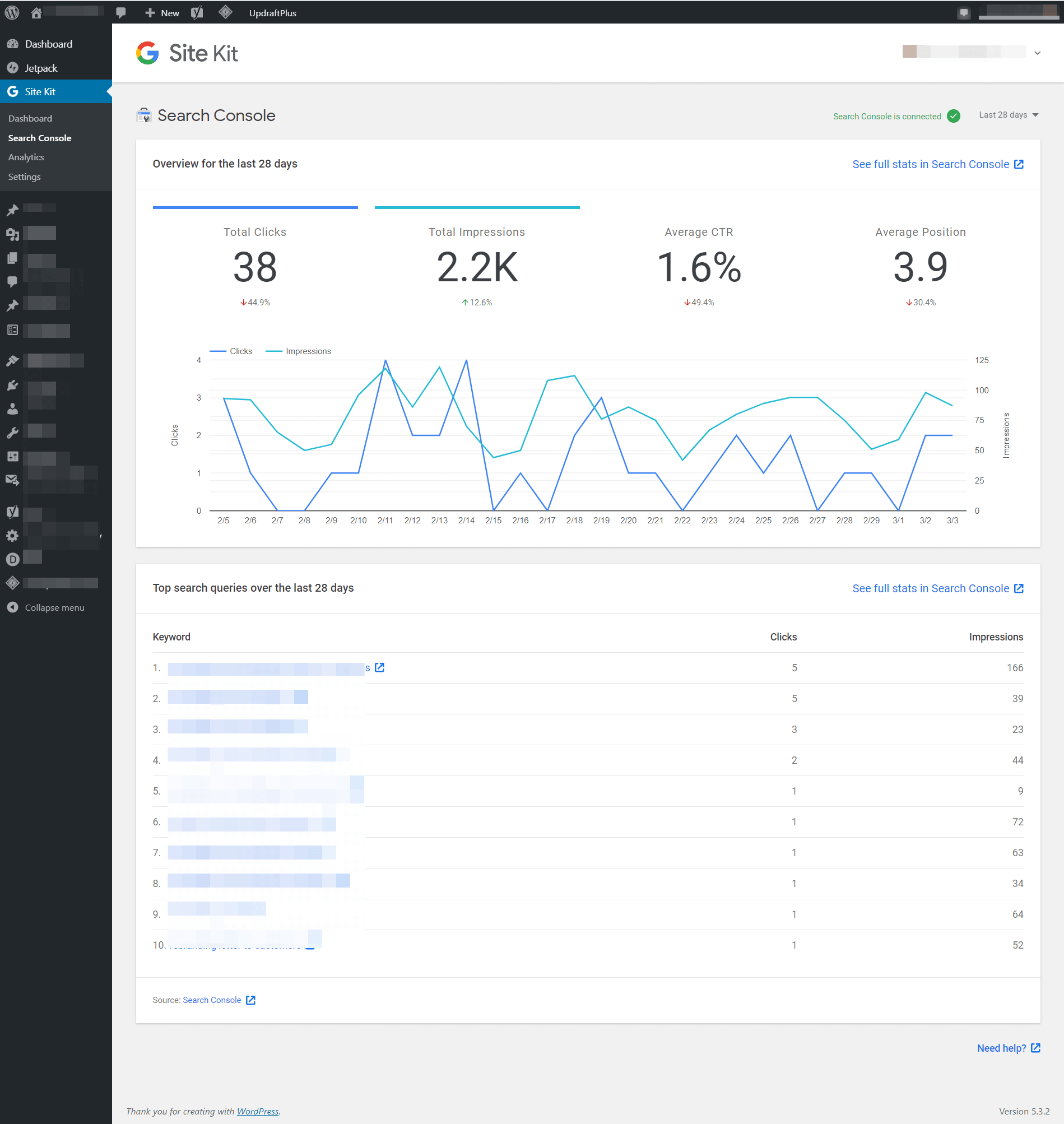 Also, you will find a separate section where you can see an overview for a time interval from 7 days to 98. All you need to do is scroll down and get a picture of how SEO works.
Google Analytics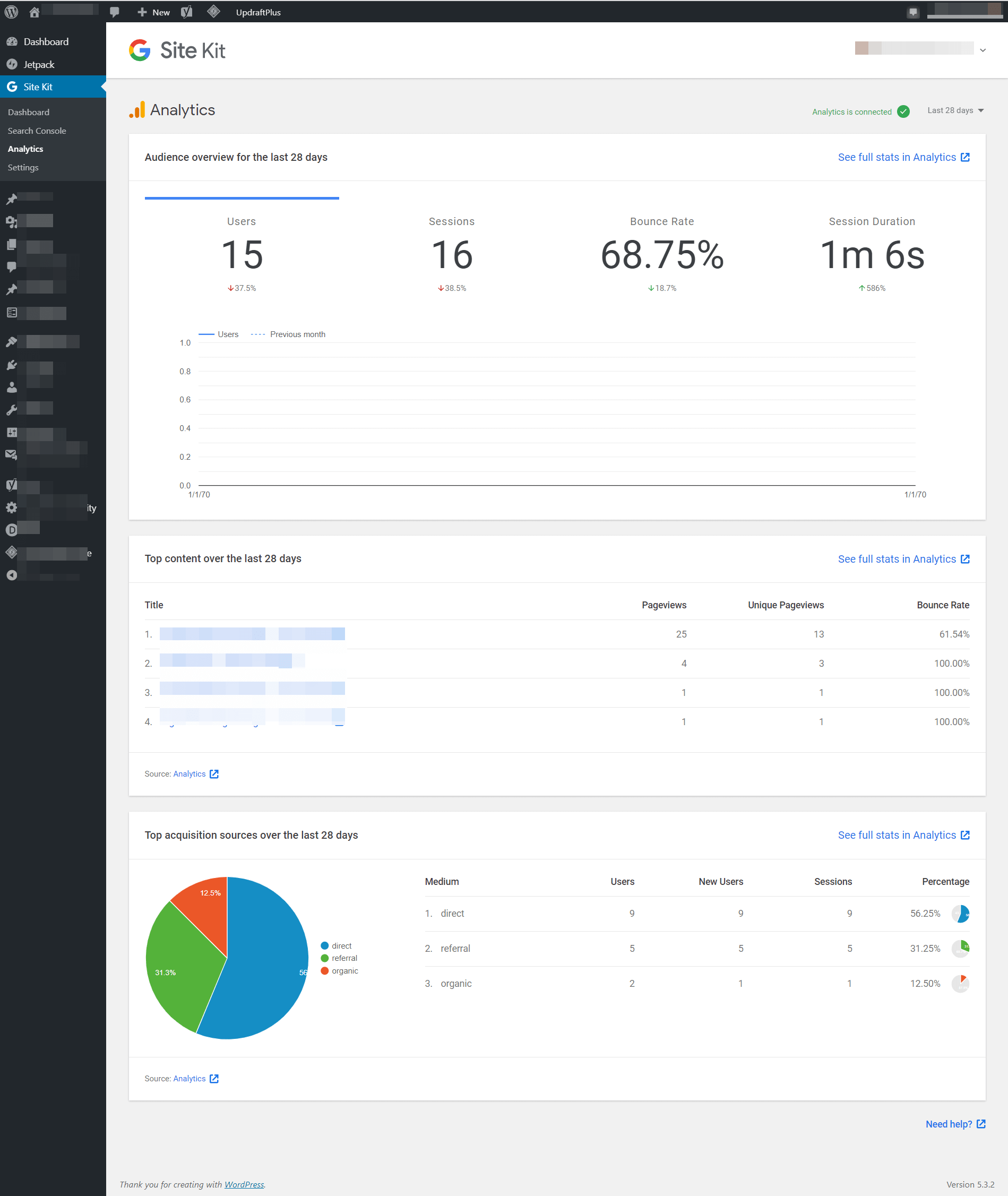 You are most likely familiar with this tool outside of this plugin. To find this tool just scroll down the page. There you will get information about users, session lengths, bounces, and so on. Also, you can select the desired period to get the main indicators.
Pagespeed Insights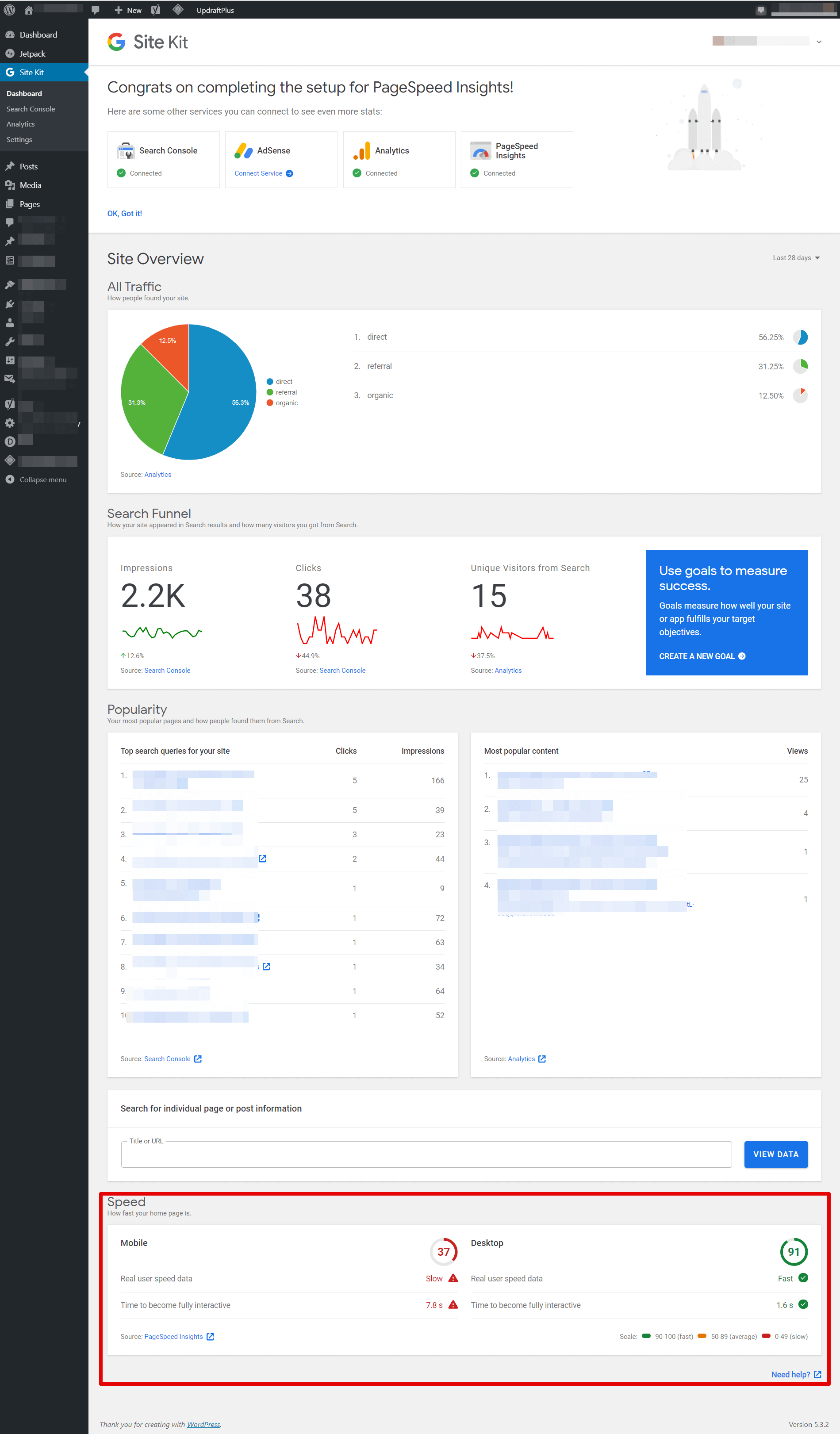 Scroll down your main panel and then you will get information regarding page speed. So, there is no need to search the other plugins to determine the speed of your page loading. By the way, unlike many plugins that perform this function, the Google plugin will not affect the performance of the site and slow down the loading speed.
P.S. You can check the loading speed of each page simply by opening it in your site panel.

Adsense and Google Optimize
When you add these additional tools, they will also appear on your site in the same way. Accordingly, you will have direct access to monetization or testing results.
Google Tag Manager
This tool allows you to set pixels and JavaScript tags. If you haven't configured this tool yet, be sure to do so. Use the settings guide for the additional tools above to start managing your tags.
Who Needs This Plugin?
We can safely say that every website owner who wants to employ advanced functionality for the website boost needs this plugin. The product is free and most likely you have come across these Google tools separately. Now, you have the opportunity to get all of these tools in your WP control panel.
By the way, the plugin does not affect the performance of your plugin, which is a significant advantage. If you still have not decided whether you need this product or not, then there are three reasons why you should get started with this tool:
Ease of use
Why complicate what can be facilitated? And we are talking specifically about why use the tools separately if you can get them right on your site. Especially if you consider that the product is available for free, then why not spend a little of your time and get all the tools you need right at your fingertips.
Open Custom Access to Metrics
In the era of data-driven marketing, access to custom metrics and instant reporting is one of the main competitive advantages. When several specialists work on your website promotion or you want to stay updated on the success of your marketing strategies, using Google Site Kit becomes essential since it generates structured data with the help of the unified solution.
This type of work is much more convenient for both site owners and specialists since there is no need to constantly request access to analytics, reports, and so on. All the site owner needs to do is create the required type of access for the user.
Replace Digital Marketing Service for Free
Unless you are using third-party agencies or digital marketing services, there is no need to do so with this plugin. As you already understood, the plugin provides you with fresh stats and analytics for your site in one place. That is, on your site.
Yes, these metrics are basic but useful for all website owners and webmasters. For instance, you can receive information such as:
Traffic: You will get the insights info not on the general traffic, but also the classification. That is, you will be able to see organic, direct, referral, or paid traffic.
Popularity: Popularity refers to top searches, page rank, clicks, and impressions.
Search Funnel: If you configure this feature in Google Analytics, you can view clicks, unique visitors, and target achievement.
We are sure that after a couple of days of using the product, you will be able to emphasize your reasons why you should use this product.
Wrapping Up
In conclusion, it is vital to once again focus on the fact that this product is necessary for all site owners who want to be able to quickly view stats and optimize pages. There are certainly other similar plugins out there, but note that they rarely integrate with other Google tools.
This product eliminates this problem and saves you time opening all the tools. Also, do not forget that the product becomes a real solution when several specialists are engaged in the site promotion since they also get the opportunity to view all the metrics if necessary.
What is more, downloading and configuring the product is easy. If you have experience with plugin customization, then you will not have any problems in this matter. Although we can say that if beginners use the above instructions, they will not encounter difficulties either. Do not waste time and embody everything discussed in reality and get a clear picture of what is happening on your site.
https://ninjateam.org/wp-content/uploads/2020/10/ninjateam-logo.png
0
0
Ninja Team
https://ninjateam.org/wp-content/uploads/2020/10/ninjateam-logo.png
Ninja Team
2021-05-01 07:56:17
2021-06-01 16:51:22
How to Set Up Google Site Kit in WordPress