Managed Cloud Hosting – Cloudways Review
Choosing a web host for your WooCommerce store can become a huge challenge if you don't do thorough research. To help you with the process, this article focuses on Cloudways, a managed cloud hosting platform that lets you host your ecommerce site on a managed cloud server and lets you manage them through an intuitive frontend panel.
Let's begin by understanding what Cloudways is and what it offers to its users.
1. Cloudways Review – An Overview
Cloudways offers managed cloud hosting through its state of the art platform which lets you launch cloud servers on any of the five cloud providers. Normally, when you launch a server by yourself on cloud infrastructure, it takes hours to set everything up, assuming you have all the technical knowledge to carry out the process and handle any unexpected event. If that's not the case, you are going to need professional help which is going to cost you a lot of money.
Cloudways lets you launch cloud servers in a matter of minutes, saving you a significant amount of time and money. You can also manage your server through the Platform and perform activities like scaling server resources, enabling SSL, domain mapping, and other server and app management actions very easily.
In short, Cloudways lets you focus on important things such as your website and your business while the Cloudways Platform takes care of your servers.
2. Cloudways Platform Features
Cloudways managed cloud hosting comes with a number of features that come together to give you an excellent experience. Some features are aimed at improving server and application performance while others give you peace of mind and offer transparency in tracking performance.
Flexibility and Freedom
As mentioned earlier, Cloudways gives you the flexibility and freedom to choose from five cloud infrastructure providers including:
DigitalOcean
Vultr
Linode
AWS
Google Cloud
This freedom means that everyone, from a small-time blogger with a single website to an agency with hundreds of clients, can use Cloudways to host their sites. This is an important USP that sets Cloudways apart from the competitors because usually a cloud hosting provider offers a single infrastructure provider that is the standard for every user. So whether a user is a blogger or an eCommerce store owner, he or she pays the same amount for the plan they choose.
With Cloudways, a starter plan with DigitalOcean costs a lot less than with AWS or Google Cloud. So by signing up with DigitalOcean on Cloudways, you get all the features of a cloud hosting provider at almost a third of the price and enjoy the flexibility of a managed hosting experience.
This freedom doesn't end there.
With Cloudways you also get to choose the specifications of your server such as RAM, bandwidth, storage, and processing power. This is another important option because usually hosting providers offer pre-defined plans with little variations.
Pay as You Go
With Cloudways, you have full control over the billing. For instance, the Cloudways' basic 1GB DigitalOcean plan costs $10/month; however, at the end of the month, you will be charged for the server resources you used
This is called Pay as You Go billing where users pay only for the resources they consume rather than a fixed amount for the entire month.
This comes handy when you decide to upgrade your server. For example, on the 15th of the month, you decided to upgrade your plan from 2GB DO to 8GB DO. In this case, the invoice will split into 15 days of 2GB server and 15 days of 8GB server.
So, to sum it up, the cost of running a WooCommerce store hosted on Cloudways using DigitalOcean can be around $10 to $20/month.
The Cloudways Stack
Every server you launch at Cloudways comes with a stack that optimizes resource allocation and usages for speed and performance. The stack is a combination of caching technologies and servers that works together to ensure that you get optimum performance round the clock.
Here are the components of the Cloudways Stack:
Varnish Cache – Varnish boosts the performance for websites that are rich in multimedia making it a must-have component for any cloud hosting stack.
Redis – Though optional, it significantly improves performance by acting as virtual memory for datasets.
Apache – Apache is a popular web server and provides a great hosting experience.
NGINX – An efficient web server capable of handling significant numbers of requests.
MariaDB – MariaDB is a database server that is highly scalable and robust.
Memcached – Memcached makes database calls, API calls, and page rendering a breeze.
Simple Server and Application Launch
Cloudways lets you launch your server and application through a very simple process.
Here is a brief outline of the process of selecting server specifications before finally launching your Cloudways managed servers.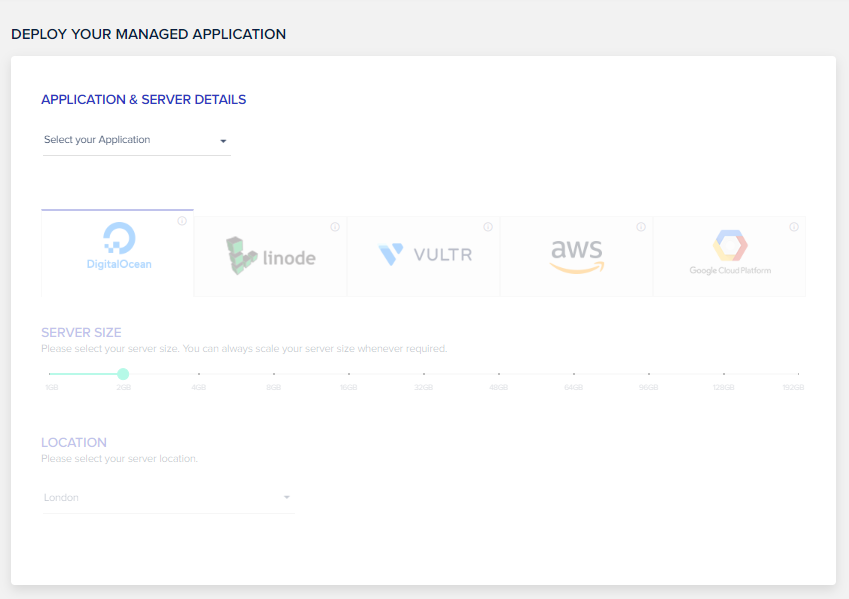 The first step is to select your desired application from the drop-down menu.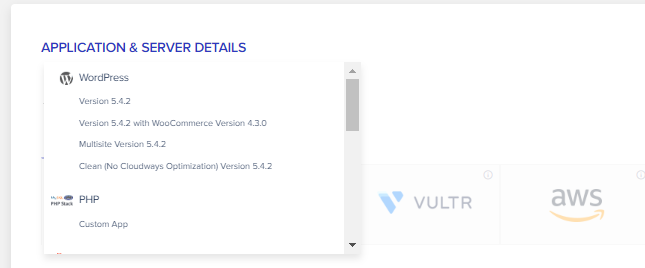 To illustrate, I have selected WordPress version 5.4.2.
Next, you need to name your server and your application.

Then, you would need to select one of the five cloud infrastructure providers for your server.

As you can see, I have selected DigitalOcean.
The next step is to select your server specification (particularly, the RAM size).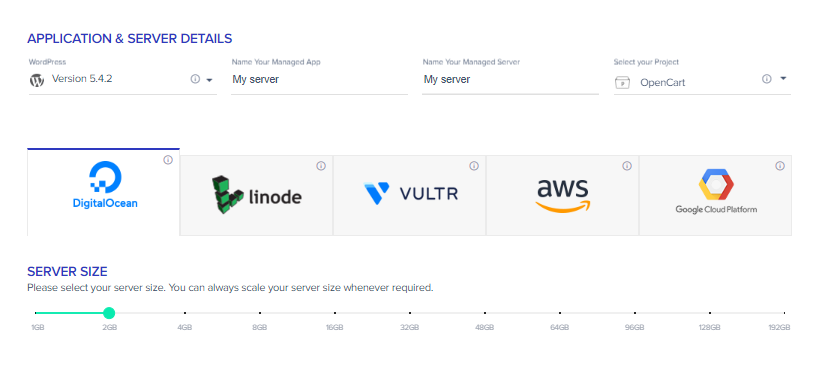 I have selected 2GB RAM.
Next, select the data center location for your server, and click Launch Now.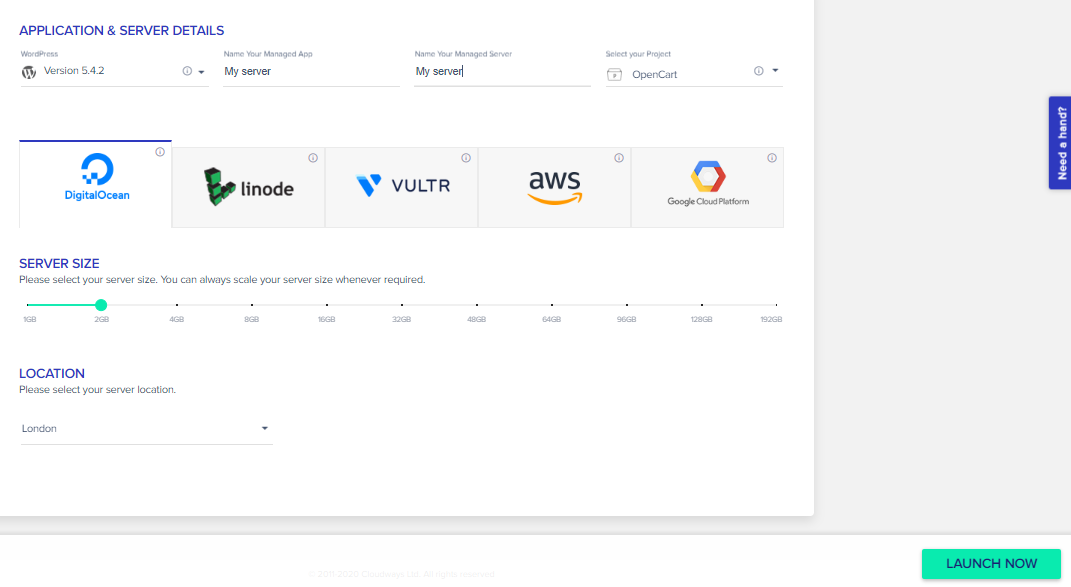 That's it. Your application and server are deployed and ready for business. How simple was that?
3. Cloudways Platform Review
Cloudways managed cloud hosting comes with a one-of-a-kind Platform that allows you to carry out complex tasks in a matter of minutes.
Let's take a tour to find out more.
Server Management
The platform provides simple management options for both servers and applications.
Let's have a look at what server management functionalities are available within the Platform.
The Monitoring tab lets you track server resource usage and keep an eye on the server health to ensure that all the operations are running smoothly and you have ample resources at all times.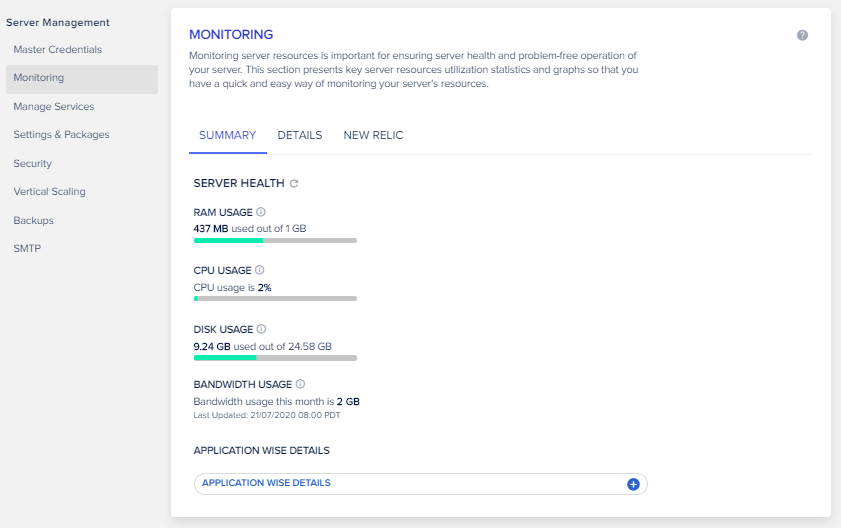 Here you can manage the status of the various components of the Cloudways Stack. This tab lets you enable, disable and restart the component services.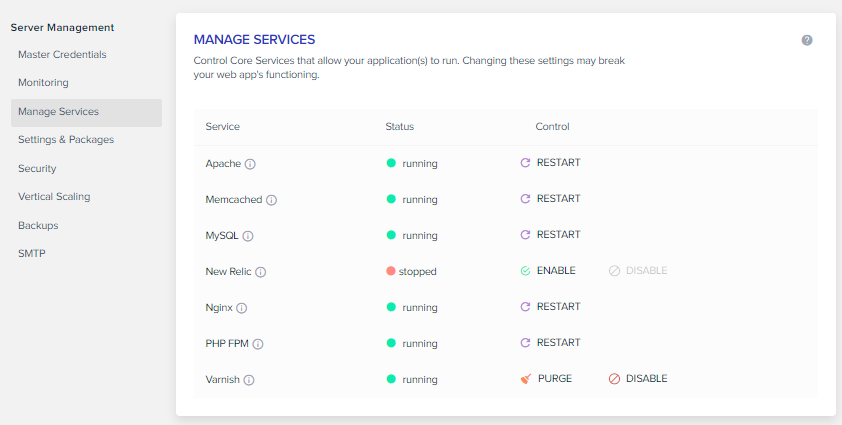 Scaling server resources is super easy through the Vertical Scaling tab that lets you upscale resources by simply dragging a slider.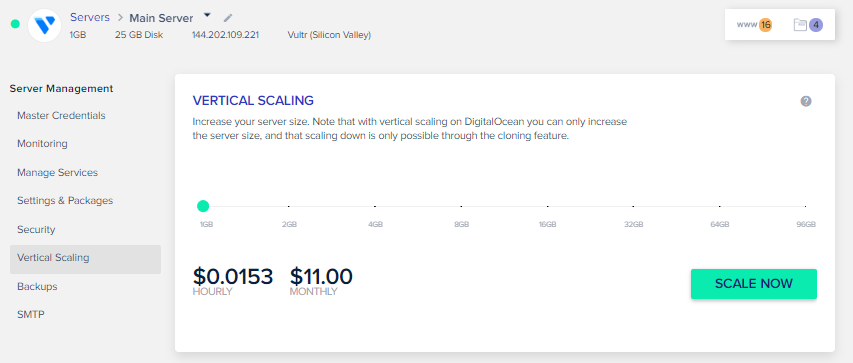 The platform allows you to schedule backups or back up the server upon request. This creates a downloadable copy of the data that you can use to restore the server.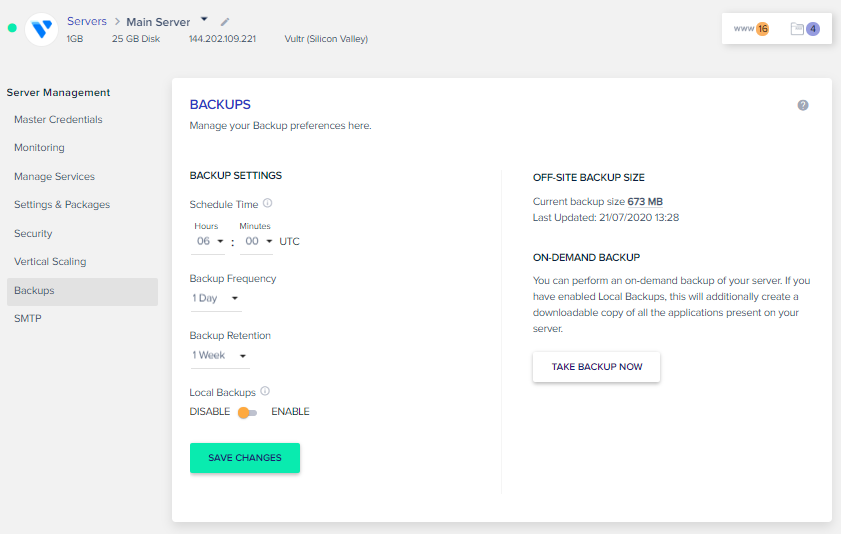 Application Management
Now let's look at the application side of things that you can manage through the Cloudways Platform.

4. Access Details
This is where you get the access credentials for the WooCommerce application backend. Since I set up a WordPress application, the credentials are used to access the WordPress dashboard.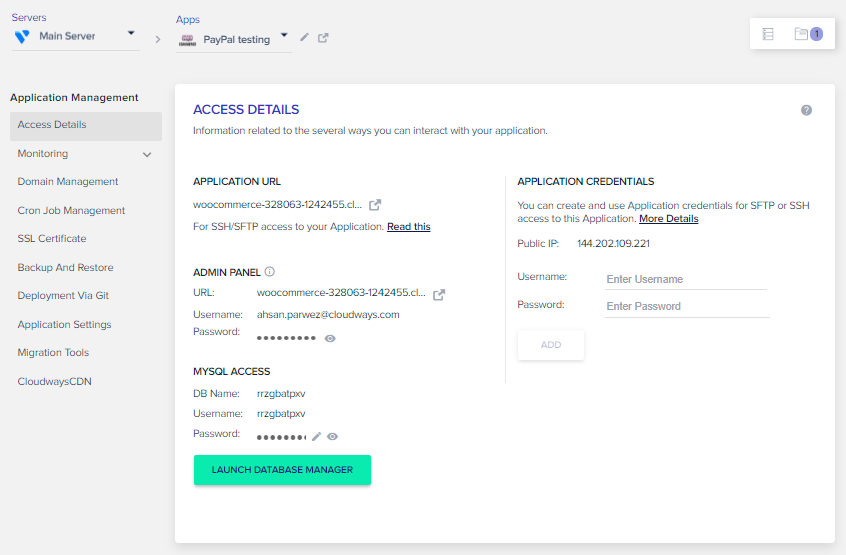 SSL Certificate
The Platform lets you add Free Let's Encrypt SSL certificates for your application. Just add your email address and your domain name and click Install Certificate. The Platform also supports third-party paid SSL certificates as well.
Backup and Restore
You can easily restore your application to a saved backup point. In addition, you can also request an on-demand backup of your site data.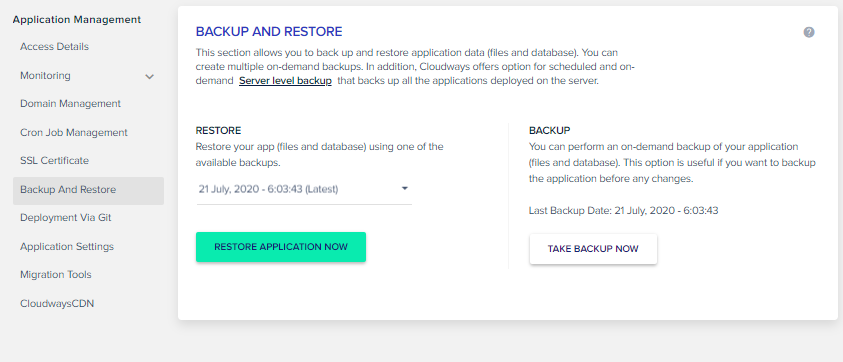 5. Migration Tools
If you've launched WordPress through Cloudways, you will be able to migrate your site from one host to Cloudways using the Cloudways Migrator Plugin. This plugin makes it easy for you to migrate your site. If you do not have the technical skills or want to save time, you can opt for the free one-time migration that will be done by the Cloudways support team.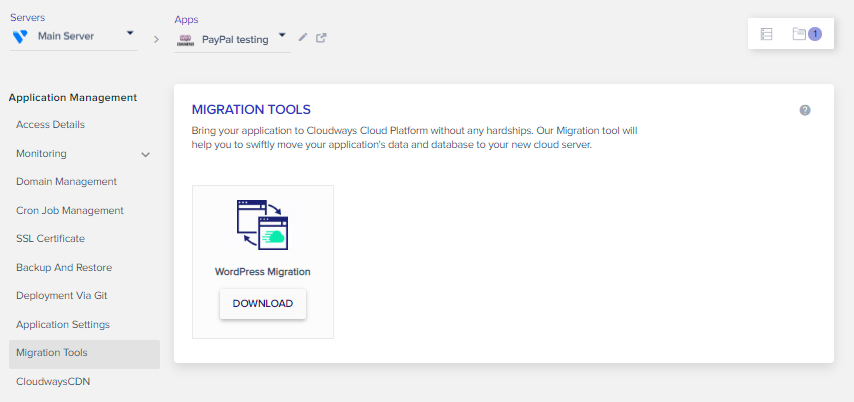 CloudwaysCDN
Cloudways has a native CDN solution that you can deploy for faster application performance for a global audience.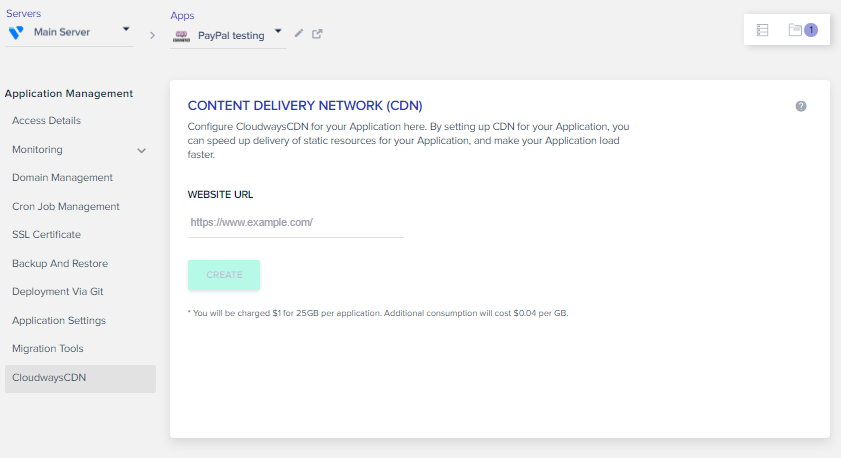 Final Words
We hope this detailed Cloudways review article has brought you fundamental ideas about how this managed cloud hosting works for you.
Cloudways is one of the best WooCommerce hosting around and is definitely one to consider if you are looking to host larger and complex websites. What sets Cloudways apart is its affordable pricing and the freedom to customize your server according to your needs.
Do you have other recommendations on web hostings? Don't hesitate to say it in the chatbox below!
https://ninjateam.org/wp-content/uploads/2020/09/Hosting-Review-Cloudways.png
426
1210
Bean
https://ninjateam.org/wp-content/uploads/2020/10/ninjateam-logo.png
Bean
2020-08-29 12:00:12
2021-04-19 11:05:00
Managed Cloud Hosting – Cloudways Review