Best WordPress Menu Plugins
The WordPress menu bar is one of the first places your web visitors see when they come to your site. As such, it not only serves as a navigation tool but also helps to determine if users leave immediately or stay around for longer.
Unfortunately, the default menu that WordPress offers comes with limited capabilities, both in terms of aesthetics and features. For example, it doesn't have the option to create a full mega menu or create direct e-commerce buttons.
The good news is WordPress allows you to extend most of its functionalities using plugins, including the menu. Please note that plugins can considerably slow down your website. If you already have too many of them installed on your website, consider transferring to a more powerful web host to speed up. Hosting Foundry is an excellent resource for the best WordPress hosting services, so check it out.
In this detailed guide, we review the top 9 best WordPress menu plugins available on the market today. Most are available for free while others come with pro versions to offer you even more functions. Let's dive in!
1. WP Responsive Menu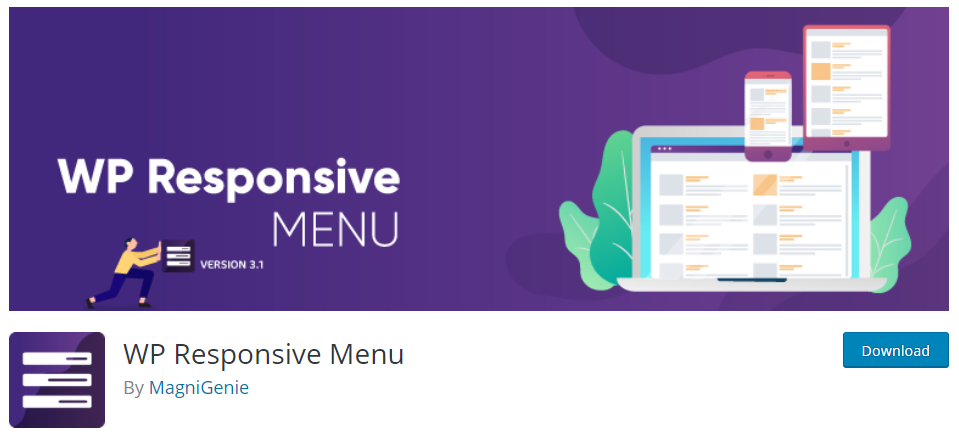 The WP Responsive Menu is a versatile plugin for building excellent menus for both mobile and desktop clients. It resizes seamlessly across various screen sizes to allow your visitors to access the menu content from any device.
The menu also features a button with a hamburger icon that web users can click to access the menu. But if you'd rather use a different style, WP Responsive allows you to customize this icon and replace it with a suitable one for your website.
Additionally, you can configure menu access to a swiping style where users trigger the view by sliding the screen left or right. Also, it's possible to place the menu on top, bottom, left, or right depending on your preference.
This plugin offers both a free and paid version, with the latter unlocking more features.

Key features
Ability to customize desktop and mobile menus

Supports touch and keyboard commands

600+ font icons

Supports multilingual sites

Header bar menu support
2. WP Mega Menu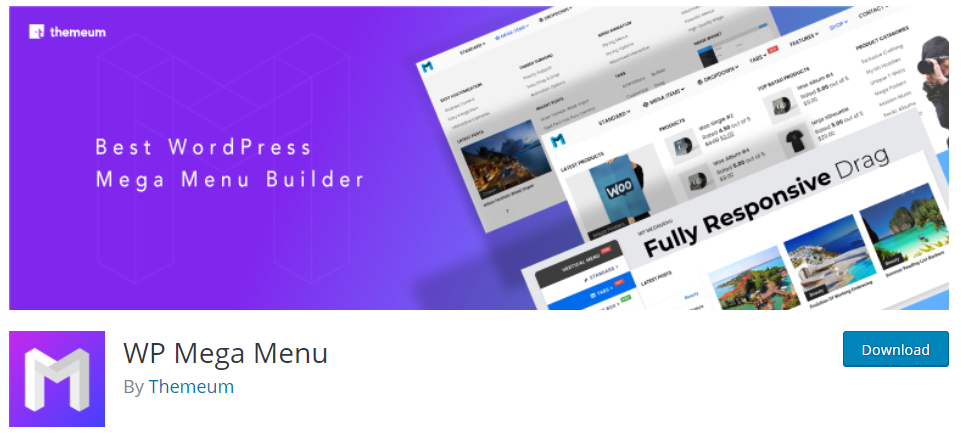 You can build a fully-functional yet superb menu with the WP Mega Menu plugin. It comes with complete documentation of its features and functions as well as excellent customer support. The drag-and-drop builder allows users with no prior coding knowledge to add submenus with numerous rows and columns in only a few simple steps.
You can insert phrases, numbers, or special characters as titles of your menu thanks to its limitless customization options. Further, you can add logo branding images, social media icons, WooCommerce cart, free WordPress themes, and even the menu shortcodes.
WP Mega Menu also supports icon styling tools like the Font Awesome and Dashicons. With these, you can customize how your menu content looks, thus further enhancing the appearance of your website. Also, when installing, you can choose from any of the 14 default designs, all of which look great!
The controls for these default designs boast well-organized and straightforward user interfaces, but you're free to customize them anyhow you wish. For example, you can easily configure multiple functions such as the vertical layout, sticky menu, horizontal layout, and animations.
WP Mega Plugin is simple to work with thus ideal for the average WP user. However, its main downside is that it lacks advanced tools for developers.
Key features
Supports horizontal and vertical menu orientations

Multiple trigger effects e.g. fade-slide and hover-click transitions

400+ menu icons

Drag & drop menu builder

Multi-site support
3. Superfly Menu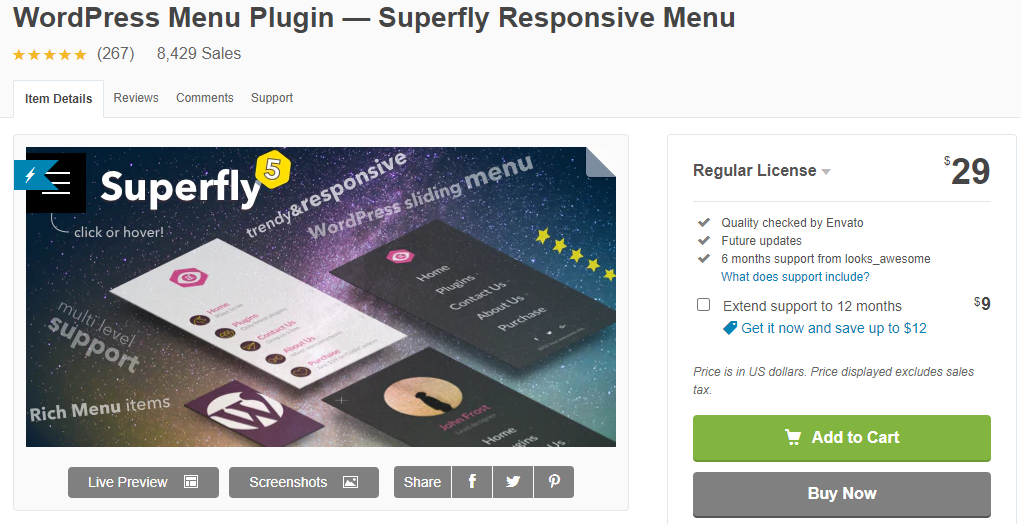 The Superfly menu plugin is an excellent pick if you're looking for the trendy designs of vertical slider menus. It ships in with plenty of customization features, including an icon menu, always visible menu, skewed video panel, image background, full-screen column, and multi-box. Read on to find out about these display styles and functions.
For video panels, this plugin offers a skewed trapezoidal menu, unlike the rectangular one that's common with most of its counterparts. But what you'll probably like the most about it is that you can set videos or images as the background to emphasize your theme more. Superfly allows you to use custom images for the background if you do not find the default ones to be appealing enough.
Another outstanding feature is the mouseover menu style. It hides the menu text behind a toggle button, which when clicked, slides the content into view. With this, you get more space in your web pages allowing utilization of the full dimensions of the view area. And if you don't like the toggle option, you can pin the menu to the screen side. This enables your visitors to access the menu irrespective of their scroll position in your web content.
The plugin offers numerous Google fonts, an icon library, and customization colors for your texts. Further, you can import widgets from other plugins, create a custom HTML styling, and design the shape of the button that triggers the menu.
Key features
Multi-level menu support

Responsive on various screen sizes

Google fonts and settings support

Behavior control on mouse hover and click

Social bar
4. WP Mobile Menu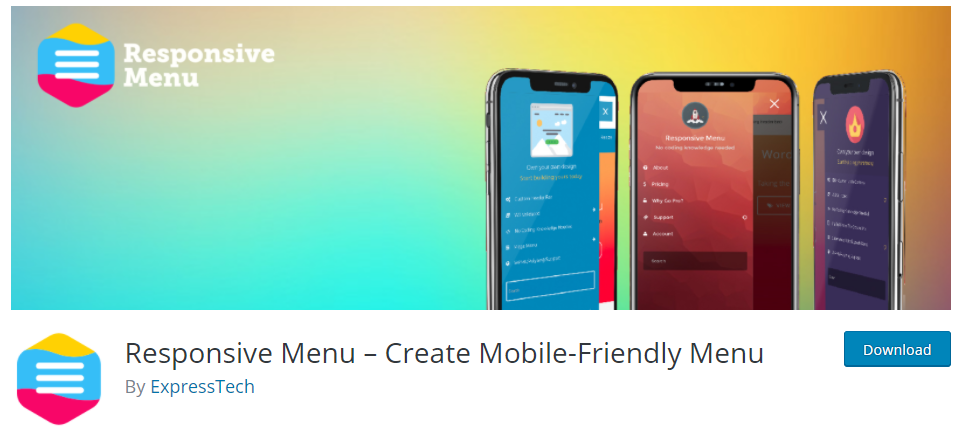 This WordPress menu plugin is a perfect choice when looking to optimize your website for mobile devices. It offers a simple and responsive menu that serves the mobile website faster and optimally. You can use it to style various types of sites including blogs, business sites, and e-commerce stores.
While it's specially designed for mobile visitors, you can still set custom breakpoints and use it to display menu content for desktop visitors. Besides, the plugin allows you to add both header and footer menus with options to place them left or right.
Some of the transition types that WP Mobile Menu supports include slide-out from the top, slide-out over content, slide-out push content, and overlay. Adding content on the menus involves using the regular WordPress menu functionality, which means a familiar interface for new users.
This plugin also comes with dedicated functionality for logos, user profile, Ajax Live search, and WooCommerce. The logos functionality allows you to present the chosen image as part of the menu. On the other hand, WooCommerce functionality enables you to add shopping carts and filters. The Ajax live search assists visitors to enter queries and view results instantly without reloading the page. Lastly, the user profile functionality supports adding an avatar as part of your menu, a feature you'll find useful when building community websites.
Key features
Free logo/text branding

Supports background image for menu

Allows disabling of mobile menus in specific pages

Supports header and footer options

Capable of hiding some elements for guest visitors
5. Hero Menu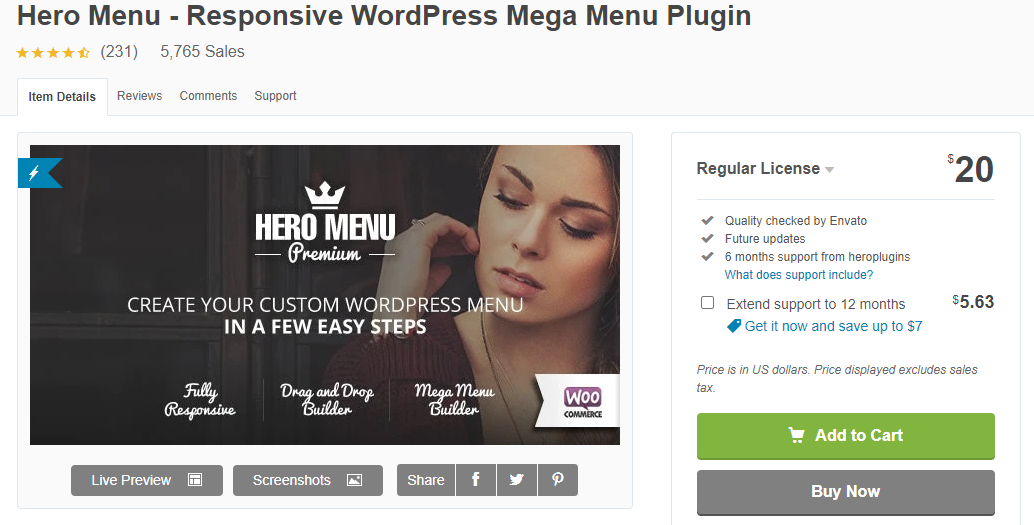 Simple, responsive, and easy to customize are some of the characteristics that define the Hero Menu plugin. For starters, it comes with a highly intuitive user interface that provides multiple configurations and customization options. This way, you can quickly adjust the style and behavior of your site's menu.
Hero Menu plugin features up to 270 free icons and 650 Google fonts, all meant to make it easier for you to give your menu a unique design. Besides, you can activate the sticky menu feature to assist your visitors in accessing various sections of your website instantly. Finally, with this plugin, you can add interactive content to your menu, including maps, videos, images, and contact forms.
The plugin works seamlessly with WooCommerce and allows you to add a shopping cart element, product prices, and thumbnail images to the menu when running an eCommerce website. Further, it comes with a drag and drop builder that allows you to create complex-structured menus in simple steps. That combined with the ability to hide some elements in sites using the WP user registration system, makes it a powerful plugin for menu creation.
Unfortunately, it has compatibility issues with some WordPress themes. Also, it doesn't offer an extended license, which limits web developers from using it for commercial purposes.
Key features
Drag and drop menu and structure builder

60 color presets

270 free handcrafted icons

WooCommerce support

Sticky menu support
6. Slick Menu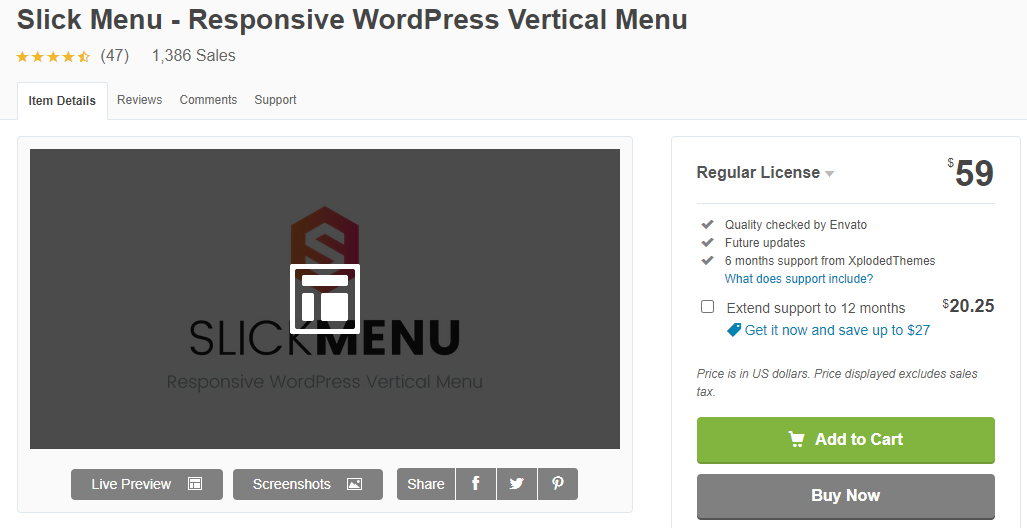 The ability to create unlimited multi-level content sidebars and push menus makes Slick more than just a plugin. All its menu levels are completely customizable with animation effects and styling options. You can add background colors, custom fonts, images, and overlays to decorate your menu and create a unique appearance.
This WordPress menu plugin works with the innovative WordPress live customizer to display any changes you make to the menu in real-time. This way, you can alter your site's visuals including blog layouts, color schemes, and typography and watch as the changes take effect.
Slick Menu also supports animated styles on your menu. While at it, you can control the animation and styling features until you're able to come up with a look that appeals to you. Also, you can insert social network icons at the bottom of your menus to enhance shareability on social media.
There's also a hamburger menu trigger that slides in or out on mobile interfaces as visitors interact with your website. Some of the trigger animations supported here include Slider, Spin, Fall, 3DX, and Arrow. Lastly, Slick comes with a massive library of free icons and images to offer a stylish interface when you run out of customization options.
Key features
Unlimited styling options with live preview

Multi-level menu support

45+ menu item animations

Smooth scroll over anchored elements

Adaptable to various screen sizes
7. UberMenu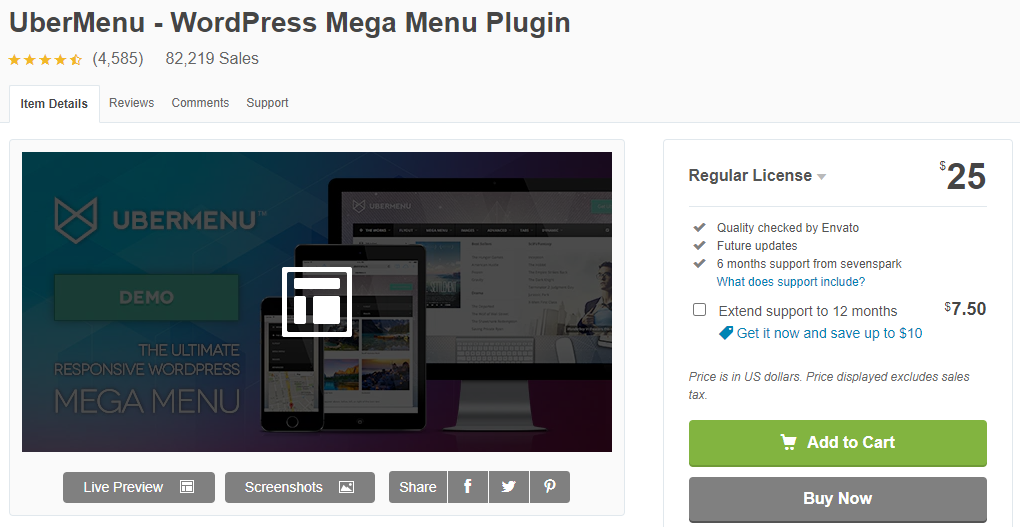 Ubermenu is a user-friendly WordPress menu plugin that uses the grid system to enable you make any imaginable menu including mega menus. With over 80,000 downloads to its name at the time of writing this review, its arguably one of the most popular menu plugins for WordPress today.
Some of the menu types you can add using UberMenu are flyout menus, mega menus, tabbed menus and drop-down menus. The plugin also allows you to customize dynamic menus based on categories, layout, background, and icons. We also liked that you can add images in your menu sub-category if you have tons of information to display.
UberMenu has improved significantly over the years, and any menu you create using the plugin works perfectly on smartphones and tablets. Particularly, if you'd like to customize your breakpoints to determine how menus appear on mobile devices, the plugin allows you to do that.
Another feature you're likely to find useful is the smart style generator which lets you include custom HTML, widgets and shortcodes. And that's not all, as you can choose from a variety of drop-down CSS transitions and different menu triggers such as hover, hover intent, and click.
Key features
20+ preloaded menu designs

Comes with AJS & PHP API for developers

Responsive menus for small screen mobile and other devices

Supports advanced content such a maps and search bars

Compatible with most popular themes
8. Max Mega Menu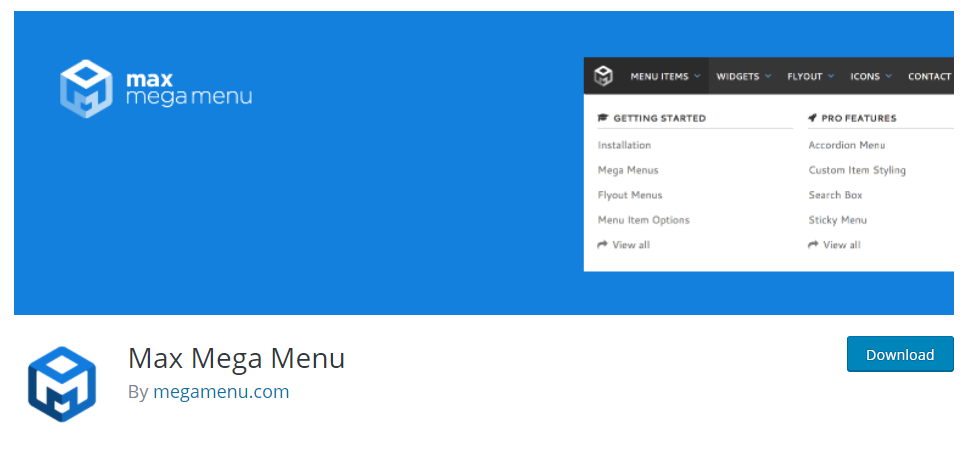 Here is another popular WordPress menu plugin that has been installed over 300,000 times. It's a solid pick for anyone looking for a free mega menus plugin to add to their startup WordPress website. Whichever WordPress theme you want to use, activating this plugin provides you with a range of widgets to enhance your website's functionality.
Max Mega Menu allows you to build mega menus from various content sources including images, shortcodes, texts, widgets and links. Besides, its easy-to-use drag-and-drop menu builder tool makes it possible to organize and rearrange your layout and content. You can also modify the style of the menus, including the text, font, colors and more.
This plugin also lets you add tons of effects to your navigation areas such as flyouts, fading menus, and hover triggers. Other styling options you can implement include adding icons to your menus and using multiple text alignment styles. You also get sufficient control over how your menus appear on mobile and other easy navigation devices.
The Max Mega Menu has a premium version should you want more features for your future needs.
Key features
Supports adding many elements such as images, logos, and icons

Access to unlimited skins

Comes with an easy-to-use drag-and-drop interface

Compatible with WooCommerce, Bootstrap, and WPML

Numerous widgets to enhance your site's functionality
9. QuadMenu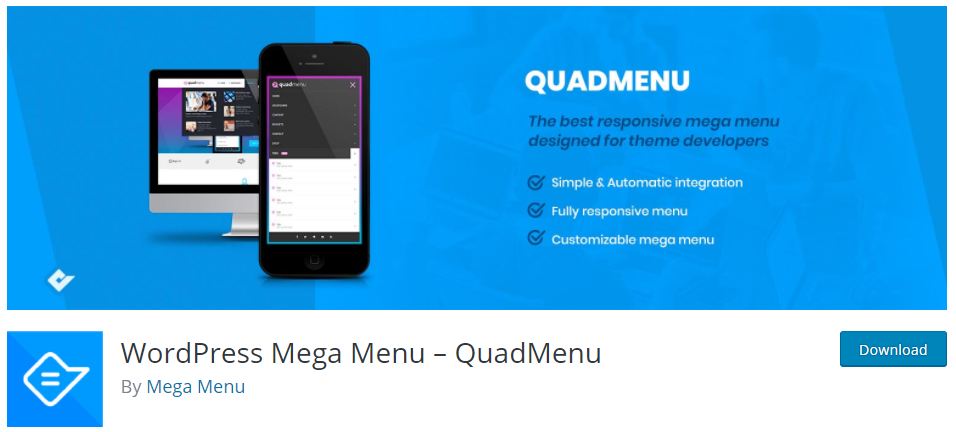 QuadMenu is one of the latest WordPress menu plugins that offer fast integration and supports tens of menu types, including mega and carousel menus.
The plugin comes with an easy to use drag-and-drop interface that helps you create impressive menus without using code. You can add different elements and options such as videos, images, icons, audio, tabs, sliders, widgets and columns.
What we liked the most about QuadMenu is that it offers a lot of freedom on style through its unlimited skins. You can also integrate hundreds of free menu themes and customizable animation to enhance the display. Finally, this plugin support Font Awesome Icons and works well with child themes of the most popular themes.
The premium version of QuadMenu comes with a lifetime warranty.
Key features
Supports unlimited number of themes on your website

Allows you to add icons, tabs, and social menus

Comes with an easy-to-use drag and drop interface for adding elements and columns

Completely mobile responsive

Offers access to unlimited skins and customizable animation features
Conclusion
So, there you have it – An overview of how menus display on WordPress pages and posts, also some of the best free and paid options to extend them to fit your ever-expanding blog or online shop. If you haven't edited native menus before, you can read this step by step guide to add a WordPress menu on your website and understand its structure in detail.
I hope this article has brought to you a definitive guide to help you choose the most useful menu plugin to enhance the functionality of your WordPress powered website. Which of them do you think best suits your project? Please share your thoughts in the comments below!

https://ninjateam.org/wp-content/uploads/2020/09/Best-WordPress-Menu-Plugins.png
426
1210
Ninja Team
https://ninjateam.org/wp-content/uploads/2020/10/ninjateam-logo.png
Ninja Team
2020-09-08 17:15:39
2021-03-04 17:30:04
Best WordPress Menu Plugins