8 Best Drag-and-drop Page Builders for WordPress Websites
Have you ever imagined building an amazing website without executing any codes if design is not your strong point?
Excited, yet?
Building an amazing website is a complicated task that takes you much time to undertake. Some platforms make the website design process easier and simpler such as WordPress, however it requires you to put a lot of effort into the entire procedure.
So it's high time for you to need the support of WordPress page builder.
Page builders are tools which enable you to create and design website with the remarkably powerful drag-and-drop components that make your website design quicker, easier and you can see the results at once.
Drag-and-drop editors are awesome for those who are non-website designers, beginners or non-tech savvy to help speed up their production in a long run.
In this article, we're going to introduce to you 8 of our favourite page builder plugins that will make your feel at ease and less time-consuming.
Let's get started!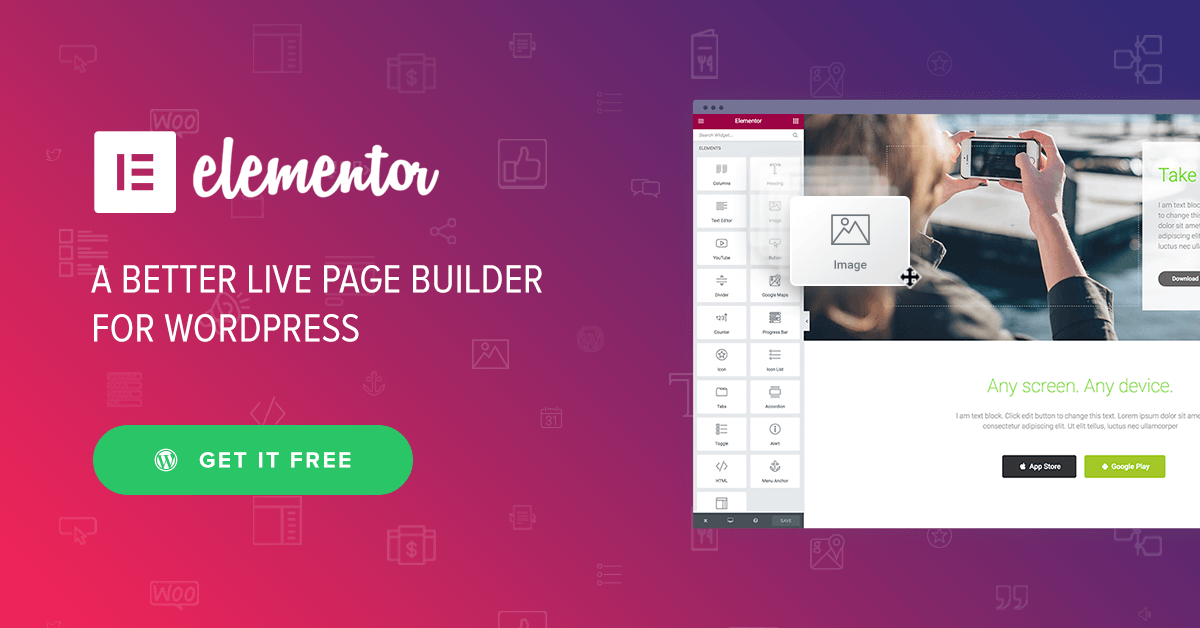 Elementor is a page builder you can rely on using on your WordPress website for free. It's also one of the youngest WPBakery page builder add-ons on this collection.
With more than 1,000,000 active installs, this page builder add-on is one of the most popular WordPress page builders so far with the most powerful secret weapon: drag-and-drop interface.
Why do we claim that? Are we overestimating?
Absolutely no. Because it's not simply developed for page builder, it can be called website builder.
The key benefit of this page builder plugin is speed. You can easily recognize how fast and light it is in performing every task.
You cannot imagine how powerful this add-on is. With drag-and-drop interface approach, you are able to create layouts of multiple columns and rows. You can then experience basic stuff like edit colors, backgrounds, customize the layout, upload images, and much more, depending on which element you've selected.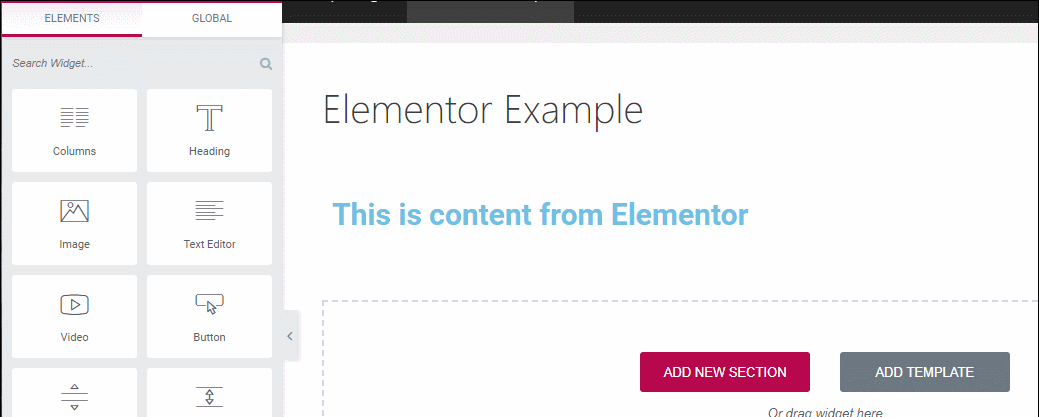 Moreover, this page builder add-on also provides a great library of high-quality templates that can meet up your creativity and design interest. You can import these templates into your pages and then customize them to make them your own.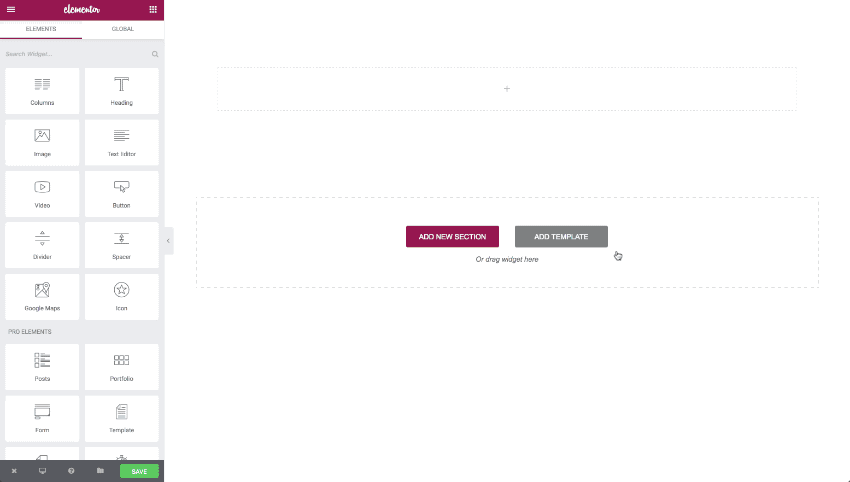 There is also a premium Elementor Pro available that offers you the ability to edit posts through the front-end builder interface, create custom posts or work with global widgets, and more advanced features that are waiting for you to explore.
Overall, Elementor is easy-to-use page builder add-on that helps you build up a WordPress website straightforward.
The pro version of this page builder plugin will give you access to more eye-catching templates, including designs for coffee shops, events, software products and blogs.
So Elementor is the perfect page builder plugin for WordPress? We will leave the answer for you to explore.
But, it will a must-have tool for building your website and live up to your expectations!
Elementor is also well known for its community of designer and developers who are developing Elementor Widgets and Templates. Here are Mighty Addons for Elementor which is a Free plugin and offers you Elementor Widgets and Elementor Templates. Apart from that it also offers you features like Pixabay Integration, OpeningHours Schema Integration, FAQ Schema and many more.
What are you waiting for? Let's give it a go today!

If you're looking for a way to generate a WordPress website from scratch or upgrade the design of your current site, you should not skip Beaver Builder – one of the promising stars on the page builder plugin market.
Beaver Builder is a flexible drag-and-drop page builder that works on the front-end of your WordPress website. Whether you're a beginner or a professional, you're going to love taking control of your website.
Some of the essential features of Beaver Builder include:
Useful selection of modules
Save templates for reuse throughout your site
Optional interface tour to help you get started
Using alongside the Beaver Builder Theme
Interestingly enough, you will be given a brief tour for overall design and basic features in the first time you launch the builder once installed successfully. This is a fantastic way to familiarize yourself with the UI and learn how this page builder works. You can take the tour again anytime.
While you're designing a page, you can drag and drop items around your custom layout.
This WPBakery page builder plugin has the most user-friendly interface and powerful drag-and-drop approach that are truly essential to improve the feel and look of your website and effectively compete with other strong page builder opponents.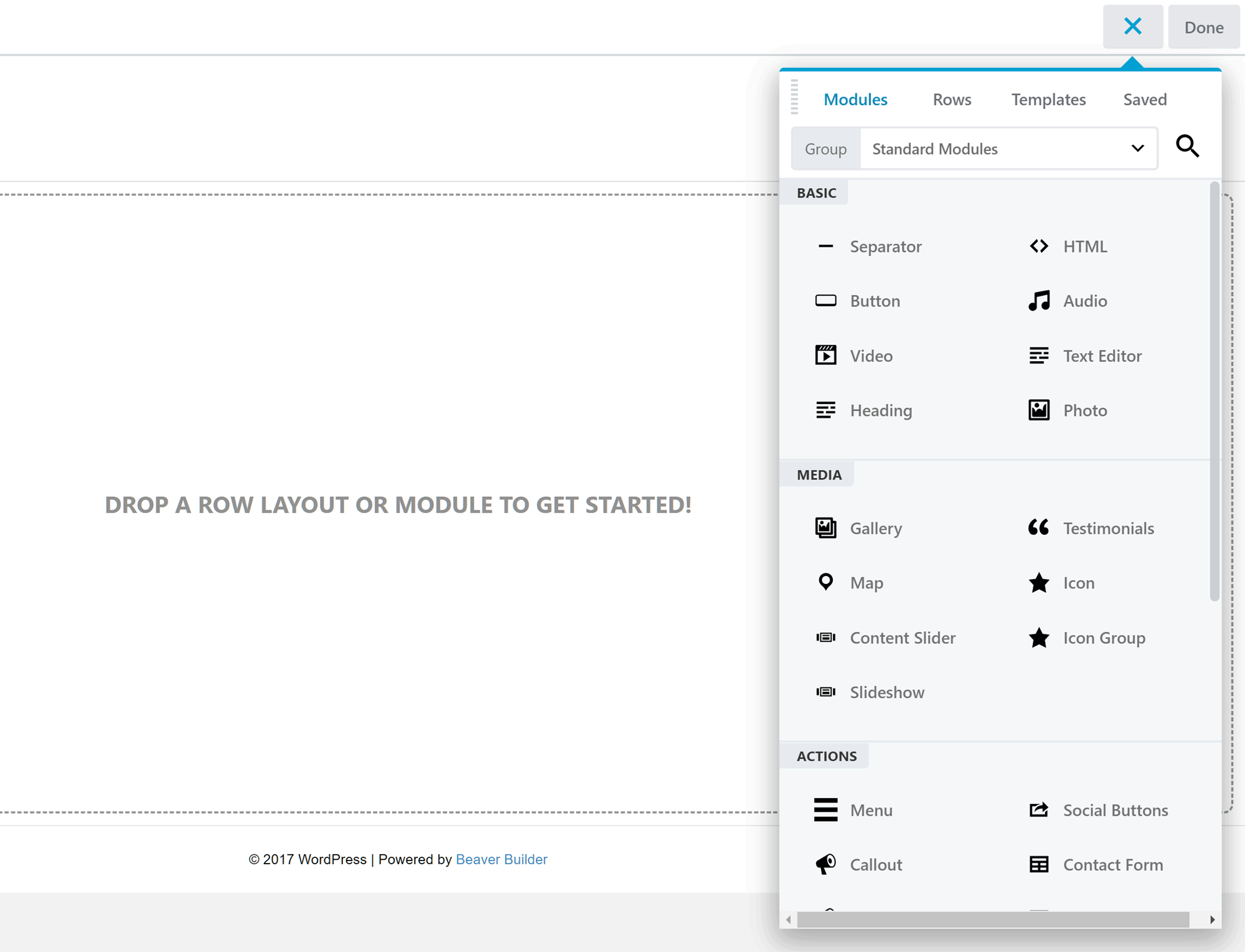 Beaver Builder recently added inline text editing, which means you can either type directly on the page to edit your text or use the popup that appears.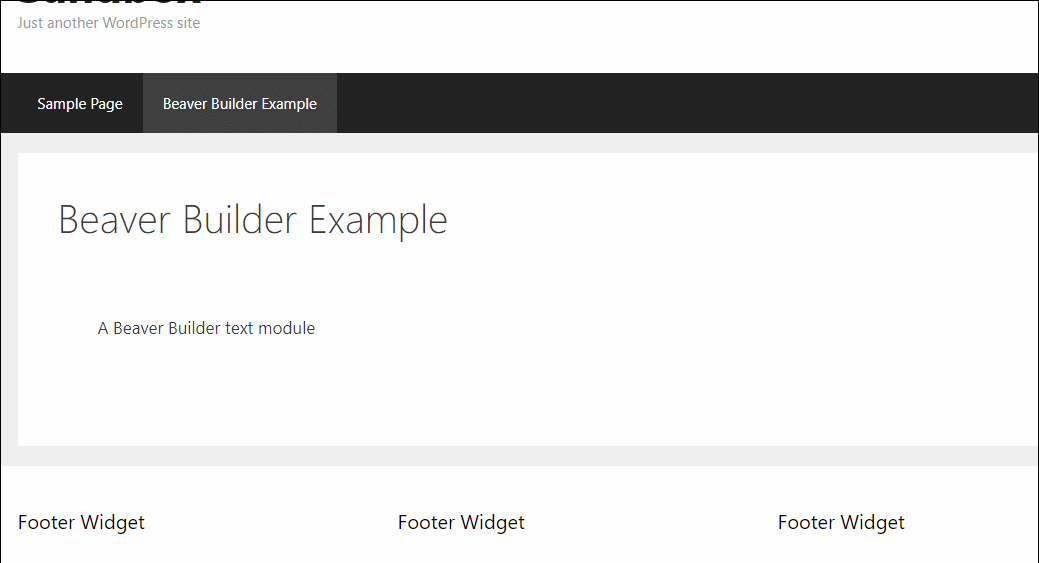 Easy enough, right?
Beaver Builder also makes sure that the content you create with this plugin is highly responsive and mobile friendly.
Plus, this WPBakery page builder plugin also allows you to insert any widgets that are active on WordPress site into your content in order to help build up your website more creative.
Are you a big fan of customisation? Thankfully, this wonderful builder plugin offers you a wonderful selection of eye-catching and stylish templates that help create or polish the front page of your WordPress website or a sales page to promote coupons or offers better to visitors.
Interestingly, these templates are customizable, so you can use your creative ability to personally design your own unique website.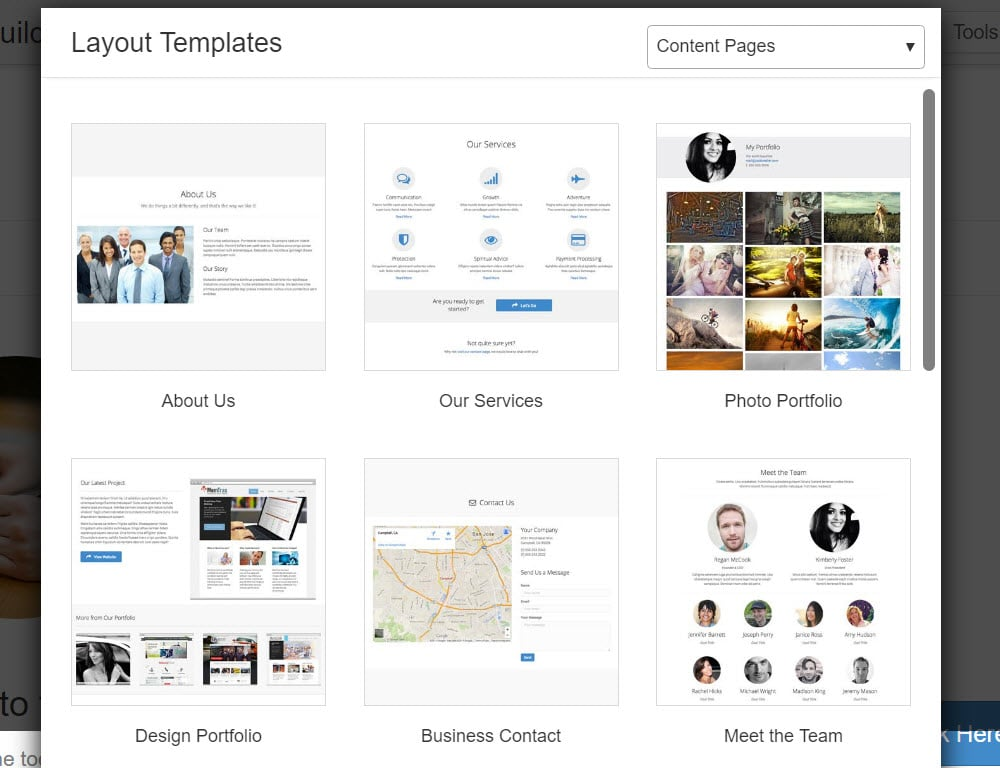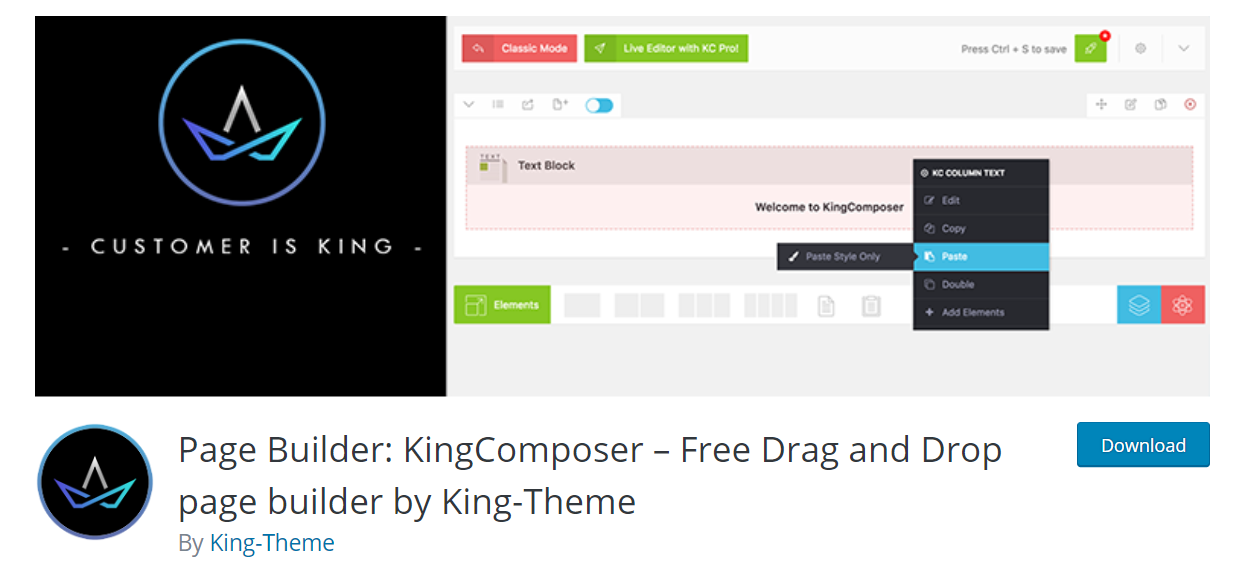 The next page builder plugin we want to introduce to you is a newly arrived member that is worth your try, King Composer is a rising star with powerful drag-and-drop feature in the market lately.
You are wondering why?
Nah no need to be in a hurry! We will tell you the reasons at once.
But first, let's have a look at the plugin's description provided on its official download page:
"KingComposer is the fastest page builder ever. It's real-time and instant process. With professional back-end editor for free 100%. KingComposer can save you both time and headache, allowing you to easily create pages like a true professional web designer."
As we've mentioned earlier, the biggest benefit of this page builder is the drag and drop tool which works perfectly and incredibly handy for users.
On top of that, there's a noteworthy element that absolutely wows both end users and developers because it helps them to build any complex website easily called Advanced Mini Box.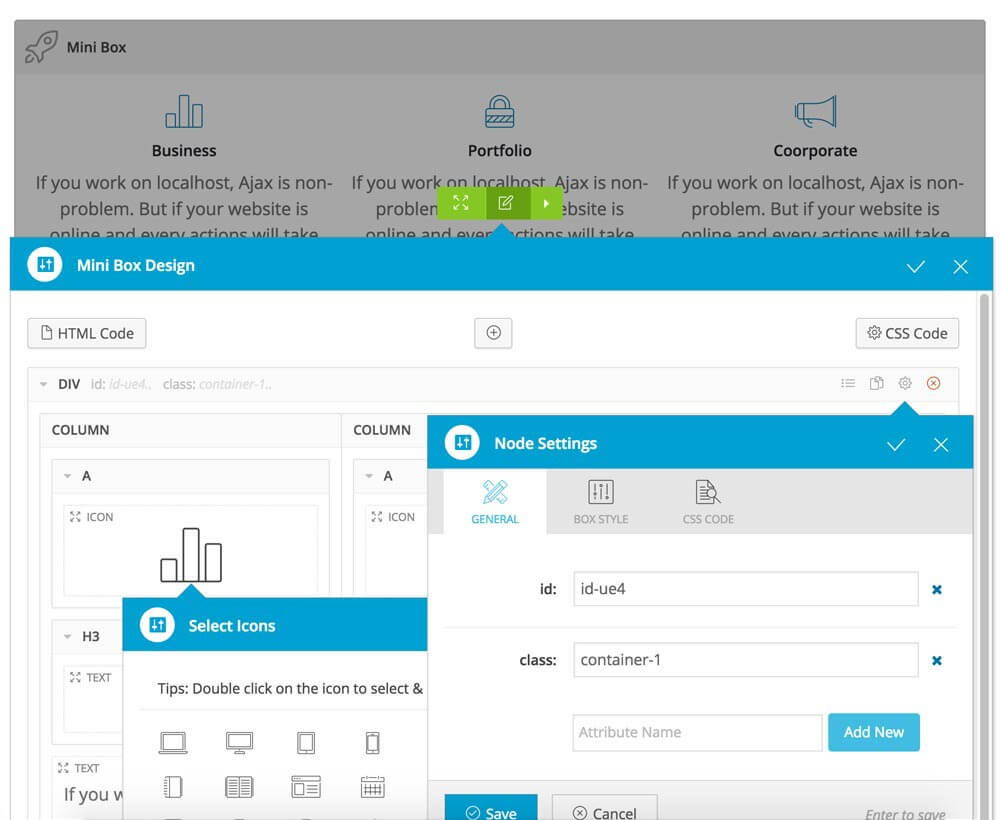 What's more, King Composer is also compatible with all default WordPress widgets as well as 3rd-party plugins, so it will work smoothly with both newly-created websites and a few plugins built in, as well as huge websites with dozens of plugins added.
One more striking feature that is the greatest appeal of King Composer is the price. It is FREE with regular support and this is the reason why King Composer is welcomed generously and widely.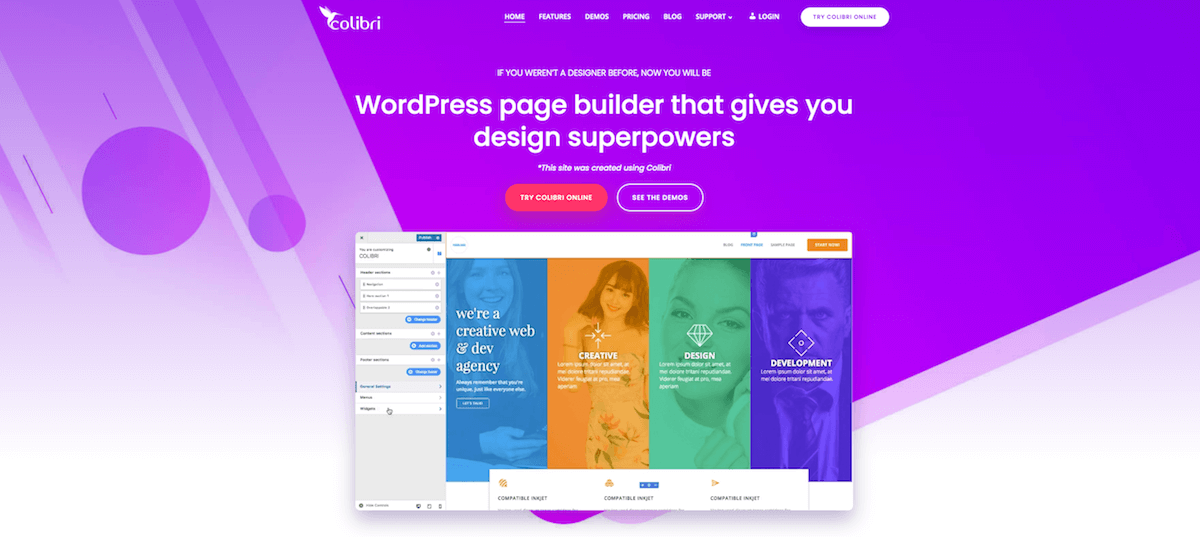 Colibri Page Builder is built to take Colibri themes to the next level.
With this addon, you can very quickly and easily customize the aspects that you want all ColibriWP themes.
What I love about this page builder including:
Many pre-built block & section templates
Multi device responsiveness
Live editor for all content and styles
Various 1-click to import demo sites
Clear and helpful documentation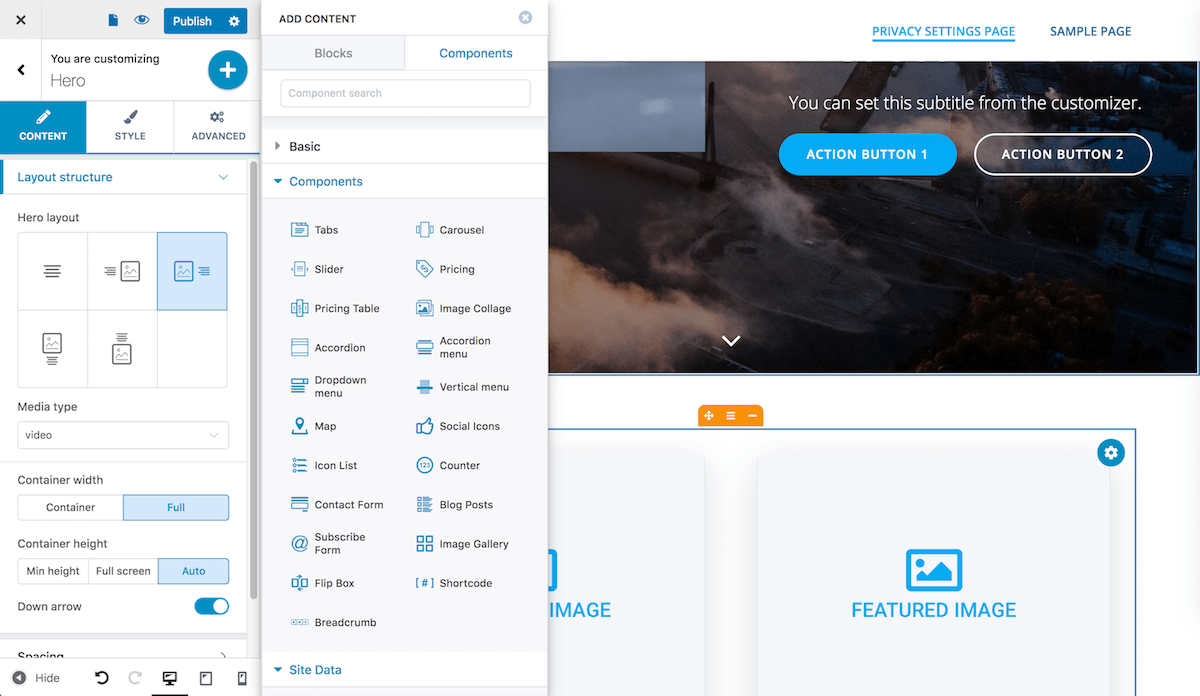 The superpower of Colibri page builder lies in its preset templates, all of which are meticulously designed to deliver the best end results for each line of industry. Be it hospitality, restaurant, sports, creative agency or personal blog/portfolio, Colibri provides deep advanced customization for their themes.
This page builder also comes with many options to enhance website building process. It's super easy to copy and paste styles, import layouts for a niche site, live editor and scalable typography.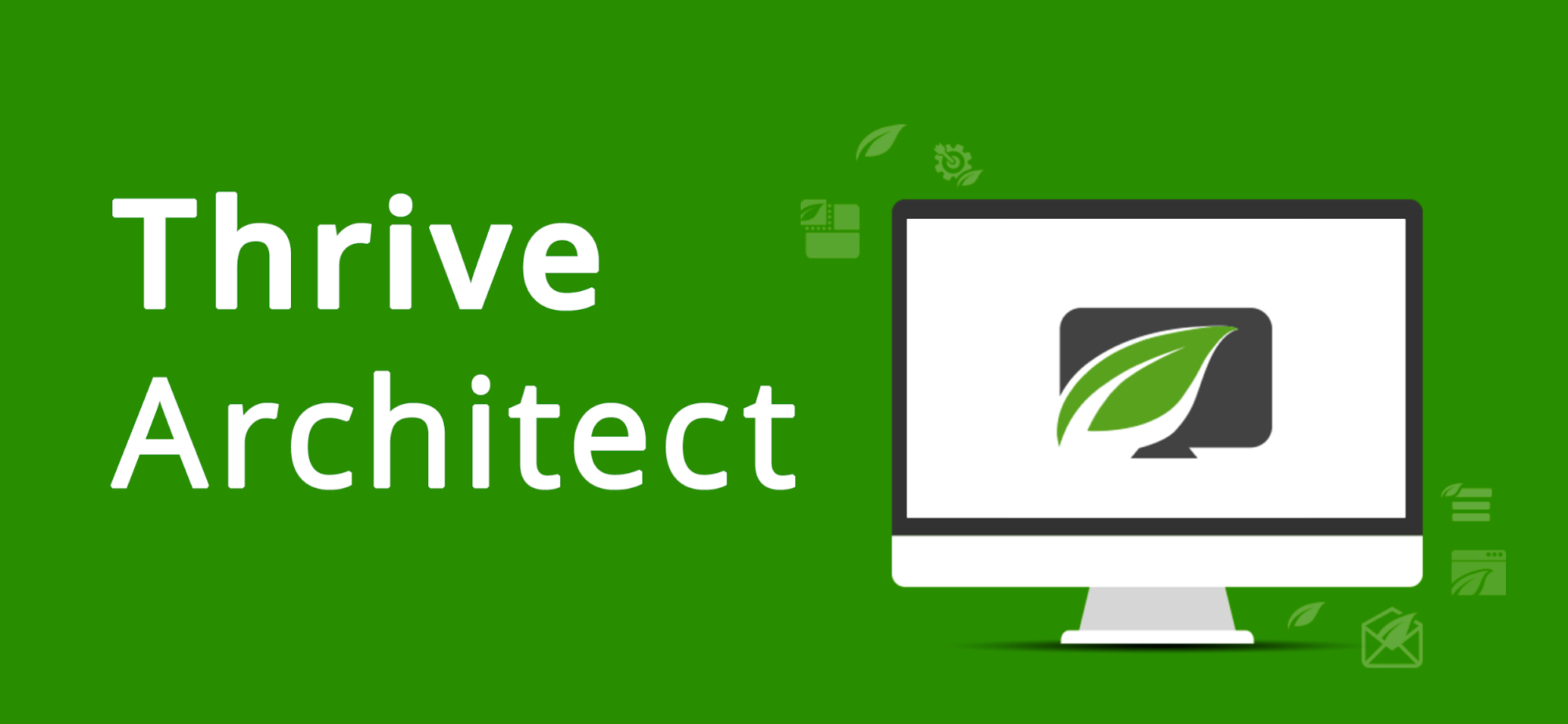 Thrive Content Builder is now Thrive Architect. It's more powerful than ever.
The brand-new name goes along with a new version of this plugin with a new interface that allows you to edit inline content, and a powerful set of controls for appearance customization and loads of wonderful revamped features that are waiting for you to explore.
There are many features to focus on, with some of my favourites including:
Works with all WordPress themes
More full page templates and sections
Better selection of elements
Improved user interface for easier content editing
Let's first talk about the most noticeable change of this page builder plugin – User Interface (UI). Honestly, the UI is pretty clean and simplified which closely resembles Elementor with a bunch of useful features.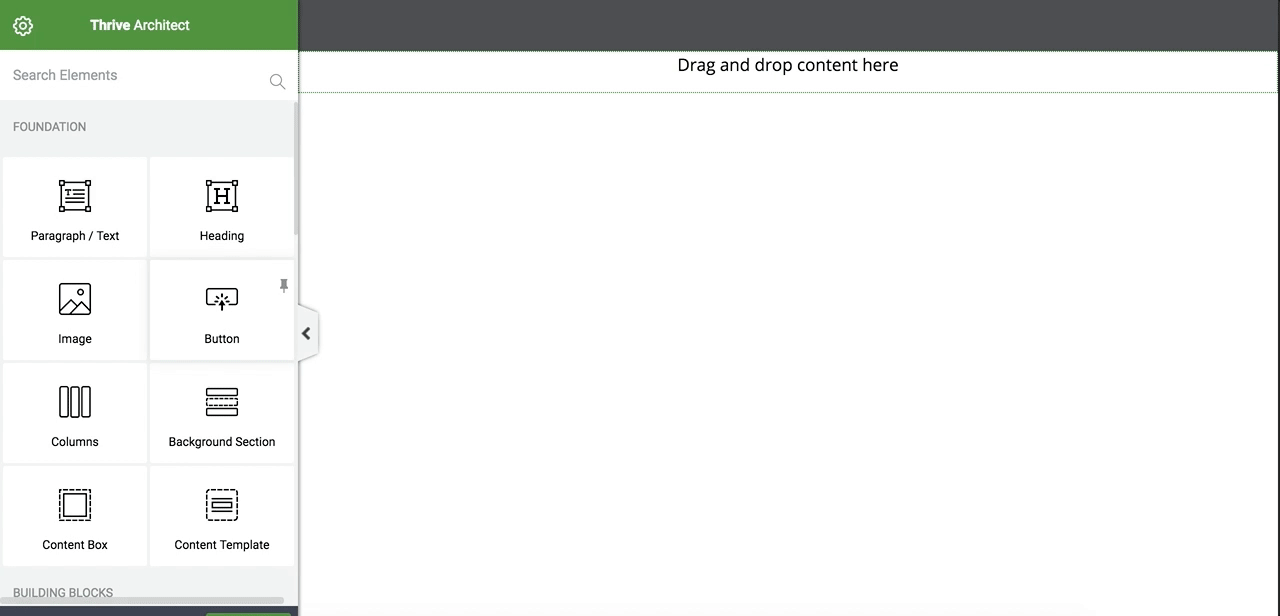 Sometimes you might get mad at dealing with content table because it's quite complex, right? Now things are a lot easier with Thrive Architect with powerful content editor and this is not a big deal anymore.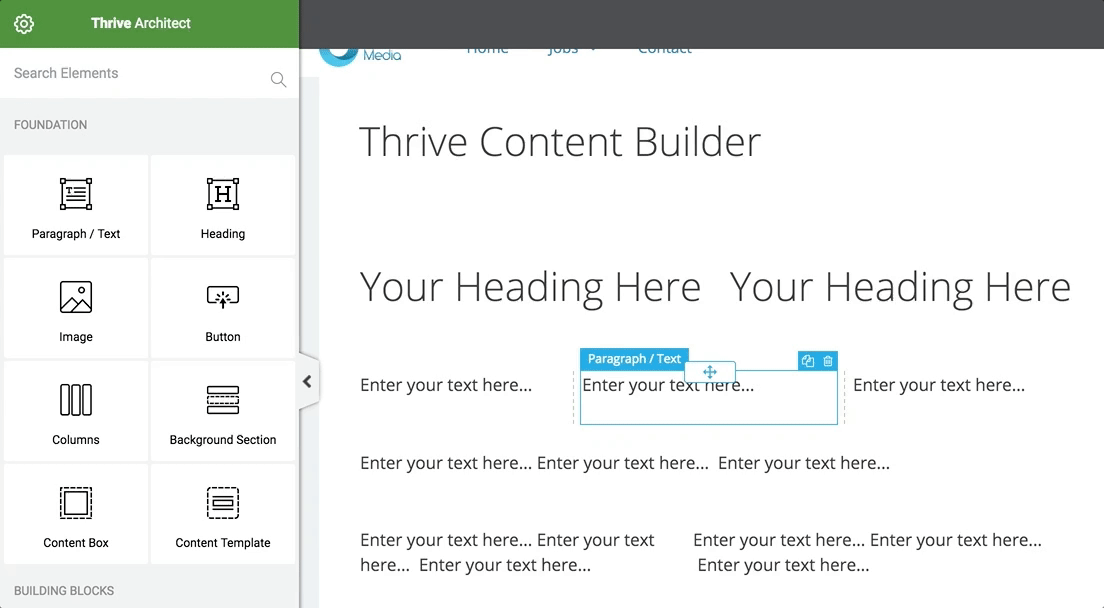 The newly revamped UI looks ideal for creating a custom homepage for your website, upgrading your blog posts with interesting designs, or adding high-converting sales.
So, you've spotted some similarities between Thrive Architect and Elementor user interface, right? It's truly a remarkable improvement to the WordPress user interface.
Probably one of the most noteworthy features of the Thrive Architect interface that cannot be found in every page builder plugin – is the inline text editing.
Excited yet?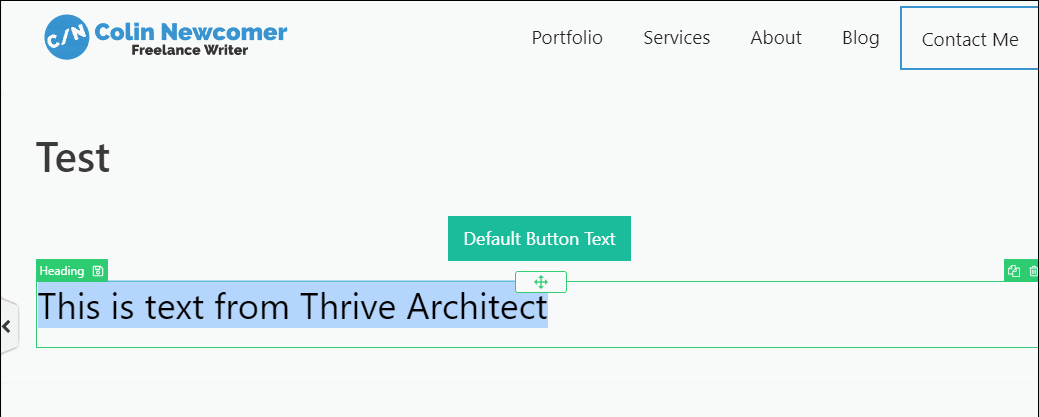 This great page builder plugin allows you to click on a text area and start typing in lieu of having to type into the sidebar or a pop-up panel. This really speeds up the workflow and makes it easier to preview your work.
Because many other page builder plugins, even top premium ones, are not equipped with this feature, it's certainly the best part of Thrive Architect.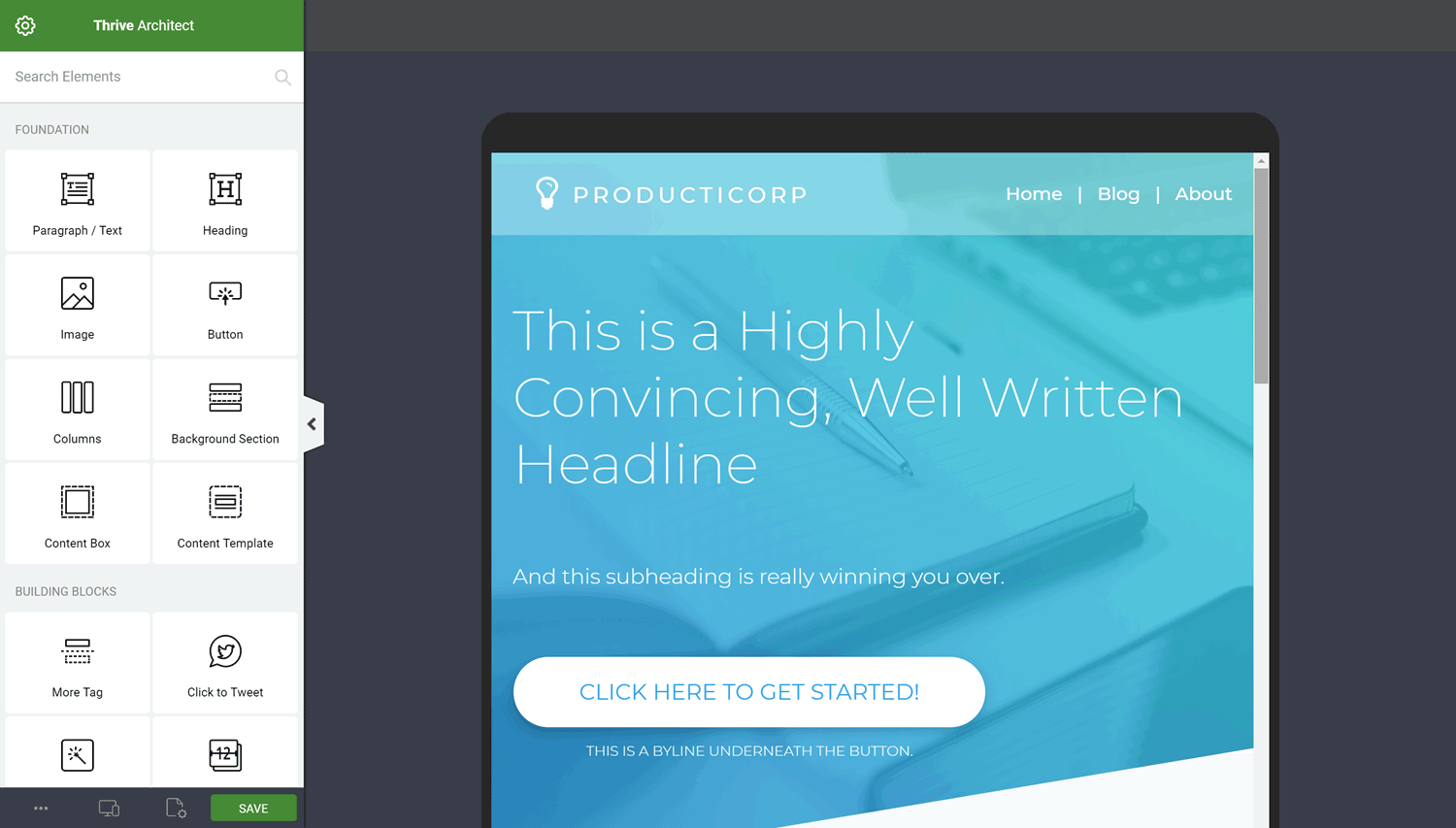 Surprisingly powerful, right?
Additionally, Thrive Architect also provides a great collection of page templates that you can choose to match your needs. All the templates are beautifully presented, eye-catching and classified neatly.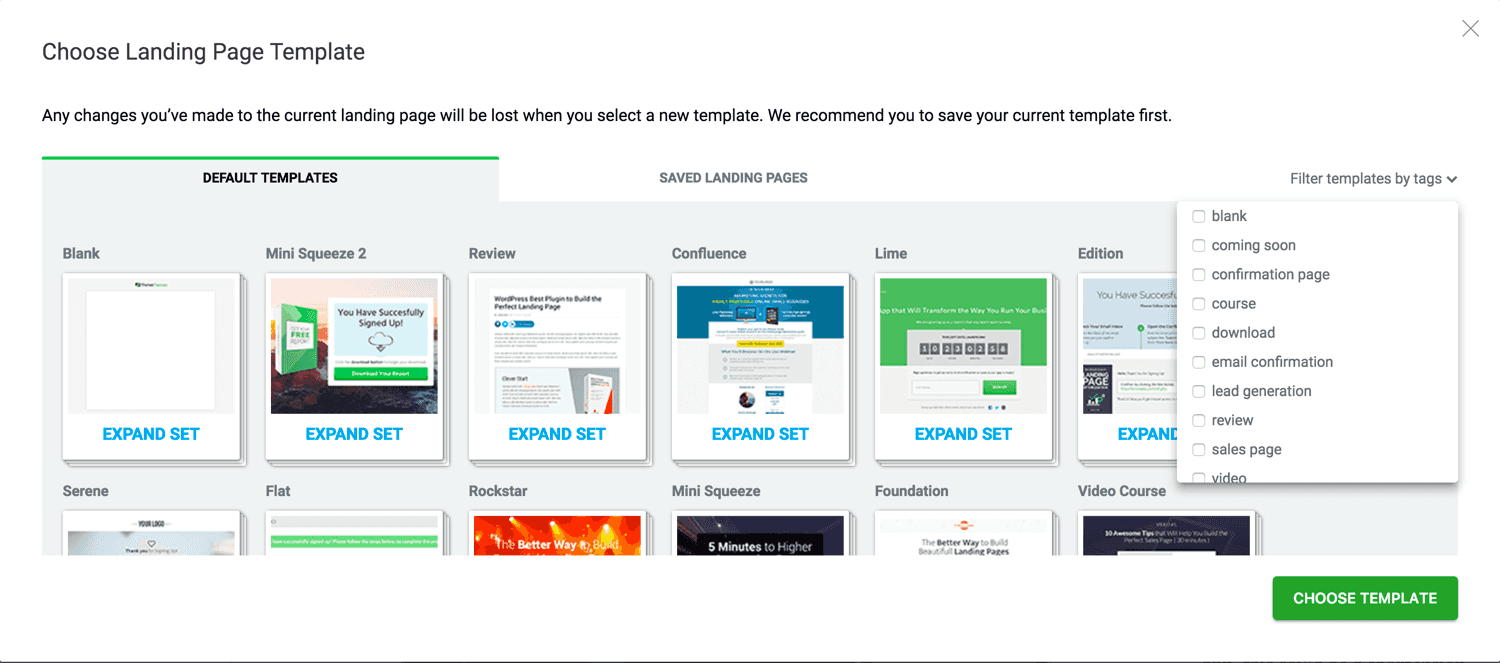 Over 200 templates in the Thrive Architect library offer you numerous options when it comes to adding new content to your site, especially some of these highly focus on driving conversions that is highly effective when it comes to generating leads and closing sales.
Last but not least, this page builder plugin gives you complete control on how your page should appear in mobile and tablet devices. Everything is super friendly and responsive.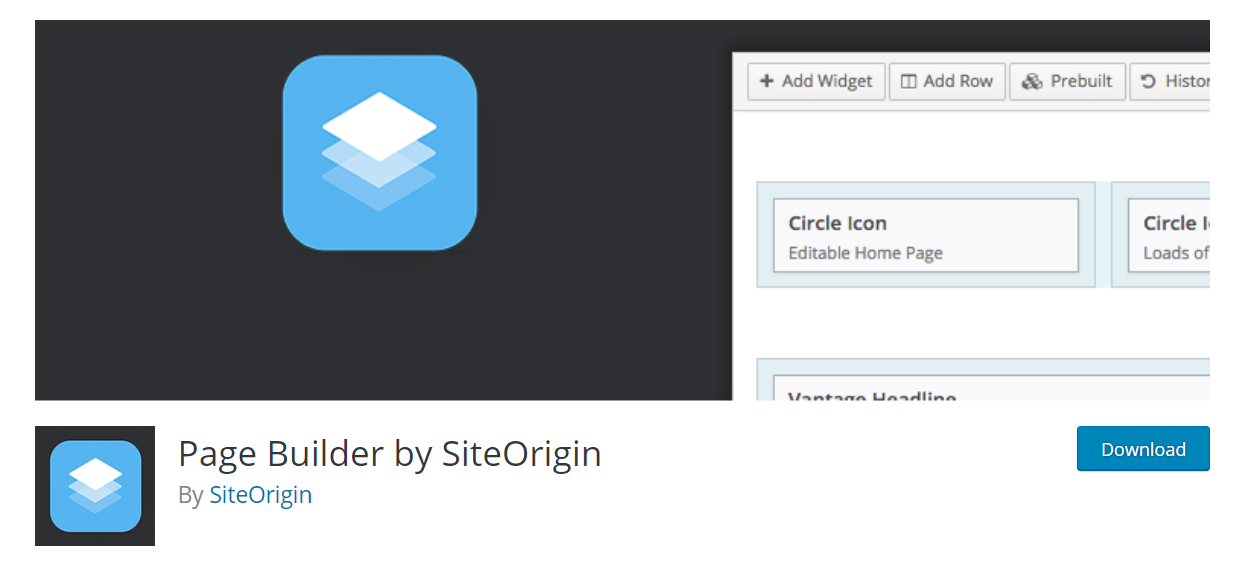 It's obvious that a majority of page builder plugins on the market have been the premium tools so far and you have to pay exorbitant cost for them if you want to speed up your work.
However, if you're on a budget, there's still one good alternative to help you create your website instantly without executing codes and especially, it's completely free.
Excited yet?
SiteOrigin Page Builder is exactly what we are talking about. It can be seen as one of the most popular free page builder plugins available for WordPress that will help you quickly and easily create complicated page layouts with columns, widgets, and more.
So what does this little boy possess to compete against many excellent page builder giants on the market?
Let's first talk about the user interface. It has two interfaces that help you build the design and you can also drag and drop blocks to edit, but it lacks any type of live preview and inline editing feature.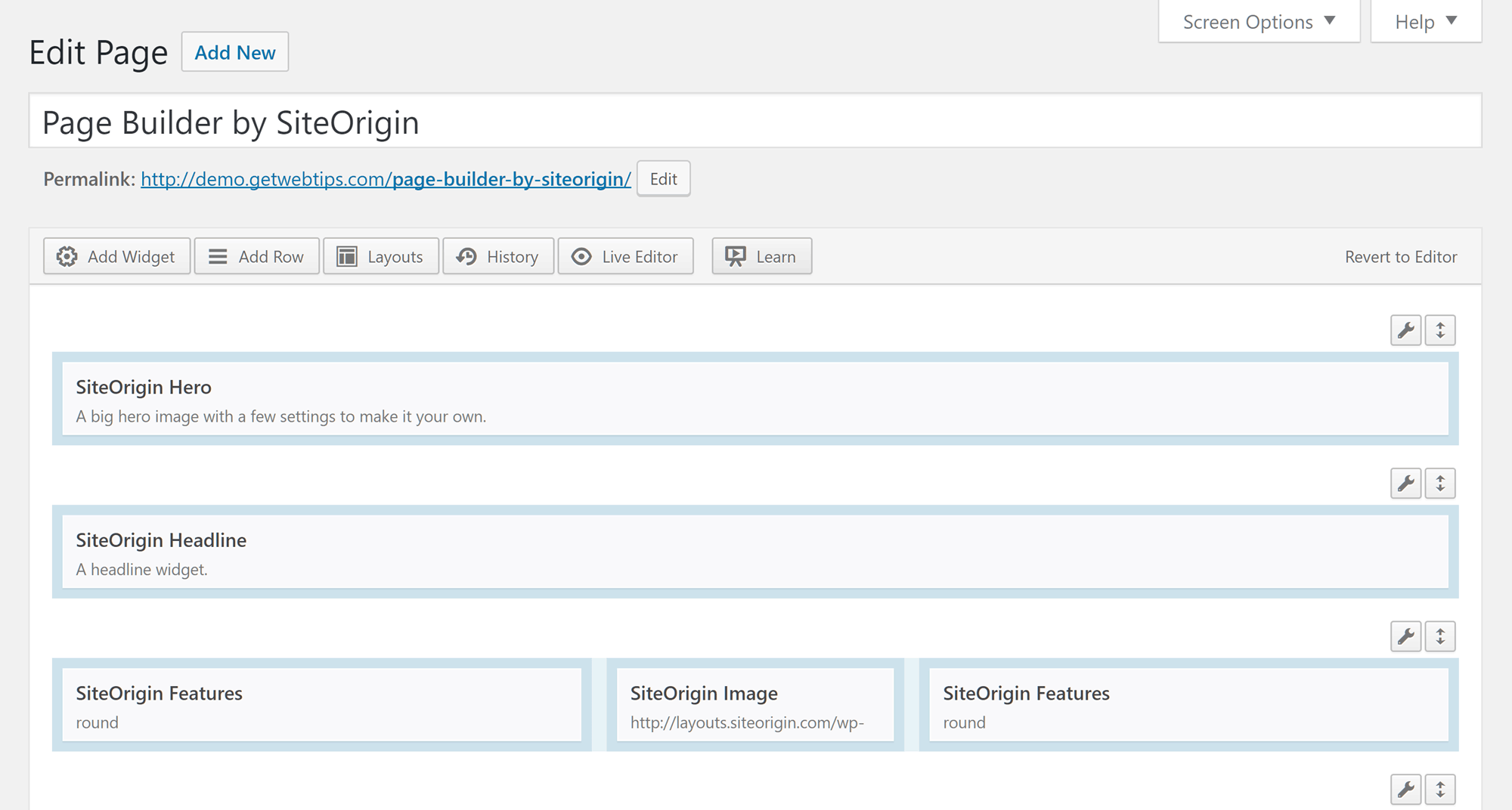 Plus, this page builder plugin offers you a great selection of useful modules to your page designs, and similar to other alternatives in this list, you can also add widgets that are currently active on your site, including those from third-party plugins.
If you're looking for customisation or design inspiration, SiteOrigin also provides a great selection of templates that help you drastically improve your homepage layouts in just a few clicks, but the template library does not have as many options as other premium page builder plugins in this list.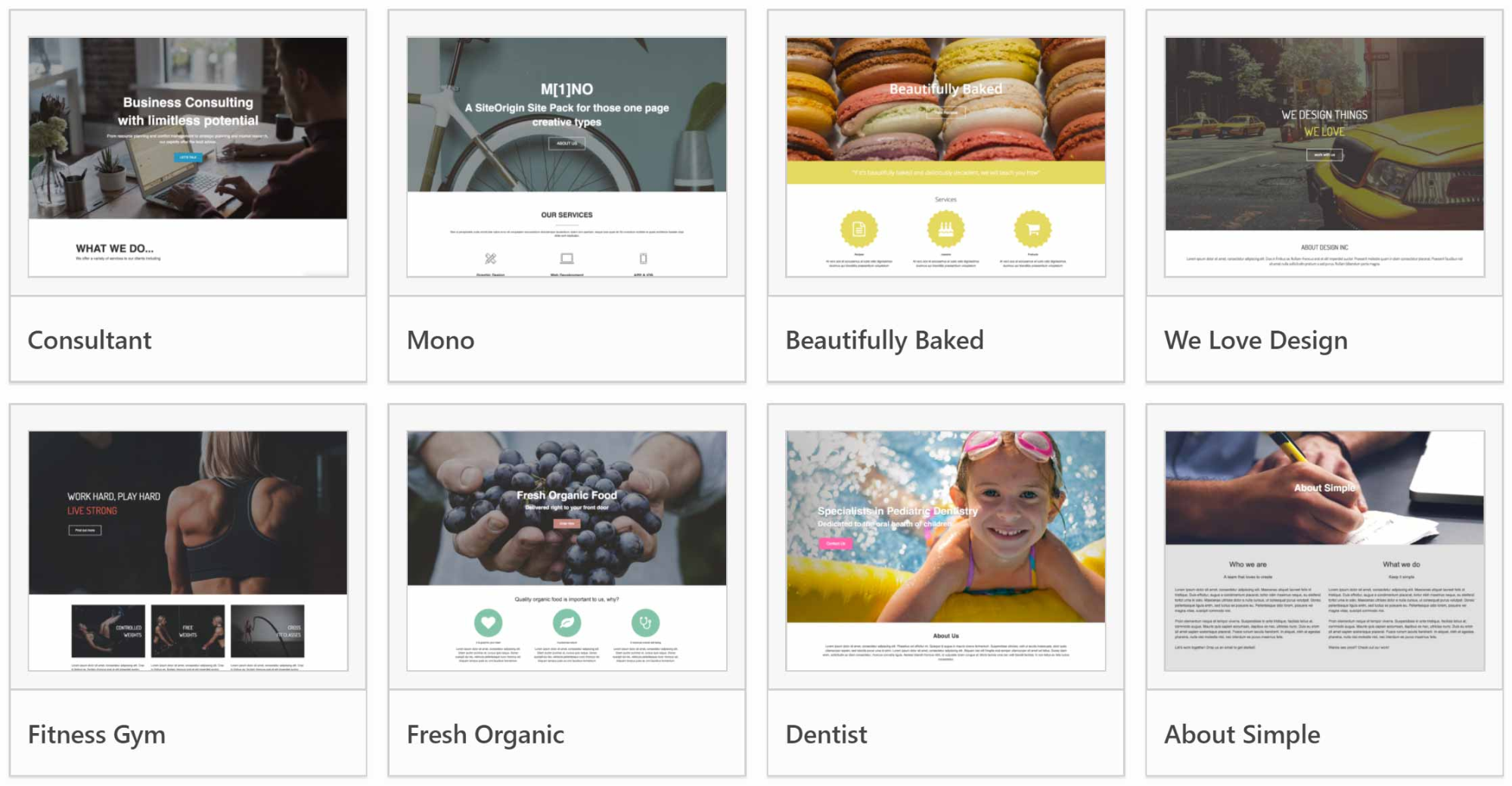 Overall, for a free WordPress page builder plugin, the overall SiteOrigin Page Builder user experience is good, and if you're on a tight budget and still want to create advanced page designs for your website, it could be a great help.
Divi Builder is a popular premium page builder working as a standalone WordPress plugin from the famous leading WordPress theme shops, Elegant Themes.
Divi Builder possesses a easy-to-use interface, a great library of modules, many eye-catching templates, and a wide range of options to help you adjust things and customise your content in the way you want.
If you want more control over how your WordPress website looks, then this plugin could be what you're looking for.
Basically, the UI of Divi Builder is pretty clean and you will spend most of the time working on popups and floating buttons instead of any traditional types of sidebar like other page builders.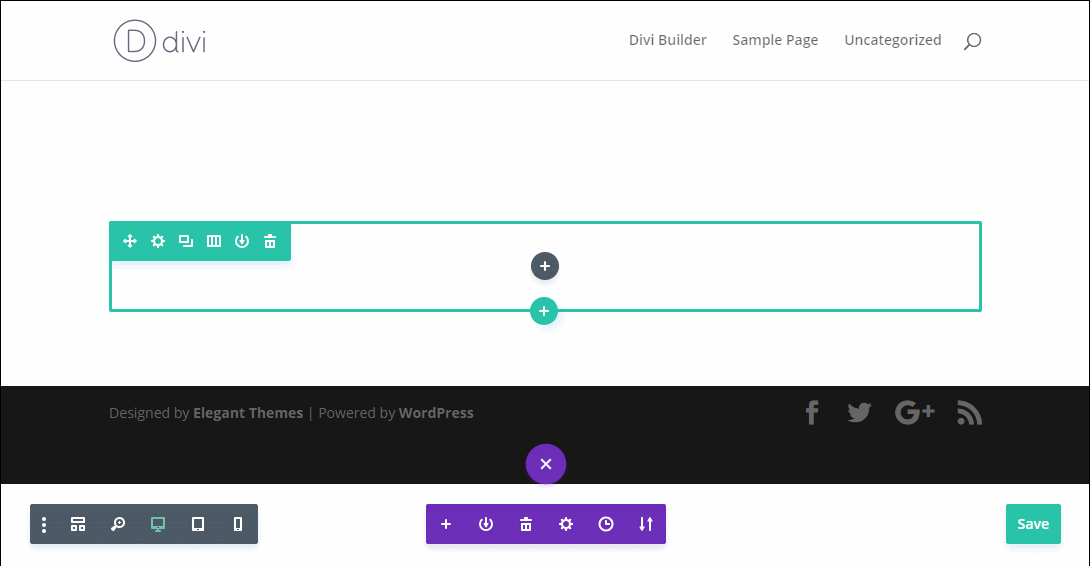 If you are a non-web designer and do not feel confident about web design because design is not your strong point, no need to be in a big worry!
Divi Builder comes with an enormous library of 316 gorgeous templates that you can choose from including multiple homepage designs, blog post templates, the list goes on and on.
Impressive, right?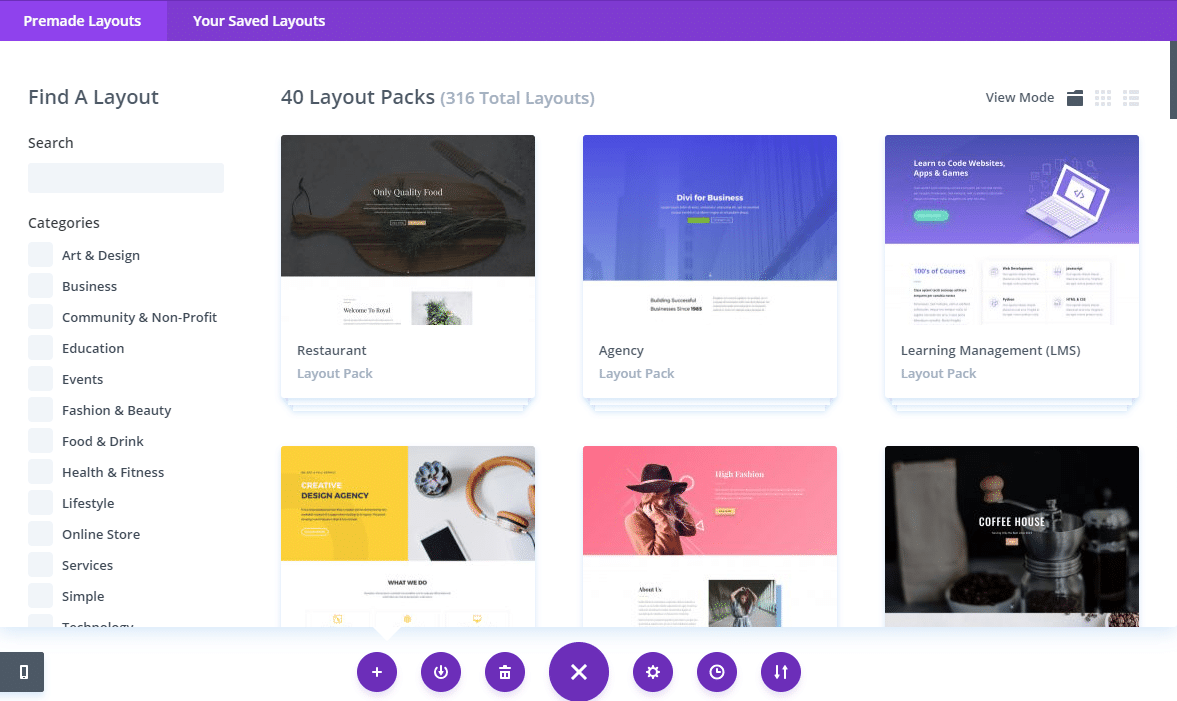 Overall, if you are looking for a way to create beautiful content and build pages on your website, we recommend checking out Divi Builder. It won't let you down.

Themify Builder is an easy-to-use drag-and-drop WordPress page builder that allows you to arrange your content by dragging and dropping in a live preview mode.
The Themify Builder allows you to drop in various modules to build different types of content and then you can then rearrange the content block, rows, and grids by dragging the modules you desire.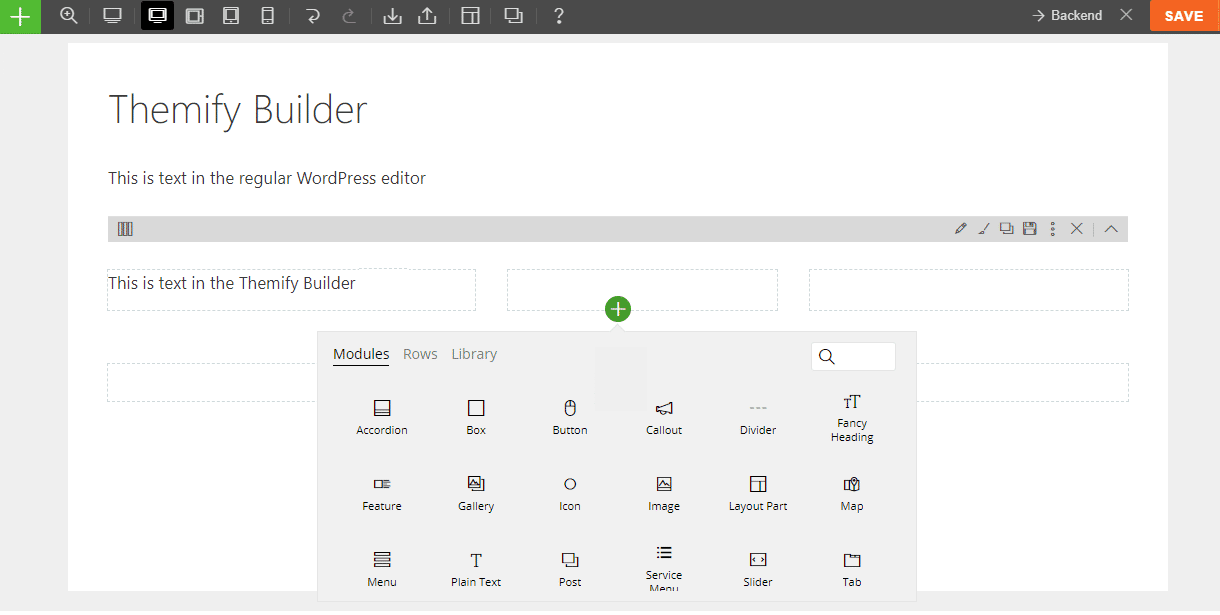 There is no inline editing – you'll need to edit your text in a popup like this: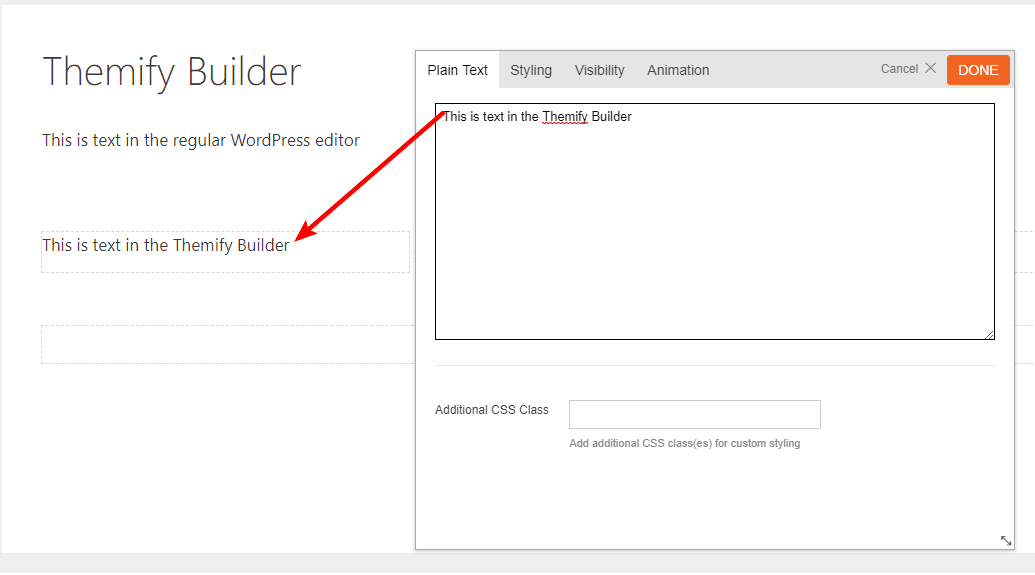 Additionally, Themify offers a great library of 37 beautiful and high-quality themes with responsive designs. They have a range of different styles including: portfolio, photography, magazine, ecommerce, business, restaurant, multimedia and blogging.
You also get 143 full page templates, as well as a smaller number of Rows, which are basically pre-built sections.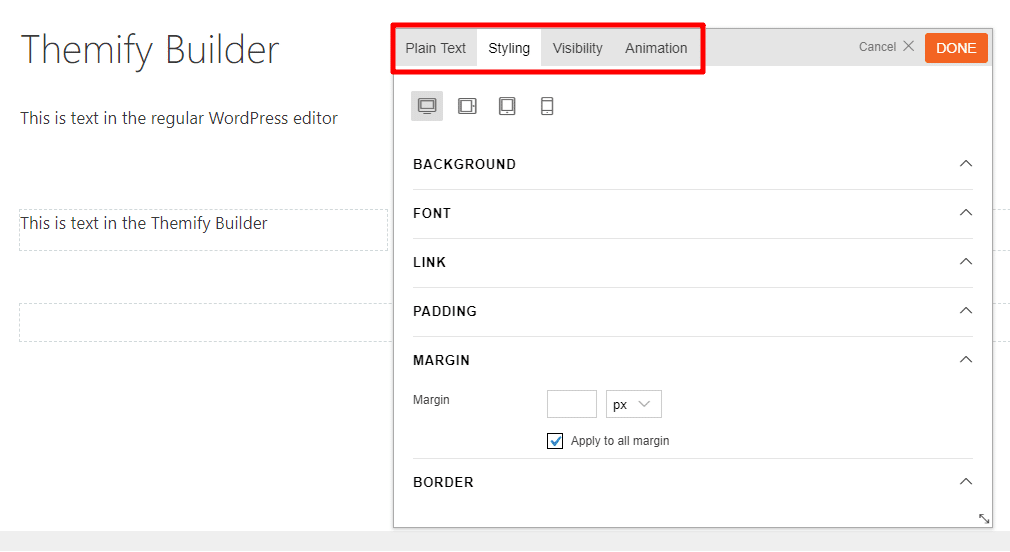 Overall, Themify Builder plugin is one of the noteworthy page builder options available on the market with lots of features for customizations, layouts, appearance, and looks.

Launched in April 2018, Brizy was first released in April 2018 and by far is a new kid on the block in this collection.
The primary benefit of this plugin is the ability to build your page in an exclusive way. You first have to add a block. You can use a blank block, or you can choose from the pre-built section blocks: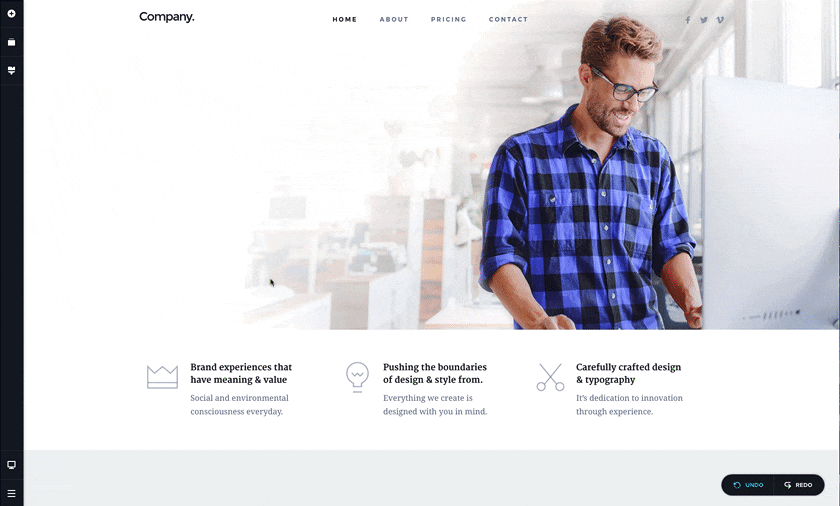 The number of current elements of Brizy is quite modest with 17 elements and hopefully it will be on a rise in a near future. Also, this page builder provides over 150 blocks that you can use for your purpose.
Another benefit of Brizy is that it enables to customize the elements once they're on your page instead of using a sidebar or a pop-up like many other page builders.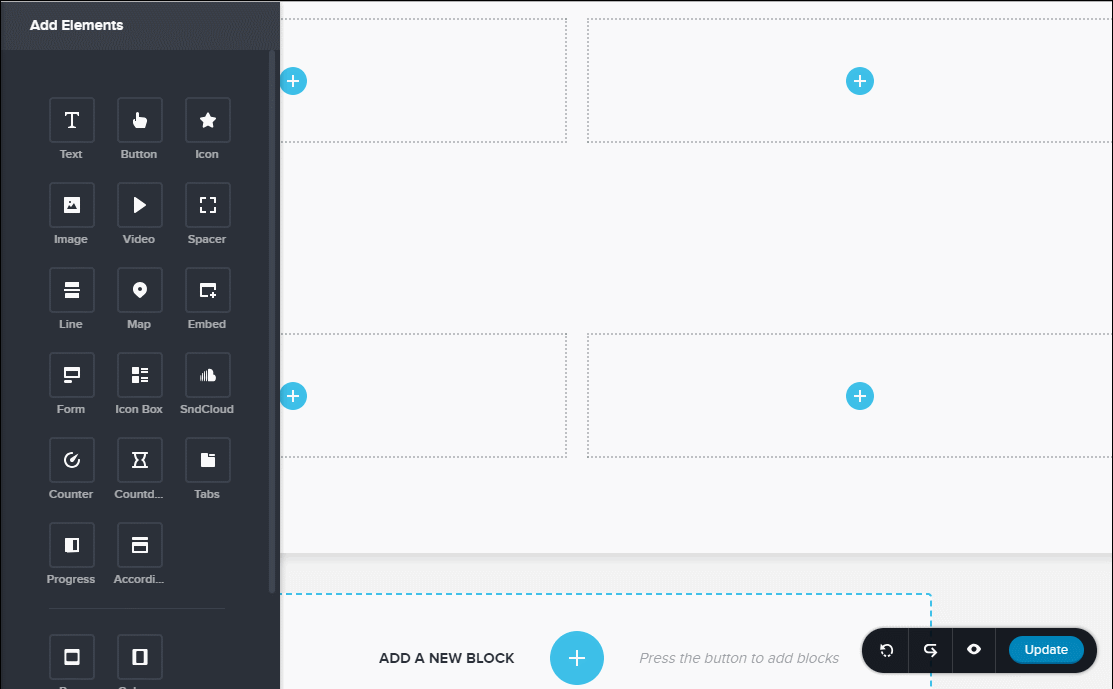 If you want to adjust the space on your page, Brizy includes draggable margins: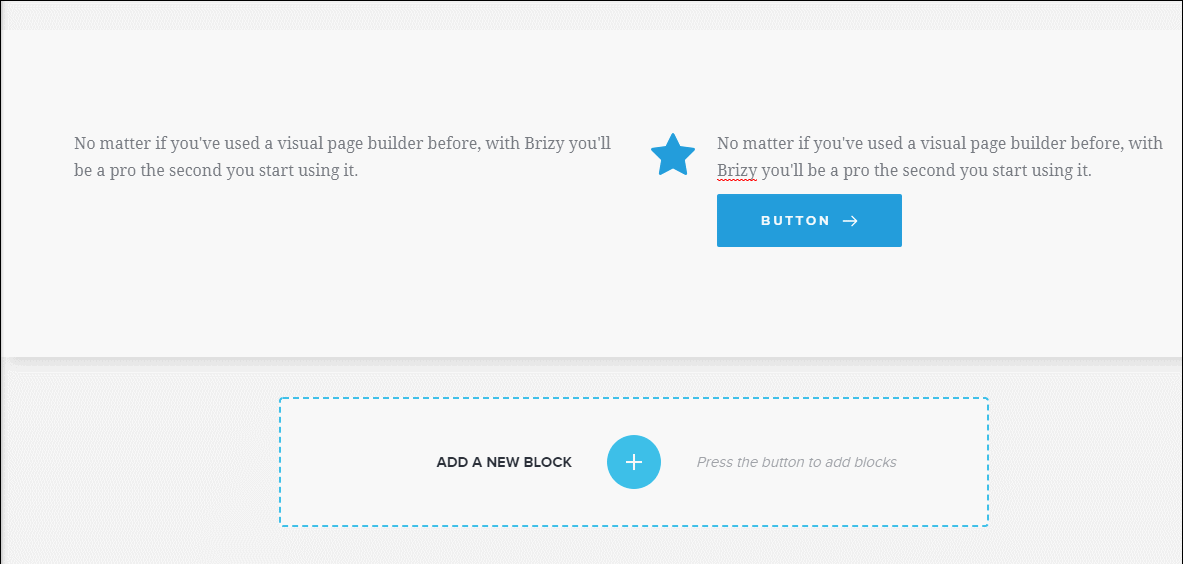 Overall, it's the perfect choice for those who still want to experiment with the modern-looking drag-and-drop page builder. So local and small businesses cannot miss this.
Bonus solutions
10. Boxmode
Boxmode is a drag-and-drop website building solution for non-techies, business owners, non-profits, and single events to build their online presence.
If you want to create and design website today all by yourself without coding knowledge, you can start with a template from the list of different layouts divided into various business niches and categories.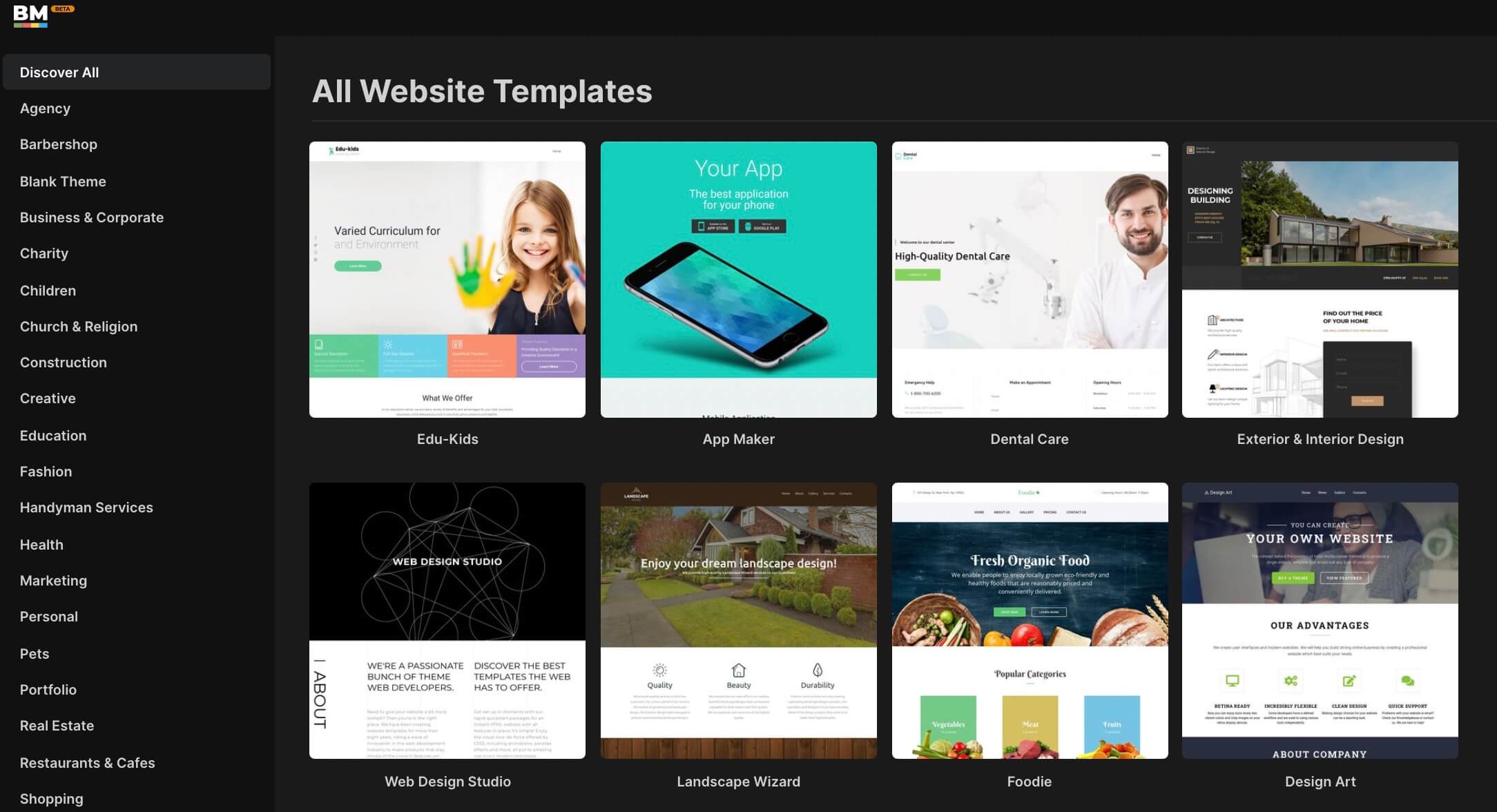 Features:
Customizable widgets;
Project analytics (track your website performance);
Project autosave feature;
SEO tools (meta tags editing, automated XML and robots.txt sitemap files, canonical links, open graph tags);
Final thoughts
Drag and drop page builders have become massively popular and trendy over the last couple of years because they allow anyone, regardless of their technical experience, to create beautiful website layouts in just a matter of clicks. You can create eye-catching, elegant, or stylish designs to captivate visitors' attraction by simply dragging and dropping blocks into the selected area. Simple as that!
If you are considering reconstructing or revamping your websites, these page builder plugins in the collection may be super useful for you. Let's give any of these plugins a go and build exquisite websites promptly.
Do you have any experience with the plugins we have written about? What is your favorite? Any say about these? Please leave your comments down below.
Thank y'all and warm welcome from Ninja Team! 😊
https://ninjateam.org/wp-content/uploads/2019/03/Best-Page-Builder-Plugins-For-WordPress.png
650
1900
Benjamin
https://ninjateam.org/wp-content/uploads/2020/10/ninjateam-logo.png
Benjamin
2020-09-15 10:35:09
2021-07-27 17:38:38
8 Best Drag-and-drop Page Builders for WordPress Websites