We live in a visual world. Whether it's online social media post or a physical printout sheet, users and followers respond positively to great designs.
Are you ready for mastering design tools for marketers?
Fear not, marketers! Not everyone is born an intuitive designer but with this well-curated list of design tools for marketers, you'll be able to create distinguished designs that fit well with your marketing campaigns in no time. These are particularly best tools to do branding and spread your promotions. 
DesignCap

Overall
DesignCap provides a quick, creative, and engaging way for marketers to showcase their products, services or promotional events.
This is the best tool to go thanks to its budget-friendly premium plan. Professional subscription costs you only $71.88 billed annually and its huge resource library comes with over a million copyrighted images.
Pros
DesignCap has a clean and straightforward interface that everyone can easily control it without any guidance.
You'll appreciate its Chart section. DesignCap offers Table and dynamic Map chart. Moreover, its chart feature is more flexible to edited. And DesignCap allows users to add dynamic maps and import data directly from files of XLS, XLSX, and CSV. Of course, you can type the exact data manually like do it in Canva. 
DesignCap is dedicated to marketing experts who create wonderful visualizations of data on a daily basis.
Their massive list of document types will both overwhelm and inspire your marketing creativity. You can edit photos, compare fonts, create graphs, and more. 
What's even better:
The price is about half as much as Canva

Excellent planning and analytics-related templates such as comparison, SWOT, statistics, diagrams, timelines, etc.
Cons
Free plan is very limited
DesignBold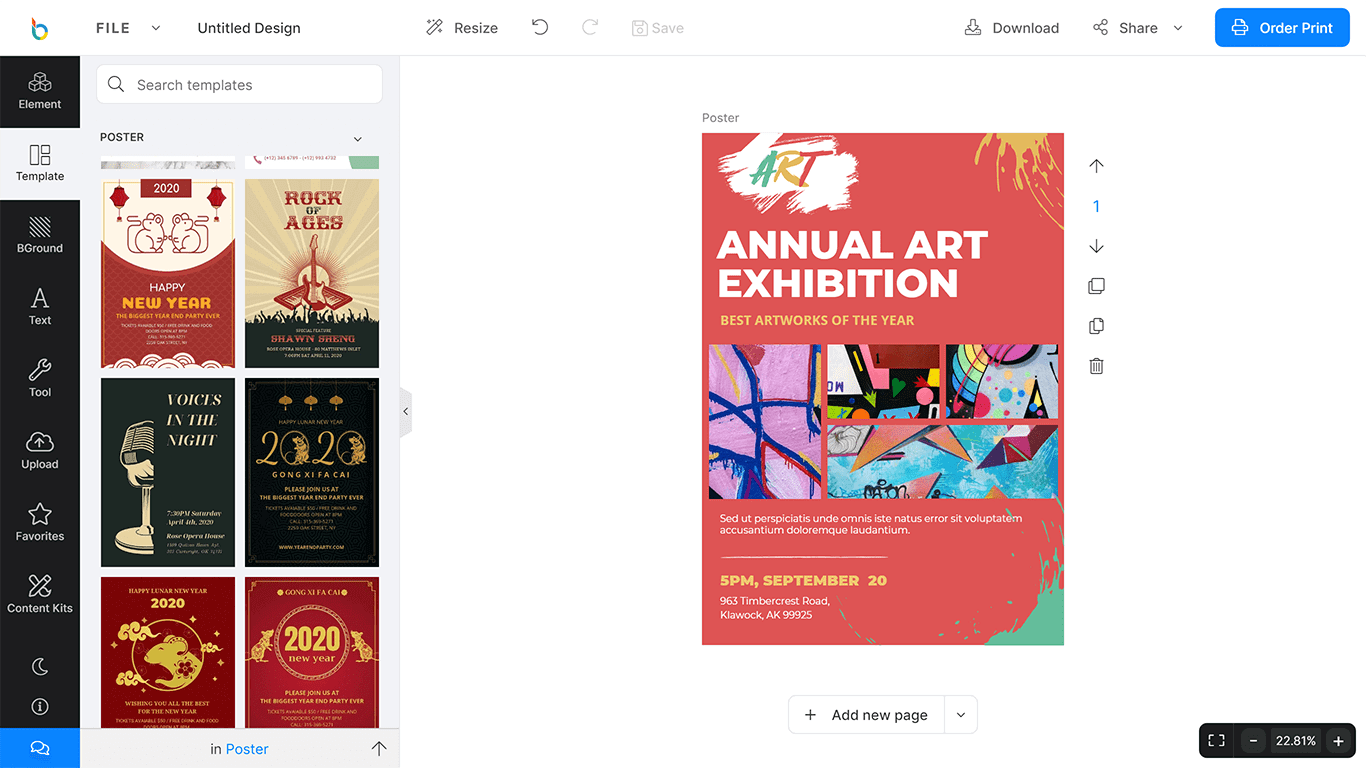 Launched at the end of the year 2016, this service had indeed bold strategies of social marketing in the very time when plenty of design tools burst out on the market. In the first three days of its beta phase, the company had already clocked 700+ subscriptions valued at US$27,000.
Overall
Providing a professional subscription of $95.88 billed yearly, this web-based design service, however, still limits its exclusive stock. If the users want to use a specific exclusive element, they have to pay more apiece. This turns out a costly à la carte if those users want to make their designs stand out as how they like.
By using cash to buy DB coins, you then can buy the desired elements. Those items will also be saved in your Favorite > Purchased for you to re-use them multiple times in next designs.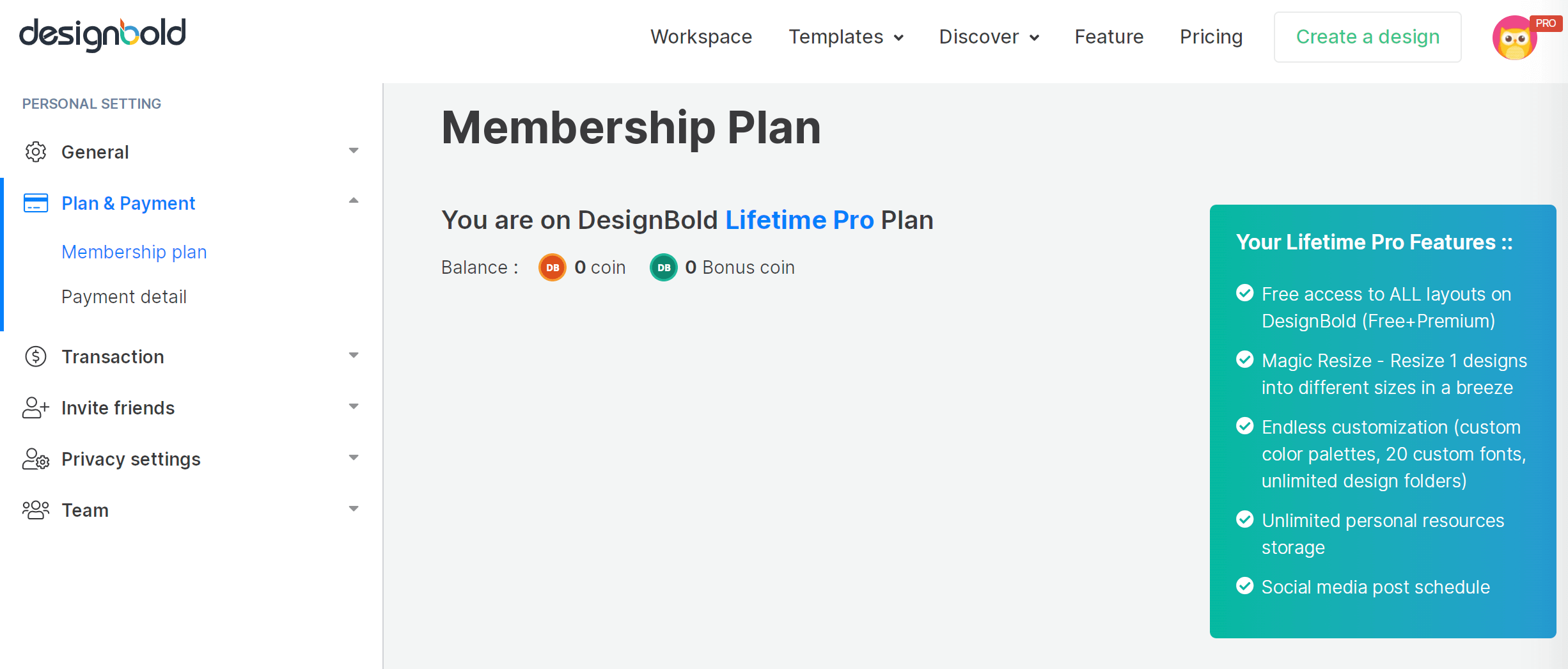 Fun tip: DesignBold shows interesting quotes while waiting for designs to be downloaded, which makes the process less lingering.
Pros
DesignBold offers an invite-friend affiliate program which gives a win-win incentive of 2 coins to both of inviter and invitee.
Readily-made DesignBold templates are generally rich and good for flyers, brochures and other propaganda hard copies. 
Other good points include:
20,000+ templates

1M+ elements

Various content kits – especially helpful to those designs to be printed out

Integration API supported

Click-to-chat support available on-site
Cons
Templates are not so clean, modern or trendy styles

Team collaboration features are not available

Additional high-definition stock package: 40 coins for US$39
Canva

Canva is a versatile image creation tool that launched in 2012 but its initial ideas can be traced back since 2007. Spending a long time researching the market and honing their own services, they now boast very professional layouts to create stunning graphics.
Overall
When registering, you'll be asked what type of user you are. It's said to help recommend the right design types to individual users, though it probably also affects the premium resources you can see. Compared with business owners being offered enterprise plans, self-identified as student users could be presented with fewer elements. This is probably to sift user demands, thus help Canva retain their stable performance and lighten their loads by not showing full resources to every type of users.
A premium plan generally charges you $119.4 yearly but that should be paid off if you run an enterprise-level business. 
Apart from the affiliate program of referring friends, you can also earn up to $36 for each new Canva Pro subscriber signing up via your unique referral link.
Pros
Rich resources including courses, tutorials, marketing and branding blogs
Cons
It's not immediately apparent which templates are available to free members, and which are premium-only

Only 7-day free trial (compared to DesignBold offering 30-day free trial)

No click-to-chat for help
Wrapping up
We hope these online design solutions and resources can make your marketing life much easier. What are your favorite free and premium online design tools for marketers? What would you add to this list? Let us know in the chatbox below!
Happy designing!
https://ninjateam.org/wp-content/uploads/2020/08/Online-design-tools-for-marketers.png
423
1210
Bean
https://ninjateam.org/wp-content/uploads/2016/10/avatar_256_transparent.png
Bean
2020-08-21 14:14:55
2020-08-21 15:04:53
3 Great Online Design Tools for Marketers
How to personalize a WordPress website based on user behavior


9 Best WordPress File Manager Plugins 2020