10+ Best Interactive Image and Mapping Plugins for WordPress
Interactive images are a fantastic way to take your website's usability to the next level. And this feature could come in handy in various ways.
Whether you want to showcase added information about your location, you should consider using interactive images. Here are some use cases to convince you:
E-commerce
If you run an e-commerce site, adding interactive images allows you to highlight your product's best features. It also enables you to provide minute details about your products. An example would be the threading in the dress you are selling.
You can also use it so that you can showcase how your products work in action. Think of it as construction systems. You can display how your products interact with buildings and give additional data on prospective clients.
Real Estate
Real estate sites often showcase interior plans and layouts. Through interactive images, you can allow the user to hover over individual rooms. It is like giving your potential clients a virtual tour of the property you are selling.
Event Management
You can guide your guests by using interactive maps, helping them arrive at their destination without hassle.
Teaching Portal
Do you teach a specific language? Then why not depict images which reveal a word in a foreign language once you hover over them?
Mapping plugins and interactive images provide your readers with better user experiences.
Best Interactive Image and Mapping Plugins for WordPress
Now, let us walk you through some of the best interactive mapping and image plugins that you can use for WordPress:
1. Image Map Pro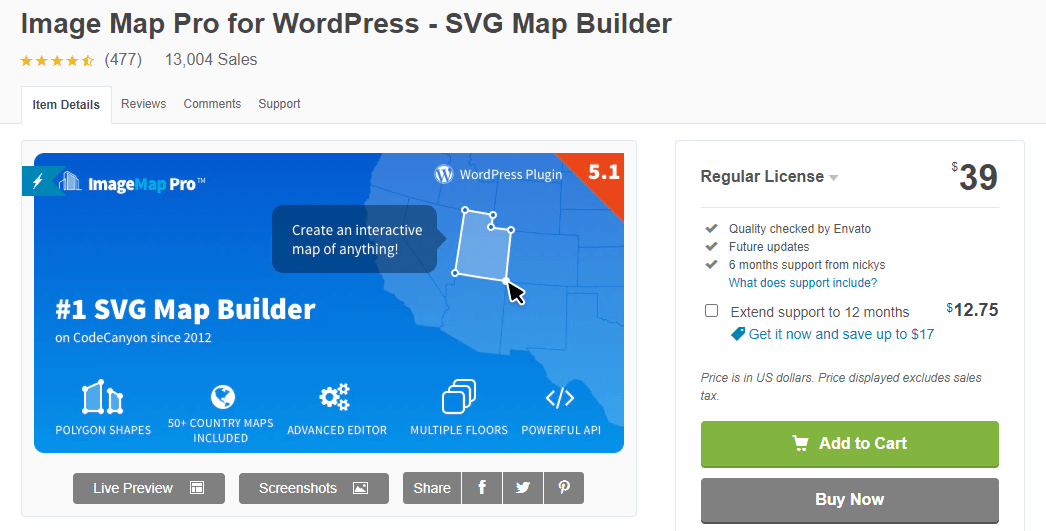 Known as one of the advanced plugins on our list, Image Map Pro allows you to develop interactive images. Thanks to its easy-to-use interface and other useful tools.
It also features its editor, which you can try before you make a purchase. The interface is highly intuitive, allowing you to come up with customer shapes so that your images stand out.
This plugin also features over 600 high-quality FontAwesome SVG icons. Thus, you can upload icons and come up with images that you can seamlessly integrate into your site design.
Another excellent feature this plugin has is the ability to develop multiple floors. This can be particularly handy when depicting things such as floor plans and properties.
This plugin provides you with a highly responsive solution to your image's needs, including a combination of animations and styles.
Here are Image Map Pro's most notable features:
Connect shapes as you develop your map
Full-screen mode
Built-in font icons
The editor's zoom capability for a more precise design
Over 50 country maps
Highly responsive
Tooltip content builder
2. Interactive Geo Maps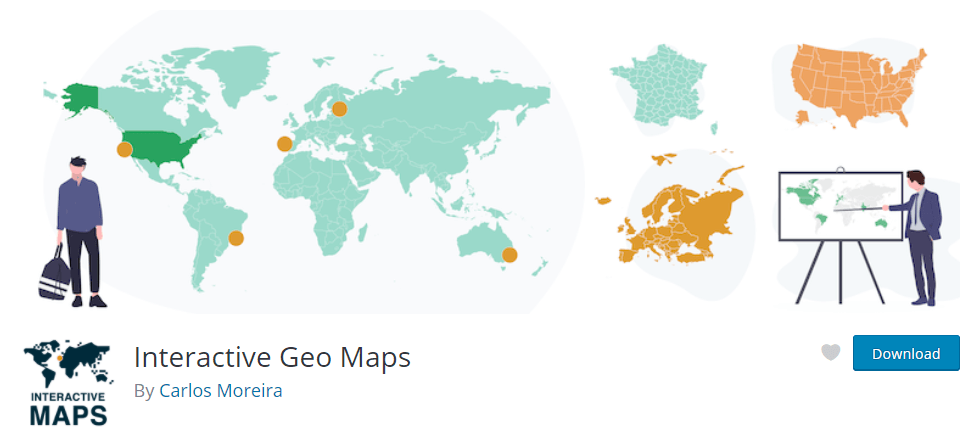 Do you want to create stunning maps for your site? Well, with Interactive Geo Maps, you definitely can.
This plugin is rich in features that include over 250+ maps with advanced features to help you develop custom maps for your site.
Whether you are a travel blogger, a real estate agent, or a business, adding interactive maps to your website is an excellent way to enhance usability.
There is also a pro version of this plugin, which includes highly customizable color regions, tooltips, markets, overlays, marker connecting lines, over 10+ map projections, advanced zoom, drill-down maps, and more.
Moreover, getting started with this plugin is so easy as well. All you need to do is install it, utilize the built-in options to design your map, or you can insert it using a shortcode.
Here are Interactive Geo Map's most notable features:
Over 250 maps are available.
Individually color regions and markers.
Hover color change.
Pick various map projections such as Miller, Mercator, and NaturalEarth1.
Select which areas you want to display on the map or which specific areas you want to exclude.
Automatically populate the map using various tags and categories.
3. MapSVG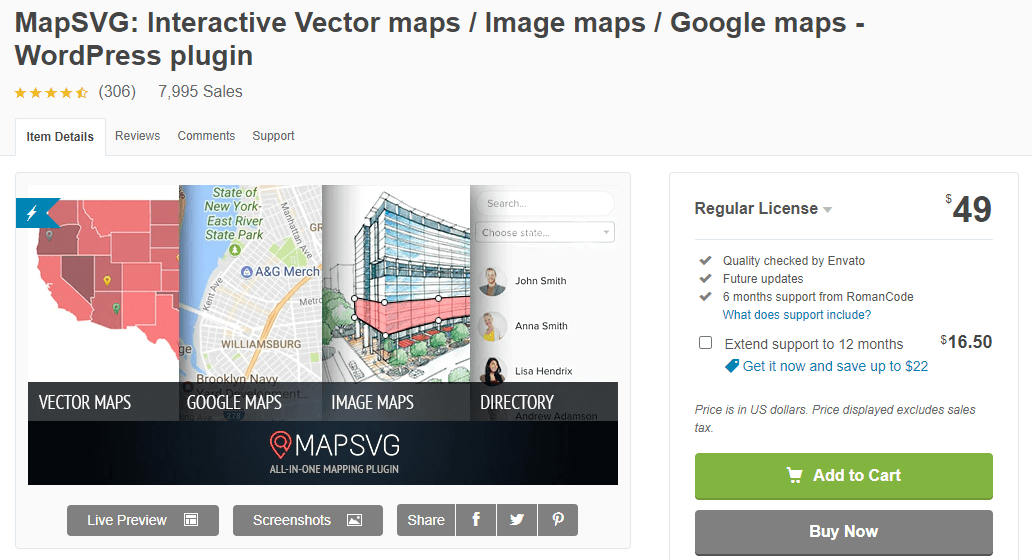 When it comes to premium WordPress image map plugins, the top solutions often provide you with bonus premium features.
MapSVG follows this trend. This plugin provides image uploads, vector maps, and unique markers that offer the usual Google Maps functionality.
Through vector and image maps, you will have full control over the types of plans you create, and the possibilities here are almost endless.
For instance, you plan to upload an image of your new product or a drawing that features a real estate property or a prototype. Regardless of the image, this plugin lets you develop it into a map with markers.
Here are MapSVG's features:
Place objects to map regions.
Import PNG/JPEG images, then edit them with built-in drawing tools.
Allows custom event handlers like mouse over, custom click, and afterload.
Over 100 countries are included.
Place map markers by entering a specific address or latitude/longitude coordinates.
Filter for search/distance for nearby locations.
Show the average income, votes, weather by region depending on various shades of color.
4. Mapplic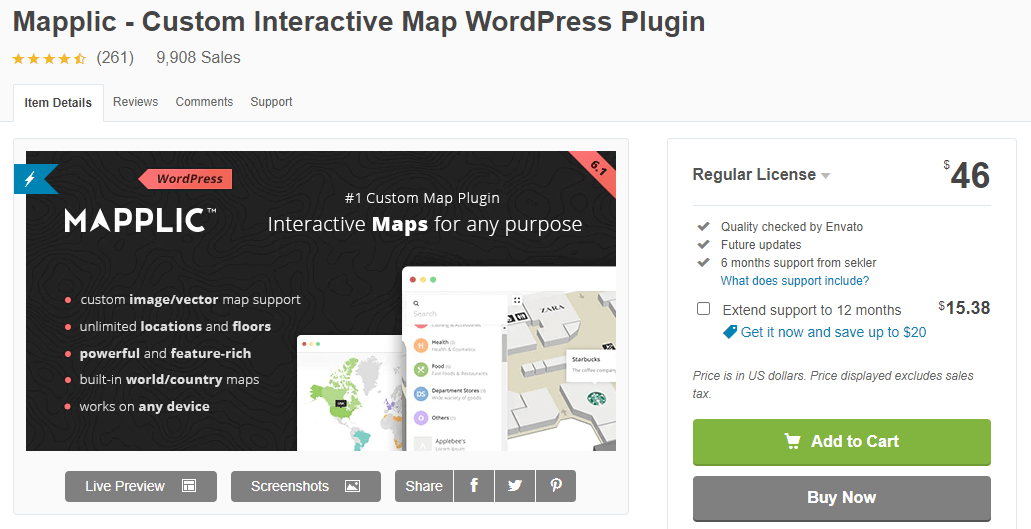 This premium, interactive WordPress image map plugin provides you with an advanced option to build a map for your business site.
You can develop image and vector maps, place unlimited floors and landmarks, use built-in country or world maps, place deep links, and create a fully responsive touch-ready plan for anything.
Mapplic's best features include:
Unlimited locations and landmarks.
Customized icons, pins, actions.
15 geographical maps.
Optimized touch screen for various mobile devices.
Every site is referenced with its URL.
User-friendly back-end.
5. Flat 360° Panoramic Image Viewer
This is, by far, one of the unique mapping WordPress plugins on this list. To make this work, you need to have a flat and static panoramic image.
Use WordPress to add hotspots and scrolling. That way, site viewers can have a more realistic viewing experience that they wouldn't forget.
It also provides users access to both right and left rotations, then viewing the map's location as if they are there.
Here are some of its unique features:
180° and 360° visibility
Gutenberg ready
Multi-website configuration
Touchpad and mobile support
Localization that's ready for translations
A lightbox plugin compatible with creating various pop-up hot spots.
6. Google Maps Easy
This WordPress image map plugin has one goal for you, and that is to provide you with the tools that you need to come up with a Google Map for your WordPress site.
You can add other media types such as images, videos, links, texts, and descriptions. Once you are done, you can place it in your site, which uses a shortcode, letting it up open either as a pop-up or widget.
Just keep in mind, though, that there are some features that you can find only in the paid version, so you need to be careful.
Here are Google Map Easy's Most Notable features:
Unlimited number of locations and markers
Import/export feature
Highly customizable
Social share buttons found on the map
Heatmap layer
Alternate route and route steps
Marker clustering
Table view markers and exposition slider
7. Map List Pro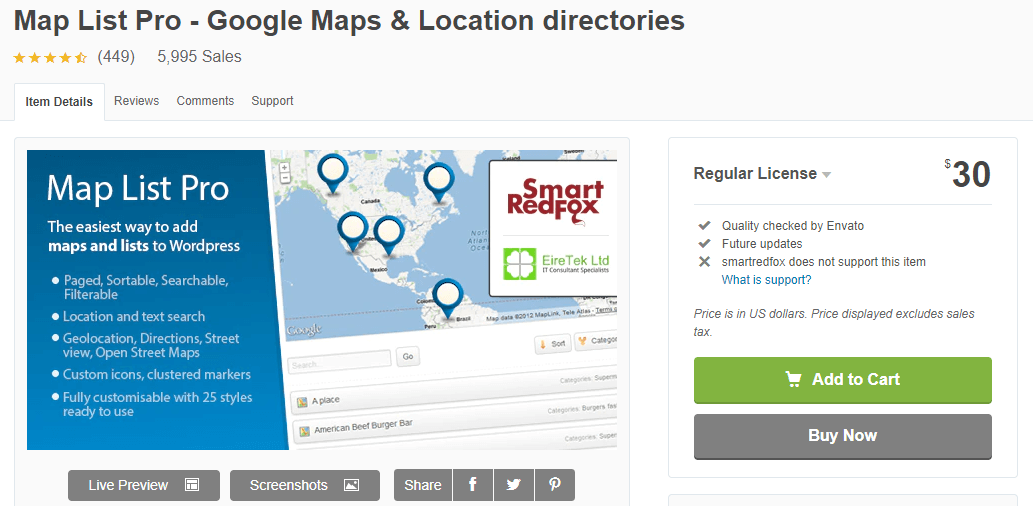 This plugin allows website owners to showcase maps and store locators all for their site visitors to see.
You can display locations that are searchable, filterable, and sortable for a better user experience. There are over 35 different styles to choose from. That's why branding your maps, as well as store locators, is simple.
Moreover, this mapping plugin works particularly well on responsive themes. Even the ones on mobile devices can view and then reach their destinations with ease.
Here are Map List Pro's most notable features:
Automatically zooms all locations on the map
Numerous maps per post and page
Featured images for all different kinds of locations
Customized map markers
Listings that auto-update each time a new address is provided
Add in new areas utilizing Google's place search
8. Hero Map Premium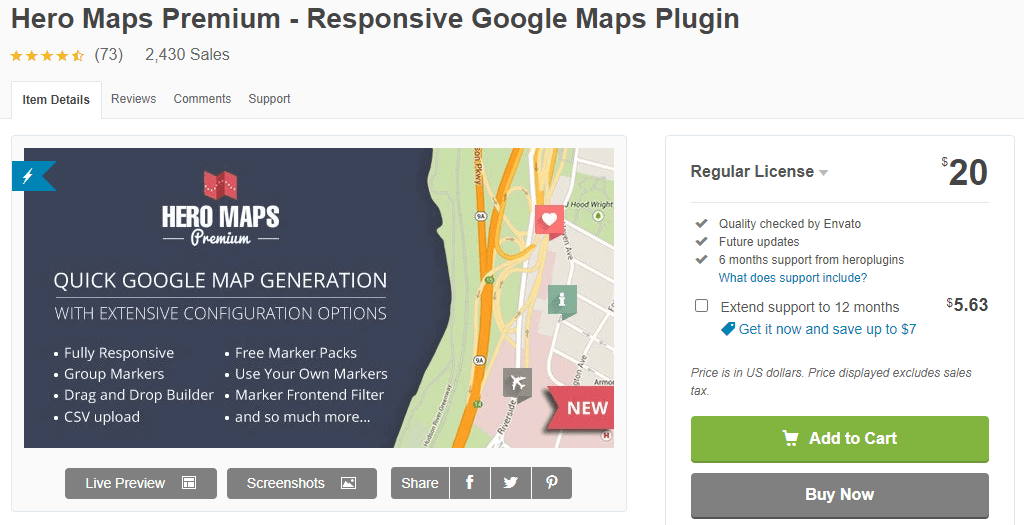 Do you want to create an impressive full-screen map? Then, look no further. With Hero Map Premium, you can do so.
This premium WordPress image map plugin supports full screen and several other options. Hero Map Premium allows simple drag and drop map building, map filters, customizable map markers, shape layers, color skins, and so much more.
This advanced mapping certainly has a lot of options. Here are some of the plugin's most notable features:
Pre-designed color skins
Fixed sized or full screen
Front end search functionality
Cross-browser compatible
Marker animations
Marker clustering
Export markers and maps, import to another website
9. WP Store Locator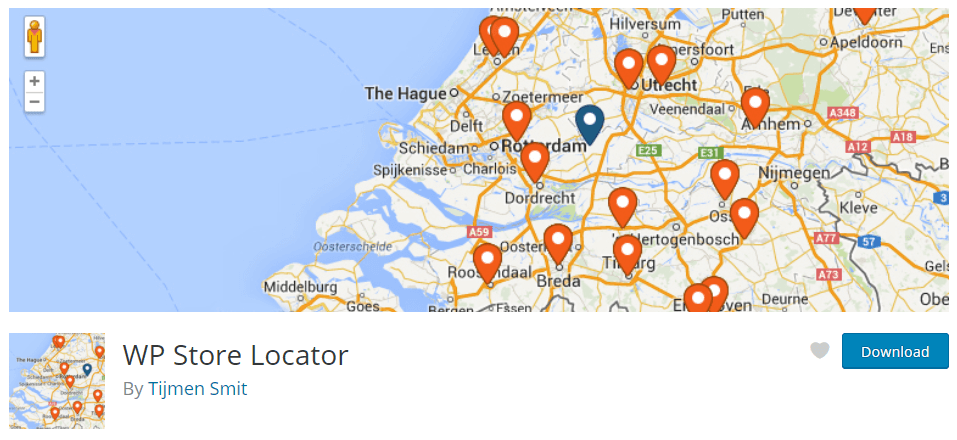 This mapping plugin is fit for those who are looking for a comfortable location management system.
You can use it to easily customize how your map looks, place custom labels for entry fields, then filtering out results depending on the radius.
Apart from that, you can even present driving directions to anyone who might need help locating some nearby stores.
Finally, you can place an unlimited number of stores and even offer extra details about your business. This includes phone numbers, operation hours, relevant links, and more.
Some of WP Store Locator's notable features:
Support for custom map styles
Display Google Maps in various languages
Support for different custom map styles
GDPR compliant
Nine retina-ready marker icons
Utilize geolocation API to help determine the current location of the user.
10. SuperStore Finder for WordPress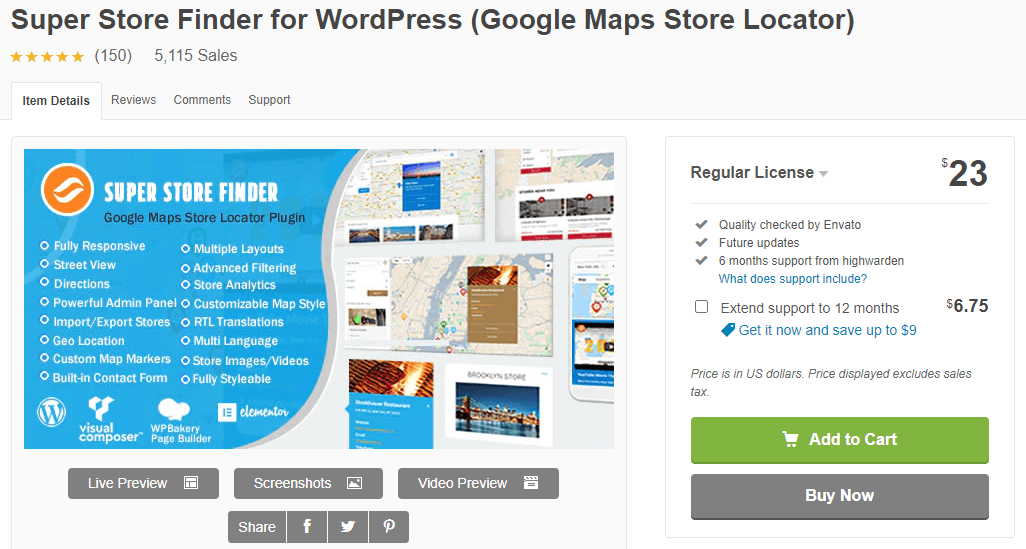 This is a fully-featured store locator plugin that allows users to find your store with ease quickly. This works particularly well with all kinds of mobile devices. The plugin even supports international languages, allowing you to cater to non-English speaking customers.
When it comes to managing your store locations, you can easily assign tags and categories, set up notifications, and customize styles.
Here are Super Store Finder's most notable features:
Built-in contact form for every store
Features a full-screen street view
Multiple languages
Can configure zoom function and upload customized images
Drag and drop location to easily create maps
SEO optimized for better search rankings
Highly customized text captions and labels
11. Google Maps Widget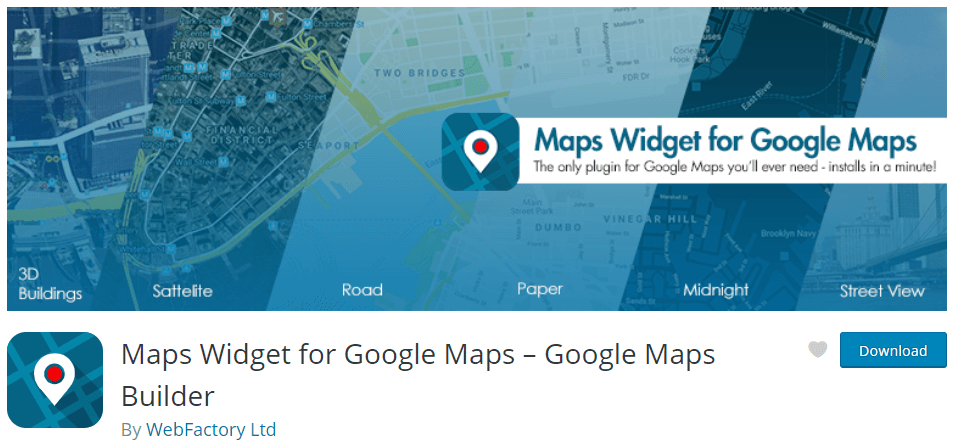 This plugin offers you a chance to come up with an impressive map, complete with thumbnail, as well as lightbox, within minutes.
Using this WordPress image map plugin, you have the option to display any map that you want, for example, satellite, terrain, custom, or hybrid maps.
Apart from that, you can also pick from built-in color schemes to help match your website's look and feel.
Here are some of its top features:
Customize the map weight, height, color, size, and more.
Upload any image that you want for the image pins
Insert the text above or below the maps
Allow a more interactive lightbox and highly customized skin.
Pick a mapping language that will suit your audience's needs.
Utilize a shortcode that displays your map anywhere on your site.
Various Google Map color schemes to choose from
12. JetElements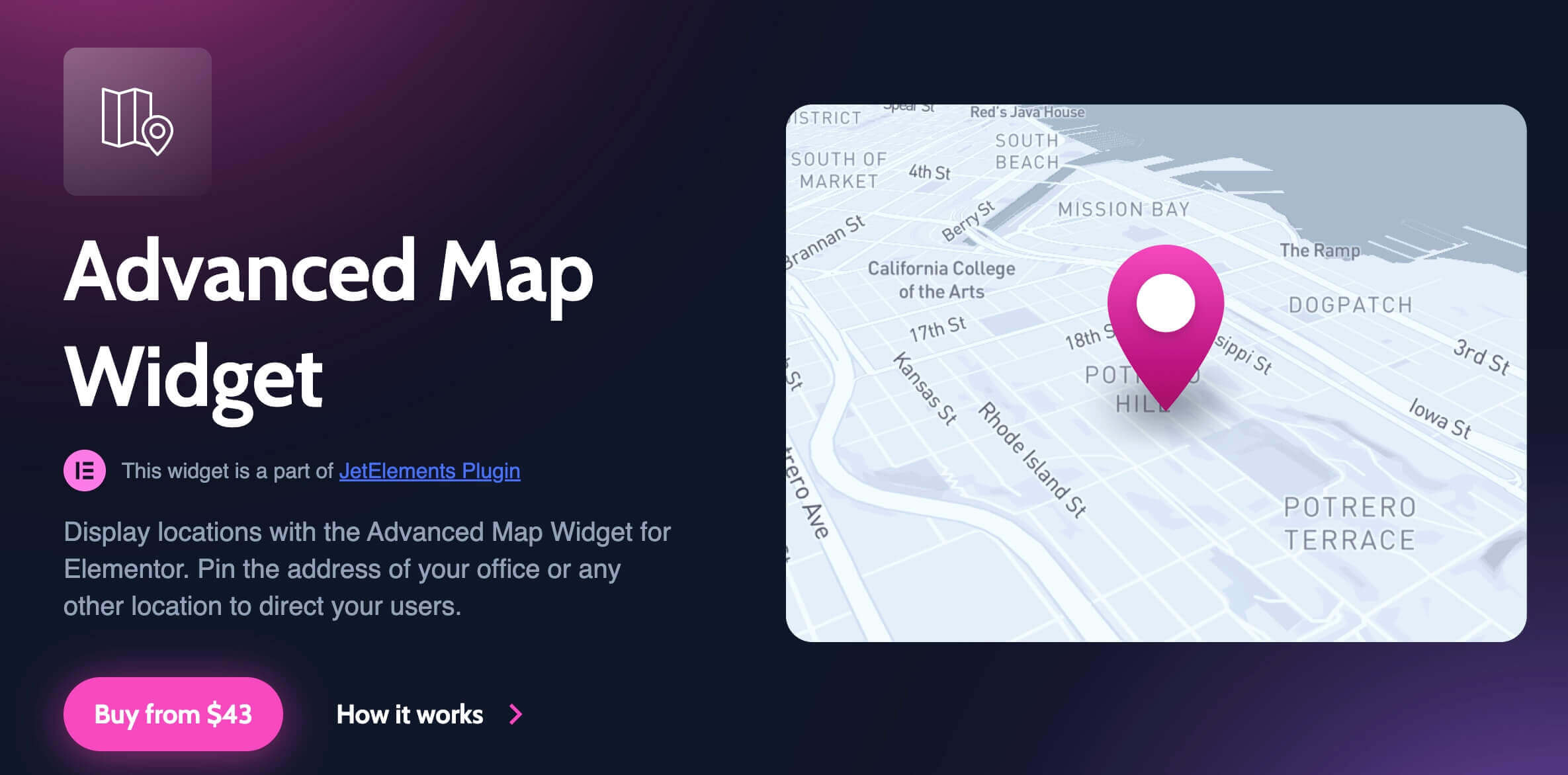 Advanced Map widget is one of 45 JetElements widgets. This plugin allows you to create a map with multiple pins. To begin with, integrate JetElements with Google maps using an API key. 
Advanced Map widget will be helpful for businesses with several departments, so you can show where your business is located with the pins. Furthermore, you can build a touristic map with sightseeing places.
Here are JetElements most notable features:
Scroll wheel zoom disabling;

Premade map styles;

Street view control hiding;

Ability to change default pin icon; 

Compatible with Elementor.
Final Thoughts
Nowadays, it is common to add maps to our website. But if you want to up the ante when it comes to engagement and usability, you might want to leverage interactive maps.
This will make locating your office or store straightforward and more helpful. That is because people will get to know where your business is located and figure out if they are in the right place with the help of landmarks you set through interactive maps.
Whether you want to add a WordPress image map or a couple of them, the easiest way to do that is to add a mapping plugin for WordPress. And hopefully, you can pick one from this list that will suit your preferences and needs.
This piece is written by Jake Rheude from Red Stag Fulfilment.
https://ninjateam.org/wp-content/uploads/2020/12/Best-WordPress-Interactive-Image-and-Mapping-Plugins.png
426
1210
Ninja Team
https://ninjateam.org/wp-content/uploads/2020/10/ninjateam-logo.png
Ninja Team
2020-12-02 17:44:06
2022-06-22 14:24:52
10+ Best Interactive Image and Mapping Plugins for WordPress