5 Best WooCommerce Product Slider and Carousel Plugins
In Do you want to make your products more attention-grabbing? Then, you need to showcase them in the best light. How you present your products can evoke the potential customer's desire to purchase a product or fill their shopping cart with additional items.
WooCommerce, as the world's most popular open-source e-commerce solution, allows you to beautify your product display, and thus, drive more sales. All you need is the right plugin.
Product slider and carousel plugins can be just what you were looking for to complete the look of your website. They are simple to embed and use, and what's most important, they can attract more attention to your products. This design element can help you display your visuals in a dynamic and engaging way.
If these plugins caught your interest, we want to narrow down your choice by singling out the best of the best product slider and carousel plugins.
However, before we uncover these top plugins, let's clarify the exact use of them and how you can maximize their potential to benefit your e-commerce store.
The Purpose of Product Slider and Carousel Plugins
A slider is a slideshow that displays product images. They typically display one image after another and create a feeling of momentum.
An advanced slider is a carousel. It can display several images at once and allows users to rotate the images. Carousels enable you to put several sliders in focus. The term "slider" can be used both for carousels and sliders.
The popularity of product slider and carousel plugins has been growing as they are a simple solution for turning boring product displays into intuitive and engaging slideshows. But the question that you're probably interested the most in is:
How can I put these plugins to use, and what are the benefits?
An effective product slider can be used for the following purposes:
Drive purchasing decisions with multiple angle photos.
Showcase the versatility of your products.
Put the focus on a specific feature and motivate users to click for more information.
Boost customer experience by giving users control over how fast they want to view the product images.
Customize the product slide to perfectly fit your website's style and make the design more attractive.
Create visual demonstrations of how to use a product with sequential images.
Increase sales by including an add to cart button to a product slider and encourage shopping without hesitation.
There are numerous product slider plugins for you to choose from, but not all of them will suit your needs. Before you download the plugin, check if it matches your theme. This will ensure that the product slider plugin works properly with other WooCommerce plugins.
Our criteria for picking the 5 best Best WooCommerce product slider and carousel plugins were how easy it is to use them, the plugin's functionalities, customer reviews, updates, mobile responsiveness, and customer support.
So, without further ado, we present the top product slider and carousel plugins.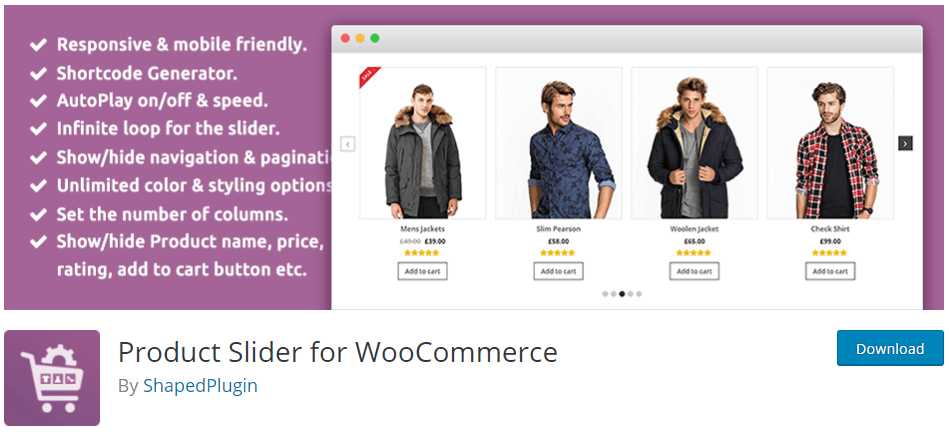 One of the product slider and carousel plugins that website owners love is Product Slider for WooCommerce. This plugin will turn your product images into attention-grabbing slideshows. With Product Slider for WooCommerce, you can present your product in a stylish and professional way.
The plugin is very easy to use thanks to the built-in Shortcode Generator. This functionality will allow you to modify the product slider like a pro. You can show your product sliders on pages, posts, widgets, and custom templates.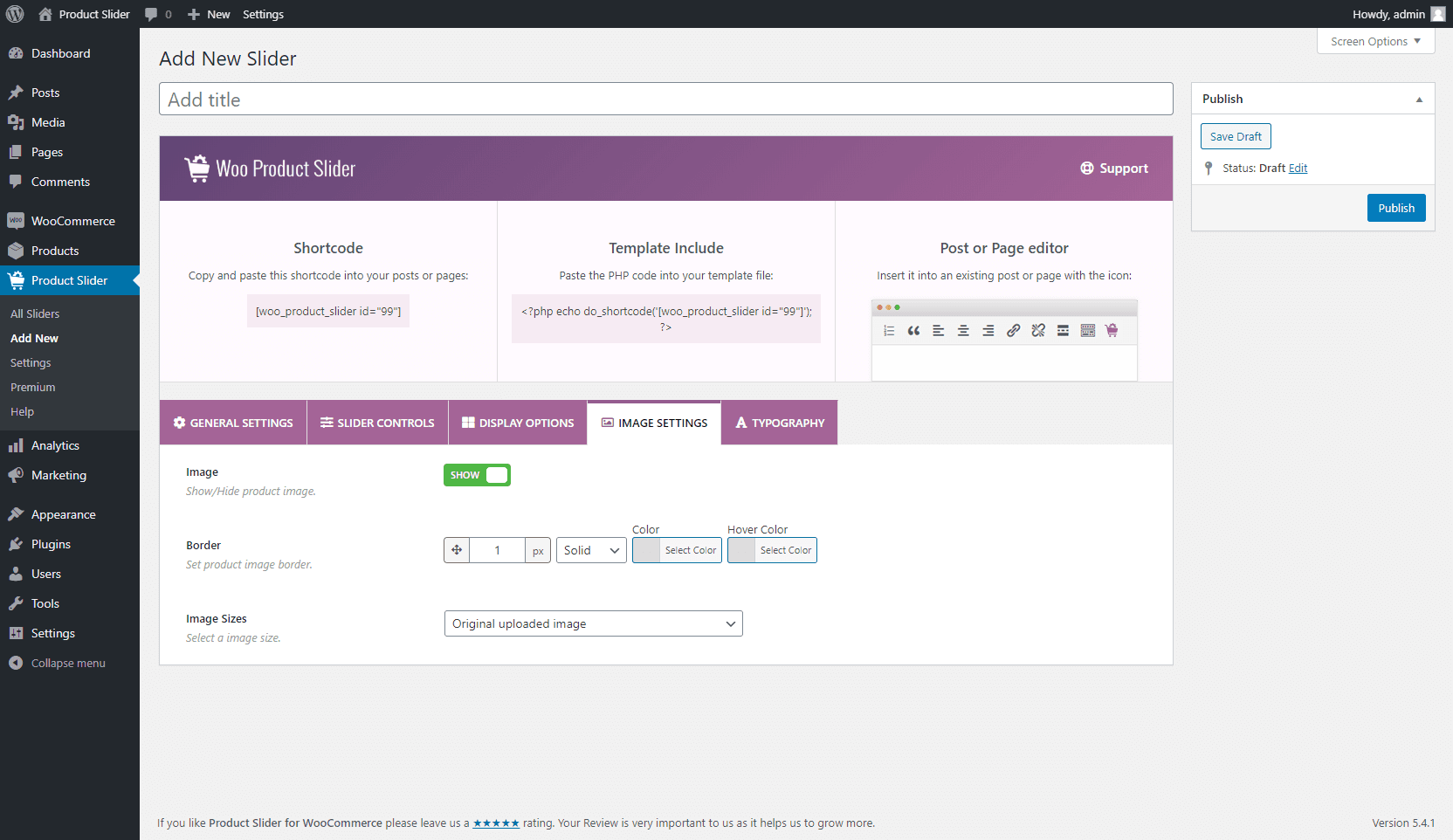 Don't worry about matching your product slider with your website design, as this plugin has all the personalization options that you need. You get to choose the colors, font, border color and style, and so much more. Additionally, you can add call-to-action buttons to encourage a quick sale, social share links to boost brand awareness, or text to your product images.
The creators of Product Slider for WooCommerce plugin had mobile users in mind as well. The plugin will ensure that your product slideshows are responsive and suitable for all devices.
With a clean design, flexible customization options, and great customer support, this plugin is bound to rise to your expectations.
Key features:
Responsive and mobile-friendly
Built-in Shortcode Generator
3 pre-designed themes
Show/hide product price, product rating, and product add to cart button
Set product price color and discount color
Customizable settings for every slide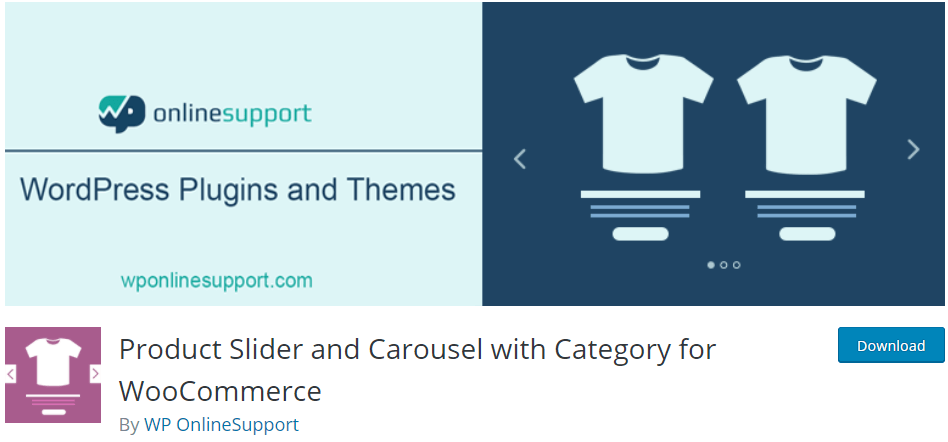 Improve user experience by introducing product sliders that display products by category. Thanks to this plugin, you can highlight your featured products, best-selling products, and the newest products.
Customers' attention can easily get scattered. Thus, they can roam from one page to another endlessly. Or, you can help them find the best offers in no time. This is where Product Slider and Carousel with Category plugin steps in.
Put the focus on the best products from a specific category and instantly direct customers' interests where you want. Display newest trends or bestsellers within an attractive slideshow. The sooner you attach the customers' attention to a great offer, the quicker you'll make a sale.
All you need is to use a suitable shortcode, and you'll get to display the desired category. There is a shortcode for WooCommerce product, best-selling product, and featured product.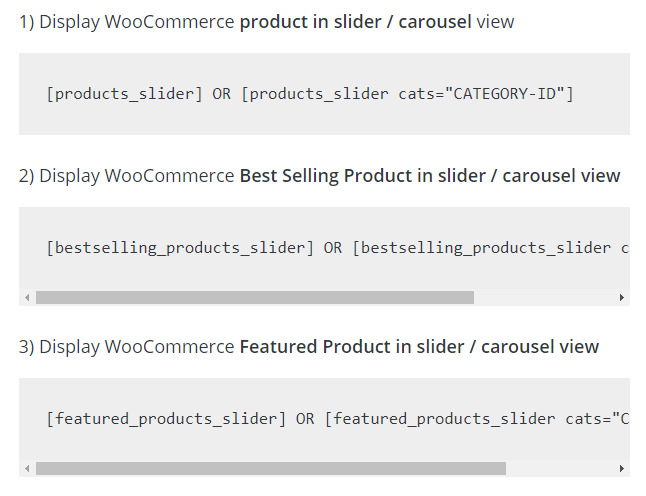 The plugin works with any WordPress theme. Also, it offers a responsive design on both mobile phones and tablets.
Organize your products, showcase them in a slider, and streamline your customers' attention. That's what this plugin brings to the table.
Key features:
Responsive and mobile-friendly
Sort products by categories
Create featured products slider, latest products slider, and/or best-selling product slider
Choose the number of columns you want to show
Have control over AutoPlay on the slides
Add custom product slider design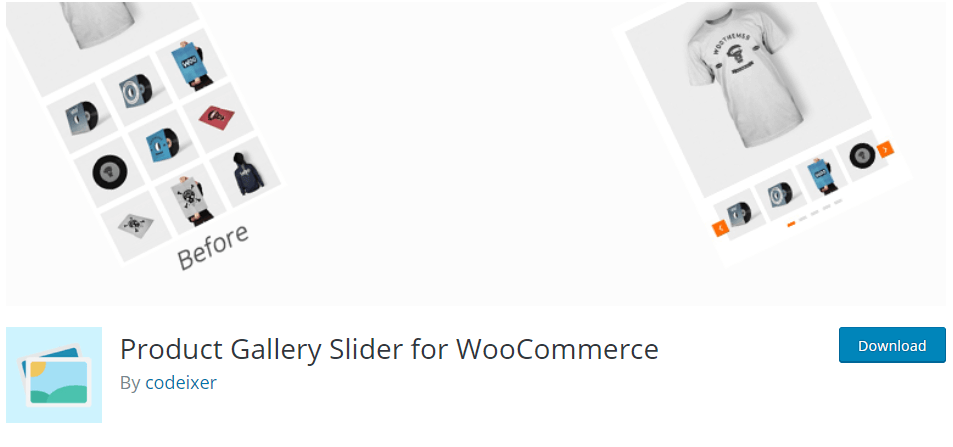 A messy or overcrowded product gallery can turn away potential customers. How you organize the gallery can make a huge difference in customers' impressions. That's why you should consider the Product Gallery Slider for WooCommerce plugin.
This handy plugin gives you an opportunity to turn your messy product gallery into a beautiful product carousel. Feature stunning product images in an easy-to-view carousel, and you'll get your customers' hooked.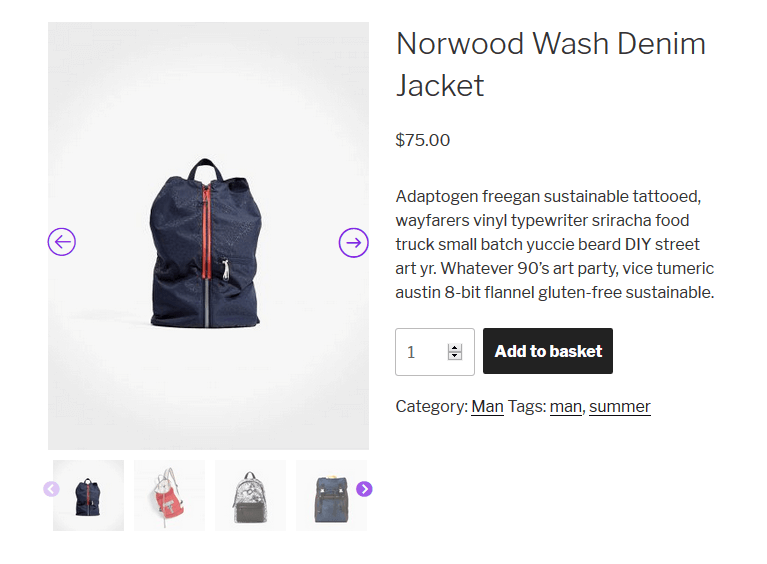 You get to choose whether you'll show navigation icons, the icon color you'll use, whether the slideshow will play automatically, and more. Customize the product gallery slider to match the needs of your company's customers.
Allow customers to scroll through the product images more engagingly. Their intuitive interaction with your product images can lead to more items in the cart.
As this plugin doesn't fall behind the trends, it also allows you to add Youtube, Vimeo, or self-host videos within the slide. Your product gallery can be brought to life with versatile visuals that captivate the customers.
Key features:
Responsive and mobile-friendly
Navigation support
Add Youtube, Vimeo, and self-host videos
Make vertical and horizontal gallery sliders
Have control over AutoPlay on the slidesThumbnails To Show
Good customer support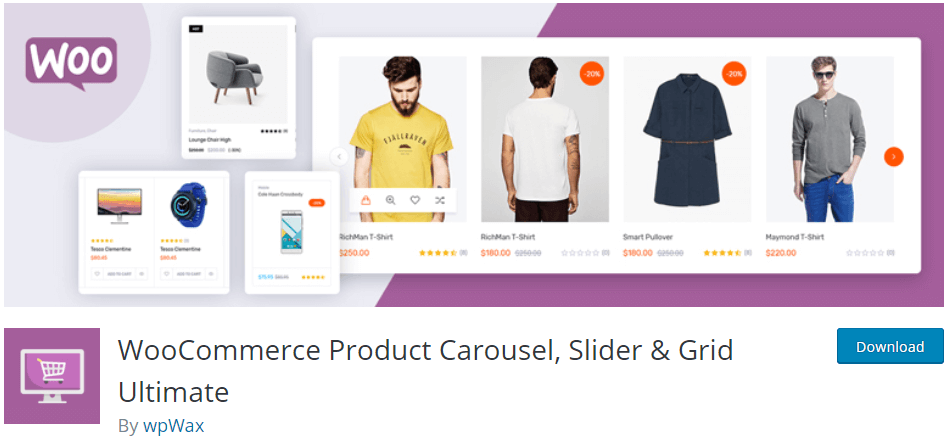 With this plugin, you'll get to display your products in different ways. Let your creativity blossom and present your product images in a style that reflects your brand's identity.
As the name suggests, WooCommerce Product Carousel, Slider & Grid Ultimate allows you to display your products within a slider, carousel, or grid. You can create an endless number of such product displays. Play around and choose the best display for different product pages.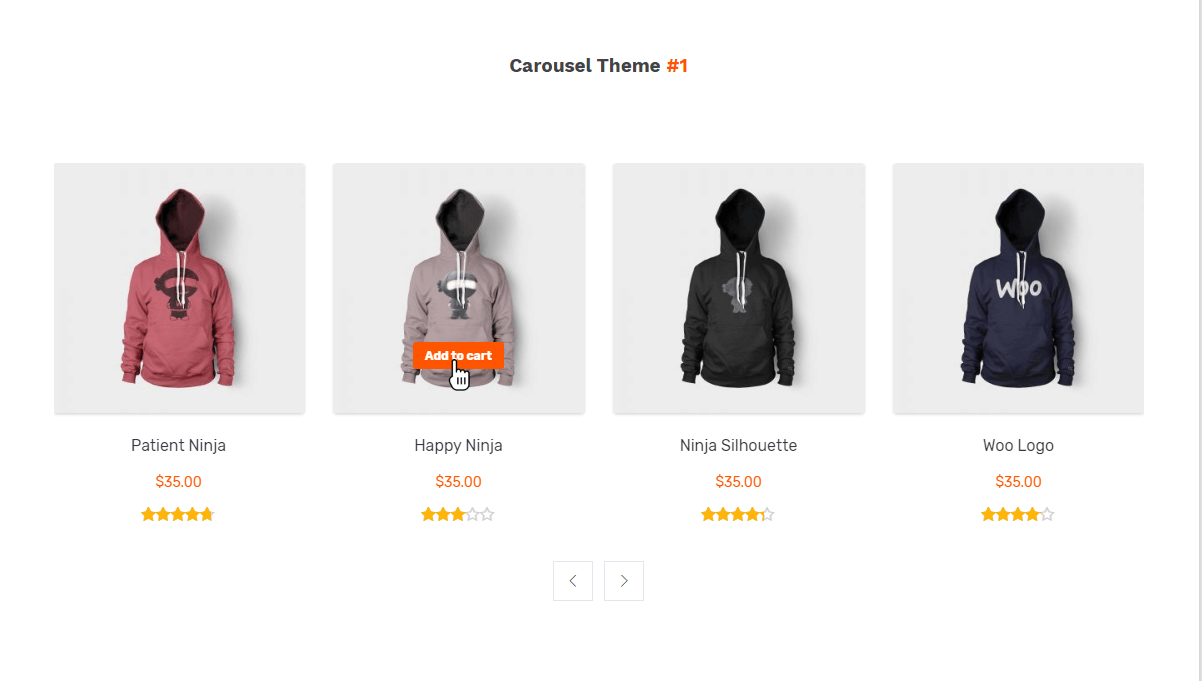 You won't need any coding experience because the plugin will generate a shortcode automatically. All you need to think about is how to present your product most attractively.
In addition, this plugin will also allow you to choose whether your show or hide the product price, rating, title, and add to cart button.
Key features:
Responsive and mobile-friendly
Has 3 different themes for carousel, slider, and grid
Custom settings for each theme
Show latest, older, and featured products display
Have control over slide speed, AutoPlay, and mouse over stop options
Automatic images resize and crop option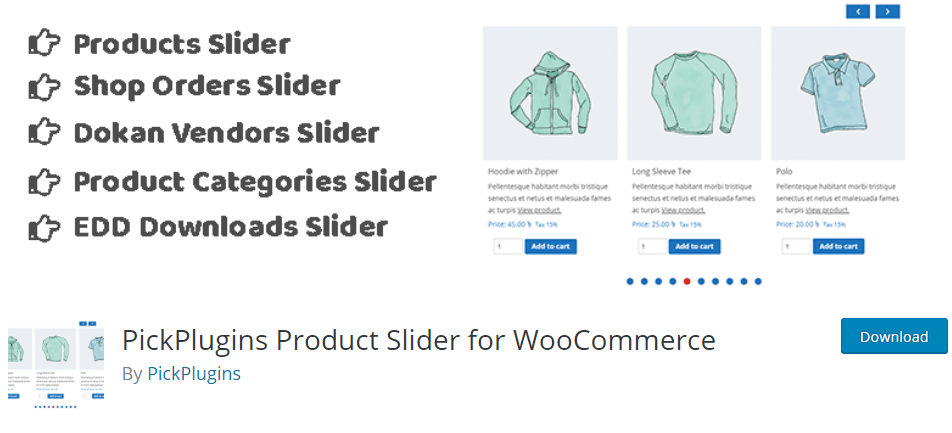 If you wish to make high-quality product sliders, this plugin will make it happen. Use PickPlugins Product Slider for WooCommerce to make appealing carousel sliders that will drive sales.
There are 3 pre-made themes for product sliders if you want to speed up the process. However, you also had several customization options such as adding a custom ribbon, background color or image, text-align option, and more. Moreover, you can also choose to display text and add to cart button over product images within the slide.

Make your best-selling, latest, and other products stand out with these personalized slider options. This plugin, along with a few customization elements, can help you win over new customers with impressive product displays.
Key features:
Responsive and mobile-friendly
Customize the number of slider items and slider columns
Has pre-designed 3 slider templates and 20 pre-designed ribbons
Has 3 different options to display product pricing
Customize background color and text color
Have control over AutoPlay and stop on hover options
Final Thoughts
Attractive product sliders can be just what you need to increase revenue. So, make your WooCommerce store even more unique and beautiful with the help of one of these plugins.
Bear in mind that you should check if the plugin you are interested in will work well with other plugins you have. Once you make your pick, let your creativity take control and create attention-grabbing product sliders.

Diana Adjadj is a writer, editor, and digital marketing specialist. She combines her passion for writing with her interest in research and creates thought-provoking content in various fields. Besides working as a freelance writer, Diana also works as a content editor for Subjecto, a free source of flashcards and essay samples. What inspires her the most in her writing is traveling and attending marketing conferences.
https://ninjateam.org/wp-content/uploads/2021/01/Best-WooCommerce-Product-Slider-and-Carousel-Plugins.png
426
1210
Ninja Team
https://ninjateam.org/wp-content/uploads/2020/10/ninjateam-logo.png
Ninja Team
2021-01-15 17:49:23
2021-03-11 15:31:59
5 Best WooCommerce Product Slider and Carousel Plugins