Best WooCommerce Plugins to Boost Your Online Store
If you are operating a product-based business and want to sell your products online domestically or internationally, then having WooCommerce store is the best choice for a highly flexible online store.
With more than 16 million downloads, WooCommerce can be seen as the most popular e-commerce platform on the Internet that allows you to create your online shop. Plus, it brings in all the essential and must-have features for an e-commerce site which make the process really easy.
Without a shadow of a doubt, WooCommerce is available with a great number of extensions and is an incredibly popular WordPress based e-commerce plugin.
Below, I'm going to discuss the top WooCommerce WordPress plugins that can help power up your business website to a new level. These plugins won't guarantee high search engine rankings, but they'll definitely improve your chances of business success.
So if you're inclined to increase your store's traffic, revenue or attraction without spending a huge sum of money, the following options should be right up your street. Enjoy!
Let's get started!
YayMail – WooCommerce Email Customizer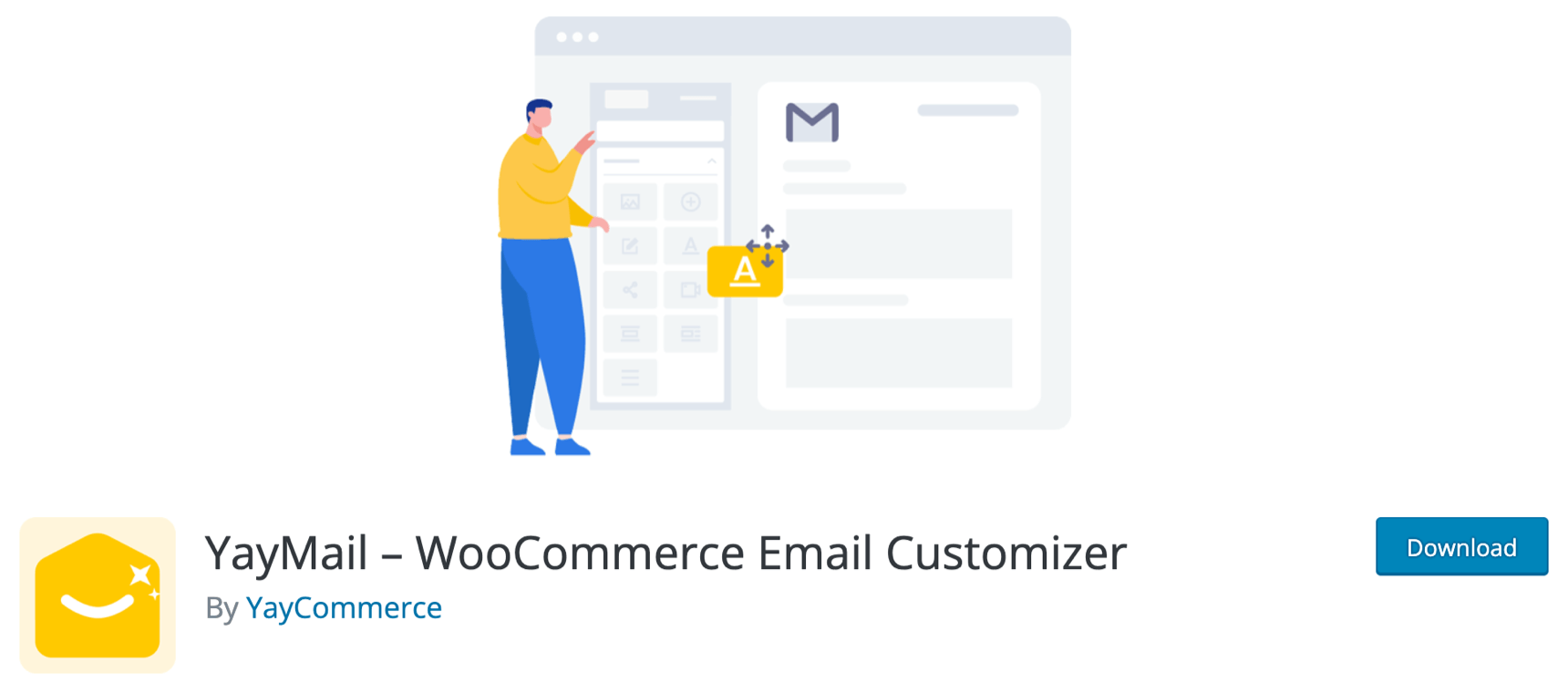 YayMail is an advanced email builder with a simplified user interface. It is a balanced combination of Elementor page builder and Gutenberg editor to deliver a streamlined email design experience.
Not only helping you customize the eleven standard WooCommerce emails, but it also allows you to design extra email templates created by third-party plugins.
Depending on the active WooCommerce extensions on your website, you can enhance your business brand value through color profiles, header, banner, logo, custom email signature, etc. in the email templates:
Coupon and reward emails
Automated follow-up emails
Order delivery date and pickup notifications
Subscription, booking, quote request, etc.
Some best-selling plugins built on top of YayMail include YayMail Addon for AutomateWoo, email customizer for WooCommerce Stripe Payment Gateway, WC Vendors Marketplace, Smart Coupons, Affiliate For WooCommerce, Germanized, and so many more!
WooComposer – Page Builder for WooCommerce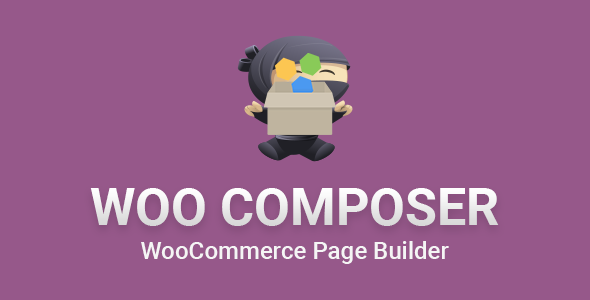 With a couple of clicks, you can create your own army of a fully customizable e-commerce store.
Take your users on a unique journey from browsing to checkout and build every page your way. Effortless for you – flawless for them.
Some of the things that I like about this plugin include:
SIMPLY DRAG AND DROP
Build unlimited WooCommerce styles without worrying about the code. It's much simpler this way!
SPEED THINGS UP & SAVE YOUR TIME
You can't buy happiness, but you can buy time! This is how you do it since we already took the harder part.
WORK WITH WPBAKERY PAGE BUILDER (FORMERLY VISUAL COMPOSER)
We love WPBakery Page Builder, and we think you do, too. Make sure you have WPBakery Page Builder as a prerequisite.
NO CODING REQUIRED
Forget coding. Just let it go. No more stress about coding gone wrong – feels good, right?
EFFECTIVE CROSS-SELLING
Use powerful customizations to boost your revenue through cross-selling and up-selling.
MOBILE-FRIENDLY
WooComposer's elegantly responsive layouts will present your content perfectly, every time.
FULL CONTROL OF YOUR STORE
Unlimited ways to customize your site, from product displays to order processing, so you can do it your way.
So, why do you need WooComposer plugin? What are the benefits?
When it comes to building a fully functional online store, we all know that WooCommerce is the one. But how do you make your e-commerce store stand out and make its mark?
You will need to adapt the WooCommerce layout to suit your niche and your products, and personalize it to you. You may also want to customize your site for a particular project, season, or promotional campaign.
That's the reason why WooCommerce page builder plugin is developed in order to bring together all the power and hidden gems of WooCommerce such as customizing Single Product Page, Category Page, Cart Page, Checkout Page, Order Received Page, etc. with the ease and comfort of WPBakery Page Builder. It's a beautiful harmony!
WooCommerce Smart Coupons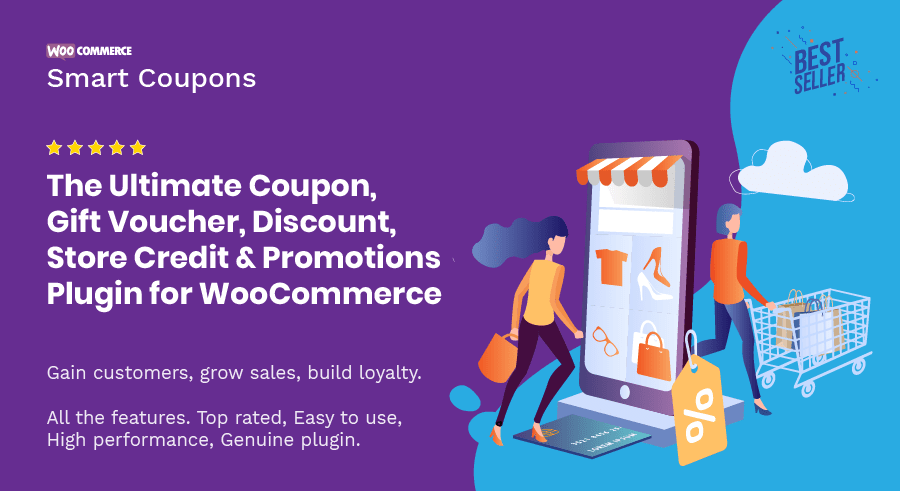 Have you ever thought about this?
99 out of 100 people who come to your site run away without spending a penny.
Yes, the site you built with lots of money, time and energy. Yes, the same people who came to your site after your endless marketing efforts.
Frustrating, right?
If you can get just one more person to buy, you instantly double your sales.
Now listen, people will tell you about a great number of ways to improve conversions and loyalty.
But three methods absolutely seem crucial. You got to use them before anything else.
So what are they?
Have stunning showcase for your products
Offer discount codes, coupons, and gift vouchers
Provide free shipping
Now it is impossible for you to magically improve your product images overnight, but you can certainly "kill it" with the other two tools in a matter of minutes!
Yes.
Everybody loves to get a good deal, so discount coupons are always very attractive to users. If you want to push up your sales significantly, you'll need to offer discount coupons.
And thankfully, there's a reliable and effective tool to take care of this for you. WooCommerce Smart Coupons plugin makes it a piece of cake to create, store and manage everything around coupons, credits, and gift certificates based on purchases and more.
There are many features to focus on, with some of my favourites including:
Comprehensive Store Credit system
Hassle-free Gift Certificates – Allow sending gift cards/credits to multiple people with custom messages
Link coupons with a product
Flexible Import / Export
Apply Coupon with One Click technology
Easy sharing with URL Coupons – pass coupon code in a link to apply it automatically
Totally Self Managed
Beautiful Designs to show coupons
Seamless integration with WooCommerce
First, ensure that coupons are enabled in your store. WooCommerce -> Settings -> Checkout -> Checkout Options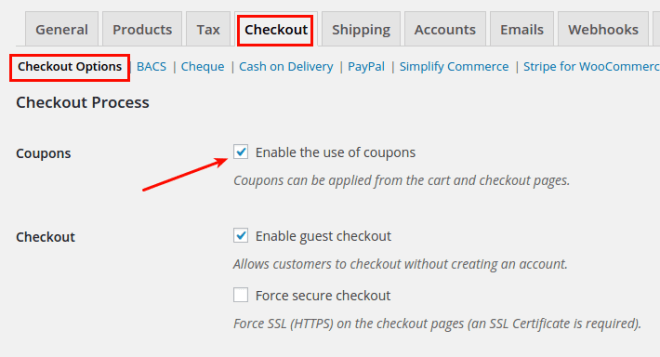 Using the plugin, you can create thousands of coupons at once, email them to customers, and add them to WooCommerce. You can also give a discount on other products upon purchase of a specific product, or sell gift vouchers.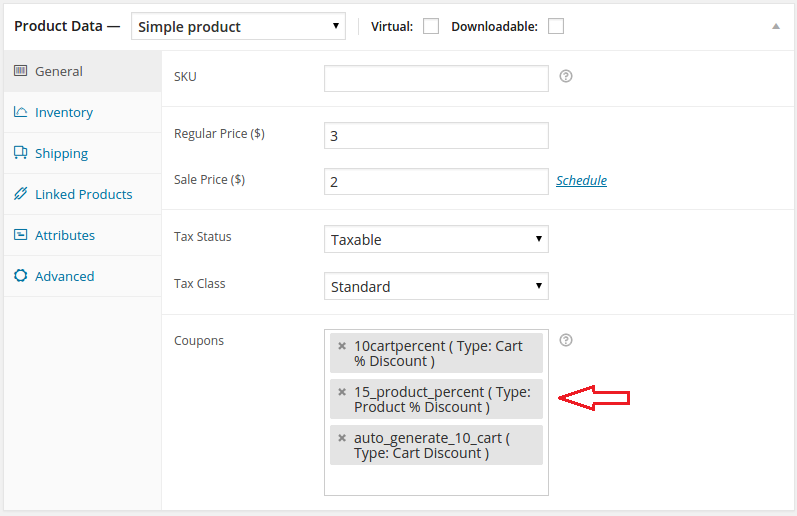 Pretty cool, right?
It's indeed a pretty handy supplement to your WooCommerce store for expanding sales performance. Interestingly, it can be used on some special occasions like holiday weekends, Christmas or Halloween or consistently as part of a lifetime promotional offer.
Thousands of customers say that Smart Coupons is out of this world that it pays for itself. Interestingly, their business double sales revenue with Smart Coupons during the holiday season and attribute 20% sales to Smart Coupons month on month.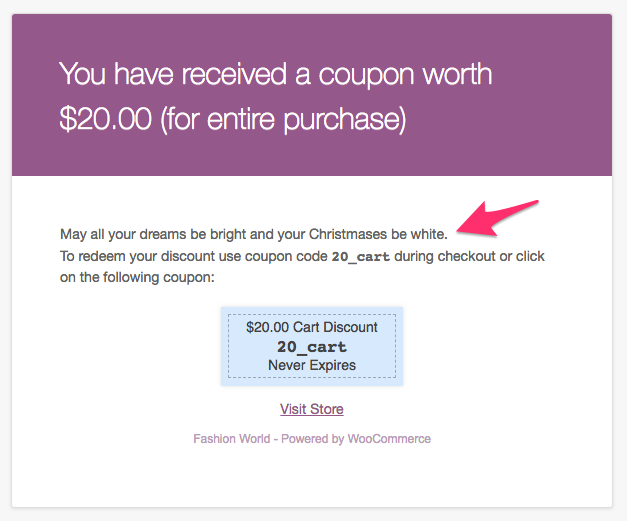 It is easy to install and get started with, and if you need any help; the team is there to support you and get things sorted quickly. This plugin is compatible with most of the WordPress themes that support the WooCommerce plugin. If you want to customize all coupon emails, make sure to use YayMail – WooCommerce Email Customizer.
To cut a long story short, this WooCommerce plugin can be your secret weapon to push up your sale revenue because it's fully tested and covers almost everything you may want to do with coupons. So you can count on it and it will yield a return on your investment quickly.
Another solution: Smart Coupons For WooCommerce—a great plugin with features to configure the coupons with extensive usage restrictions and checkout options, create and manage bulk coupons with add to store/email/export to CSV options, import and duplicate coupons. The plugin can also generate coupons based on nth purchase discount, signup/cart abandonment, also to give away free products and purchase/gift store credit among other features.
WooCommerce Upsell Order Bump Offer Pro

WooCommerce Upsell Order Bump Offer displays order bump offers on the checkout page.
Customers can add this offer to the existing order by just ticking a checkbox without leaving the checkout page. Admin can select simple, variable products, or subscription products and categories to show discounted order bump offers for relevant target products.
It also provides 3 customizable templates to help merchants to create responsive offer designs.

Highlight features include:
Special Offer – On Checkout Page

Multiple & Unlimited Order Bumps

Order Bump Behavioral Analytics

Order Bump Sales Reports

Support For Major Product Types

Target Product Category For Triggering Bump Offers

Smart Skip If Already Purchased

Smart Offer Upgrade To Boost Average Order Value

Create Product Specific Bump Offers

Bump Offer Sandbox Mode

Schedule Bump Offers

Responsive Offer Design

Template Customization with Live Preview



PDF Invoices and Packing Slips For WooCommerce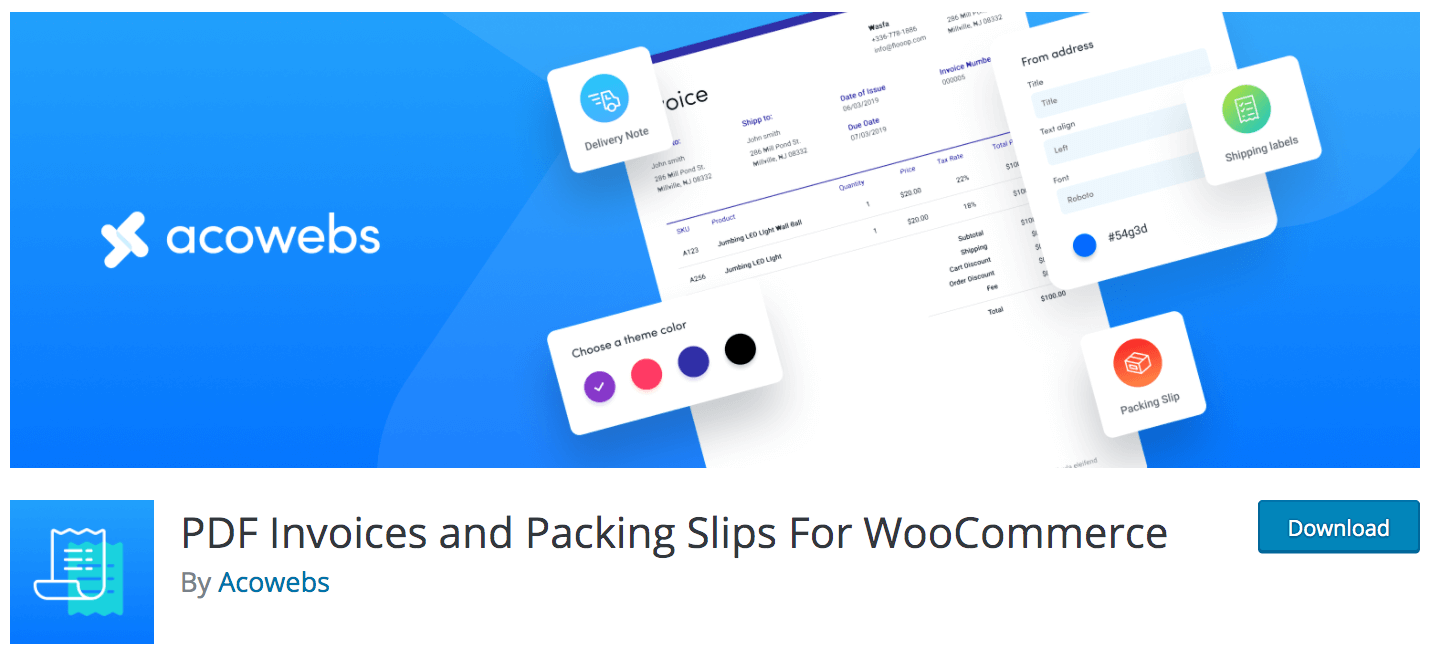 This plugin is a big time-saver to help you package and ship orders. The advanced customizer allows stylizing all order documents to fit your brand and website color profiles:
PDF Invoice
Packing Slip
Shipping Label
Delivery Note
Customer Personal Note
Dispatch Label
It also supports many fonts, RTL languages, WPML, invoice downloadable by customers, and so on. You can explore more by using the free version.
WooCommerce Product Gift Wrap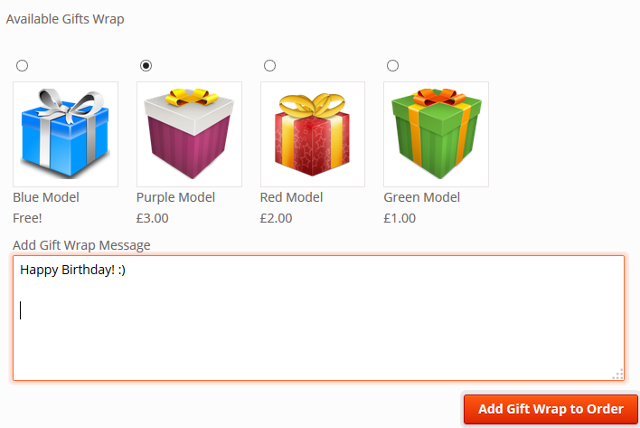 You want to boost your sales revenue of your WordPress online store and maintain more potential clients but do not know how to do this.
So, why don't you think of the idea of wrapping presents after making a purchase?
Sounds good? Then you need the WooCommerce Product Gift Wrap plugin and it definitely serves your purpose. You can define as many gift wrapping styles as your prefer, set the price, different prices or free gift wrapping.
If the customer would like to have the order gift wrapped then their wrapping option is added to the cart.
The plugin adds a few simple fields to the WooCommerce settings screen, namely enable gift wrapping, default gift-wrapping cost, and gift wrap message.
When configured, the plugin adds a simple gift wrap option to your product pages that look a little something like this: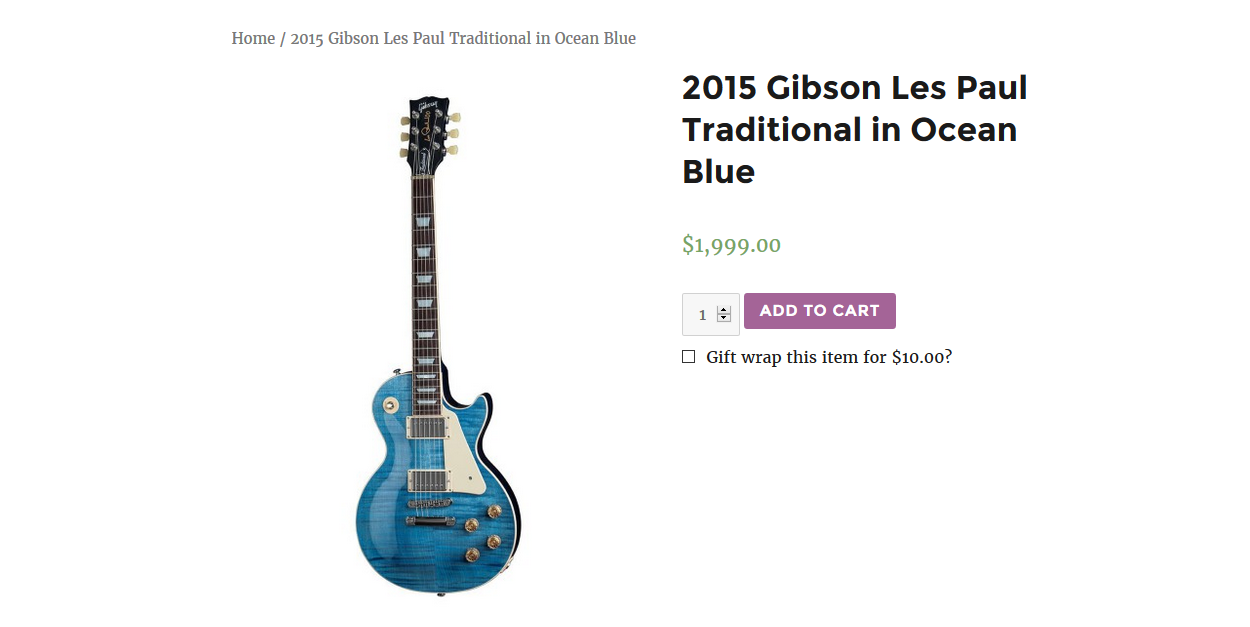 You can enable gift wrapping for all products in your store, or selectively allow gift wrapping on specific products. Also, you can set a same price for gift wrapping all products in your store, or make it free, or set different gift wrap prices for specific products.
Plus, you can optionally upload images that show what your gift wrapping options look like so shoppers can choose which wrapping style they want to receive.
And, you can upload or enable/ disable different gift wrap images on specific products. So for example, you can offer one set of gift wrapping styles for Product A, and offer a completely different set of wrapping styles on Product B.
What's more, you can optionally allow shoppers to specify a gift message for the outside of the package and / or the inside of the package.
WooCommerce Gift Wrap is a great WooCommerce WordPress plug-in for your store to help bring in extra money on every sale and give your shoppers that extra special personalized shopping experience.
YITH WooCommerce Wishlist

Have you ever been eager to buy something but cannot purchase because you are making ends meet?
Thankfully, there's a reliable and effective plugin to take care of this for you.
There are plenty of other options out there, but my favorite is YITH WooCommerce Wishlist because it is indeed the right tool that allows you to create a wishlist in your store. With more than 600,000 active installs and a high rating, it's worth checking out.
Here is a basic description of the plugin, as shared on its official download page:
"With YITH WooCommerce Wishlist you can add a link in each product detail page in order to add the products to the wishlist page. The plugin will create you the specific page and the products will be added in this page and afterwards add them to the cart or remove them."
The wishlist is one of the most handy features of an e-commerce store and there are a couple of benefits of this.
First, it encourages users to come back, allowing products tracking they consider interesting until the purchase step. Second, if users share their wishlist to friends, or through social networks, this will enhance sales and will help the promotion of you online business.
Plus, among one of the most used on market, the strong point of this WooCommerce plugin is its several features, such as the possibility for users to create multiple wishlists in order to split products in the best way.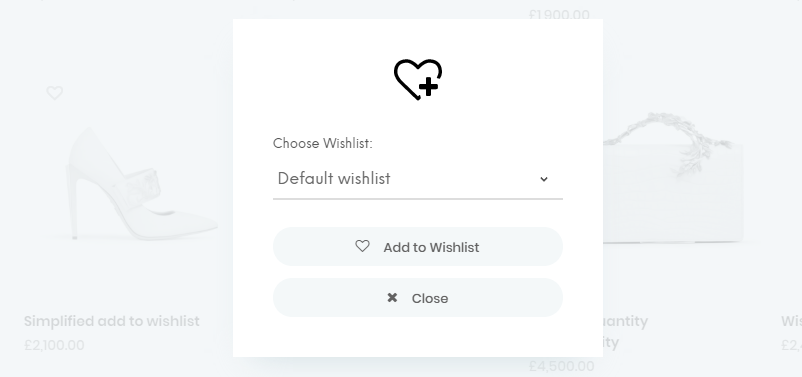 This is a perfect WooCommerce WordPress add-on for your online store during busy holiday seasons when people are making their shopping lists and purchasing gifts, no doubt about it.
WooCommerce Multi-Step Checkout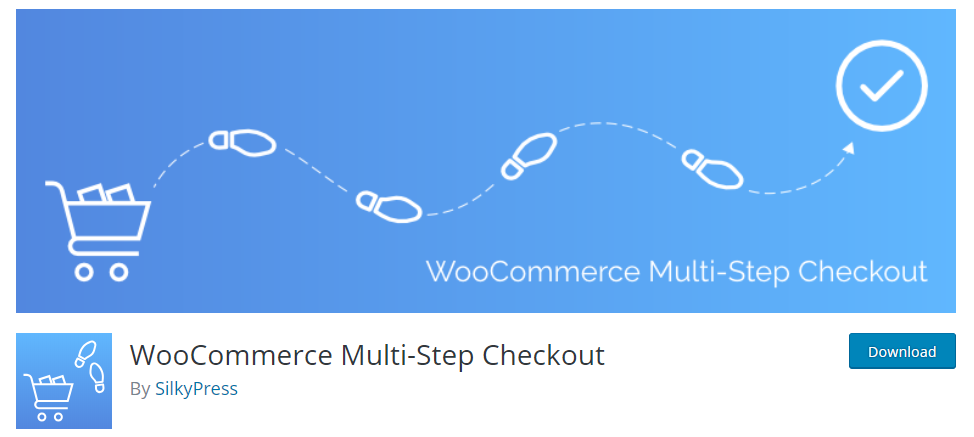 Checkout page is the most important part of any e-commerce website. If the customers finds the checkout process too complicated, chances are they will leave without buying and might not come back.
Thankfully, there's a reliable and effective plugin to take care of this for you. WooCommerce Multi-step Checkout is the official tool developed by SilkyPress to help you deal with this obstacle like shooting fish in a barrel.
Here is a basic description of this plugin, as shared on its official download website:
'Create a better user experience by splitting the checkout process in several steps. This will also improve your conversion rate.
The plugin was made with the use of the WooCommerce standard templates. This ensure that it should work with most the themes out there. Nevertheless, if you find that something isn't properly working, let us know in the Support forum.'
Woocommerce Multistep Checkout wizard enhances the shopping experience by splitting different sections of default Woocommerce Checkout page into beautiful jQuery steps.
Some of the things that I like about the plugin include:
Responsive layout

Multiple styles

Completely customizable through plugin options

Horizontal orientation

Vertical orientation

Cross browser's compatible

Form validation for each step

Fully extendable through plugin hooks
So, why do we need this function?
Every online store owner wants to increase their sales and thus they spend a huge sum of money to increase the traffic of their website. The ultimate goal of every online store is to get maximum conversion from their investment.
WooCommerce Multistep Checkout makes shopping experience for your customers downhill all the way. Instead of putting users through a boring, never-ending list of fields, this plugin splits the process into brief and achievable steps.
Woocommerce MultiStep checkout wizard plugin helps you to improves the look and feel of your checkout so your website looks professional from every aspect.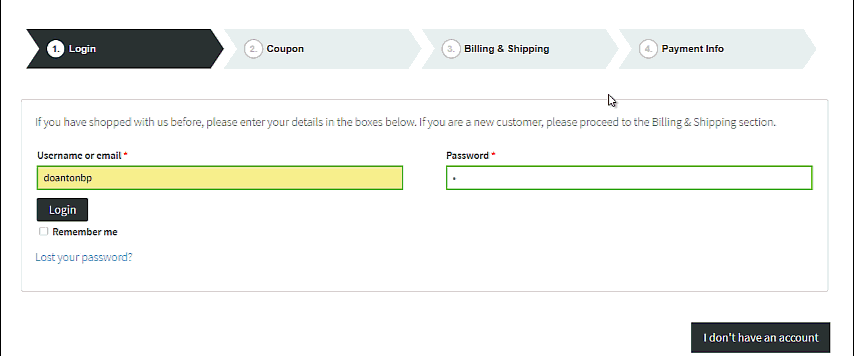 Let's give this awesome WooCommerce plugin a shot to push up your WordPress online store. Count on it and it will generate a return on your investment quickly.
MailChimp for WooCommerce

Did you know that it's far costlier to acquire a new customer than it is to retain an existing one?
You do not want to lose contact with your potential clients, right?
The question is that how can we build a database of our existing customers is by collecting email addresses in an email list?
The WooCommerce MailChimp plugin is probably considered as the viable solution for the job, and obviously it's free.
Here's a basic description of the plugin as shared on its official download page:
"WooCommerce MailChimp provides simple and flexible MailChimp integration for WooCommerce.
Automatically subscribe customers to a designated MailChimp list and, optionally, MailChimp interest groups upon order creation or order completion."
The plugin automatically subscribes your customers to a mailing list or if you'd prefer, it gives them the option to subscribe on the checkout screen by ticking a checkbox.
Additionally, you can track customers based on purchase history and frequency.
Most importantly, MailChimp for WooCommerce automatically syncs your customers and their purchase data with your MailChimp account. This makes it easy to send targeted campaigns, follow up with customers post-purchase, recommend products, and recover abandoned carts.
Plus, WooCommerce MailChimp plugin provides simple and flexible MailChimp integration for WooCommerce. So let's install it on your WooCommerce stores and start multiplying sales.
Bear in mind that your existing clients are your best friends. Treat them well and they may remain customers for years to come.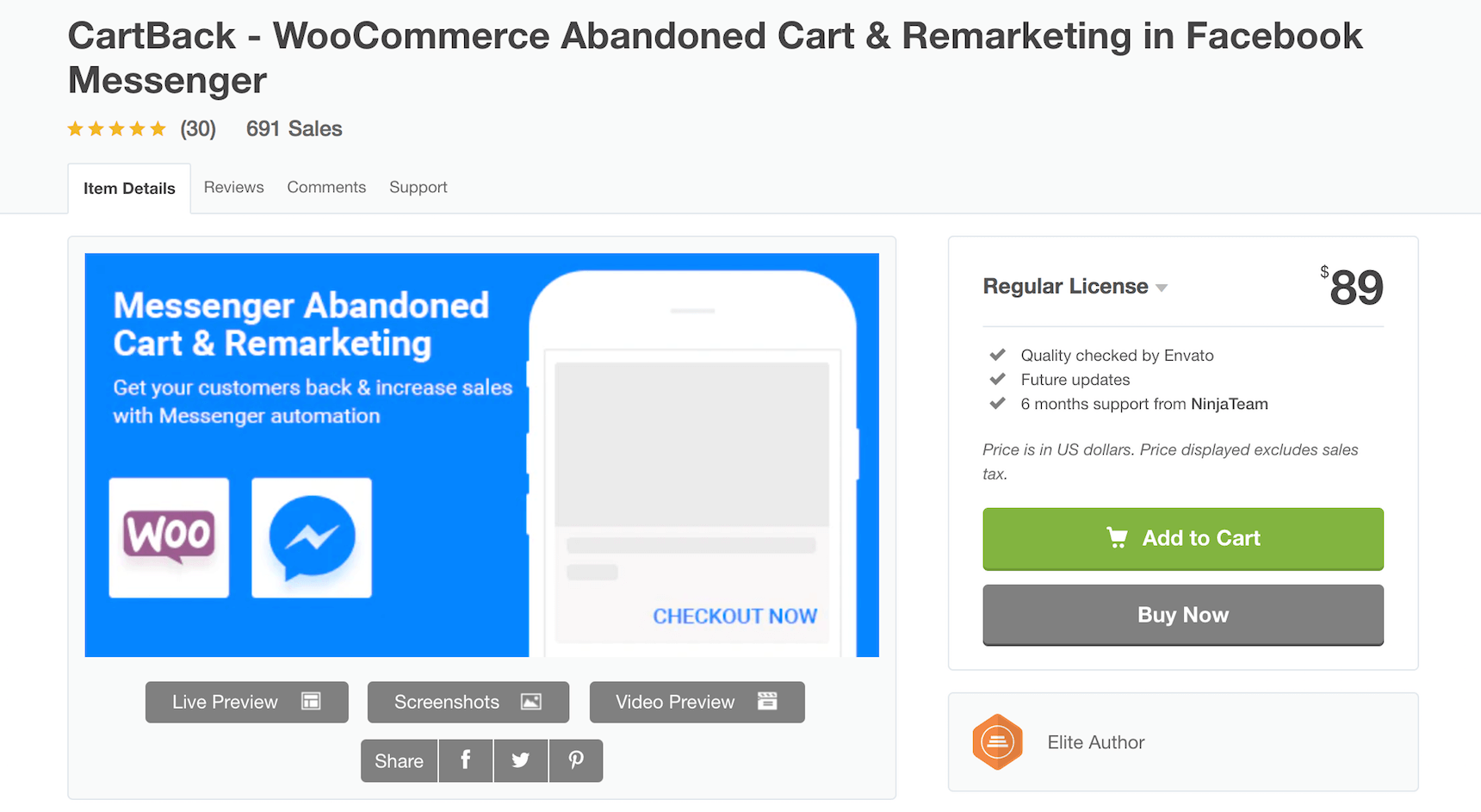 WooCommerce has made it pretty easy to maintain an online store and sell to customers all globally. However, selling internationally has numerous drawbacks like delivery issues, regional commercial laws, etc.
And what else do you have in your mind?
Undoubtedly, recovering abandoned carts to maintain customers via Facebook Messenger is one such concerning aspect a business owner has to deal with while selling internationally.
No need to worry. Our today's article will introduce a handy and powerful weapon to tackle with this tiny issue.
CartBack is developed by NinjaTeam will definitely serve your purpose. With a hundred positive feedback and a high rating, it's worth checking out.
The name pretty much explains it all. Here's the plugin's tagline:
"CartBack – WooCommerce Abandoned Cart & Remarketing in Facebook Messenger is a plugin that helps recover abandoned carts because many customers click "Add to cart" without checking out. Start capturing those missed sales today."
This plugin is incredibly user-friendly and powerful in features. Some of the things that I like about the plugin include:
Recover abandoned carts

Send a personal message to your add-to-cart users

Create "Send to Messenger" Coupon Box and create "Send to Messenger" Shortcode Box

Generate and boost sales leads with automated Facebook Messenger chat box
Get high open and click rates
Customize your message and call-to-action button
Collect users' data to follow up
After you install the plugin, a "Send to Messenger" checkbox will appear on your single product pages below the Add to Cart button created by WooCommerce.
Once your clients click "Add to cart", they then automatically gets opted in to get Facebook messages from your Facebook page. Your page then sends then 3 alert messages if they do not check out. More than that, you are able to send out custom remarketing messages later on.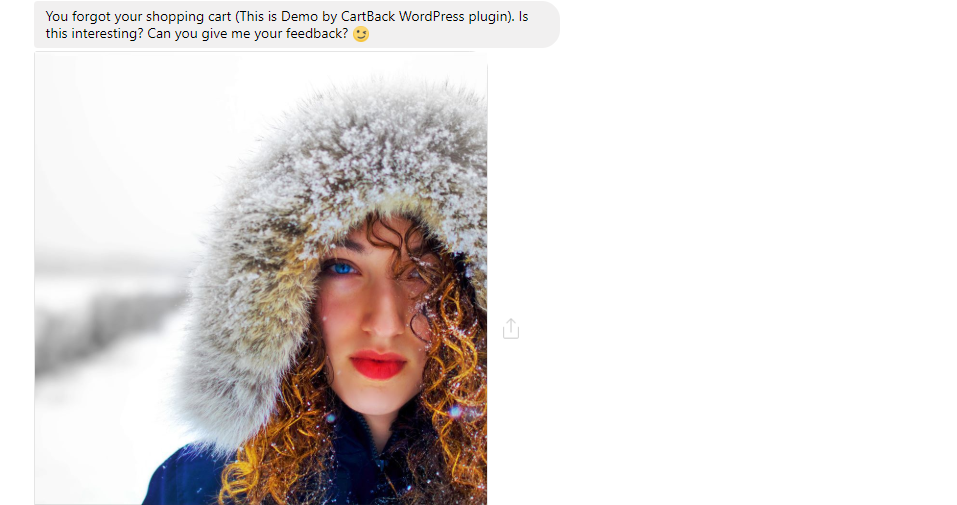 The primary benefit of this plugin is the ability to send a personalized message to your customers' Facebook Messenger inbox and have the conversation with your customers, then bring them back to check out page which is super useful and profit-boosting functionality.

In other words, after a customer leaves your site, automatic messages will bring them back. The message makes them think of the exact products they, viewed, remind them of their loving feelings on your products. It's like retargeting, but more natural and closer.
Final Thoughts
This completes our rundown of the top seven WooCommerce plugins. There are thousands of plugins for WooCommerce, so you can't possibly try them all. The plugins in this article are a great starting place for new or existing store owners.
When you're thinking about adding functionality to your store make, sure it helps you make more money. Any plugins you add should meet three following requirements:
Help you find more customers
Encourage existing customers to purchase more in each order
Get customers to purchase more often
And if you can find a plugin that helps you in multiple areas that's even better. Go ahead and start installing some of the plugins mentioned in this article and start yielding more revenue for your WordPress online store. You can explore new code scripts and plugins below too.
For those business owners who are planning a market expansion into Germany, the Pictibe agency – WooCommerce Agentur offer great help of Germanized, technical setup and online marketing.

Would you add any other plugins to this list? Share your experiences and thoughts in the comment section below.
https://ninjateam.org/wp-content/uploads/2018/10/best-woocommerce-wordpress-plugins.jpg
730
1460
Benjamin
https://ninjateam.org/wp-content/uploads/2020/10/ninjateam-logo.png
Benjamin
2021-01-17 07:50:11
2021-12-23 10:20:29
Best WooCommerce Plugins to Boost Your Online Store