Millions of e-commerce websites around the world use WooCommerce to facilitate online transactions. The open-source platform is easily the most popular technology in e-commerce. 
It allows you to create a fully-functional online store that runs efficiently. In just a few steps you can set up secure payments, provide shipping options, and create check-out options. 
To top it off, with the help of a few WooCommerce plugins, you can design a unique e-store that meets all your requirements. These plugins offer you several features that help you sell virtual, physical, or downloadable goods easily. 
In just a minute, we'll explore some of the best extensions you can add to your e-commerce site today to improve its functionality. But first, what do you need to look for when choosing an ideal plugin?
Choosing a Suitable WooCommerce Plugins
There are hundreds of plugins — both free and premium — that you can install on your website. To get the best ones, you have to search for plugins that can easily work with WordPress and other extensions you've downloaded. 
Other features you should look for include customer support, updates, and extra security functionalities. Extensions with poor customer service can prevent your e-store from running smoothly, as you'll be unable to fix any upcoming issues. If they're not regularly updated, they may not integrate seamlessly with newer WordPress versions.  
To install a plugin, you can either visit the dashboard or download it from other third-party websites. A common mistake that web owners make when installing extensions is not checking for plugin versions. Ensure your version matches your theme, and can work well with your other plugins. 
That said, here are a few extensions that'll help you run your e-commerce site smoothly.
Best WooCommerce Email Customizer Plugin: YayMail
All online store owners have to contact their customers via email. It is a future-proof and rewarding channel that you cannot skip.
WooCommerce basically comes with sample emails for the order and user-related notifications. However, they are not helping you stand out as an innovative brand. When your store grows, you would want more than the basics.
So this WooCommerce email customizer has come to help. It provides a drag and drop user interface to customize WordPress email. Combined with a 20+ element panel, it speeds up the process of building email templates to fit your own style and branding.
Features:
Live preview: customize email blocks and see the outcome at the same time
Clone element: save and share a well-designed element with other email templates
Export/import full template: easy to use the tailored email design in multiple sites or shops
Drag and drop builder: user-friendly UI/UX, especially for Elementor page builder users
Tons of shortcodes: display order and account details with smart shortcodes
What's more, YayMail premium version is supporting many other WooCommerce plugins including:
Custom Order Status
WooCommerce Order Status Manager plugin
Custom Email Templates
WooCommerce Subscription plugin
YITH WooCommerce Subscription
Best WooCommerce Booking Plugin: PluginHive

PluginHive's WooCommerce Bookings And Appointments is a theme widely compatible plugin to help you enable a booking system on your WordPress website. It is an ideal appointment keeper for all businesses like hotels, spas, event organizers, rentals, pet, medical and other entertainment activity services.
This WooCommerce booking plugin allows you to create proper settings for multiple types of bookings such as one-day booking, multiple consecutive days booking, minute- or hour-based booking, and even multiple non-adjacent bookings.
Dynamic booking options allow you to get costs automatically calculated based on user preferences such as guest number or customer's special requests.
Features:
Customize the booking calendar's color and style
Compatible with multi-vendor marketplace site
Support all the payment methods that are supported by WooCommerce
Best WooCommerce File Manager Plugin: Filester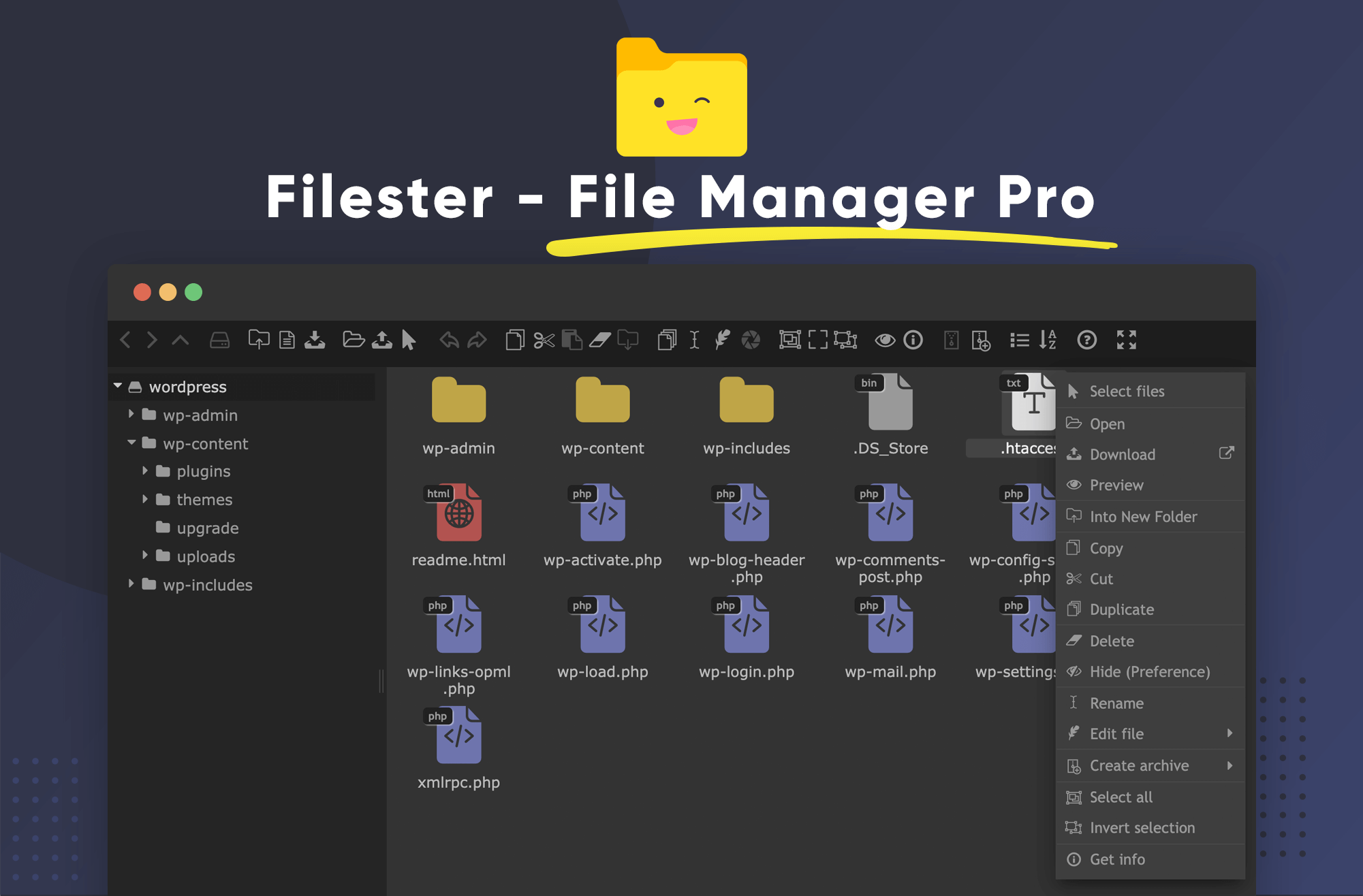 As a WordPress administrator, you often find yourself working for long periods to complete your tasks. Normally, you're managing several sites, hence you're constantly switching between different windows. Using FTP can therefore be a viable option, allowing you to easily handle server files. But when it comes to making minor changes, using this option can be a bit problematic. 
Filester lets you manage your files without having to use FTP to get access to directories. A well-designed extension, it replaces traditional media libraries, offering a concise platform that makes managing several WordPress files hassle-free. 
After installing, it provides a File Manager option in the dashboard. This option enables you to view all types of files, from server data, configuration files, to media. This simple feature makes it easier for even novice web owners to manage their folders. 
Features 
Its drag and drop feature saves you time when you're moving files. 

The smart context menu gives you an option to make operations whenever you right-click on folders.

You can perform all kinds of operations from duplicating, renaming, to uploading folders. 

Supports several languages, so users from anywhere in the world can start using it. Offers support for Spanish, French, English, among others. 

Its simple user interface allows you to perform actions seamlessly. 
Best WooCommerce Popup Plugin: OptinMonster

When it comes to email marketing, OptinMonster is arguably WooCommerce's most effective plugin. Not only is it powerful, but it's also easy to operate. 
Features such as drag builder enable you to design attractive popups that increase your email subscribers. You also get access to other beautiful templates such as floating bars, eye-catching campaigns, and full-screen mats. 
The extension makes boosting e-commerce sales much more straightforward by providing special functionalities. For instance, it showcases your popups to users by looking at the number of cart items. 
On top of working seamlessly with WordPress, OptinMonster also works well with all popular email marketing services. 
Also, the addon has an A/B testing feature that lets you split-test your campaigns. This way, you can confirm whether your campaigns are suitable for attaining your goal, whether it's to retain current shoppers, grow your newsletter, or drive more sales. 
Features 
You can improve your conversions by more than 40% using the Coupon Wheel options. 

You can capture your customer's attention by using captain triggers. 

Geolocation targeting allows you to double-down your marketing efforts on visitors from a certain region. 

You receive an unlimited number of campaign customization choices. 
Best WooCommerce Analytics Plugin: MonsterInsights

MonsterInsights is one of the most powerful Google Analytics plugins you can set up for your e-commerce website. It features eCommerce tracking that lets you check how you're performing with the reports from Google Analytics. 
Understanding these reports can be difficult if you're new to web designing. Luckily, the plugin displays all the data you might need on your dashboard, allowing you to understand these reports much more easily. You can then make sound, data-driven business decisions that generate more revenue and drive sales. 
Want to know your most searched products? You can use the tool to identify them and make improvements to your product pages. Also, you can track your customers' behavior with Google Analytics, so you can know what your visitors spend time doing on your site.
Knowing your site's user-engagement, you can identify areas you need to improve to get more e-commerce customers. 
Features
Gives you real-time statistics on WordPress; you don't have to leave the platform.

Universal tracking connects all your devices, enabling you to check all your campaigns within a few minutes. 

The dashboard offers you several advanced functionalities like A/B optimization, sample rates, among others. 

Offers you detailed statistics on every article you post. 

Enables tracking on your ads and affiliate links, so you can see how they're performing. 
Best WooCommerce Site Search Plugin: Doofinder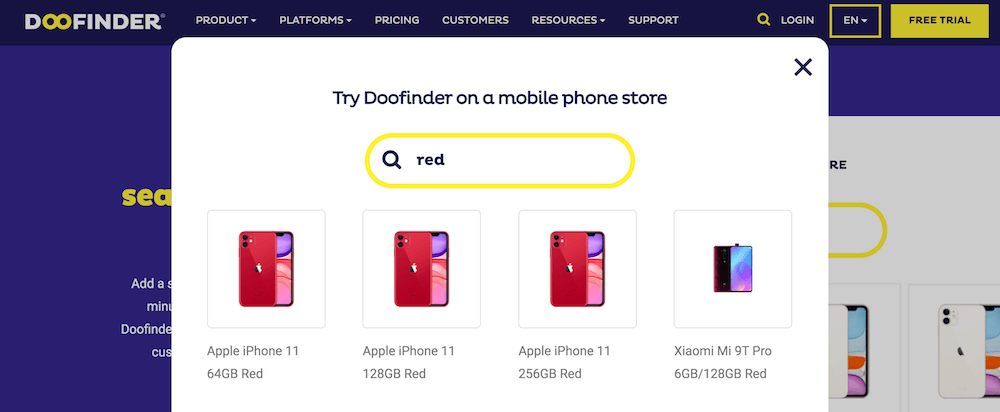 Doofinder stands out among other search plugins, offering quick, accurate, and reliable results. It provides your visitors with a seamless search experience so that you can close sales much faster. 
Its effective algorithm minimizes spelling errors and delivers results in no time. Allowing complete control to searches, it gives you relevant, detailed data on your customers' search behaviors. 
Given that consumers are increasingly shifting to voice search, Doofinder ensures customers using Siri, Cortana, and Alexa are well catered for. Smartphone users can also make their searches without much fuss, as the extension is optimized for mobile. 
Other stand-out Doofinder features include:
Features 
Enables you to filter your searches according to several factors like brand, price, and size. 

Autocomplete ensures you find your products more quickly by predicting what you're searching for. 

You can use synonyms of your commodity and you'll still get similar results. 

Get custom results by choosing the products the site should display first and the order that it should follow. 

You can set the algorithm to prioritize products that you're actively looking to sell.
Best WooCommerce Form Plugin: WPForms
Finding a contact method that's both fast and reliable can be a challenge. You may miss out on many potential customers if they can't find a way of getting in touch with you.  
WPForms enables visitors to reach out to you through online forms. It provides you with a building platform where you can design various forms from advanced surveys to simple, conversational forms. 
The best part is that you don't have to input any code. Even without experience, you can design an eye-catching contact form for your website. Additionally, you can set up fun quizzes to keep your visitors engaged. Using these quizzes, you can try to get feedback on the quality of your services. 
Features
To avoid creating forms from scratch, you can use the templates that the plugin offers. 

You can check up on all your leads from one place with the entry management feature. 

Supports file uploads. So your visitors can submit documents and other media when contacting you.

Protects you from spam with its' effective captcha. 

You can install a PayPal addon to accept more payments and donations.  

Gives you instant notifications whenever you receive a message, enabling you to respond to customers quickly. 
Best WooCommerce SEO Plugin: Yoast SEO

Failing to optimize your e-commerce site for SEO can cost you heavily. You may not get the online visibility needed to attract visitors, and ultimately your sales may be impacted negatively. 
If you don't understand the nuances of SEO, you can hire an SEO consulting company to improve your store's rankings. They can take the difficult stuff off your plate, so you can make your store more customer-friendly. 
Alternatively, if you're on a tight budget, you can use SEO plugins to make your site more visible in search engines. Yoast SEO is probably the best extension for this job, boasting millions of downloads and truckloads of positive reviews. 
The most impressive part is that the tool is free, despite offering several functionalities for technical optimization. For even more advanced features, you can pay a small fee to boost your e-commerce website rankings.  
Features 
Enables you to get your keywords — both short-tail and long-tail — in order. 

Its readability checker rates your article according to how readable it is. 

Warns you if you've duplicated another website's content. 

Gives you suggestions for suitable internal-linking opportunities
Final Thoughts
With the right tools, you can get your online store up and running in no time. The above WooCommerce plugins can simplify your work, allowing you to create the type of store you've always wanted. 
When you wish to categorize your WooCommerce product images in folders, FileBird can help you do that by drag and drop. It comes with a new option to allow downloading product image folders. Exporting WooCommerce product galleries has never been easier!
https://ninjateam.org/wp-content/uploads/2021/01/Best-WooCommerce-Plugins.png
426
1210
Ninja Team
https://ninjateam.org/wp-content/uploads/2020/10/ninjateam-logo.png
Ninja Team
2021-01-08 14:55:55
2021-01-12 15:59:56
Best WooCommerce Plugins to Use in 2021