6 Best WordPress Comment Plugins
Publishing a post in your blog is one part while getting readers' engagements and interaction is another! WordPress is no doubt one of the most powerful Content Management System on the web today and right from its earliest stages of development, comment system has always been a very important integral part of its functionality, this feature is very remarkable as it is like the "sauce for the soup" of any published web articles.
However, as we already know that what makes WordPress's basic functionalities becomes even better are the plugins, so in the WordPress environment today, there are lots of comment plugins that had been developed to further enhance the comment experience on blog articles, most of these plugins come with a much more sophisticated and important functions that would surely add more values to the website's comment section and in fact present much more advantages to both the readers and the writers.
In this article therefore, we will compare the six best WordPress comment plugins and we hope it would guide you in making a choice for your blog.
wpDiscuz
Jetpack
Replyable
Lazy Load for Comments
Super Socializer
Disqus Comment System
1. wpDiscuz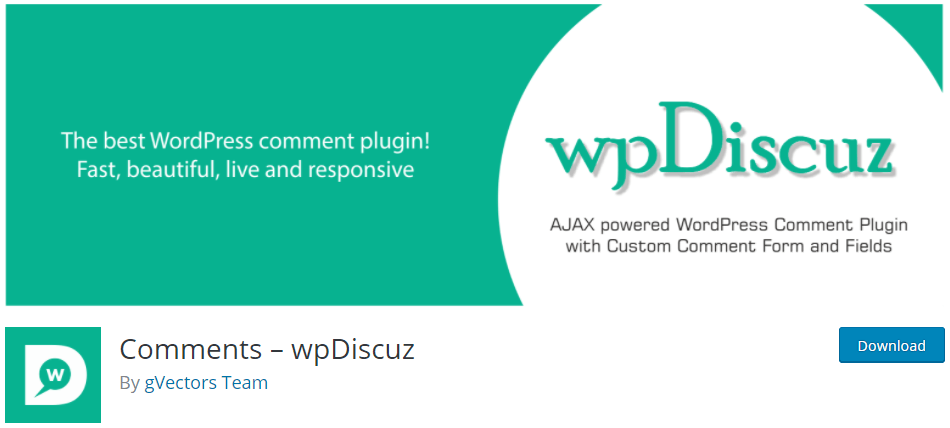 This is a really nice plugin which changes your website commenting experience and provides you with new user engagement features which works in AJAX mode and it is very fast with customizable comment form fields, it supports lazy loads of comments, comment subscription option by Email and a lot more. The plugin makes comment section very neat in terms of layouts and nested comment arrangements and it allows social sharing of comments.
Key features
Live Notification with real-time updating Comment Bubble.
Social Commenting with lots of Social login options
Clean, simple and easy user interface and user experience
Full integration with Social Network Login plugins (Facebook, Twitter…)
Ajax button "Load More Comments" instead of simple comments pagination
Lazy load wpDiscuz comments on scrolling
Secure and Anti-Spam features will not allow spammers to comment
Quick Tags on comment form textarea
Subscribe to User / User Follow
Long comment text breaking function ("Read more" button)
2. Jetpack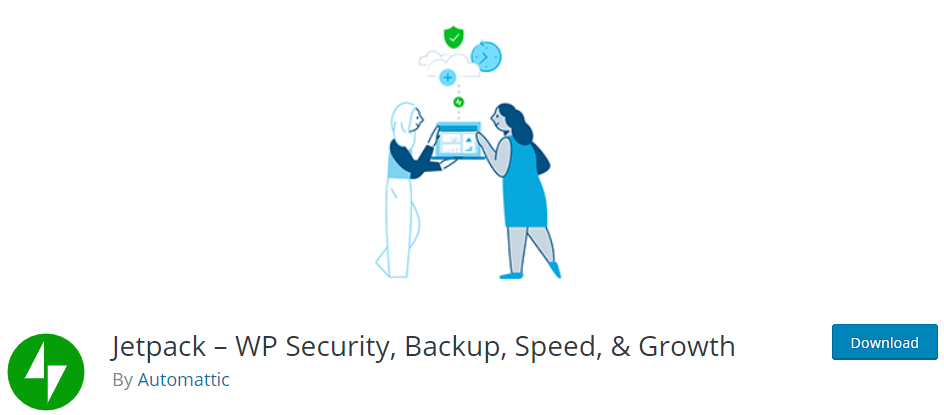 This is one one of the most popular plugins for WordPress with millions of users and it is not just a comment solution, it also offers other functionalities like security system etc. Jetpack is very smart in blocking spam comments and it does not totally replace the normal comment functions of WordPress but it allows you to set social login options that allows users to login with their social account (facebook, twitter…) to comment, it also allows you to add an Email subscription option for the readers. Jetpack is simply one of the best comment plugins with easy to understand functionality.
Key features
Powerful anti spam comment feature
Free and easy to use
Add "like" button to comment
Social sharing option
Jetpack comes with other additional WordPress utility features
Gravatars are supported
3. Replyable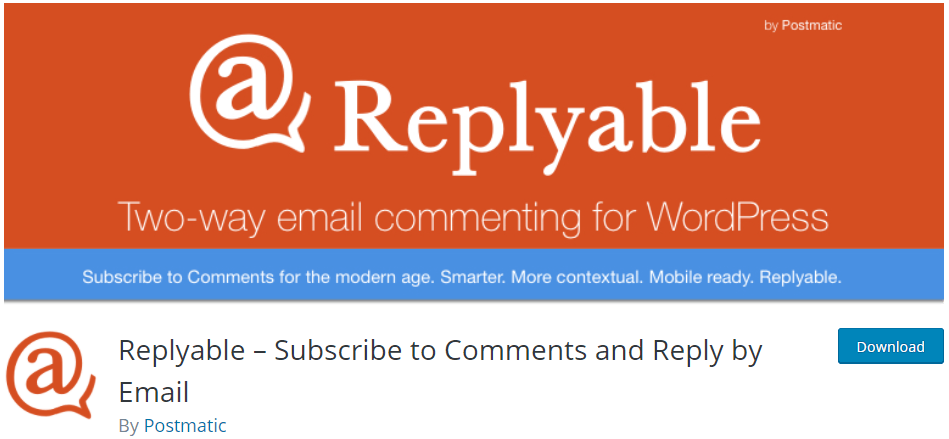 This plugin is a nice option to be considered as addon for some other comment plugins like wpDiscuz because it does not offer full functionality of comment system, its function is particularly focused on "comment subscription" by Emails and so it does this better than any other comment plugin's subscription function because it does not send all Email notifications, it simply uses complex algorithm to determine which replies are worthy of subscribers notification and which is not. This plugin also offers a premium version with some little bit of extra functionalities that might be worth considering too.
Key features
Users can subscribe to all comments on a post, or choose to just receive direct replies to their own comments.
Automatic pausing of subscriptions on chatty posts – if too many comments are happening at once subscriptions will automatically be placed on pause the users notified. They can resume their subscription with a simple command.
Responsive templates – rich Html-based comment templates that look great on both desktop and mobile displays.
Very reliable system of notification
4. Lazy Load for Comments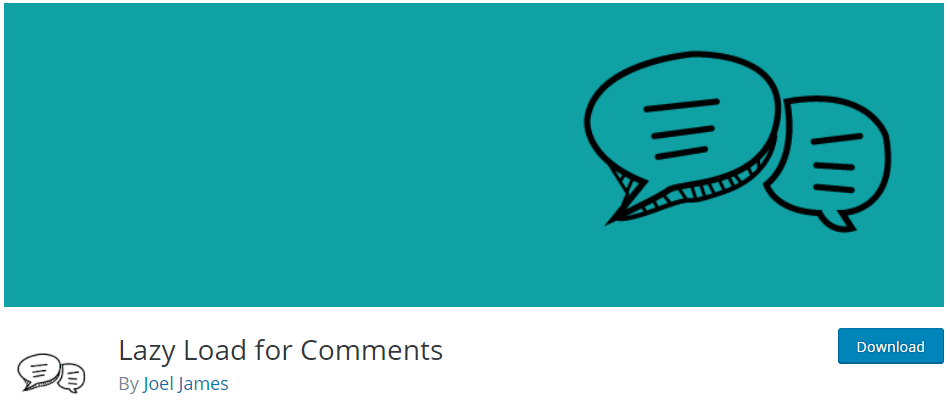 This is also a nice plugin but it does not have all the full functionality of comment system, its basic features to use a comment loading system (lazy load) which makes scrolling through very many comments faster and easier, it has got different comment loading setting options to choose from and the plugin is also compatible with many other comment plugins that could be combined with it.
Key features
Load comments only when required.
Improve page loading speed.
Reduce no. of HTTP requests!
Lazy loading comments gravaters.
No complex configurations (Just one setting).
5. Super Socializer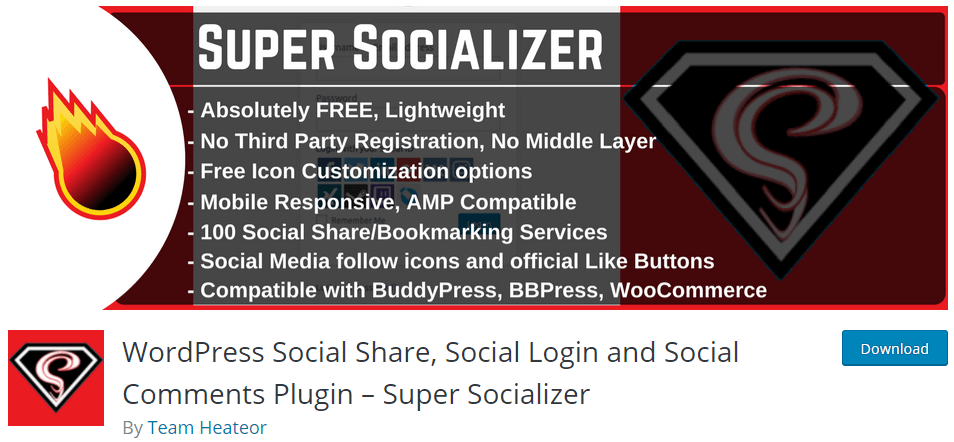 This plugin does not completely change the normal WordPress comment section defaults, but makes it easy and quick for commenters to login with their social media account in just one click so that they can leave their comments, it also add share buttons to all the comments and replies so that anyone could easily share the comments on their different social platforms, social login to comment really helps reduce spam comment rates because people have to login with their genuine social accounts before they could actually drop their comments.
Key features
Spam Reduction: Because social networks authenticate individuals and generally don't allow multiple accounts
Increased User Traffic: When users share content over their Social network, it shows up in front of more people which results in increased user traffic at your website.
Social Share from around 100 social networks
Enable url shortening to use in sharing
Enable Social Comments – Facebook Comments, Disqus Comments
6. Disqus Comment System

This is one of the most popular commenting plugins available for WordPress users, it is nice as it replaces the default WordPress comment system and adds its own extra features which includes the Email notification features for comment updates, it also has social commenting support where users could login with their social media account in one click and drop their comment, it has got a very smart anti spam filter, auto spam comment flagging and blocking etc.
Key features
Realtime comments system with fun discussion interactions: voting, photo and video upload
Flexible login options – Social login with Facebook, Twitter, and Google, SSO, and guest commenting support
Comment text formatting (e.g. bold, link, italics, quote) using HTML tags as well as code syntax highlighting
Threaded comment display (nested 3 levels) with the ability to collapse individual threads
Bring users back to your site with web and email notifications and personalized digests
Conclusion
Comment section is a very important part of the whole blogging system and in this article, we have been able to discuss some of the best WordPress comment plugins that are available right now and we hope that you do gain some insights to help you make a nice choice for your blog.
Thanks for your attention and do not forget to share if you like it ;)

https://ninjateam.org/wp-content/uploads/2020/11/Best-WordPress-Comment-Plugins-1.png
426
1210
Kelly
https://ninjateam.org/wp-content/uploads/2020/10/ninjateam-logo.png
Kelly
2020-11-13 14:04:35
2020-12-07 11:06:28
6 Best WordPress Comment Plugins