7 Best WordPress Contact Form Plugins
You've finally completed building and pieced together your new WordPress site like a work of art. Everything's in place: the logo, About Us page, a small eCommerce store, menu, etc.
You're ready to pull the trigger, right? But wait a minute. Did you forget one of the most basic parts of a website? That's right: the WordPress contact form.
Every WordPress website needs a contact form plugin no matter what its niche. Using contact forms on your website makes it easy for your clients to stay contact with you.
If you're wondering which contact form plugin you should choose for your site, then you're in the right place.
Today's article will give you a comprehensive list of 7 vital and free WordPress contact form plugins, so you can find the right one that perfectly satisfies your needs.
Ready to build some awesome forms? Let's dive in!

Tada! Probably no need to say much about this gem in the WordPress contact form market.
Contact Form 7 is one of the most popular and most downloaded WordPress form plugins. Currently, it has more than a million active installs and over 24 million downloads. It's amazing, isn't it?
Also, it has a simple interface and allows you to choose from 16 different fields, such as CAPTCHA, telephone numbers, email addresses, etc. Plus, the plugin provides different languages that is helpful to interact with customers worldwide.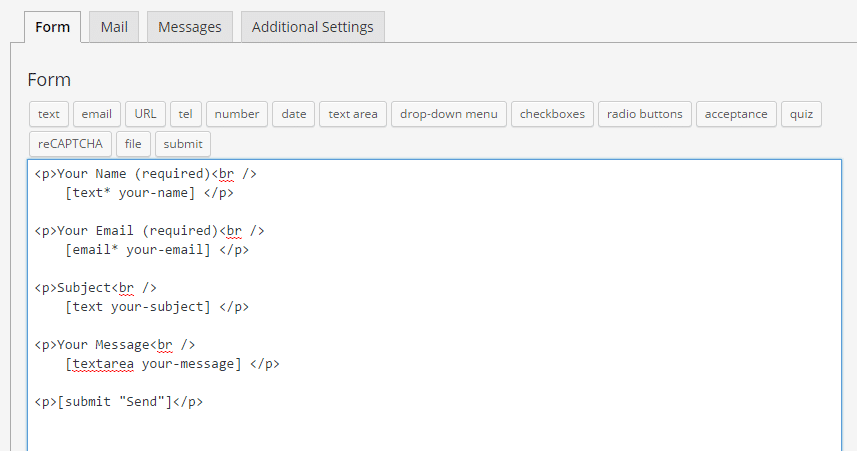 There are many reasons to go for this WordPress Contact Form plugin:
It doesn't cost you anything.
It looks as sleek and minimal as you can find.
You have support for several unique fields such as a CAPTCHA, file submission, acceptance, radio buttons, checkboxes, and drop-down menus.
You can place the contact form anywhere you want using the simple shortcodes.
Once you've selected a field, you'll be provided with a number of configuration options. Contact Form 7 is clearly less user-friendly in comparison to many other contact forms that have drag-and-drop interfaces. But don't worry, you are able to create quite good-looking forms if you know a little HTML.
Contact Form 7 might be the perfect WordPress form plugin for you if you just want to get basic contact forms running on your site. Plus, there are a wide range of handy free and premium third-party extensions that definitely suit your purpose.
For me, I have to admit that Contact Form 7 delivers all the basic contact form functionality for your requirements.
The success of a form building plugin is always aligned with supporting extensions. The following two vitally important add-ons, namely CF7 Multi-Step and CF7 Database are essential components when you start using Contact Form 7.
Contact Form 7 Multi-Step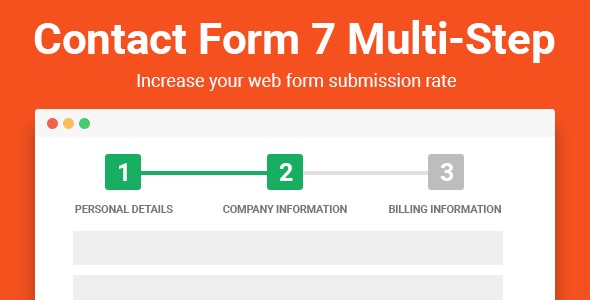 Feeling exhausted to fill in such a long form? Want to chop it down into steps? Contact Form 7 Multi-Step is born for you.
This awesome extension enables Contact Form 7 plugin to add multiple steps to your form with a click and you can easily customize your button for each step.
This extension is the most effective approach to make your long form into a shorter form and keep it straightforward.
You can also add Next and Previous navigation buttons in the forms by using shortcodes and this contact form add-on makes Contact Form 7 more reliable and functional.
So, what is Contact Form 7 Multi-Step used for? Can you guess?
It is truly useful for doing a survey or collecting information of the user in steps and send an email in the end.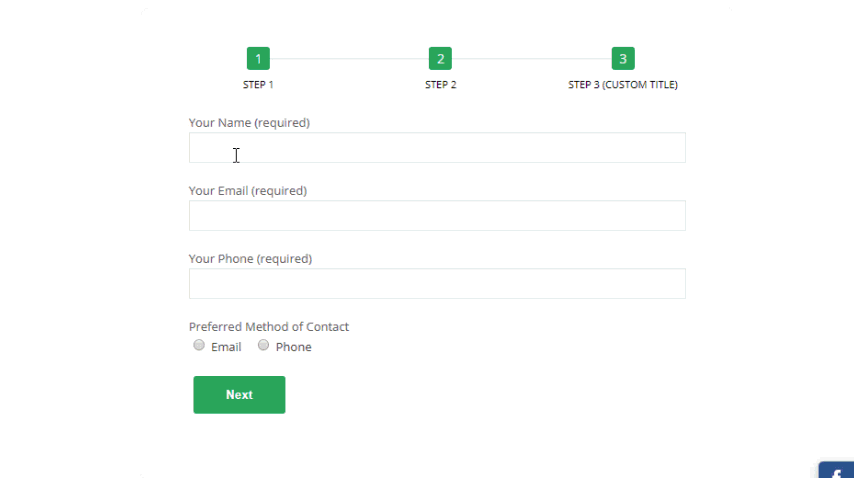 To cut a long story short, this extension works like a charm and I highly recommend this for those who do not want to lose clients.
Contact Form 7 Database

This is one aspect that Contact Form 7 is lacking compared to its rivals, e.g. the ability to keep form entries in WordPress database and make it accessible. So, this add-on is developed by NinjaTeam and built to retain all submitted forms.
What else this extension can do in addition to retain and access submitted forms?
It can create a back-up file of entries and export most available formats in case something unexpected comes up.
So what are you waiting for? I suppose this amazing extension will satisfy your need. Install it and everything is in your hand.
If you want to explore more about essential extensions for Contact Form 7, please click the link below for further information: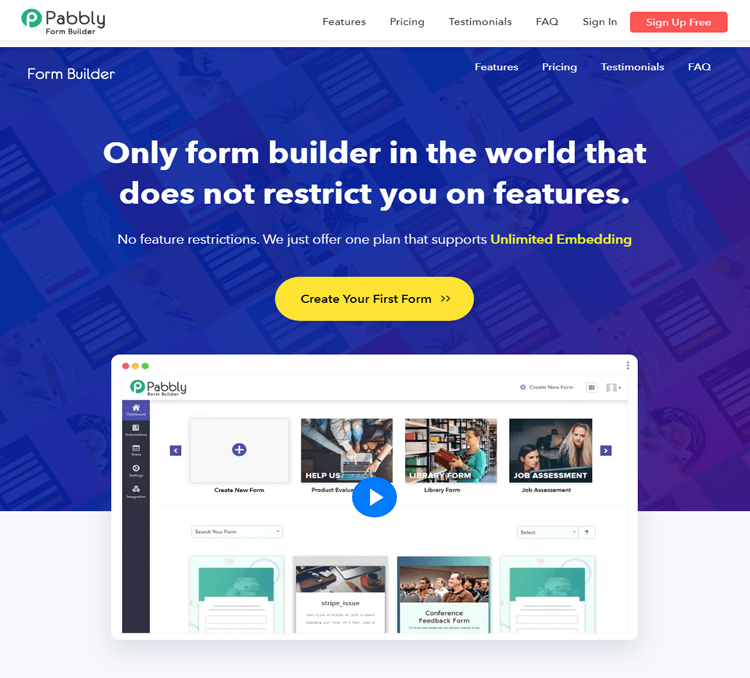 On contrary to all the form builders mentioned in this article, Pabbly Form Builder is not a plugin but complete form building software. Unlike other form builders that restrict you on essential features, this form builder doesn't do so. This handy software comes with unlimited features like submissions, form fields, integrations, Webhooks, storage, etc and that too at a jaw-dropping price of just $10. With its tons of customization options like padding, font style, form width, etc you can easily create customized forms and share them on your website.
Pabbly Form Builder enables you to embed pop up, sliding or full forms on your website for collecting information or capturing leads.
Furthermore, with this application, you can collect unlimited payments through popular payment gateways like PayPal, Stripe, etc in a hassle-free manner. Also, with the limitless third-party integration, you can smoothly integrate other services like Mailchimp, Salesforce, Aweber, etc to streamline your workflow.
This form builder comes with enhanced security mechanisms like SSL encryption, and reCAPTCHA to ensure your form security. Its other worthy features include a huge collection of pre-built templates, email autoresponder, advance conditional logic, canned replies and a lot more.

Ninja Forms is an another fantastic drag-and-drop style form-building solution developed by WP Ninjas. The free version comes with 28 fields including checkboxes, anti-spam fields, star ratings, and many others.
Using Ninja Forms, you can use an unlimited number of forms, fields, emails, and submissions. After you have created your forms, you can add them to your site using a shortcode, widget, or template function.
Ninja Forms' drag-and-drop interface is quite minimalist and modern. It gives you a full-screen preview of your form, with a floating button in the bottom-right corner that expands a sidebar where you add and configure your form fields: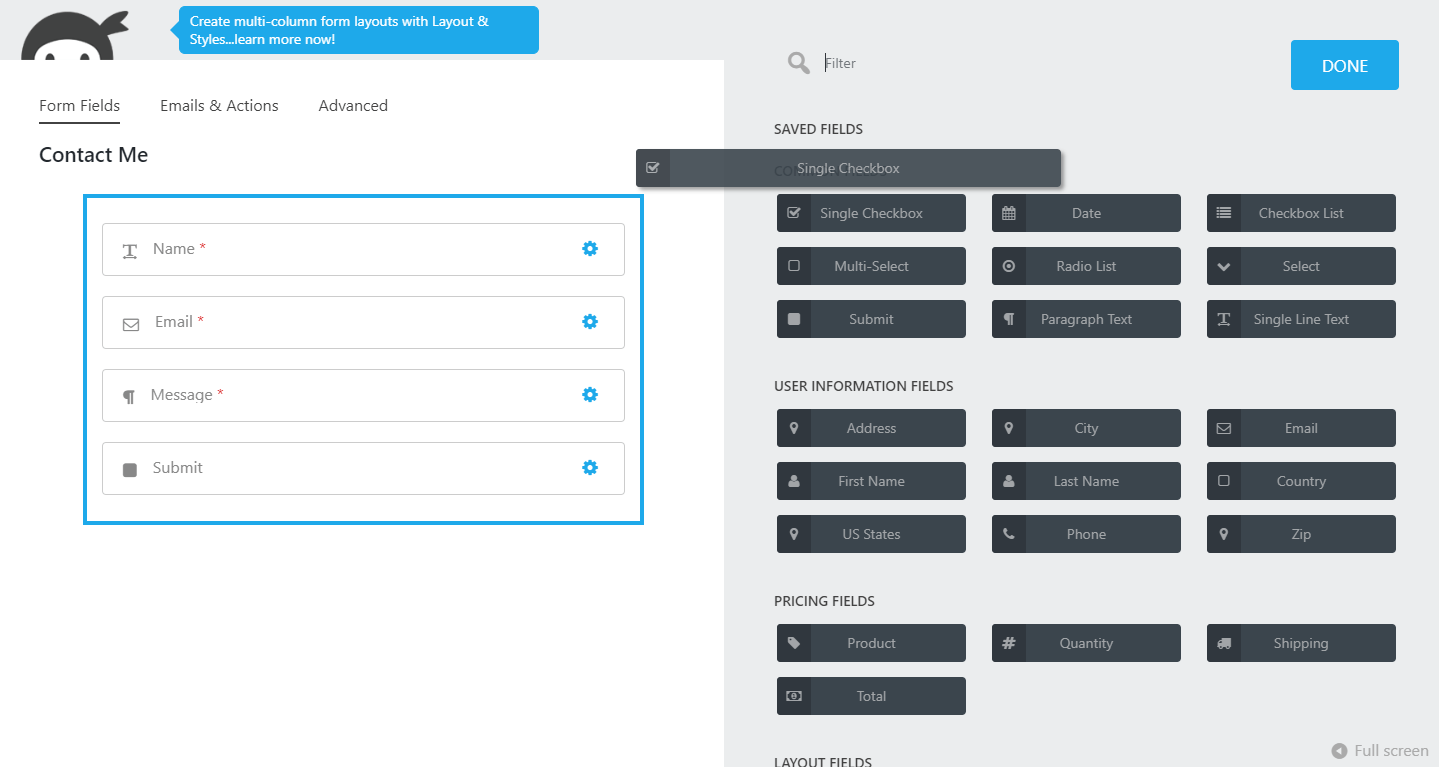 I really like the style of the forms produced from Ninja Forms. They're big, bold, and elegant. These definitely make this WordPress form plugin stand out from many of its rivals.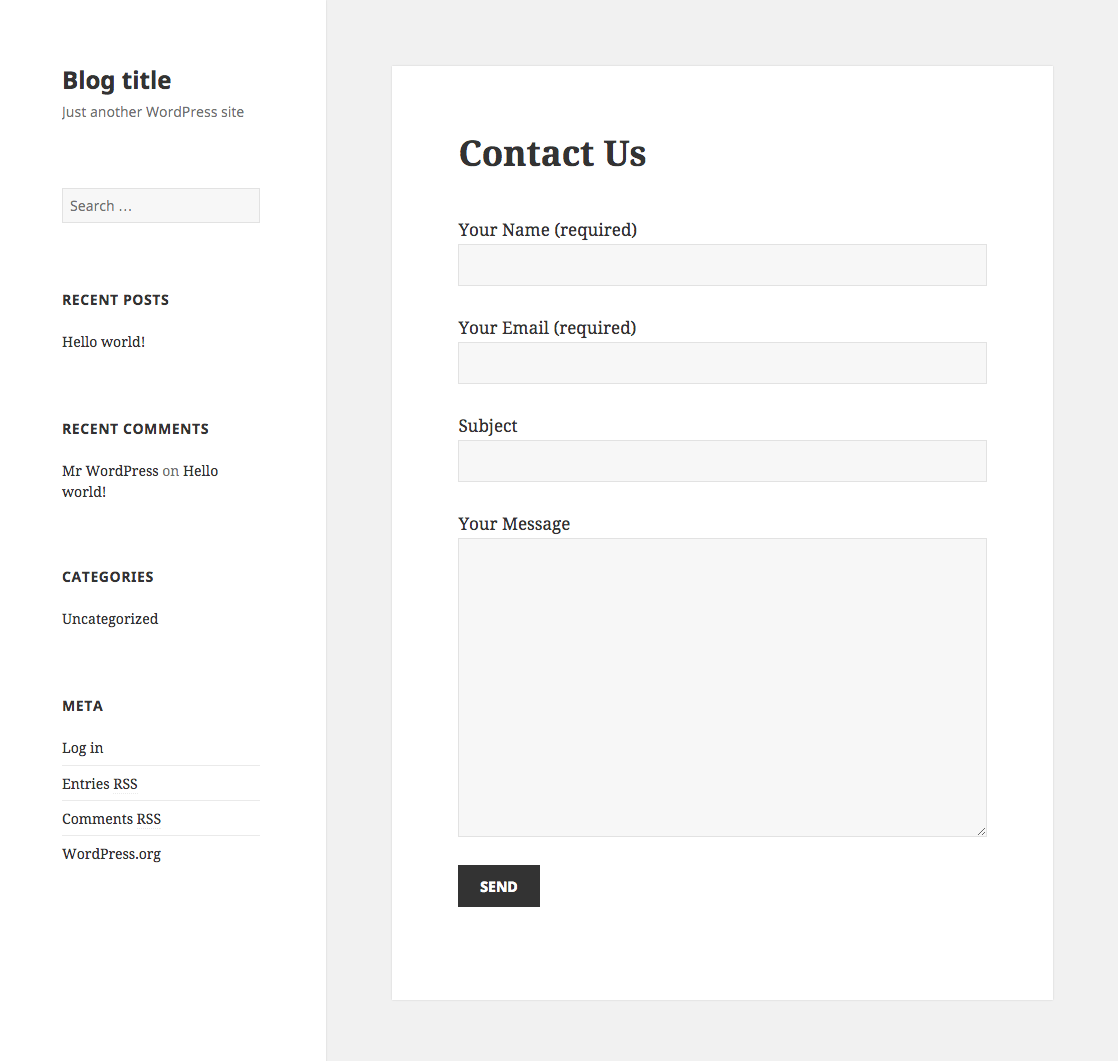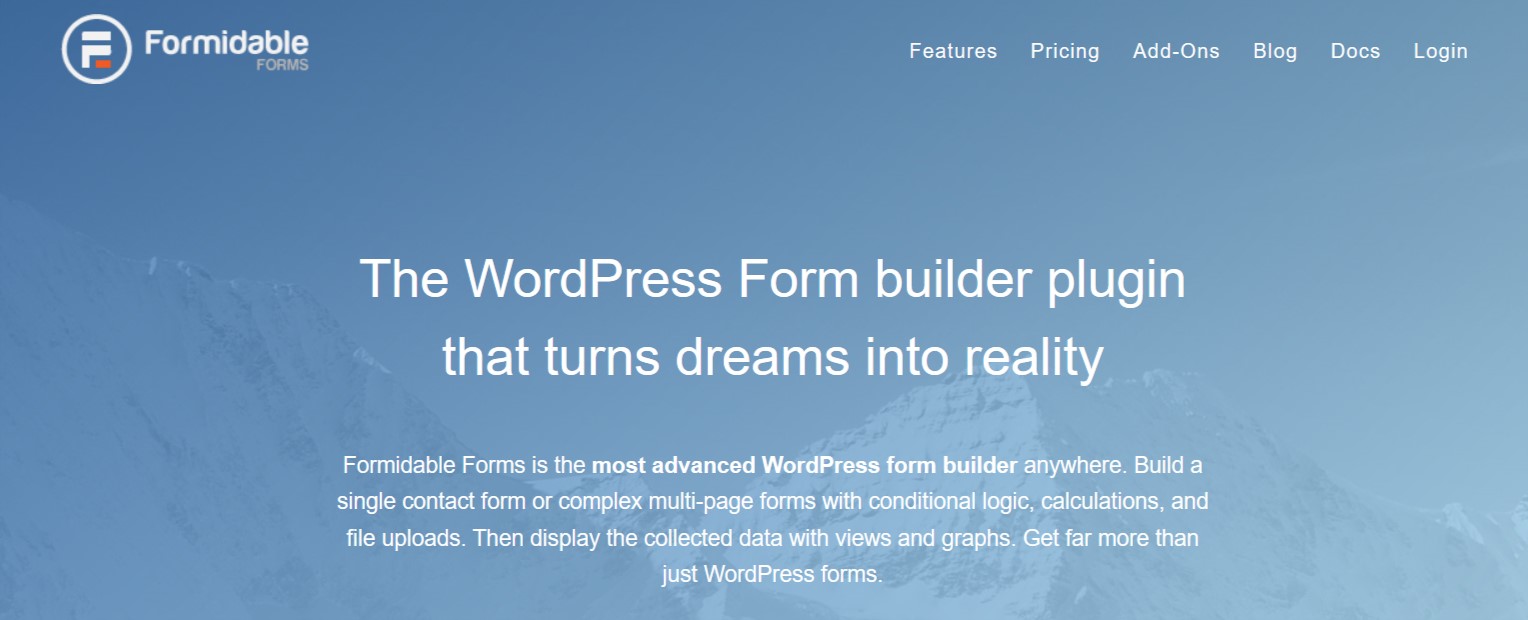 Formidable is an advanced WordPress contact form plugin that lets you build complex forms with ease. It comes with powerful options along with premium add-ons which you can create advanced forms like quizzes, surveys, payment forms, registration forms, profile forms, and more.
Formidable Forms also offers rich customization and flexible settings alongside with a visual, drag-and-drop form builder interface. You can drag fields from the right onto the live preview of your form.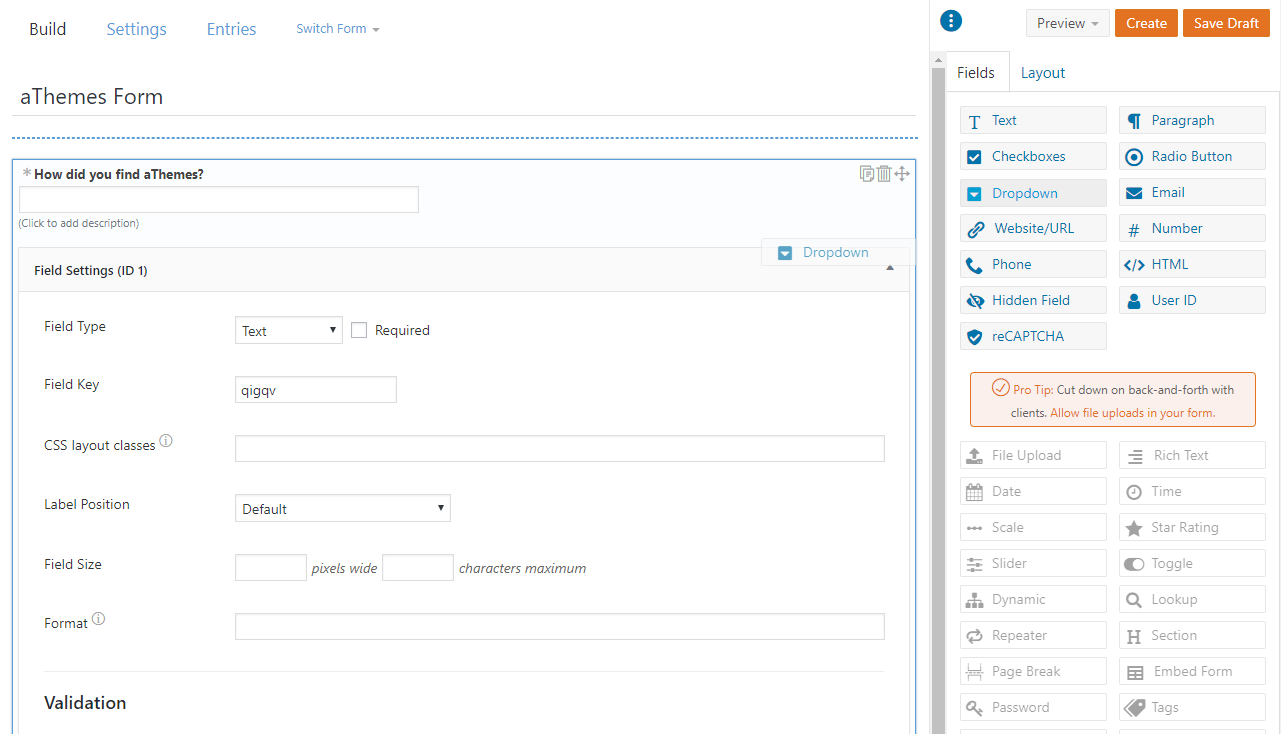 As for the overall interface, Formidable Forms is rather basic and easy to use. It doesn't seem to conflict with other plugins or themes, and it's an extremely lightweight WordPress contact form plugin.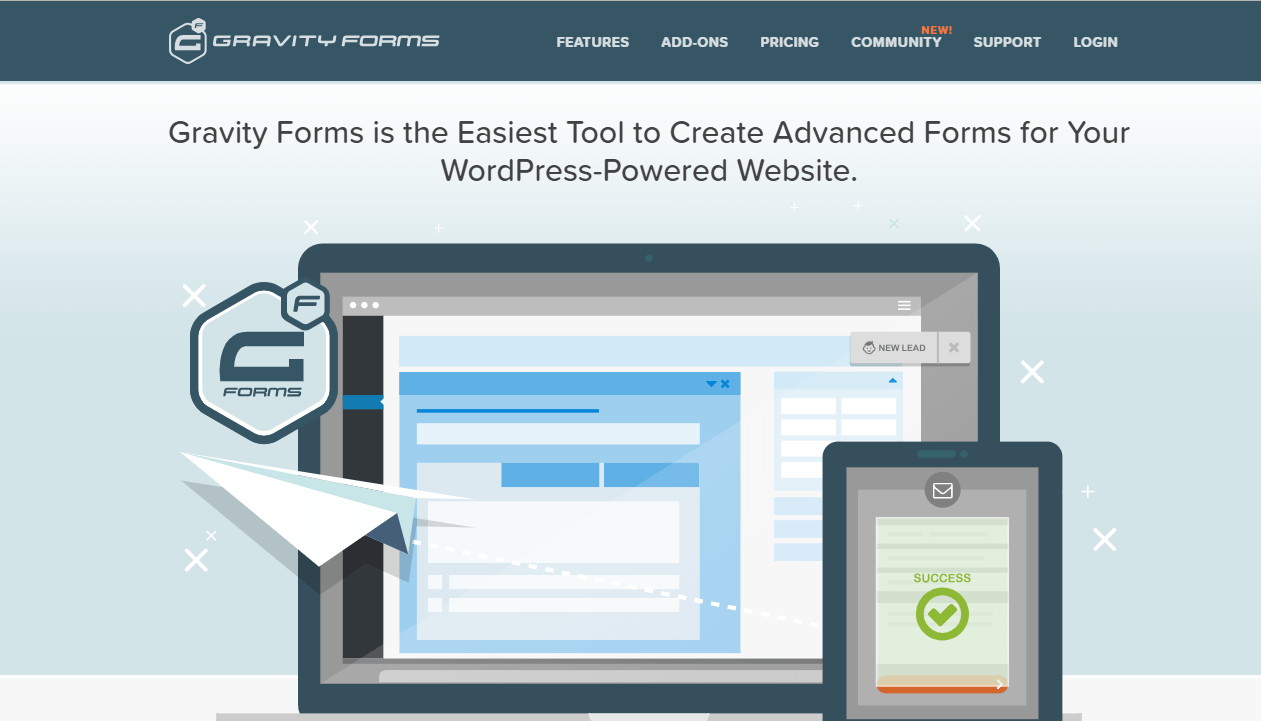 Gravity Forms is a premium contact form plugin for WordPress. The plugin features a number of powerful features and options which enable you to build advanced forms on your WordPress site.
Similar to above WordPress contact form plugins, Gravity Forms also offers a simple drag and drop interface for building forms.
Its other main features are conditional logic, email notifications, spam protection, responsive design, etc. Plus, it has dozens of add-ons and integrations for different web applications and email marketing services. Plus, all of your forms created with Gravity Forms will be fully-responsive and look perfectly on all devices.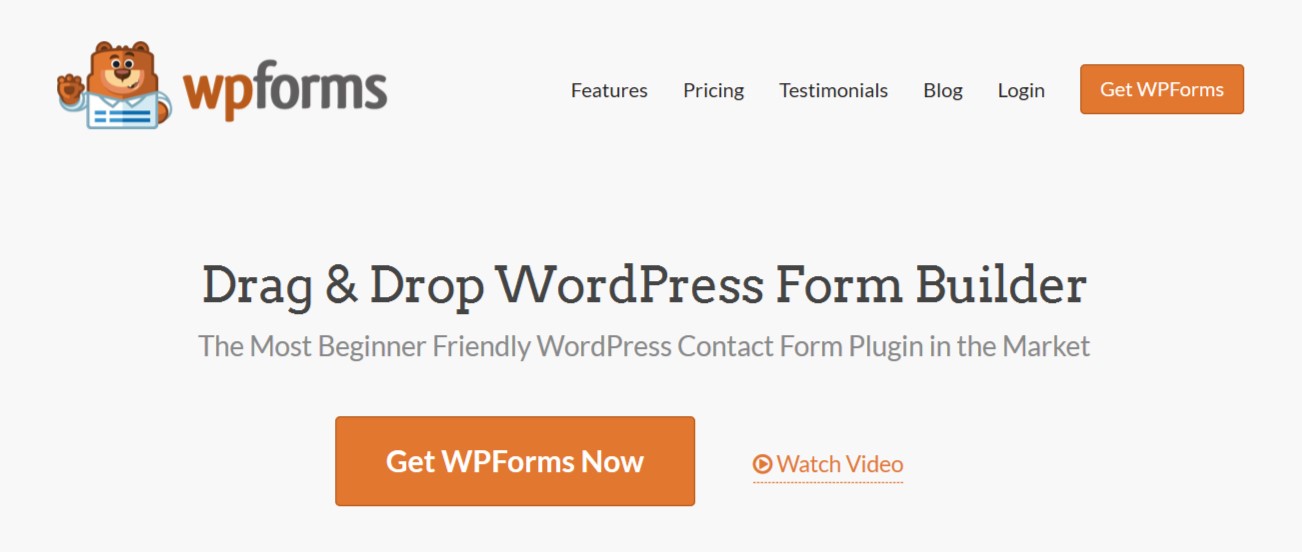 WPForms is the most beginner friendly WordPress contact form plugin. With its powerful built-in drag and drop feature, you can create good-looking online forms in just a few minutes without touching a single line of code. You can add new fields from the options on the left and rearrange them on the live preview using simple drag-and-drop: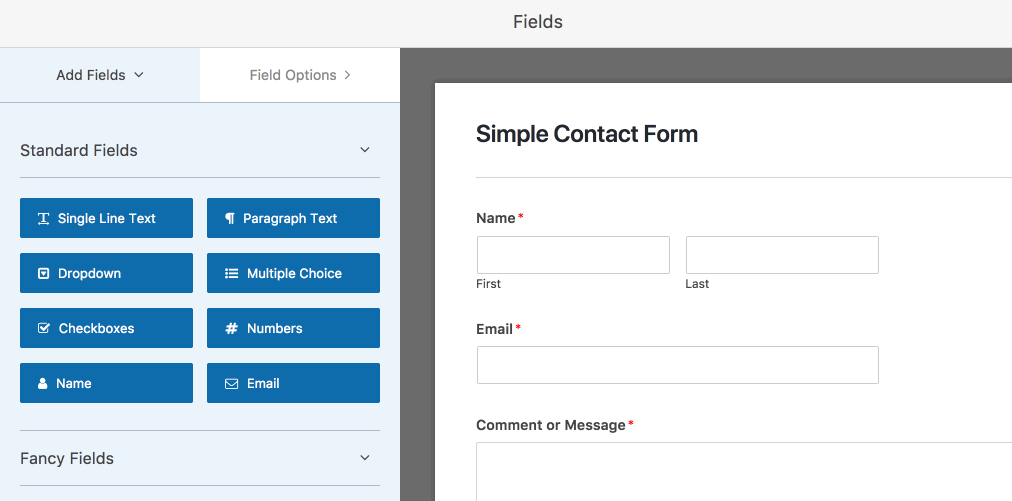 Here's the plugin's tagline:
"WPForms allow you to create beautiful contact forms, subscription forms, payment forms, and other type of forms for your site in minutes, not hours!"
The drag & drop builder allows you to build various types of contact form such as online surveys, and donation forms in just a few minutes without writing one line of code.
All the forms you create will be 100% mobile friendly, e.g. working perfectly on any devices (laptops, mobile phones or tablets).
And if you worry about spam, WPForms has built-in smart captcha and honeypot that automatically prevent spam submissions.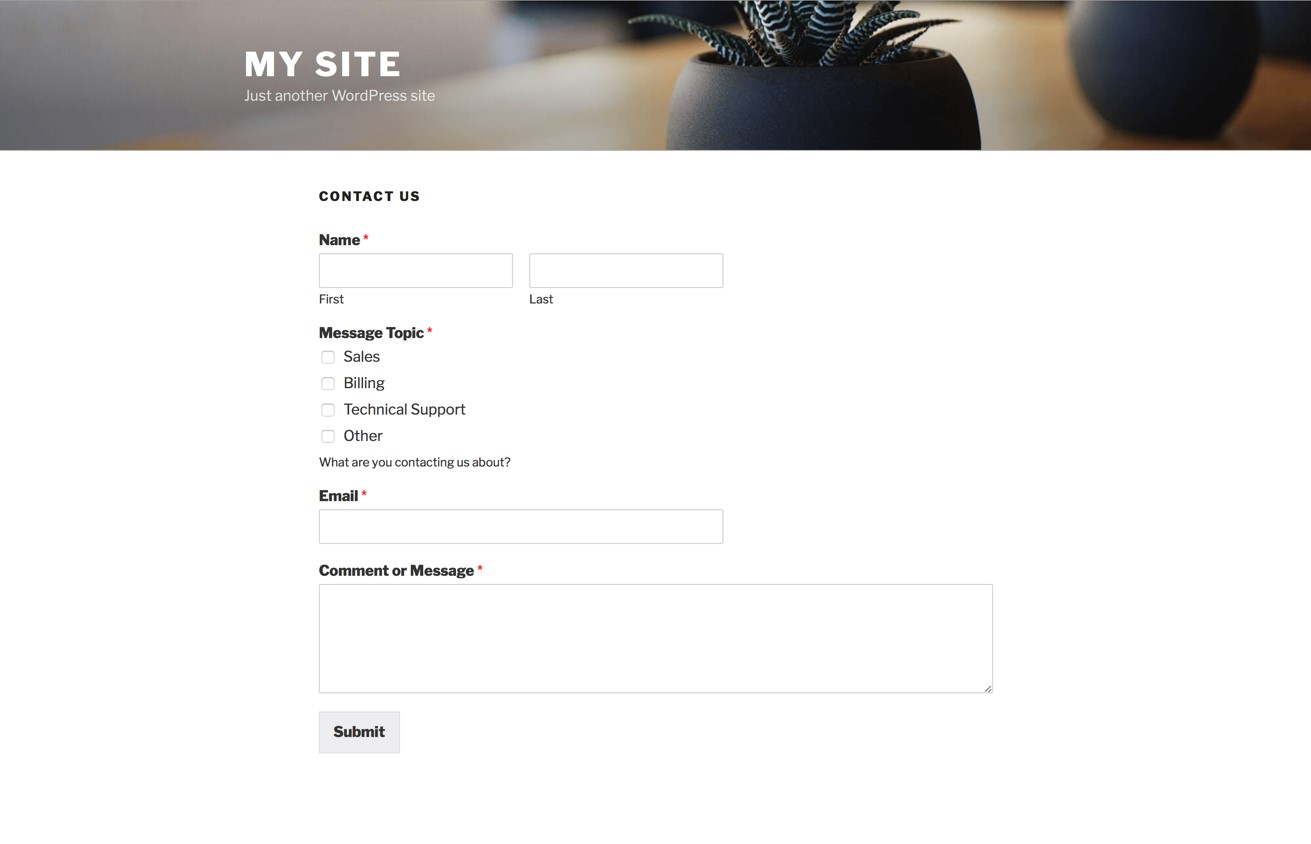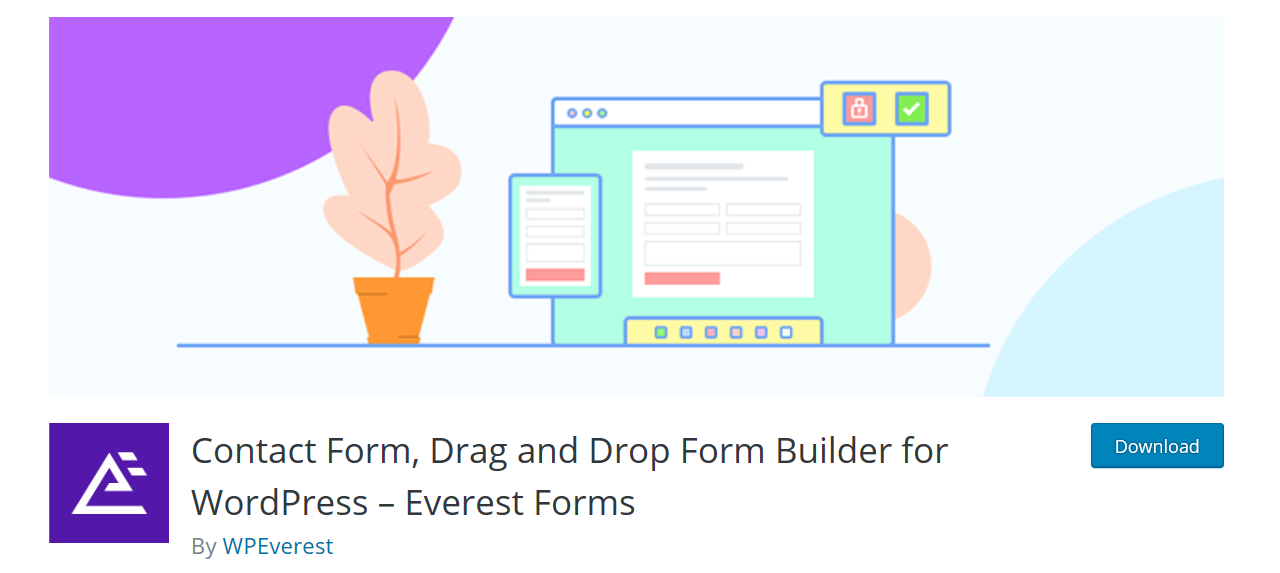 Do you know the highest mountain in the world?
Ya. You're right. That's the Everest.
Spectacular and powerful like the Everest, the next contact form plugin, Everest Forms, is probably the best WordPress contact form plugin available. Do I sound biased here?
With clean drag and drop interface for creating contact forms, it is just an incredible solution available for free.
Some of the main features that I like about this plugin include:
Simple contact forms or two column forms or advanced forms (view demo)

100% Responsive and mobile ready

Drag and drop fields

Advanced fields including radio, dropdowns, checkboxes, date and more

Google reCaptcha support
Everest Forms is a light and expandable drag and drop form builder to generate any type of form effortlessly and rapidly. This plugin provides multiple column support, Google re-captcha for spam protection, multiple email recipients support, numerous form fields, successful submission email and more.
This plugin is a perfect solution for creating contact forms with simple clean drag and drop interface. The whole form building interface is much dependent on dragging and dropping so you can create complete contact forms easily.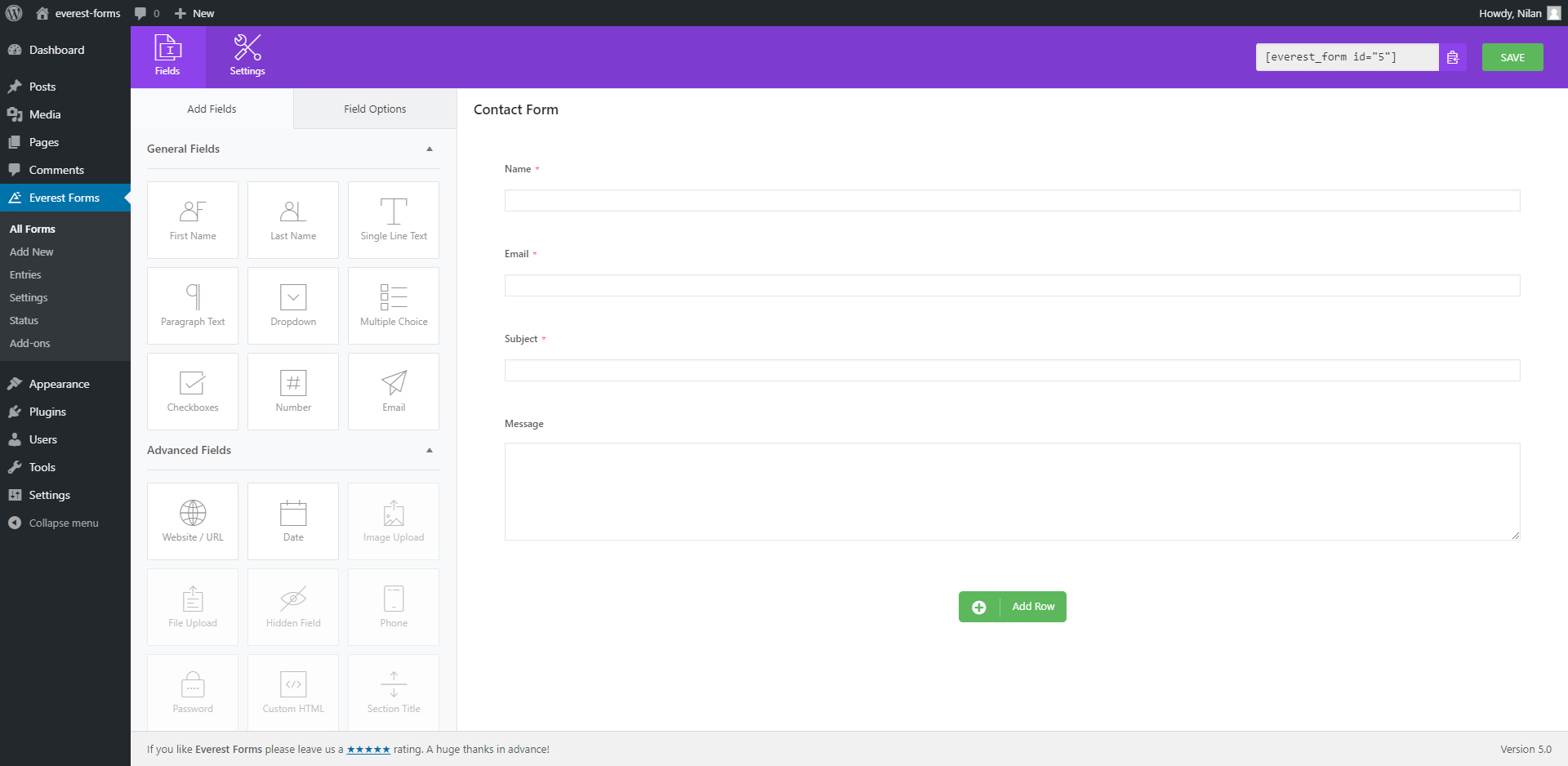 Here's how the contact form will look on the front-end.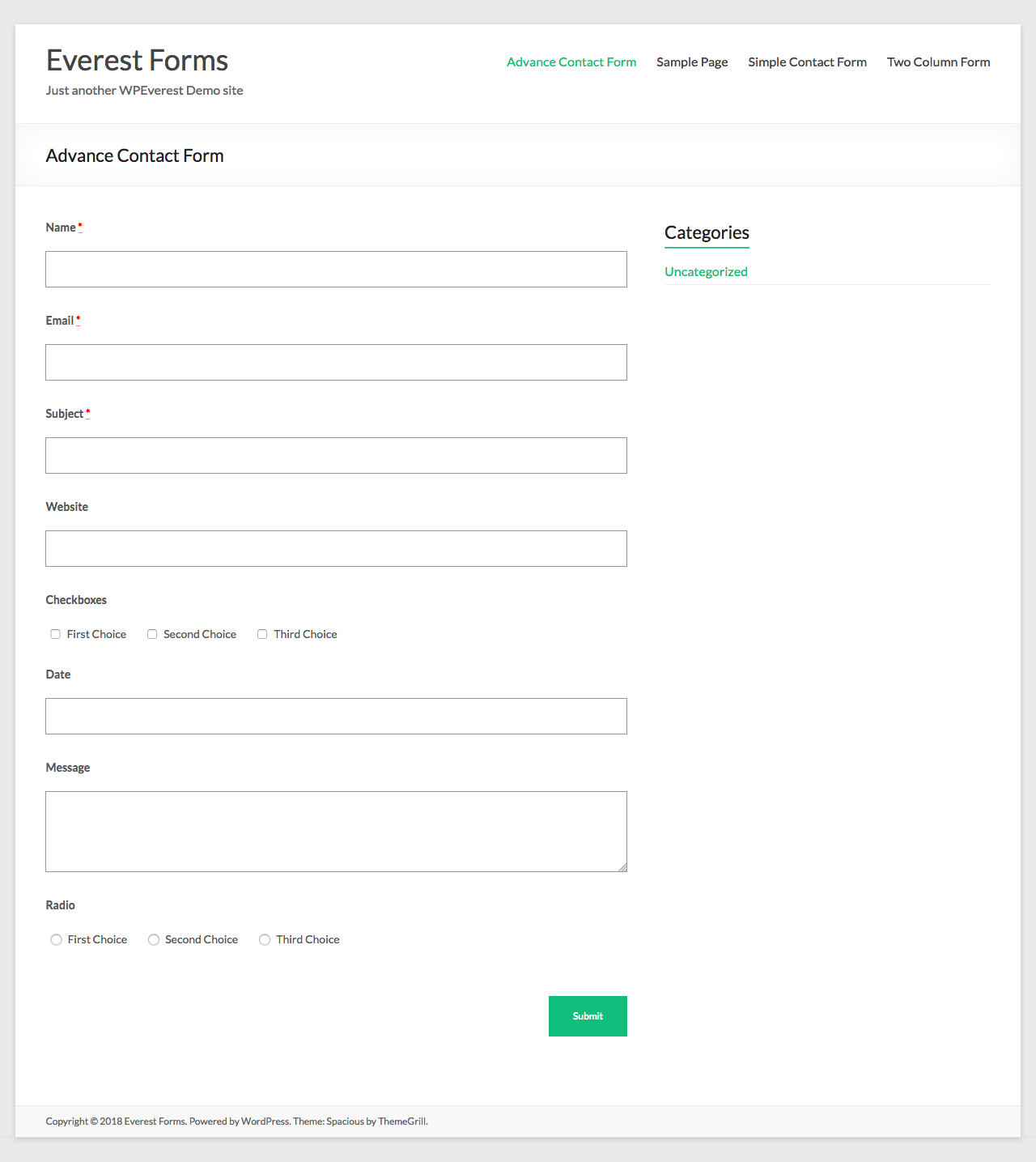 Enjoy creating unlimited forms without any limitations with Everest Forms!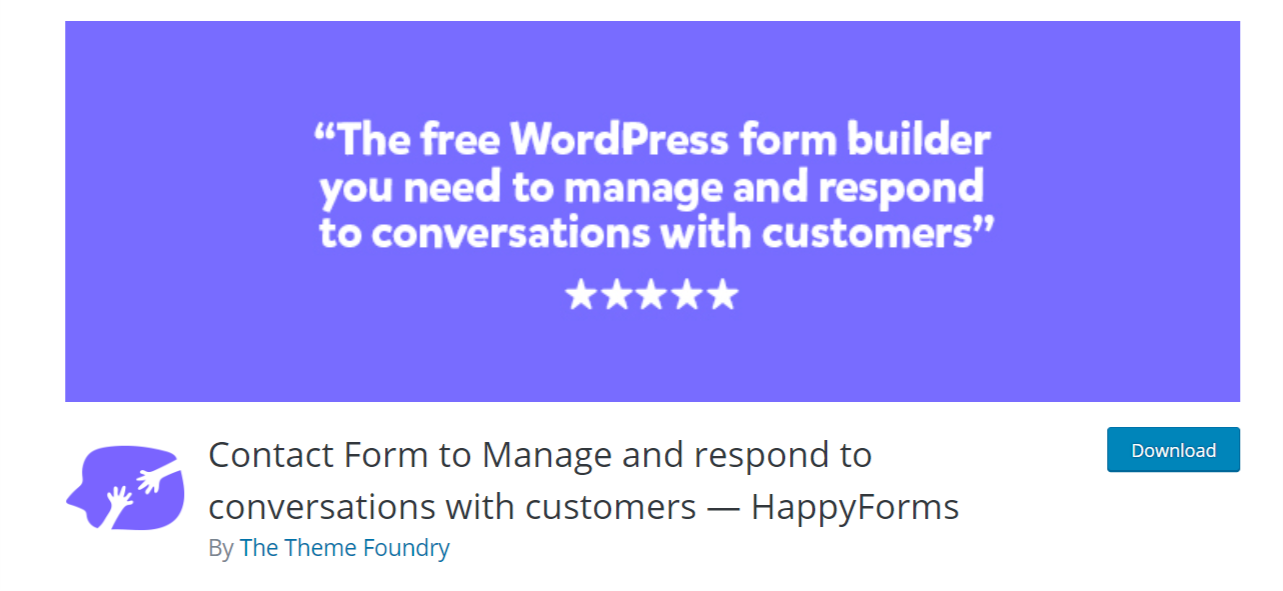 Let's say hello to the newbie of WordPress form plugin kingdom, HappyForms, it's definitely the new kid on the block, but hey don't look down on it because it will turn out to be a formidable competitor and the contact form game becomes more tougher than before.
The most appealing feature of HappyForms compared to others is its unique approach to creating forms. While many other form plugins give you its own separate form builder interface, HappyForms lets you build your forms via the WordPress Customizer.
This means that you can see exactly how your form will look to visitors while you build it, which is pretty convenient and a strong point compared to its rivals.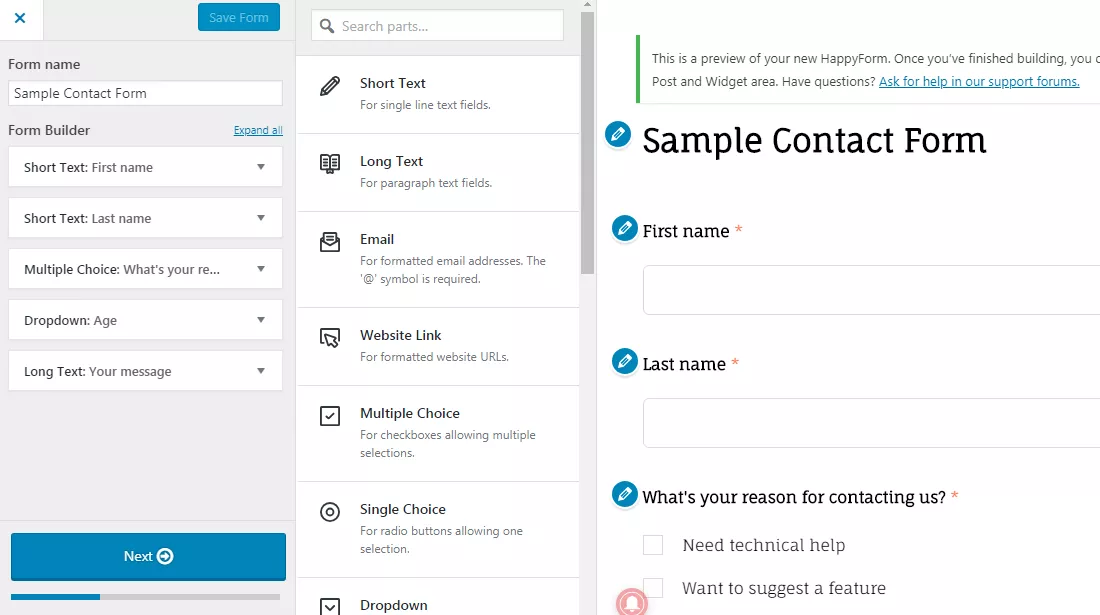 Again, the interface is one of the most unique things about HappyForms. It feels quite intuitive because it uses the same WordPress Customizer that most people are familiar with.
But it's not as flexible as most of the other form plugins. The main reason to use this plugin is definitely for its interface and efficient options to create and customize forms very easily.
If you are looking for a great free contact form plugin, just give it a try, I guarantee. You will love this great free WordPress contact form plugin.
Final thoughts
This completes our rundown of the top 7 essential and free WordPress contact form plugins. There are thousands of plugins for creating forms, so you can't possibly try them all. The plugins in this article are a great starting place for new or existing website owners.
The contact form is not the only way to stay in touch with your clients, but it proves that you're open to communicate with the audience and that might end up generating extra revenue and drawing more customers' attention.
And these contact form plugins will work as handy tools for you to create fully-functional contact forms on your WordPress website.
Do you have any say on this article? Are your favorite extensions missing from this collection? Feel free to write them down below.
Thank you from NinjaTeam! 😃
https://ninjateam.org/wp-content/uploads/2019/01/7-Best-WordPress-Contact-Form-Plugins.png
426
1210
Benjamin
https://ninjateam.org/wp-content/uploads/2020/10/ninjateam-logo.png
Benjamin
2019-01-07 04:56:20
2020-10-21 11:36:13
7 Best WordPress Contact Form Plugins