Best WordPress Dropshipping Plugins
In our modern world, online shopping became an integral part of everyday life. It's more convenient to stay at home and have your purchase delivered, instead of spending a lot of time visiting different shops. 
Dropshipping allows you to do your business and make a profit without any risks and additional spending. There is no need to buy and store your product as it is shipped directly from a supplier to a customer. You are a third party in between who helps them to find each other through your site. That's why you need to make your website good-looking to create a favorable impression on the customer. You can develop CMS solution and make your web content well-organized and structured. 
WordPress is a website that enables entrepreneurs to start their businesses without much effort and time. With plugins, you'll be able to benefit from a full range of features and functions to operate the online store properly. It'll be useful both for experienced business people who want to improve their store as well as novice entrepreneurs who try their hand at the dropshipping activity. 
Want to make your business profitable? Discover a list of WordPress dropshipping plugins to choose the best for your online store.
Why is WordPress Great for Dropshipping?
The website gained its popularity due to quality and straightforwardness that allows everyone from hobby bloggers to big companies to create their website. It's reported that 41% of the web use WordPress for designing sites that are 60 million people worldwide chose this platform for meeting their goals. There are more than 58,000 plugins that facilitate users' activity and provide a user experience.
WordPress has plenty of attractive features allowing you to reach high performance and take advantage of customizable designs, mobile responsiveness, high security, and powerful media management. It's SEO-friendly, easily accessible, and can be managed on the go. You can get WordPress either by downloading or through a hosting provider, for example, SiteGround. There are as well mobile applications available for download on Google Play and Apple Store. 
Before we start describing the best plugins for WordPress, let's outline the features you can take advantage of:
Possibility to import products from other dropshipping platforms easily

Operate products using your dashboard

Manage payments without any difficulty 

WooCommerce and WordPress integration 
Here are some of the most popular dropshipping plugins to make your WordPress experience full of positivity and high profits. Move on to find more details about each plugin!
1. WooCommerce

WooCommerce plugin is one of the most popular options for WordPress users. You can quickly and easily handle your eCommerce business and derive profit from your activity. Consider that WooCommerce has a vibrant global community that is aimed at giving each other a helping hand and sharing valuable experiences. A developer-friendly plugin allows people to design any project without much time and effort due to its scalability. With a WooCommerce mobile app, you can run your store from any part of the world. Besides, real-time key statistics will provide you with valuable information on selling. There are plenty of extensions necessary for your store customization, such as booking, shipping, tax, subscription, and Google Analytics. Some of them are paid, but there are many free options. Get everything you need for a dropshipping store in minutes and enjoy your profitable business. 
Key Features
Numerous extensions available

Mobile app available

Product ratings and reviews feature

Ability to offer coupons to your customers

One-click refunds
2. AliDropship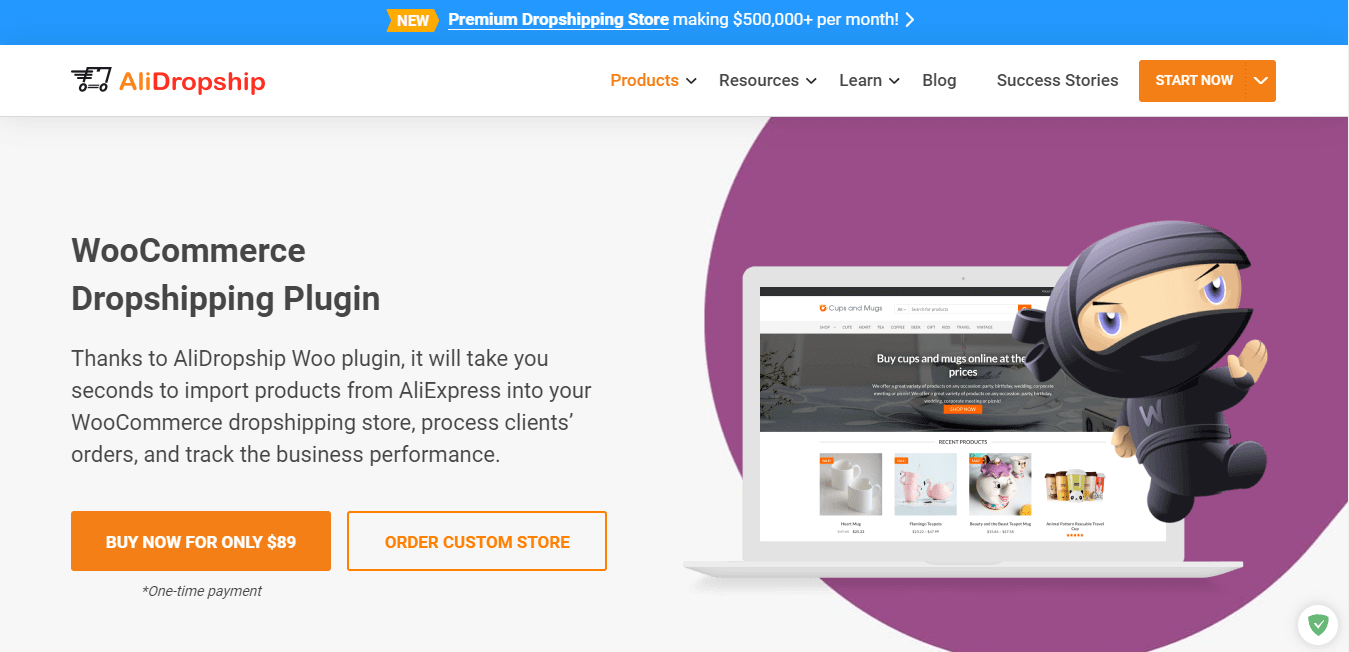 AliDropship plugin is extremely popular among entrepreneurs since it allows them to import products from Aliexpress with one click. You can manage orders from your WordPress dashboard and even place them automatically. This plugin has a set of compelling features you may need for your dropshipping site. There is an unlimited number of products to choose from and the possibility to send orders to suppliers with one click that saves your time and increases profits. Image editors, pricing automation, and ePacket shipping option will also be at your disposal. You can get your plugin just by paying for it once and take advantage of free updates and support. Moreover, the cash-back system gives you the possibility to get an 8% commission from each purchase on your site. Consider AliDropship Google Chrome extension to make importing products on the site as easy as possible. 
Key Features
Integration with

AliExpress

Ability to purchase a lifetime license

ePacket shipping filter

Quick pricing automation

Order tracking feature
3. AliExpress Dropshipping WooCommerce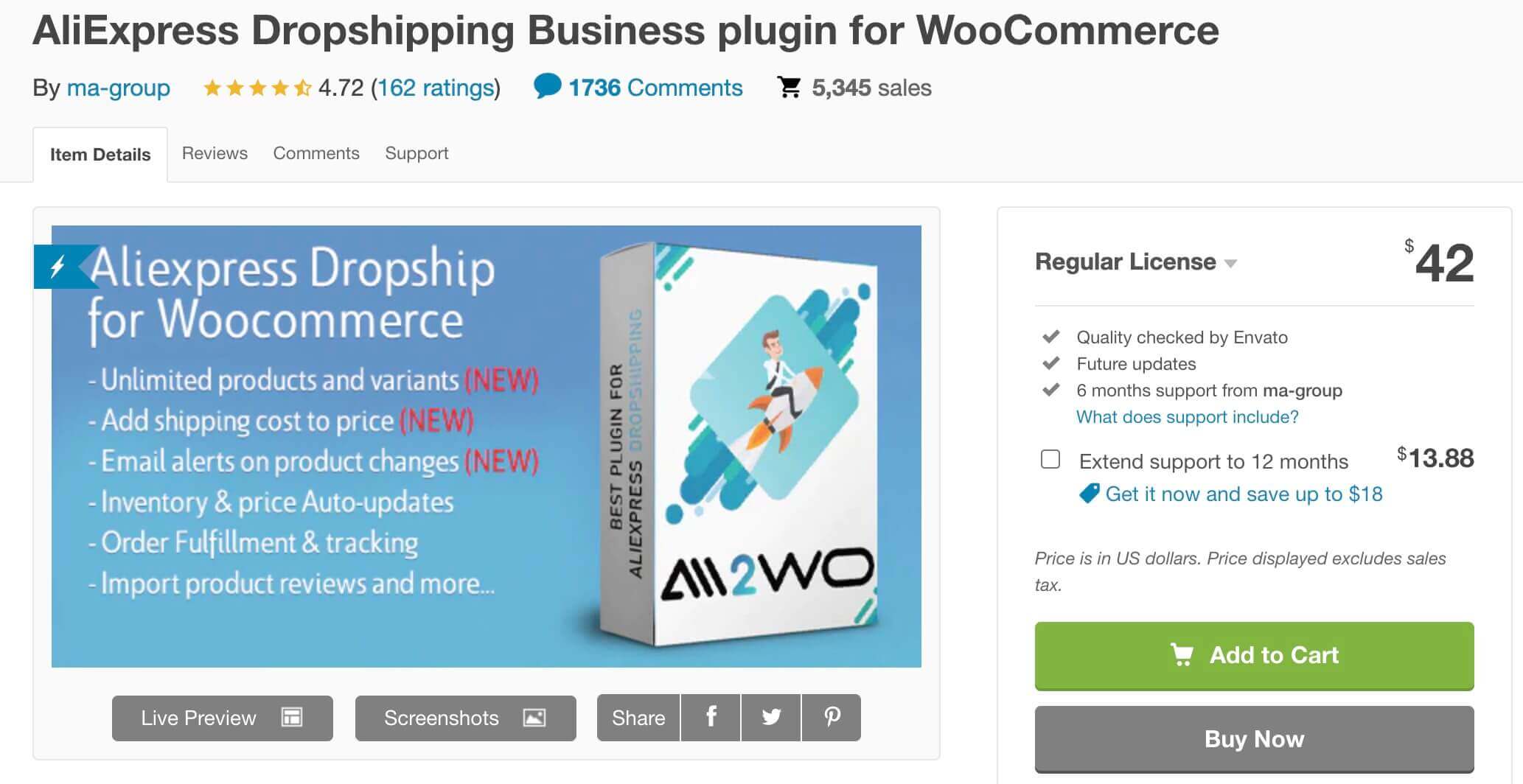 What is the AliExpress dropshipping plugin? It is a powerful WordPress plugin that has plenty of advanced features for your eCommerce. It's clear that you'll be able to import any products from AliExpress, integrate shipping and order fulfillment. With Ali2Woo, you can get profit from affiliate programs like AliExpress Portal, Admitad, or EPN. You can get immediate support if you wish to migrate to Ali2Woo from another plugin.  
Key Features
Shipping tracking

Product variants splitting

Free Chrome extension

Translation into different languages

4. WooDropship

WooDropship plugin is a great option enabling you to perfectly integrate with your WordPress website enabled by WooCommerce. In order to benefit from the WooDropship plugin, you need to install it and allow access to your store. The next step is importing Aliexpress products to your website. The limitless membership costs only 49$, and you will be able to import products without any limits, take as many orders as you can, benefit from priority support and variant mapping. Chrome extension will be helpful for importing from Aliexpress with one click. Besides, you can edit product descriptions, titles, and images if they do not match your site. What is more interesting is that you can change product prices to control your profit. 
Key Features
Lifetime license

Chrome extension available

Ability to customize product descriptions

Ability to adjust prices

Order tracking feature
5. Dropship.me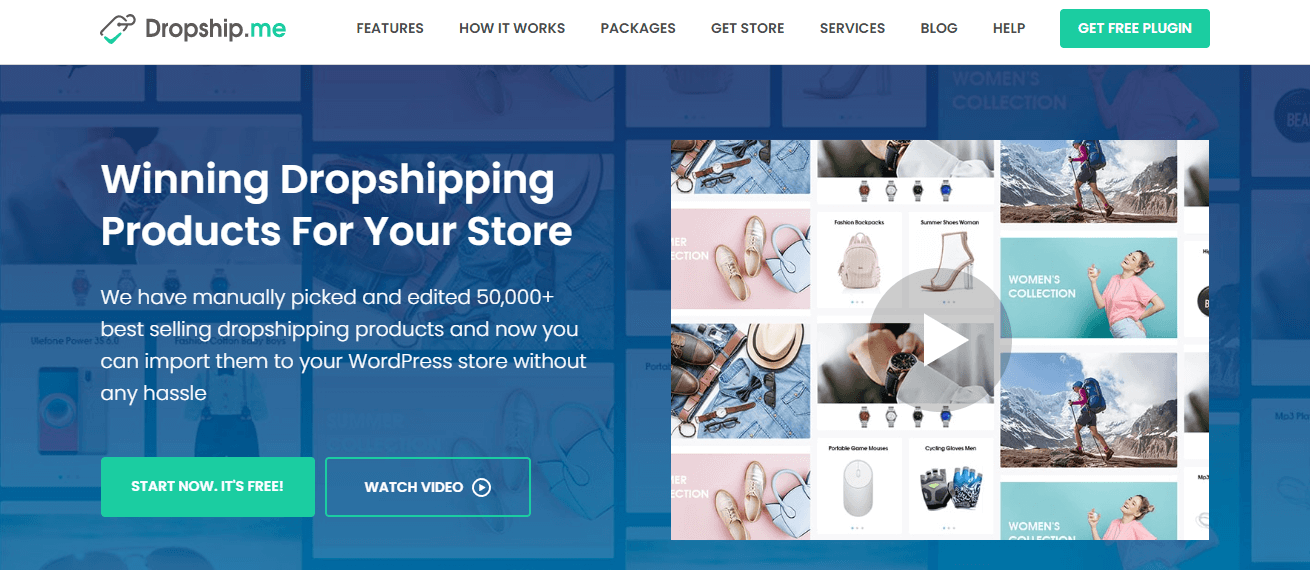 With the Dropship.me plugin you'll be able to run your online business as easily and effectively as possible. They offer you more than 50,000 sites where you can take products for sale. You do not have to worry about their quality as they were hand-picked by experts. There are three simple steps for starting your business with Dropship.me: install a free plugin, import products on your WordPress site, and enjoy the process of making money. Moreover, professional titles and images are available for each product, so you don't have to spend tons of time editing. Real customer reviews on the products are at your disposal as well. Download the Dropship.me the plugin and take advantage of a free plan that does not restrict the amount of money you can earn. 
Key Features
Free plan available

Over 50,000 handpicked products from trusted suppliers

Access to real customers reviews  

Recommended pricing markup

Edited titles and images
6. WP Amazon Shop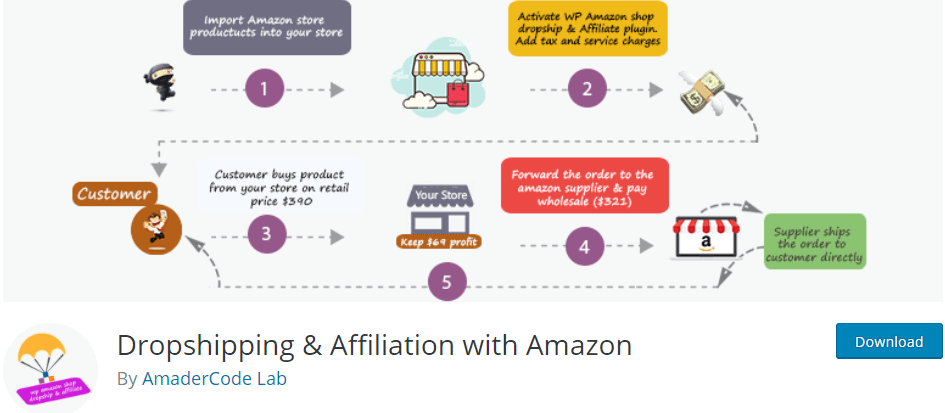 WP Amazon Shop for Dropshippers is a free WordPress plugin that allows you to import products from Amazon to your site. It has more than 7,000 active installations and plenty of positive customer feedback. People earn money with this plugin by adding a custom tax on each product. The style pricing option enables you to have automated calculations and an appropriate marketing look of prices: instead of 16.8674%, you will have 16.99$. You can also take advantage of a product availability option and have the item automatically removed from your site if Amazon runs out of it. Besides, Auto Import allows you to import products automatically with the help of keywords. 
Key Features
Free plan available

Automatic removal of products that are out-of-stock

Easy pricing settings

Product importing based on keywords

Product description import 
7. Dropified

Dropified is an amazing plugin that offers you two unique plans: an Import plan is great for importing products from Aliexpress and eBay, and a Private label on-demand plan for those who want to promote their own brand. It's possible to add your custom design labels on premium consumable products. Dropship your brand without any risks and additional costs. You will save time uploading products to your site since it happens only with one click. Forget about order details that you had to copy-paste for hours because Dropified does it automatically. Another useful feature is that you can use the AliExtractor tool to find profitable products for your online store. It's important to have positive reviews from real customers, and you will get them imported from Aliexpress vendors. You can rely on constant support from Dropified and take advantage of their 60-day training program. 
Key Features
Free plan available

Product description import 

Private label option

Access to real customers reviews  

60-days training program available
8. Ezusy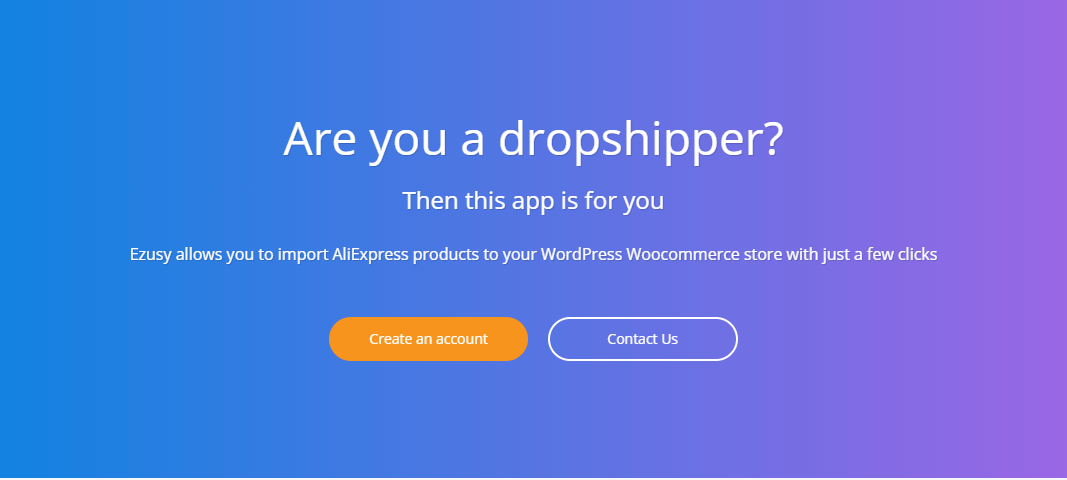 Ezusy plugin deserves your attention due to its stunning features that are constantly updated. Your WordPress Woocommerce store will be full of great AliExpress products just with one click. More than 12,000 stores chose Ezusy for their drop shipping activity due to its clear tutorial and fast support. There is a quick video guide on how to connect the plugin to your store, so check it out if you want to avoid any difficulties. Now, let's take a look at a number of Ezusy advantages. With ePacket, you can filter your products. Moreover, there's no need to make the orders manually on AliExpress since it's done automatically. Customize the product before it'll appear on your site and make it match your style and concept. In general, there are so many features that it'd be better if you familiarize yourself with them and benefit from this easy and comfortable-to-use plugin. 
Key Features
Free plan available

Video tutorials available

Automatic order placement on

AliExpress

Ability to customize product descriptions 

Inventory and price auto-updates
In Conclusion 
The abundance of different WordPress dropshipping plugins makes it challenging to make the right choice. Please, do not install many of them as it may affect your site performance. We wish you good luck in building your profitable business.
If you have further questions or requests, please feel free to contact us.

https://ninjateam.org/wp-content/uploads/2021/05/Best-WordPress-Dropshipping-Plugins.png
426
1210
Ninja Team
https://ninjateam.org/wp-content/uploads/2020/10/ninjateam-logo.png
Ninja Team
2021-05-17 15:43:37
2023-07-11 14:23:08
Best WordPress Dropshipping Plugins