How to Customize Dokan Emails
As an experienced WordPress and WooCommerce user, I have come to realize the importance of having nice and much better Emails sent out to WooCommerce store clients. Since the basic WooCommerce Email does not allow for much customization that would help serve store customers in the best possible way.
Thus, it is necessary to introduce another plugin that would help you have this WooCommerce Email customization capability. The tool to be employed must be able to help you customize the generic WooCommerce Emails and also should be compatible with many other WooCommerce addon plugins since there are other addons that also add some extra Email templates to the regular WooCommerce templates.
Therefore, in this article, I'll take you through the basic things you need to know about customizing extra Email templates added to WooCommerce by a specific WooCommerce addon plugin called 'Dokan' using a specific WooCommerce Email customizer called 'YayMail'.
Contents to be discussed
Why Customize Email Templates?
What's YayMail?
What is Dokan Multi Vendor?
YayMail's Addon for Dokan?
The Dokan Templates Customizable With YayMail
Common Design Customizations
How to Customize Dokan Email Template With YayMail
Why Customize Dokan Email Templates?
For many beneficial reasons, you can customize your Dokan Email templates, some of these include the following:
The generic Email template that comes with Dokan will certainly appear very similar across all web stores that use Dokan. To make your Dokan Emails stand out, customize these generic Dokan templates. It will help you add some unique touches of customization to them by editing with YayMail.
YayMail gives you more flexibilities by allowing you to add so many extra elements to the Dokan Email templates. Helping you spice up your designs, instead of accepting the generic 'take-as-is' kind of design.
You have the ability to include more information in the Emails like personalization and brand centralization.
What is YayMail?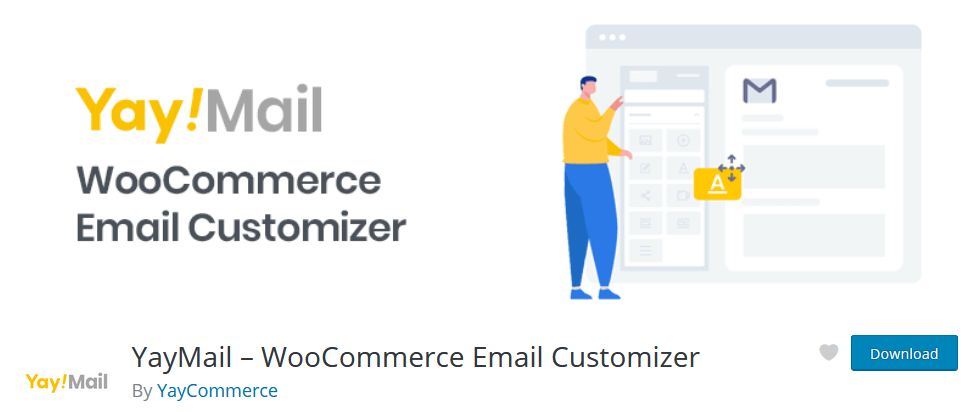 YayMail – WooCommerce Email Customizer is a WordPress plugin that gives you the ability to customize emails sent out by WooCommerce. Its drag and drop editor makes it super easy to edit the emails to the desired state that suits your business. You can add images, use different fonts, icons, colours, and so on.
YayMail comes in two forms including:
Free: A free plugin to help you fully customize 11 standard WC email templates
YayMail Pro: A paid plugin including all the free features, AND compatible with various third-party WordPress/WooCommerce plugins
What is Dokan Multi Vendor?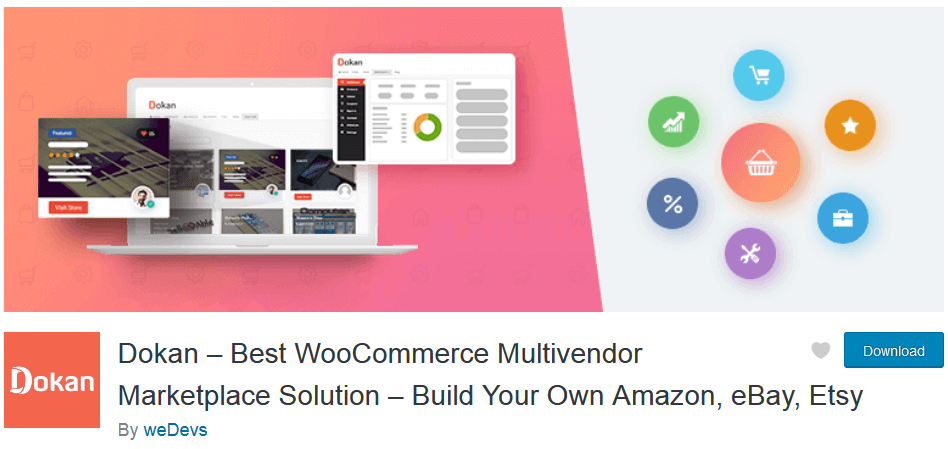 Dokan – WooCommerce Multi Vendor Marketplace extension allows you to create an online marketplace with multiple sellers. You will be able to earn via various types of products: physical, downloadable, bookable, auction products and so on.
What is YayMail's Addon for Dokan
The YayMail's addon for Dokan is an additional PRO version addon plugin for the stand-alone YayMail plugin. It works either with the free version or the PRO version of the YayMail plugin. It can help you customize the majority of the Dokan Multi Vendor plugin Email templates.
Note:
This YayMail Addon for Dokan will work with either the free version or the PRO version of YayMail stand-alone plugin, but it is a PRO plugin itself.
The Dokan Templates Customizable With YayMail
The Dokan Multi Vendor plugin have different default mail templates that comes with it, all of these template designs are customizable and they can be branded with Colors, Logos, Fonts etc.
These templates include:
Dokan New Product – This notifies the admin when seller added a new product of status publish.
New Pending Product – Email notifies the admin when seller add a new product of status pending
Dokan Pending Product Published – Notifies sellers when admin review sellers product and make it publish
New Seller Registered – Notifies admins when a new seller registers on dokan
Dokan New Withdrawal Request – Notifies admin when seller make a withdraw request
Withdraw Approved – Notifies seller when admin approve seller withdraw request
Dokan Withdraw cancelled – Notifies sellers when admin cancel seller withdraw request
Contact Vendor – Notifies sellers when a new customer contacts them via message form
Dokan Vendor New Order – Notifies sellers when a new customer places new order
Vendor Completed Order – Notifies customers when their order is completely processed by seller
Dokan Announcement – Notifies the sellers when admin makes an announcement
Updated Pending Product – Notifies sellers when admin updates their pending product
Dokan New Refund Request – Notifies the seller when vendor request refund
Refund Processed – Notifies the customer when their refund is processed by seller
Dokan Vendor Enable – Notifes the vendors when their account is enabled by the admin
Vendor Disable – Notifes the vendors when their account is disabled by the admin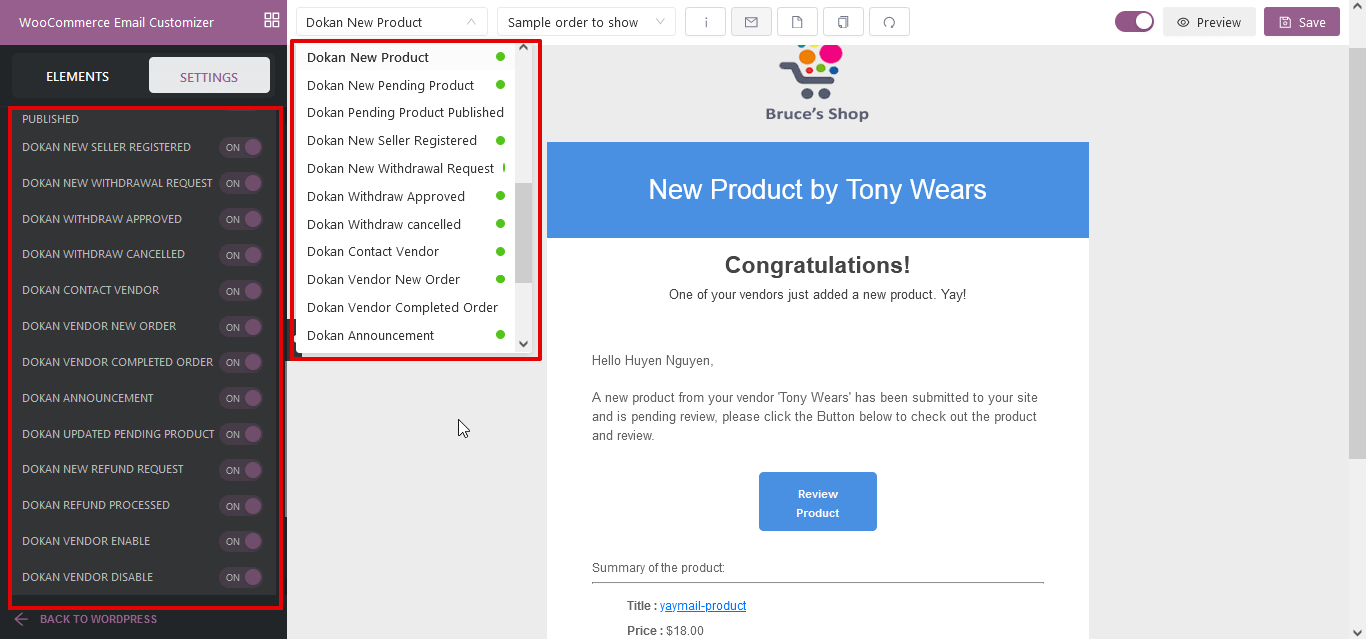 Common Design Customizations
Some of the common Design Customizations you can use include:
Header Image – An image that you'd like to display at the top of all emails. You might want to use your logo or other brand imagery here.
Footer Text – Information found at the bottom of each email. Include a link to your website and contact information to make it easy for your customers to get in touch.
Base Color – The color used for headings, links, and the background of your email title.
Background Color – The color used for the background of the email.
Body Background Color – The color of your email content background.
Body Text Color – The color for all written email content.
How to Customize Dokan Email Template With YayMail
As an example, I will explain how to customize the 'Dokan New Product' Email template. Ideally, it is just the same method if you are customizing other Dokan Email templates too.
You can customize the 'Dokan New Product' email template via your wp-admin > WooCommerce > Email Customizer > Dokan New Product.
Here is a screenshot that shows the default WooCommerce design for this Dokan template: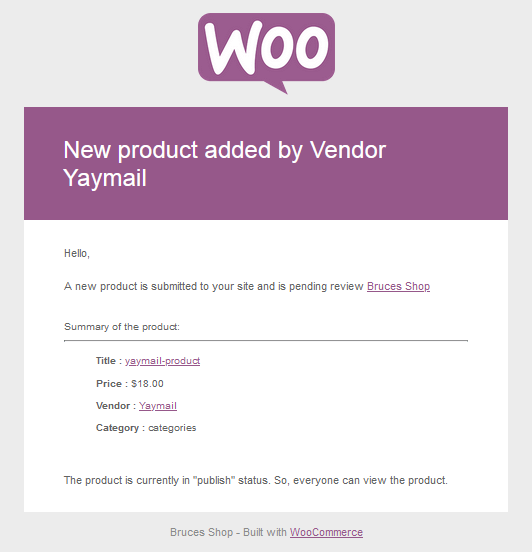 Now, we can follow these easy steps to make a better design:
Change the Logo: You can change the Logo by clicking on the default WooCommerce Logo and change it or simply by clicking on the "Element" tab and then drag and drop the Logo element to the top layer of the design.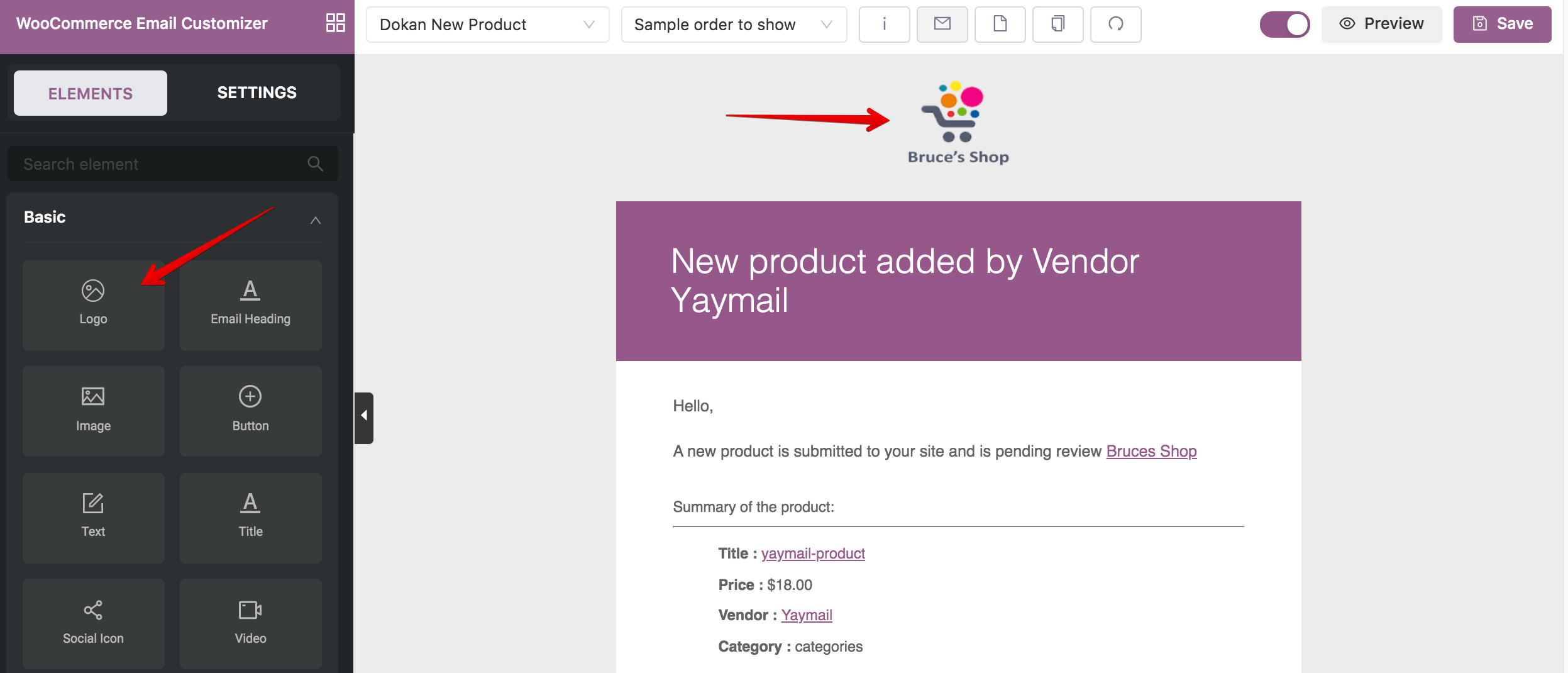 You have many customizations for the logo such as align, padding, link, width, background color, .etc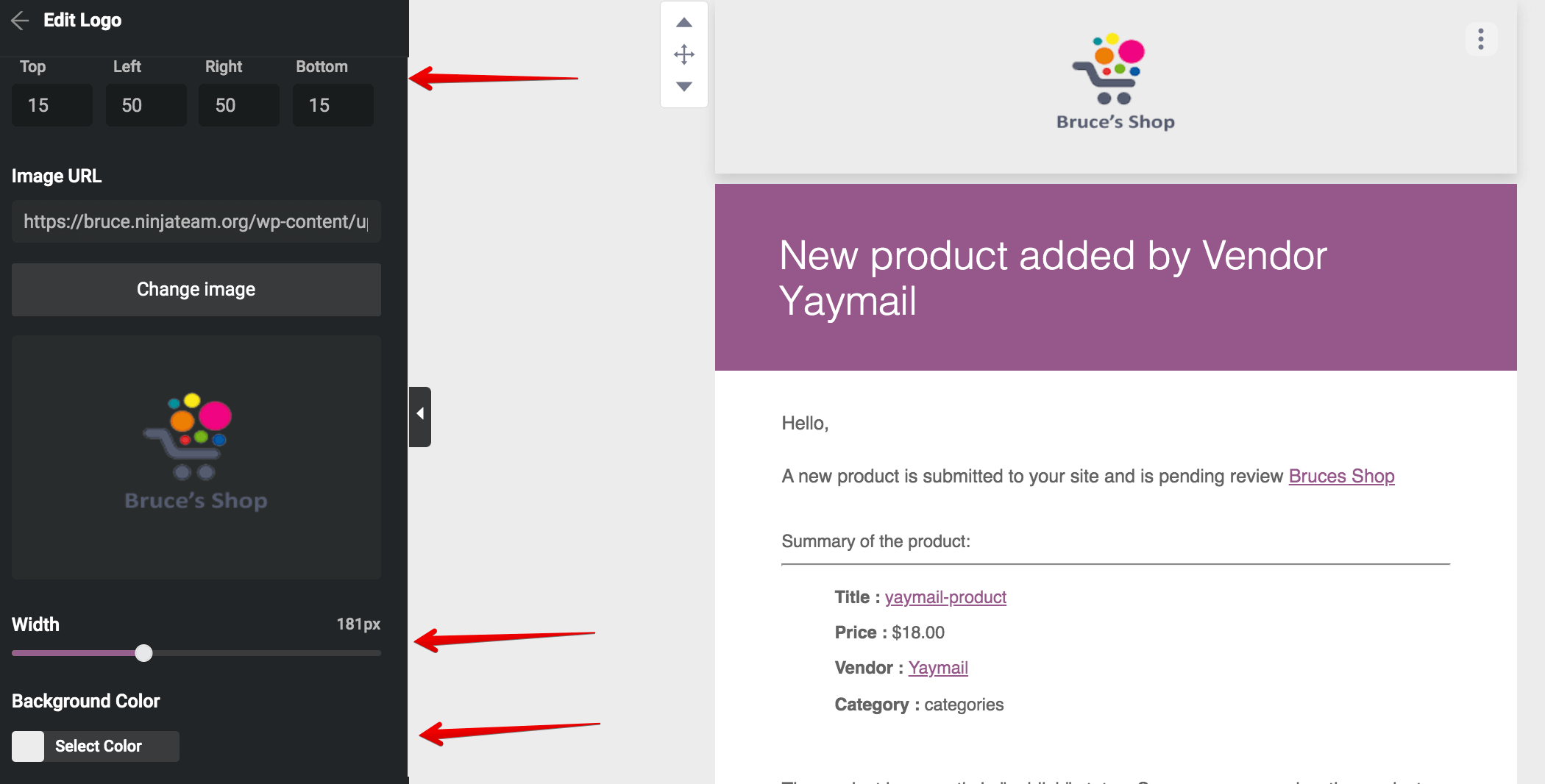 Set the Heading color: This the color of your Order Title background and it is better to set this based on your website's color scheme and color consistency.

Change the Title text: This is the title of the email and this can be designed by clicking on the title and then changing the font type, font color etc.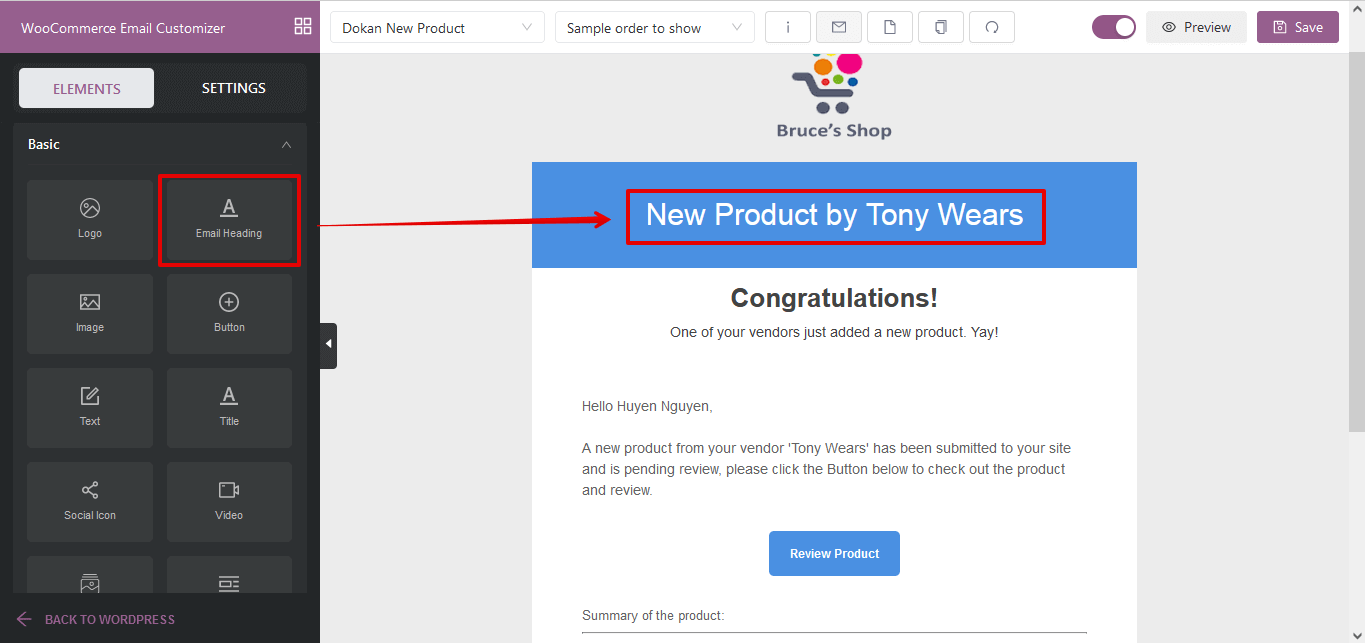 Add a Heading text: You can add a header texts, something nice to motivate your customers by clicking on the "Elements" tab and dragging and dropping the "Text" element to the canvas.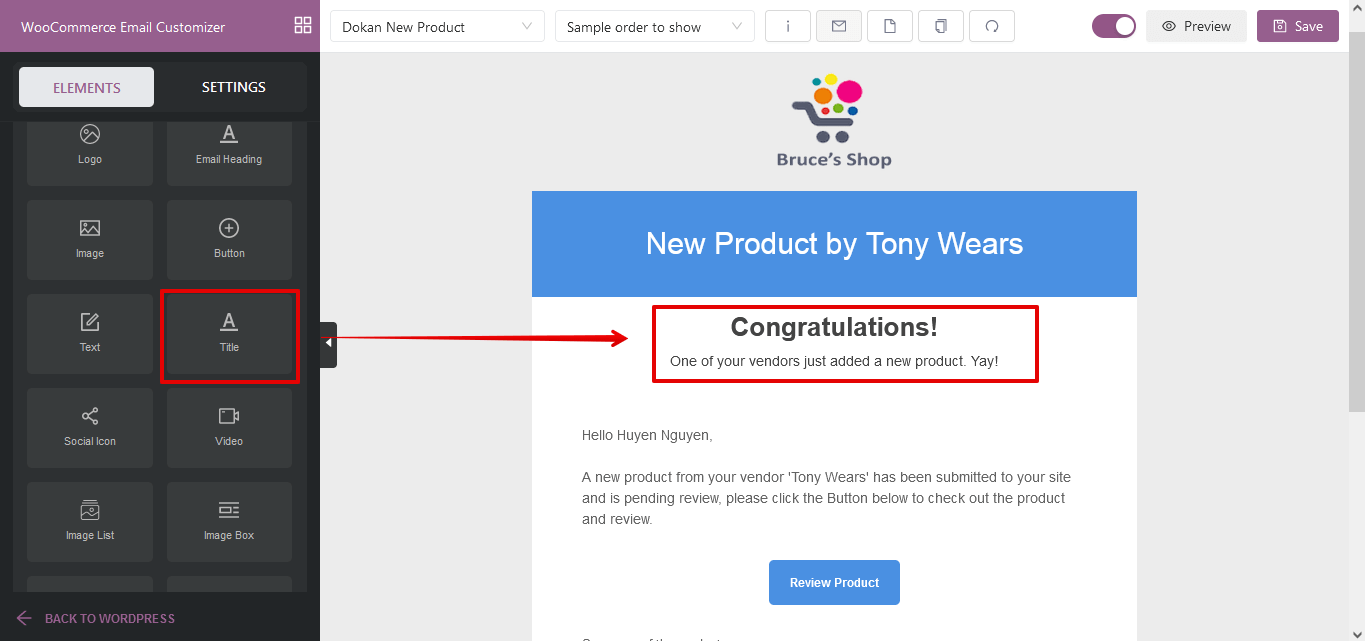 Personalize some parts of the Email content: This is a very cool way to win the hearts of your customers with a touchy and personal email, you can add or edit a "Text" element, then click on the "shortcode" options to see available name shortcodes to add in the text, so as to call each customers name in the email.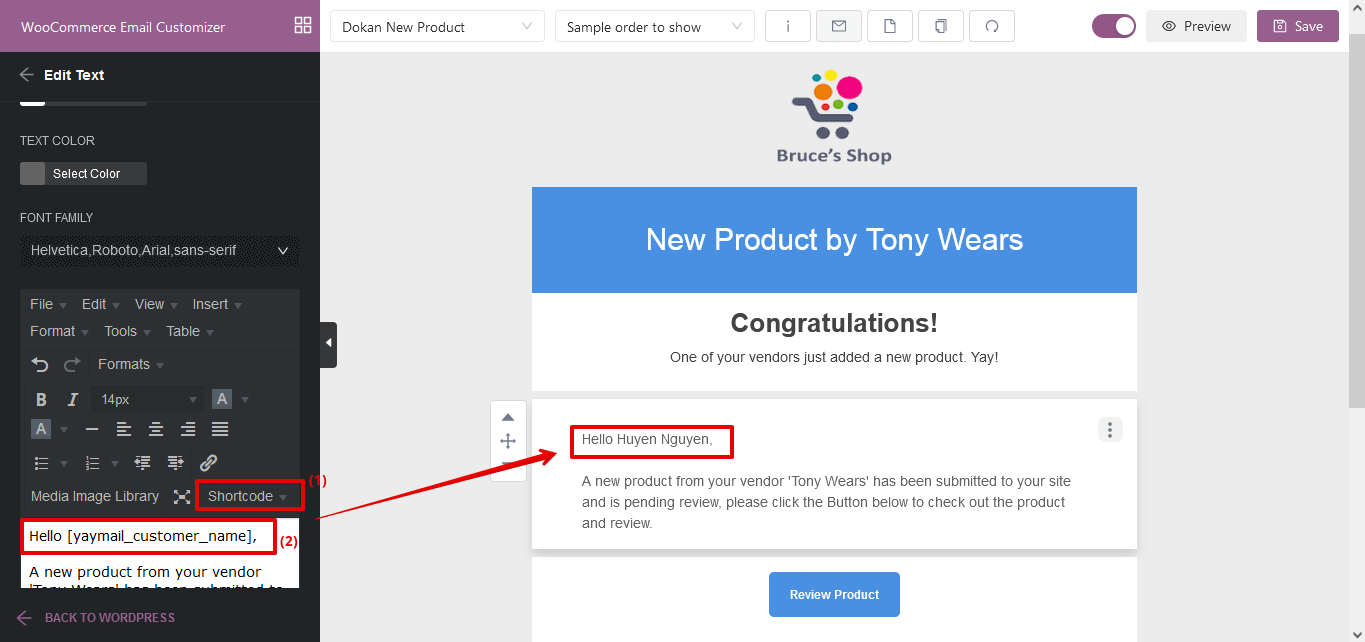 Add a Button at the bottom and change its color for consistency: You can add a button by dragging and dropping to the working canvas via the basic "Elements" tab.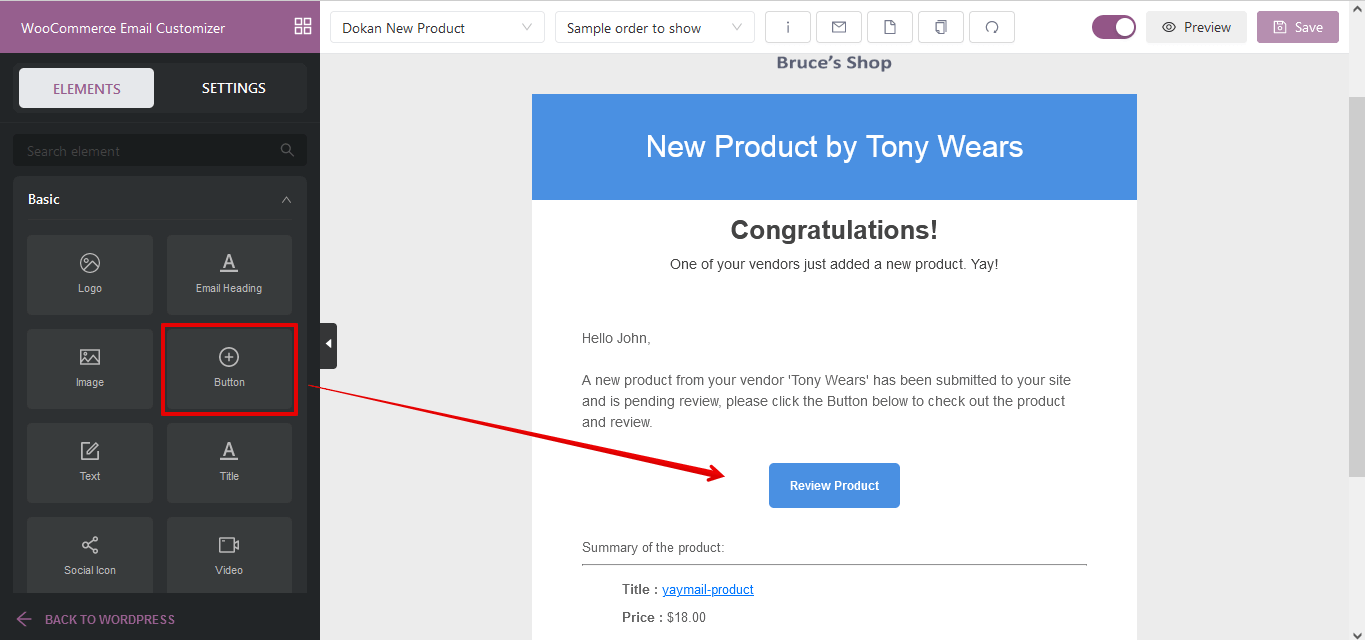 Add a nice footer text: A footer text is not so necessary but in fact, if well used it might add some spice to your designs and it might just be a great way to add watermarks, special link, unsubscribe link etc. You can click to edit the existing one or add a new footer text via the basic elements from the "Elements" tab.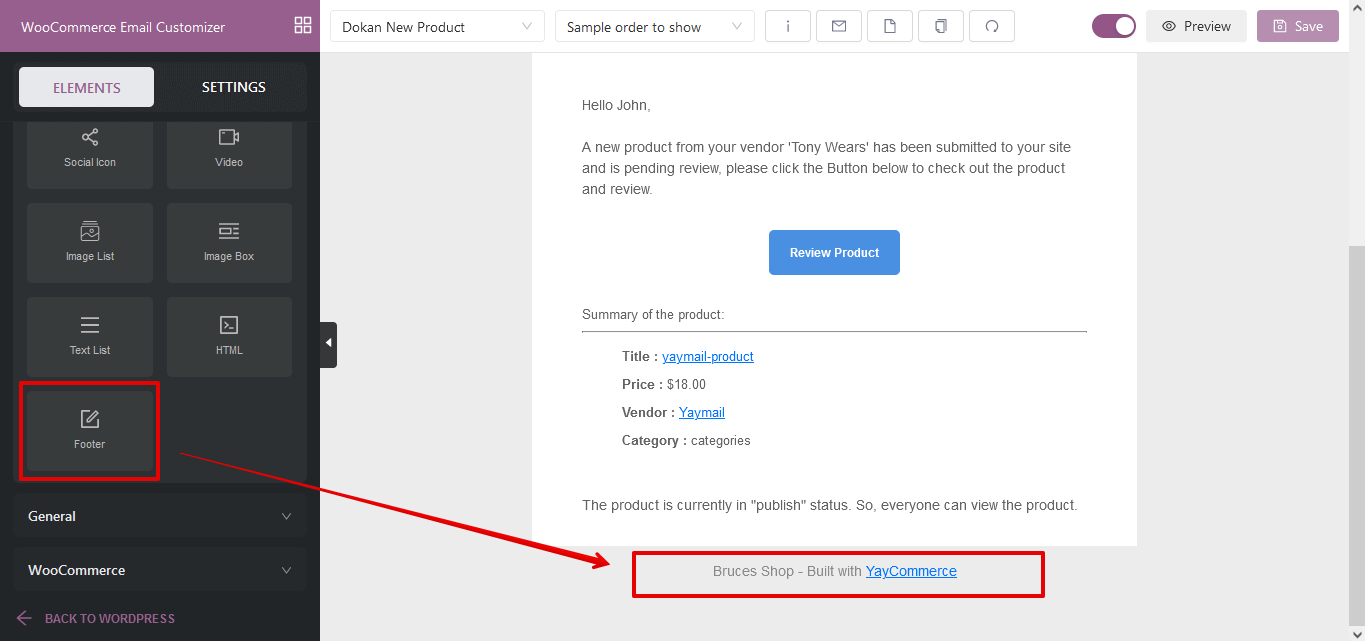 What next after customizing Email template?
Send test email: One-click to send a test message to any email address to see how your designed email would look like in the inbox.
Preview: Instantly view your customized email in a pop-up at full-screen mode. You can see how it looks on desktop and mobile devices.
Save: Save your edits at any point in time.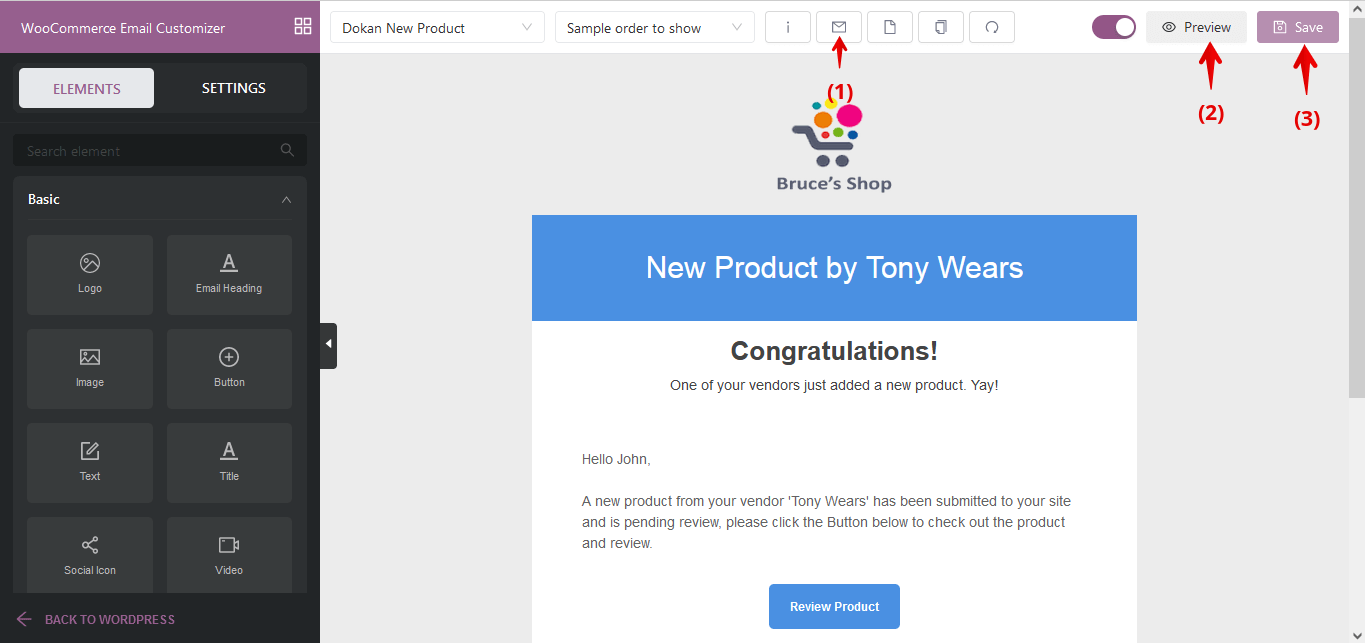 Here is a screenshot that shows our new design for this Dokan template customized with YayMail: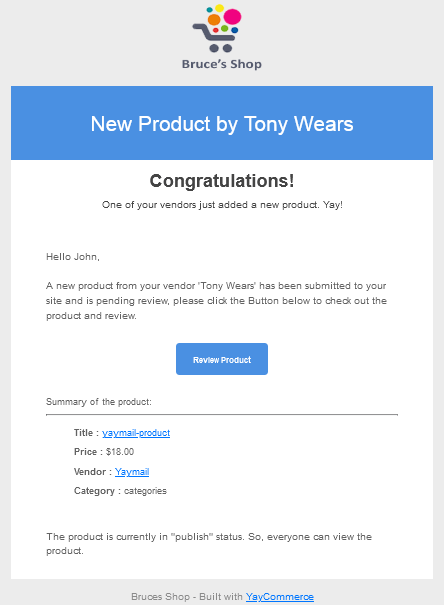 Wrapping Up
In conclusion, this article has discussed how to customize Dokan Email templates with an easy to use Dokan addon plugin for the YayMail plugin. We now understand why it is important to have better, personalized and brand-centralized Emails sent to your customers, vendors and site admins.
Basically, there are three tools discussed in this article; YayMail, YayMail addon for Dokan and Dokan multi-vendor plugin. YayMail is an Email Customizer for WooCommerce that is accessible in both free and premium variants.
The free form is presumably enough for most sites, but you need the premium addon for Dokan to help you design Dokan Email templates.
https://ninjateam.org/wp-content/uploads/2021/07/Customize-Dokan-Emails.png
426
1210
Ninja Team
https://ninjateam.org/wp-content/uploads/2020/10/ninjateam-logo.png
Ninja Team
2021-10-26 21:57:36
2021-10-27 13:51:39
How to Customize Dokan Emails