How to submit for Facebook App Review – Bulk Sender
Below is the process of how to get Facebook app approval for Bulk sender plugin.
Prerequisites:
A live website (your website must look like a real site with articles and products)
Business License/ Personal Documents to be verified
Approval needed:
pages_messaging
manage_pages
Page Subscription Messaging
===pages_messaging and manage_pages
♦ Please watch this video to know how to submit for these two permissions
♦ For the screencast needed to submit, you record one video like the one below. Remember don't use exactly this one. You need record one by yourself showing how the permissions demonstrate clearly.
♦ For the content submitted, you can refer to this document but remember to provide your own information such as admin login credentials. If your site has "My account" page, please provide one more account for this so that Facebook team will easily access to test. https://goo.gl/nfgNZX
You can read more about Facebook verifications here:
===Page Subscription Messaging
Follow this instruction to get this permission.
https://ninjateam.org/how-to-get-subscription-messaging-approval-for-your-facebook-page/
Done!
==================
NOTE AFTER SUBMITTING THE APP FOR REVIEW
The following are the possible events that you could experience:
1. A good number of the review team would go ahead and send this kind of message to the associated test page that you added during the setup "This is a test message from the Facebook team. Please respond from your App within 2 days to confirm that the integration is functioning":
Then, you need to respond within 2 days as stated by them from the App by going to your website dashboard and then opening the Bulksender plugin to check for new leads, where you should see some of the reviewers already added as leads in the plugin, some of them do not have profile pictures shown while some would not have their Names displayed, so make sure you check for these strange leads then send them the response message that was requested by them, just select all their leads and send a message like this "Hi there, this is a test message from the App as requested by you. Thanks for considering to accept our permission request." :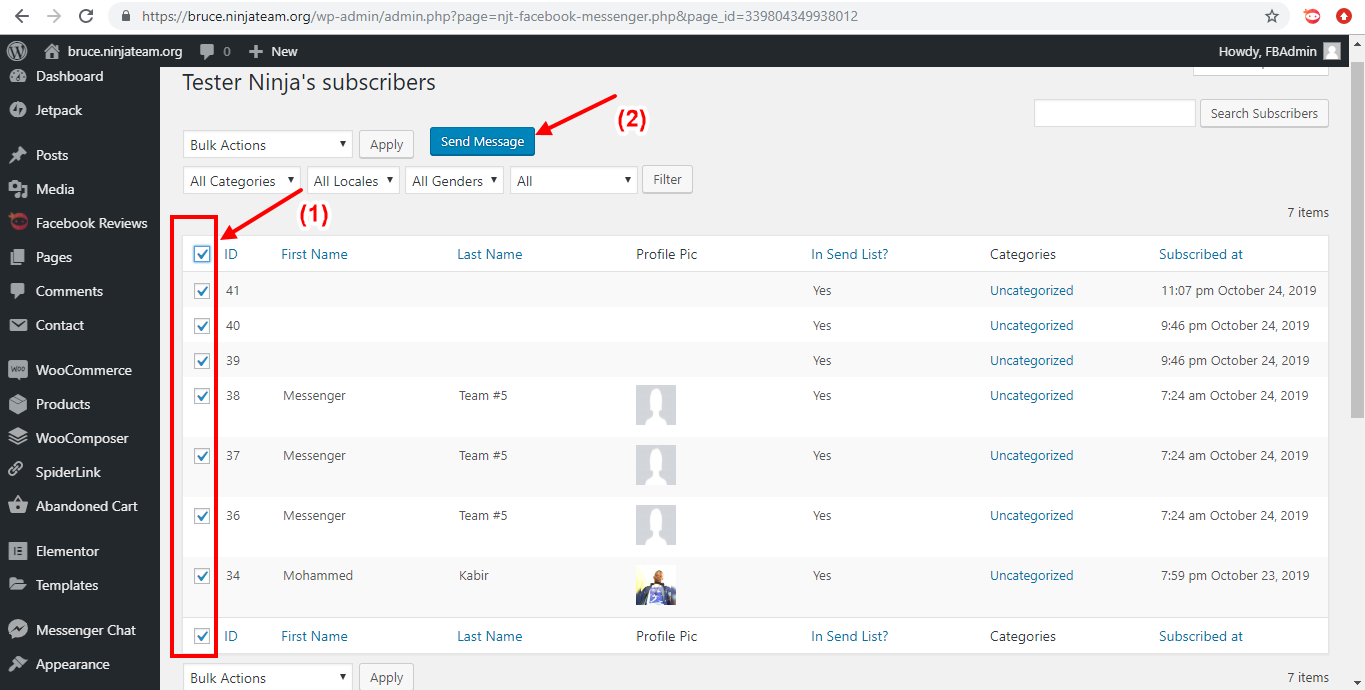 After, the message has been sent, then you should get your App permission requests approved: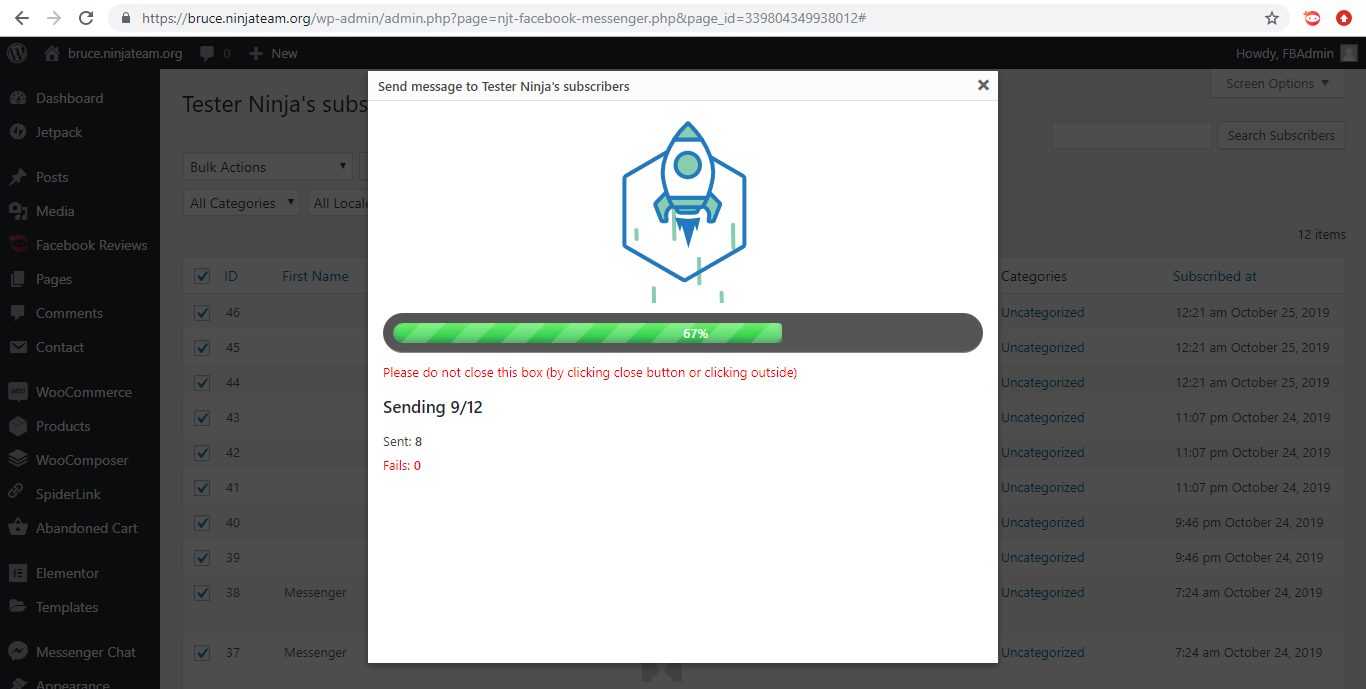 2. If you followed step 1 from above and your App permission request still gets rejected, then it is most likely due to the fact that  majority of the review team are not so learned about the App review processes or they failed to check the well outlined text instructions and screencast submitted with the review. So, here are the two options that we do employ to solve this issue:
(a). We keep on submitting the App permission request until maybe once a time the request gets to someone else amongst the review team with better understanding of the review platform then gets to see the request and accept it normally, because surely, the team does have work rotations, so it's not just a single reviewer on the other end who does the reviewing forever.
(b). Right at the App review result interface, there is an option which says something like this "Confused about your App review results? Ask a direct question from support" You could get in touch with the support unit at this App review section, because the team at the support unit have shown to have more experiences in the process and surely would take a closer look at the request which increases the chances of the App request getting accepted.
Note:
– Sometimes the support team at this section replies very slowly, so you need to send them sequential follow ups if they seems taking more than 48 Hours to reply.– Whilst you get in touch with the support team, make sure you are still resubmitting the App request. Here are some of the sample feedbacks we got from the support team:
https://www.screencast.com/t/H9FT2lyl
https://www.screencast.com/t/bhBmpGpBooQg
==================
If  you have any question, please submit a ticket at Our Support System or feel free to chat with our support team at Our Official Facebook Page
Many thanks,
Ninja Team
https://ninjateam.org/wp-content/uploads/2020/10/ninjateam-logo.png
0
0
Ninja Team
https://ninjateam.org/wp-content/uploads/2020/10/ninjateam-logo.png
Ninja Team
2018-05-25 08:35:57
2019-11-04 16:50:47
How to submit for Facebook App Review – Bulk Sender