In this article, we will show you how to submit your own app for review.
Requirements:
A live WordPress website
A legal business or Personal documents to be verified
Permission needed:
pages_read_engagement
pages_messaging
*Note: Don't make your app live until it is approved.
1. How to submit your app for the above 2 permissions
2. Content for submission: https://goo.gl/gLHMz1
3. Screencast for submission: Below is how your screencast should look like. Please record one by yourself.
Note: Make sure the Facebook popup must show up in your screencast.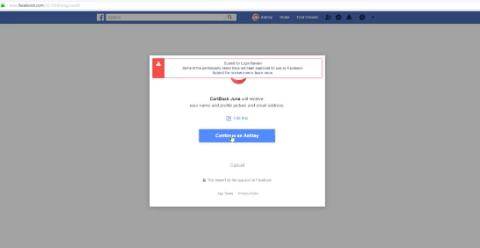 If you have accepted the popup before, please remove the app here to make it appear again.
You can read more about Facebook verifications below:
Done! Just wait for the approval then you can make the app live!
==============================
IF YOUR APP IS REJECTED, FOLLOW OUR GUIDE BELOW
It is not something new to us that sometimes the Facebook review team reject our request with a reason such as "We were unable to verify the use case(s) of your requested permission when we logged into your app. As a result, you'll need to resubmit your app and ensure that the requested permission is correctly integrated so that we can complete testing.", so, here is the thing; the review team obviously kept on rejecting the App review request because they are not so learned about the App review processes and they also failed to check the well outlined text instructions and screencast submitted with the review.
So, here are the two options that we do employ to solve this issue:
1. We keep on submitting the App permission request until maybe once a time the request gets to someone else amongst the review team with better understanding of the review platform then gets to see the request and accept it normally, because surely, the team does have work rotations, so it's not just a single reviewer on the other end who does the reviewing forever.
Here is the evidence where we tried this method for testing purpose with our last submission:
https://www.screencast.com/t/29LSk4Kp0oy
2. Right at the App review result interface, there is an option which says something like this "Confused about your App review results? Ask a direct question from support"
You could get in touch with the support unit at this App review section, because the team at the support unit have shown to have more experiences in the process and surely would take a closer look at the request which increases the chances of the App request getting accepted.
Note:
– Sometimes the support team at this section replies very slowly, so you need to send them sequential follow ups if they seems taking more than 48 Hours to reply.
– Whilst you get in touch with the support team, make sure you are still resubmitting the App request.
Here are some of the sample feedbacks we got from the support team:
https://www.screencast.com/t/H9FT2lyl
https://www.screencast.com/t/bhBmpGpBooQg
If you have any questions, please submit a ticket at Our Support System or feel free to chat with us at Our Official Facebook Page.
Many thanks! ;)
https://ninjateam.org/wp-content/uploads/2020/10/ninjateam-logo.png
0
0
Ninja Team
https://ninjateam.org/wp-content/uploads/2020/10/ninjateam-logo.png
Ninja Team
2018-06-13 09:49:20
2020-06-22 09:39:01
How to Submit Your Facebook App for Review – CartBack