Jetpack grammar checker feature is a great way to tackle spelling and grammar errors while blogging with WordPress. As of Jetpack v7.3, however, the Proofreading module is no longer included.
Still want to get the best out of your grammar when you blog or host a site on WordPress? Then you're in luck!
We get it! Spelling and grammar can be very complex when writing for WordPress. If you catch only one or two errors, then chances are, your article or document may be riddled with more. And, if those errors are left unchecked, then readers will notice and may doubt your credibility.
How do you stop the errors from recurring? And how can you ensure that your writing is the best on WordPress?
In this article, we will talk about why and how Grammar WordPress Plugins are important for your WordPress site, along with 5 best alternatives to Jetpack grammar checker to date.
Why to Have Online Grammar Plugins?
Sometimes, writers will make mistakes when they write – and experienced writers are no exception to this. This is especially apparent whenever you're proofreading your own articles, but sometimes, it can be easy to overlook a few errors. No matter how long you stare at the screen to skim through your work before publishing, chances are, you'll let a handful of errors slip through the cracks at launch.
Now, while reading your articles aloud is one option, it might not be enough to ensure you're your article is free of errors once you publish it on WordPress. The worst-case scenario is when you try to rush through with proofreading before launch. Don't let that be you!
To improve the overall readability of your articles, it's important to implement plugins for WordPress that can help you with spelling and grammar. These grammar checker tools can detect any typos or other errors as you type up your article, which allows you to save time spent on proofreading.
With that in mind, check out these 5 plugins that you can use to improve your grammar when using WordPress:
1. E-Prime Grammar Checker (Metapult)

E-Prime is a powerful, professional-orientated spelling and grammar corrector for WordPress. It automatically detects mistakes and fixes them. As it proofreads your entire blog posts, it also blocks low-quality posts and comments that you want on your site.
Here are some of the benefits of E-Prime Grammar Checker:
Automatic correction on all (or selected) posts with the click of a button
Proofread individual posts, if desired
Visualize all mistakes in an individual post
Regularly updated for speed, optimization, and the best checking results
Monitors all posts in real-time
Support integration for best WP plugins, including Yoast SEO
2. Proofreading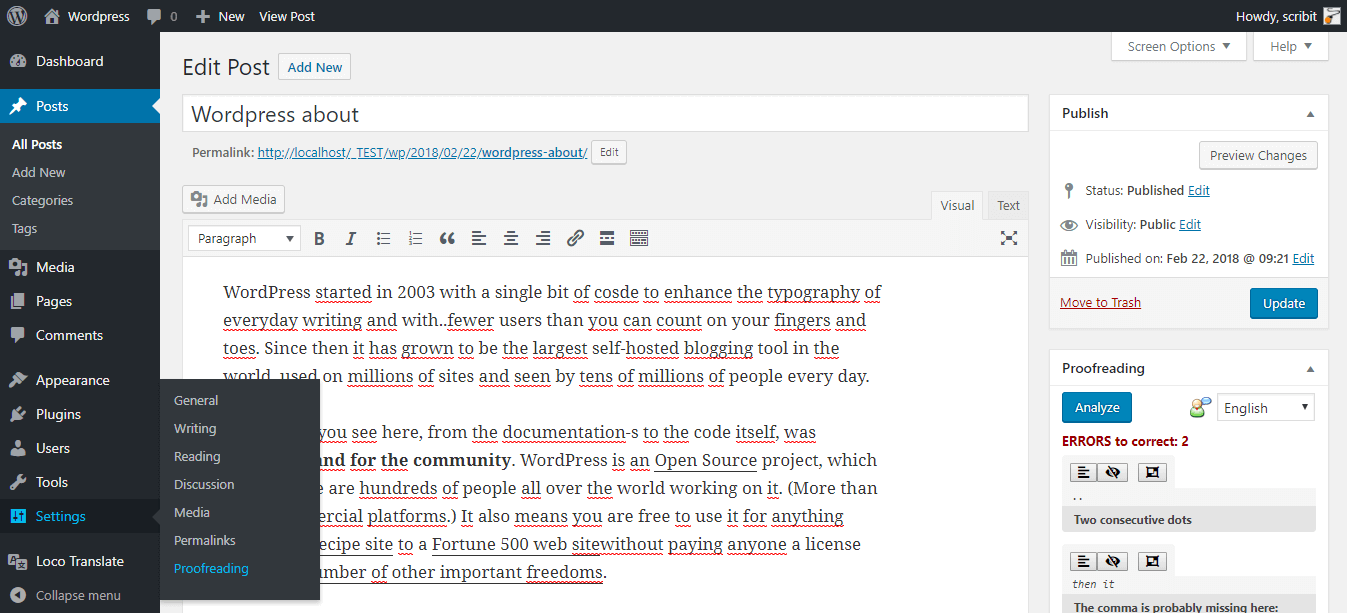 The Proofreading plugin allows you to improve the quality of your posts, pages, and everything else on your WordPress website. It allows you to recognize different types of errors by pressing the "Analyze" button.
These errors include:
Typos
Punctuation
Typography
Commonly Confused Words
Nonstandard phrases
Semantic
Grammar
Redundant Phrases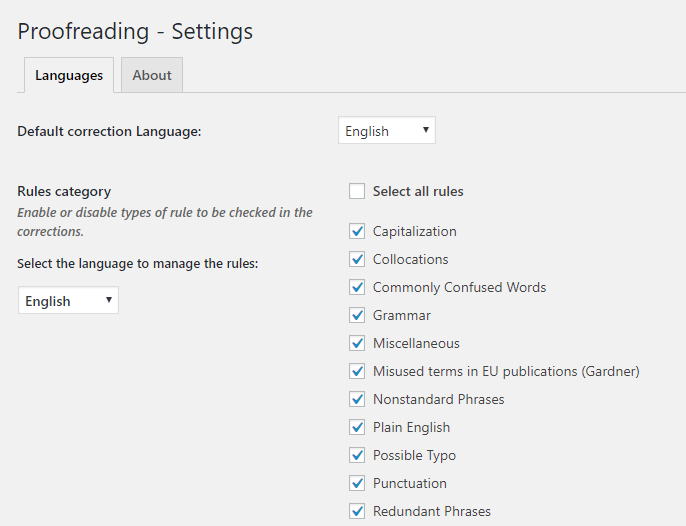 In addition, the Proofreading plugin supports the following languages:
English
Spanish
German
Italian
Japanese
French
Portuguese
Russian
3. Content Style Guide and Grammar Checker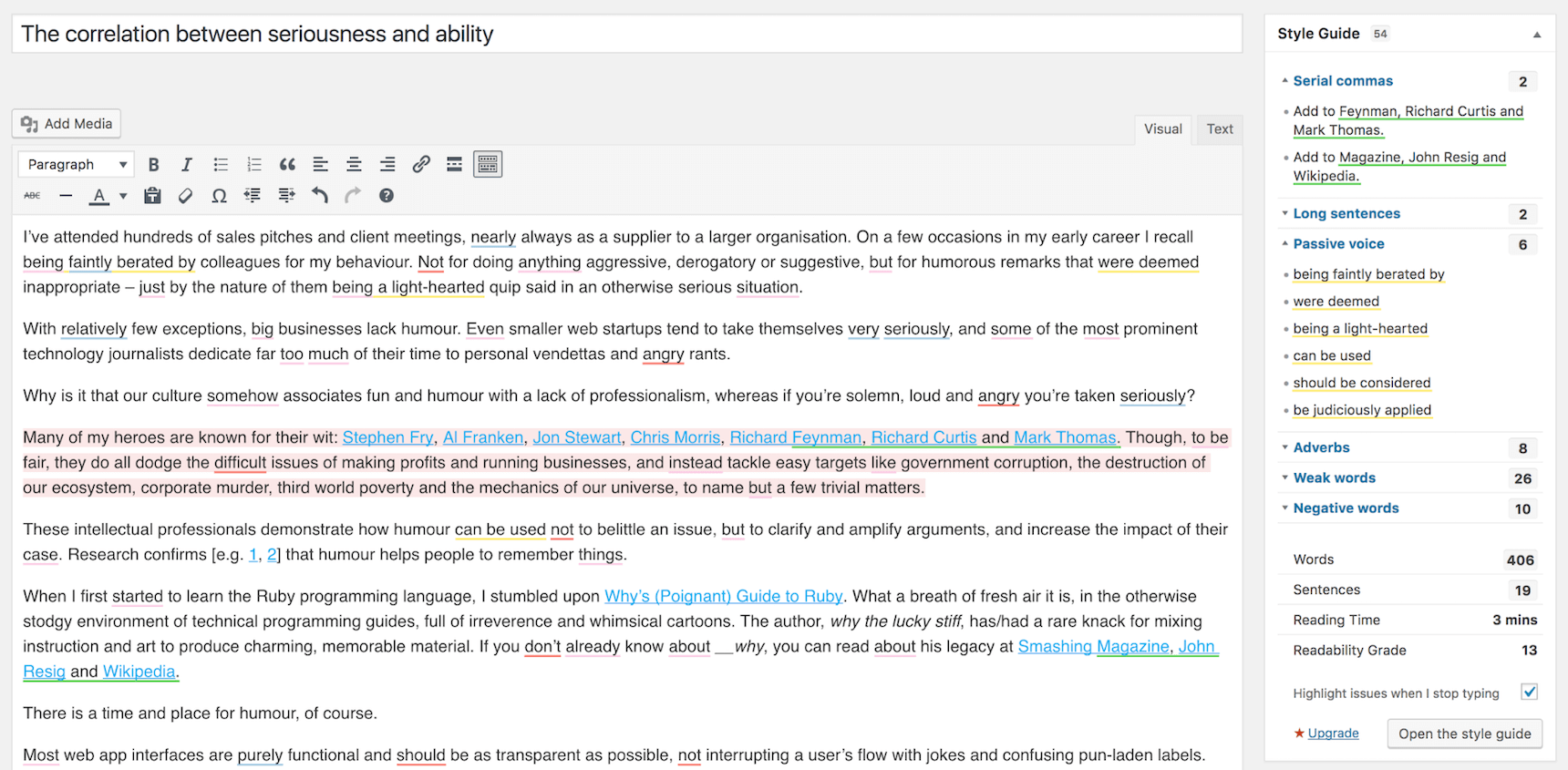 Want more security, better performance, and effective site management for your WordPress site? Then look no further than this Grammar WordPress Plugin from Editist, as it gives you the following benefits: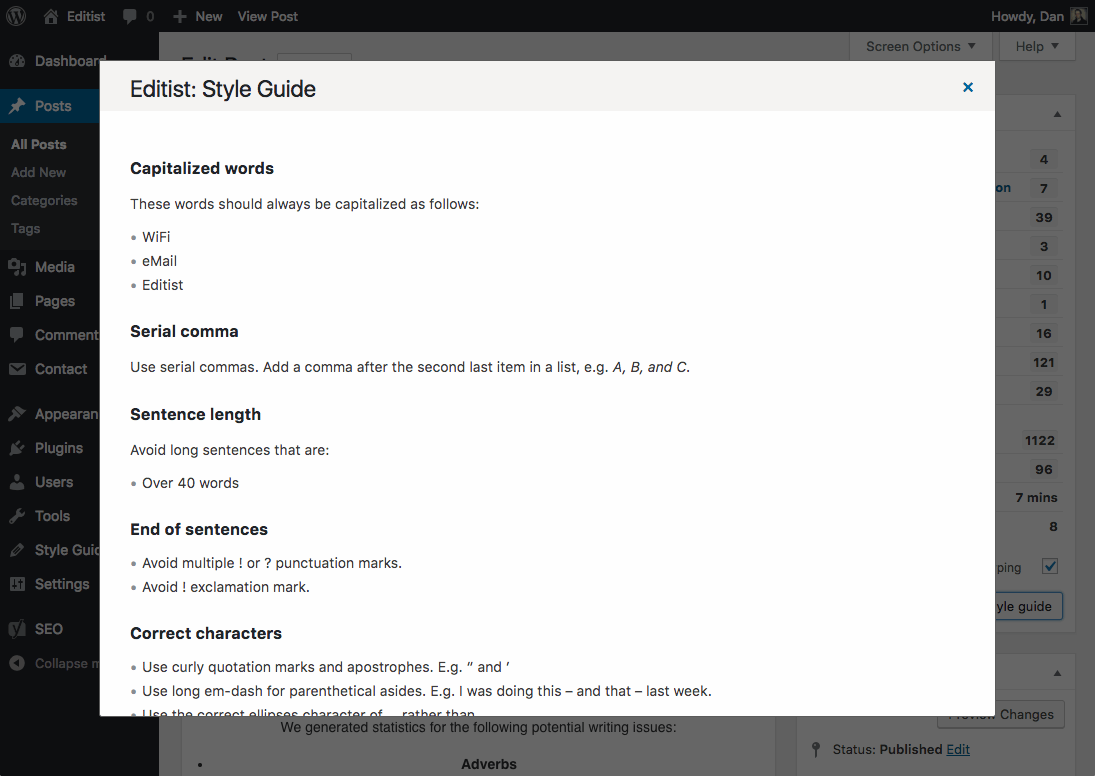 Provides real-time content style guide rules based on the documented set of rules you get to choose from
Define your own style guide based on what you want to achieve and the type of brand you have
Saves you time detailing the rules of adverbs and Oxford commas
Easy to setup and use, installed within a matter of minutes
Full five-star ratings from WordPress users around the world
Customizable error detection highlight delay based on when you want it to appear and notify you
Style guide box option in the form as you write, so all features are at your fingertips whenever you want them.
4. WP Spell Check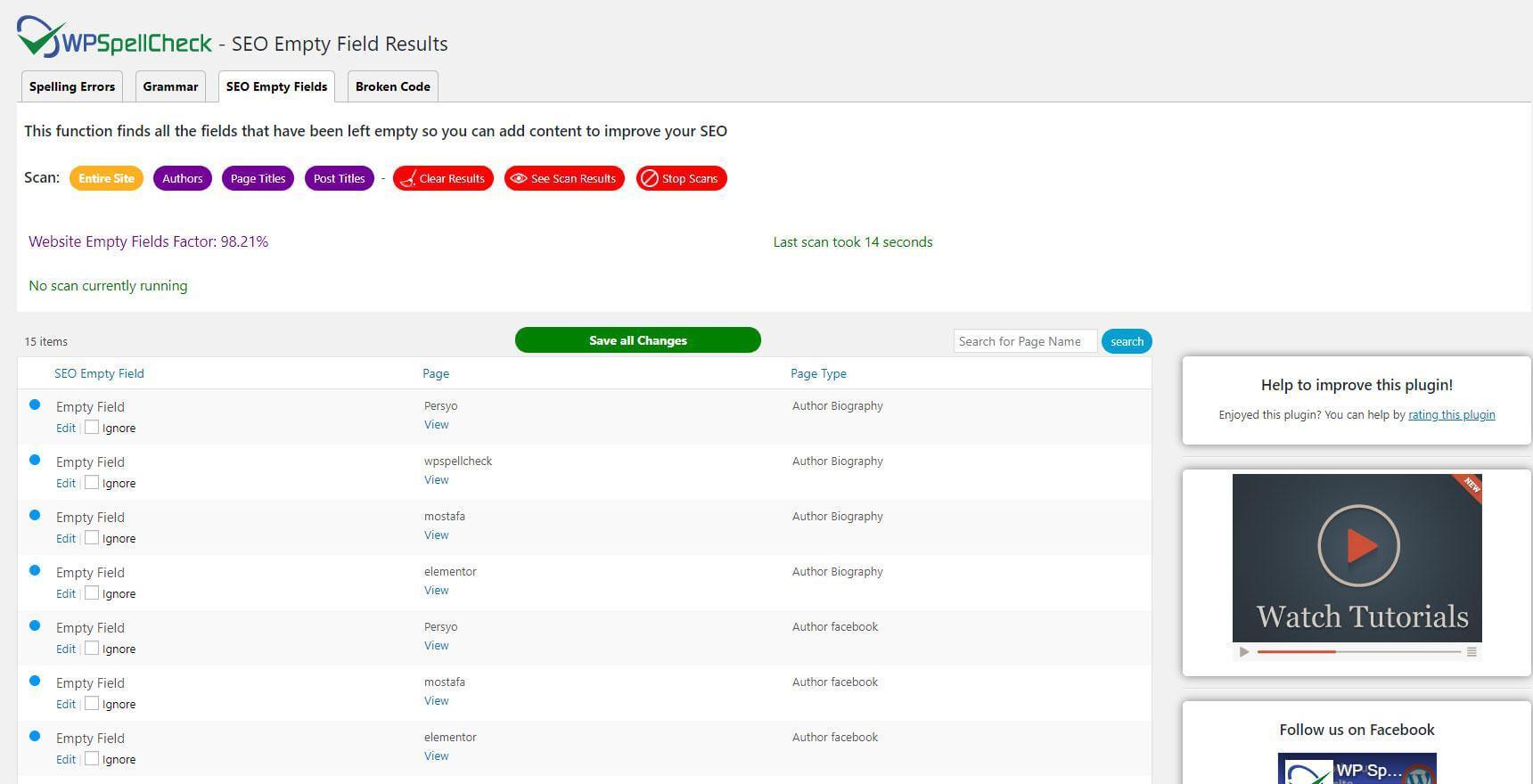 WP Spell Check lets you proofread and audit your WordPress site with a click of a button. With WP, you can find and fix errors on spelling, punctuation, and grammar, as well as spot broken Shortcodes, HTML, and SEO Empty Fields. As a result, you can create a professional image with this plugin.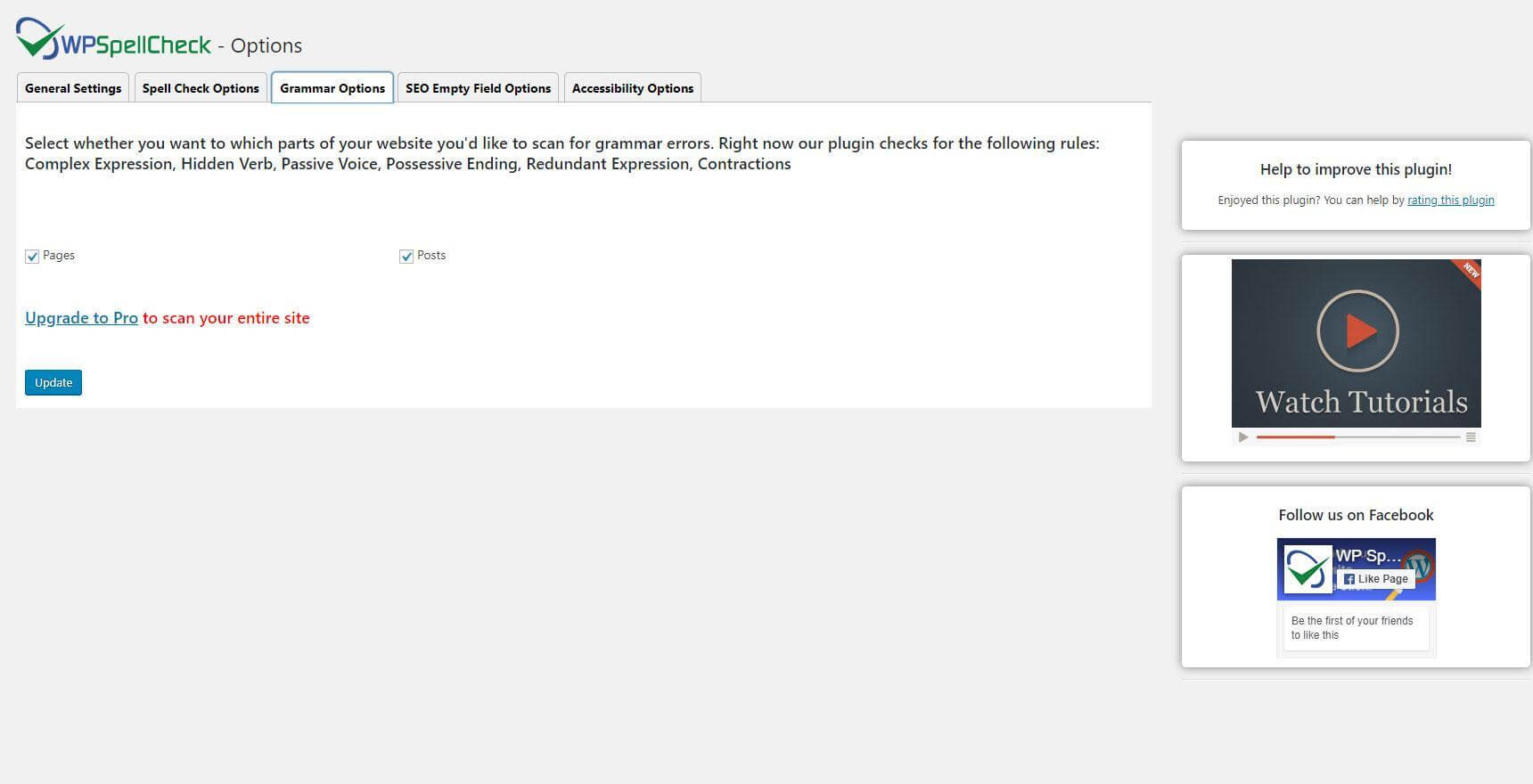 Ideally, this plugin is for the following scenarios:
WordPress Blogs with a bunch of content, and on a very tight schedule
Small Businesses and website owners that want to proofread their site in a timely manner, without having to take part their site, or improve posts individually
Web developers, SEO agencies, and marketing agencies with many clients looking for ways to optimize their processes and save time
Marketing managers that are responsible for the company's image, while someone else is responsible for creating content
People with the inability to read words and or understand coding language
5. WProofreader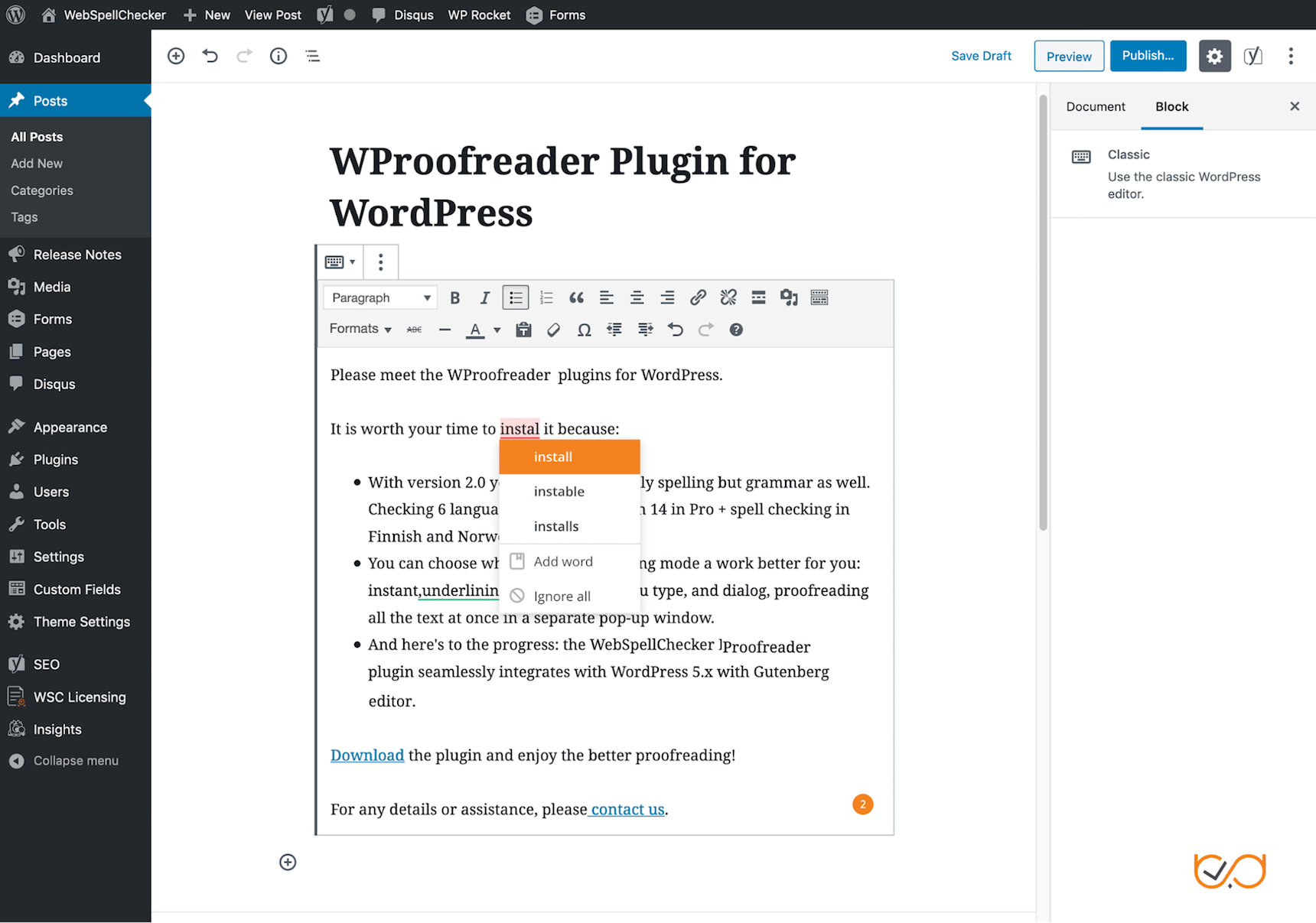 The WProofreader plugin allows you to work in two comfortable modes:
instant: underlining mistakes while you type, AND
dialog: proofreading all the text at once in a separate pop-up window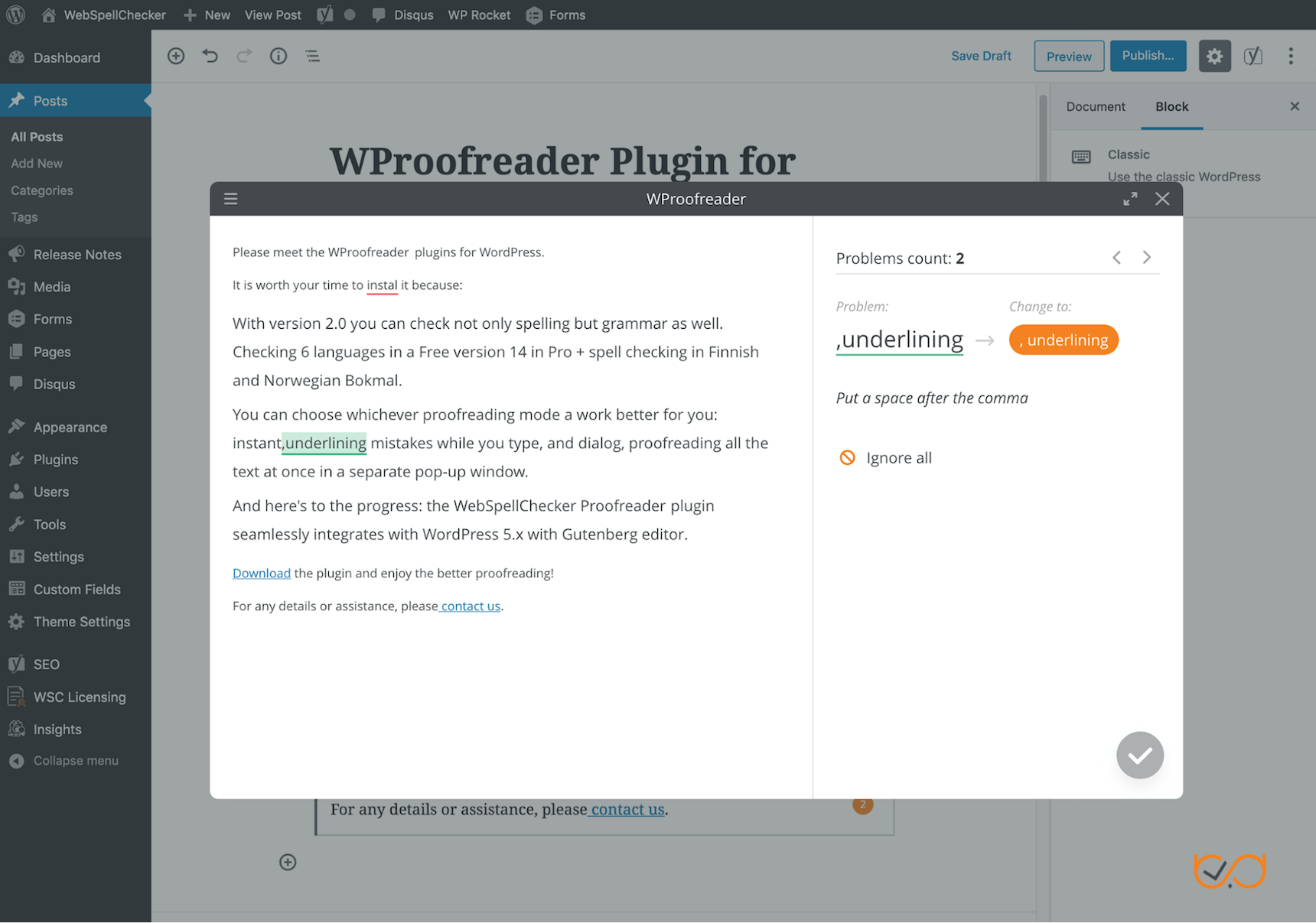 Here are some of the benefits of this plugin:
Multilanguage-supported, to which you can extend the spell checking with any of 150+ additional languages and specialized dictionaries (i.e. medical or legal).
Enable grammar for 15 languages
Plugin is customizable, to which you can add specialized terminology, acronyms, proper names, etc. into Personal User Dictionaries, stored in the cloud and available for review and management from any browser (or to Global Custom Dictionaries), managed at the subscription admin level and available across all the websites under given license key (in the Pro version). The Free version lets you create Personal User Dictionaries, despite not being able to save to the cloud, or lacking Global Custom Dictionaries.
Powerful, regardless if you get the Pro version (which proofreads up to 200 million words per year, and be used in up to 5 websites), or the free version (which checks up to 50 thousand words per day on one website)
Supports Chrome, Firefox, Safari, Microsoft Edge, and Internet Explorer 11
Bonus: Ginger
Similar to Grammarly, Ginger is a software that lets you check your spelling and grammar, especially when writing on WordPress. First, you can try the Ginger extension that's easy to install and also free. Afterwards, you can use the software for WordPress and or other word-processing software to check for errors in:
Other apps that you can use Ginger on are:
Twitter
Slack
Gmail, AND
LinkedIn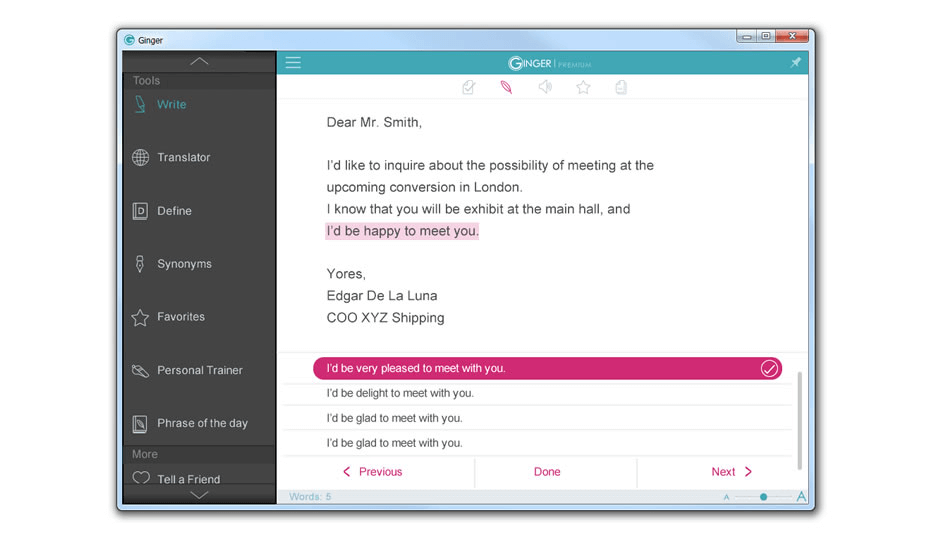 Aside from spelling and grammar, Ginger also comes with the following features:
Affordable when you choose the annual plan
Translation tools
Tools that help you rephrase sentences
Provides dictionary lookups
A clean interface that's user-friendly, and supports grammar checking, sentence rephrasing, and the ability to read text
Free Chrome extension handles the translations and definitions in a document or text.
Comes with a "personal trainer" feature that helps you improve your English
The "text reader" feature lets you listen to the text that you've written so that you can hear how it sounds so far.
Ginger is compatible with several devices (i.e. phones, computers, and Microsoft Office)
So, which grammar checker plugin is best for your WordPress site?
While all 5 of these Grammar WordPress Plugins are effective for various situations, it's important to keep in mind the following:
Before you choose a plugin to work with, make a list of your needs on writing in WordPress. You'll need to choose a plugin that has all (or, at least, most of) the features that you need. The last thing you want is to have a plugin that only finds spelling errors, but won't find grammatical errors. So, choose wisely.
With plugins, pricing matters. You can approach this in two ways:
If you consider cheaper options, then you'll save money. Though, you may want to be careful with cheaper options, because chances are, you won't get most of the features that you need, or you won't need the BEST features. OR,
Go for premium options, which give you more and better features than the former price option. While the pricing of premium plans can be hefty, having a grammar checker tool that works well will more likely help you create more professional-looking content than the cheaper alternative.
Finally, keep in mind that many tools – including plugins – will show you your mistakes with red lines. While these lines and markings may be helpful at first, they can get distracting after a while. Therefore, your best bet is to write your first draft without using a checker tool. Once you have your rough draft completed, then you can turn on your checker tool to help you spot the mistakes. Remember: Write now, correct later.
Conclusion
So, if you're ready to improve your grammar for your WordPress blog or site, then try these 5 Jetpack grammar alternative plugins and see which one is right for you. Or, you can use all of these plugins to improve user experience on what you have to offer on WordPress.
Whichever floats your boat, you can bet that your WordPress site will attract more users and customers, as you continue to improve it with excellent grammar and wording.
While it is important not to make mistakes in your WordPress blog, perfect word choice and writing style in WooCommerce emails is vital. You might want to check out the best WooCommerce email customizers to make sure you are sending grammatically perfect content and stylized email templates to your customers.

Kristin Herman is a writer and editor at College paper. As a tech enthusiast, she writes about the latest trends in technology and social media. And, as a project manager, she oversees many writing projects throughout the country.
https://ninjateam.org/wp-content/uploads/2021/02/Best-Grammar-Checker-Plugins.png
426
1210
Ninja Team
https://ninjateam.org/wp-content/uploads/2020/10/ninjateam-logo.png
Ninja Team
2021-02-17 10:41:24
2021-03-19 12:02:12
5+ Best Online Grammar WordPress Plugins