WPBakery vs Elementor – Which one to go for?
The number of WordPress sites exceeds 75 million. The system is chosen for its ease of use, flexible customization, and high speed. Just a couple of years ago, in order to qualitatively change the design of a WordPress site, it was necessary to have programming skills.
However, today they are not required. You can create your own website in a few days without having any coding skills. Visual designers help with this.
Therefore, we will compare the two giant page builders in the world of WordPress so that you can choose the one that fits best to your taste, skills, and budget. And so, WPBakery vs Elementor. Go!
Overview
WPBakery page builder (formerly Visual Composer)
Key data:
date of appearance: May 22, 2011;

usage statistics

: 3.5+ million live websites;

the current name of this page builder is WPBakery Page Builder (now under the name Visual Composer the development team offers a website builder with

annual premium licenses

).
The following is an overview of the features and benefits of builders. Each of them offers great features that are great solutions for some professionals or situations. To avoid possible confusion, Visual Composer will be referred to as WPBakery from now on. This will make it easier when you're determined to go for that one.
WPBakery is unique in that it provides amazing website building capabilities. Implementation of the visual and server part is possible. However, to use it, you need to have special knowledge. If you are not a programmer, then the workflow will be difficult. You will need to watch the training videos.
However, a person familiar with website building will quickly figure out the WPBakery interface. Plugin features:
Compatible with all WordPress themes. The ability to use a visual builder with a theme you like is always an advantage. However, developers' statements often do not correspond to reality. But not with WPBakery. The plugin works well with any theme, eliminating the need to purchase a new one. Whichever you choose earlier, WPBakery will help improve it.
Creation of internal and external pages. This is one of those amazing benefits that requires knowledge in the field of website development. WPBakery is equipped not only with an internal, but also an external system that allows you to create open and closed pages. By using the frontend builder, you "assemble" the site. And you can immediately see what its real appearance will be. The server component builder presents the site as if from a bird's eye view.
Defining user roles. An extremely useful feature for companies that have a staff of specialists. For example, copywriter, account manager, SEO specialist, marketer, and so on. In such cases, restricting access to parts of the site is reasonable. So you increase the security of the resource.

Widgets and templates. WPBakery allows you to create blogs, home pages, online stores, and so on. Users are given access to 50+ templates. Content elements are also plentiful, including all sorts of buttons, sliders, shapes, and charts.

Content. WPBakery is SEO-optimized and ready to build multilingual sites.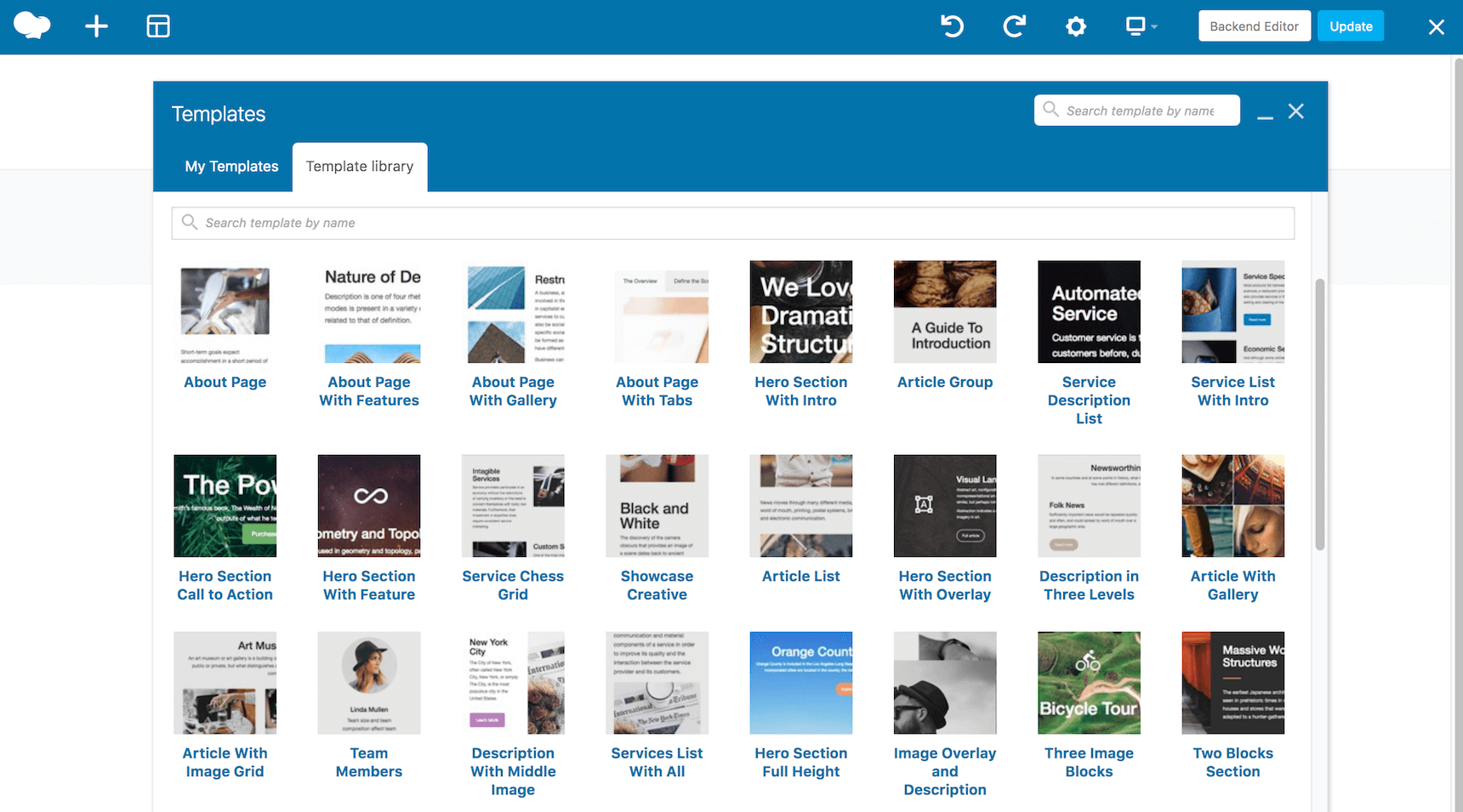 Elementor
Elementor is also a visual builder. Provides open-source code. Has the most simple and intuitive interface. Suitable even for non-professionals.
At the same time, Elementor outperforms the competitor in terms of functionality. Plus, it's available in a free version.
Key data:
first release: 2016;

usage statistics

: 4.2+ million live websites;

does not require programming skills;

available in the free version.
This builder has a first-class design and an extremely simple user interface. At the same time, it opens up significantly more opportunities even in the free version. There are also paid packages.
Elementor is notable for the fact that by launching a subscription, the developers did not limit the number of functions available in the free version. They supplemented and expanded them. So the responsive and fast builder just got better.
It beats WPBakery when it comes to speed. Does not reduce the speed of the site.
The plugin offers 100+ templates. It also has very useful functions – undo and redo. Elementor maintains a list of changes made. Therefore, you can always quickly access the history and return to the previous version of the design.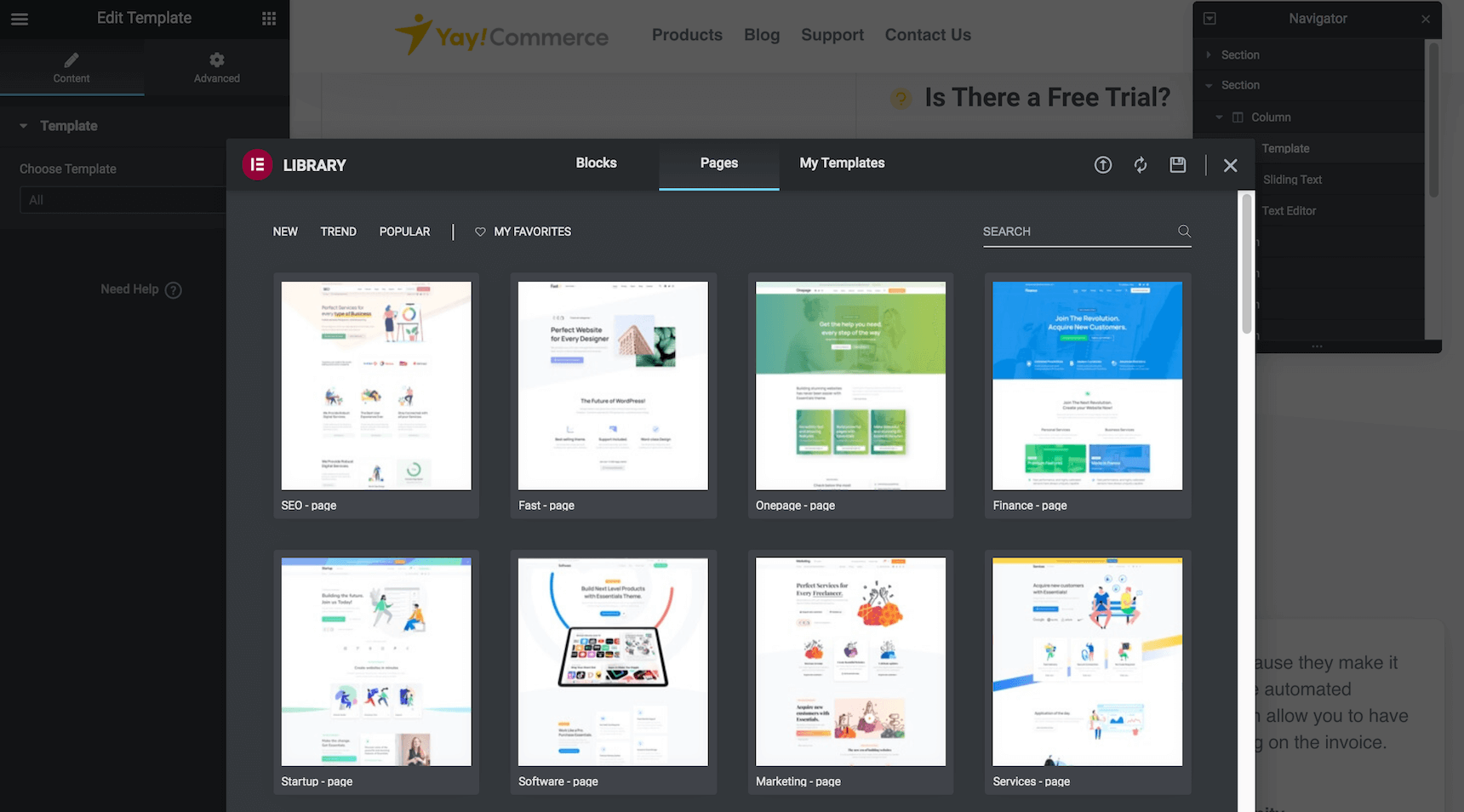 Elementor features that you can use:
Availability. The plugin is offered in free and paid versions. The second, of course, opens up more possibilities. However, even the free version allows you to create a functional and attractive website.

Front-end builder. It is as clear as possible. Elementor is a great option for people who do not have website programming skills but want to create their own resources. True, the possibility of developing the server-side has not yet been implemented in this builder.

Templates and widgets. The former are abundant in Elementor. If WPBakery offers 50+ templates, then in this builder their number exceeds 200. In terms of content elements, both plugins are approximately at the same level. True, if you take the paid version of Elementor, then there will be many times more of them.

Adaptability. The builder allows you to create well-optimized mobile sites. Provides a lot of options that provide resource adaptability. You can also easily insert media by browsing with FileBird folders.
Remember that even the most attractive site can make a negative impression if it contains low-quality texts. To avoid typos, use tools like Grammarly and Essay writer. This way you can ensure a good level of content for your content and build a positive image.
Breaking down the features & benefits: WPBakery vs Elementor
Above, we've covered the key features of plugins. However, builders also have common properties. Next, we will focus on them. The following features will be considered:
Interface.

Style options.

Pricing
Interface
Both plugins are visual builders. However, the plugin interface is very different from each other.
In Elementor, the sidebar is divided into three categories:
sections;

widgets;

columns.
Separating columns, rows and creating a layout is as easy as possible. To do this, just move the module to the workspace. Thanks to its real-time operation, it is possible to preview the created design. And without refreshing the page. To edit content, simply click on the element and start typing.
WPBakery is more complicated in this regard. There is a roll-up side panel here, which allows for more workspace. However, unlike Elementor, there is no flexible column and row structure. Therefore, this builder is not suitable for a complex design.
Style options
This refers to the ability to change the appearance of site elements. WPBakery offers basic options. You can change the alignment, padding, text color, or animation.
Elementor provides individual parameters for each element, including widgets, columns and rows. They are represented by two tabs: "Style" and "Advanced". The first makes changes to the basic parameters (color, alignment, shadows and typography). The second configures borders, margins, padding, background, responsive design and CSS.
Pricing
WPBakery is available for use exclusively in the paid version. To help users understand if the builder is right for them, the plugin can be tested. However, only on the demo server. For testing in real mode, you need to buy a builder.
Users are offered two tariffs:
Regular ($45) Allows you to use the plugin on one site. Provides access to a library of designer templates, as well as free updates.

Advanced ($245). Provides the use of the designer in one SaaS application. Allows you to integrate themes.
Elementor is available in four tariff plans, including free. However, even that is sufficient for many tasks. The user is provided with access to more than 30 themes and 40 widgets. At the same time, the visual editor works fine.
Here the payment takes place once a year. Therefore, all tariffs below are the amount that must be paid annually while you use the builder.
Personal ($49). Provides for the creation and support of 1 site. Besides the usual visual editor, designers of themes, forms and pop-ups are added. The number of templates is increased by 10 times, and the number of widgets by more than 12. The user receives updates per year and WooCommerce Builder. Also provided over 10 ready-made kits for the site.

Plus ($99). In this tariff, all of the above possibilities are valid for three sites.

Expert ($199). This tariff plan is relevant for web studios. All the features listed in the first paragraph can be used for 1000 sites.
Another plus of Elementor's pricing policy is the money-back guarantee. If the user does not like the designer, the payment will be returned within 30 days.
WPBakery vs Elementor – What's better for you?
We did not set ourselves the goal of choosing the best builder between WPBakery and Elementor. This is fortunate because choosing the best of these two options is almost impossible. Each of them can be an excellent solution in a certain situation.
WPBakery is a visual builder that allows you to create in your preferred UI: front-end and back-end. And although it is offered only in paid access, payment is made once. The builder opens up ample opportunities for creating sites. Therefore, if you have programming skills, WPBakery is probably the best solution.
Elementor is a great option for beginners and those looking to cut down on time. If your task is to create a website quickly, then this builder is perfect. Moreover, it can be used for free. And the best part is that it will not in any way affect the quality of the site.
https://ninjateam.org/wp-content/uploads/2021/01/WPBakery-vs-Elementor.png
426
1210
Ninja Team
https://ninjateam.org/wp-content/uploads/2020/10/ninjateam-logo.png
Ninja Team
2021-01-25 16:13:00
2023-04-07 11:29:20
WPBakery vs Elementor – Which one to go for?