Best Plugins to Accept Donations with WordPress
Raising money for a great merit is not always an easy task, but you can make it a little easier for yourself by adding a noticeable Donation button on your website.
Visitors now will pay more attention to that button on your website so that asking for contributions and managing donors can be displayed on a website or blog with the help of many WordPress Donation Plugins. They add attractive buttons, facilitate payment gateways and do many things that make collecting contributions as easy as falling off a log.
There are tons of WordPress plugins to accept donation out there in the market, it's not easy for any individual to choose one from the rest. In this article, we will take a look at 8 of the best WordPress donation plugins. Hopefully, this collection of features will help you to choose the proper one.
1. GiveWP – Donation Plugin and Fundraising Platform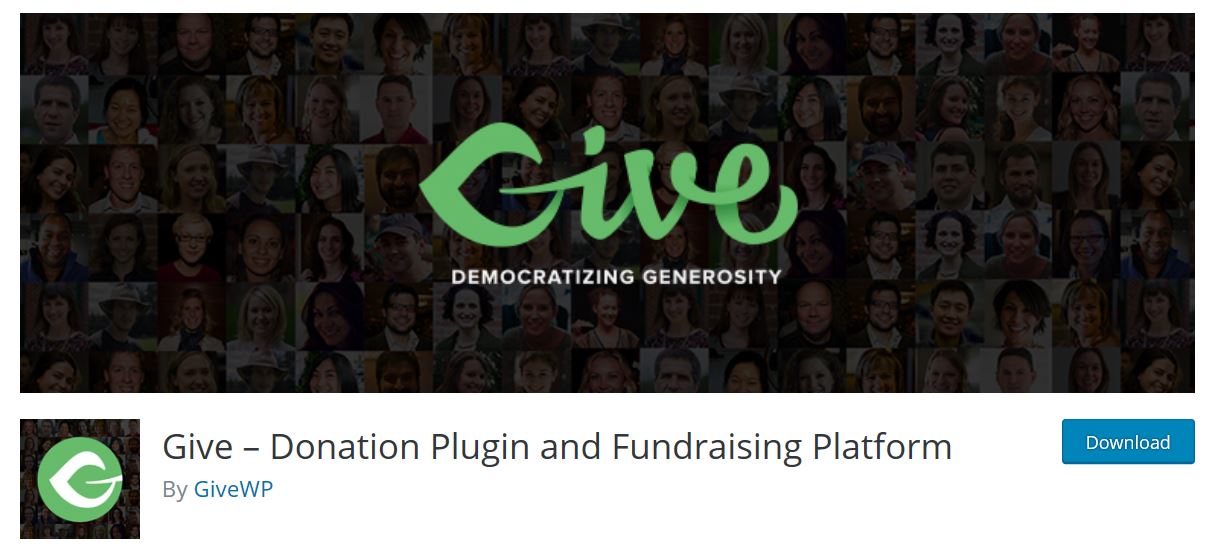 GiveWP is one of the most favourable donation plugins for WordPress users and most downloaded and highest rated WordPress donation plugin. The plugin allows you to get presents from donation forms, evaluate your donors and analyze donation reports.
Some of the things that I like about this plugin include:
Maintain history of your donors

Seamless integration with third-party tools

Generates receipts with tax already deducted

Ability to export donor data

Allows you to create custom fields and goals
Using this plugin, you easily accept donations in WordPress. The free version of this plugin allows you to accept donations through a PayPal payment gateway.
You can use payment, form and date methods to clarify your reports. The plugin measures the performance of your donation campaign over various campaigns. You can create custom donation forms on your WordPress site, use various themes and add numerous options for customizing goals.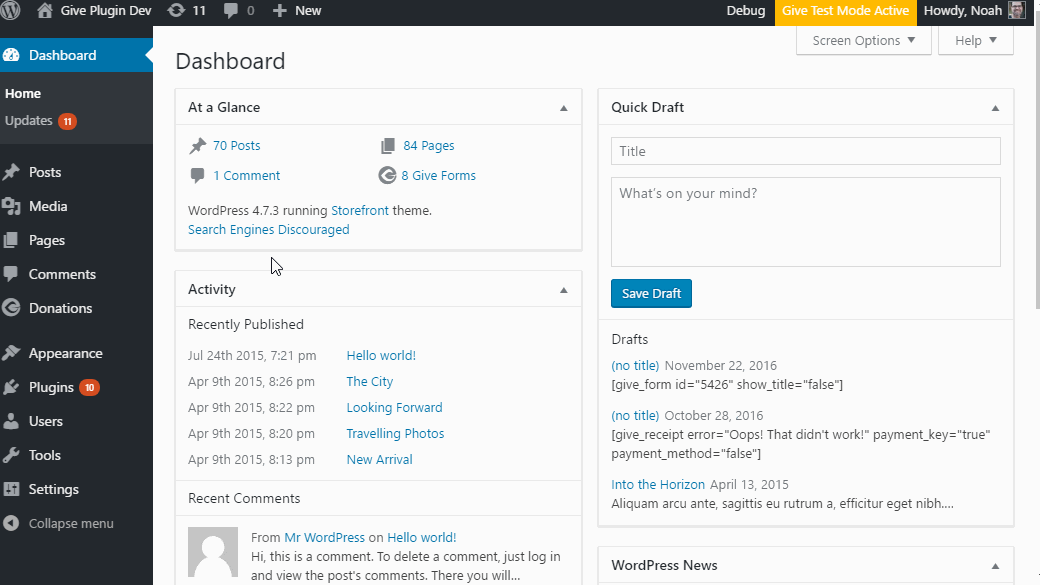 Though there are premium add-ons available to add more functionalities to your donations. This includes additional payment gateways (like Stipe, Authorize.net, Mollie, etc), recurring donations, a currency switcher and more. Purchasing the plugin will cost you a great sum of money.
2. Charitable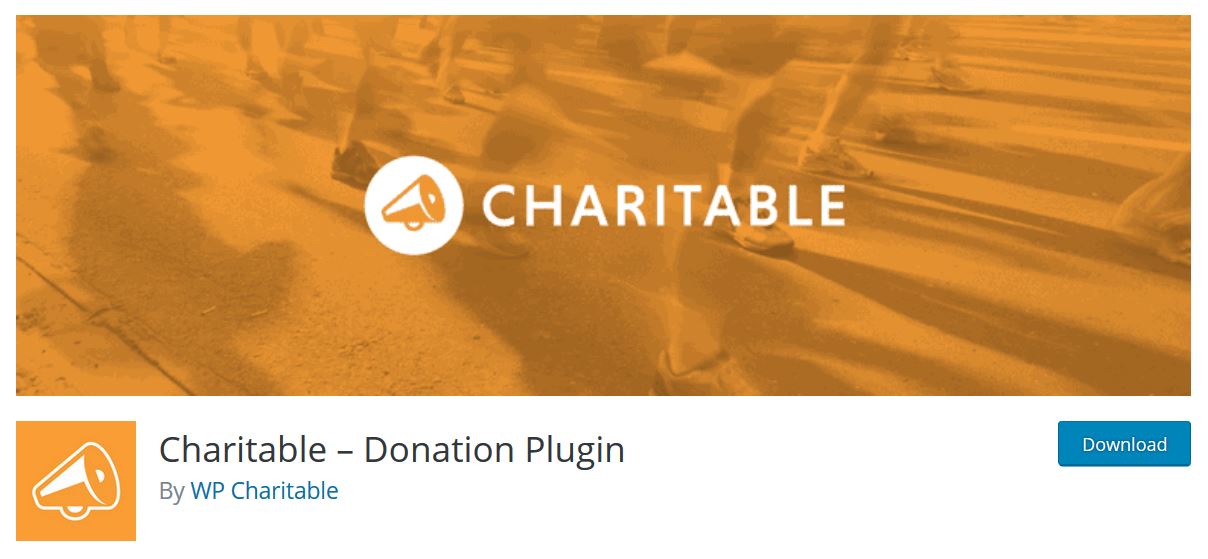 Charitable is another donation plugin that gives you the ability to collect donations without any difficulties. This is a totally free plugin which is used to pay and accept the donation. With Charitable you can set up a fundraising campaign to activate in less than 5 minutes.
Additionally, the free version of the plugin also comes with a bunch of useful features. Create an unlimited number of fundraising campaigns, add goals, set timelines, customize donation forms (amounts, required fields, etc), send followup donation emails or receipts and more.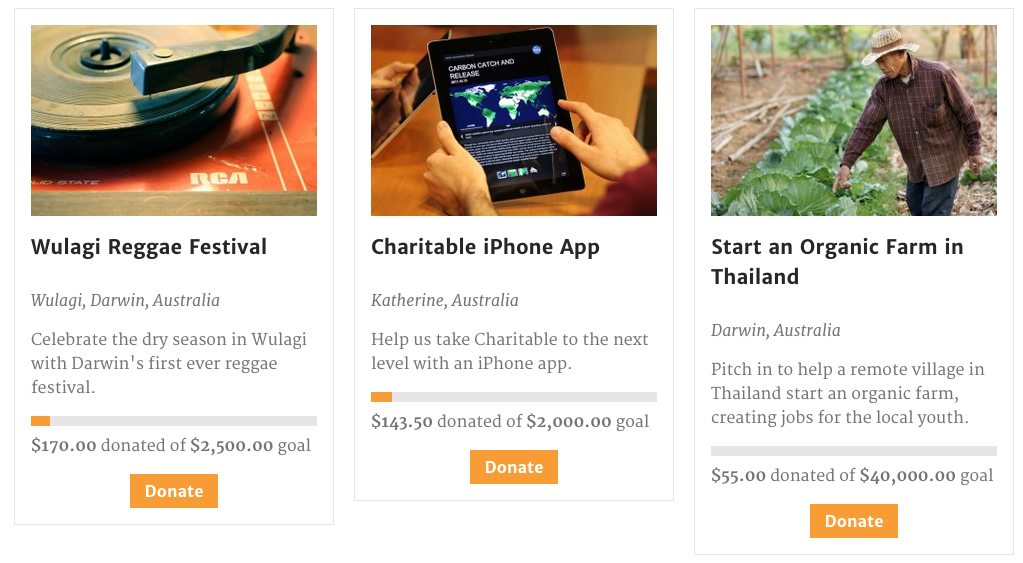 The plugin lets you accept donations through several payment gateways such as Stripe, Authorize.Net, PayFast and PayUMoney. The Charitable Gift Aid extension uses Gift Aid to boost donations by 25%. Similarly, Charitable Newsletter Connect helps grow your list of subscribers.
Charitable comes with a load of awesome features. Some of them include:
Easy to use

Offline donations

Unlimited campaigns

Donation management

Developer friendly
Charitable built a free WordPress theme called Reach. The theme is great for creating peer-to-peer fundraising events or a crowdfunding platform.
3. Donorbox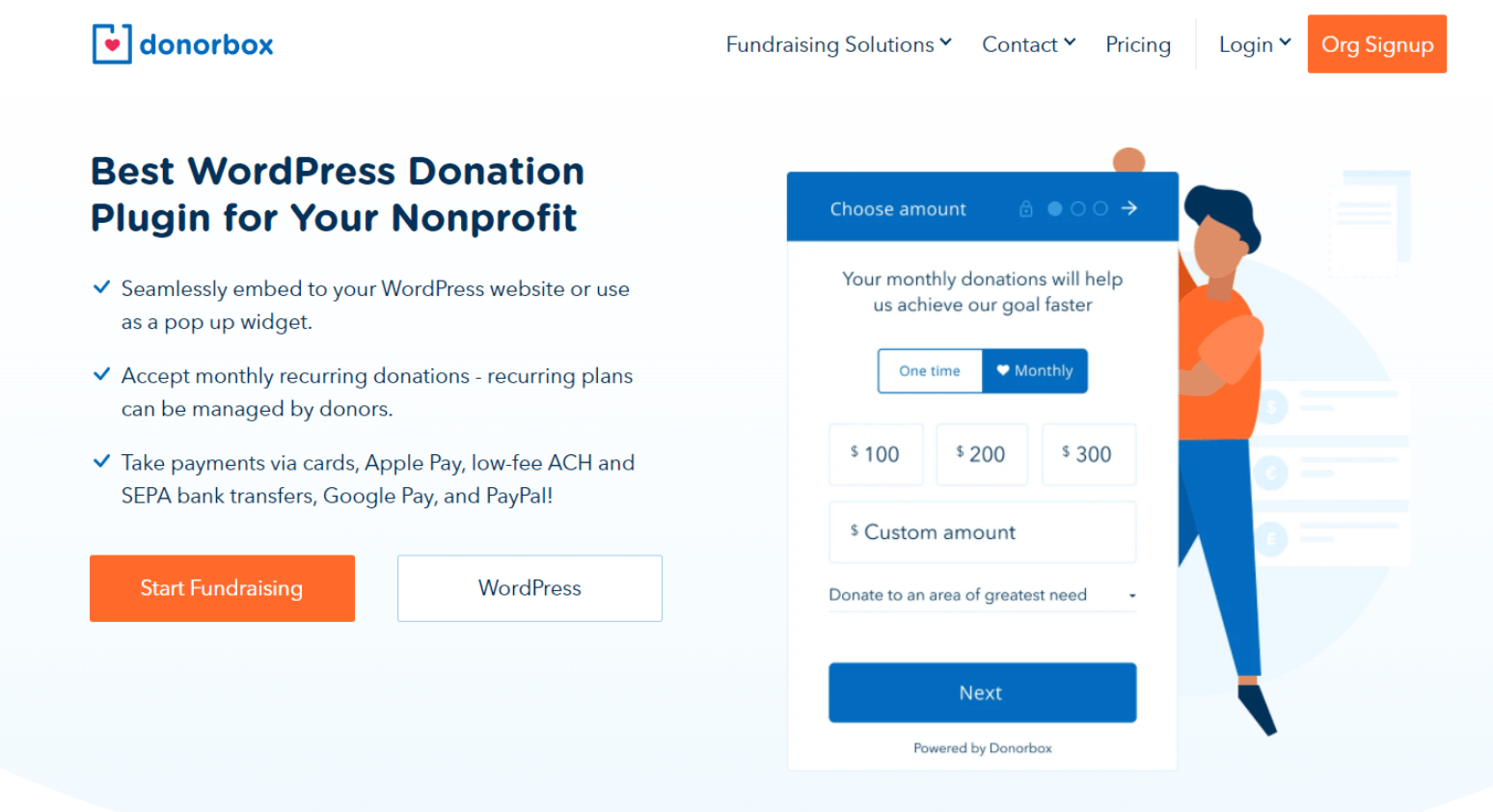 Donorbox is one of the powerful WordPress donation plugins for nonprofit organizations across the world. Recurring donation system, customizable donation forms and seamless donor management makes Donorbox one of the most favorite donation plugins for nonprofits.
Donorbox's major features include:
Accept weekly, monthly, quarterly or annual donations.
Easily embed on WordPress website or deploy as a popup widget
Accept payments via cards, Apple Pay, low-fee ACH and SEPA bank transfers, Google Pay, and PayPal!
Easy Donor Management
Goal meter and donor wall
Donorbox's WordPress donation plugin can also be integrated with third party applications such as Mailchimp, Zapier, Salesforce and Double the Donation.
Its pricing is the lowest in the fundraising market with 1.5% as platform fees + payment processing fees (Depending upon Stripe or Paypal).
4. WPPayForm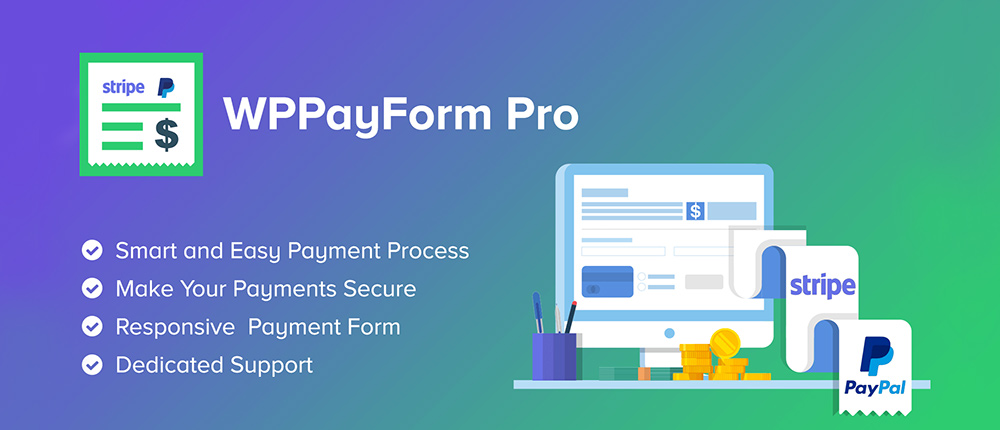 WPPayForm is an easy-to-use and freemium WordPress payment plugin that accepts donations developed by WPManageNinja. This is an amazing plugin that takes donations through multiple payment gateways. You can accept any kind of donation via this awesome plugin.
The free version of the plugin allows you to use the Stripe payment gateway and premium version enables you to use PayPal additionally. This drag & drop based donation plugin also offers you all the fundamental features of form creation. Users can collect recurring payments using the plugin thanks to supporting for Stripe and PayPal payment gateways.
5. Seamless Donations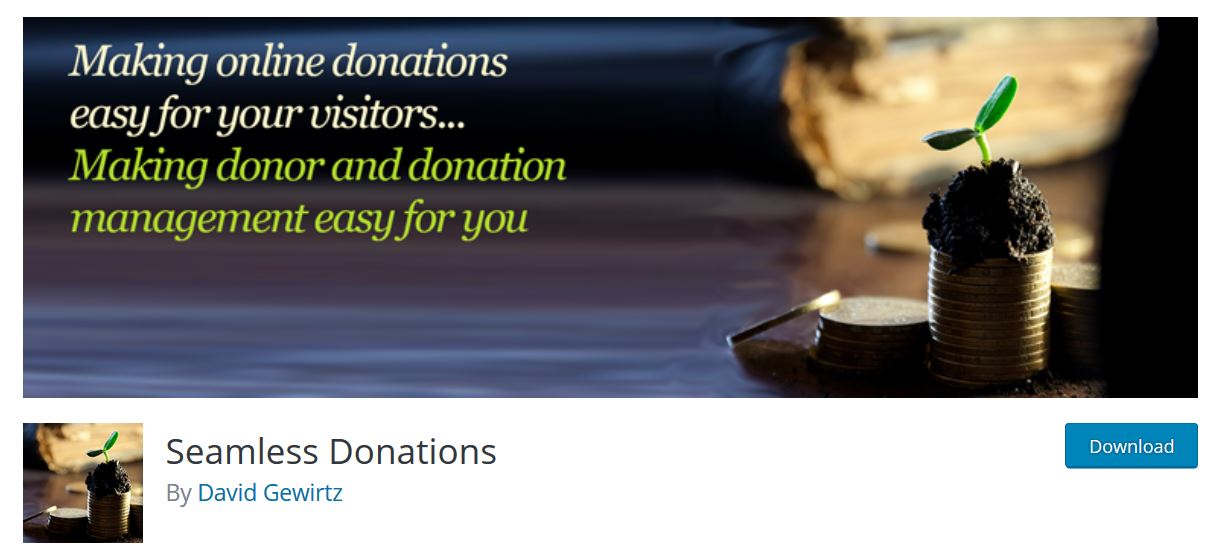 Seamless Donation is another outstanding approach to accept donations with WordPress. You can raise funds and manage your donations using this plugin on your website. This plugin allows you to accept payments using PayPal and provides a confirming thank you message when the donation is complete.
Here are some features that this plugin offers:
Five minute installation

Automatic option for repeat donation

Donor tracking

Worldwide currency support

Translation ready
There are some fantastic and unique features of the plugin. For example, you can accept donations anonymously. Plus, you can also invite users to join your email list – a great way to build an audience for the future.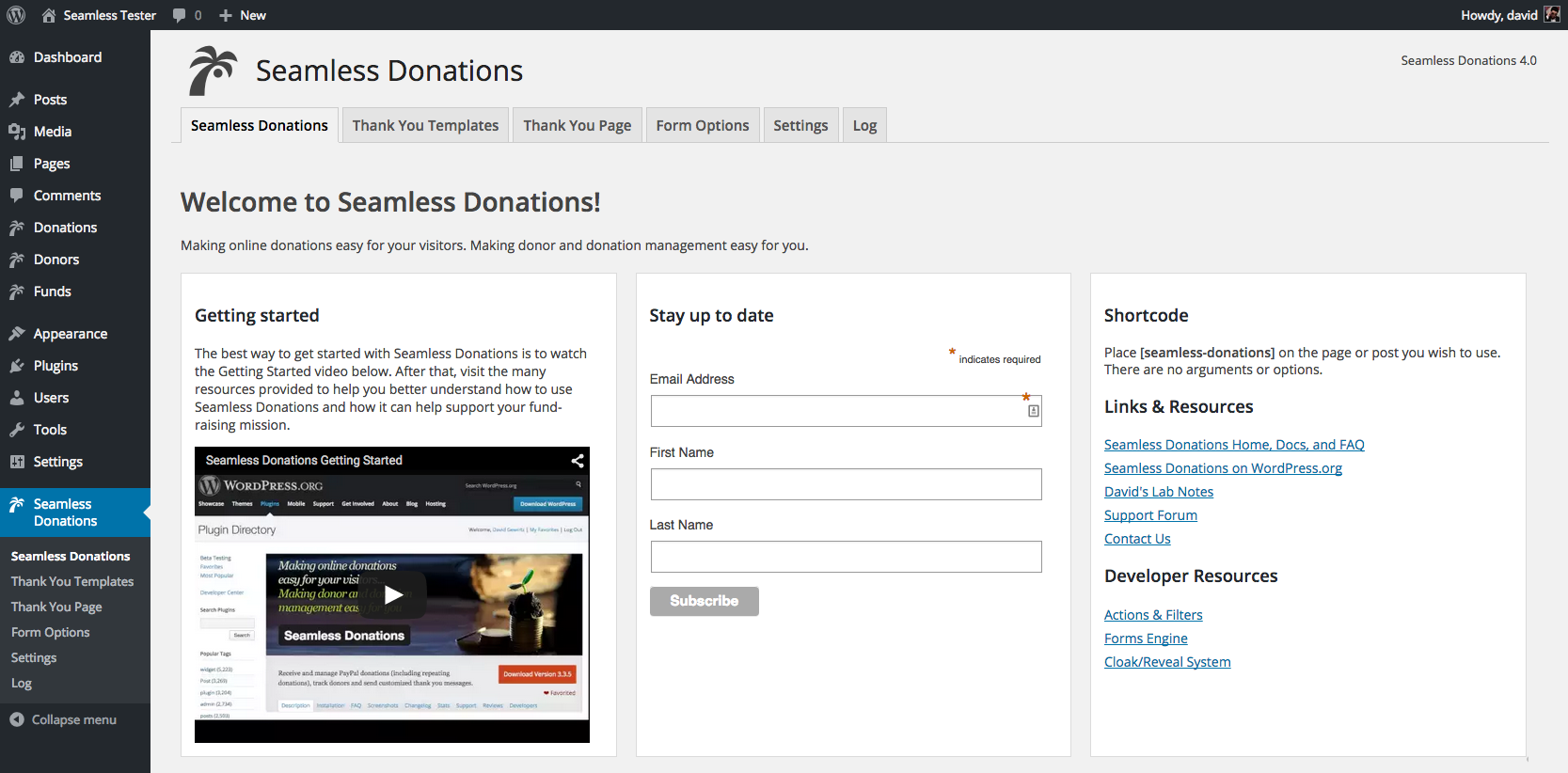 The plugin provides Thank You Enhanced extension for delivering 'Thank You" messages to your donors and you can personalize that whatever you like. The Delete Monster extension enables you to delete donations. Seamless Donations works with GoodBye Captcha to block spambots.
6. PayPal Donations
The PayPal Donation plugin allows you to add a donation button to your WordPress website. Donors can send you donations through their credit card or their PayPal account. Plus, you can easily connect donations worldwide because it supports 18 languages and 25 currencies.
The plugin can be easily integrated with all WordPress themes. If anything comes up, all you need to do is to create a support request and the plugin experts will quickly offer a solution.
Some of the things that I like about this plugin include:
View donations on your WordPress admin panel

Support for 25 currencies

New image for every button

Donation widget
PayPal Donation Button offers much customization in terms of placement on your site such as headers, pages, posts, the sidebar, and the footer.
7. Donation Thermometer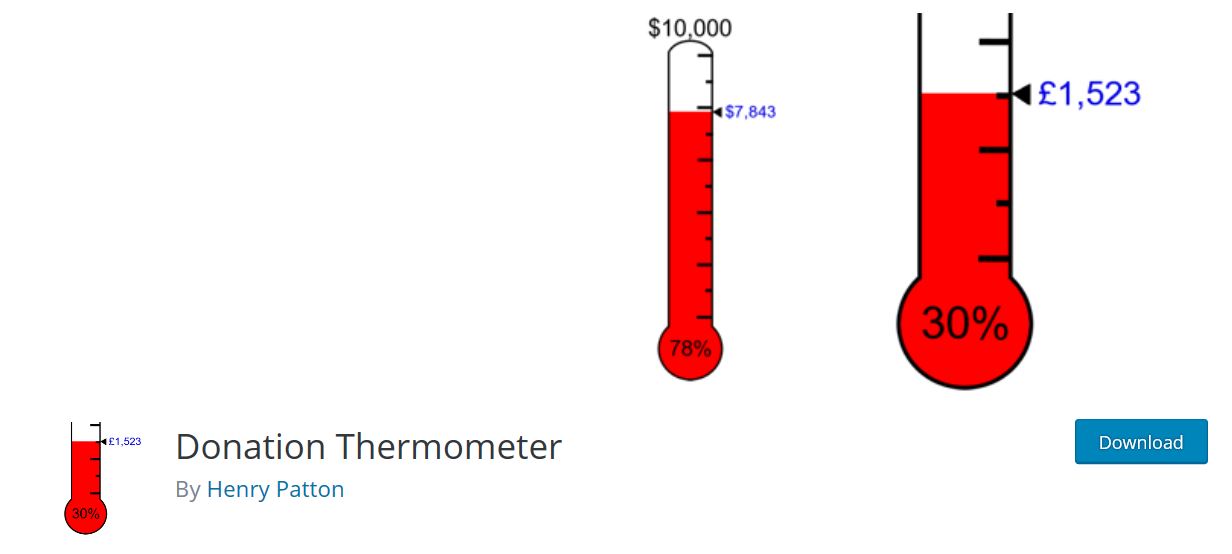 Donation Thermometer can be seen as a prominent WordPress donation plugin that allows you to estimate donations and take payments effortlessly. As the name suggests, you can create a thermometer on your site to measure your donations. Easy stuff, right? All you have to do is use a shortcode and it will promptly show a standard thermometer on your web page.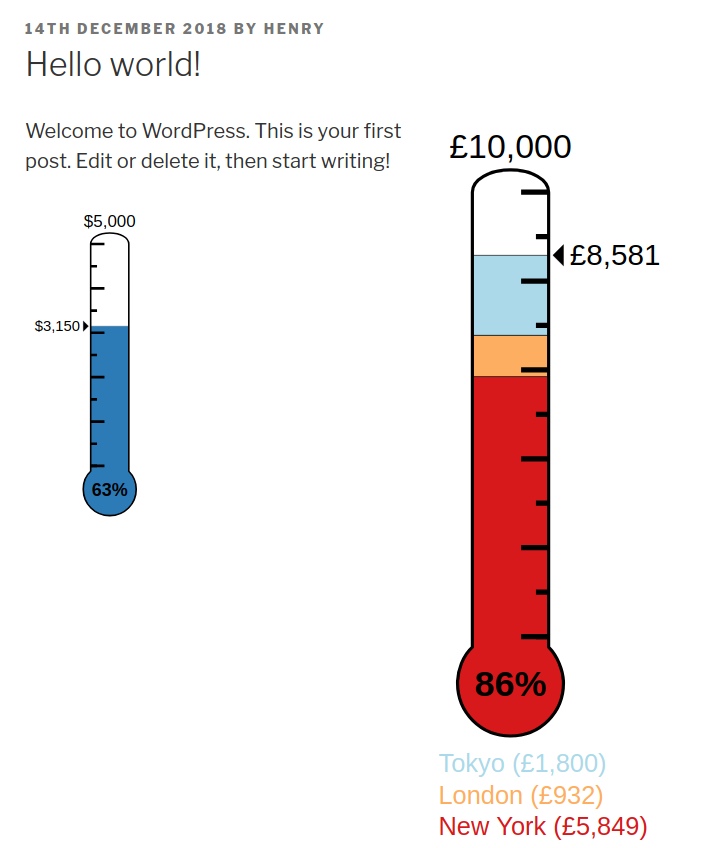 It's really interesting to record the amount of donations raised, and for donors to see how close they are obtaining their target. Though this is a simple plugin for donations, you can still satisfy all of your basic needs.
One of the most prominent aspects of the plugin is it can be used offline. Plus, the plugin can be highly customizable and shortcode friendly.
The plugin is not equipped with many features, making it a very simple-to-use plugin. Thus, if you are a basic WordPress user, this plugin is a right choice for you.
8. WooCommerce Donation Plugin

If you're currently operating an online store or would like to make one part of your charity/ non-profit site, it's worth installing the WooCommerce Donation Plugin to accept donations through your eCommerce store.
The basic feature of this plugin adds a donation as a regular product, where customers then adds this product to the shopping cart, pays for it, then don't get a real product in return.

Its feature list is well worth checking out:
It changes nothing about your online store, but it gives customers a chance to donate on top of orders.

Simple reports guide your decisions on whether or not to continue a donation program. These are also great for seeing where the donations are coming from.

You can have the Donation field consist of a drop-down with predefined values or a blank field for people to type in their own donations.

Campaigns can be named for better tracking.

The WordPress donation plugin only costs a one-time fee of $18
9. Smart Donations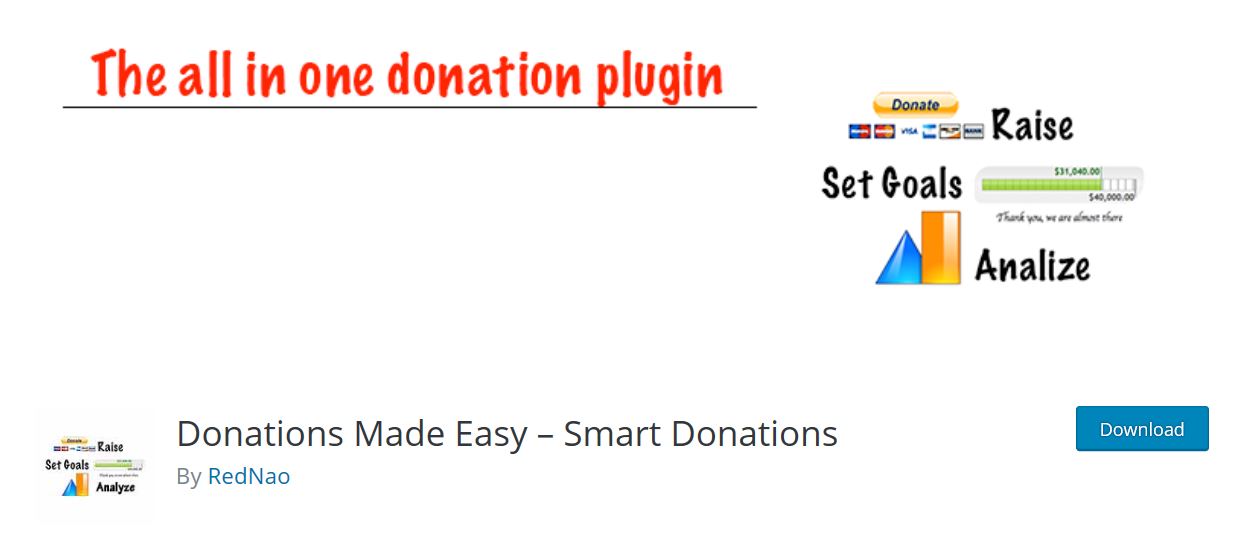 Smart Donations is a powerful but easy-to-use WordPress plugin with a simple Donation buttons. The buttons can be placed anywhere on your site, and you can also set goals to persuade more customers to spend money.
This Smart Donations plugin offers modernistic donation buttons alongside with a widget interface for placing your buttons in sidebars, footers, and anywhere on your theme.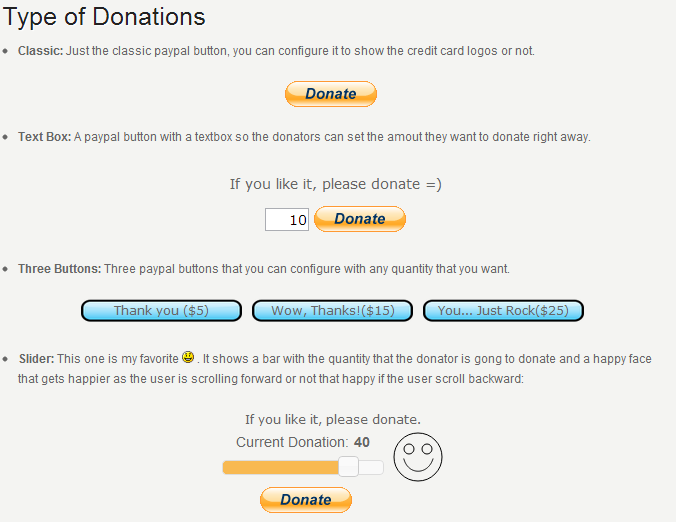 Wrapping up
Raising fund through donation seems to be a challenging task because WordPress doesn't provide sufficient options for this kind of purpose. However, you can easily add this feature by using a plugin to accept payments from donors. All the plugins mentioned in today's collection have been recently updated and include slightly different functionalities for your site. Just give them a go and try them out to find the appropriate one for your donation purposes. These plugins can help you accept donations promptly and engage with your donors.
Have you tried any of the above plugins? Or are there any other donation plugins you'd like to recommend? Leave your comments down below.
Thank you from NinjaTeam!
https://ninjateam.org/wp-content/uploads/2019/08/Best_Plugins_-Accept_to_Donations_with_WordPress.png
450
1200
Benjamin
https://ninjateam.org/wp-content/uploads/2020/10/ninjateam-logo.png
Benjamin
2021-02-19 10:38:04
2021-05-21 14:37:12
Best Plugins to Accept Donations with WordPress