Best Facebook WordPress Plugins
With the rapid development of technology and digitalization, it is so convenient for us to keep in touch with friends, relatives through means of social media networking sites like Facebook, Instagram or Twitter that have been using normally on a daily basis.
Regarding social networking sites, it is unquestionably that Facebook is seen as one of the most widespread and best social media platforms that attract billions of users worldwide. Thus, bloggers and website owners undoubtedly consider this as an ideal way to connect their audience or subscribers.
This article is going to give you a comprehensive list of 9 vital and free Facebook plugins for WordPress which suit all your requirements.
So if you're inclined to increase your site traffic, revenue or attraction without spending a huge sum of money, the following WordPress Facebook plugins should be right up your street. Enjoy!
Let's get started!
1. Messenger Customer Chat for WordPress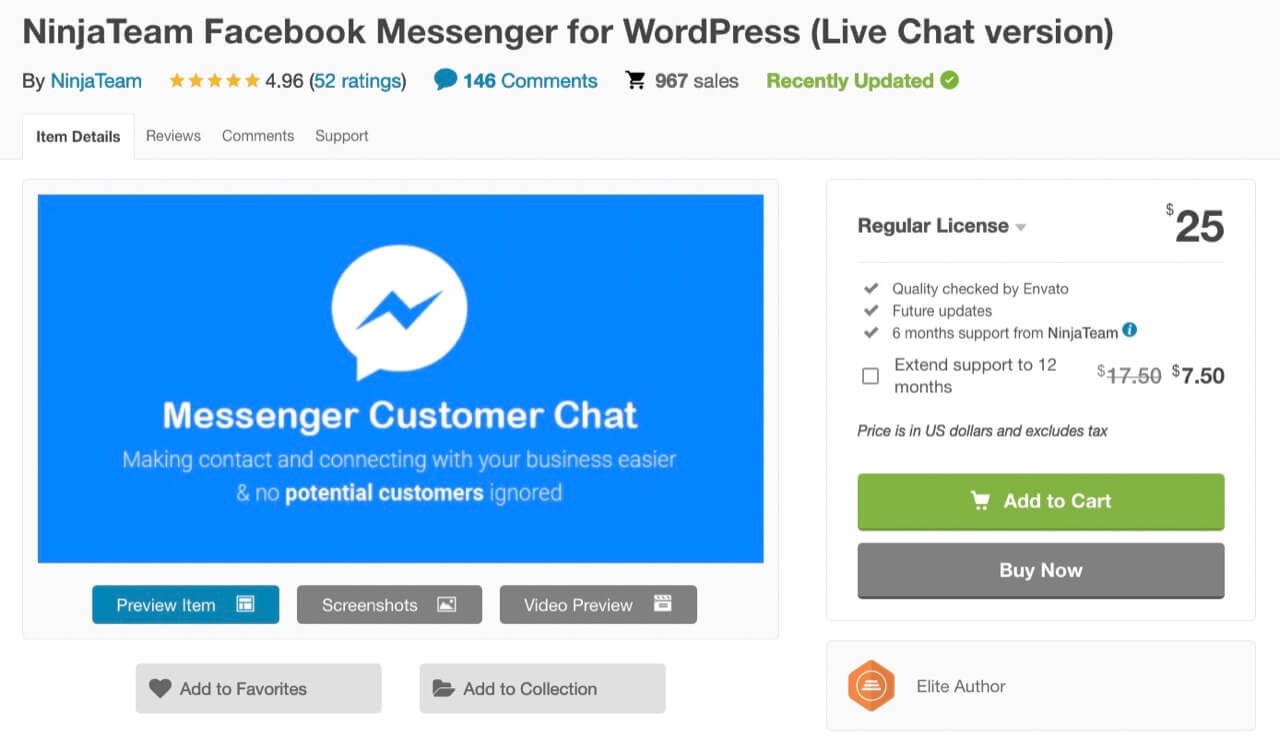 Keep contact and interaction with clients is fairly crucial.
Without this, your business will lose potential customers.
Do not expect that, right?
So, how do we deal with this?
Messenger Customer Chat by Ninja Team is a super handy plugin for adding Facebook live chat box in your website. Consequently, it is beneficial for the website owners to turn their visitors into customers by interacting them via Facebook Messenger.
So, if you need a reliable and effective tool to take care of your customers by solving their problems anytime, anywhere then it is the right tool for you.
The Facebook Messenger Customer Chat for WordPress is helpful for those who want to interact and offer timely support to their users on the websites. This will grow user involvement and lead to a higher conversion rate of the product or service you provide.
There are many features to focus on, with some of my favorites including:
Help your clients easy contact with your business
Don't miss potential clients
Grow your business
Get notification immediately
Be easy to use and customize
Compatible with most themes and plugins
Responsive on both desktop and mobile
The major advantage of Facebook Live Chat by NinjaTeam plugin is the ability to directly integrate your Messenger experience in your WordPress website and connect with clients via its convenient interface.
Worry about losing messages when signing out?
It can keep the chat history with your clients and this makes the communication process flow smoothly for both sides.
Seriously, this plugin is a huge time saver and a must-have component for every WordPress users. Make sure to install it to persistently stay in touch with potential clients.
2. DoopChat – Auto Responder to Comment via Facebook Messenger

DoopChat is an automated messaging software for Facebook fan pages. It helps boost social engagement and interactions immensely.
With the DoopChat auto responder to Facebook post comments via Messenger, you can create social campaigns and build up loyal clients with these ideas:
Comment to receive a coupon or discount code
Comment to get access to a webinar
Comment to get access to a case study or ebook, document exclusive download
Comment to receive a private message containing a secret link
Read more: DoopChat Review
3. Smash Balloon Social Post Feed

You a big fan of customization? You're always eager to personalize your website to boost your web traffic? If yes, this extension is for you.
The plugin I wanna talk about is Custom Facebook Feed, which is the official tool developed by Smash Balloons to help customize your Facebook wall feed like shooting fish in a barrel.
This plugin offers tons of styling and customization options that are super helpful for you to change the overall look and feel of your site.
Without a shadow of a doubt, Custom Facebook Feed is a perfect plugin to help you integrate Facebook into your WordPress site.
On top of that, this plugin will be likely the best choice for your site when it comes to advanced features and easy installation option.
Some of the things I like about this tool include:
Super simple to set up
No design or technical knowledge required
Responsive and mobile optimized to match your WordPress theme
Powerful shortcodes
Packed full of features
Solidly built and tested to minimize conflicts
Always up to date
Quick support from expert WordPress developers
Custom Facebook Feed offers you a flexible way to customize and include whatever you want to your feed in your WordPress website. Interestingly, it can be shown up in search engines, e.g. high frequency in Google ranking.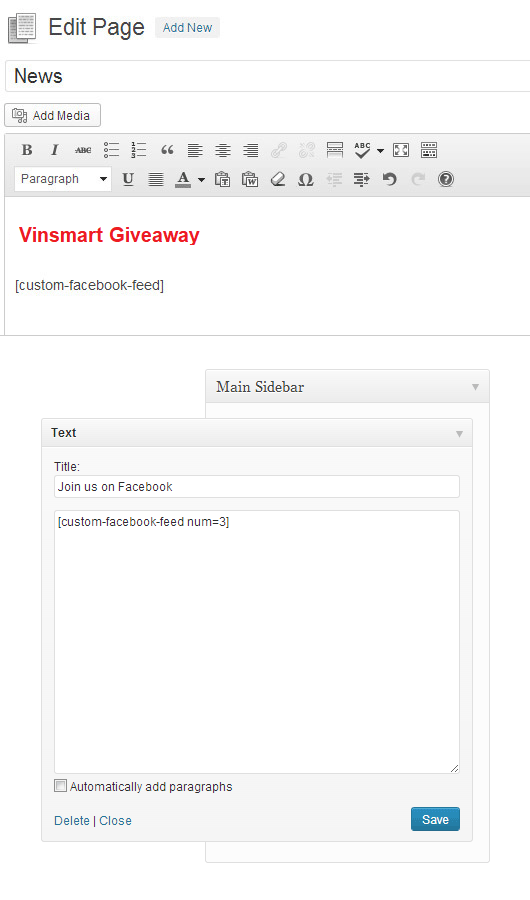 To wrap up, the free version can serve all your purpose and it works like a charm. And if you want to have more advanced features, the pro version will not let you down.

4.  Facebook Messenger Live Chat

You want to maintain contact with clients in simplistic and convenient way?
You are passionate about personalization?
That's why you need the Facebook Messenger Live Chat plugin made by Zotabox.
Have you ever heard this brilliant plugin? If so, you should check it out and give it a go.
Plus, the plugin has over twenty-thousand active installs and tons of positive feedback, making it the most popular live chat services on WordPress.
There's a reason why it's popular, and if you are not using it already, you should give it a go.
Let's get dive into it.
Facebook Messenger Live Chat plugin not only has over 30 thousand installations, but its feature list is well worth checking out:
Get full history of previous chats
Support your customers via Facebook Live Chat.
Free and convenient.
Permanent chat history available for both store owner and customer
This plugin enables live Facebook chat support inside your WordPress website.
You will directly connect to your clients with your Facebook page via the messenger button.

Easy enough, right?
Moreover, the plugin saves the chat history for your conversations with customers and can bring it from Facebook to your WordPress live chat thereupon.
How about customization?
This plugin offers a great number of personalized options to meet your taste.
The chat boxes are among the most stylish you will find, with beautiful, customizable layouts and themes.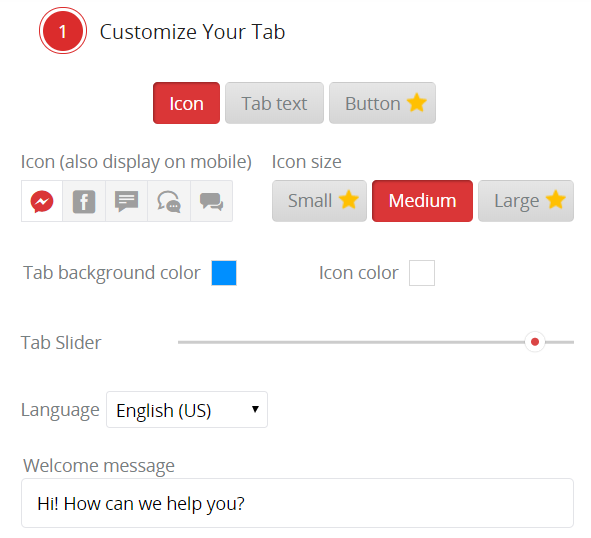 If you want to give your WordPress website a shot in the arm, the WP Facebook Messenger plugin could be your secret weapon. Make sure to install it to persistently stay in touch with potential clients.
5. Tagembed Facebook Feed Plugin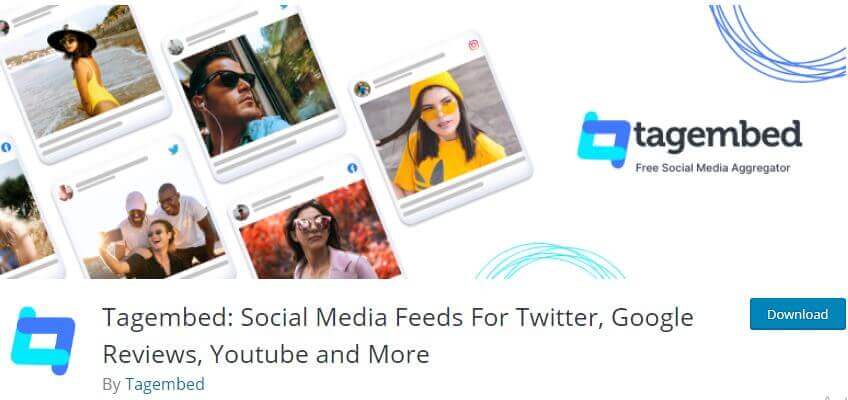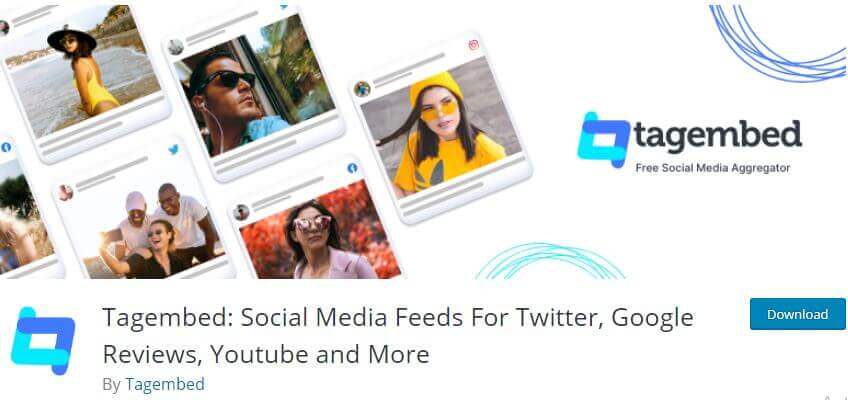 Who doesn't like to work with the best? So to combine the best social media platform with your website, we present you with the best social media feed plugin. And that is Tagembed Facebook Feed Plugin. This plugin helps you to collect Facebook feed from your desired source and then embeds it on your website. If Facebook doesn't fill your need, you have the option to collect from 18+ social media platforms as well.
Alongside making your embedding process simple, it provides various features that make it an ideal plugin. For example, it allows you to customize the widget as per your need. Here you change the font size, font style, and more. And with the moderation feature, you can hide all unwanted content from your website and maintain its quality.
One of the major reasons we call it the best plugin is because it provides the features mentioned above – free of cost. And it is not the end as it provides the following features as well.
Key Features
Compatible with any WordPress theme
Customizable layout
Streams video, images, and more without any hassle
Fits any marketing budget
Custom CSS, Custom CTA, responsive feeds and more
6. Easy Social Feed – Social Photos Gallery – Post Feed – Like Box
Facebook Page Plugin (previously a Facebook Like Box) can be your ideal solution for displaying your Facebook posts on your website. This plugin makes easy for you to interact with Facebook feeds from your own website.
Here's the plugin's tagline:
"Facebook Page Plugin is a social plugin that enables Facebook Page owners to attract and gain likes from their own website."
This plugin is incredibly user-friendly and powerful in features. Some of the things that I like about the plugin include:
Display in Popup or Modal window.
Display custom Facebook feeds in Auto-popup and widget area.
Generate shortcodes using widget forms.
Notifications of visitors via popups.
Facility to choose your own language.
There are three main features of this plugin, namely Custom Facebook Feed, Facebook Page Plugin (previously Facebook Like Box) and Auto Pop-up.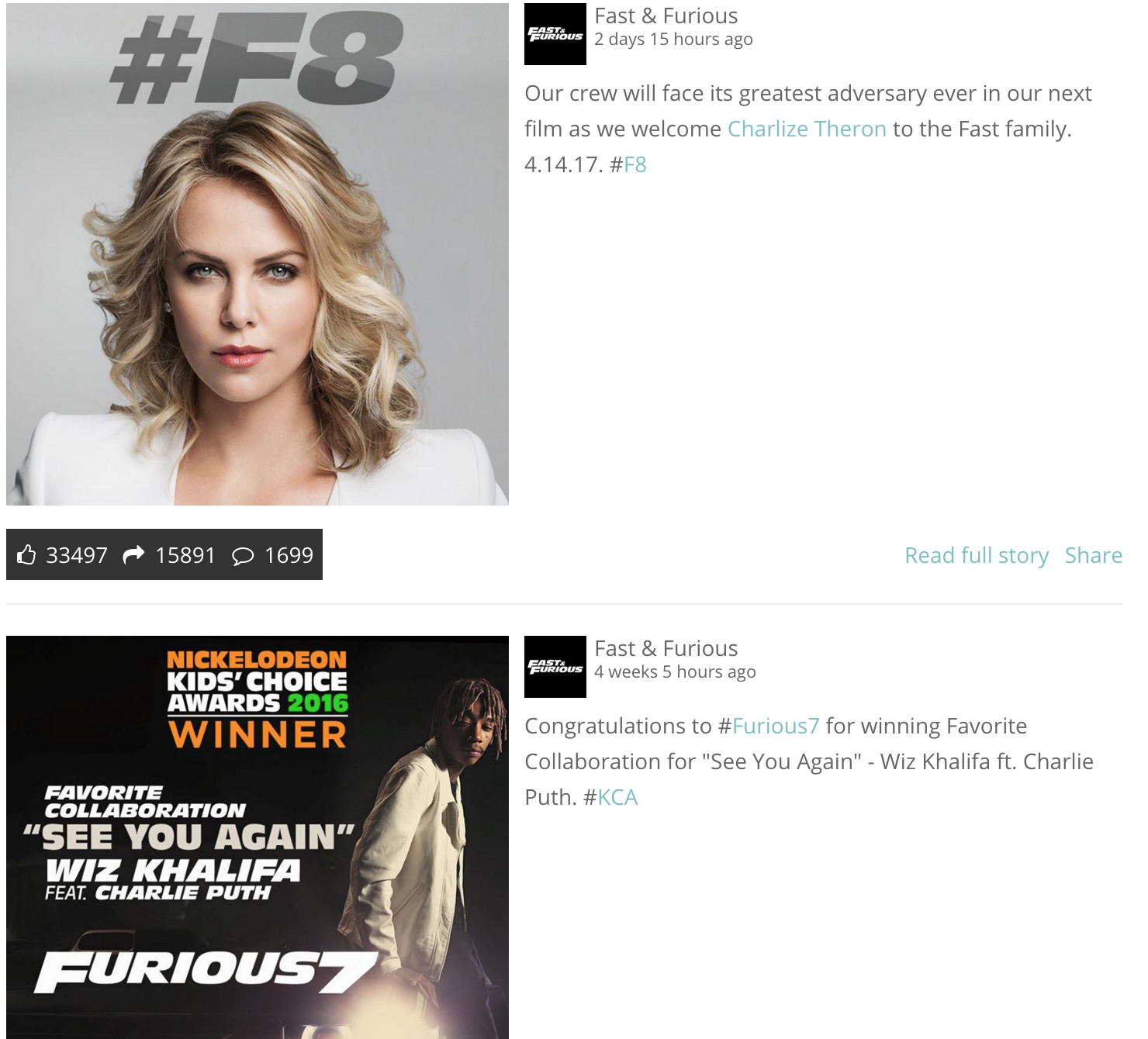 Furthermore, it allows you to display your page posts, like button and connections in a widget area or in an auto pop-up.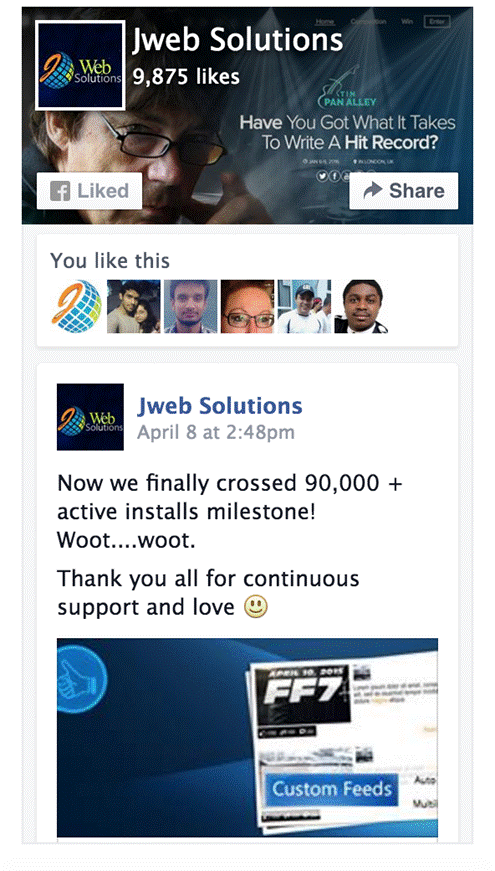 And here is the pop-up setting panel.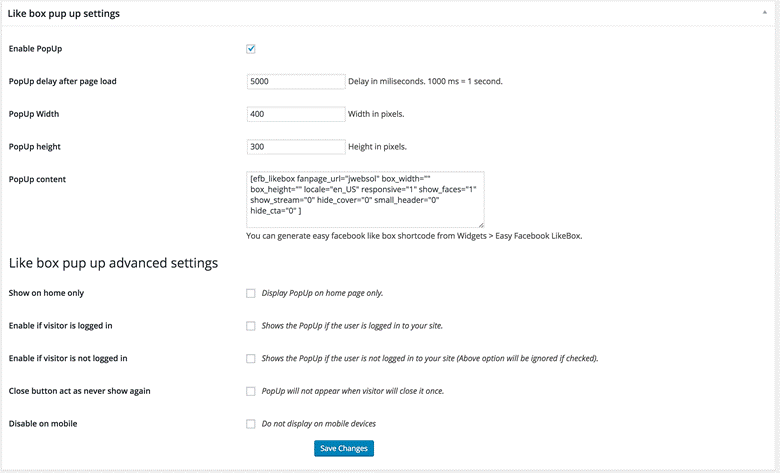 Voilà. Facebook Page plugin will be a must-have component for your WordPress website because it enables users to directly interact with your community and get updates right in their Facebook news feed.
7. Facebook Comment Slider (no longer available)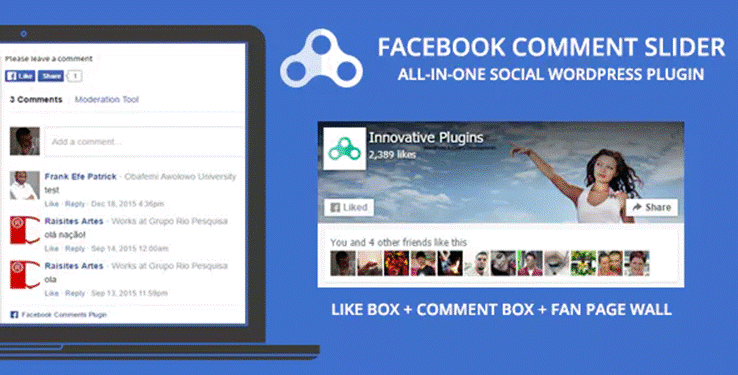 Do you want to bring a new lease of life to your website in terms of comments activity? If yes, Facebook Comment Slider could be your next secret weapon.
This wonderful extension allows visitors to leave comments on your website with modern and user-friendly comment box interface. What a trendy all-in-one type of Facebook plugin for WordPress sites!
It ain't necessary to integrate the Like and Share button to the posts or pages because they're available on every pages and posts. The visitors will find the Like button, Share button and the Comments Box on the Facebook Slider. The plugin provides three different slider options to take your site to the next level. Easy stuff!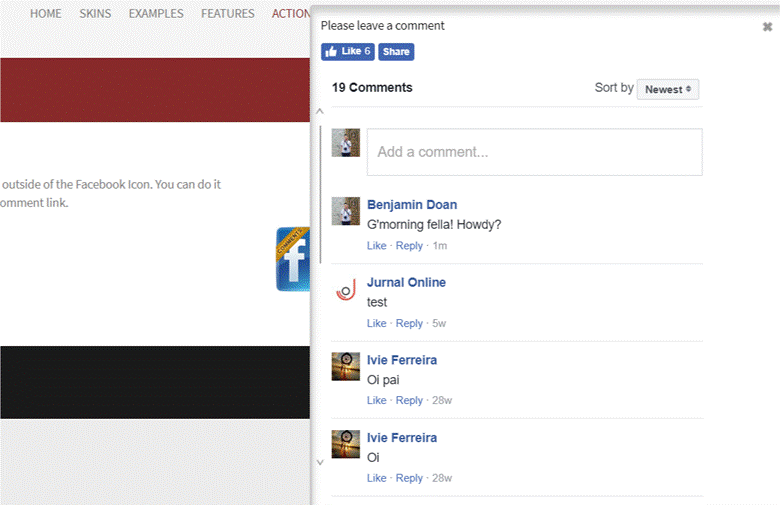 If you use this plugin, you will not need another social sharing plugin as it offers you the social sharing and follow buttons as well.
This plugin offers everything you need in order to boost traffic from Facebook and take your business to the next level.
8. Flow-Flow Social Feed Stream
Flow-Flow is a no-code, fast, and powerful way to embed automated social media feed into your WordPress website. It allows to customize and display a mix of feeds from 10+ sources including Facebook, Instagram, Twitter, Youtube, any RSS and WordPress feed itself.  The social media wall is a must-have section for bloggers, businesses and eCommerce websites nowadays. Engage your audience with the best content and increase website conversions!
9. WP2Social Auto Publish
Want to share your posts from your WP website to your Facebook in a matter of seconds for your users to see?
Thankfully, there's a reliable and effective plugin to take care of this for you. Facebook Auto Publish gives you the freedom to do so. Publish and share your blog posts in a split second.
Some of the things that I like about the plugin include:
Publish Posts to Facebook with Images.
Attach or share a link on Facebook.
Customizable messages formats for FB.
Filter items to be shared based on categories and post types.
Enable or Disable WordPress Page publishing.
Schedule and edit the publish dates.
WP Facebook Auto Publish allows you to post the content itself (not actually just share the post) to your Facebook page. Plus, you can sort out your posts based on your purpose and this will save much time in filtering certain kinds of content that you want to be published from what you don't want.
Final thoughts
That finalizes our roundup of seven of the best Facebook plugins for WordPress. Well, using these Facebook WordPress plugins with your WordPress website can make a profound impact on involving your customers and somehow it will change the theme of your website and makes it more interactive and stylish.
So, if you are looking for the best Facebook plugins for your business website, you can go for one of these.
Just install any of the above plugins and everything is easy as falling off a log.
Do you have experience with any of these plugins? Would you add any of your favorite plugins to the list? Share your experiences and thoughts in the comment section down below. We'd love to hear that!
Many thanks from NinjaTeam 😍
https://ninjateam.org/wp-content/uploads/2018/11/wordpress-facebook-plugins.png
614
1467
Benjamin
https://ninjateam.org/wp-content/uploads/2020/10/ninjateam-logo.png
Benjamin
2021-02-28 05:24:19
2021-11-01 16:37:46
Best Facebook WordPress Plugins