Da Best Free WordPress Themes for Small Business
In today's market, every business needs a website to attract new clients and network with other companies. The easiest way to set up your own is through the WordPress CMS, given its flexibility and online community support. Based on published data, WordPress accounts for 59.7% of software-built websites, with its WooCommerce plugins accounting for 22% of the online shopping market share.
While setting up a WordPress website is fairly straightforward, you will have to customize its visual presentation and integrate the right plugins for your business. WordPress themes come in a plethora of styles, compositions and business models, so let's take a look at some of the best free WordPress themes.
Ashe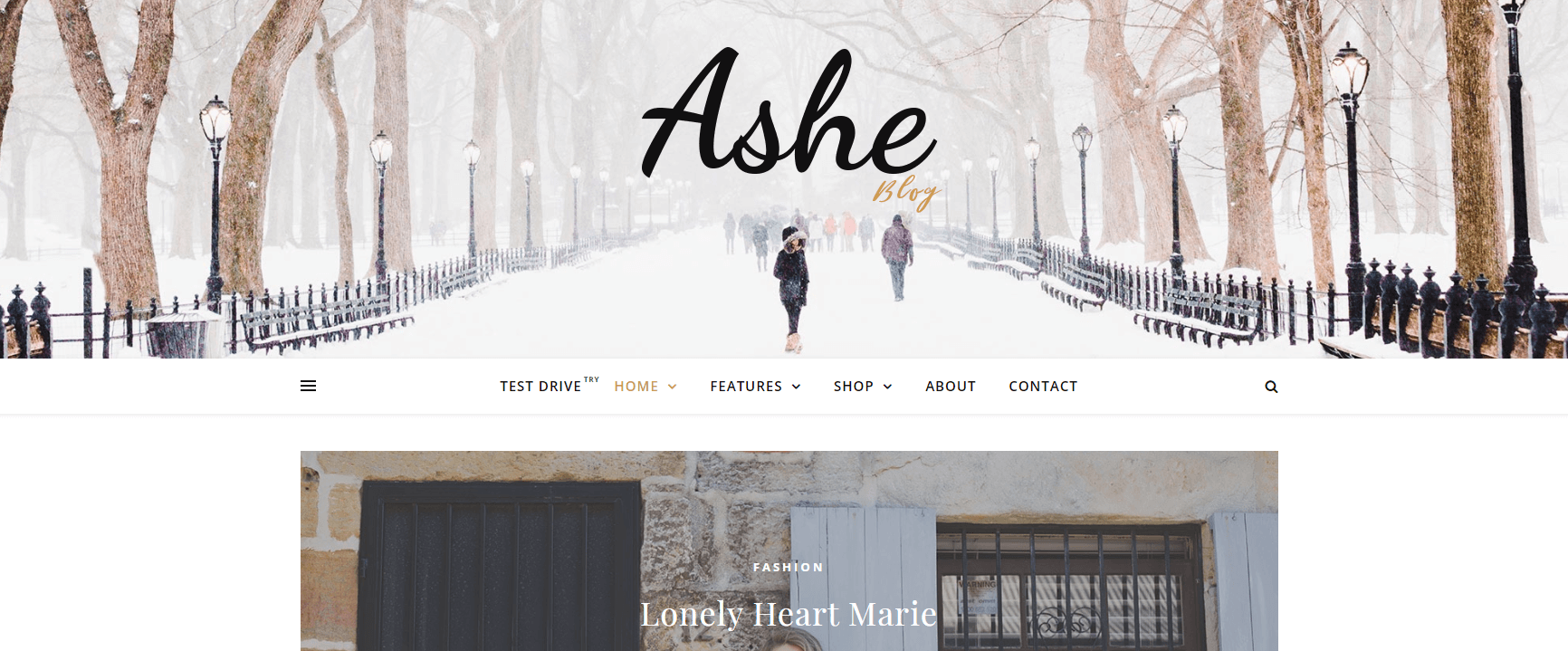 Ashe is a great WordPress theme for small businesses in the fashion, accessories and various blogging niches. It features an emphasized static visual element as its header, allowing you to place a beautiful custom image there. Following that, Ashe forgoes traditional navigation element placement and places them at the center of its composition.
This creates a soothing browsing experience that invites the visitor to take their time and explore the website. In total, Ashe allows you to modify its full-screen slider, logo, and header image as well as footer menus among other landing page elements.
As such, Ashe is less suitable for eCommerce businesses and more for those which rely on travel, coaching, cooking and similar industries. In terms of features, Ashe is responsive, SEO friendly and is compatible with an assortment of page builders such as Elementor and Divi.
Vandana Lite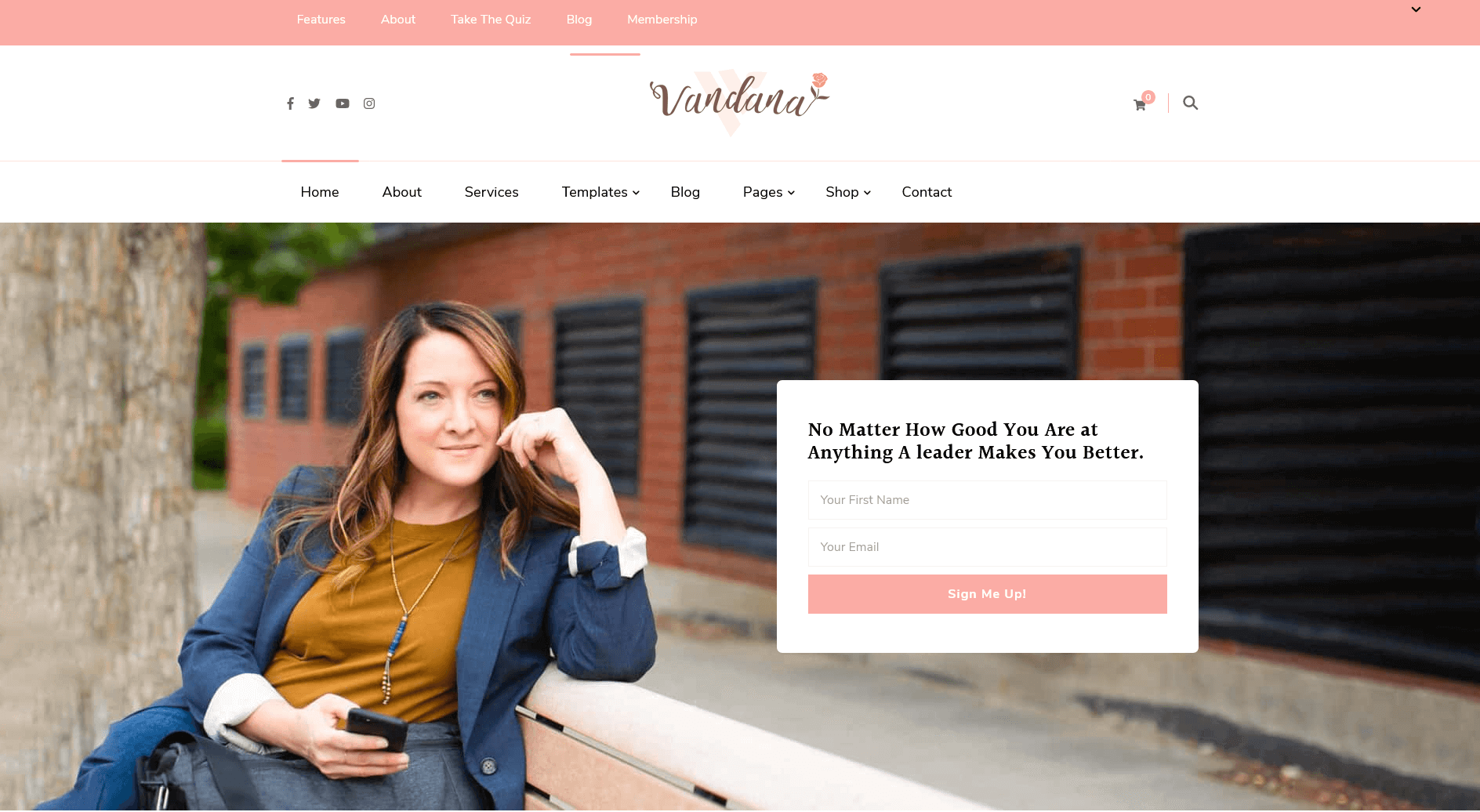 Vandana lite is a multi-purpose WordPress theme. It comes with a uniquely feminine look, best suited for every businesswoman or architect to kick start their website.
Vandana lite is a mobile-friendly theme that provides a smooth experience across all devices. It is also a speed and SEO-optimized theme to help you boost your site rank and get it indexed well on search engines.
You can generate more leads with Vandana lite. You can use a Call-To-Action button with the newsletter section to increase the conversion rate and increase traffic on your website. Besides, you can grow your social media followers and share your website's content with the social media integration plugin.
Vandana lite comes with unlimited color options and 900+ Google fonts to match your preference and brand. This theme is packed with predefined sections to help you highlight your works, projects, services, awards, etc.
Astra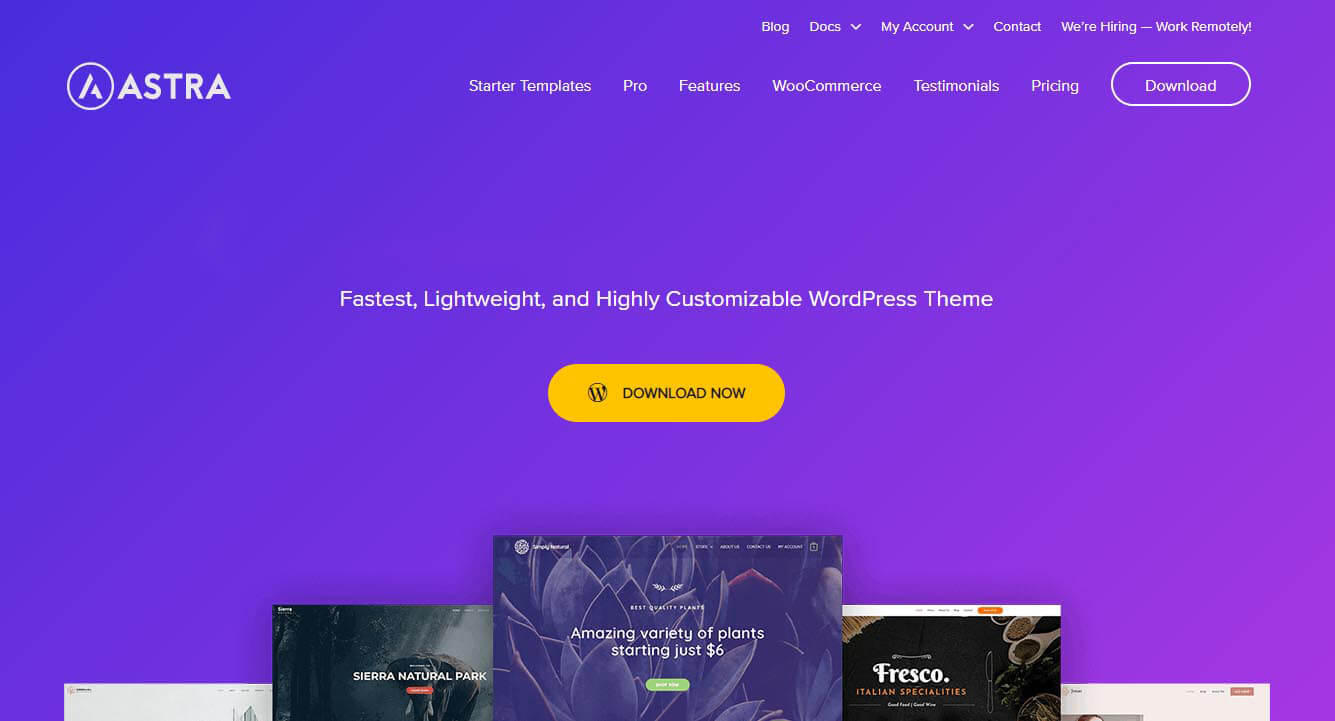 Pairing good performance and appealing visual design, Astra is a great free WordPress theme worth considering. Astra is a theme built with page builder tools in mind, allowing you to quickly and easily build your perfect website without coding. It comes with a list of different headers, footers and sidebars in addition to full WooCommerce support.
Likewise, its visual composition is suitable for a wide range of businesses, including eCommerce, SaaS, and more general small business web presentations. Astra is an extremely lightweight WordPress theme which makes it suitable for SEO, allowing your business to reach more eyes through SERP. This theme is also suitable for novice web designers and solo entrepreneurs thanks to its developers' tutorials and guides on how to it up.
Business Lander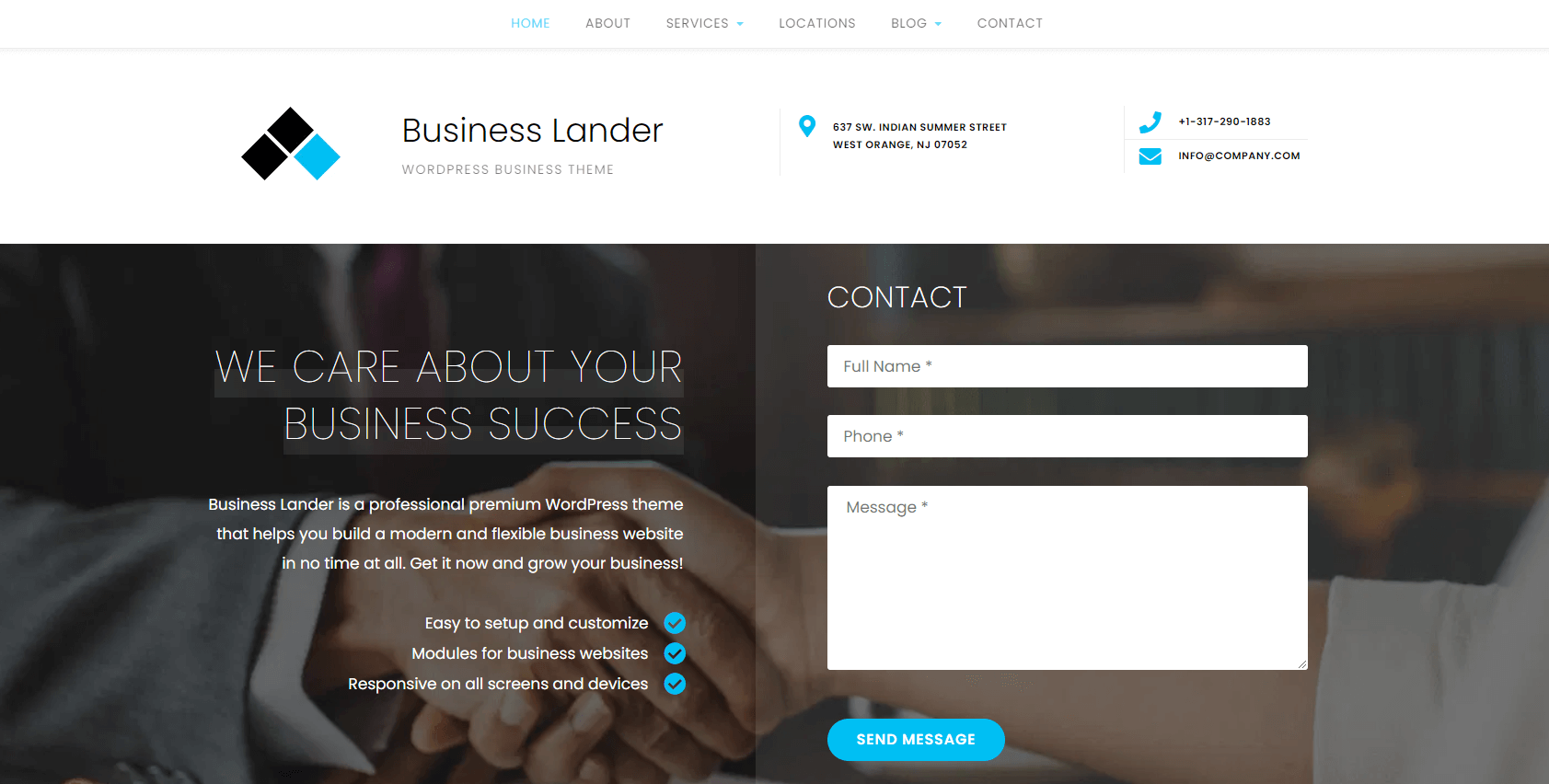 If you want to capture the attention of your visitors at first glance, Business Lander is the WordPress theme you should use. As its name might suggest, Business Lander is a theme whose design is focused on the landing page. It features a slick sign-up form front and center, which you can modify with custom visuals and writing.
Scrolling down, you can redirect your visitor to various links throughout the website as a means to showcase your small business. Business Lander is a visually appealing WordPress theme suitable for any number of small business types in various industries – make sure to check it out.
TheFour Lite

If you're looking for a free minimalistic WordPress theme for your small business, TheFour is here! This free WordPress theme owns the clean, elegant, and minimalist design that helps your visitor focus on your products and services. The big hero image allows you to display any images or even posts you want.
TheFour seems to be humble when you look at its features but fewer features also mean simple use. Actually, TheFour takes you almost no time to install, set up, and configure. And to make your site more effective and converting, TheFour theme is SEO-optimized and super lightweight!
Flash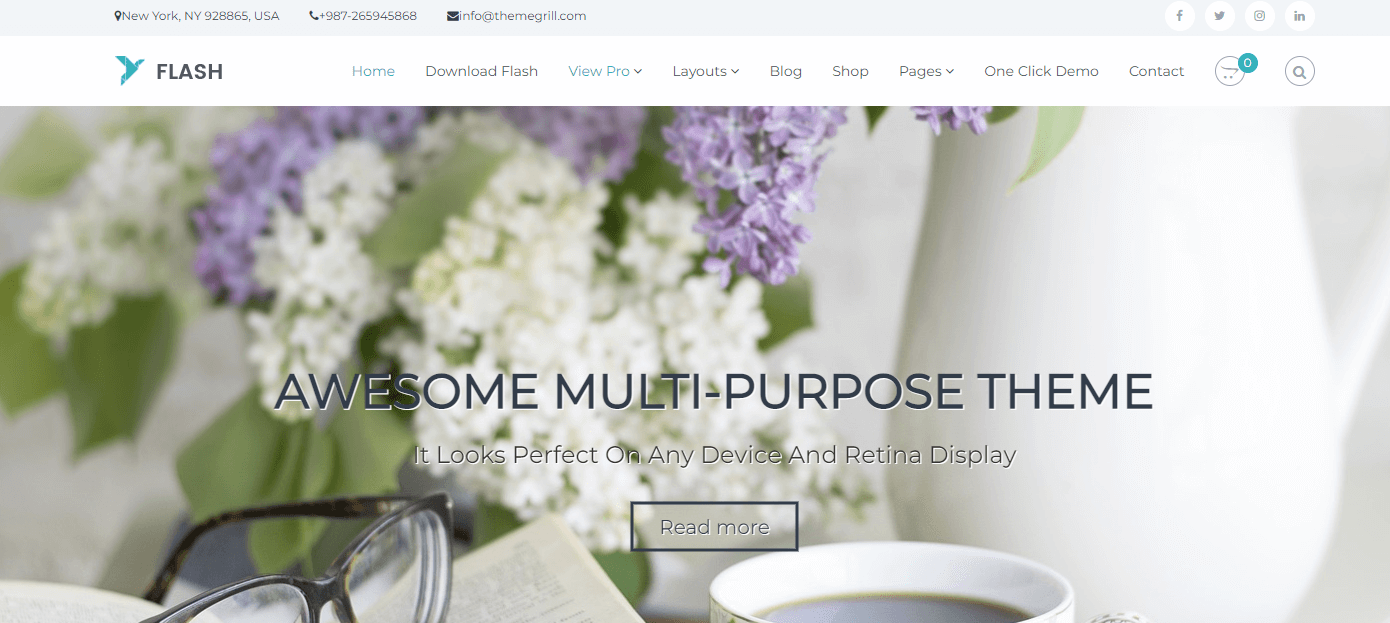 Flash is a free WordPress theme with more minuscule visual elements, which offers tremendous freedom for businesses with a lot of content to upload. It is a responsive, multipurpose theme with a range of drag and drop features and widget support. The simplicity of website design using this theme makes it perfect for nonprofit brands. Flash comes with a slew of custom widgets developed by its team, which is not a feature many free WordPress themes can say for themselves.
The theme is set up for quick installation right out of the box, allowing you to go through premade website sections and fill them easily. It is truly set up with small businesses in mind, having testimonials, employee showcase and portfolio sections already built-in. Flash also comes packing several blog section layouts for your writers to publish articles on as a bonus. This is a theme that truly deserves the premium WordPress theme tag but is free to use instead – don't miss out on it.
Sydney

Small businesses with more extensive products or service portfolios will likely need a WordPress theme with more comprehensive design solutions. Enter Sydney, a free WordPress theme built for business websites with a wide range of layout design options available.
Sydney is a responsive theme suitable for both desktop and mobile browsing with full Google Fonts integration, allowing for seamless content localization. Paired with a dedicated platform for custom writing, you can help turn your website content into an international small business powerhouse through Sydney.
The upside of using this theme is that it features Elementor blocks and a parallax background which will quickly augment your website's visuals without coding.
Chosen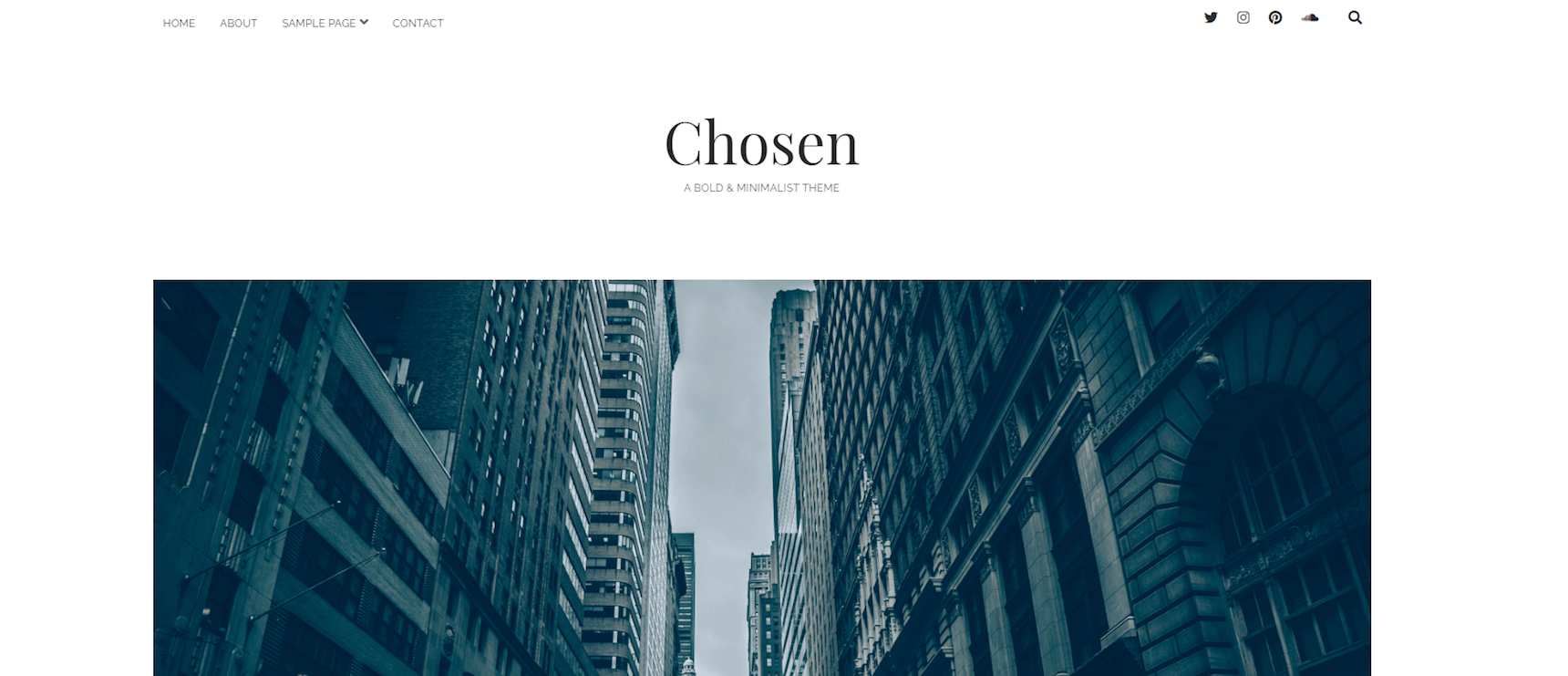 This is a WordPress theme best suited for small businesses with a focus on visual services such as photography, graphic design or web development. It is a minimalistic theme that will allow you to place your business's visual portfolio front and center, leaving very little room for long-form writing.
Chosen is also a great theme for blogging if your small business is focused on extensive digital publishing, given its elegant design and composition. It is a very easy-to-use theme, and most importantly – it will emphasize your custom content rather than eat up the visual space with its graphics. If you're looking for a professional, minimalist theme for your WordPress website, look no further than Chosen.
Shapely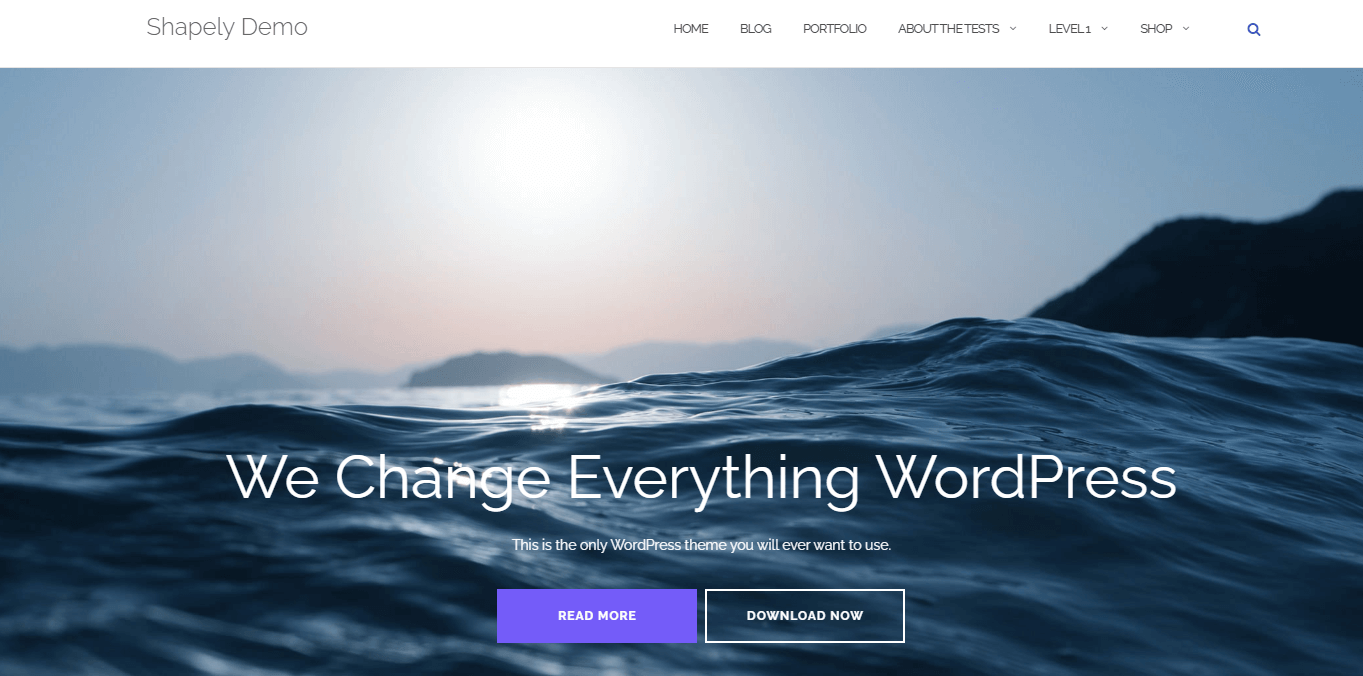 One-page websites have become something of a trend in recent years, and Shapely WordPress theme is a testament to that. Shapely is a free WordPress theme with tremendous versatility and an expansive feature list all focused on a one-page design solution. It comes with full WordPress Customizer support, responsive design, and Retina ready, allowing you to use extremely high-resolution visual assets.
That which stands out with Shapely is its minimalist yet content-rich design – you can effectively present your entire business through a single page. It is an excellent choice for small businesses which focus predominantly on visual content like architecture or aforementioned photography thanks to its composition. With integrated Font Awesome support, Shapely can become your go-to free WordPress theme and carry your small business to new heights.
Features:
Sleek one-page layout available
Parallax and aligned image sections
Optimized hero section
Allegiant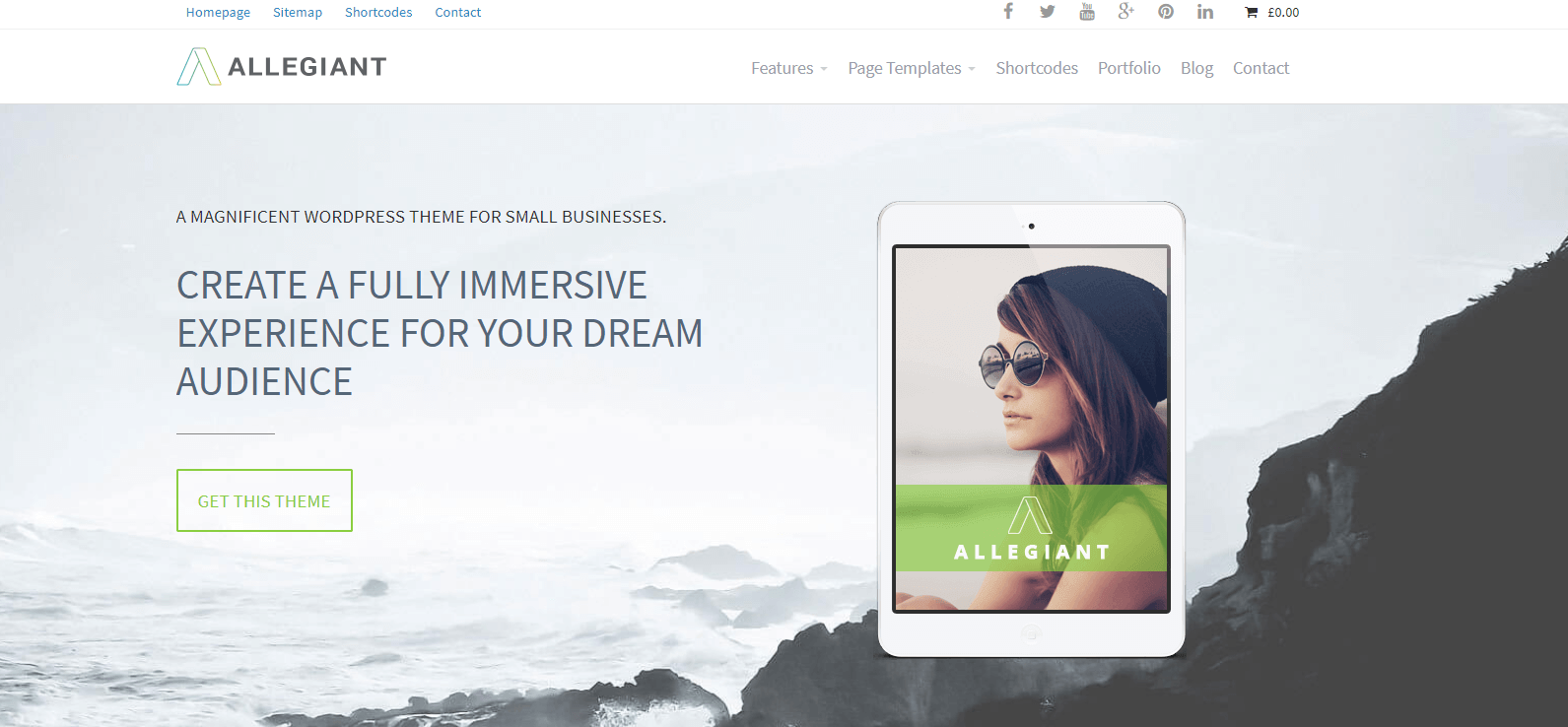 Allegiant is a multipurpose free WordPress theme with a lot of value for small businesses. At first glance, Allegiant is a very modern and slick theme with professionally-designed visual elements with can sway the visitor in your favor. The macro slider module on its landing page can be used to highlight important products, testimonials or messages to visitors.
It is effectively the first element your visitors will see, making it perfect for promotional campaigns and other rotating events throughout the calendar year. Allegiant features a companion plugin called COP Content Types, enabling you to access a vast library of plugins specifically designed for Allegiant. The theme also supports industry-standard WooCommerce and Yoast SEO plugins which can further expand your WordPress website's functionality. Given its fairly neutral design, Allegiant is suitable for any number of industries and applications so don't sleep on it.
Features:
WooCommerce & EDD supported
Various sidebar layouts
Minimize or remove the header and footer
Spacious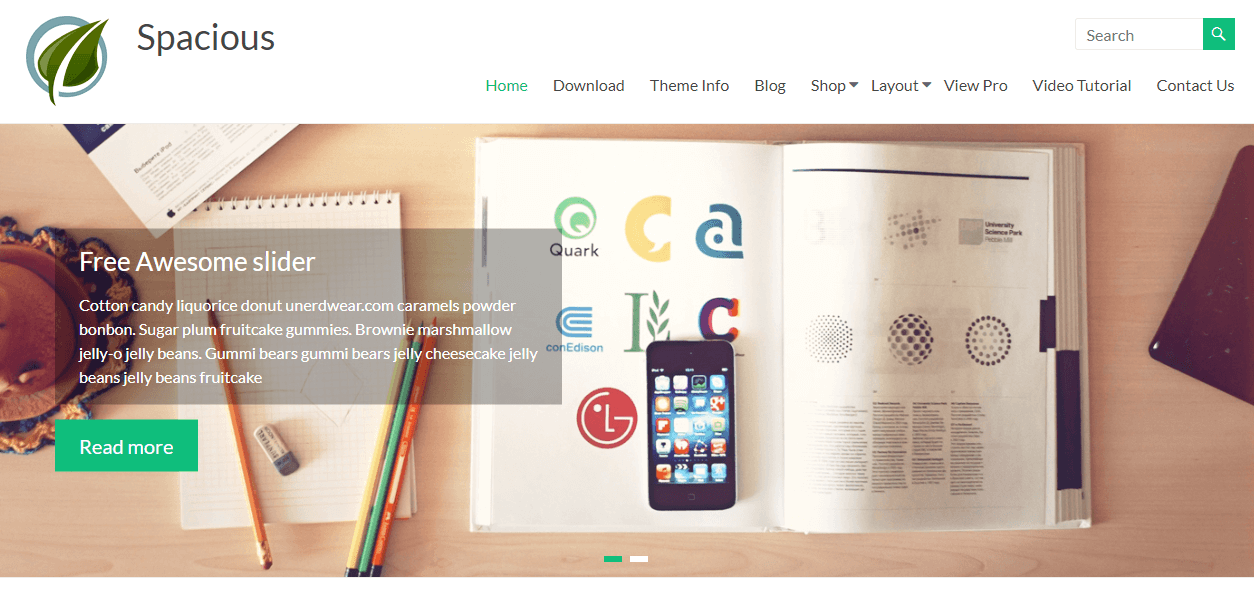 As its name might suggest, Spacious is a free WordPress theme with an emphasis on clean visuals and a smooth browsing experience. This theme is best suited for small businesses with portfolios, blogs, customer support pages and other functions related to running a complete business. Spacious comes with several pre-made templates out of the box, allowing you to speed up your setup process as much as possible.
It features over a dozen widget areas and you can customize it to suit your business' needs quite intuitively. Spacious also has extensive translation features available which you can use to make your business website as international as possible. This WordPress theme is simple but comfortable and inviting to visitors, so you should keep it on your radar going forward.
Cenote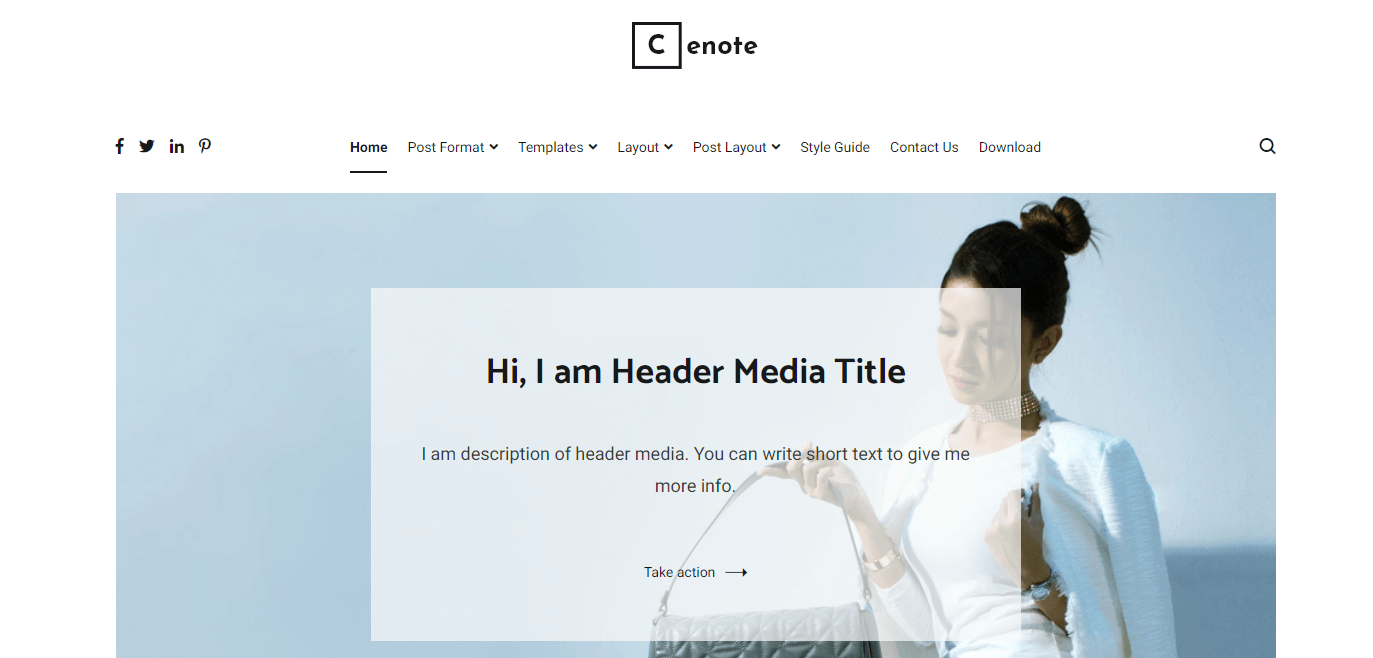 Lastly, Cenote is a WordPress theme best suited for small businesses who wish to present their products and services as cleanly and professionally as possible. It is especially suitable for travel, fashion and business industries given its design favors hooking the visitor with its smartly-designed landing page.
Businesses that rely heavily on written content, blogging and guest publishing will also find plenty to love about Cenote.
This is a lightweight free WordPress theme and is very easy to set up. That makes Cenote especially important for beginner WordPress users and small business owners who simply want to get their website up and running quickly. The theme is SEO friendly thanks to its clean design and allows for rudimentary color modification based on your needs. Cenote is of course eCommerce and translation ready, making it a good option for international businesses.
Features:
5+ ready-to-use starter sites for various purposes
Advanced typography
Multiple widget areas
Conclusion
Choosing the Right Free WordPress Theme
Knowing which WordPress theme will suit your small business the most without trying several different ones out is difficult. Pick some of your favourite free WordPress themes and try them out based on your small business's niche and requirements.
Take your time to choose the right theme, as changing it later on will be more of a nuisance than setting up a WordPress website. Once you come across the right theme, it will click with you naturally and you will be able to focus on running your business.

Jessica Fender is a copywriter and blogger at GetGoodGrade with a background in marketing and sales. She enjoys sharing her experience with like-minded professionals who aim to provide customers with high-quality services.
https://ninjateam.org/wp-content/uploads/2021/03/Free-WordPress-Themes-for-Small-Business.png
426
1210
Joey
https://ninjateam.org/wp-content/uploads/2020/10/ninjateam-logo.png
Joey
2021-03-01 10:38:25
2022-02-24 11:11:02
Da Best Free WordPress Themes for Small Business