Best WooCommerce CRM for E-Commerce Stores
WooCommerce and WordPress provide excellent platforms where you can manage the many factors of running an online store. However, if you're still going through search engines in the quest of finding a CRM, chances are you have not yet gotten your hands on a life-changing software.
While WooCommerce makes managing your E-commerce stores simple, a CRM can provide additional features and opportunities to make the best of available data and thus, grow your business further.
In the wake of digitalization, many businesses have switched to using CRMs as opposed to paperwork and other means to store data and market their services. The increased usage of CRM software has also become a digital trend for most businesses since 2021.
But do you know what a CRM does?
What is a Customer Relationship Management Software (CRM)?
A Customer Relationship Management Software (CRM) is online that assists businesses to manage and analyzing customer interactions and data throughout the customer lifecycle. The business can use these interactions and data to enhance customer experience.
In this article, we will be discussing the 7 Best WooCommerce CRM for E-Commerce Stores.
1. HubSpot for WooCommerce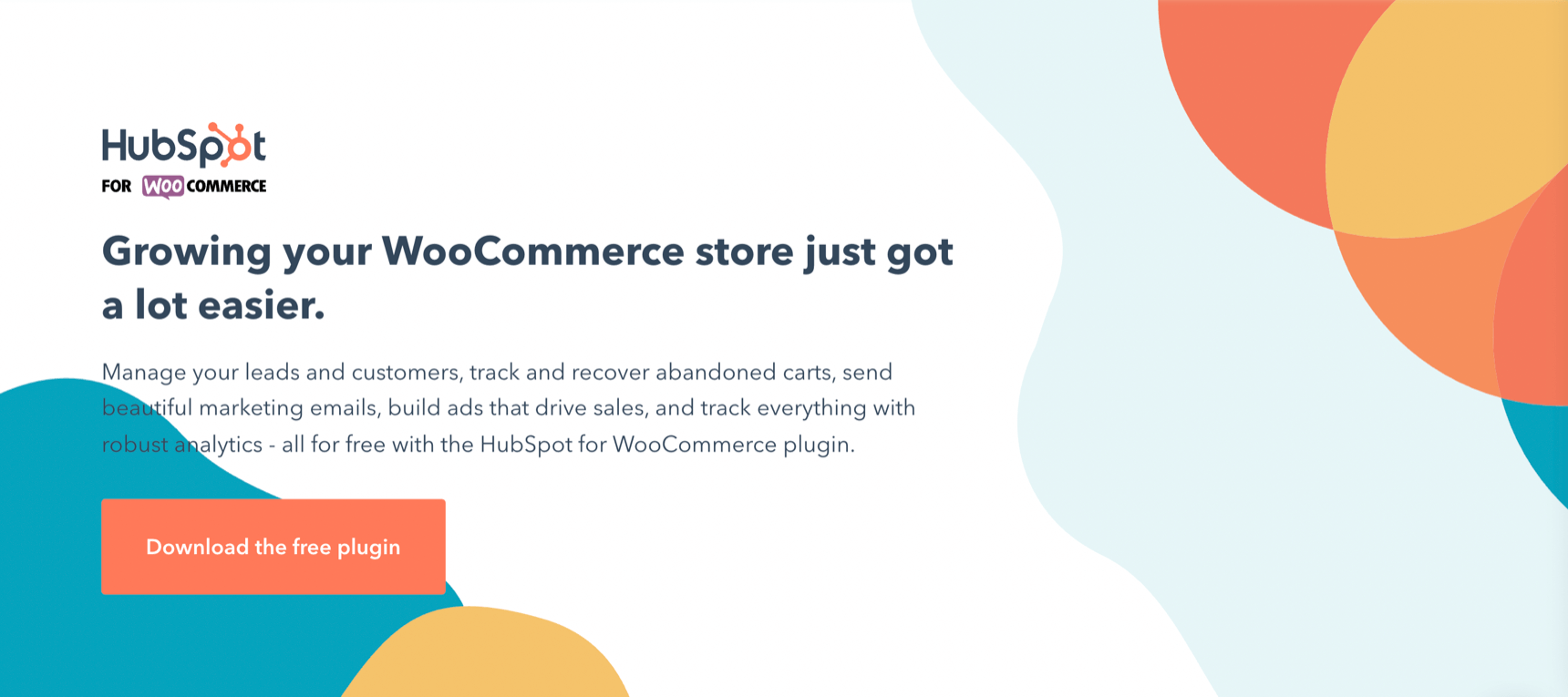 HubSpot for WooCommerce is an integration plugin that merges the excellent HubSpot CRM with your e-commerce store. The software enables a business to manage pipelines and customers, track and recover abandoned carts, send marketing emails, develop ads to increase sales, and track everything with robust analytics.
What more could a business ask for?
HubSpot offers both – a premium and a free service.
Pros
Offers an entirely free plan
Segment customers and leads
Email marketing
Market Automation
In-depth E-commerce analytics
Access to a contact's abandoned cart details, orders, website activity
Cons
Requires the HubSpot CRM to start working
2. Metrilo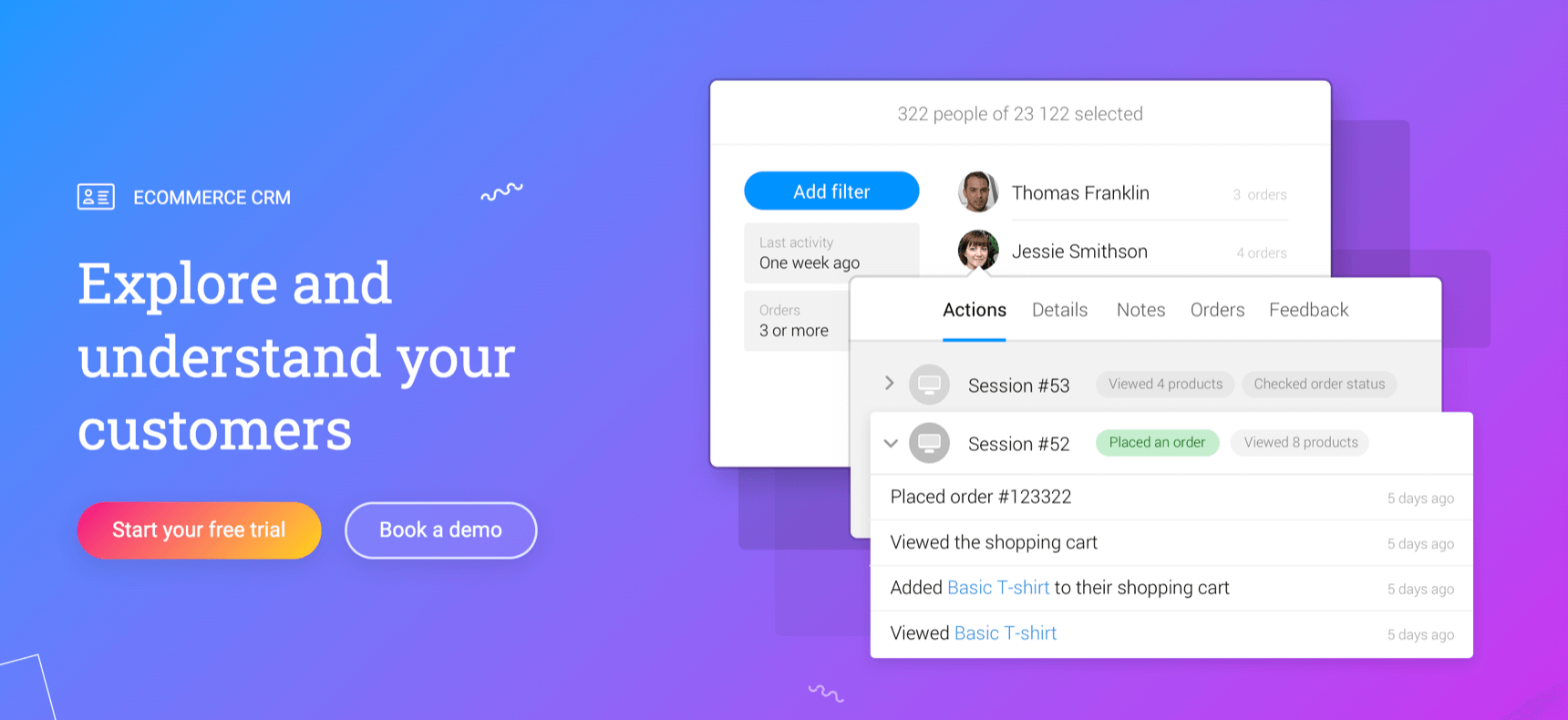 Metrilo claims to be the plug-n-play growth platform for e-commerce brands. Whether you are a Real Estate business or a Hospitality company, Metrilo is perfect for your WoocommeceEstore.
The biggest perk of Metrilo is its ability to store and analyze extensive customer data to provide you with insightful marketing information. You can use this information to create personalized email marketing campaigns, segment consumers into profitable segments, and build customer relationships.
Moreover, Metrilo CRM can integrate with your existing software; whether it is a CRM for the real estate industry or an enterprise management system. Automation and report generation are other perks; the CRM enables businesses to get instant multi-dimensional reports that combine data to forecast sales, detect anomalies, and get insights into crucial metrics like sales and marketing trends.
Pros
Can maintain the complete customer database
Segments customers by behaviors & Traits
Automated email marketing campaigns
3rd APIs integration
Cons
The dashboard is not customizable
Chatbot is missing
3. ReadyCloud CRM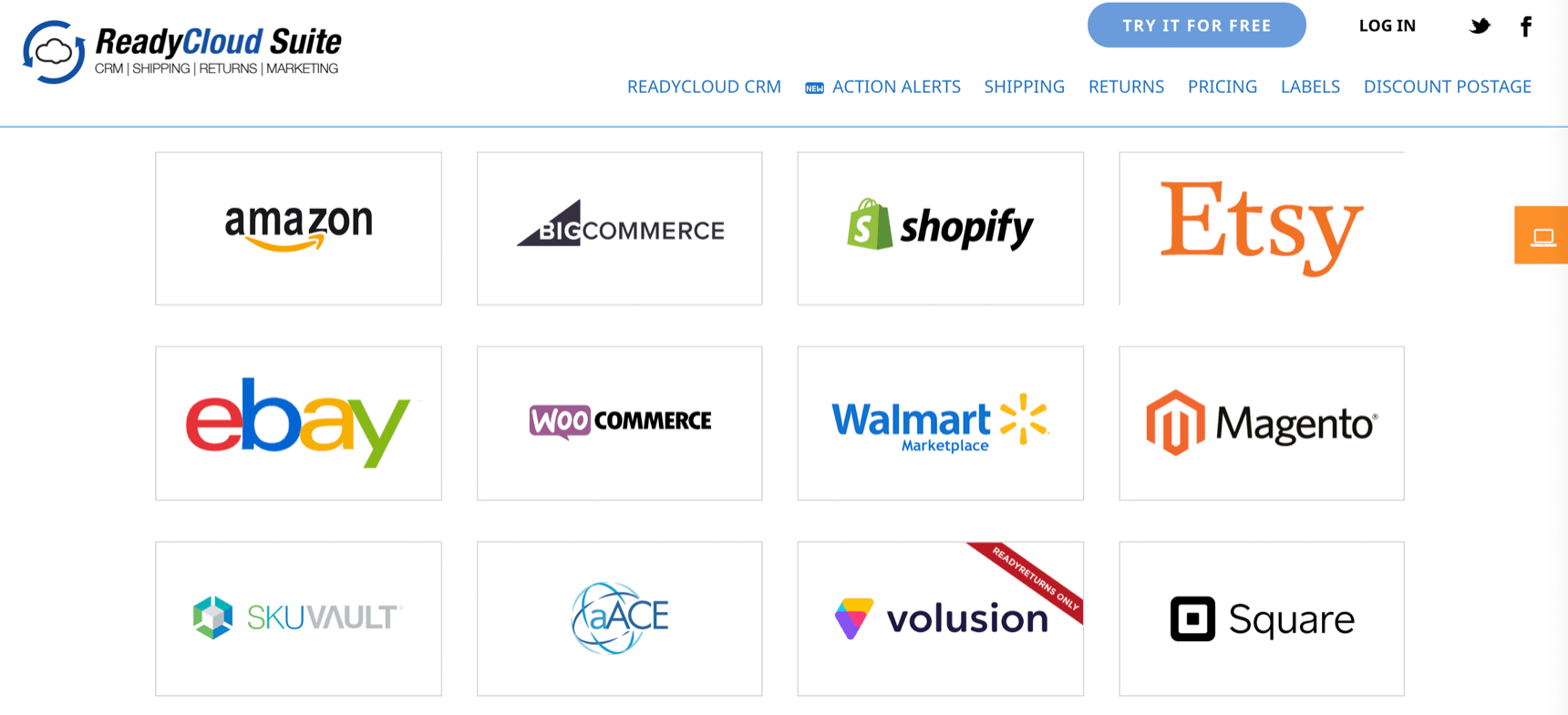 ReadyCloud CRM is a powerful software that directly links your e-commerce store with the ReadyCloud CRM. The platform enables a business to deliver an enhanced customer experience and increase its sales and brand awareness.
This means quicker order fulfillment, customer-friendly returns, and excellent interaction with contacts throughout the buying process.
The software also has a unique feature – the built-in REST API, which keeps the overhead on a business's website low while delivering all the data a company could require.
Pros
Directly links the CRM with the store
Well-developed with good customer support
Well-designed dashboard with easy-to-use layouts
Works well with MailChimp and other emails tools
REST API to keep overheads on websites low
Cons
Only offers a premium service
4. NextCRM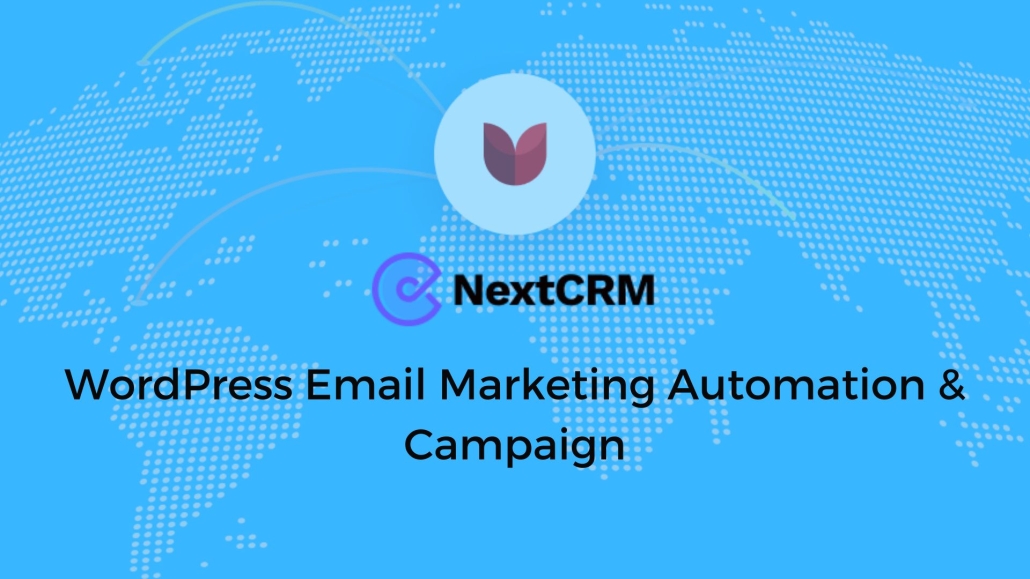 NextCRM – WordPress Email Marketing Automation and Campaign Plugin is an innovative WordPress plugin designed to streamline your email marketing automation and campaign management.
With NextCRM, you can easily manage your leads and customers, automate your email sequencing, keep track of user activity, and more, all within your WordPress dashboard. This powerful tool allows you to handle all your email campaigns and contact management from one centralized location, saving you time and effort.
Pros:
Manage and run a successful email campaign
Overall email campaign reports regarding subscribers
Users can manage the whole targeted audiences lists or customer lists
Users can create a subscription form to collect emails
Set Informations About the Business
Compatible with WooCommerce, EDD, and WP
Cons:
5. WP-CRM System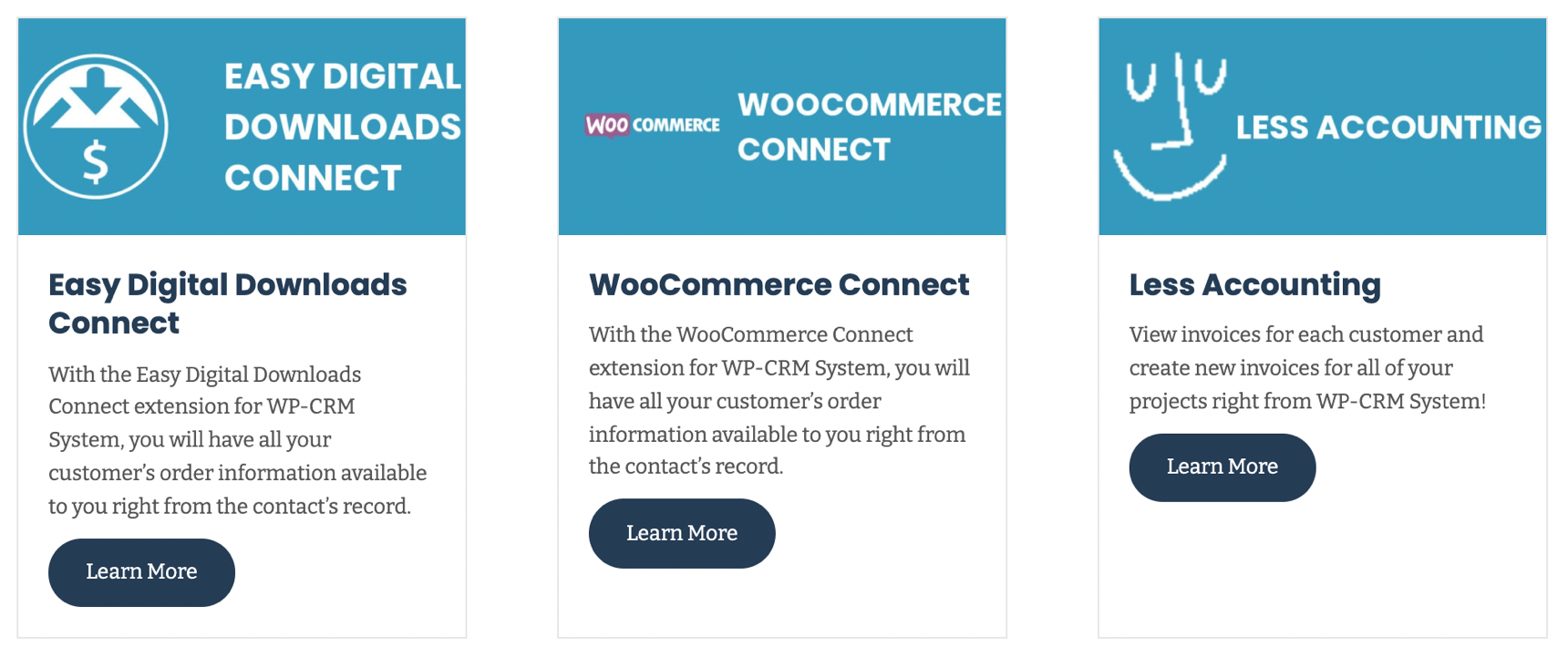 WP-CRM System is an excellent CRM, especially for freelancers and small businesses. The software works on your website and combines all the data on your database. You don't need to use cloud-based platforms or waste time exporting data.
WP-CRM system provides your businesses with all the features you could ask for – project management tools, invoicing tools, data import tools, and integration with 3rd APIs like Zendesk, Slack, Ninja Forms, and more.
Pros
Free core plugin
Convenient invoicing
Campaign management from start to finish
Enables businesses to create custom fields to track contact data
Efficient reporting – see upcoming deadlines, dates, and projects
No per-user costs – add unlimited records without additional pay
Cons
Limited features available in the free plan

6. Agile CRM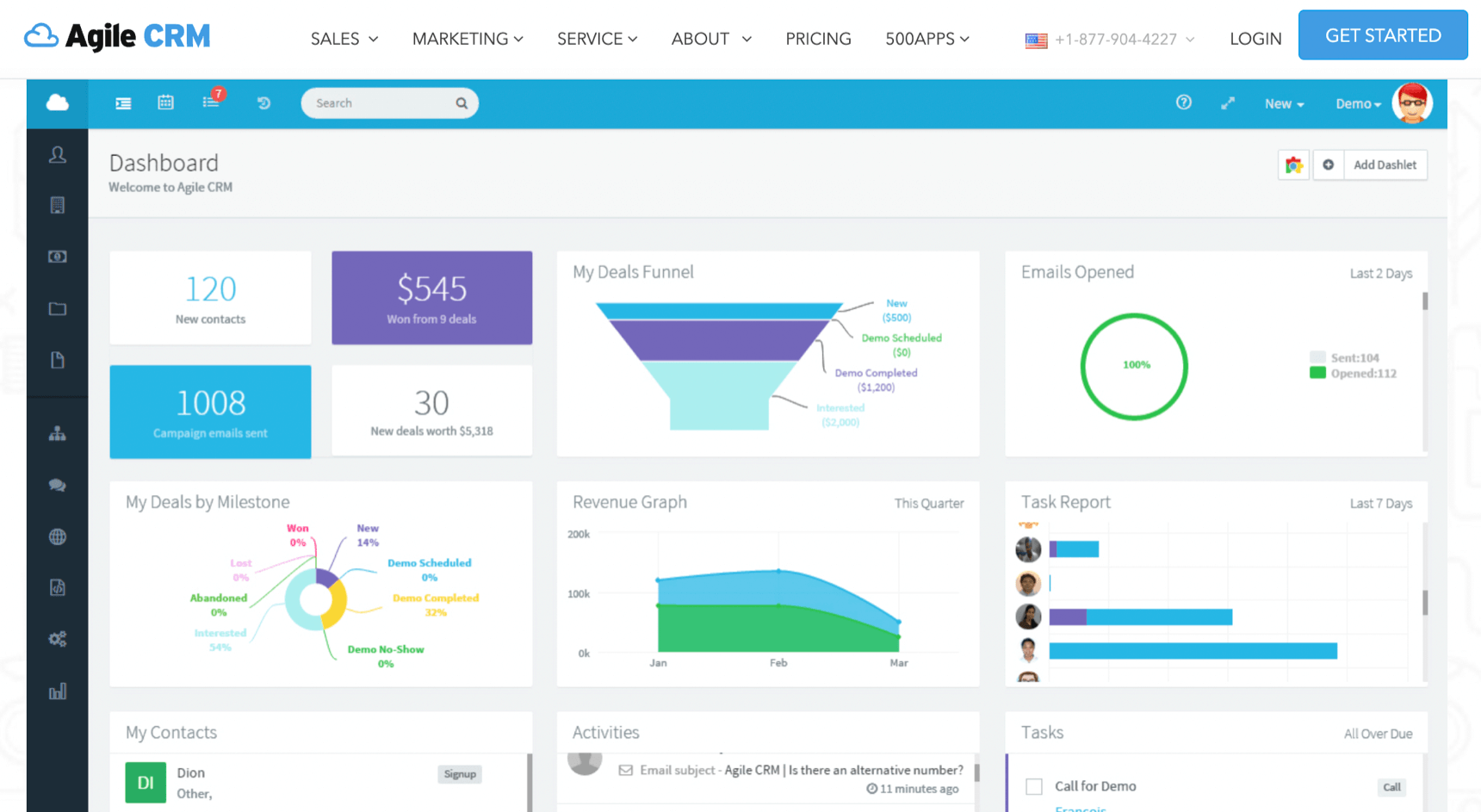 Agile is a popular CRM among many businesses today. The CRM also offers a dedicated WooCommerce plugin. It has a free-of-cost plan for up to 10 users and affordable premium plans for those with larger businesses.
Agile is divided into four diverse areas – marketing, sales, service, and extra. Each of these categories includes unique features that help a business grow in one way or another. For example, for marketing, Agile CRM enables a business to track and send emails for digital marketing purposes.
Other features include customer-efficient web engagement, mobile marketing, social marketing, landing page builder, push notifications, and more.
Pros
Easy to use
Advanced marketing automation
The smart campaign feature is unique and useful
Well-organized dashboard to store data
Cons
7. Ninjodo CRM for WooCommerce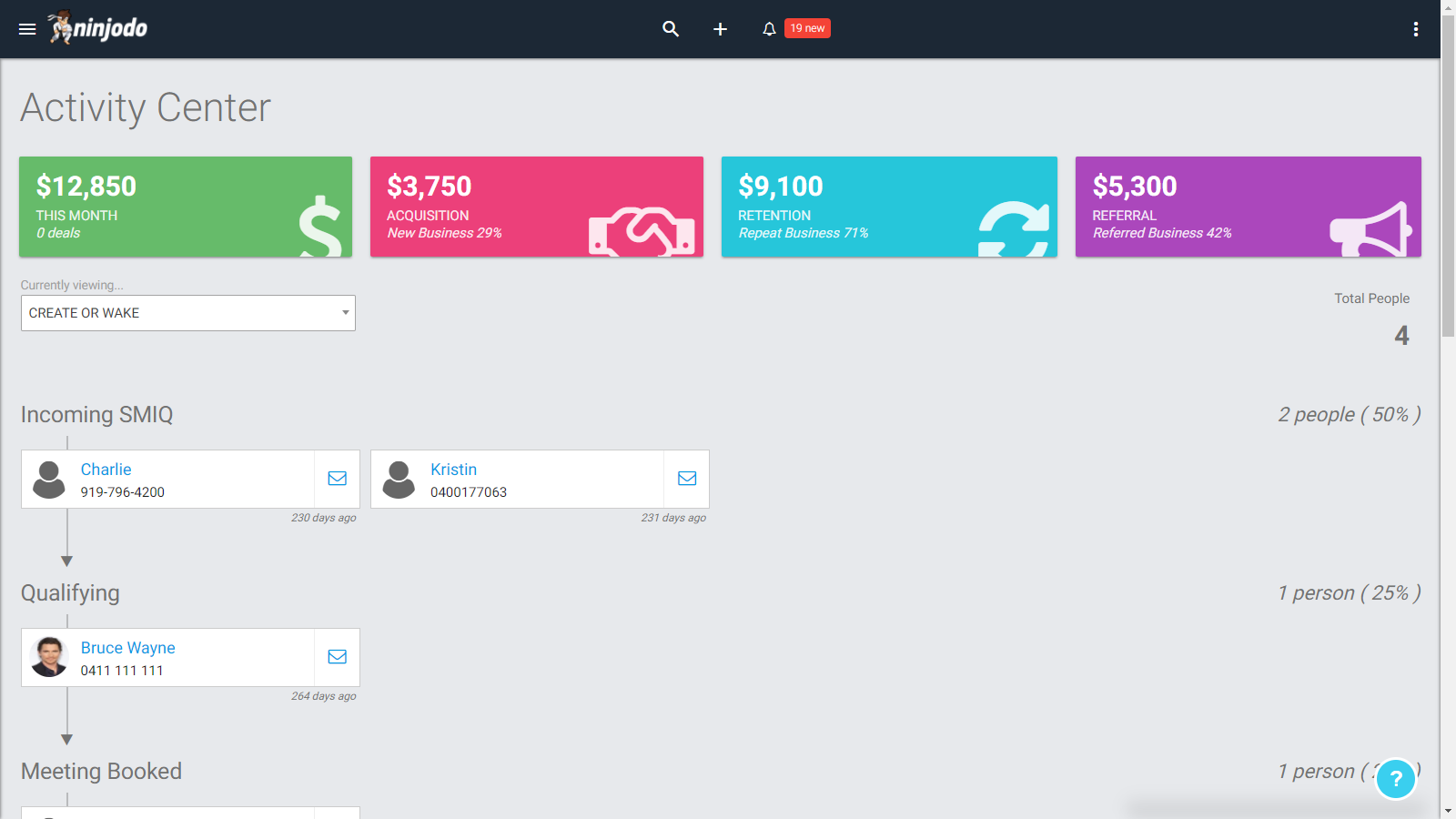 Ninjodo is another excellent option for small businesses. The CRM is well-designed with a good user interface that makes managing your data and sales on the software convenient.
The WooCommerce CRM comes with a diverse set of features enabling businesses to capture and sync contact data, send automated emails, receive real-time notifications, segment customers, analyze past orders, account and contact management, and more.
Pros
Well-designed and easy to use
Automation tools help save time
Satisfactory customer support
Upsell and cross-sell email sequences
Cons
8. Groundhogg CRM & Marketing Automation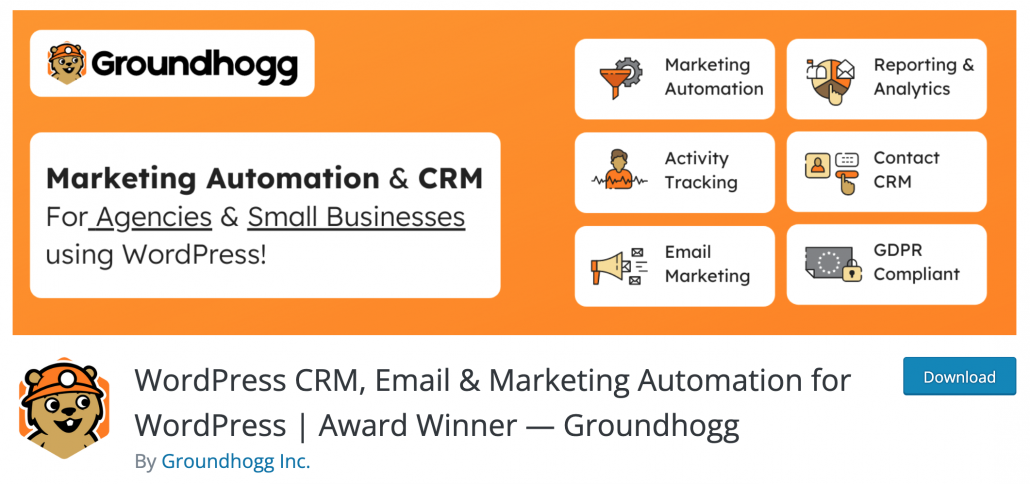 Are you an agency, WaaS, WordPress developer, LMS/Course Creator, WordPress freelancer, or CRM implementation service provider? Then let Groundhogg CRM & Marketing Automation for WordPress help you revolutionize how you acquire leads and increase your sales.
Help organize and segment your contacts to send more relevant communications
Control your own data
Automate your communications to save you time and increase your productivity
Pros
No limits on the number of contacts, funnels, or automation, and emails sent
Great Free version
Awesome support
Cons
Now You Know the 7 Best WooCommerce CRM for E-Commerce Stores
If you're still searching the web for suitable CRMs for your business, chances are you're still using excel sheets and paperwork for business operations. And if there is anything that the pandemic has taught the business world of today – it's the sheer importance of digitalization in the rapidly changing business world.


Digitalization of day-to-day business activities through CRMs will not only reduce workload and save precious time but also help you provide your customers with an enhanced customer experience. Moreover, integrated CRM features that enable you to digitally market your product also help increase sales and brand awareness while keeping marketing costs at a minimum.
Which is your favorite feature when it comes to managing your business with an e-commerce CRM? Don't hesitate to let us know!
Dur-e-Sabih provides ghostwriting and copywriting services. Her educational background in Accountancy helps her in tackling topics ranging from career and business productivity to web development, finance, and digital marketing. She writes blog articles for Real Estate CRM.
https://ninjateam.org/wp-content/uploads/2021/12/best-woocommerce-crm-plugins.png
426
1210
Joey
https://ninjateam.org/wp-content/uploads/2020/10/ninjateam-logo.png
Joey
2021-12-17 09:39:40
2023-03-24 15:48:27
Best WooCommerce CRM for E-Commerce Stores