Every page on your WordPress website contributes to the user experience. Unfortunately, the login page is often overlooked. Website owners put the landing page or product page on the pedestal, while the login page diminishes the brand identity with its plain look.
A customized login page that aligns with your brand can add to your success. The easiest way to transform your login page is with a WP plugin. If you are looking for a plugin that will suit your unique needs, the following list of the best WordPress custom login page plugins can help you find your match.
1. LoginPress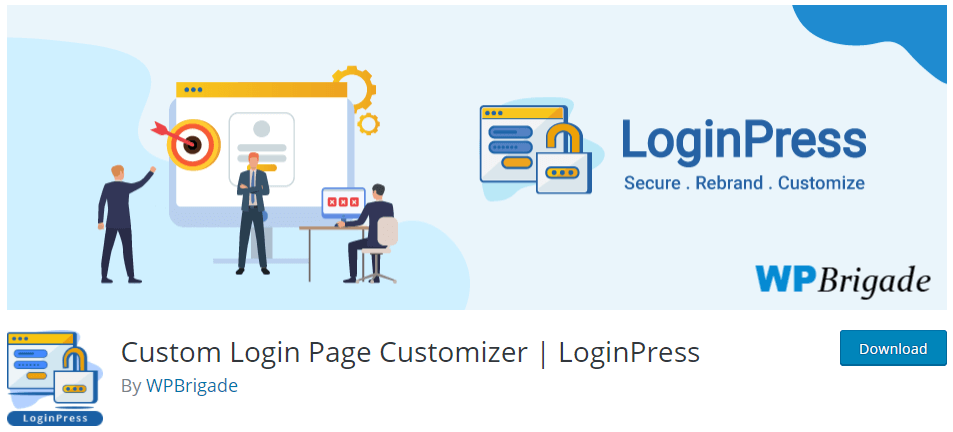 With the LoginPress plugin, you can create a page that perfectly represents your brand. You will be able to customize every element of the login page. Add your logo, splash your brand's colors across the background and login buttons, and play around with attractive images.
LoginPress even gives you a chance to personalize registration error messages, login error messages, forgot error messages, and forget password hint. Add your unique brand tome and voice within those messages and make the user experience better. You can customize your welcome message as well. For example, you can use your typical greeting that is a part of your brand identity.
What LoginPress allows you is to unify your website's design by branding every element of the login page. You can turn any generic element of your login page into a well-crafted and carefully designed addition to your brand identity.
Key features
Customize the logo, background, form, login buttons
Error messages
Welcome messages
Form footer
2. Erident Custom Login and Dashboard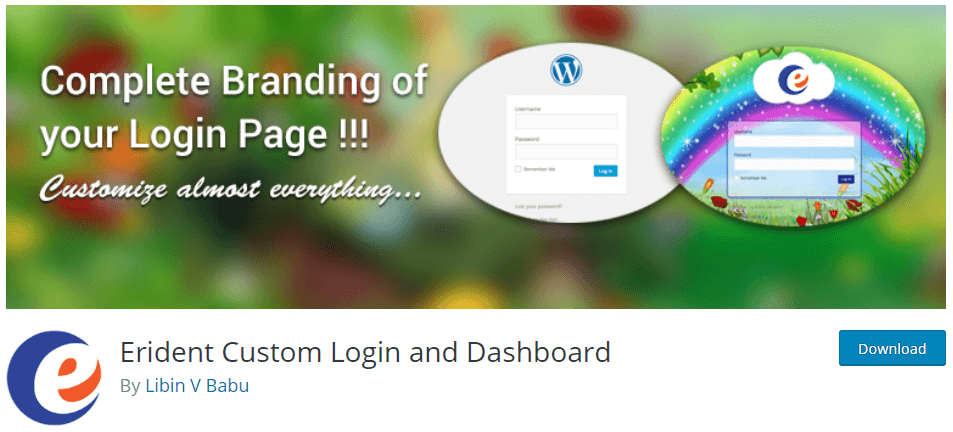 Style up your WordPress login page with Erident Custom Login and Dashboard. This free plugin offers numerous customization options. The creative freedom that this plugin brings is remarkable. You'll be able to style up the login page or mirror your chic website design. The login page can align with the overall design of your website once you change it up with the help of Erident Custom Login and Dashboard.
Some of the options you can experiment with are the shadowing, opacity, colors, and styling of the login page background and form. Why is this useful? Because you can adjust the colors to be the same as your brand colors.
Of course, you get to add your own logo and style the buttons. Additionally, you can choose whether you'd like to show or hide certain links on the login page, such as the back to website link or lost your password link.
Key features
Customize the logo, background, form, login buttons
Hide links (register link, lost your password link, back to your website link)
Preserve previous settings upon WP plugin update
3. Admin Custom Login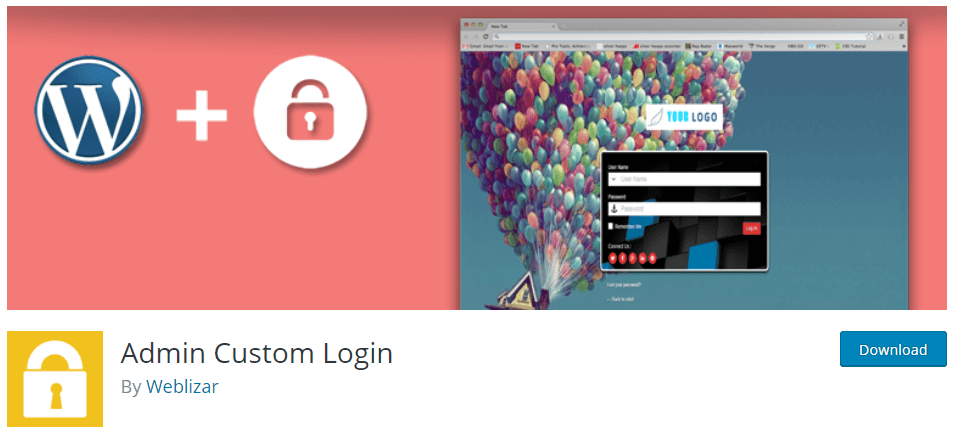 Since many users spend the most time on their iPhones and Android smartphones on aesthetically pleasing social media platforms, why not make your login page just as attractive? Design a beautiful login page with Admin Custom Login and gain the sympathies of new users. From the background to the link text, you can customize it all with the Admin Custom Login plugin.
In addition to changing the background image and color, you can go one step further and use a slideshow for your login page background. If you manage to impress users with a unique slideshow background, they'll be more certain about their decision to join your website community.
Since Admin Custom Login lets you reposition the form, you can place it wherever you wish. Among the many features that this plugin has, there is also a social media icon feature. You can build your social media followers by adding social media icons directly to your login page.
Key features
Customize the logo, background, form, login buttons
Background image slideshow
Add social media icons on the login form
Customize social media icons colors and size
4. Absolutely Glamorous Custom Admin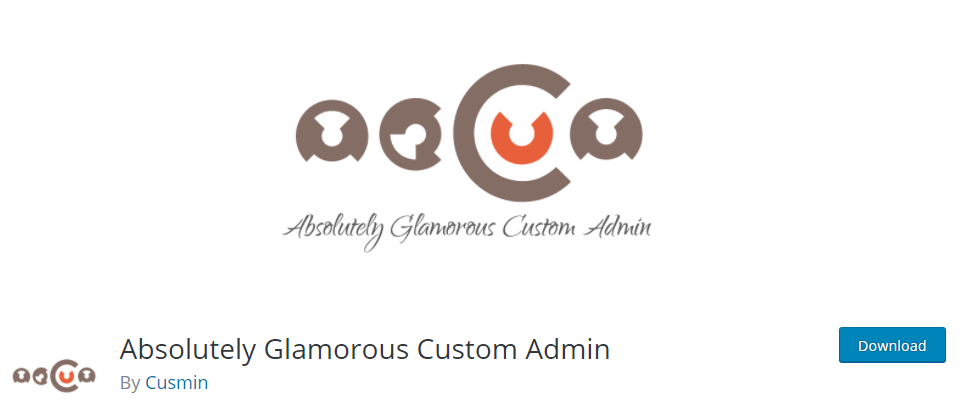 Another WordPress custom login page that is definitely worth mentioning is Absolutely Glamorous Custom Admin. As the name of the plugin suggests, you'll get to glam up your login page from top to bottom. This free plugin will help you customize your login page, admin panel, admin menu, and admin bar.
Personalize the image, colors, and text on your login page to teeny tiny details. Give your login form around corners or add a hyperlink to your login image. The round corners can make the login form different as well as give it a playful look.
Your login page will look more classic, simple, and clean if you hide the register link and lost password links. Minimizing the information on the form can ensure that users don't get distracted by unnecessary pieces of information.
Once you are done with the login page, use this all-in-one tool for WordPress admin panel personalization to change up the admin bar or menu. Why not keep the design consistent across the admin panel when this amazing plugin provides you with such a possibility.
Key features
Customize the logo, background, form, login buttons
Hide register and lost password links
Change hyperlink on the login image and the register button
Round corners on login boxes
5. WooCommerce Social Login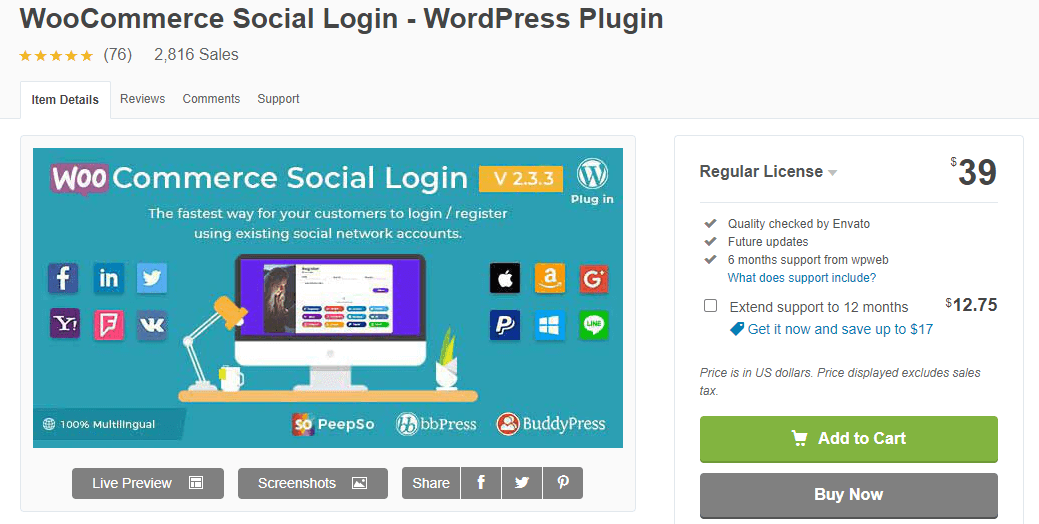 Did you know that more than 77% of consumers prefer social login when using an e-commerce website? E-commerce owners that want to enable users to log in or sign up with social media accounts can find a solution in the WooCommerce Social Login.
Eric Holmberg, a WordPress developer and contributor writer at TrustMyPaper, said that "The best part about WooCommerce Social Login is that it is a standalone plugin. You can use it both with or without integration with Woocommerce, bbPress, BuddyPress, etc."
Create a seamless login option by allowing users to login with Facebook, Twitter, Instagram, Google+, PayPal account, Windows account, Amazon, and other networks. Another amazing feature of this plugin is the Social Login Report Page. You'll get information on how many users joined your website with social media accounts.
WooCommerce Social Login will open up new doors for you to attract more users to your website. Not to mention that the social buttons can contribute to your login page design by making it more wholesome.
Key features
Link social accounts with user accounts
Integration with Woocommerc, PeepSo, bbPress, BuddyPress
Sign up statistics
6. Hero Login Styler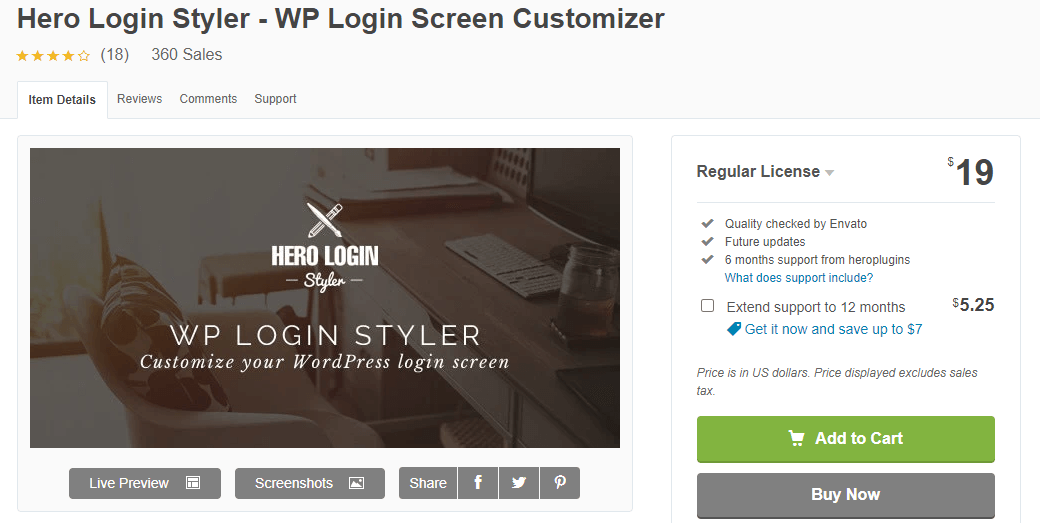 If there was an award for the most intuitive and user-friendly WordPress custom login page plugin, the winner would be Hero Login Styler. The plugin not only lets you experiment with different styles for the login page, but it also ensures that you do it easily and quickly. Therefore, if you aren't very skillful with design, this plugin may be the perfect choice for you.
The simplicity of the interface and live editing will help you adjust the background, text, and form with ease. The live preview is one of the main features that make this plugin so intuitive. You can assess every change instantly and observe how your actions affect the design.
In case you aim for the easiest solution, Hero Login Styler even offers a few pre-made layouts. Simply choose one of the layouts and you'll get yourself a fresh new look for your login page.
Key features
Customize the logo, background, form, login buttons
Pre-made layouts
Live editing
7. Custom Login Page Customizer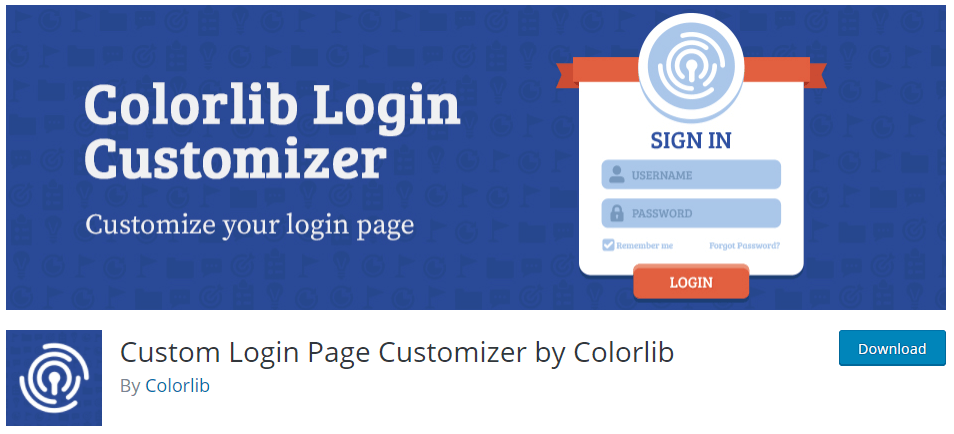 If you aren't sure whether you want to pay for a plugin just yet, Custom Login Page Customizer can be your pick. The plugin offers both free and premium solutions. You can give the free version a try, and if you like what you see, upgrade to premium and get additional functionalities.
Aside from typical customization options, you will also be able to monitor the changes as you customize the page with the live preview feature. The live previews feature is especially useful for website owners without any designer experience who just want to polish up the login page.
Set the color transparency, add your logo, include links to external images, and so much more. Custom Login Page Customizer will allow you to completely personalize the login page straight from WP Customizer.
Key features
Live preview option
Color transparency
Links to external images
Customize the logo, background, form, login buttons
8. LoginStyle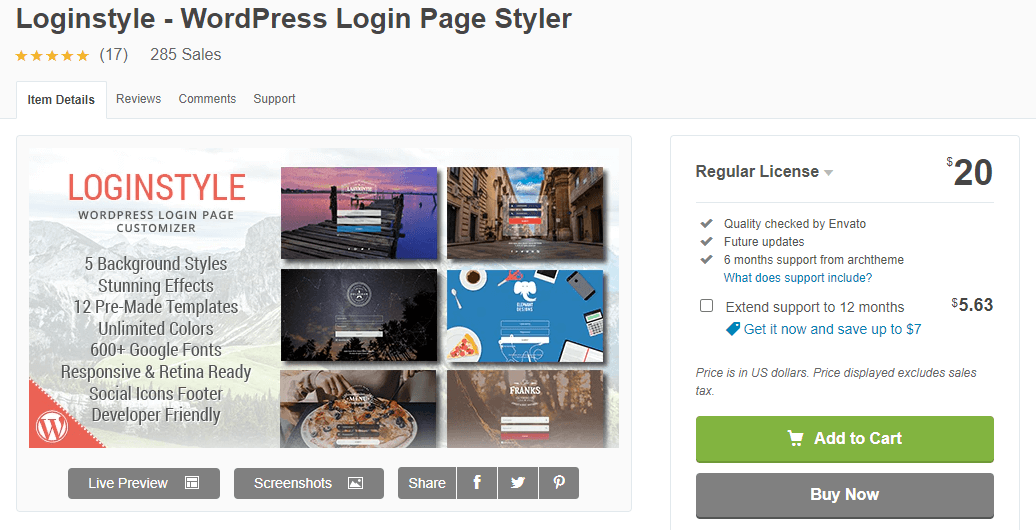 If you wish to completely dominate the login page customization, the LoginStyle plugin can make that happen. This plugin is suitable for crafting stunning login pages with attention-grabbing effects and unique fonts.
LoginStyle plugin certainly offers the biggest choice in terms of personalization. You can add video background, blur image or video, use color overlay, choose from over 600 fonts, add social icons, etc. The variety of customization elements also enable you to create a login page that follows the rest of the website design seamlessly. Lewis Wake, a web designer, stresses the importance of consistency in design. He claims that "To provide a quality experience to your users it is essential that you are consistent in both design and content of your websites. Consistency is the biggest factor that separates a negative experience from a positive one."
Since the numerous choices can make the customization overwhelming, you can opt for one of the 12 pre-made templates. There is something for everyone, whether your website is about cooking, electronics, business, or fashion.
Key features
Customize logo, form, login buttons
5 background styles
Effects (raindrops effect, interactive molecule effect, etc.)
12 pre-made templates
social icons
Final Thoughts
Creating a WordPress custom login page can be a great solution for improving user experience. The above-mentioned plugins are the best of the best as they each bring a unique set of features. Pick the plugin that suits your needs and let the customization begin!

https://ninjateam.org/wp-content/uploads/2020/12/Best-WordPress-Custom-Login-Page-Plugins.png
426
1210
Ninja Team
https://ninjateam.org/wp-content/uploads/2020/10/ninjateam-logo.png
Ninja Team
2020-12-20 14:57:48
2021-03-11 16:18:11
8 Best Custom Login Page Plugins for WordPress 2021