8 Best Instagram Feed Plugins for WordPress
Instagram is an excellent platform for visual content, and its simplicity makes it one of the most popular marketing tools at the moment. This popularity explains why companies and businesses are finding ways to import their Instagram content to their websites.
Besides, you can save time on content creation and delegate this work to your creative writers to make embedded eye-catching Instagram content increase engagement. With that in mind, you'll also need to replicate your content on your website to accompany your posts.
But how can you integrate Instagram content into your WordPress website without relying on low-res screenshots?
The answer lies in the Instagram feed plugin WordPress alternatives. These tools allow you to import Instagram posts from any account to your web page. So, they help save a lot of your time to help you focus on your creative work.
That said, here are the best Instagram feed plugins for WordPress websites.
1.  Smash Balloon Instagram Feed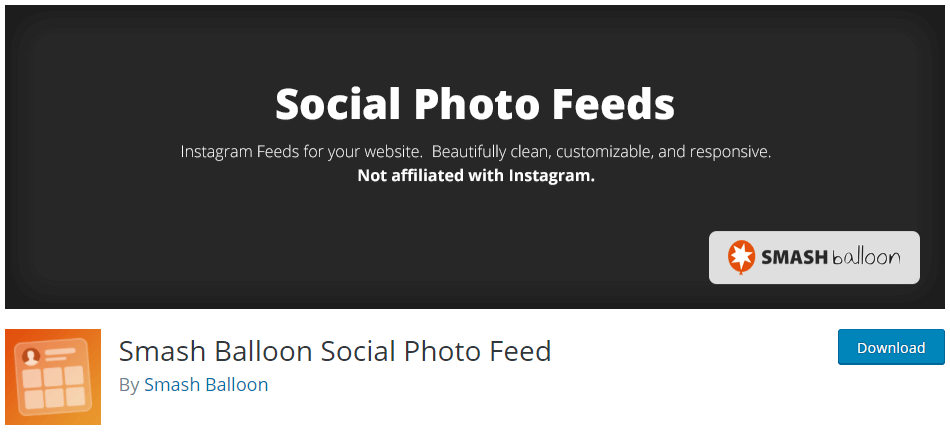 This Smash Balloon add-on is one of the most installed Instagram feed plugins, with over 1 million active installations. With the easy-to-find name, Instagram Feed allows you to embed Instagram feed WordPress without any stress. It is also the most feature-rich Instagram feed plugin for WordPress.
Furthermore, this plugin makes it possible to integrate Instagram on your WordPress site without losing the original user experience of the website. Visitors can even follow your Instagram page without leaving your website. Also, the Pro version enables you to show feeds from specific hashtags and offers other layout customization options.
Besides, you can choose your preferred color scheme to match the one on your website. This wide range of color choices is useful when customizing your plugin to attract more users.
Key features:
Customizable layout

Responsive on all devices

GDPR Compliance

Infinite scrolling

Multiple Instagram accounts

Multiple color schemes

Hashtag filtering
2. Tagembed Instagram Feed Plugin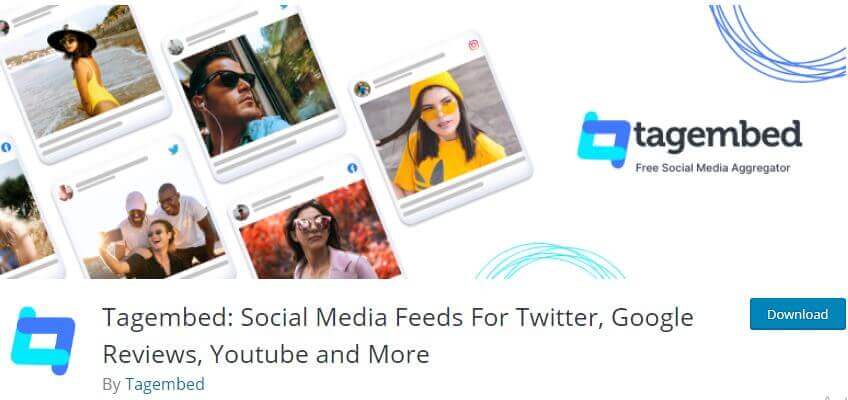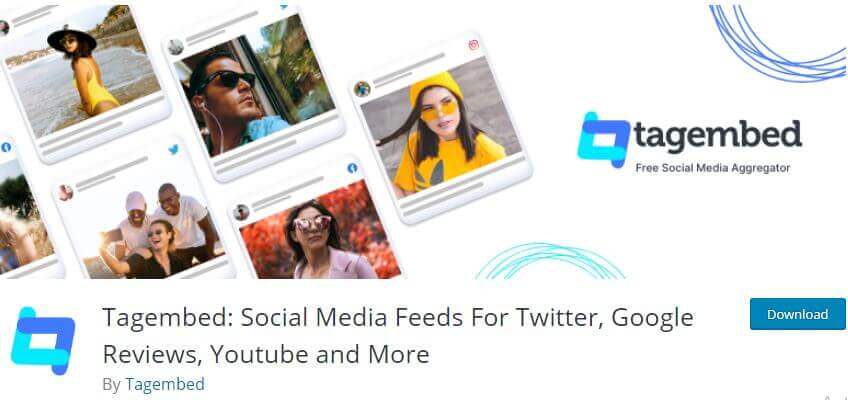 Tagembed has already made a name for itself in the social media aggregator market due to its easy-to-use interface and pocket-friendly pricing plans. It brings the same magic to WordPress as it brings the Tagembed Instagram Feed Plugin. The plugin helps collect and display Instagram feeds on your website with ease to increase its visual appeal. Even if you aren't satisfied with Instagram alone, it is also compatible with 18+ social media platforms. So, you can have ample content to post.
The plugin allows you to customize the widget as per your choice, which means you can change the font size, font style, and more to make it more appealing. And with the moderation feature, you can filter out all unwanted and irrelevant content from the feed. Thus, it helps to maintain the quality of your website and at the same time keep the feed related to your business.
You get all this and more absolutely free of cost.
Key Features
Customizable layout
Responsive design for all screens
Moderation to remove unwanted content
Budget-friendly prices
Custom CSS, custom CTA, analytics, and more
3.  Instagram Journal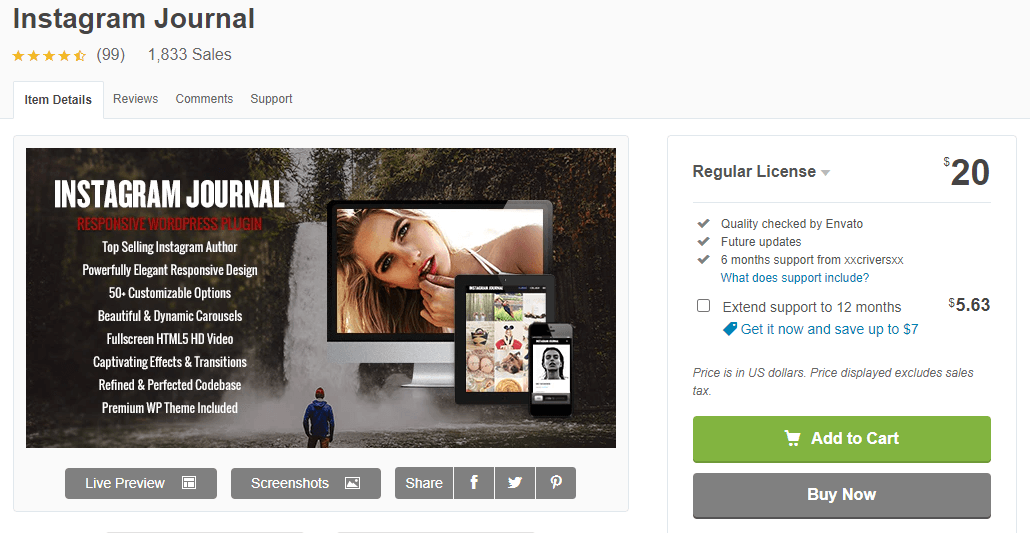 Instagram Journal is a powerful choice because it leverages the strength of the Instagram API. With the latest version, you gain access to a comprehensive library of colors and customization options for your WordPress site. And above all, you can host Instagram contests right on your website to generate traffic and offer social proof.
With Instagram Journal, you enjoy an array of display modes for your embedded Instagram content. The plugin allows you to integrate an Instagram banner, section, or carousel into your WordPress website or post. So, you have more freedom to play around with the themes and settings to get unique content on every post.
Most importantly, the 'Journal' look is perfect for media-rich pages. If you are a designer or photographer working on an online portfolio, this plugin is the perfect answer to your problems. You can give your website that extra bit of flair. Besides, you can use FileBird – WordPress Media Library Folders to organize thousands of your photos.
Key features:
Amazing color palettes

Responsive design for all screens

Extensive user options

Access to Instagram contests

Image carousels and collages

4.  10Web Social Photo Feed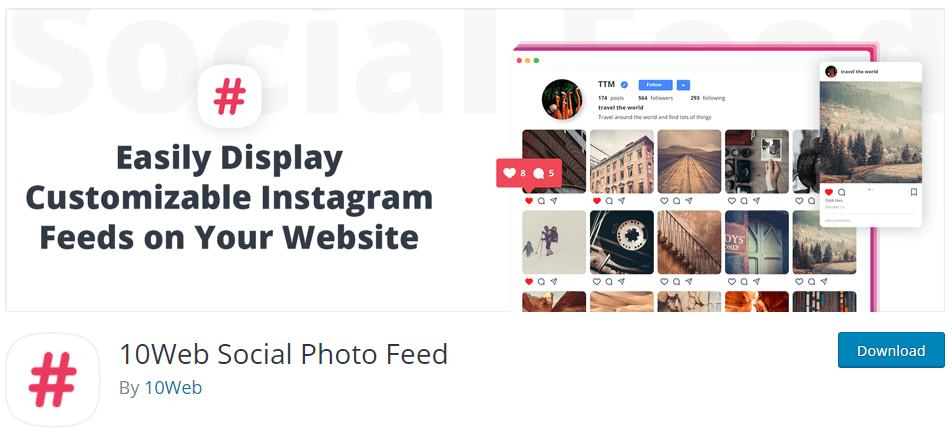 The 10Web plugin is an easy-to-use plugin that allows site owners to include an Instagram Frame on their web page. At the moment, this plugin has over 70 000 active installations on WordPress. Besides, the plug-in also features constant updates.
The main exciting feature of this plugin is that it allows you to adjust the thumbnail size to your preference. Moreover, the Pro version enables you to embed the Instagram post in the sidebar. You can also access other attractive layouts and custom-made themes for the plugin.
If you are a blogger, photographer, or digital artist, the 10Web Instagram Feed plugin is the perfect choice for you. It will help you add some extra flavor to your posts by offering great content to your audience. And most importantly, 10Web offers a highly-responsive interface on every Android or iOS device.
Key features:
Instagram Gallery

Individual feeds

Filtered feeds

Instagram widget

Scrolling options

Pagination options

Colorful and responsive themes

Customizable layouts
5.  Feed Them Social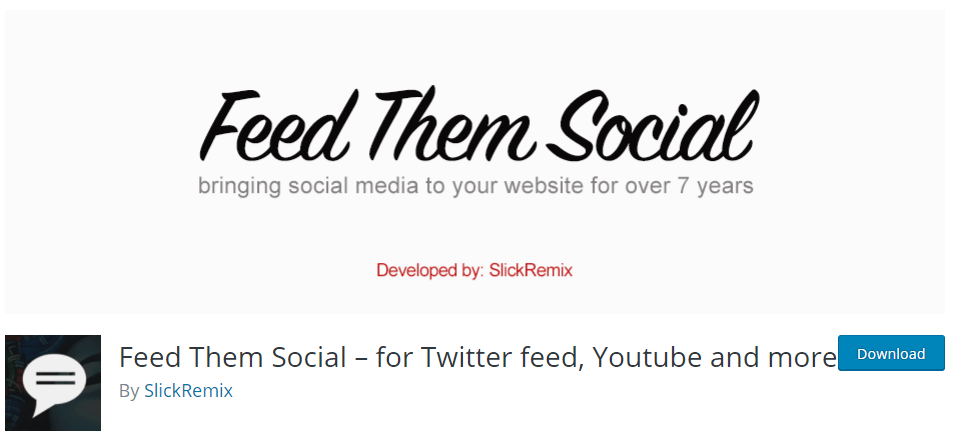 As the name implies, the Feed Them Social plugin gives you access to multiple social media platforms simultaneously. It allows you to embed posts from your Facebook, Instagram, and Twitter accounts. Feed Them Social has over 80 000 downloads since it became available for download on WordPress.
Regardless of your WordPress experience, the Feed Them Social plugin is pretty easy to install and customize without any hassle. Besides, this plugin is responsive on all devices regardless of the embedded social network. And you can include 'Share' buttons and generate shortcodes for the embedded content.
Moreover, you can embed the plugin to any post using a shortcode generator. Also, you can add the Instagram feed to the sidebar of any post or page. Most importantly, you can get the premium version of this WordPress plugin for as low as $50.
Key features:
Affordable premium version

Customizable layout

Share options for social media platforms

Post limit control on Premium

Excellent customer support
6.  Grace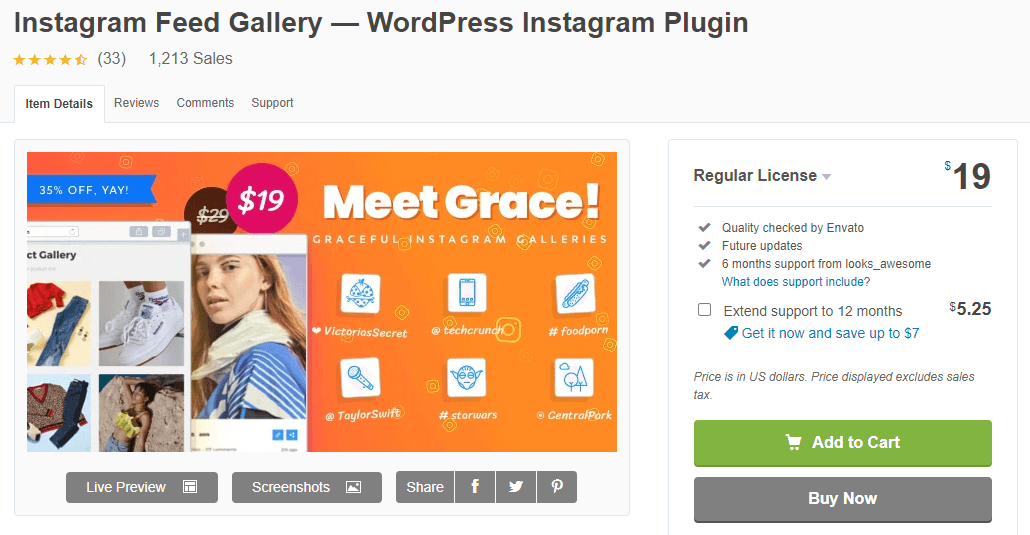 Grace Instagram Feed is a plugin that offers excellent Instagram feed features on WordPress sites. The eye-catching plugin allows users to customize their content and beautify their web pages without any stress. As it stands, Grace is compatible with the latest Instagram API for businesses released in 2020.
The CodeCanyon plugin comes with a lot of functionalities to beautify your embedded content. You can use the classic, justified, slider, or masonry grid as your preferred layout. Grace also offers a drag-and-drop option when using the post builder. Besides, you can also filter posts that appear on the feed using URL or keyword filtering.
Moreover, Grace allows a site owner to approve posts before they can appear on your website. This posts approval system works with the filtering option to help you curate the kind of content that the users can see. And most importantly, you can import any public post on Instagram instantly.
Key features:
Responsive gallery design

Customizable layouts

Content filtering

Lightbox

Social media buttons

Post approval system

Translation tools (Loco Translate)

Beautiful headers
7.  WPZOOM Social Feed Widget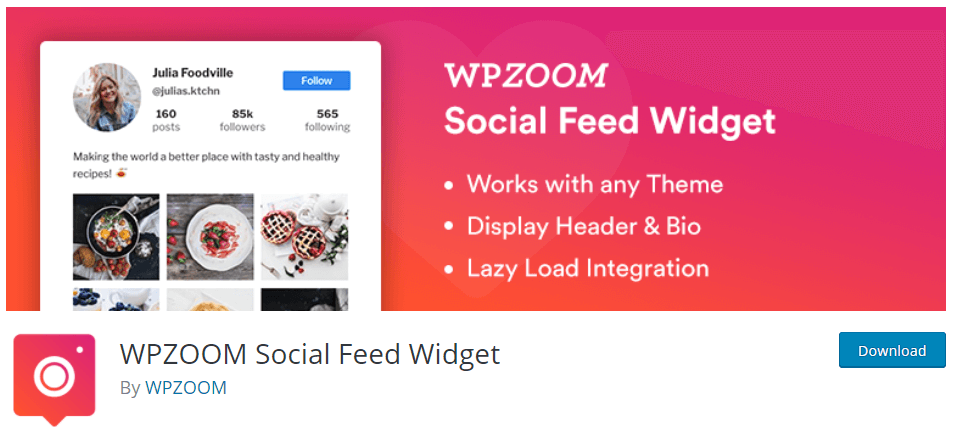 If you are looking for a reliable and responsive Instagram widget for your WordPress site, WPZOOM is a good option. Over 50 000 WordPress users have installed this plugin, earning it a 4.5 stars rating. And since the plugin has translation options, you can adapt the language settings to suit your target audience.
The plugin offers multiple embedding options for your Instagram feed. You can embed the content on the main page, sidebar, or footer. Moreover, you can also choose single-column or multiple-column layouts for your posts. For people with advanced coding skills, you can play around with the widget's CSS content.
In terms of installation, the WPZOOM social widget is easy to download. You can also customize the settings and color scheme without any stress. And most importantly, you can configure the number of images to display, as well as the order of display.
Key features:
Content filtering

Translation options

Responsive design

Adjustable thumbnail and image size

Automatic image loading when scrolling

Customizable layout and color schemes
8.  Spotlight – Social Photo Feeds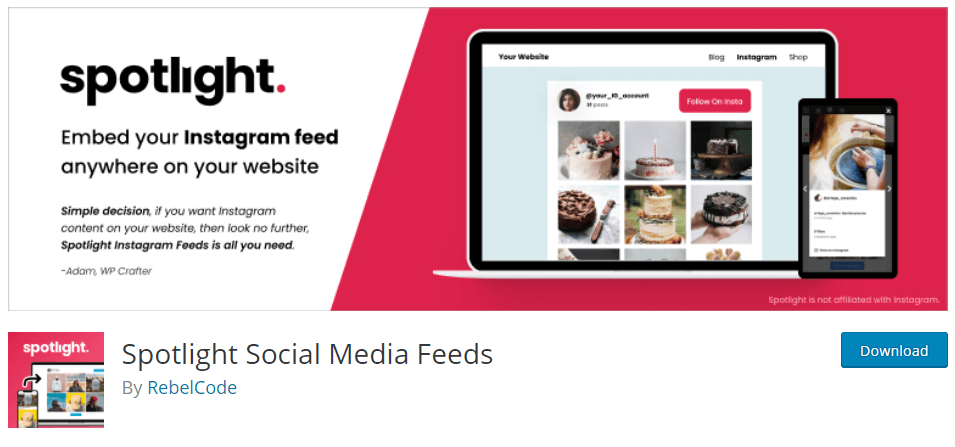 Spotlight is a fast-growing Instagram feed plugin from RebelCode. The plugin currently has over 10 000 downloads and features constant updates. Besides, Spotlight is so popular because it provides instant support to users.
Also, this Instagram feed plugin WordPress allows you to connect your Instagram account to a webpage. While editing the Spotlight plugin, you can use the live view feature to monitor the changes in real time. Besides, you can choose from an extensive color palette to match the website's color scheme.
Moreover, you can also connect multiple Instagram accounts simultaneously. The premium version gives you access to additional features like post filtering, hashtag prioritization, and extra design options. And most importantly, you don't need any coding skills to edit the Spotlight plugin.
Key features:
Responsive design

Customizable layouts and fonts

Unlimited Instagram feeds

Lightbox

Follow buttons

Arrangement options (date, popularity, etc.)
9.  AccessPress Instagram Feed Pro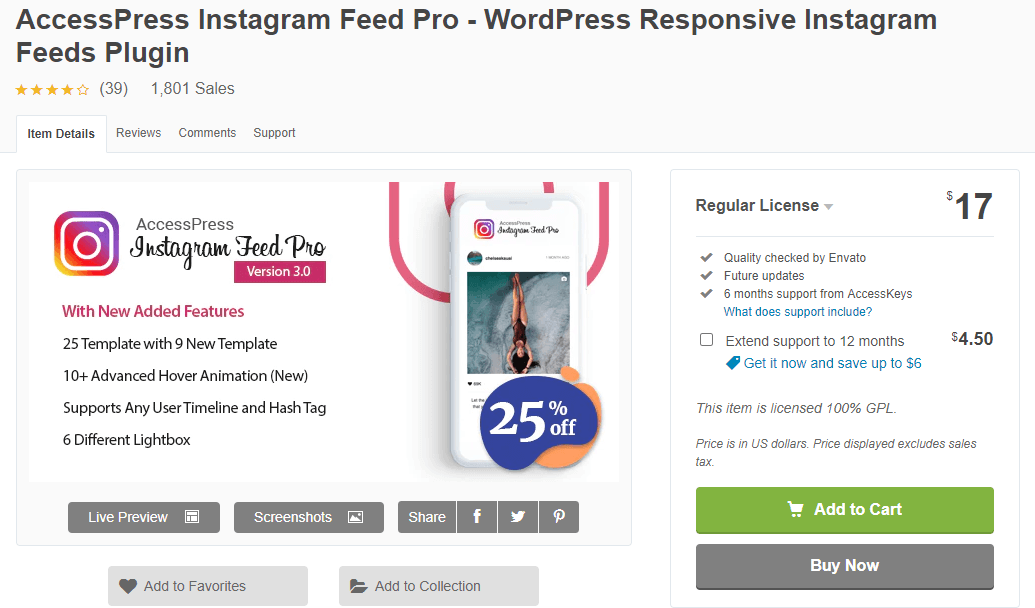 AccessPress is a simple and responsive Instagram feed plugin WordPress that works on the 3.8 version or higher. The plugin supports English and Japanese translations, with more language options being added regularly.
The plugin allows site moderators to customize the content. Besides, the plugin is easy to use, offering flexible options to moderate the feed according to your specifications. You can also filter and sort specific content based on keywords, hashtags, and location.
With the AccessPress Instagram Feed Pro, you can monitor basic analytical data for likes and comments on every post. Plus, you can check the most popular content over a specific period.
Key features:
Feeds from multiple accounts

Dedicated support team

Customizable layout

Free lifetime updates

Content filtering features

Fully responsive layout for mobile

Generated shortcode

Lightbox
Final words
Instagram posts are a great addition designed to make your website eye-catching. Together with informative written content, the media content drives a lot of traffic and conversion to websites. And at the same time, the plugins can beautify your website.
So, use Instagram feed plugin WordPress to embed pages and filtered hashtags to your website. Always focus on plugins that have the most exciting features and fit your WordPress team. And most importantly, compare the best plugins available and choose the option that suits your budget.
Get rid of boring written content. Add some extra spice to your website with the help of responsive Instagram WordPress plugins right away!
✨Bonus:
There is a free plugin for Telegram chat, it will help you display Telegram chat on your WordPress site in just a few seconds. Take a look!

Amanda Dudley is a writer with a Ph.D. in History. She is a native English speaker with excellent German language skills. Since obtaining her doctorate, Amanda has dedicated her efforts to lecturing undergraduates and graduates in American and world history. Currently, she works at essay writing service, assisting students with their academic tasks.
https://ninjateam.org/wp-content/uploads/2021/03/Best-WordPress-Instagram-Feed-Plugins.png
426
1210
Ninja Team
https://ninjateam.org/wp-content/uploads/2020/10/ninjateam-logo.png
Ninja Team
2021-03-18 21:00:36
2021-11-01 16:29:01
8 Best Instagram Feed Plugins for WordPress