10 Best WordPress Popup Plugins in 2023
Desire to get a magic wand that will turn website visitors into regular subscribers and customers? You need to add popups as this is an effective way to increase sales and provoke your visitors to subscribe to your site. The point is that they attract attention and prompt action since they are great at instantly sharing the value you may provide your visitors with. But how can you customize them?
The easiest way is to use the WordPress popup plugin to streamline the lead generation and conversion-driving processes. Let's discover the best WordPress popup plugins that you should use this year.
Top 10 WordPress Popup Plugins to Use in 2023
There are many popular plugins for the WP site today. They all have a different pricing policy and a different set of features. But each of these plugins will allow you to set up popups on your website. If you think that such tools only allow you to create a pop-up, then this is not so.
They can provide many more functions than it might seem at first glance. This is due to the fact that they are not single-function-based. Here are some extra functions:
Availability to use ready-made attractive templates. Most products offer a wide gallery of templates, which means that you do not need to involve specialists to create the desired design.

It is not just a single-function product. It usually includes additional features such as targeting and so on.

The plugins integrate well with popular email marketing services.
Below is the list of potentially effective tools you may get started with already today.
1. 

WordPress Popup

WordPress Popup plugin is the best decision for you to get in touch with your website visitors, collect email lists, promote your product, and so on.

The most popular features of the Popup Box plugin are:
14 Popup types including Subscription, Coupon, Video, Yes or No, Contact form, Google Map Popup, and more.
Huge variety of templates to make the popups to be not only informative but eye-catching as well.
Close triggers to select the appropriate way for you to close the popup, such as by pressing ESC or clicking outside of the box, or hiding the close button.
You can restrict the pop-up to a particular country, for instance.
Opening and closing effects, including opening/closing animation, and animation speed
Scheduling the Popup
2.  Popup Maker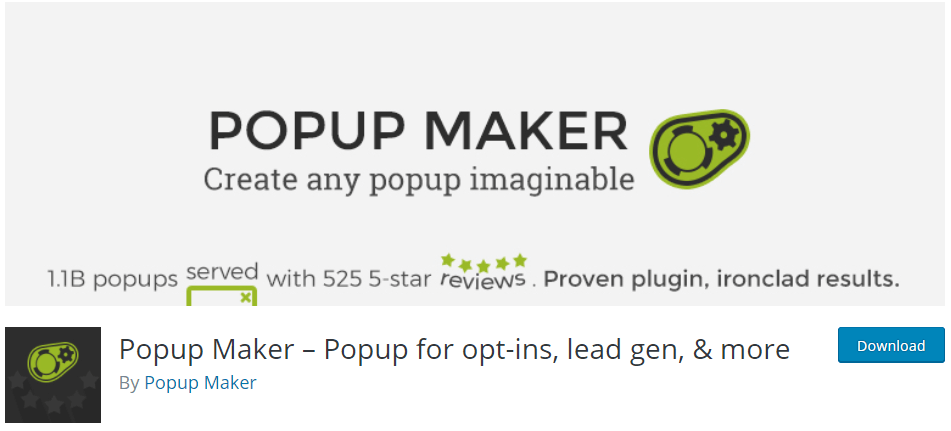 Price: It is free to use; you have to pay to get advanced features.
The main advantage of the plugin is that the basic functions are free to use. If necessary, you can purchase an extension that will open up access to more advanced features. You can create an unlimited number of pop-ups.
The ability to add these pop-ups in the right place for your site is a definite benefit. By the way, this plugin got a rating of 4.9 out of 5 on the official WP website. This user rating says a lot, so it's a good option for those on a budget.
Pros
The product is free to use.

Integration with contact form plugins such as WPForms.

It is possible to add triggers where you want.

The ability to control a trigger and set it for certain content, pages, and messages.
Cons
The free version does not include access to analytics.
3.  Popup Builder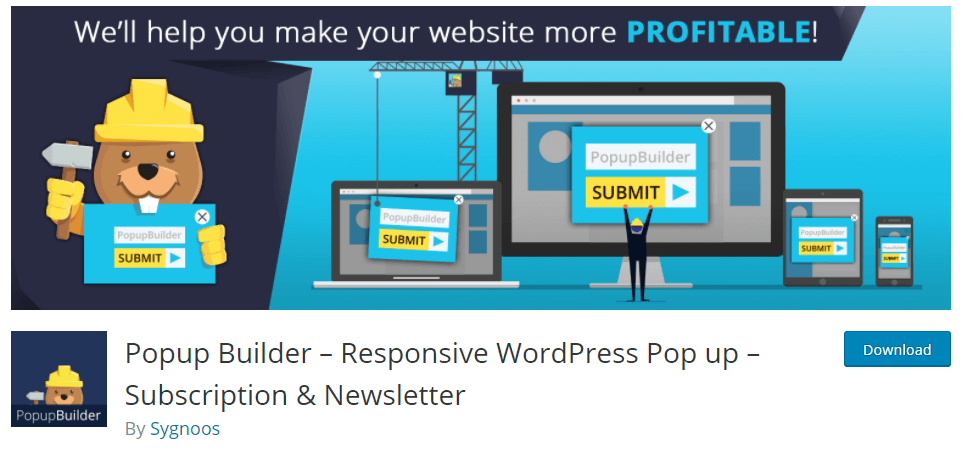 Price: The ability to use some functions is free. Prices start from $60.
This is a free plugin that deserves attention, as it has a maximum of useful features and a minimum of disadvantages. The product offers a range of features including unlimited pop-ups, sound effects, animations, and more.
Another distinctive feature is that it is compatible with the most popular web page builders besides WordPress. But what's more interesting is that it is WPML multisite compatible. Briefly, with a wide range of pop-ups and customization options, this plugin has everything you might need to get started.
Pros
Many functions are available for free.

The drag-and-drop function makes it attractive for newbies.

Ability to configure the multisite network for use on sub-sites, WPML integration.
Cons
Pop-ups for social networks are paid.

The inability to customize "leave this page".
4.  Icegram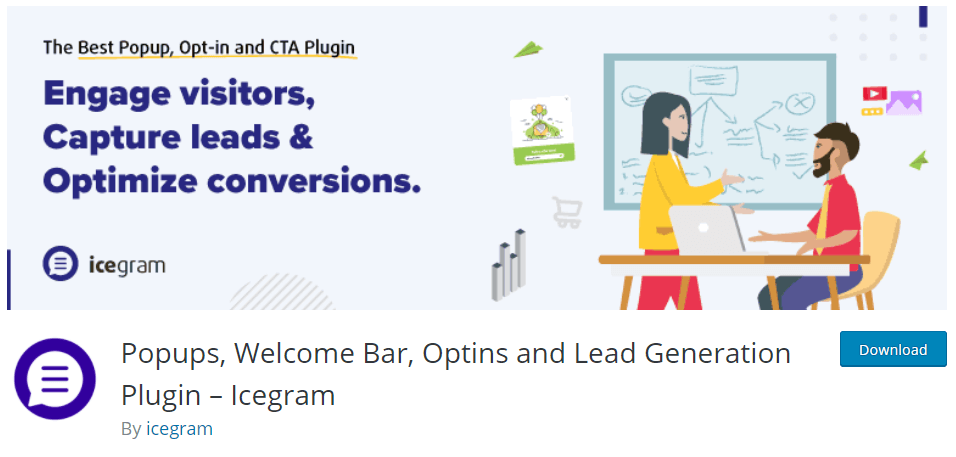 Price: It is free but some functions can be provided for a fee.
This is a great starting point in the world of pop-ups for free. Ease of use and free-of-charge offer make this tool the best option for website owners on a budget or for newbies who want to put in a minimum of effort to create a pop-up campaign.
The plugin will help to generate users into potential buyers through calls to action. But if you are looking for templates with amazing designs, then this is not what you need. The only significant drawback of this tool is the lack of advanced targeting features. But if you consider that the product is free, you can turn a blind eye to this.
Pros
The security feature allows you to protect your site from hacker attacks or spam.

There are no restrictions on the flow of traffic to the site.

The plugin is free with basic functionality. If necessary, you can pay for the required functions.
Cons
Only basic target functions are not enough to attract a lot of traffic.

Some templates may have a poor or outdated design. Other tools offer more modern and attractive solutions.

No drag-and-drop feature, which can make the tool difficult for beginners to use.
 5.  OptinMonster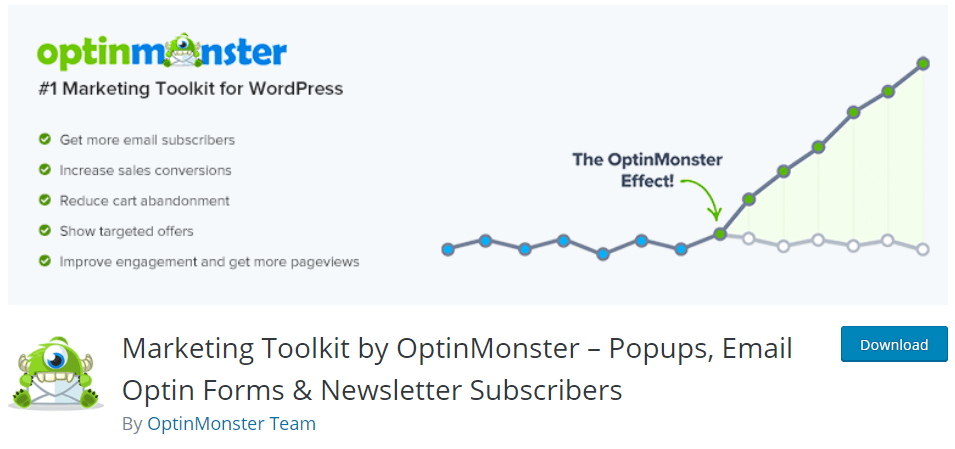 Price: the cost starts at $9 per month.
This is the undisputed market leader that boomed the industry. This popup plugin is easily integrating not only with WP but also with other popular website builders. It allows you not only to create pop-ups, but also to use them to collect a base, promote products, and so on.
It will help you create different types of campaigns and use intelligent triggers. The powerful targeting functionality is also worth noting. It is possible to create one account for multiple sites. Even though the product is not free, the monthly cost is very reasonable. The subscription price starts at just $9, which is just symbolic considering the features that site owners can get.
Pros
User-friendly and easy to use.

Availability of ready templates without the need for coding. Ability to create your templates.

Presence of animations and sound effects for the popup.

It is possible to use geolocation, referral detection, and so on.

The ability to use Google Analytics to monitor performance.

It is possible to personalize the popup with CSS.
Cons
There is no free version and this is the only drawback.
6.  Bloom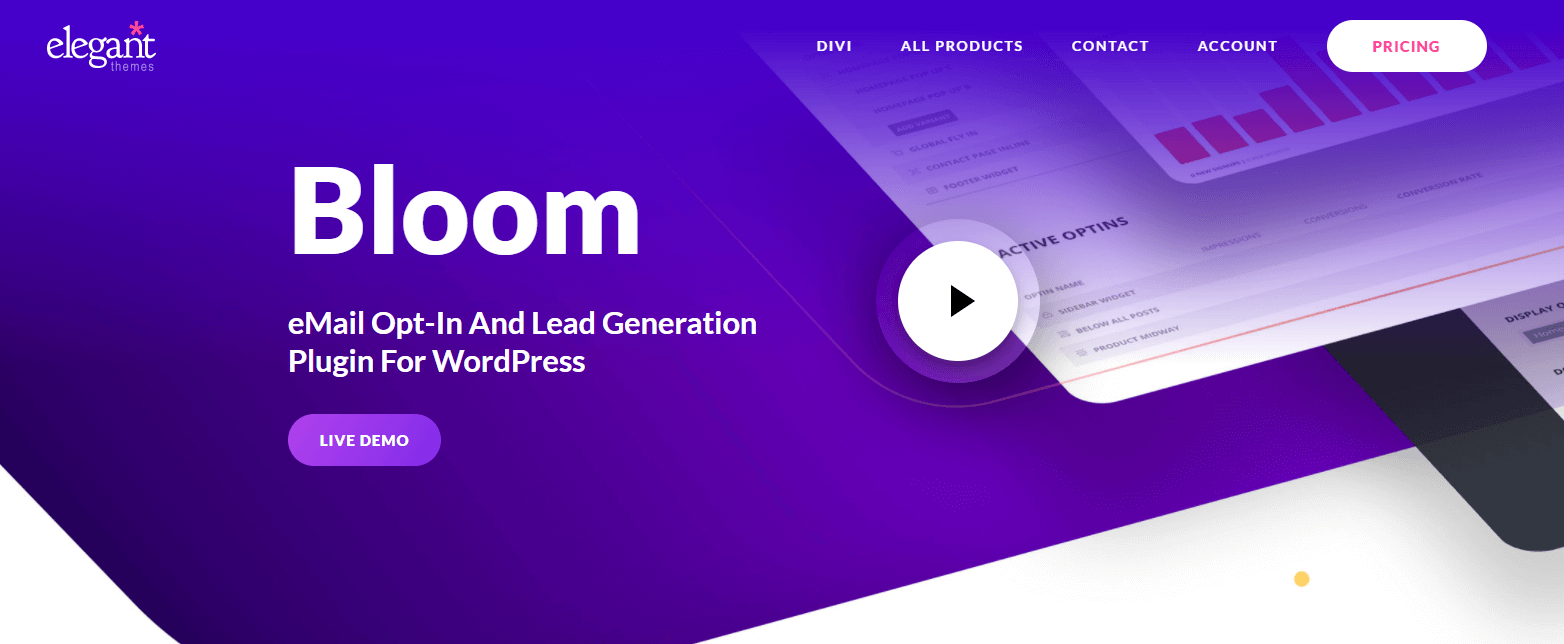 Price: Prices start at $89 per year. Lifetime access can be purchased for $249.
This WordPress popup plugin is intended specifically for sites based on the functionality of the WP. This plugin allows you to choose the desired template from over 100 existing ones. Also, the user can choose one of 6 types of pop-up types.
It is possible to configure the display delay after users perform certain actions. For example, after a comment, a purchase, and so on. But a significant drawback is the lack of a trigger such as leaving the site, geolocation target, and so on.
Pros
The presence of ready-made templates allows you to instantly use the plugin in business. It is ideal for WordPress bloggers and beginners who have no knowledge or hired specialists.

Setting up the custom dashboard, you can view the conversion and other indicators.

There is an opportunity to test each pop-up and check which option has the best conversion.

Possibility to choose one of 6 campaigns.
Cons
It is necessary to look in the preview mode every time after the changes that you make to the form.

Only basic options for targeting are available.

The plugin significantly slows down the speed of the WP site due to the lack of speed optimization.
7.  TrustPulse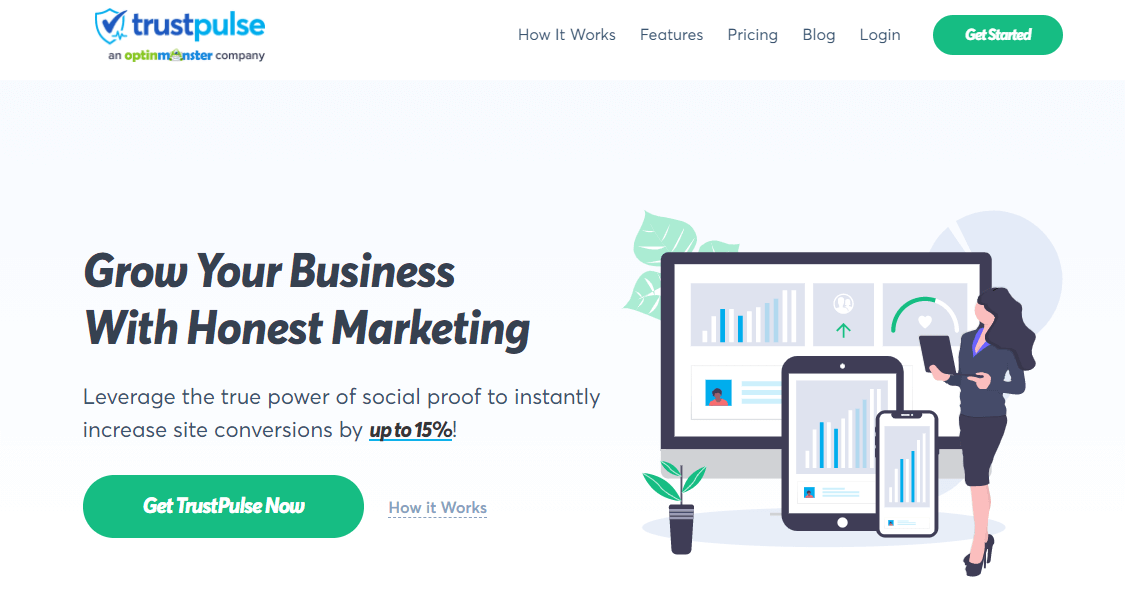 Price: The cost ranges from free access to $ 350 per month.
This is one of the powerful social proof tools as the pop-ups of this plugin increase the credibility of the site. It is possible to customize FOMO with timely notifications to push visitors to certain actions.
This WordPress popup plugin allows your users to get proof of the legitimacy of your business by displaying real-time actions on your website. So in addition to the ability to create pop-ups, you can get the social approval and trust of potential customers.
Pros
The ability to customize the popup in real-time. That is, users will be able to see the number of subscriptions, sales, and so on in a hidden notification.

Setting up targeting. You can customize notifications so that they are displayed to the right audience at the right time.

The ability to customize the design of pop-ups.

Easy to integrate with popular platforms besides WordPress (Shopify, Drupal).
Cons
The limited number of sessions in the free version. Up to 500 sessions are available for free per month, you have to pay to increase the usage.
8.  Sumo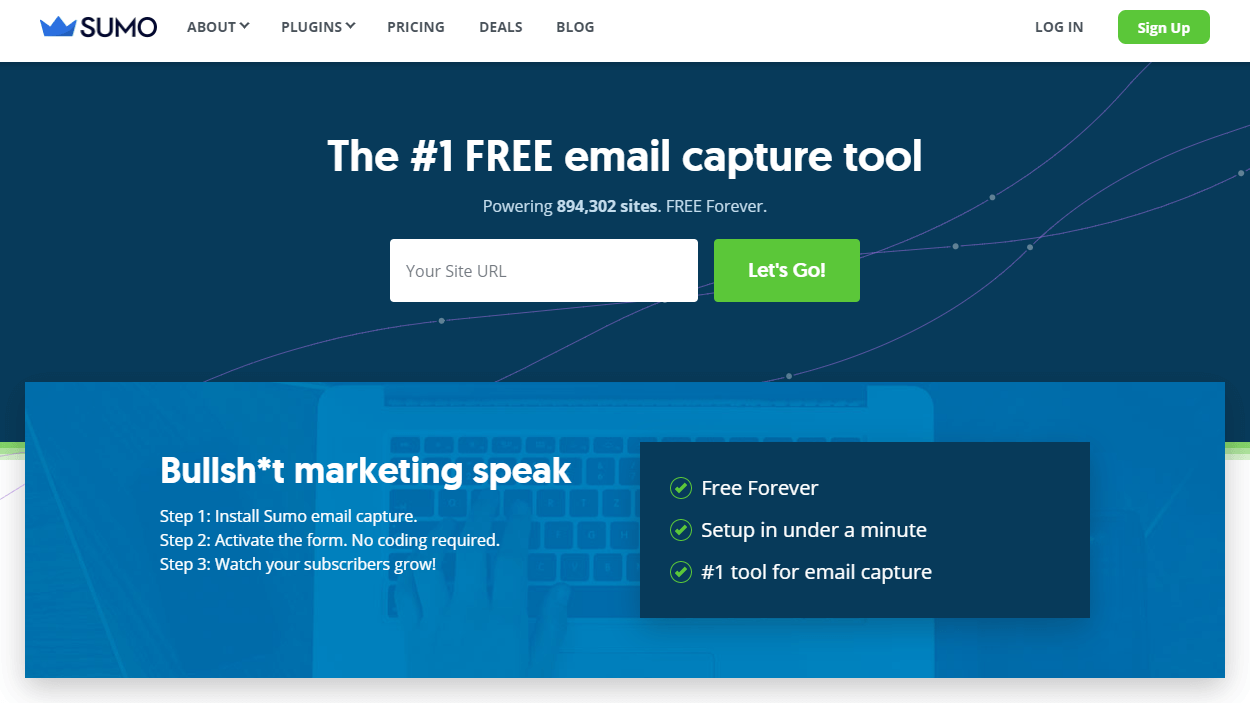 Price: The cost per use varies. It can be either free access or $39 per month.
This WordPress popup plugin attracts its attention primarily with its "freemium" model. That is, this plugin is freely available for download, but the fee will vary as the conversion of the site increases. Apart from a wide range of functions for customizing pop-ups, this plugin offers something more.
The product is designed not only for creating pop-ups but for creating links, improving analytics and social media presence. The free version only allows you to use one template, so you will have to pay for more options for using the plugin. By the way, this product is not the cheapest option in the context of WP plugins.
Pros
The tool is free to use, which is ideal for a limited budget or newbies.

It is possible to create pop-ups depending on where the traffic comes to the site.

Availability of ready-made solutions (templates) that vary based on your specific goals.

It has other extensions that will come in handy for your site.
Cons
Lack of targeting features.

Advanced features are available only in the paid version.

The more traffic your site has, the more you will be charged for using the plugin.
9.  Elementor Pro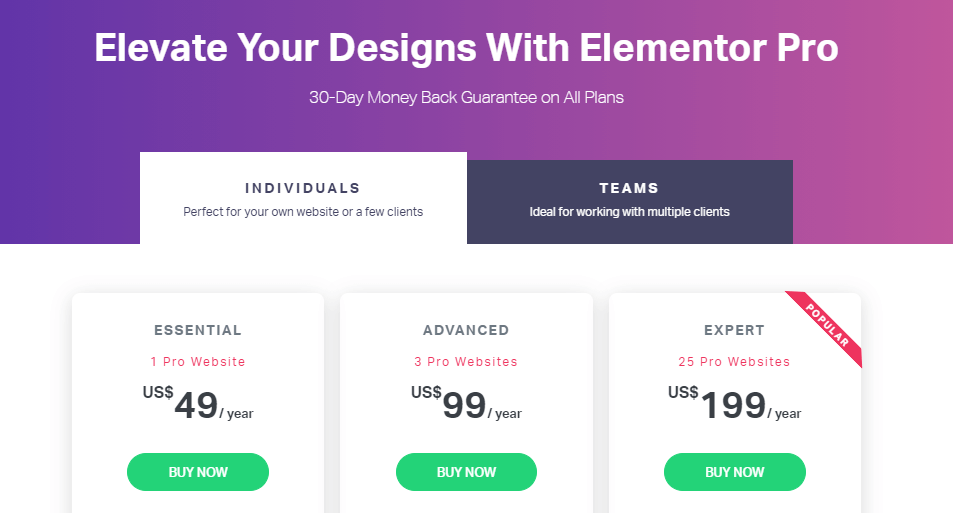 Price: The cost to use the plugin starts at $49 per year.
This product is popular for its drag-and-drop functionality, making it affordable for beginners. But besides page building, this plugin is a good tool for creating pop-ups. If you are already using this plugin to create pages, then you will not need to pay.
It offers over 100 ready-made templates and widgets. By the way, there is no limit on the number of pop-ups for your site. The cost of one plan for one site is only $49 per year.
Pros
The ability to use the plugin not only to create pop-ups.

Access to ready-made templates allows beginners to use the product without specialized skills.

It is possible to customize the template design.

Integration with numerous email marketing services.
Cons
 10. Thrive Leads

Price: The price for the plugin starts at $67 and may reach $147.
This plugin is for creating pop-ups on a WP. But this product has many additional features. If you compare this plugin with the market leader, there are many similar features here. But there are limited options in the context of the targeting.
It is possible to configure triggers, but there is no geolocation one. The advantage is the A/B testing to choose the optimal form and check the effectiveness of the campaign. This plugin can be considered a good alternative to Bloom.
Pros
There is an opportunity to buy a plugin without constant payment for a subscription.

A\B testing function. The ability to test and choose the one that is ideal for the target audience.

The presence of advanced analytics allows you to get detailed information. For instance, conversion rates and form analytics.

No coding knowledge is required due to the drag-and-drop function.
Cons
Your site might be slowing down due to a plugin.

The beginners need time and some educational resources to interact with the plugin.
11.  HubSpot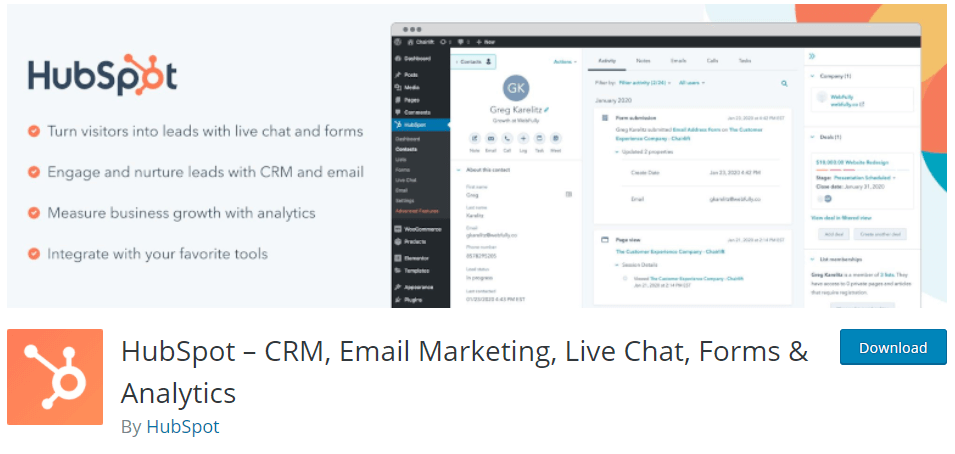 Price: Free to use.
The plugin allows you to integrate your WP and HubSpot accounts and also to create pop-ups. The product is free and attractive. It is easy to work with the settings; you can customize the necessary pages using the URL.
There is an ability to customize the closing of popups according to consumer preference. In addition to pop-ups, you can create a chat, forms, and so on. On the site of the same name, there are training materials that will help to cope with the tools, even for those who are a complete newbie in this area.
Pros
Using the product os free.

Wide functionality, the ability to create not only pop-ups.

Target settings based on user behavior.
Cons
There are no visible drawbacks, considering that the plugin is free and feature-rich.
Wrapping Up
Choosing the right plugins for your WordPress website makes a starting point.
Define the must-have feature set and the budget you can afford to spend. Remember that if you are on a tight budget, you can always start with a free plugin or use those features that are available for free. The main thing is not to miss the opportunity to use pop-ups as they are the top tools for lead generation and further conversions.  

Melissa Mauro is a freelance writer who creates quality and original content. She is working for the company Writing Judge. She believes that creativity and improvement are things, which distinguish a good writer.
https://ninjateam.org/wp-content/uploads/2021/03/Best-WordPress-Popup-Plugins-1.png
426
1210
Ninja Team
https://ninjateam.org/wp-content/uploads/2020/10/ninjateam-logo.png
Ninja Team
2021-03-10 14:39:57
2023-07-26 14:40:06
10 Best WordPress Popup Plugins in 2023