6 Best WordPress Telegram Plugins
Telegram is an ever-expanding messaging platform which provides loads of powerful features in its native groups and channels. If you are a WordPress website owner, you absolutely can't skip these top WordPress Telegram plugins.
Those add-ons are surely adding tons of value to your website including content exposure boost as well as subscriber raise. What's more, while surfing WordPress repo I've found out some other features integrated with Telegram which you don't know they even exist.
Now hop on this roundup article and see how these Telegram plugins for WordPress can be of great help to you!
1. NinjaTeam Chat for Telegram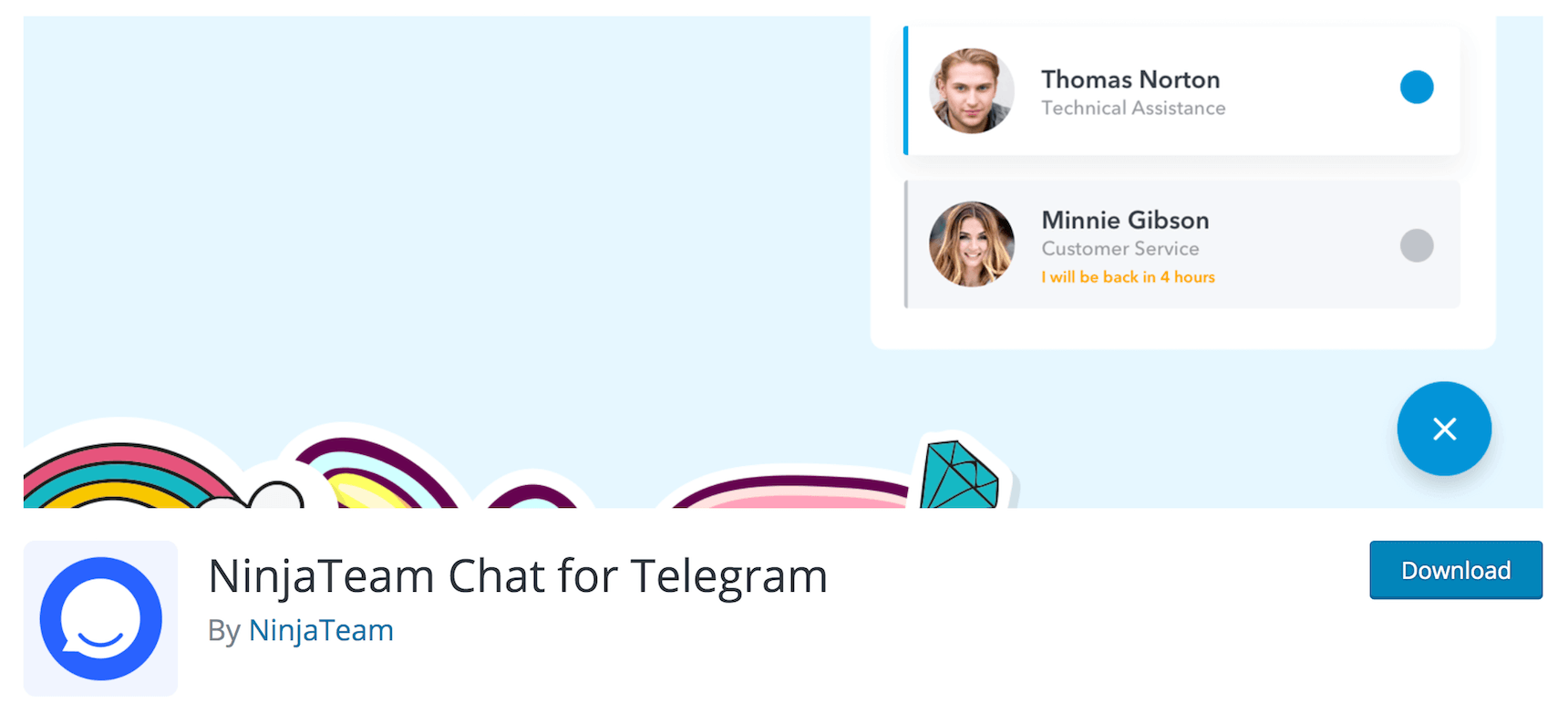 The Telegram plugin for WordPress developed by Ninja Team helps you add a floating chat widget to your WordPress website. This widget appears as a button staying at the right or left corner of the web pages.
When your visitors click on this button, it'll expand into a beacon window from where they can choose a member from your support team or sales reps to start a conversation.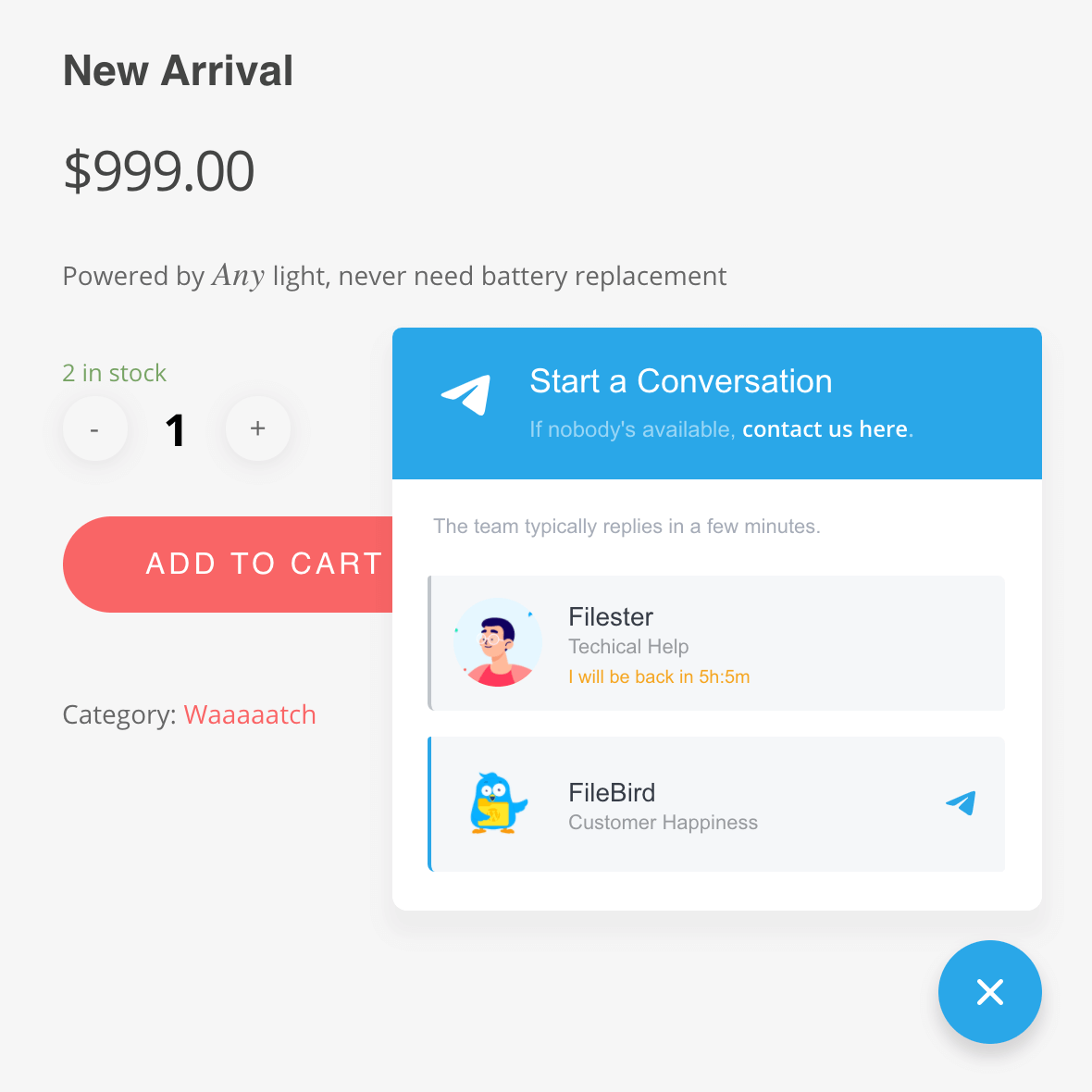 You will have various options to streamline the widget preferences so that it fits well with your business or monetization purposes.
Telegram widget with custom color, image, button shape, pre-filled messages with dynamic shortcodes
Display available time works well on all cache plugins
Button shortcode to embed in any pages or posts
Order on Telegram button on WooCommerce product pages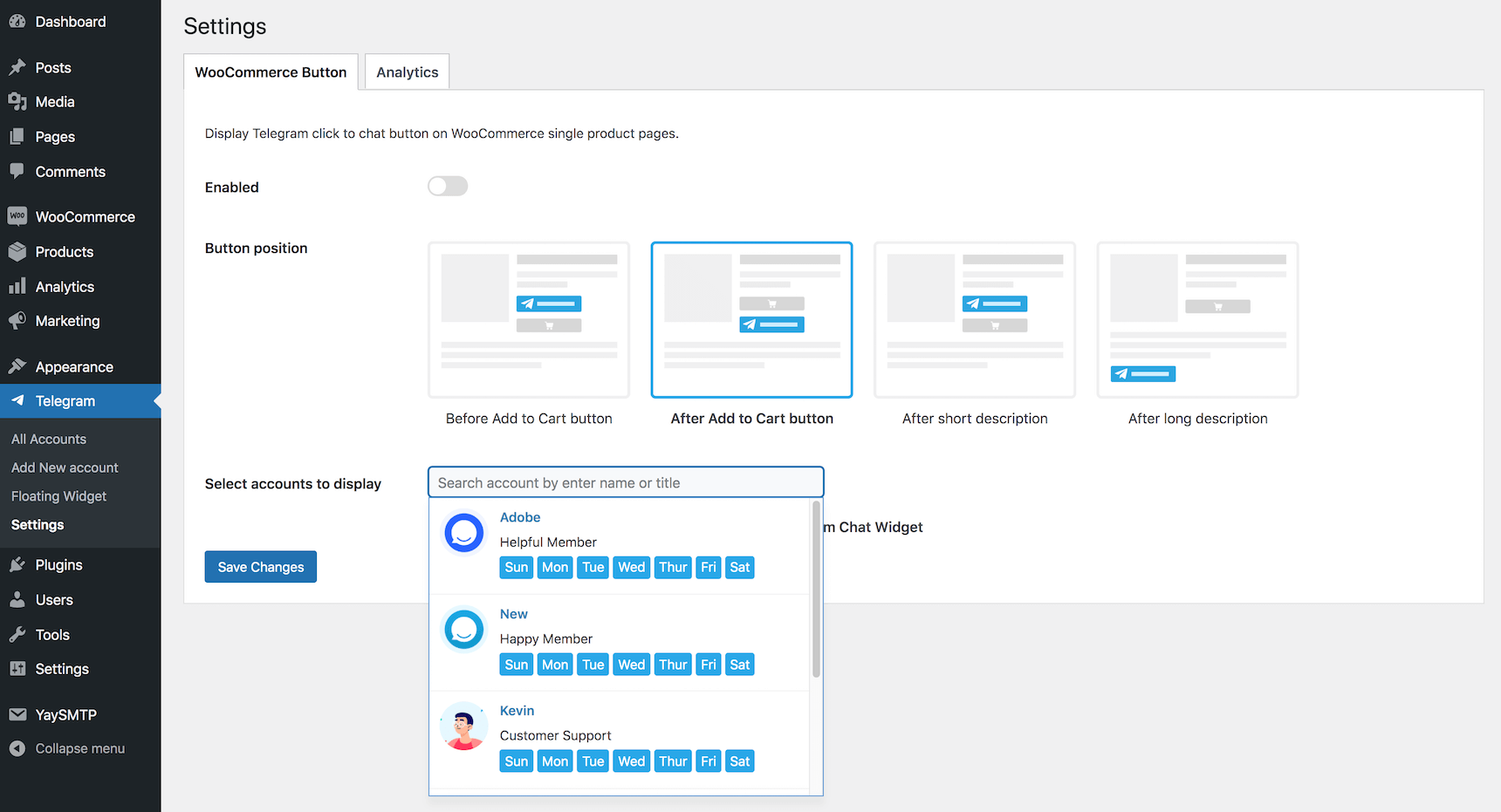 Who gets immense help from this Telegram plugin?
Community building advocates
Crypto Telegram groups and channels
Trading communities
2. WP Telegram (Auto Post and Notifications)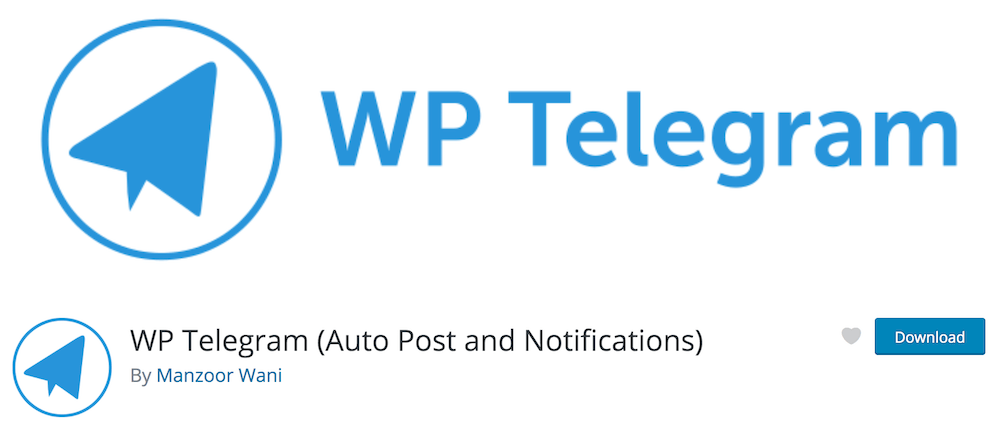 WP Telegram is an excellent plugin for big websites with rich resources. This plugin provides an automated flow to send private notifications to groups and posts to Telegram channel. Auto-posting to Telegram supports both channels and groups while auto-sending message supports groups and personal users.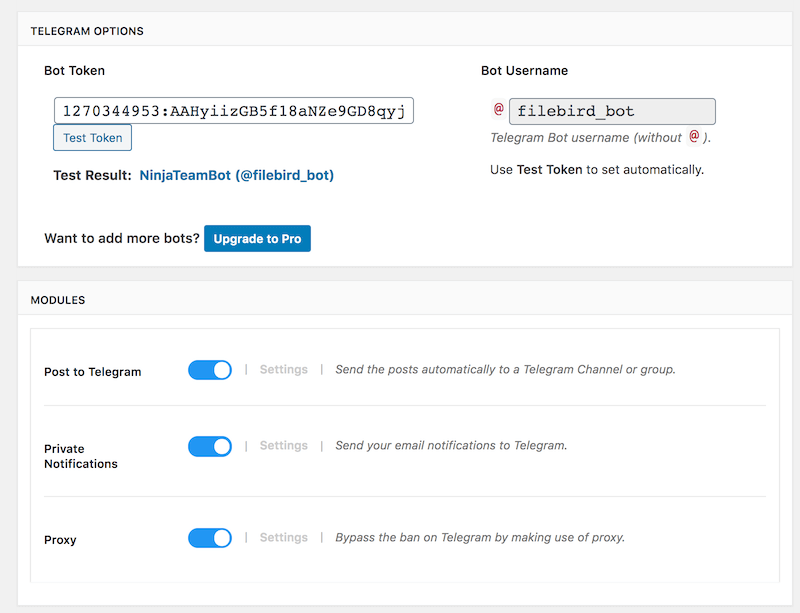 This plugin provides clear instructions on how to create a new bot, add the bot to a particular group and send a test message. After doing this setup properly, you can go ahead and set rules for what and when to send content to this group.
Moreover, the proxy of WP Telegram is a hot trick for those hosts who were banned on Telegram.
Features:
Send posts automatically to Telegram when published or updated
Send featured image along with the text/excerpt
Add inline button and delayed posts
Easy conditional settings
Support all WooCommerce and ACF text fields
3. Replain

Replain is a fancy solution for early adopters who want to play ahead of their competitors. It not only supports Telegram private messaging but also provide a multi channel button for all kind of queries.
Upon activation, you'll have to follow their link to generate a Re:plain code. Once run successfully, your new chat widget is enabled.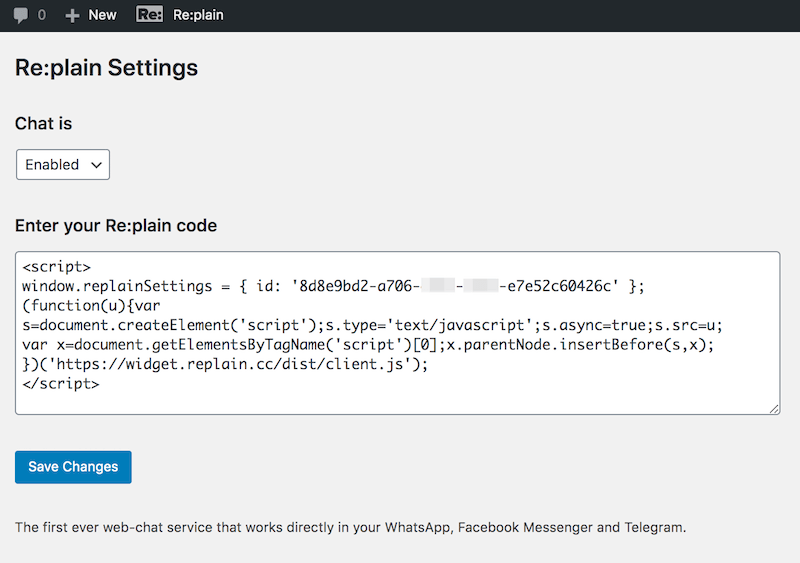 You'll see a new click to chat button in the corner of your web page. Any website visitors can send you a Telegram message to ask whatever they have in mind.
Think of a contact form, yet much much much easier and you can collect more information about the senders. When you receive a message from a visitor via Telegram, you'll get their entered name, email address, phone number. Additionally, you also get other info such as date, location, audience ID, and the web page from which they opt to send the message.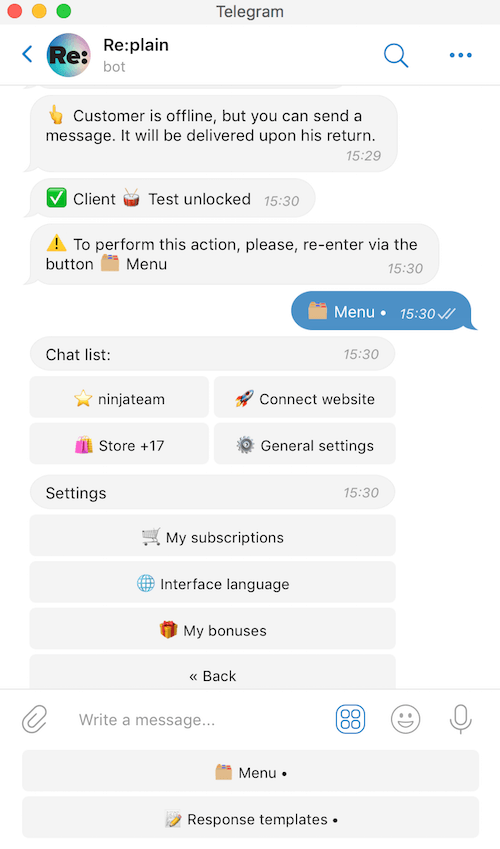 Refer to the image above, you're allowed to send a message back so that the recipient will receive it when they return to your website. And this is how your audience will see your replies.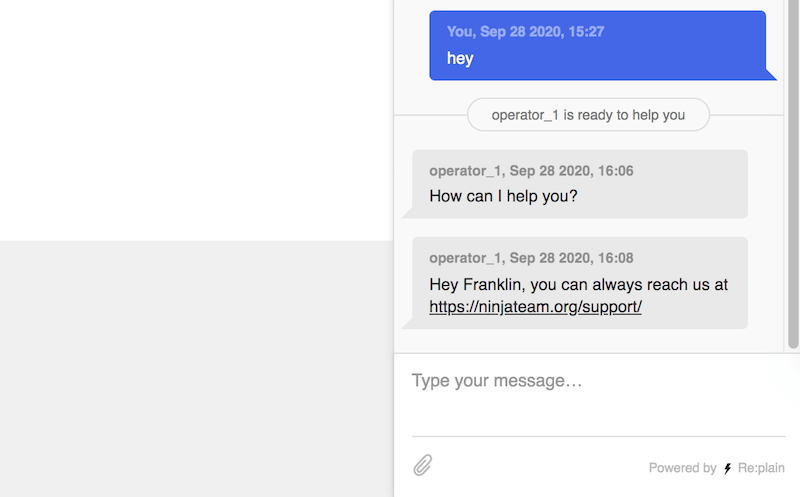 Features:
Cool and modern UI/UX
Fast setup
Choose the operator to take care of the customer
Response templates available
4. Telegram Bot & Channel

Similar to WP Telegram, this Telegram bot plugin relies on BotFather to create a new bot. Once you've created a bot and received your token, head down to the Configuration section to see all options and settings you need to get this bot up and running.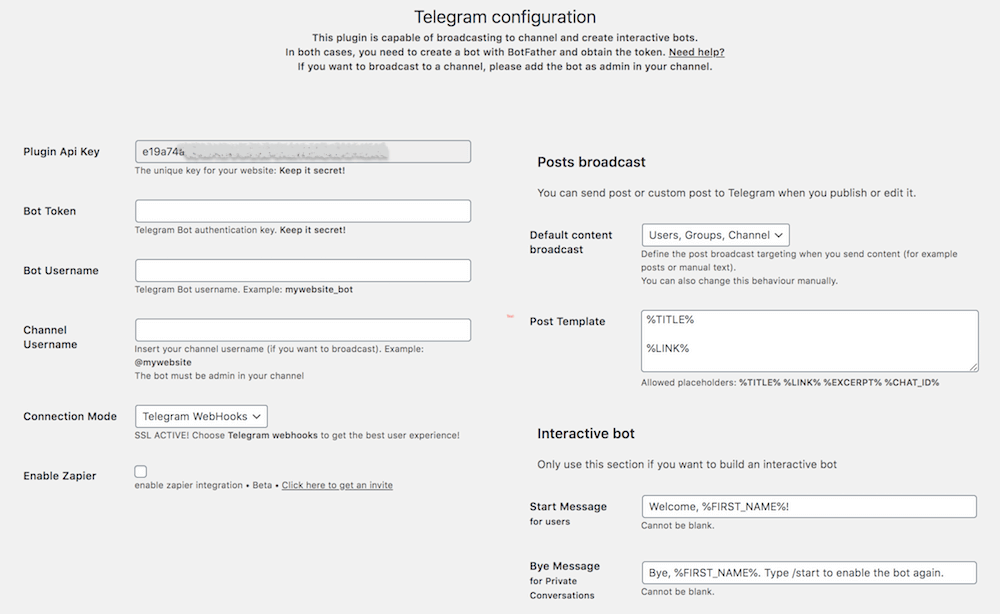 5. Telegram notifications for WooCommerce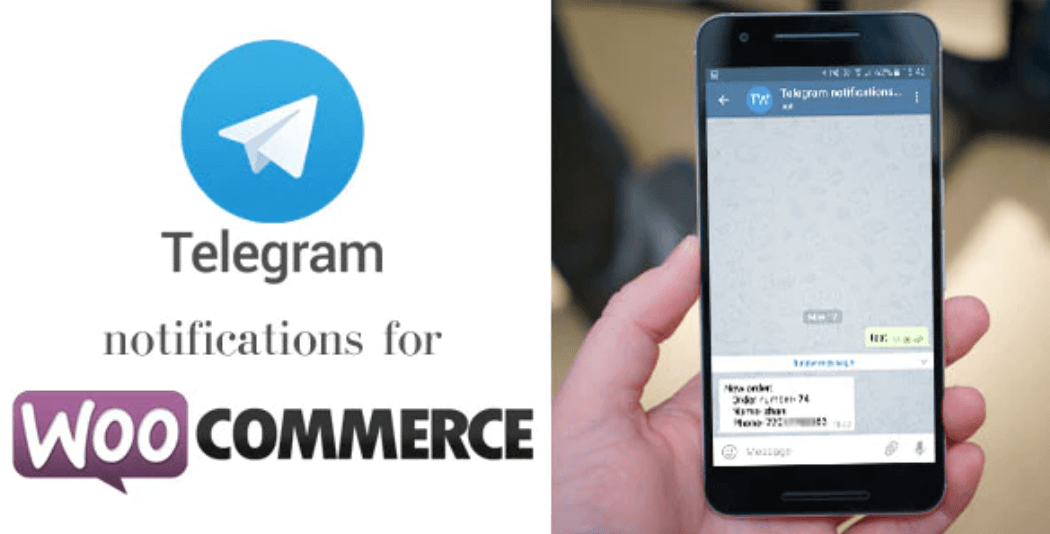 This is a convenient way to automatically get notified whenever someone makes a purchase from your online store. To use this add-on, your WordPress website must be using WooCommerce.
Below is the demo illustration to show how your WooCommerce notifications look like on your Telegram app screen.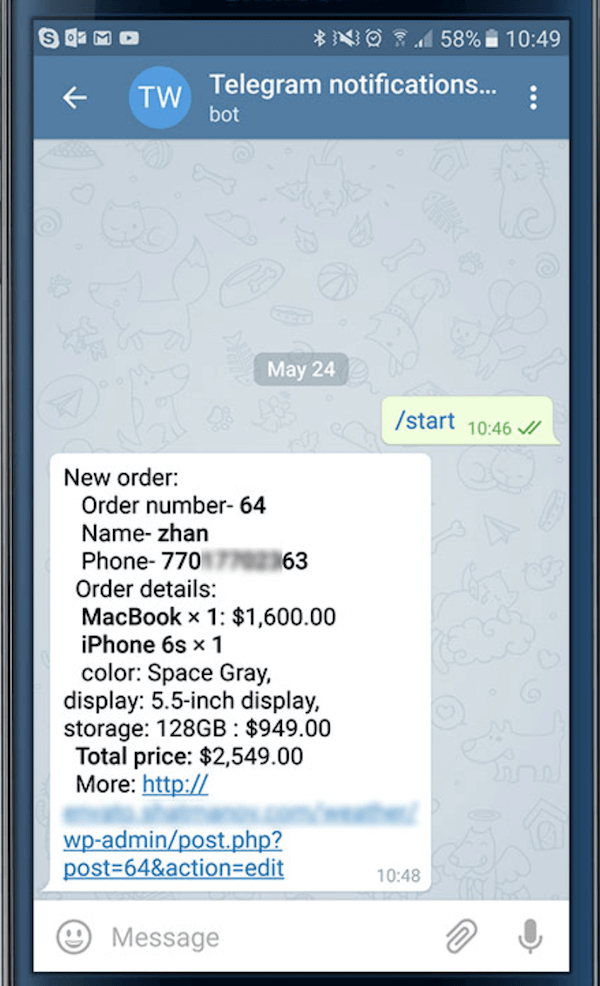 If you're a fan of WooCommerce, check out CartBack abandonment cart & Facebook Messenger remarketing.
Features:
Immediate notifications
Easy to setup
Full order details
6. WP Telegram Login & Register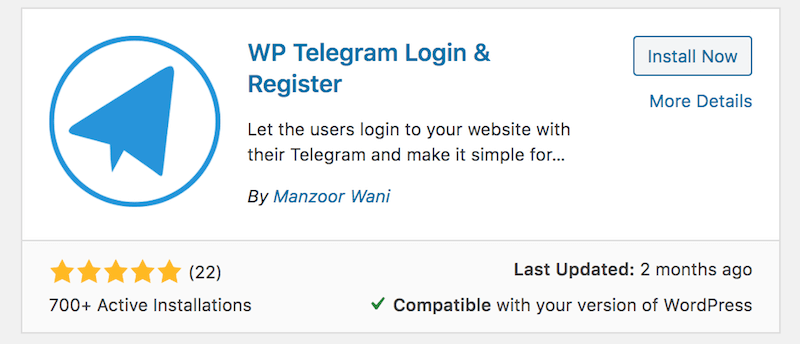 This a helpful plugin to clear the lengthy process of submitting info via a lengthy multi-step registration form.
With a few configuration steps, you can link your domain to your Telegram bot. Please check out this guide on how to create a Telegram bot for your business if you haven't already.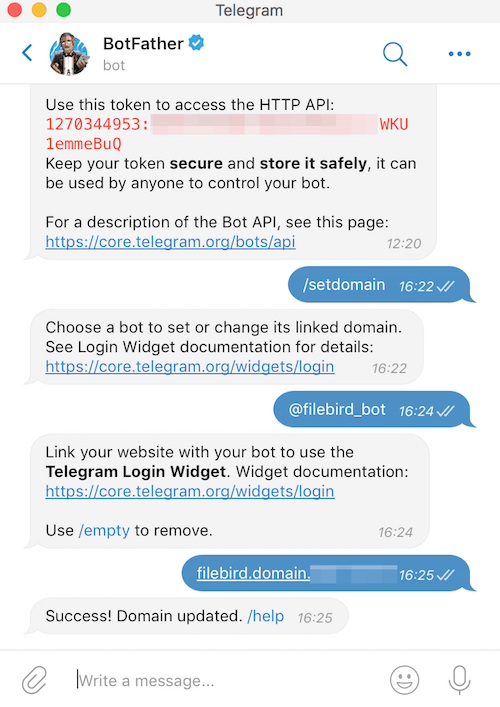 Once successfully updated your domain. You can display the Log in with Telegram button anywhere in your website. Using shortcode, you can embed it in page/post. Or you can also drag the Telegram widget to the Footer section and it'll display nicely with an optional title.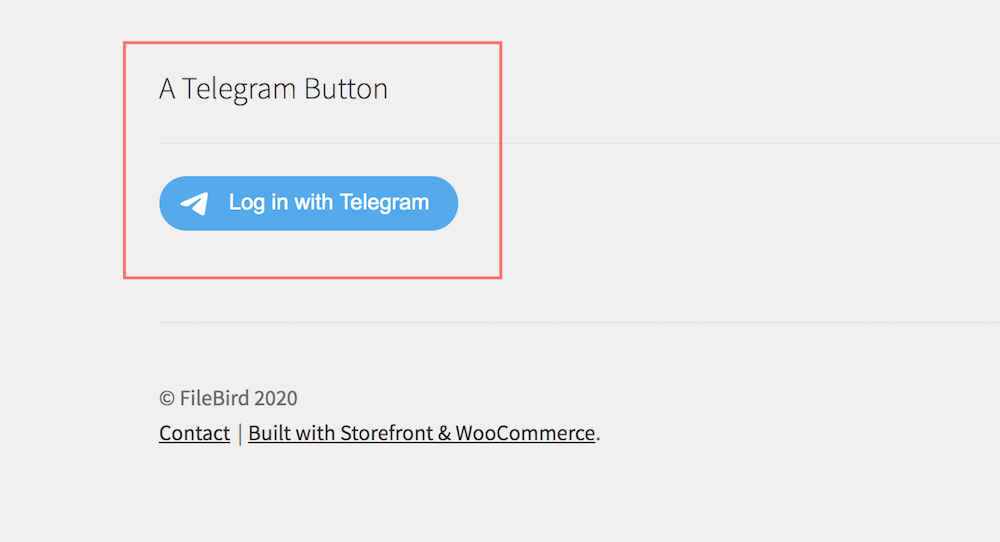 This is a great way to save time for all users who want to be subscriber or contributor to your website. Combined with other Telegram plugins by Manzoor Wani, you can set up your own user management system and reach them easily via Telegram groups or broadcast news and updates via Telegram channels.
Sum Up 😘
The above are tried and tested WordPress Telegram plugins that we believe to be the most advantageous to your WordPress website which has a majority of users preferably on Telegram.
If you're a fan of WhatsApp Messenger and WhatsApp Business, you will like our WhatsApp widget plugin for WordPress. Click the button below to check out its great features and ratings.
Have we left out any worth-mentioning plugins from the above list? If so, let us know in the chatbox below.

https://ninjateam.org/wp-content/uploads/2021/04/Best-WordPress-Telegram-Plugins.png
426
1210
Thuy Nguyen
https://ninjateam.org/wp-content/uploads/2020/10/ninjateam-logo.png
Thuy Nguyen
2021-07-03 09:06:18
2021-07-09 13:46:18
6 Best WordPress Telegram Plugins