The Internet is a powerful tool to connect hungry buyers with passionate sellers. If you can find (or create) the proper products, you can make a good living by selling them online.
With impressively low start-up costs, eCommerce is one of the most accessible business models for would-be entrepreneurs. Just think of the money you could save by selling via a website, with no need to rent and pay a huge amount of money for brick-and-mortar businesses.
As you might know, WordPress doesn't come with eCommerce functionality by default in order to add everything that's required like a shopping cart, product showcase pages, and payment processing functionalities. You, therefore, need to install an eCommerce plugin.
The problem is that you are not sure which WordPress eCommerce plugin you should go with? Right? So you're not alone.
Below, I'm going to discuss 7 best e-commerce plugins for WordPress that can help power up your business-based site to a new level. These plugins won't guarantee high search engine rankings, but they'll definitely improve your chances of business success.
1. WooCommerce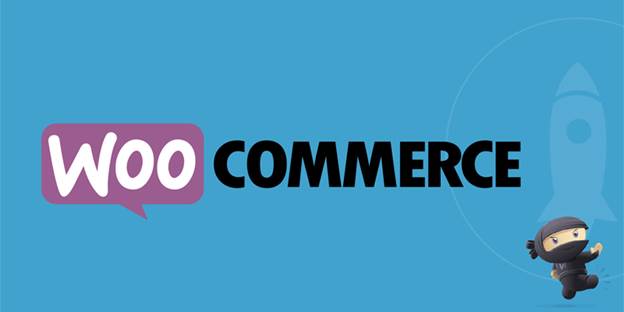 WooCommerce is often considered as one of your viable solutions when trying to rapidly establish and expand an online store. You could start creating a store for your blog with five products or include a large collection of thousands of products.
With hundreds of free and paid extensions, WooCommerce makes it super duper easy to build and improve your store, you therefore can start selling products in mere minutes.
WooCommer is described as follows on its official download website:
"WooCommerce is a free eCommerce plugin that allows you to sell anything, beautifully. Built to integrate seamlessly with WordPress, WooCommerce is the world's favorite eCommerce solution that gives both store owners and developers complete control."
Some of the things that I like about this tool include:
Mobile Friendly Design
Sell Digital & Physical Products
Geo-Location Support
Organize Your Products
Inventory Management
Shipping Options
Search Engine Optimization
Create Coupons & Discounts
Checkout Options
Enable Product Reviews
Then you can begin adding products. Honestly, I find the product editor a little strange (adding products looks just like writing a blog post), but it works just fine. Also, you can categorize products and add their features on this page.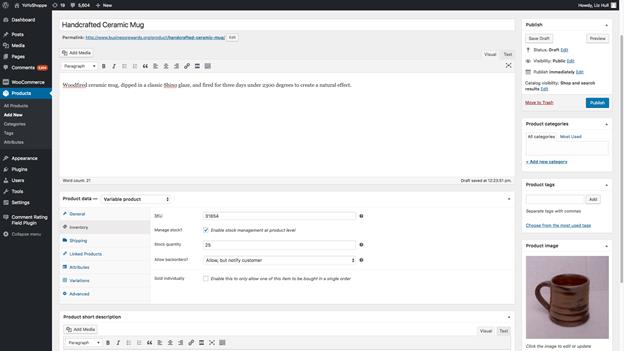 Additionally, you can access pending orders, shipping settings, product information, and inventory tracking from your WordPress dashboard.
To wrap up, WooCommerce is a low-cost solution for WordPress online stores and does an excellent job of harnessing WordPress's SEO and functionality for your benefit.
2. Shopify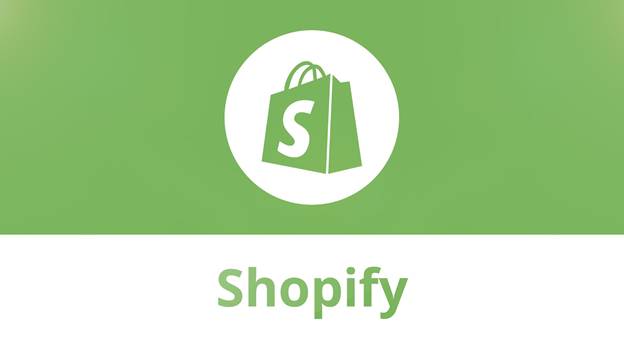 Shopify is one of the best cloud-hosted platforms that lets you easily get started with selling online, particularly you can sell your Shopify products on any website, including your WordPress website.
Plus, this tool is for those who can create products, manage inventory and share promotions, all without having to take a development class.
Overall, it's a beautifully constructed e-commerce platform with plenty of themes that look modern and stylish but also simple and minimal if that's what you're looking for.
Getting started with Shopify is easier compared to using native WordPress eCommerce plugins. All you have to do is to sign up for an account with Shopify and get your eCommerce store up and running.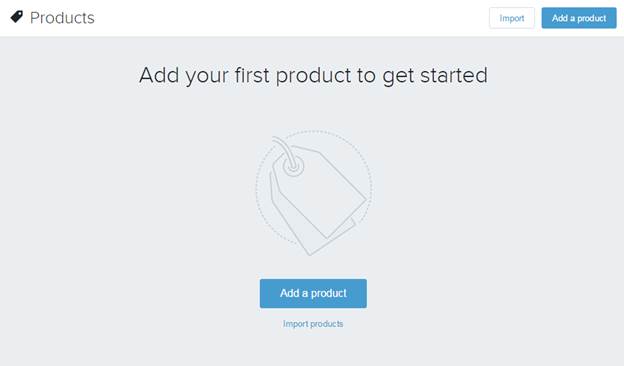 Since it's a cloud-hosted solution, you don't have to worry about upgrading your server due to traffic outages as your eCommerce business grows.
You also don't have to worry about site speed, security, or other technical things because Shopify takes care of it all for you.
Shopify also comes with many different attractive themes to choose from, so you can change the look and feel of your storefront to give it that personal touch you crave.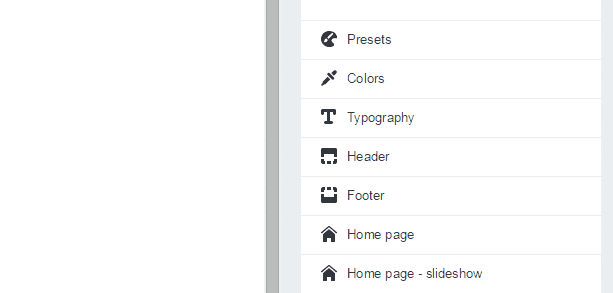 To sum up, I like Shopify because it's straightforward and seen as an effective solution for your WordPress online store.
3. JigoShop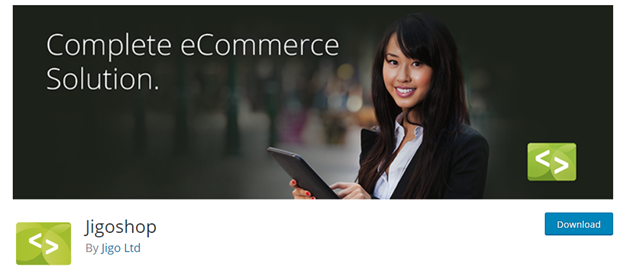 Jigoshop is an extremely helpful WordPress plugin for hosting an e-commerce website and offers every solution that you need to run your online store. It has a comprehensive library of free as well as paid extensions that help you customize your site.
Plus, Jigoshop provides you with all the required options to help you create a fully-featured eCommerce site. You can upload all your products, take payments with PayPal and Skrill/Moneybookers without any external or additional tool.
If you want to take your online business to the next level, Jigoshop offers you some premium extensions which you can use on your WordPress site. Overall a great WordPress eCommerce solution that is cost-effective and user-friendly.
Compared to its competitors, Jigoshop surprisingly has a wide range of features ready to go straight out of the box, without needing additional plugins.
Payment gateways
Shipping options
Physical products vs. downloadable products
Selling in different countries and currencies
Themes support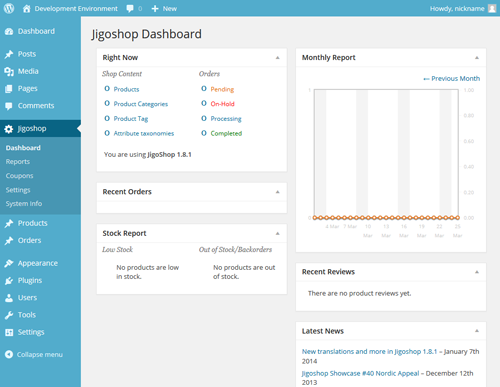 The selection of payment methods available with Jigoshop by default (i.e., without using plugins) is solid, without being outstanding. You can accept five different types of payment, including FuturePay and PayPal Standard. Of course, you can add plenty more via add-ons, many of which are free.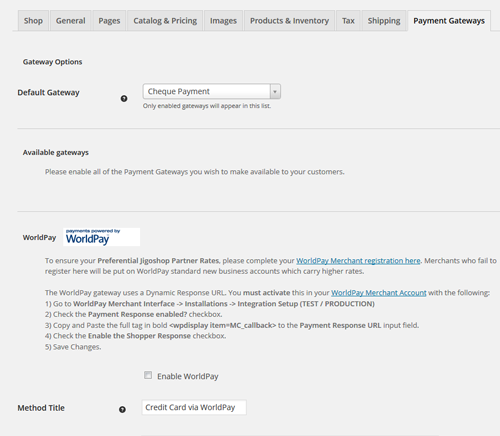 JigoShop offers everything you could need in a shopping cart. Simple to install, quick to set up and easy to use, this plugin offers you all the data you need for reports and gives you an efficient way to manage inventory and options for your products.
I have to say that the ecommerce solution market is pretty packed, and the open-source section of it is almost dominated by WooCommerce. Compared to its biggest rival, I'd say that Jigoshop more than holds its own, and I'd be more than willing to say so on a Jigoshop Wikipedia page!
Overall, if you're looking for a free, open-source ecommerce solution, I'd rate Jigoshop as an excellent choice for your WordPress online store.
4. BigCommerce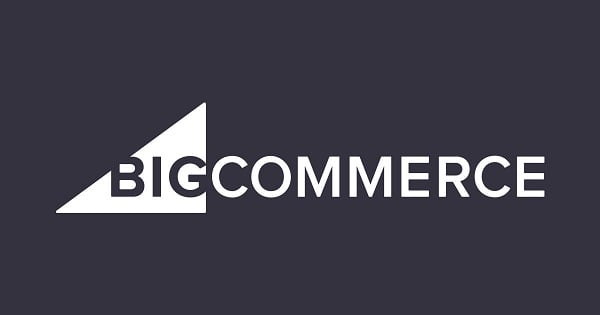 BigCommerce has been running its own ecommerce platform for quite some time now, so it provided its own content management system and hosting. The main goal for BigCommerce is to attract companies that have built their websites on WordPress.
The Bigcommerce features all start with the website builder, since it allows for beautiful, responsive designs, without knowing much about web design. Add and manage products without any problems, and accept payments through a diversity of options.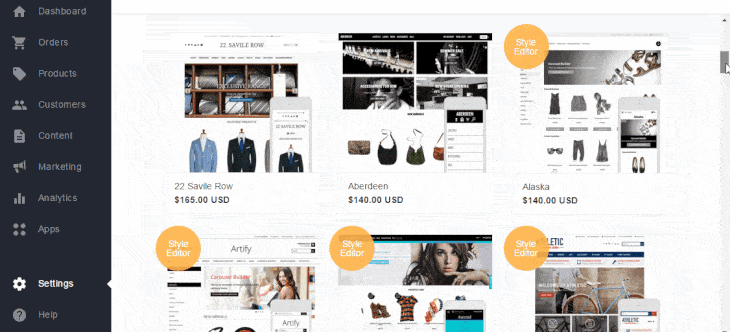 BigCommerce is ideal for you if you want to start an e-commerce store, or if you already operate a brick and mortar store, but want to expand your business by selling your products online.
BigCommerce serves a wide range of industries, such as fashion, electronics, health, gifts, jewellery, sports, homeware, etc.
No matter what industry or niche you are selling to, BigCommerce has a comprehensive range of tools to make this an easier process for you and to help you succeed.
5. Ecwid Ecommerce Shopping Cart

Have you ever wondered if you're using the right ecommerce platform for selling online? Do you sometimes try a new service that's more functional and cheaper than what you're using now?
The Ecwid Ecommerce Shopping cart is equipped excellent ratings and a setup that looks like WooCommerce but is actually quite different.
Much like other e-commerce platforms, Ecwid allows you to set up 'catalogs' of products, and add photos, pricing, weight etc. for each.
This tool is described as follows on its official download website:
"Ecwid Ecommerce Shopping Cart is a powerful, secure and easy-to-use online store solution that gives you a full-functioned shop on your WordPress website."
Why is This One of the Best WordPress Ecommerce Plugins?
Ecwid provides a free plan for up to 10 products. After that, it offers a beautiful installation process, interface, and feature-set for reasonable monthly fees.
Although this is a WordPress-based article, Ecwid is known for being able to integrate with most website builders and content management systems. All plugin upgrades happen automatically with Ecwid, whereas most other WordPress plugins require a manual upgrade.
Ecwid has a strong focus on helping you instantly sell from multiple sales channels. For instance, some of the pricing plans create Facebook Shops for you. There are also options for mobile point of sales, online marketplaces, regular point of sales, eBay, and Google Shopping.
Ecwid is a cost-effective and powerful e-commerce plug-in for your WordPress online store on a Facebook page or other social media presence.
6. LemonStand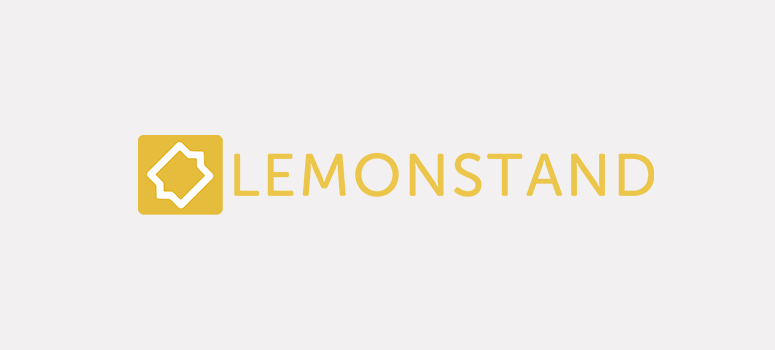 Have you ever heard about LemonStand?
Well, I guess you probably haven't and so am I. I tried looking and I didn't really find anything, or at least nothing credible from a major news outlet.
That's a good thing though! Why? Because it means nothing significantly bad has happened. It means that LemonStand at least does its job, that there haven't been any major security breaches, that LemonStand isn't scamming its customers.
But in the world of hosting and e-commerce, you better believe LemonStand is pretty well known. LemonStand is yet another best ecommerce plugin that allows you to establish your beautiful online store without any difficulties.
Some of the things I like about this plug-in include:
Fully 100% customizable design.
No transaction fees.
Coupon codes and discounts.
Advanced SEO features.
Mobile-ready storefront designs.
Customizable checkout.
Various payment options (including Bitcoin).
Unlimited product variants and product categories.
Shipping and taxes.
Social media support.
Developer-friendly API.
To begin, LemonStand is an ecommerce platform designed for companies that are growing at a rapid pace. It works fine for beginners who don't plan on customizing much in terms of their own product pages and logo.
LemonStand highlights the ability to customize the entire user experience for your customers including the checkout process with the front-end development tool.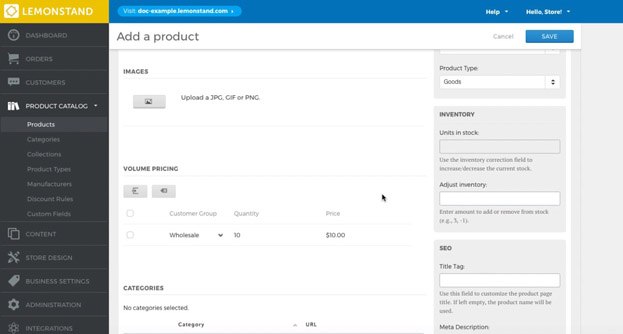 How about the security? Security is definitely important for everyone. Right?
And it's especially important for you. The security of your e-store is essential not only because it holds your data, but because it holds your customers' as well.

LemonStand is relatively low cost, but may be a bit expensive for some users with certain types of shops/selling needs. LemonStand's features are its strongest asset. The non-customizable options are not exceptional, but are strong nonetheless, and its customization features are, as I've said, superb and probably the best around.
7. WP eCommerce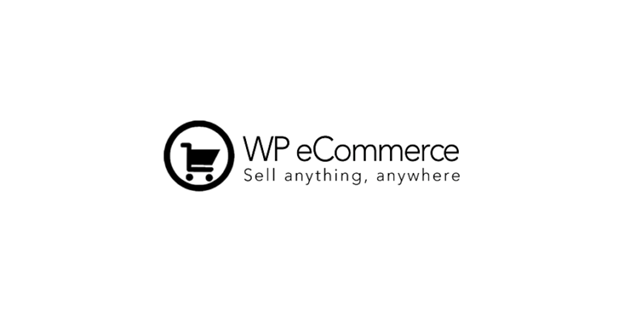 WP eCommerce is the oldest WordPress eCommerce plugin, but it's not as popular as WooCommerce. It comes with a lot of features out of the box that let you create a beautiful online store from the very beginning.
Similar to WooCommerce, WP eCommerce adds shopping cart functionality to a WordPress website with user-friendly features and free extendable extensions.
Some of the things I like about this tool include:
Easily add products to your catalog
Monitor sales and reporting
Configure taxes and shipping
Industry-leading payment gateways
White-glove customer support
The main advantage of WP eCommerce is that table rate shipping functionality is incorporated into the core, rather than an extension. Conversely, the primary drawback is that it is often reported as buggy which makes people switch their platform to WooCommerce or other alternatives.
Final thoughts
An e-commerce platform is not the only solution that will serve everyone's needs. Choosing the best WordPress eCommerce plugin is tricky and it all depends on your personal needs.  The e-commerce plugins mentioned in this article are built with a great number of purposes to meet business requirements and there are thousands of plugins for e-Commerce, so you can't possibly try them all. Choose wisely, and watch your business grow. Hopefully, this collection will partly help you pick one suitable WordPress eCommerce plugin for your needs.
Would you add any other e-commerce plugins to this collection? Share your experiences and thoughts in the comment box below.
https://ninjateam.org/wp-content/uploads/2018/11/Best-E-commerce-plugins.png
536
1650
Benjamin
https://ninjateam.org/wp-content/uploads/2020/10/ninjateam-logo.png
Benjamin
2018-11-08 18:47:35
2021-04-09 10:44:55
Best WordPress e-Commerce plugins