Top 7 Shopify Product Options Apps (Pros and Cons)
If you ever considered creating a website for your store using a ready CMS, you probably have heard of Shopify. Moreover, you've probably heard that it's one of the best content management systems for starting an online store for business owners.
Shopify or WordPress? No matter what kind of good things you've heard, there's absolutely no doubt about it, you have heard the truth. Shopify is indeed a very flexible and accessible platform for creating online stores for your e-commerce business, regardless of what you sell.
Benefits of customizing Shopify product pages
With over 2 million businesses operating via this platform in 175 countries, this is by far the most popular CMS when it comes to online stores. As for Shopify Online Store 14.0, there are lots of benefits to using it indeed. Just take a look at some of them.
Simple to use
Shopify is pretty easy to use and has a pretty clear interface, allowing you to create and launch your store within hours. Still, some basic coding knowledge like website layout and the basics of HTML and CSS languages will be handy.
Customizable themes
Essentially, you can apply any visual theme imaginable to your store. Yet, there are only a dozen of Shopify default themes available for free. That's why it's good to create your own using customizing apps and some basics of CSS.
Constant support
The technical support team of Shopify is definitely among the greatest ones. No matter what kind of issue or question you have and when you have it, they are always glad to help. For instance, if the issue is not caused by the platform itself, a Shopify specialist will help forward the support ticket to the right third-party app developer.
A variety of product options apps
Shopify app store offers lots of utilities to improve your storefront or SEO services, so you've got everything covered either for free or at a relatively low cost. There are plenty of things to tinker with to perfect your store, for sure.
Why add extra product options to the Shopify product page?
Creating a custom store is more than just a good idea. It makes your business stand out and allows you to adjust to your customer's needs and wants in a rather simple, friendly, and flexible manner.
With the essence of Shopify CMS being flexible and customization, they are a perfect choice for any business, big or small. As it was mentioned earlier, Shopify offers a great variety of tools to overcome its limitations and improve your store in almost every possible way. And customization is one of the hottest categories on the Shopify app store.
While selecting a suitable app there might be a challenge, there are a couple of options that will almost certainly help you with whatever product variant customization issue you want to solve. Here they are.
1. Vario – Variation Swatches
Are you getting bored with Shopify's current way of presenting the product variant options?
Well, Vario allows you to turn the Shopify dropdown select options into attractive swatches such as buttons, color swatches, custom image swatches, image thumbnail tooltip, hover effects, etc. With Vario swatch styles, you will have diversified styling options when it comes to selecting product variations.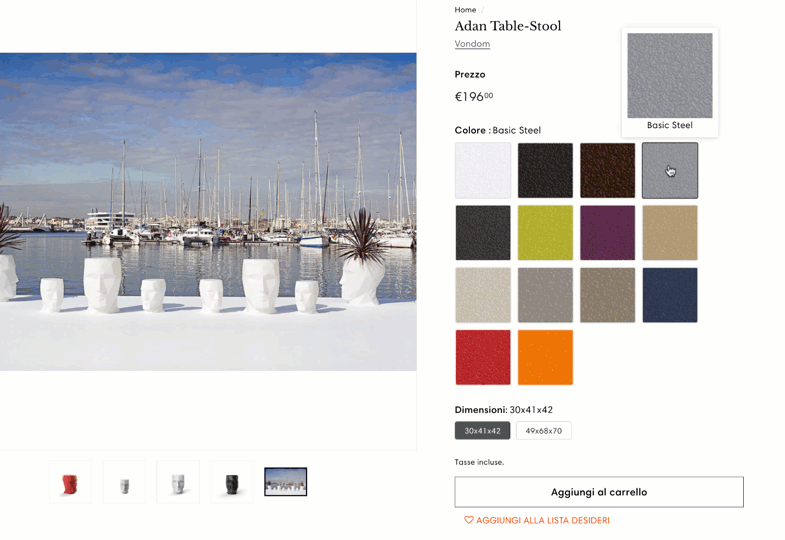 Therefore, the customers can visually observe and select product variants even when they are on collection pages. Especially, when your products have many options like material, size, partial color, design, and other details, you should use variant swatches instead of the dropdown selector.
Features:
Automatically populating existing variant images
Uploading custom image for each variant
Showing multiple variant options on the collection page
Customizing sold-out variant appearances
Multiple swatch hover effects
Compatible with all Shopify official themes including vintage themes and Online Store 2.0 themes
2. EXPO – Extra Product Options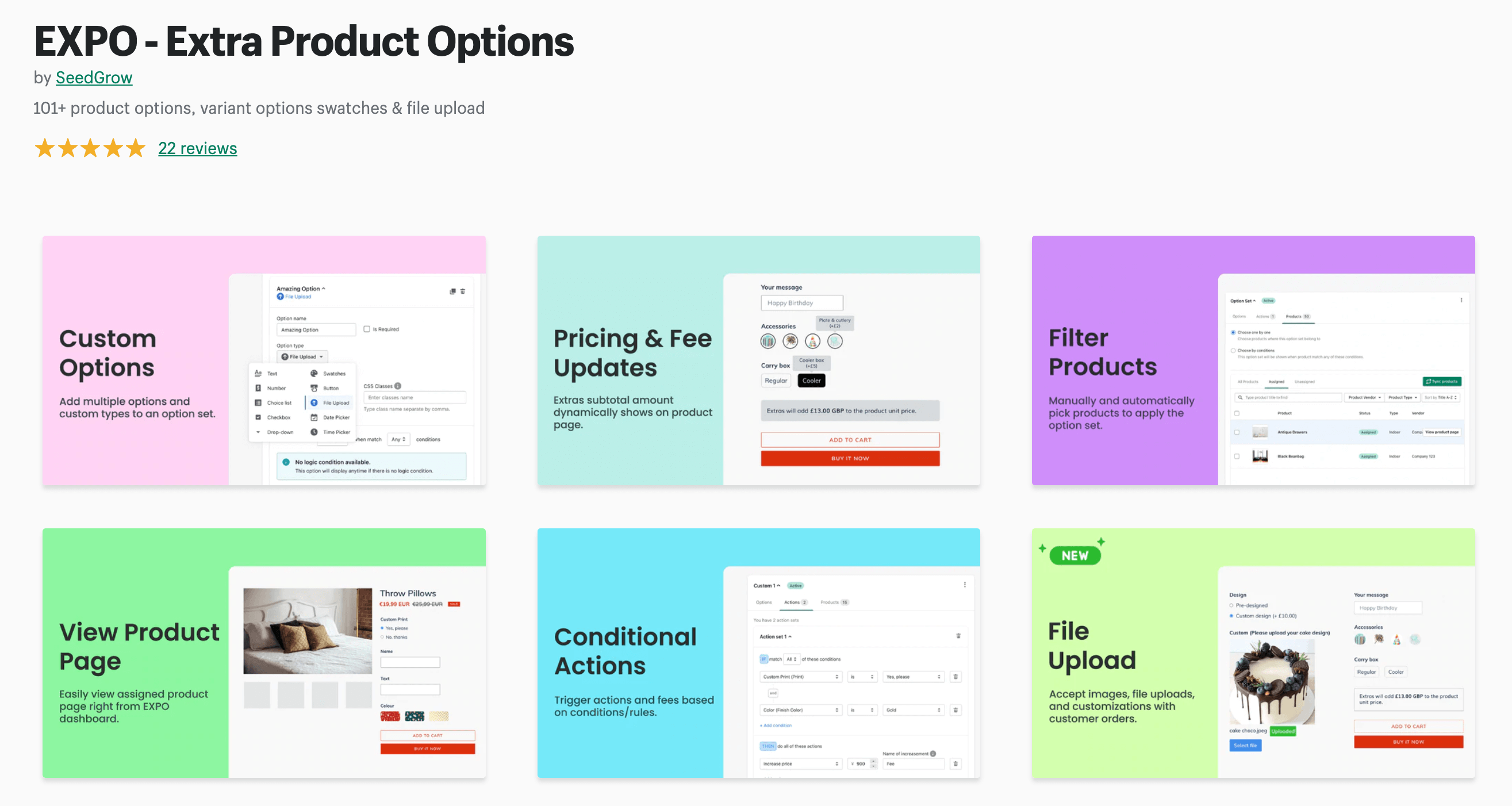 Extra Product Options app provides 12+ different custom field types for your Shopify product pages. You can easily customize your product options and let your customers personalize their purchases. Add options, edit pricing, modify conditional display, and rearrange the product fields as you need to.
With this app, you can lift the Shopify limit to 100 variant options per product, and that's simply great!
Features:
12+ option types: checkbox, swatch, file upload, date/time picker, etc.
Drag-and-drop collapsible card interface
Extra cost and description per option
Bulk assign an option set to products
Multi-currency and multilingual settings
3. Infinite Options
As the name suggests, Infinite Options by ShopPad Inc. offers a wide variety of options to create the storefront of your dreams. Nearly everything, from the store's theme to the order size, can be customized, compiled, and changed at any time without taking too much effort.
Undoubtedly, this is next to the best option if you need to customize your store in a rather simple and timely manner. However, the devil is always in the detail. As such, some users recently complained about the absence of pricing options for products and file uploading for the customers.
So, to sum up, the app's main pros are:
Wide customization options
Ease of installation and use
Some downsides, however, are:
Absence of multiple pricing options for the same product
No file uploading and previews
Make sure to read the reviews on the Shopify app store if any of that is critical to you
4. Variant Option Product Options (VOPO)
Another great choice for a customizer app, the VOPO is a professional tool that can help your business stand out, grow, and flourish. This app allows creating of different pricing options for one item (something not available in Infinite Options), a simple tool for item duplication, and an advanced system of the theme components compilation so that every element would look nice and smooth with your theme.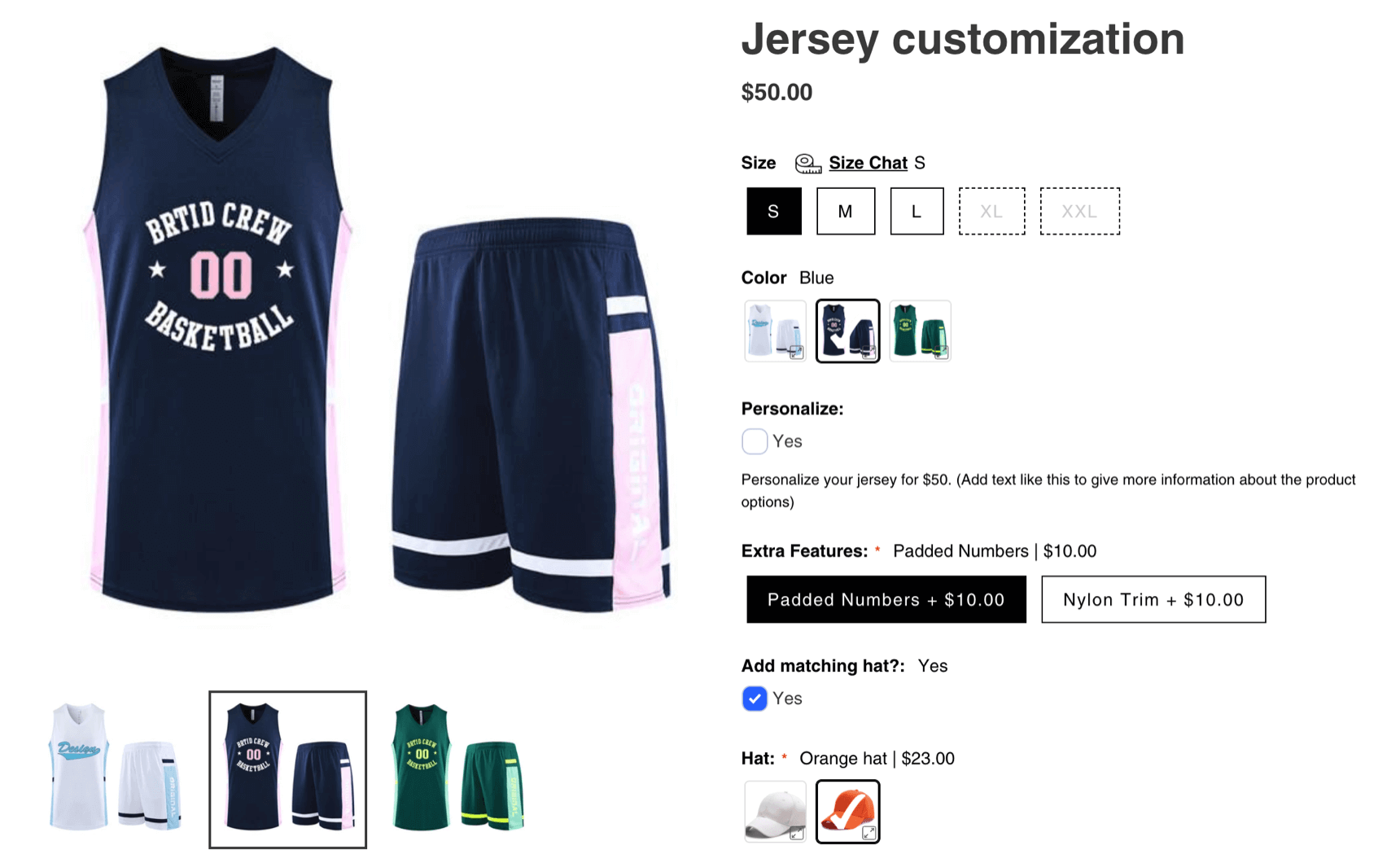 Yet, again, there are some issues with this app as well, and they include insufficient customer support (available only via email) and some minor interface details that some users found confusing.
The advantages of this app draw down to the following:
User-friendly interface
Easy-to-use tools
Superior theme compilation system that allows creating any look imaginable for your store
Nothing is perfect, and VOPO has some flaws as well, which are:
Weak customer support
Confusing interface elements (e.g. the setting of options for products are placed under the settings for Shopify options)
So, make sure you learn how to use this app before you do it in order to avoid any unnecessary delays and lengthy solutions
5. Product Personalizer
This one is somewhat simpler than the previous two apps, yet it's no less powerful. With lots of options to customize your store like multiple price tags for a single item, a user-friendly item page editor, and even a basic visual editing tool, this app has a lot to offer to fashion and accessory stores.
On top of that, you have a friendly and helpful support team at your disposal 24/7. Some of the troubles that the users have reported are the lack of customization for different store types, as well as a somewhat confusing interface.
The main advantages of Product Personalizer are drawn down to these:
Wide range of tools, many of which are easy to learn and use.
Strong support ready to answer any question
Some of the common issues that users have with this app are:
Lack of customization options
Some confusing details in the interface
Before using the app full-time, try practicing and tinkering with it first
6. Tshirt & Product Design Studio
This app can be used to allow product designing for T-shirts, mugs, bags, etc. with text, custom images, etc. If you need a serious app that can be considered almost synonymous with the product's frontend customization, this one is for you. T-shirt & Product Design Studio goes far beyond regular store customization and allows your customers to design their own products.
As evident from the name, this app is perfect for clothing, accessories, and merch shops. With lots of tools to offer to you and your customers, this app will certainly help you stand out and create unique offers for your audience. While it's all great and powerful, it has its cons, too. Some users have complained about the app crashing rather suddenly, with all the progress getting lost.
As a perfect tool for clothing and accessory store, this tool provides you with the following:
A wide array of customization tools
Almost perfect visualization and synchronization
Availability of custom images for customers
Some things in this app, however, require improvement, for example:
Critical bugs are still present in the app's code, causing it to crash sometimes
Installation issues have also been reported
Make sure to save and back up your progress regularly to avoid such issues and disappointment
7. Zakeke Product Customizer
Zakeke is another great solution for customization. Designed for customization in 3D and AR, this app also allows customers to tinker with your products the way they see fit. Moreover, they can even take a look at those products in the real environment using the aforementioned AR technology.
Still, while it's great for stores selling customizable goods, most of its major features might be useless for other kinds of businesses.
Being one of the best apps for Shopify store customization, Zakeke has these features in its arsenal:
State-of-the-art customization tools that enable editing in 3D and AR with a short render time
Plentiful options for customization and combination
Some downsides, however, are:
Rather high prices, mostly depending on the tool sets you purchase
Low usability for stores that don't specialize in customizable goods
So, make sure you really need something like Zakeke before checking out their plans
Conclusion
While sales are an ultimate goal, for the most part, e-commerce can be more than just about them. If approached from a creative standpoint, an online store can be turned into a real work of art.
Although Shopify, like most other CMSs, offers a rather basic and generic arsenal of tools and aides, some of the most experienced developers have made lots of effort to fix that.
The apps provided in the list above are only the tip of the iceberg. The Shopify app store hosts hundreds, if not thousands, of apps for store and product customization that can add a lot of value to your business. With so many things to explore and tools to utilize, you can rest assured – your business will certainly not go unseen.
Jessica Fender is a copywriter and blogger at Edubirdie with a background in marketing and sales. She enjoys sharing her experience with like-minded professionals who aim to provide customers with high-quality services.

https://ninjateam.org/wp-content/uploads/2021/10/Infinite-advanced-product-options-apps-for-Shopify.png
426
1210
Ninja Team
https://ninjateam.org/wp-content/uploads/2020/10/ninjateam-logo.png
Ninja Team
2022-05-07 14:51:03
2023-05-16 15:38:44
Top 7 Shopify Product Options Apps (Pros and Cons)